Women come in all kinds of shapes and sizes, which is great! Yet, there may be parts of our body that we wish to downplay, while we want to highlight others. This article takes a look at how to dress when you have a large bust. Some of you may like to highlight your bust, while others may want to downplay it.
Only you can decide for yourself what you prefer to focus on.
For example, if you are adorned with a large bust, some of you may want to downplay this while others may want to celebrate this part of your body and accentuate it (hello Kim Kardashian!)
Have a small bust? Check how to dress for a small bust.
How to dress with big bust: Highlighting your bust
If you are proud of your big bust and like to show it off even more or if you want to give the illusion that your bust is bigger than it actually is, then here are some tips on what to wear to enhance your bust.
The right bra is crucial
Always choose a good bra underneath that supports your breasts and lifts them up.
How to get the right bra measurement
Measuring your bra size yourself can be tricky as ideally you would need to wear the perfect bra to get the right measurement. I like the directions by excellent undergarments site Bare Necessities.
Here are their guidelines for measuring band size:
Measuring band size
There are two ways to measure your band size. The best bet is to do it both ways to see if you get a consistent measurement.
1. Bring the measuring tape around your back to the front, keeping it under the arms and bringing it up across to the middle of your chest. If you get an odd number, round up to the next even number to get your band size.
2. Measure across the bottom of your band, directly under the bust and across your ribcage. Make sure to keep your measuring tape straight around the back to front. Again, if you get an odd number, round up to the next even number to get your band size.
Measuring cup size
1. Measure loosely around the fullest part of your bust, with the tape straight across and around your back, bringing it to the front.
2. Subtract your band measurement (from step 1) from this bust measurement. The difference calculates your bra size- each inch represents a cup size. For example, if you measure a 34 inch band size, and a 36 inch cup size, the difference is 2: which would indicate a B cup.
I encourage you to read Bare Necessities full guidelines or go to your local shop and get a professional assistant to help you.
Use a high waistline
A high waistline emphasizes your breasts (and makes your legs look longer).
Wear deep V necklines with cleavage
This will focus the eyes' attention on your bust.
Lizzy @whatlizzyloves above (read her style interview here) opts for a pretty maxi dress that combines a deep neckline with a long maxi length. If you don't want your bust to show, you could always add a pretty camisole top underneath.
Check out these maxi dresses from Area Stars, Free People, Boden and Amazon that you can wear with this similar pair of sandals, bag and necklace.
Embrace halter necks
This neckline creates the ultimate bombshell look!
Add a pendant
Adding a pendant between breasts will focus the attention on them.
Wear a cowl neckline
Any drapes that fall on top of the bust will always enhance them.
Embrace ruching
Ruching and higher waist will also help to enhance the bust.
How to Downplay your bust
If you are very well endowed and want to downplay your bust, here are some tips on how to dress when you have a large bust.
Again a good bra is essential
You still want your breasts up high, so you can bring more attention to your waist.
You will want a bra which offers good support and keeps your bust in place without boosting your cup size any further (unless that is your preference!) Below are some good options for large busts.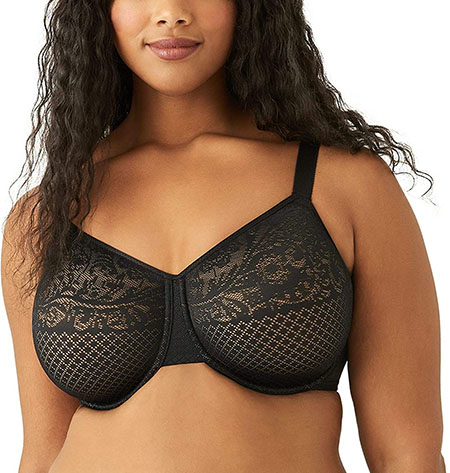 Wacoal Visual Effects Minimizer Bra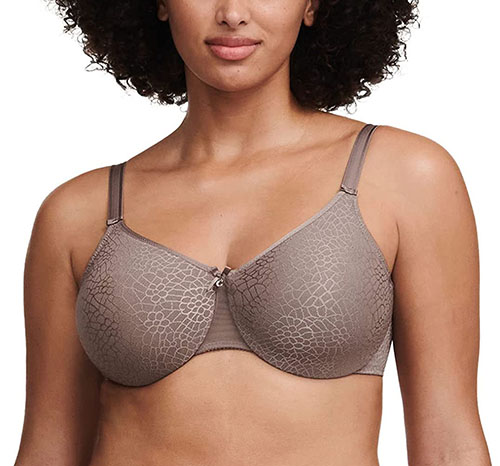 Chantelle C Magnifique Seamless Unlined Minimizer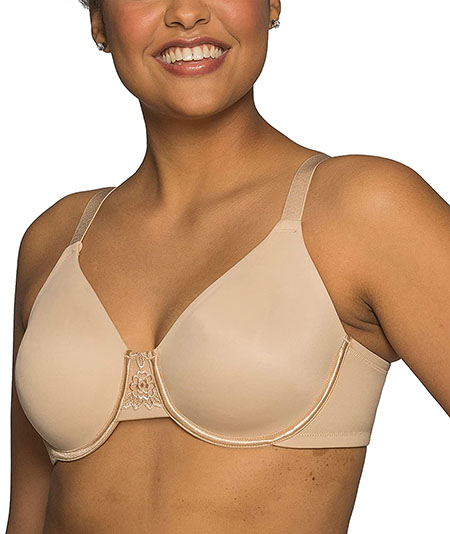 Vanity Fair Beauty Back Smoothing Minimizer Bra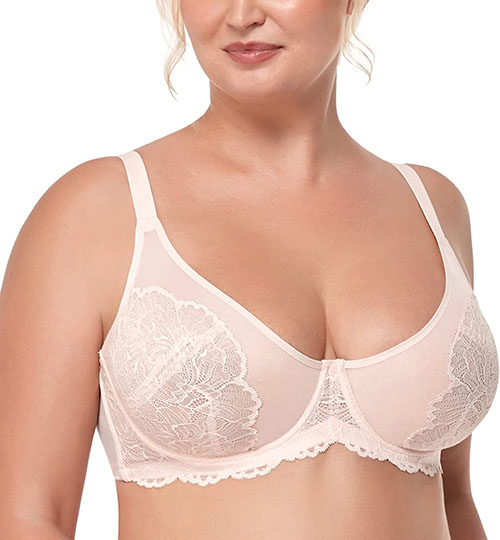 HSIA Full Coverage Lace Minimizer Bra
For more ideas for the best bras also check our article on the best bras for large breasts.
Play around with belts
Belting high usually emphasizes your bust.
However if you combine a belt with layering and with a longer vest, it has a minimizing and lengthening effect.
The belt also adds structure to the outfit and can highlight a defined waist.
Max Mara Malaga Double Wrap Leather Belt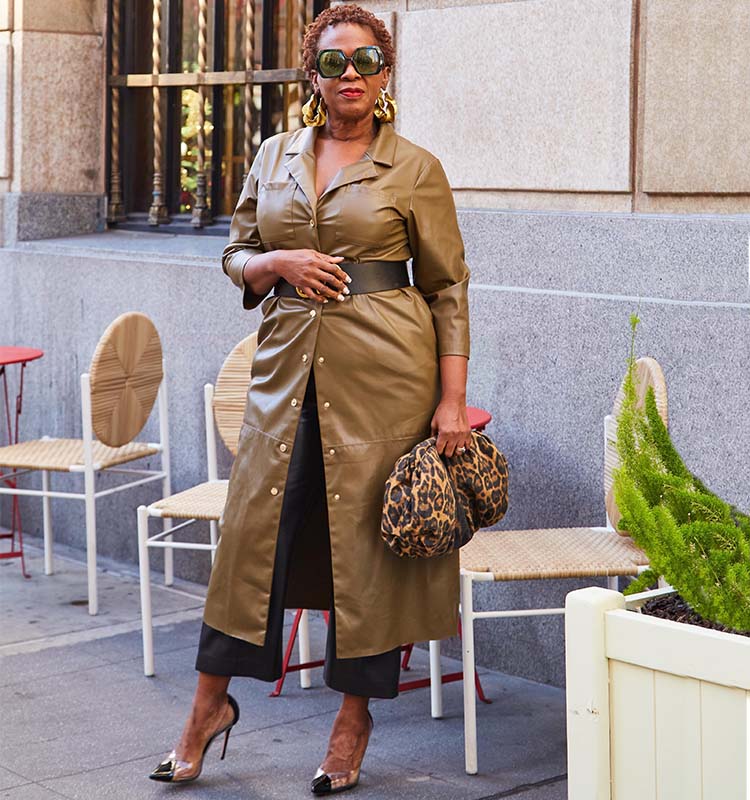 Julie @stylishparadox above (read her style interview here) wears her shirtdress over her pants. A shirtdress is a great style to opt for (just make sure the buttons don't gape at the bust), because you can alter how many buttons you open at the neck and the hem to create different looks.
Get her look with this similar shirtdress (another option here), pants (another option here), pumps, clutch, earrings and belt (another option here).
wear peplum tops
A peplum top may not necessarily downplay your bust, but it can definitely make you look more balanced. Look out for a peplum that starts fairly low down for a more flattering effect.
You could wear a statement necklace over the Nordstrom peplum (below) to add interest and draw the eye to your face.
Nordstrom Signature Ponte Peplum Top
The tie front peplum (below) will draw more attention to your bust because of the ruching, but the flared hem and sleeves also create balance for your curves. Reviewers say it's a flattering top in easy-care fabric, and the flutter sleeves provide good upper arm coverage.
GRACE KARIN Tie Front Peplum Top
V-necklines are your friend!
V-necklines can be good for downplaying a bust although you don't want it too low or show any cleavage. Otherwise it will have the opposite effect.
Scoop, sweat heart and square necklines also work. The eye will focus on your exposed skin and not so much your breasts.
Halogen Floral Smocked Hem Surplice V-Neck Blouse
Georgette @grownandcurvywoman above (read her style interview here) opts for a yellow v-neck top. Her balloon sleeves add drama at her wrists, rather than drawing the eye to the bustline.
Recreate her outfit with this similar wrap top, wide pants, sandals and earrings.
try a square neck
A square-necked top can be one of the most flattering choices for you if you have a larger chest. The neckline draws attention to your decolletage and away from your bust.
Treasure & Bond Floral Square Neck Sweater (plus size)
Treasure & Bond Variegated Rib Square Neck T-Shirt
Opt for large necklaces
This may feel counter intuitive but if you place something small next to something big, the bigger thing will just appear bigger.
On the other hand if you choose a big statement necklace, you bust will appear smaller.
Bocar Multi Layer Seed Beads Necklace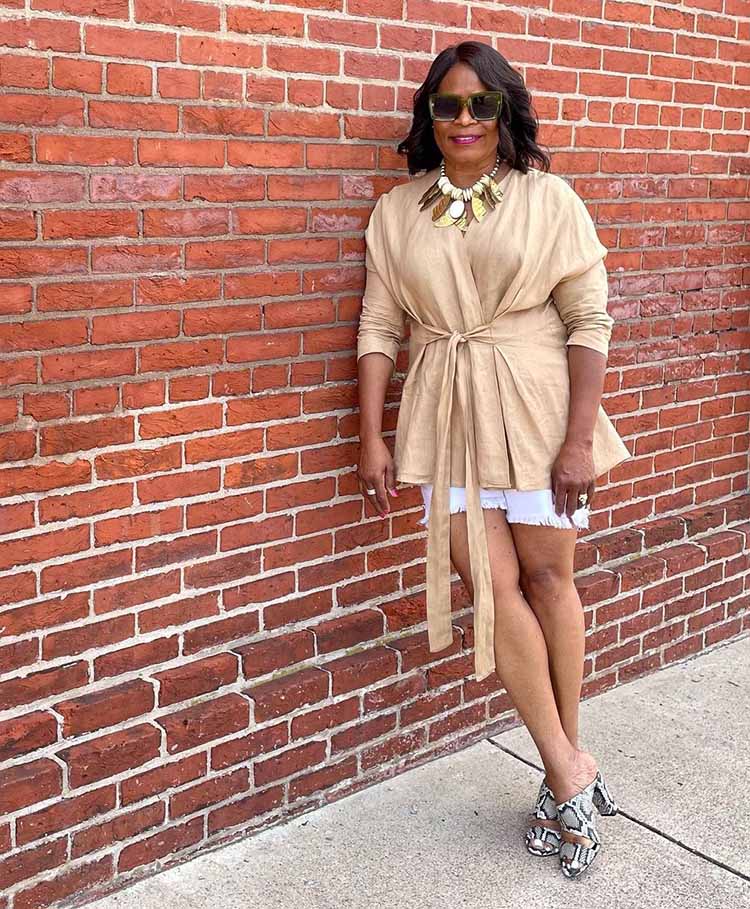 Eugenia @theeageofgrace above (read her stye interview here) opts for a bold necklace over her neutral wrap top.
Get her look with this similar top (another option here), shorts, sandals and necklace.
Other accessories can work well too!
You could also direct attention away from your bust by having a different focal point like a nice belt on your hip, a pair of statement earrings or a hat.
Karine Sultan Disc Drop Clip-On Earrings
Avoid baggy tops or ill fitting clothes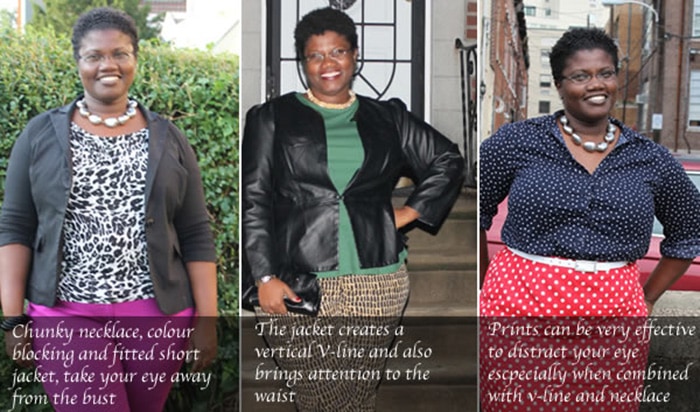 Tops and dresses should be fitted and show a clear waist definition.
Avoid skinny straps
You need much more support. Skinny straps on your bra or top won't give your bust the support it needs and may end up digging into you uncomfortably.
Embrace shoulder details
Cap sleeves, shoulder pads or shoulder details can help to draw attention away from the bust and up.
Chaus Ruffle Cold Shoulder Top
Don't wear sleeves that end at the mid section of your bust
Best to end sleeves higher or at your waist.
Wear single breasted jacket
A single-breasted jacket can make you look more streamlined while a double-breasted blazer can make you look wider.
J.Crew Willa Blazer in City Crepe
Buy shirts that fit
Never wear shirts that gape at your bust.
If you can't find any that fit you, go for knitted tops instead. Alternatively, buy your shirts to fit your bust and have the rest taken in by your tailor.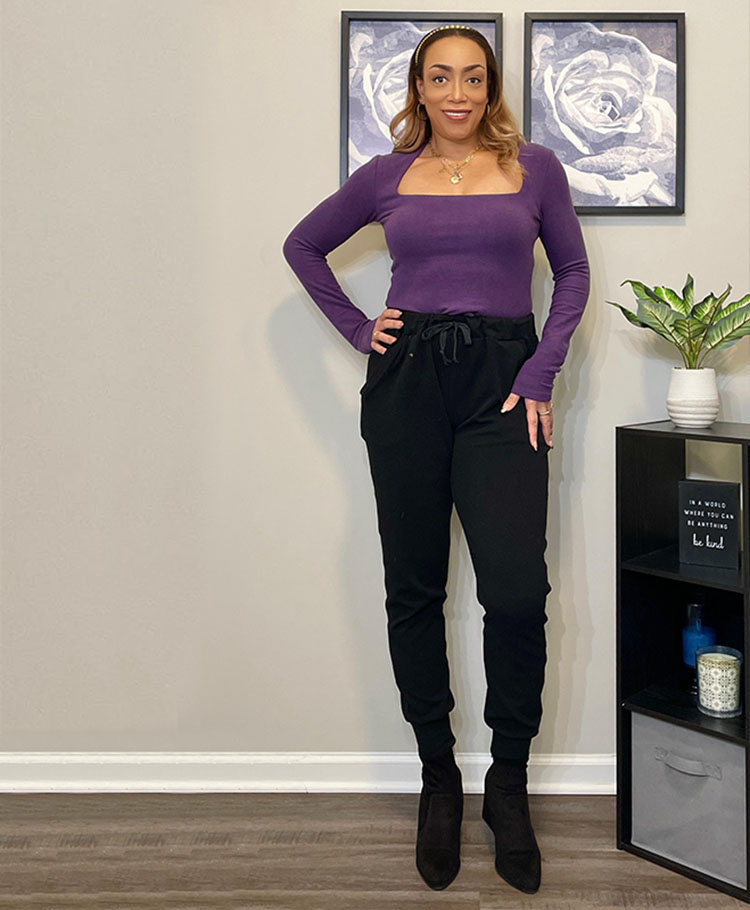 Erica @ericabunker above (read her style interview here) chooses a purple square neck top.
Steal her look with this similar top (another option here), jogger pants, booties and necklace.
Avoid lower armholes like dolman sleeves or batwings
The eye should be drawn upwards. Plus, sleeves that are wider at the same height as your bust can create a bulky looking effect.
Wide collars will draw the eye upwards and away from your bust
Again you want to divert the eye elsewhere.
The COS shirt (below) could work well for you. You could either unbutton the top one or two buttons, or you could wear the collar fastened to the top, and wear a statement necklace underneath.
Lengthen your torso
Tucking blouses and tops is best avoided.
Avoid stiff fabrics, boxy blazers and big cable-knit sweaters
You will look much better in a torso-skimming dress that you can belt. A wrap dress will suit many busty women.
Choose wrap styles
Wrap tops and dresses are universally flattering so they're ideal if you're thinking about how to dress with a big bust, and you can alter where you tie the belt to suit your body shape.
Sam Edelman Geo Print Faux Wrap Dress
Prints are your friend!
As you can see (below), prints can also be very effective in distracting attention away from your bust as they confuse the eye.
Estelle Morris Floral Print Faux Wrap Top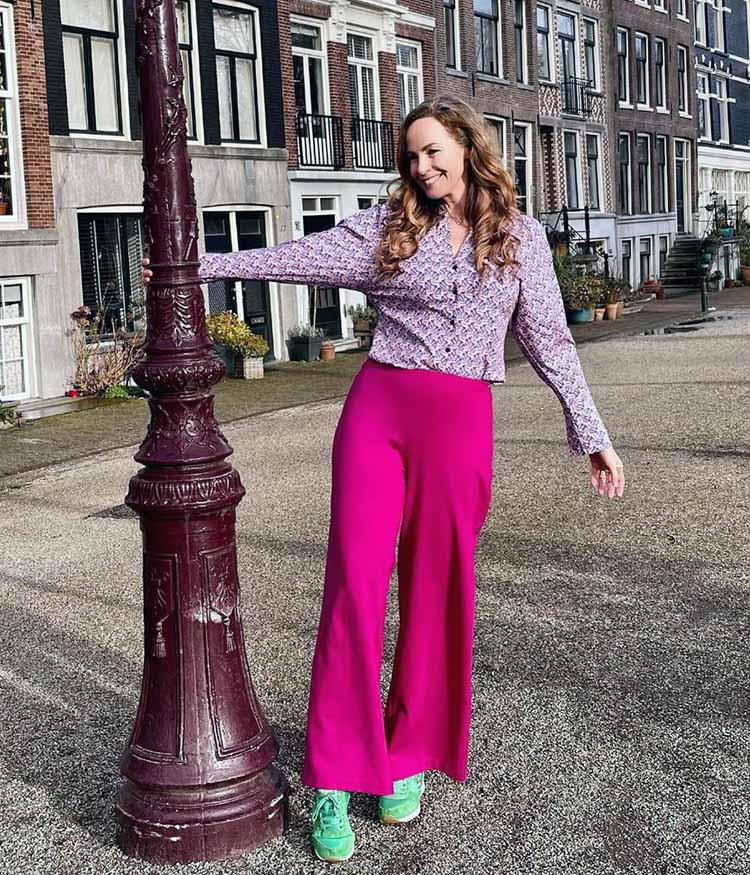 Claudia @beafitmom.nl above opts for a print blouse with her bright pink pants. You can see the emphasis here is on her legs.
Recreate her outfit with this similar shirt (another option here), pants and sneakers.
Define your waist
One of the tricky things about dressing if you have a large bust is that you can look larger than you really are if your top drapes from your chest. Instead, define your waist. The cowl neck dress (below) has a cut out at the top of your back so the emphasis will be on your back rather than your front.
ASOS DESIGN Cowl Neck Tie Waist Dress
Long open cardigans
Some loose styles can be flattering for many figures and body shapes and that includes a long, open cardigan. You can create lean, vertical lines rather than your top looking wider.
AllSaints Misha Open Stitch Longline Cardigan
Wear darker colors on top
If you want to downplay your bust, you can think about wearing a brighter or patterned skirt or pair of pants, and then a top in a darker shade. That way, you'll draw attention to your bottom half. A perfect way to dress with a big bust if you want to downplay your chest.
shop feature items below:

Did I miss anything on how to dress with a big bust? What do you use to either highlight or downplay your bust?
Continue reading:
Like this article on how to dress when you have a large bust? Save it on Pinterest!
Feature image by Julie @stylishparadox
Want to get more articles from 40+style in your inbox, subscribe here.
You can also connect with 40+style on Facebook, Instagram or Pinterest.
Support 40+style by using the links in our articles to shop. As an associate for Amazon and many other brands, we receive a small commission (at no cost to you) on qualifying purchases which enables us to keep creating amazing free content for you. Thanks!