Women come in all kinds of shapes and sizes and you will need to decide which parts of your body you want to highlight and which you want to downplay.
Only you can decide this for yourself.
For example, if you are adorned with a large bust, some of you may want to downplay this while others may want to celebrate this part of your body and accentuate it. (hello Kim Kardashian!)
Today I will look at some ways on how you can dress when you have a large bust and how you can highlight it or downplay it.
Have a small bust? Check how to dress for a small bust.
How to dress with big bust: Highlighting your bust
If you are proud of your big bust and like to show it off even more or want to give the illusion that your bust is bigger than it actually is, then here are some tips on what to wear to enhance your bust:
The right bra is crucial
Always choose a good bra underneath that supports your breasts and lifts them up.
Wear deep V necklines with cleavage
This will focus the eyes' attention on your bust.
Use a high waistline
A high waistline emphasizes your breasts (and makes your legs look longer).
Embrace halter necks
This neckline creates the ultimate bombshell look.
Add a pendant
Adding a pendant between breasts will focus the attention on them.
Wear a cowl neckline
Any drapes that fall on top of the bust will always enhance them.
Embrace ruching
See how it appears that I have a full bust in the picture on the right! Created by the ruching and higher waist!
Downplaying your bust
If you are very well endowed you may want to downplay your bust so it does not overwhelm your look.
Here is what to do:
Again a good bra is essential
You still want your breasts up high, so you can bring more attention to your waist.
You will want a bra which offers good support and keeps you in place without boosting your cup size any further (unless that is your preference!) Below are some good options for large busts.
Elomi underwire full cup banded bra
Invisible back smoothing full coverage bra
For more ideas also check our article on the best bras for large breasts.
Play around with belts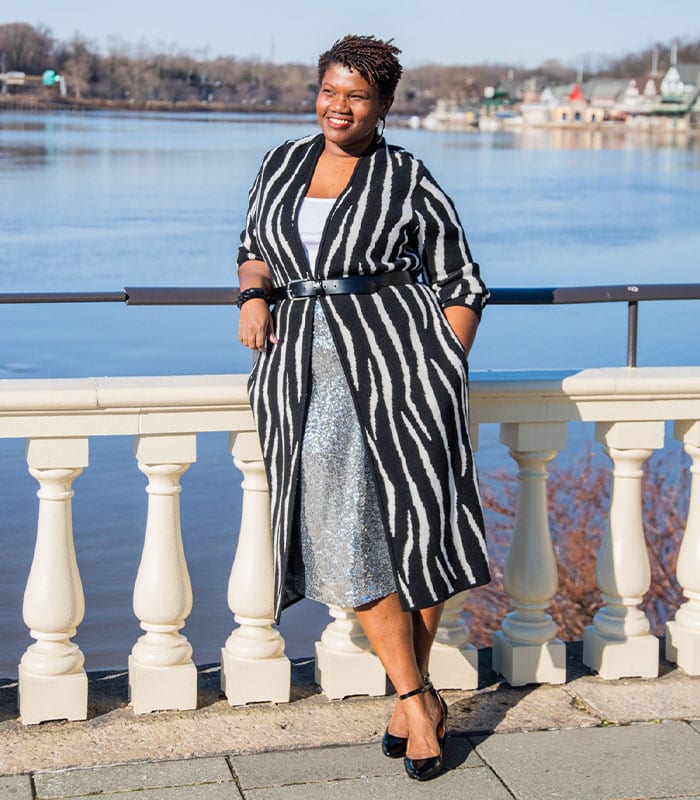 Belting high usually emphasizes your bust (as shown in the picture from myself in the red dress above).
However if you combine a belt with layering and with a longer vest as Georgette is doing above, it has a minimizing and lengthening effect.
The belt also adds structure to the outfit and can highlight a defined waist.
Georgette @grownandcurvywoman above (read her style interview here) looks incredibly stylish in her silver and black outfit.
Check out this similar cardigan, skirt, belt, pumps and hoop earrings.
Halogen double ring leather belt
wear peplum tops
A peplum top may not necessarily downplay your bust, but it can definitely make you look more balanced. Look out for a peplum that starts fairly low down for a more flattering effect.
HOMEYEE square neck peplum top
V-necklines are your friend!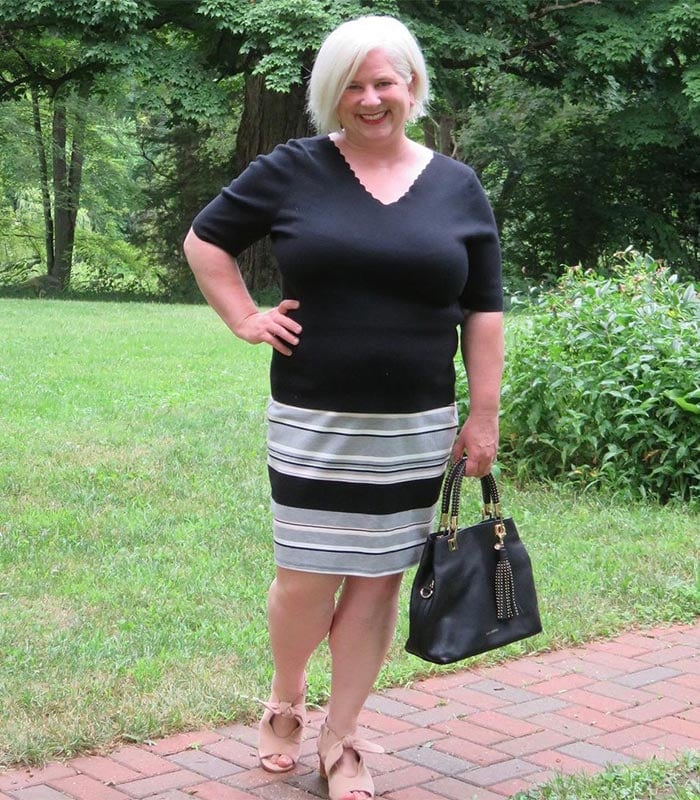 V-necklines can be good for downplaying a bust although you don't want it too low or show any cleavage. Otherwise it will have the opposite effect.
Scoop, sweat heart and square necklines also work. The eye will focus on your exposed skin and not so much your breasts.
Julie @when_the_girls_rule above (read her style interview here) opts for v-neck top which draws the eye up and down.
Steal her look with this similar top, skirt, sandals and handbag.
try a square neck
A square-necked top can be one of the most flattering choices for you if you have a larger chest. The neckline draws the attention to your decolletage and away from your bust.
Opt for large necklaces
This may feel counter intuitive but if you place something small next to something big, the bigger thing will just appear bigger.
On the other hand if you choose a big statement necklace , you bust will appear smaller.
Lydia @birabiro above (read her stye interview here) matches her necklace to the colors in her print top.
Check out this top from Amazon that you can wear with this similar pair of jeans, pumps and necklace.
Canvas Jewelry chain link necklace
Other accessories can work well too!
You could also direct attention away from your bust by having a different focal point like a nice belt on your hip or a hat.
Avoid baggy tops or ill fitting clothes
Tops and dresses should be fitted and show a clear waist definition.
Avoid skinny straps
You need much more support. Skinny straps on your bra or top won't give your bust the support it needs and may end up digging into you uncomfortably.
Embrace shoulder details
Cap sleeves, shoulder pads or shoulder details can help to draw attention away from the bust and up.
Adreamly loose strappy cold shoulder top
Don't wear sleeves that end at the mid section of your bust
Best to end sleeves higher or at your waist.
Wear single breasted jacket
A single-breasted jacket can make you look more streamlined while a double-breasted blazer can make you look wider. Alison @wardrobe_oxygen above (read her style interview here) opts for a single-breasted jacket and matching pants.
Steal her look with this similar top, blazer, pants, sandals and earrings.
Buy shirts that fit
Never wear shirts that gape at your bust.
If you can't find any that fit you, go for knitted tops instead. Alternatively, buy your shirts to fit your bust and have the rest taken in by your tailor.
Avoid lower armholes like dolman sleeves or batwings
The eye should be drawn upwards.
Wide collars will draw the eye upwards and away from your bust
Again you want to divert the eye elsewhere.
Eugenia @theeageofgrace above (read her style interview here) opts for a collared shirt, which can be very flattering for a large bust, so long as you get a good fit. Notice your eye is actually drawn to her shorts and shoes.
Check out this similar tunic shirt, shorts, sandals, belt and crossbody bag.
The Nic + Zoe tunic (below) could work well for you. However, I'd opt for a shorter necklace rather than one that drapes over the bust.
Lengthen your torso
Tucking blouses and tops is best avoided.
Avoid stiff fabrics, boxy blazers and big cable-knit sweaters
You will look much better in a torso-skimming dress that you can belt. A wrap dress will suit many busty women.
Choose wrap styles
Julie @stylishparadox above (read her style interview here) looks beautiful in her wrap dress. Note that her earrings draw the eye to her face.
Check out this dress from Amazon that you can wear with this similar pair of pumps, tote and earrings.
Karen Kane puff sleeve jersey faux wrap dress
Prints are your friend!
As you can see (below), prints can also very effective in distracting attention away from your bust as they confuse the eye.
Maggy London print wrap midi dress
Define your waist
One of the tricky things about dressing if you have a large bust is that you can look larger than you really are if your top drapes from your chest. Instead define your waist like Erica @ericabunker above (read her style interview here).
Check out these printed dresses from Amazon and Nic+Zoe, and match them with this similar pair of booties and earrings.
Nordstrom Signature button front silk dress
Long open cardigans
Some loose styles can be flattering for many figures and body shapes and that includes a long, open cardigan. You can create lean, vertical lines rather than your top looking wider.
shop items above here:
Did I miss anything on how to dress with a big bust? What do you use to either highlight or downplay your bust?
Continue reading:
Like this article on how to dress when you have a large bust? Save it on Pinterest!
Feature image by Georgette @grownandcurvywoman
Want to get more articles from 40+style in your inbox, subscribe here.
You can also connect with 40+style on Facebook, Instagram or Pinterest.
Support 40+style by using the links in our articles to shop. As an associate for Amazon and many other brands, we receive a small commission (at no cost to you) on qualifying purchases which enables us to keep creating amazing free content for you. Thanks!