Erica Bunker doesn't just wear clothes well; she makes them. After becoming a stay at home mom, she started to sew and discovered a talent in creating her own clothes.
In this style interview, Erica talks about how living in Birmingham, Alabama, inspires her, and how her style "rules" fled the nest with her grown-up children.
Can you tell us a little bit more about yourself?
I've been a blogger and an influencer since 2005.
I blog about sewing and how my brand of sewing isn't my mother's or grandmother's type of sewing. It's modern and indistinguishable from ready-to-wear clothing.
As a point of reference which age group do you belong to or perhaps you are willing to share your age?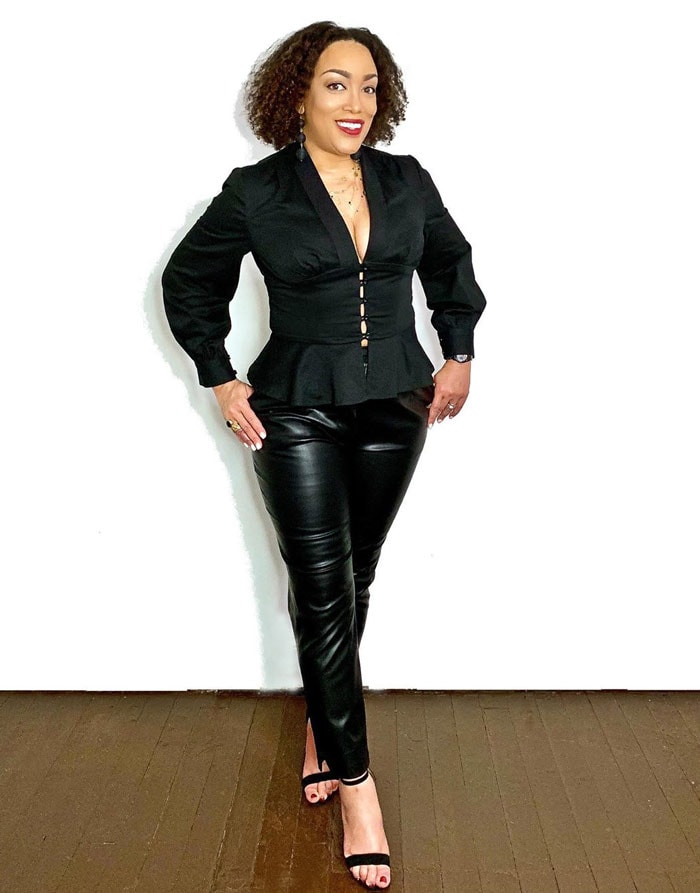 I'm a 49-year-old Generation X-er.
Recreate her look with this similar top, pants, earrings and heels
Can you tell us a bit more about your blog and why you created it?
When I became a stay-at-home mother in 2005, I picked up crocheting, knitting and sewing as hobbies to remain sane while dealing with the monotony of stay-at-home-mom and wife life.
While searching for information on the web, I discovered blogs. I decided to start my own as a way of documenting my projects and connecting with other like-minded individuals.
In the last 14 years, my blog has taken on a life of its own and opened up a lot of doors for me, and paved the way for a lot of experiences I couldn't even imagine.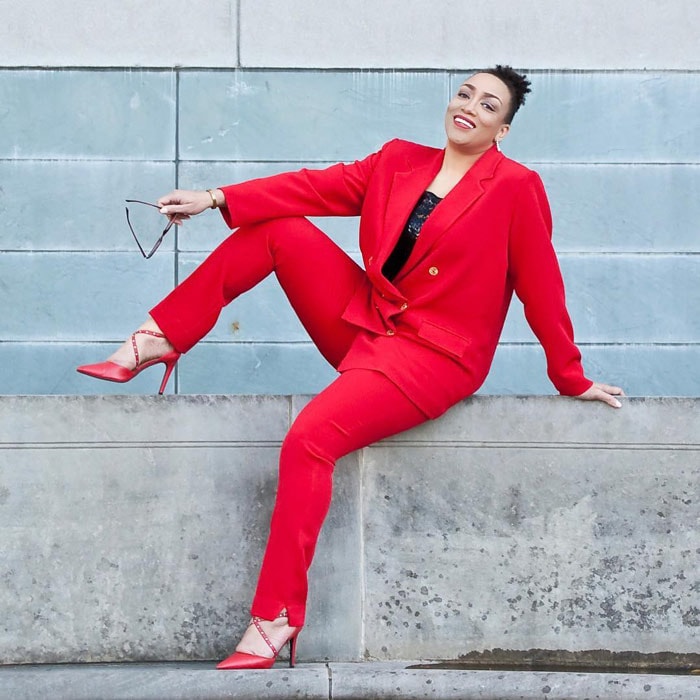 Recreate her look with this red blazer set and heels
How would you describe your own personal style?
My personal style is classic with a kick! I love classic pieces that I hope to be wearing for the next several decades mixed with trendy, boho, edgy and of-the-moment pieces.
What would you consider the most important components of your style?
Recreate her look with this similar jumpsuit, sunglasses, headband and heels
I'm always true to myself. I know what works for me and I stay in my fashion lane.
Being able to sew anything I can imagine that I'd want to wear is so amazing because I never have to walk into a store and hope that something fits or works for me. I can sew it in my size and make it work for me.
Where do you live and how does that influence your style?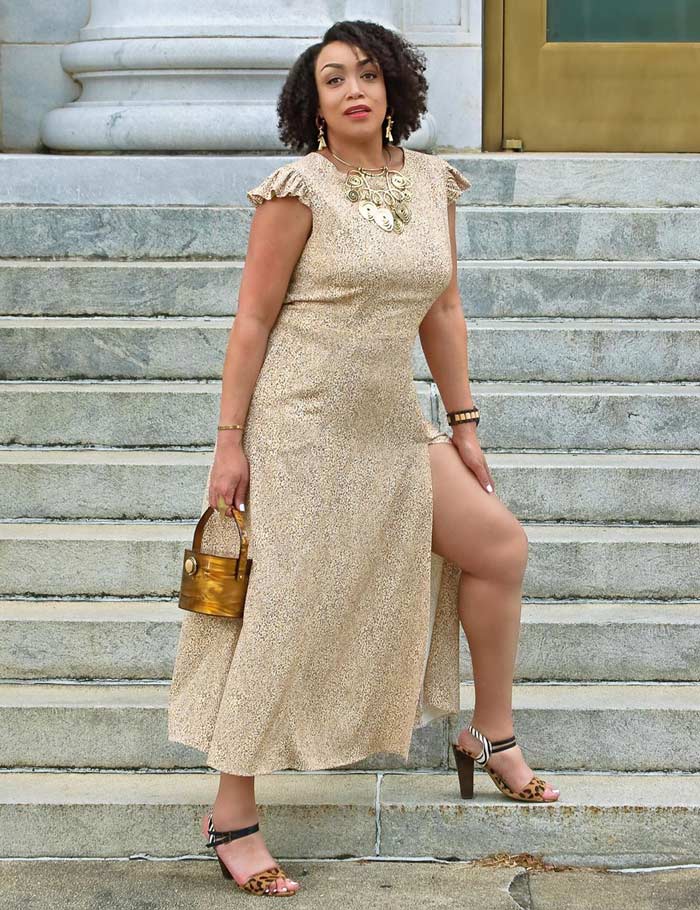 Recreate her look with these gold dress options from ASTR the Label and Dessy Collection, necklace and heels
I live in Birmingham, Alabama. Women around here are very fashionable. They're coiffed, classic and polished. Going out to eat here is an event. It's a great way to people watch and get a lot of fashion inspiration.
Do you feel you have a signature style?
I'm tailored. There are women that love cardigans or denim jackets. I prefer a blazer or a moto jacket as my essential topper.
I love a great pair of high-waisted jeans. And lately, I've been sewing and wearing a lot of tapered leg trousers because they work well with both high and low heels.
There's more inspiration in this article on what to wear with different styles of pants.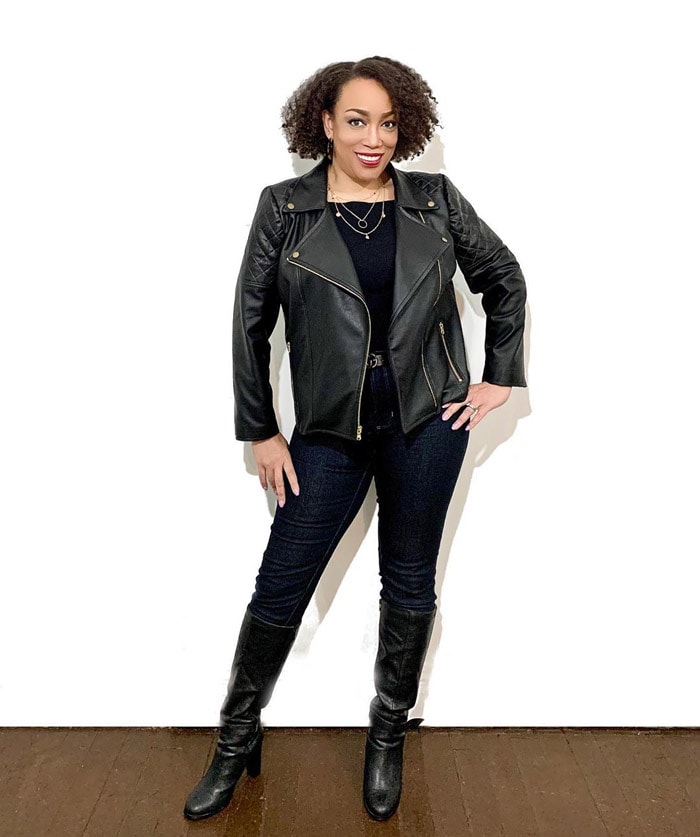 Recreate her look with this similar moto jacket, jeans, boots and necklace
What inspires your outfit choices the most?
My mood. I've noticed that during a "low", I tend to buy and sew dark or muted tones. And when I get dressed, I gravitate towards black and darker hues. When I'm vibrating higher, I'm in vibrant colors.
Do you take things like color profiling or body type into account when you dress?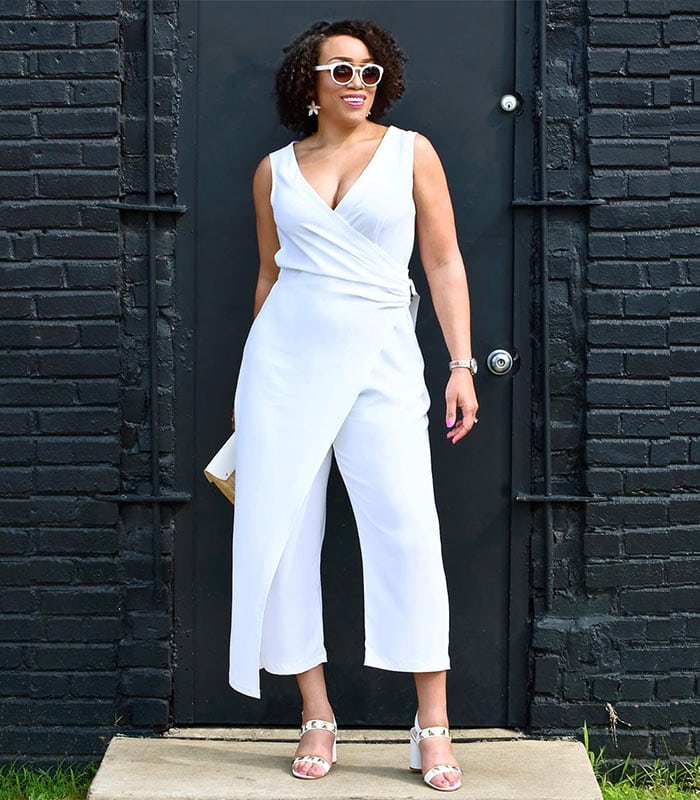 Recreate her look with this similar jumpsuit, earrings, sunglasses and sandals
I do to a degree. Because I'm sewing my clothing custom to my body, I know how to make personal adjustments for fit that will make different styles work for me.
What is your current body type and height and what are your best tips for dressing for these?
I'm 5'9" and hourglass curvy. In order to fit the bust and hips, my advice is if you don't sew, buy clothes to fit your larger parts and have them taken in.
Find more tips in this article on how to dress the hourglass.
Recreate her look with this similar dress, earrings and boots
Do you have any favorite brands?
Honestly, no. I've been sewing my own clothes for so many years that I rarely every shop for clothes.
Has your style changed at all after turning 40?
It has changed significantly. After turning 40, my kids began graduating from high school and leaving the nest. And all those rules I'd been taking in for many years on how a "mom" was supposed to dress flew out of the nest, right along with my kids.
For so many years, I'd felt restrained. Suddenly, I began to feel lighter and free. I started dressing on the outside to match the way I felt on the inside.
Do you believe in dressing 'age appropriately' and what does it mean to you?
Recreate her look with this similar tank top, pants, necklace, earrings and heels
Age appropriateness is subjective. I have my own personal rules. For example, if I'm wearing shorts or a short skirt/dress, then I like to be covered on top. And if I'm showing back and cleavage, then I'm longer, looser and covered on the bottom.
Would you say that at this stage of your life you are now more, or less interested in fashion, style and the way you look?
I'm definitely more interested. In my 20s, I could practically get away with anything because of youth. I feel now, I have to put forth effort.
It's almost expected that a woman of a certain age should just give up on life and not care how she looks. And that's just not me. I believe in pulling it together to just go pick up groceries.
Why is the way you look important to you?
Recreate her look with this similar tipped cardigan (in a different colorway), pants, clutch, necklace and heels
I want to be a great inspiration and an example to my daughters. Just because the calendar turns a page, doesn't mean that you're supposed to just give up.
What is your beauty routine and what are your favorite beauty products?
I drink a lot water, never sodas and red wine every day. Red wine is great for the aging process and the antioxidants are amazing for the skin.
I love to exercise and with lots of cardio. The sweating clears the pores and gives me a glow.
Recreate her look with this similar dress, necklace and heels
My favorite products are:
Do you follow trends? And if yes, which trends excite you at the moment?
I do. Right now, I'm loving midi length hemlines. I'm tall and that length hits me at the perfect point on the leg and looks great on me.
Do you have any fashion and style tips for women over 40?
Recreate her look with this similar tank top, jeans, cardigan, heels, necklace, earrings and sunglasses
Go in stores and try on clothes and take pictures. Go with your first instinct on how something makes you feel. No matter what the style guides tell you about aging and body types, all of those are just suggestions.
You have to wear what makes you feel good and confident.
What are your plans for your blog and how do you see it develop over the coming years?
I just try to make sure that I keep my content interesting and up to date. I plan to keep reaching women to let them know that sewing is not only a great hobby to have, but it's also a great fashion option.
Check out her blog www.erikabunker.com to see all her stylish DIY outfits!
Continue reading:
Like this style interview with Erica Bunker? Share it on Pinterest!
Images from Erica's Instagram (@ericabunker)
Want to get more articles from 40+style in your inbox, subscribe here.
You can also connect with 40+style on Facebook, Instagram or Pinterest.
Support 40+style by using the links in our articles to shop. As an associate for Amazon and many other brands, we receive a small commission (at no cost to you) on qualifying purchases which enables us to keep creating amazing free content for you. Thanks!