A denim jacket can be the perfect transitional piece. It can also give lots of the existing pieces in your closet either greater seasonal longevity or greater flexibility.
I'll explain why here as well as giving you plenty of tips and ideas on how to wear a denim jacket.
5 tips for how to wear a denim jacket
Before I give you a rundown on my top 10 picks, first let's take a look at some general tips for choosing and wearing a denim jacket.
1. Choose the right fit
Denim jackets are available in so many different shapes and styles that you have a huge array of choice so you can opt for the jacket which best suits your body shape.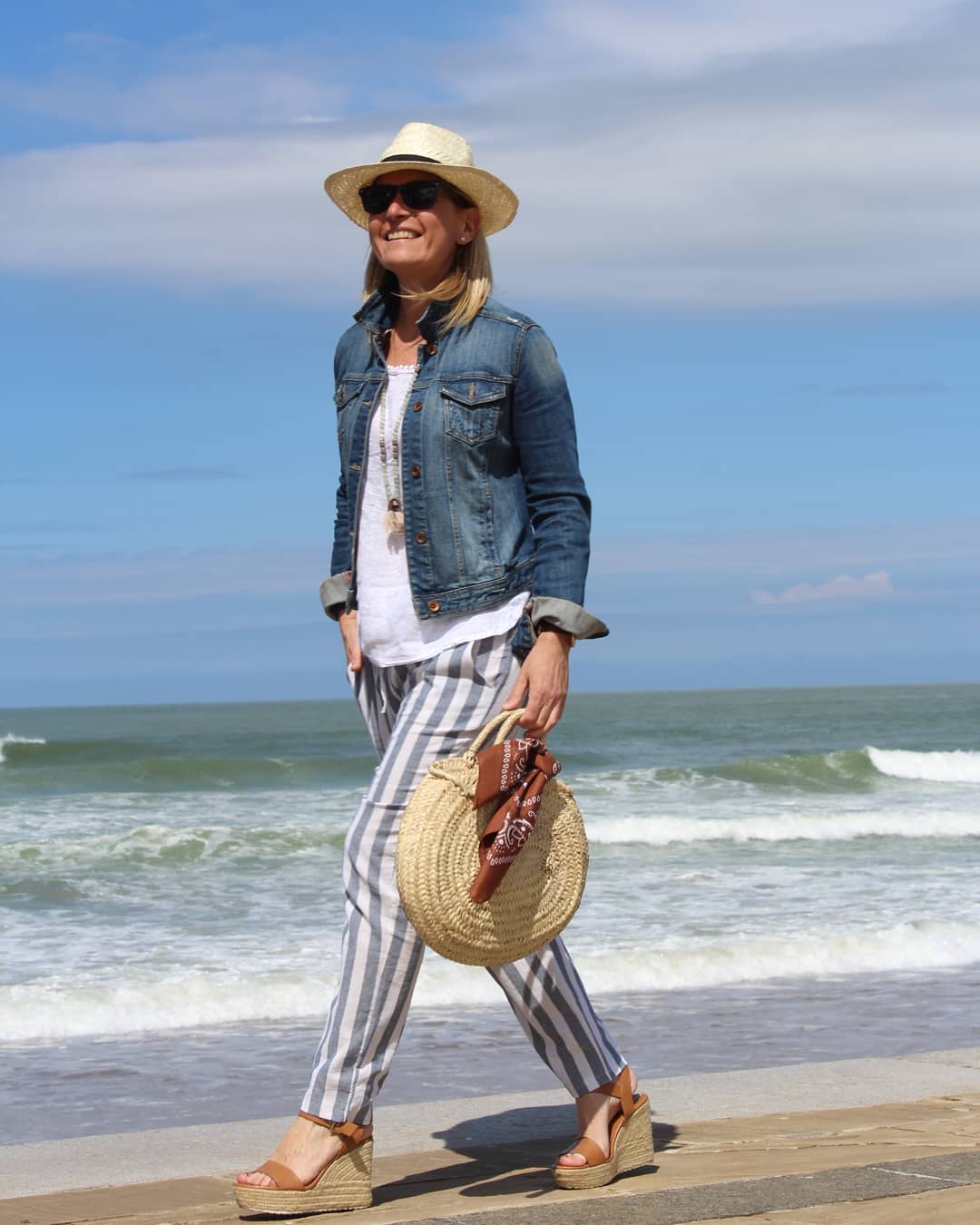 Nagore (above) opts for a classic blue denim jacket which sits on her hips. Get a similar denim jacket here.
As a general rule, a more fitted denim jacket will be more flattering. Make sure the shoulders fit you properly as you would with any other jacket or shirt.
For a universally flattering style, opt for a jacket which sits on or just below your waistline.
2. Think about the color
The classic jeans jacket may be blue, but there are so many different shades of blue to choose from.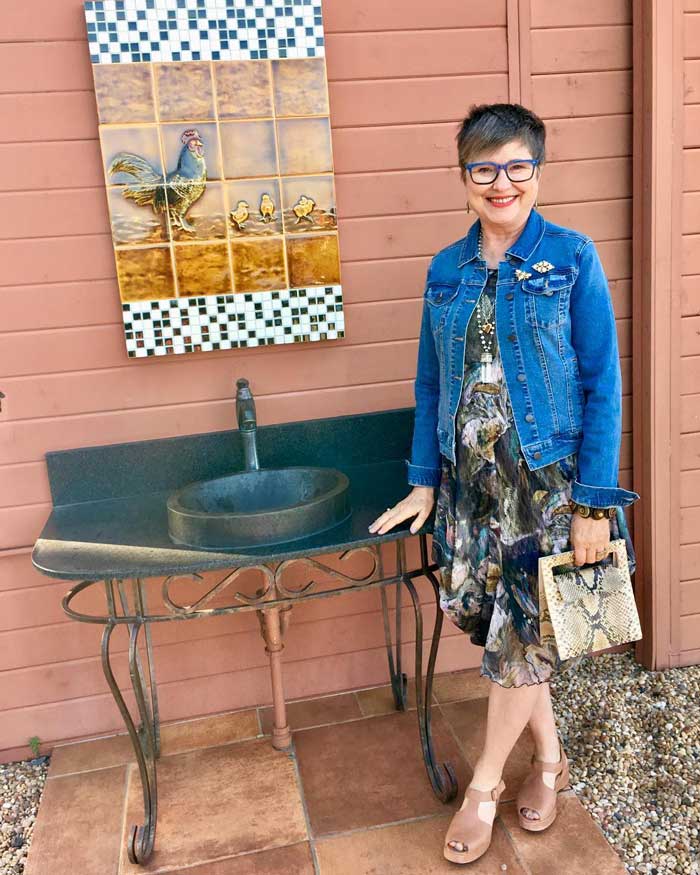 If you want a super casual jacket opt for a paler wash, but if you want a smarter look, go for a darker denim or a mid blue such as the one Brenda (above) opts to wear for a day out.
Here is a similar denim jacket.
For more tips, read our article on how to wear jeans to work and still look professional
You don't, of course, have to stick to blue. You could buy black, white or a bright shade such as red.
3. Transitional dressng
Your denim jacket really can be your best friend when it comes to transitional dressing.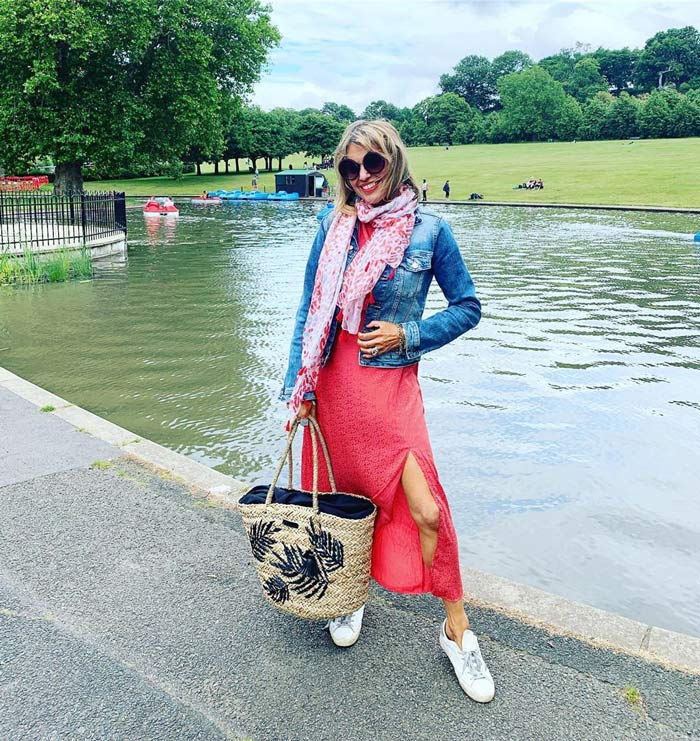 Popping your denim jacket on over a summer dress is one of the easiest ways to wear your favorite dresses for spring and fall as well as during the hotter months.
Carole (above) shows how to wear your denim jacket for the cooler months.
Check out a similar denim jacket here.
4. Dressing down
Sometimes, I'm sure you would like to wear your favorite little black dress, or a fit and flare skirt you love, but you feel you could end up looking too formal for the occasion.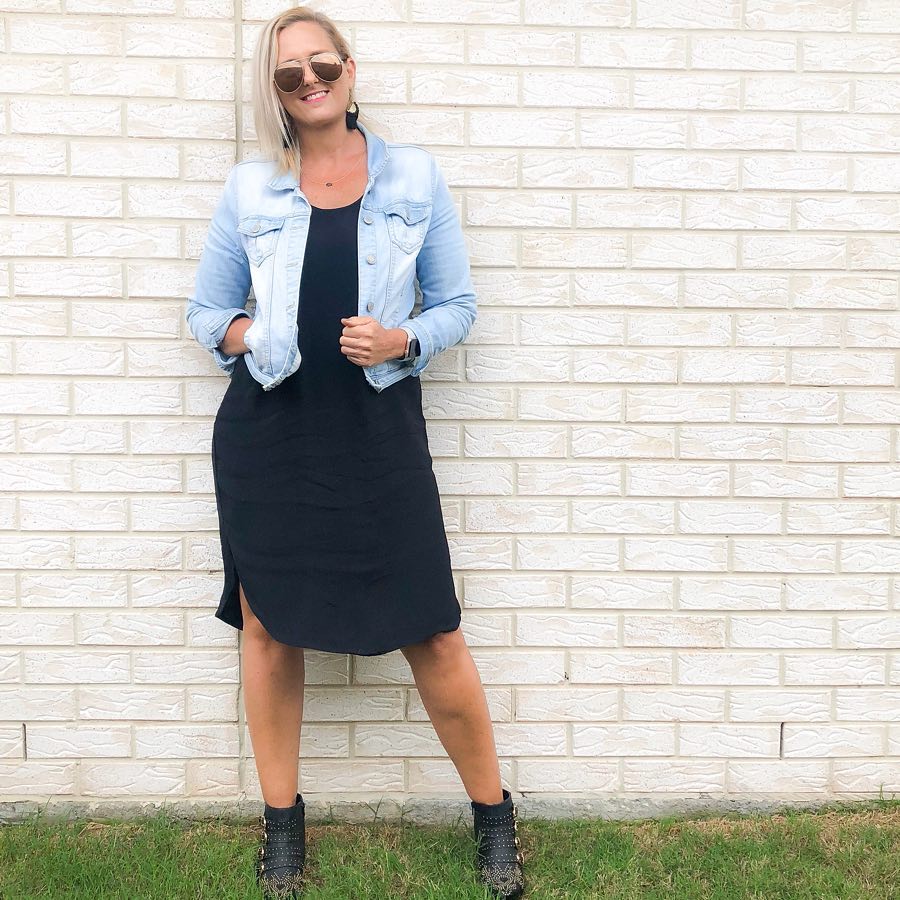 Layer a denim jacket over your outfit and, hey presto, problem solved.
You can wear your outfit with sneakers or ankle booties for casual flair as Nic has chosen to wear above.
You can find a similar light washed denim jacket here.
5. Wearing double denim
So, if you have a denim jacket, can you also still wear your favorite jeans?
The look is often referred to as a Canadian Tuxedo after Bing Crosby was almost turned away from an upmarket establishment in Vancouver because he was wearing double denim. Levis then made him his own all-denim tuxedo.
Suzanne (below) opts for a cowgirl-inspired look.
Here is a similar western inspired denim jacket.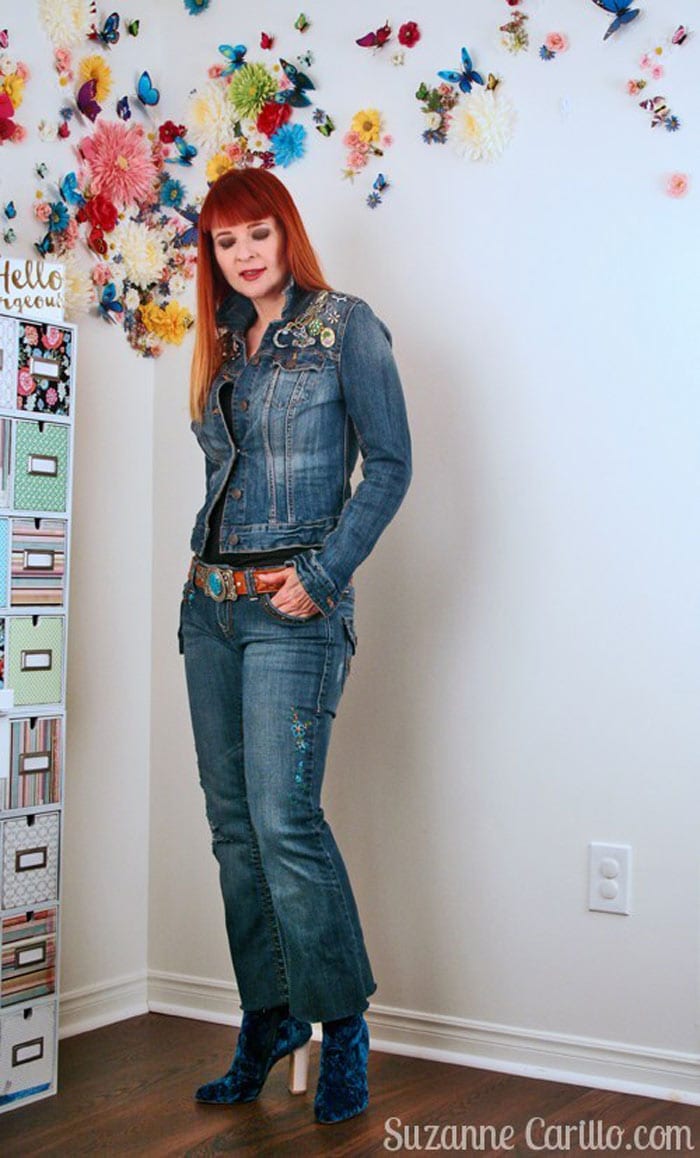 When it comes to wearing more than one denim piece, I would choose different denim washes and weights, and think about dressing up your outfit with luxe pieces such as heels and a cashmere coat, or tuxedo blazer.
Also think about your body shape and wear your darkest denim where you aren't so confident. So, if you are a pear, for example, wear darker jeans and a lighter top.
Get guidelines and lots of ideas in our article on how to wear jeans over 40.
10 of the best denim jacket suggestions for you to choose from
Before I take a further look at how to put together a denim jacket outfit, here are 10 of my favorite jeans jackets in stores now.
Just in case you don't already own a denim jacket – or you want one in a new color or style, here are some of the best in stores now.
black denim jacket
A black denim jacket could be a great alternative to the traditional blue options.
You could also look out for a style you don't usually see in denim, such as a moto jacket which is traditionally made in leather or faux leather.
Lira Clothing denim moto jacket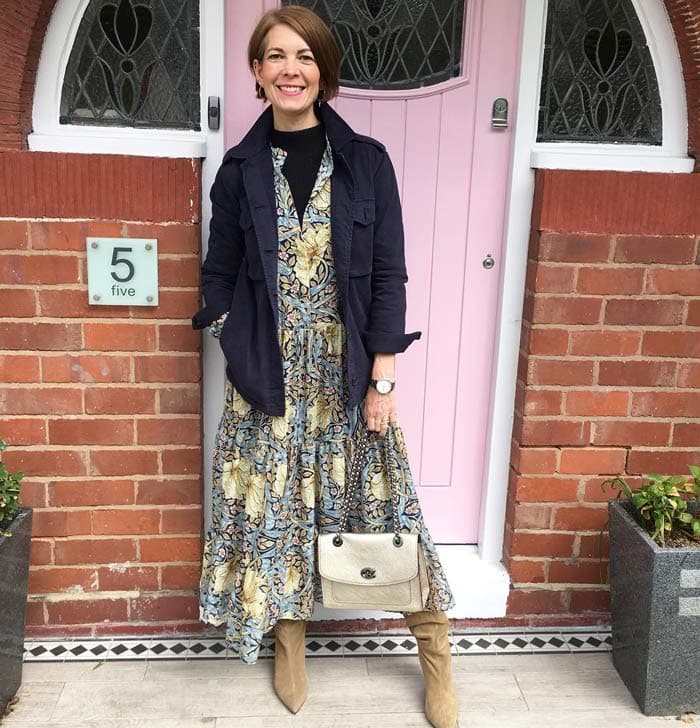 Beth (above) shows how to wear a denim jacket for fall by wearing with boots and popping a t-shirt under her dress. Here is a similar black denim jacket.
oversized denim jacket
One of the trendiest denim jacket styles right now if the oversized denim jacket.
This can be a tricky trend to wear as is is a fairly boxy look. But, if you keep the rest of your look fitted or you wear with a summer dress, it can work on most figures.
For more ideas check out this piece on how to wear a short jacket.
Madewell oversized denim jacket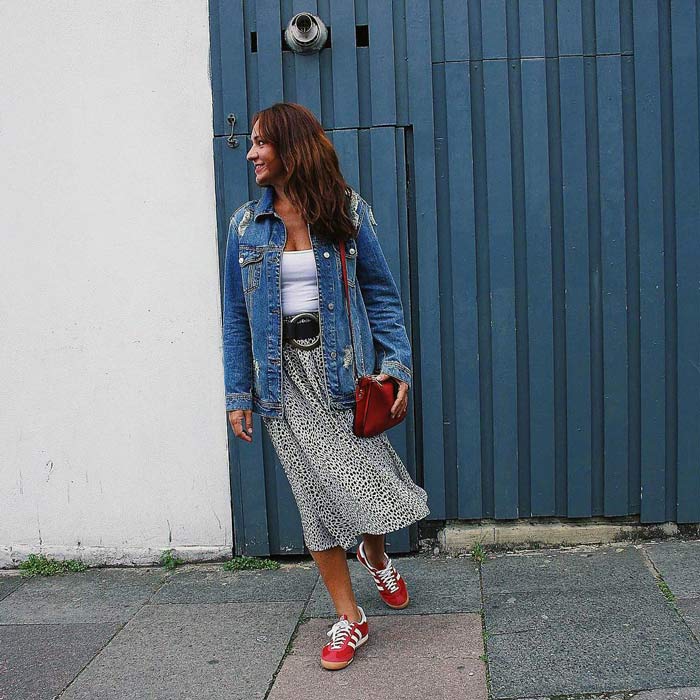 Vanessa (above) makes sure that her oversized jacket is still figure-flattering by cinching her waist with a belt.
Check out a similar oversized distressed denim jacket here.
denim jacket with fur
Another top trend this season, the denim jacket with fur could be an ideal way to wear a jean jacket and to stay cozy for fall and winter.
Levi's original sherpa trucker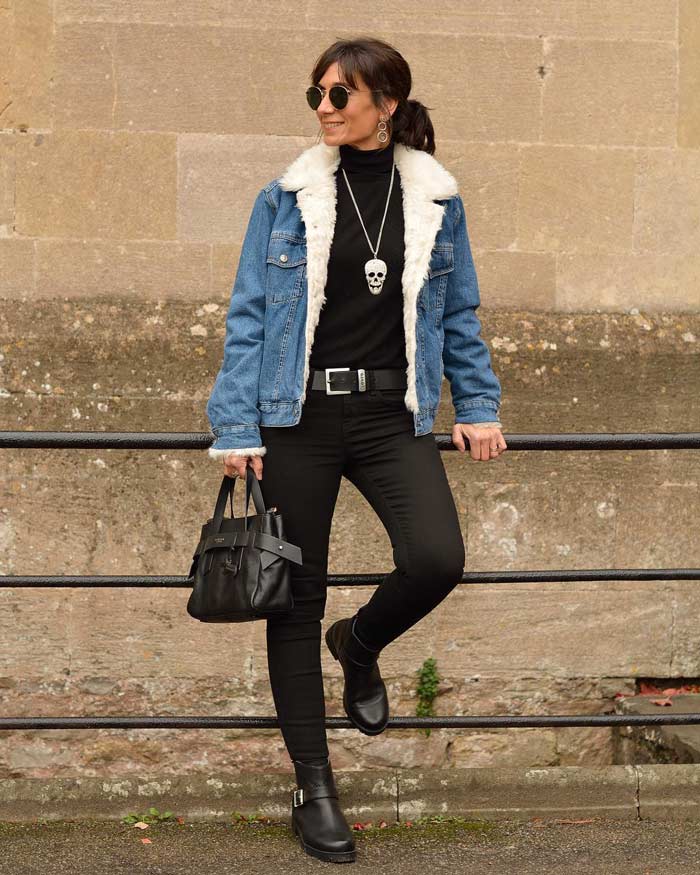 Patricia (above) teams her fur-lined jacket with an all-black ensemble. Find a similar faux fur lined denim jacket here.
blue jean jacket
A blue jean jacket is one of the most classic pieces you can have in your closet.
It will go with so many other items you already have.
A classic blue denim jacket is one of my 28 essential pieces every woman over 40 needs in her closet.
Kut from the Kloth denim jacket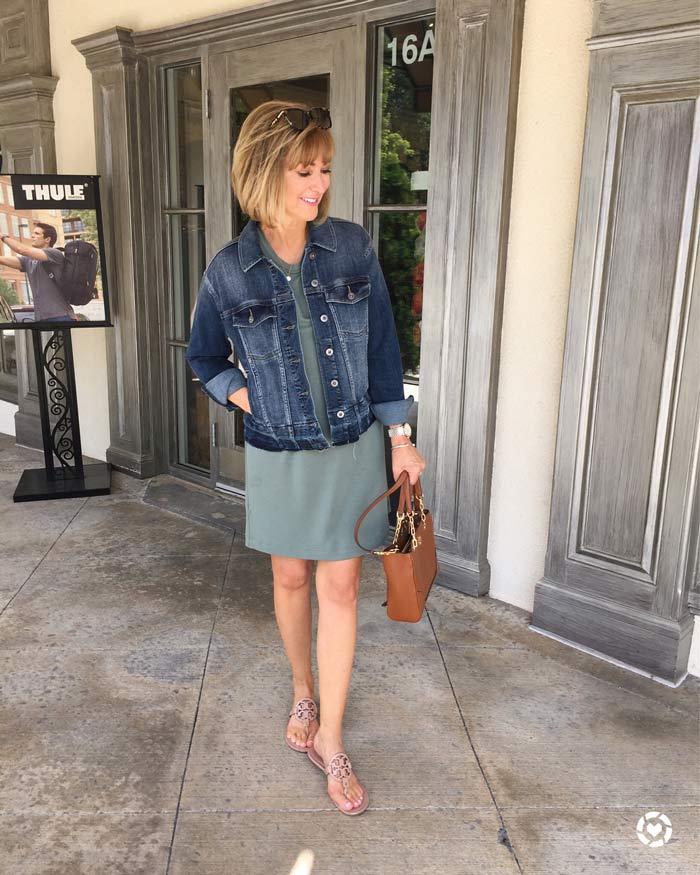 Carla (above) wears her blue denim jacket over a classic shift dress.
Get a similar denim jacket here.
green denim jacket
You don't, of course, have to go for blue or black, you could try an entirely different color when you choose your denim jacket.
An olive green jacket will give your outfit a different look.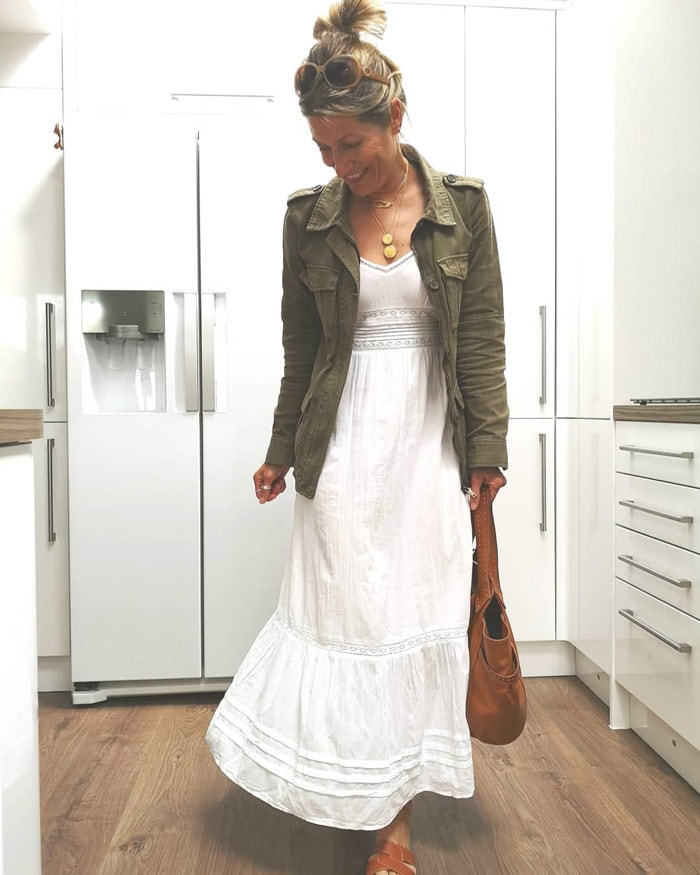 Abi (above) teams her green jacket with a white summer dress. Here is another army green denim jacket option you can try out.
white denim jacket
Just as white jeans are a classic alternative to have in your closet as well as blue denim, a white denim jacket can be a beautiful addition to your existing outfits.
You could wear for summer over your summer dresses or you could wear over a black dress.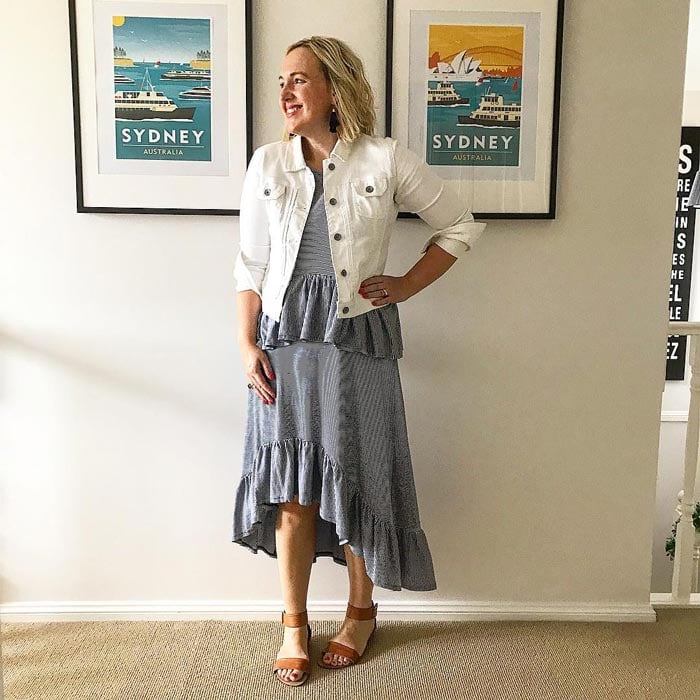 Kylie (above) wears her white denim with a tiered dress. Check out a similar white denim jacket here.
long denim jacket
While the traditional denim jacket you think of may end at the waist, or close to it, you could also think about a completely different style, and length, of denim coat.
4Clovers long denim trench jacket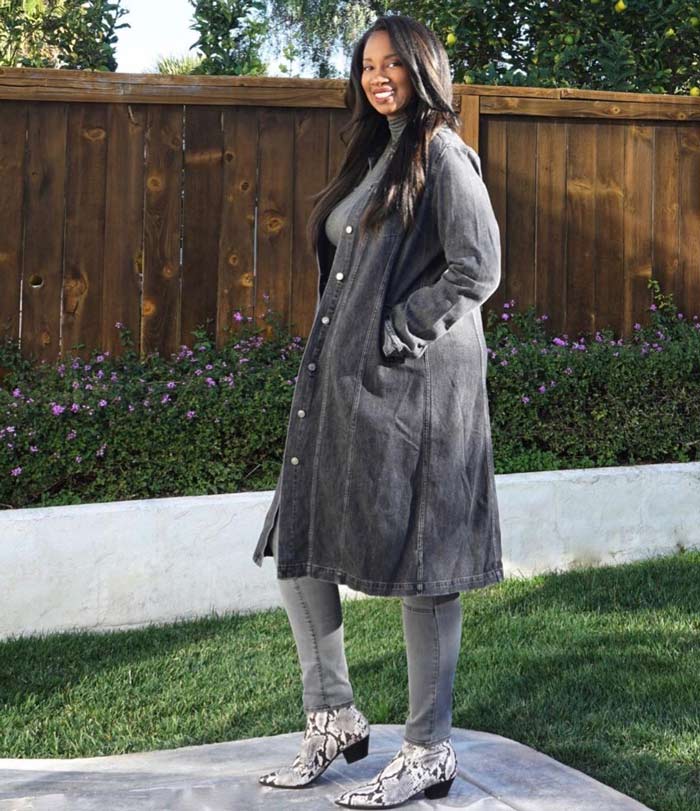 Tanasha (above) wears a dark gray, long denim coat with an outfit in different shades of gray. Here is another long black denim jacket you can try out.
ripped jean jacket
I'm not usually one for wearing distressed denim, but you can get an on-trend, more casual look with ripped or distressed pieces.
You could always opt for a subtle rip or a little bit of distressed denim in just one part of your jacket.
1822 Denim heritage denim jacket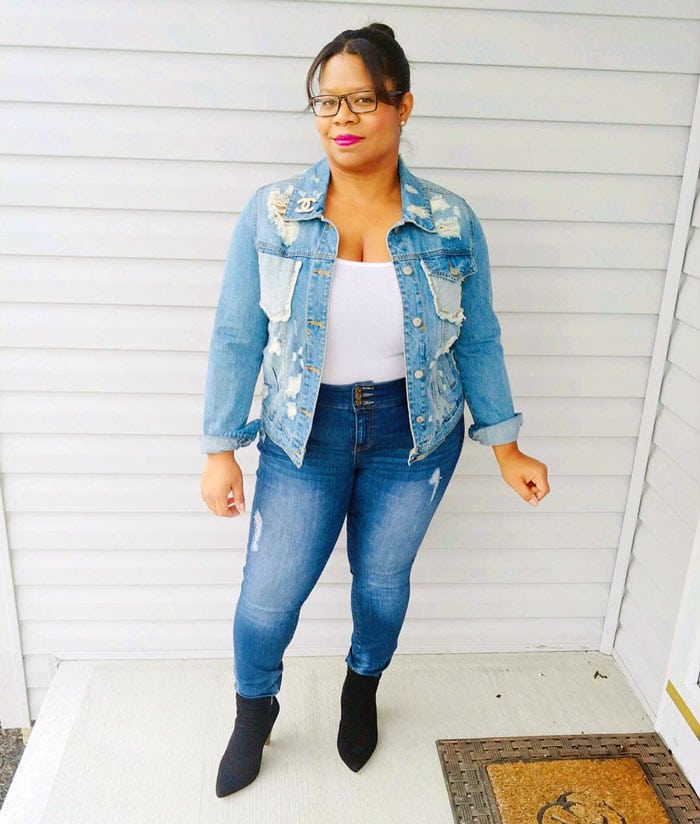 Venetia (above) chooses to wear double and distressed denim. Find a similar ripped denim jacket here.
red jean jacket
To make a real statement you could choose a red denim jacket. Think how beautifully this would dress up a monochrome outfit.
Or you could team with other colors for a color-block effect.
For more inspiration take a look at this piece on how to wear red.
Design by Olivia classic denim jacket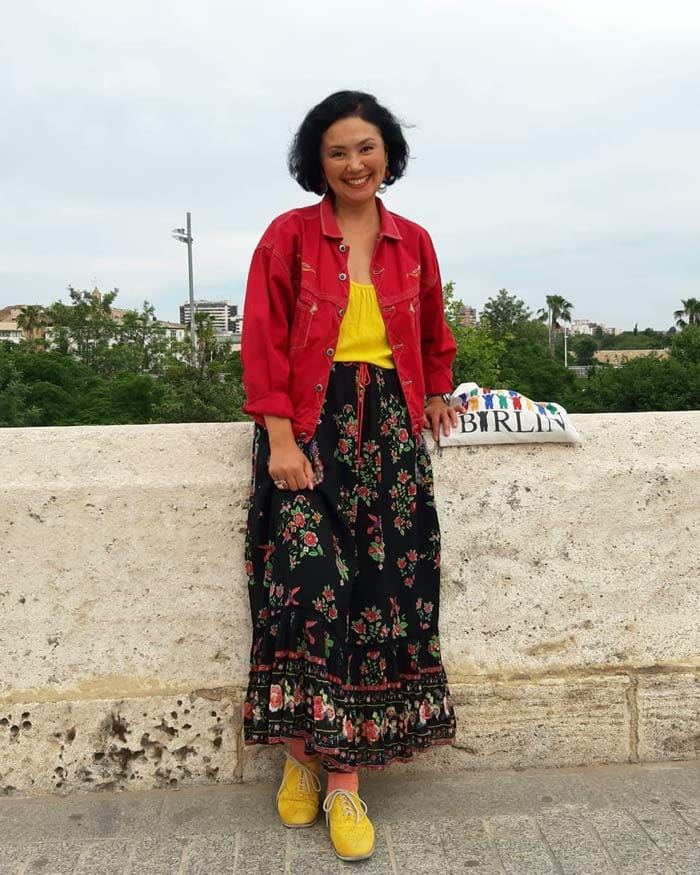 Galiya (above) chooses to team her red denim jacket with yellow. Get a similar red denim jacket here.
cropped jean jacket
A cropped denim jacket could be useful for layering. They are a particularly useful way to emphasize your waist.
Plus, you can wear over longer layers to add interest to your outfit.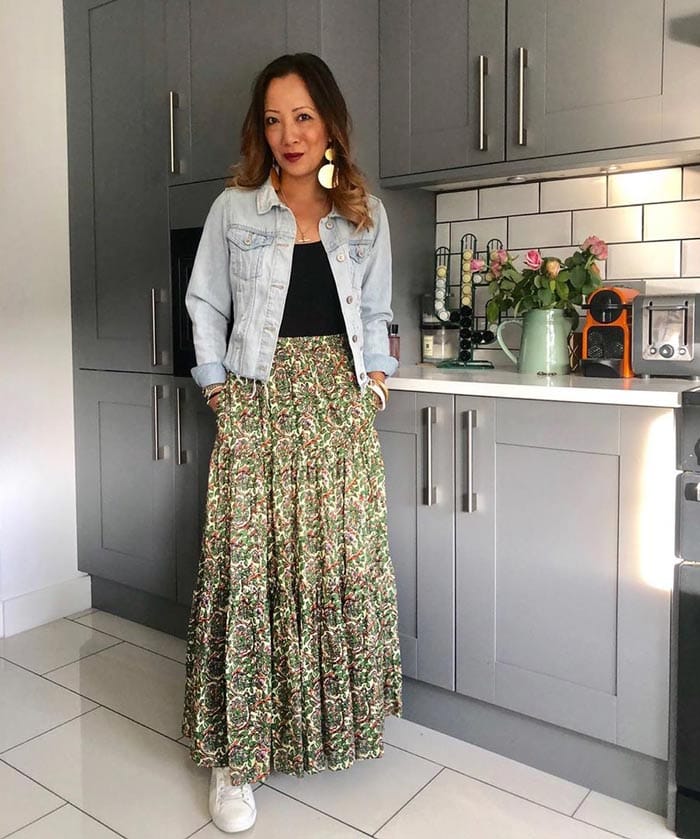 Abi (above) wears her denim jacket with a floral maxi skirt. Here is a similar crop light washed denim jacket.
Continue reading:
Like this post on how to wear a denim jacket? Share it on Pinterest!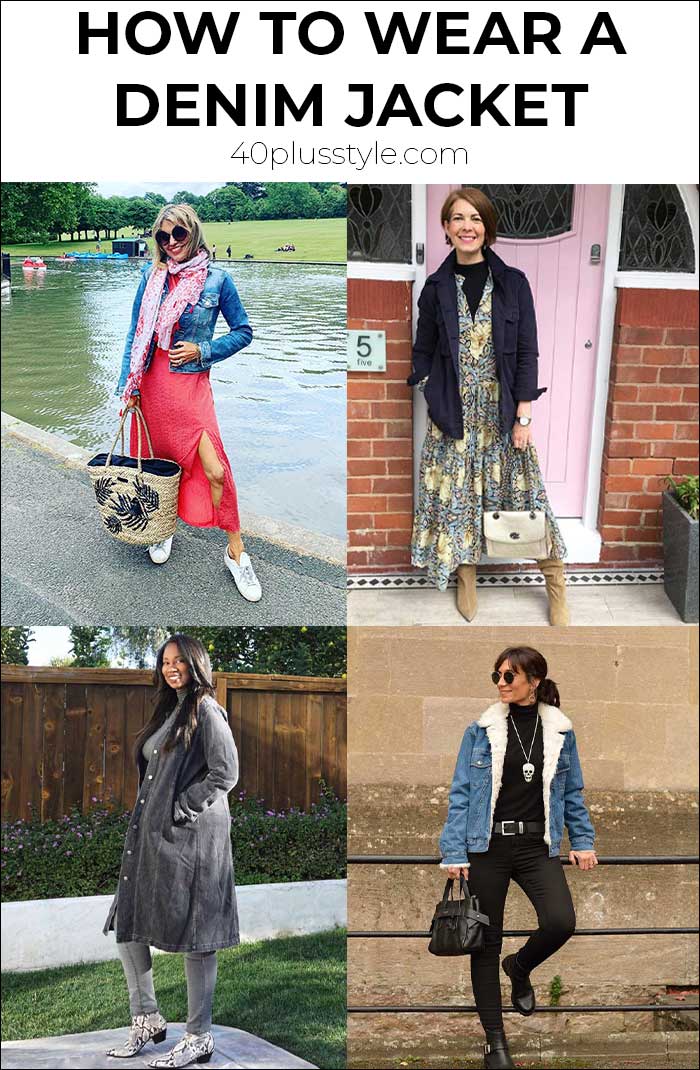 Feature image by Carole
Want to get more articles from 40+style in your inbox, subscribe here.
You can also connect with 40+style on Facebook, Instagram or Pinterest.
Support 40+style by using the links in our articles to shop. As an associate for Amazon and many other brands, we receive a small commission (at no cost to you) on qualifying purchases which enables us to keep creating amazing free content for you. Thanks!