Do you have the essential fashion accessories for your style? Let's find out!
Are you using your fashion accessories?
We all love a good handbag, or possibly have a shoe obsession or enough jewelry to never wear the same piece twice!
You have a glamorous style personality for only selecting and wearing the best accessories out there to pair with your outfits.
But how many of us are really putting our fashion accessories to work every day?
Stylish women everywhere often have their favorite wardrobe staples that are classic and worn repeatedly.
Accessories change the look of these wardrobe staples by adding color, a theme or a new way to wear the staples.
There are 10 essential fashion accessories every woman should own that can transform an ordinary outfit into an extraordinary one.
For example, let's say you have a busy day and evening. Here is how you can use fashion accessories to transform your outfit three times.
How to accessorize
You can put on a favorite little dress in the morning and style it with sunglasses, a hat perhaps, a cross-body bag and some flats to run around in.
You can transition this look into the afternoon by removing the hat and adding a shawl, scarf or wrap.
Switch to heels, maybe some sheer stockings or tights and a clutch and statement jewelry for the evening and you've just transformed one simple dress into 3 looks!
Fore more inspiration take a look at this piece on 20 fashion accessories to try for fall 2023.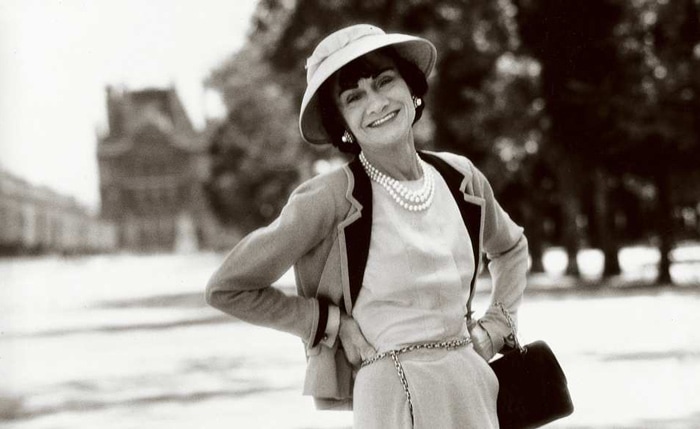 What did Coco Chanel say about fashion accessories?
One of our favorite style icons Coco Chanel (portrait above by Boris Lipnitzki) once said: "Before you leave the house, look in the mirror and remove one accessory."
However, this was at a time where women were used to accessorizing. My experience is that many women don't use any accessories at all or too few.
We love Coco but we are changing her advice to:
Before you leave the house, look in the mirror and ADD one accessory.
I also love what Oscar de la Renta said about fashion accessories. His advice was:
"A woman makes an outfit her own with accessories."
Essential accessories
Here are 10 essential fashion accessories you should have in your closet to take his advice and create your own, signature style.
1. Bags
Handbags are often a status symbol that express your personality instantly. What is your personal style?
Are you a structured kind of woman, or do you like to sport a little boho style or some vintage chic?
Read our article on the 10 best designer handbags you can definitely afford to get your hands on a new piece.
Regardless of what you like, go for it and don't worry so much about whether or not your handbag matches your look.
Tory Burch Perry Triple Compartment Leather Tote
Monika (above) adds a pop of color to her outfit with her yellow bag. Here is a similar yellow satchel bag.
Fore more inspiration take a look at the best handbag trends for fall 2023.
2. Shoes
Most of us look for comfort above everything. But don't sell your outfit short in attempt to put comfort over style.
Nowadays, a beautiful pair of shoes can have it all – function, style and comfort.
Brands like Sam Edelman, Cole Haan, Ecco, Stuart Weitzman and Geox offer some good styles which are on-trend yet comfortable.
For more comfortable, stylish shoe ideas take a look at our list of arch support shoes.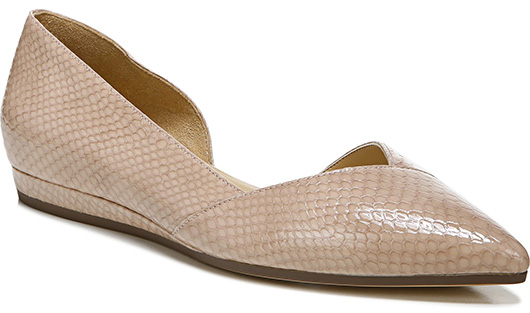 Naturalizer Kristin Half d'Orsay Flat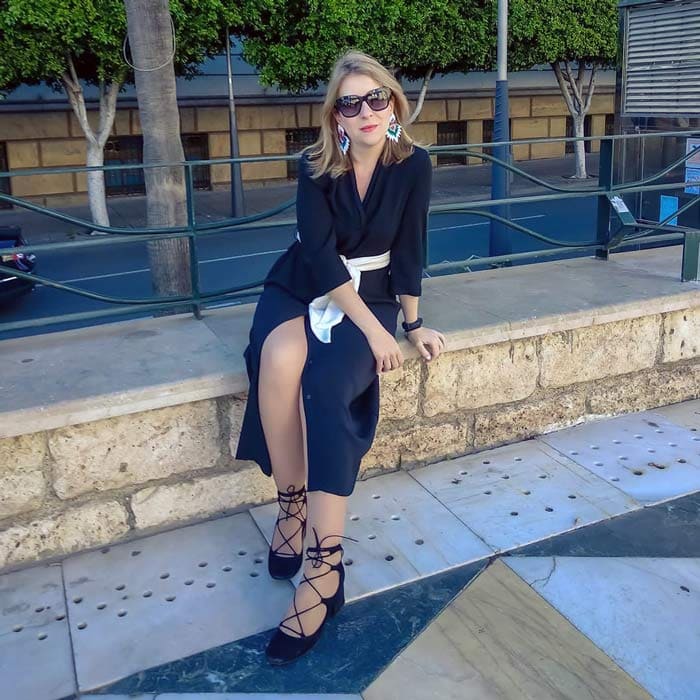 Monica (above) opts for a pair of lace-up wedges. Check out a similar pair of lace-up shoes here.
3. Jewelry
Jewelry is an essential accessory with limitless styles and options.
If your goal is to accessorize better everyday, start with organizing your jewelry by type and color in a way that makes adding a pair of earrings, a brooch or a necklace to your look quick and easy.
My personal preference is for contemporary, statement necklaces and earrings. But you can choose your jewelry based on your own style personality.
Check out the best contemporary jewelries in stores now.
Argento Vivo Sterling Silver Box Chain Y-Necklace
4. Scarves
A good scarf (or two or three or four) is such a versatile item!
A scarf can serve as the splash of color your outfit needs, or do double duty as a headband, turban or even a summer pareo.
Don't bother with a neutral tone. This essential accessory should always feature great colors and some pattern, too.
I find that a scarf is such an easy way to elevate your look. You can just throw a scarf on with a pair of jeans and a t-shirt and blazer, or moto jacket, and you look instantly more stylish.
Plus, you can use the colors in your scarf to tie in the colors in the rest of your outfit.
Take a look at this article on how to wear a scarf and tie your scarf in different ways.
Nordstrom Print Modal & Silk Scarf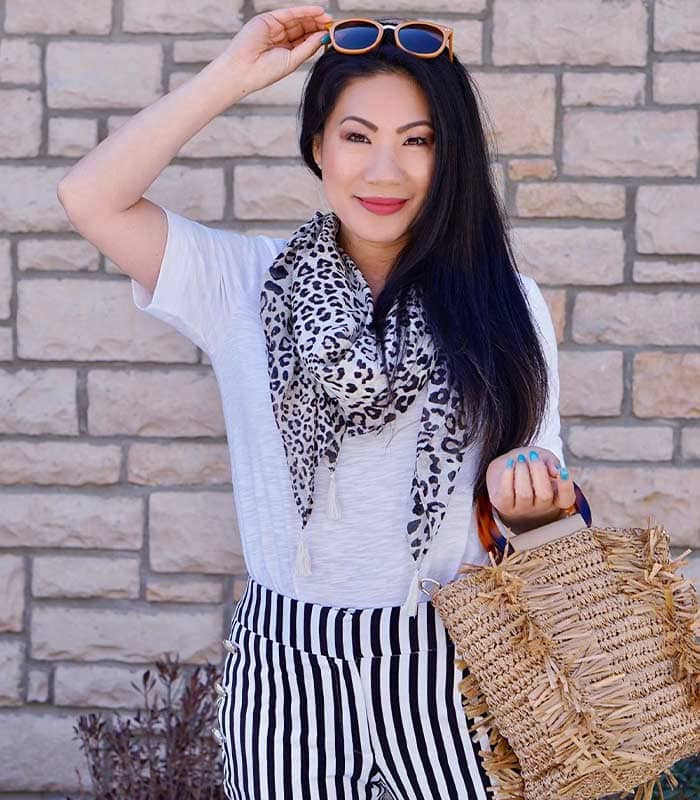 Grace (below) shows how to use a scarf to mix prints. Here is a similar animal print scarf.
5. Wraps, shawls or cardigans
Cardigans, shawls and wraps straddle the line between fashion and accessory.
But if you're simply dressed in some leggings and a sweater or t-shirt, nothing dresses up your look faster than the right wrap or cardigan.
Not to mention that a little cardigan or shawl is a great item to keep in your bag when you need to spruce up your ultra casual outfit, if it's chilly in the restaurant you've just arrived at or if the wind picks up.
Lightweight cashmere and silk blends are compact yet wonderfully warm.
Kate Spade New York Spade Flower Ruana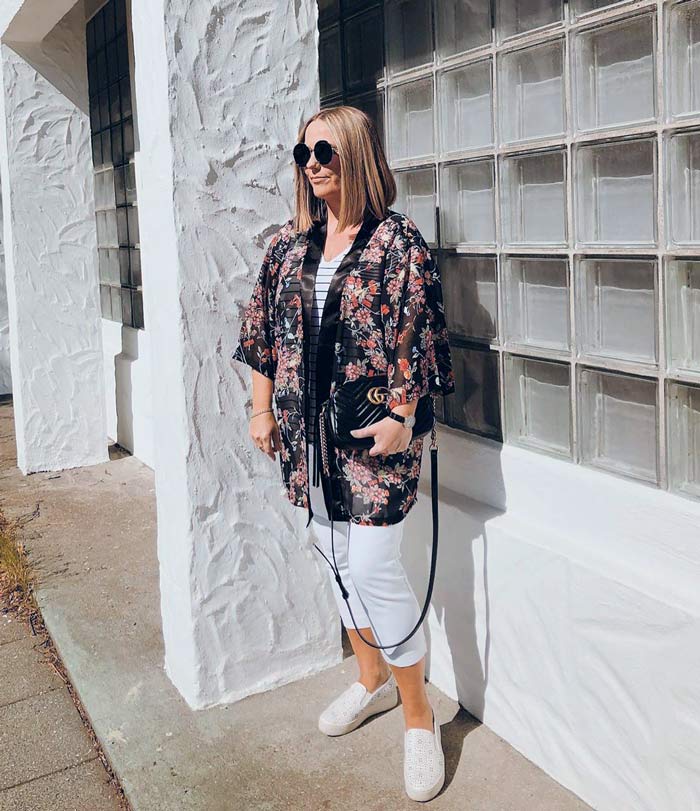 Jona (above) adds a summer kimono to her ensemble. Check out a similar topper here.
6. Hats
Many women avoid hats because they think they don't have the face for hats.
With the huge amount of hat styles and colors available, every woman can look fabulously chic in a hat.
Wear a hat to add whimsy, or on a bad hair day or when it's really sunny outside.
Hats are also your skin's best friend, keeping the UV rays off your delicate facial skin.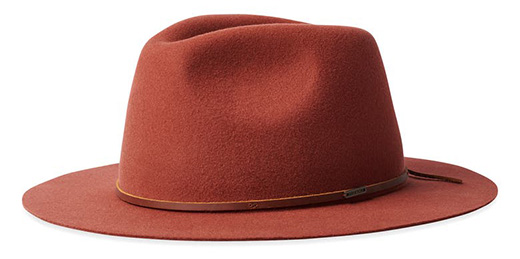 Hallie (above) looks very stylish in her straw panama hat. Find a similar woven hat here.
This article gives excellent advice on how to wear a hat.
7. Sunglasses and eyewear
Sunglasses are another important accessory that not only add personal style but also protect the delicate skin around your eyes from the damaging effects of the sun.
Quay Australia Level Up 56mm Polarized Square Sunglasses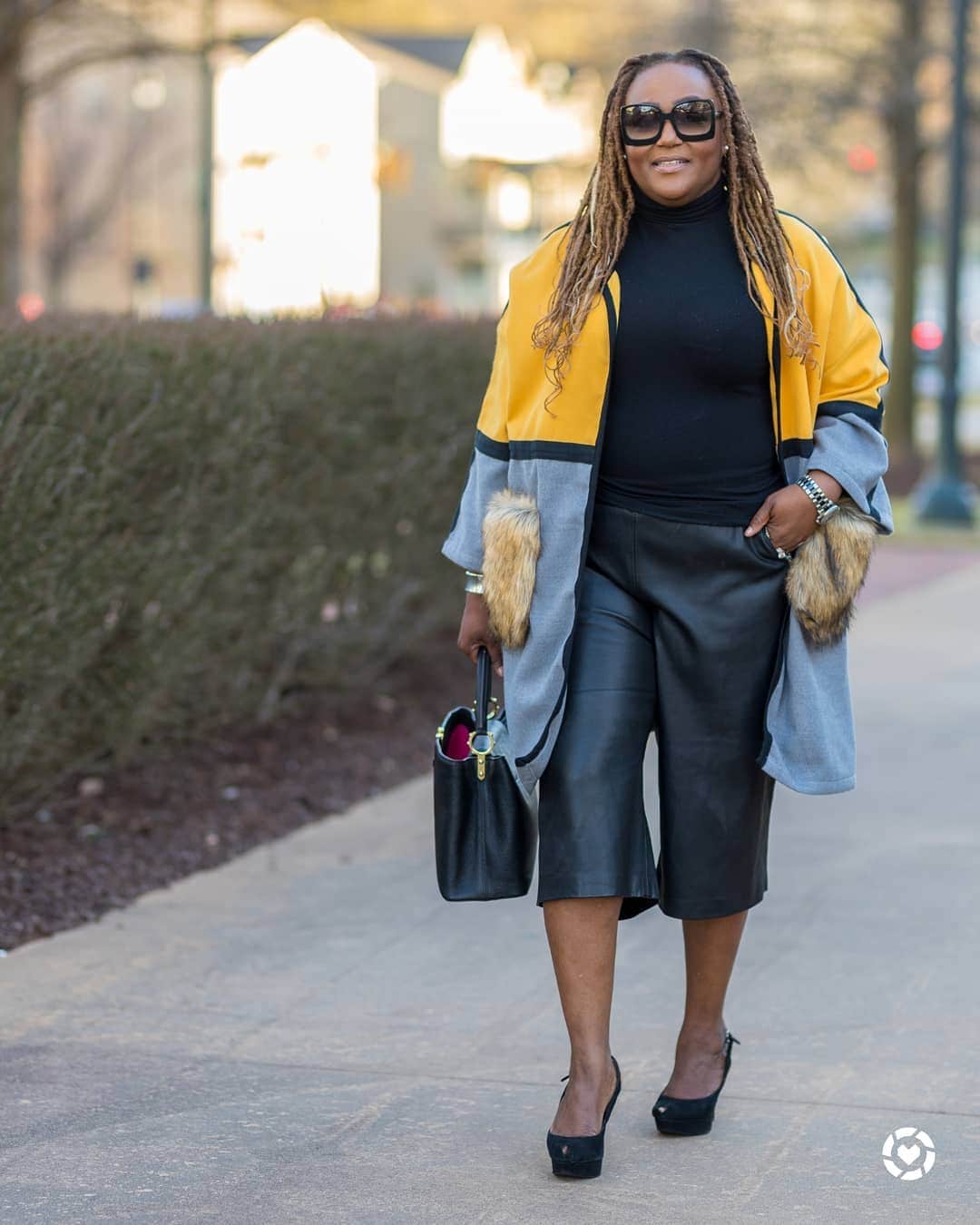 Nikki (above) wears an on-trend pair of square sunglasses. Here is a similar pair.
For more tips check out our article on which glasses to buy after 40.
8. Belts
Most essential accessories simply add personality to your outfit.
But belts are like a magic pill – they slim you down and add a unique look to whatever you're wearing.
Invest in some good belts and wear them more often. They are great for cinching your waist, tucking your tummy and giving you an hourglass figure.
You can cinch a belt over your dress, tunics, tops, sleeveless jackets or your blazers for a different look.

Kurt Geiger London Reversible Metallic Leather Belt
Want to get more tips? Check our guide on how to pick the right belt.
Georgette (above) teams red accessories with her paler dress. Find a similar red belt here.
9. Tights and leggings
This category is often forgotten when accessorizing.
But a beautiful stocking or pair of tights or some leggings under a dress or tunic can really streamline your look, add some personality to your outfit and even lengthen and slim you.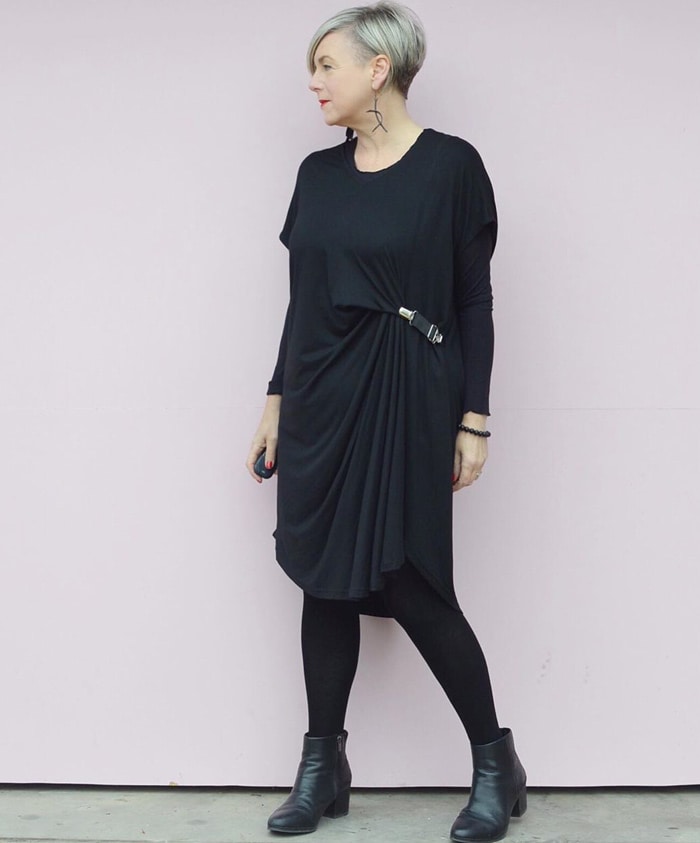 Deborah (above) is stylish and warm in a pair of black opaque tights. Check out a pair of similar tights here.
Here are two popular articles on how to wear leggings and how to look slimmer and taller.
10. Quintessential evening accessories
This is a general category but an important one.
Dressing up for evening requires its own set of accessories that sometimes don't work with your daytime outfit.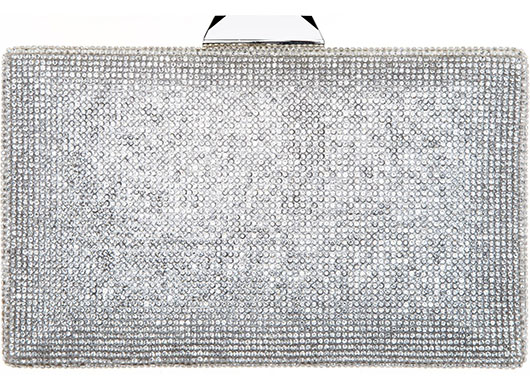 Nina Desyre Crystal Minaudière
Your quintessential evening accessories should include:
an evening shawl or shrug
a gorgeous clutch
statement evening jewelry
an elegant, evening shoe
an ornate headband
Look for items that are classic and have some extra bling and sparkle.
Patricia (above) adds a classic gold clutch to her look. Here is a similar clutch.
Good colors that go with many looks include reds, blacks and metallic tones.
11.Confidence
This is a bonus essential accessory for you!
Regardless of what you add to your look before you head out the door, be proud and confident of your style choice and carry that confidence all day.
There is nothing more alluring than a woman that walks into a room accessorized in a big smile and an air of confidence.
Don't leave home without it!
Did I leave anything out? What do you think is the most important fashion accessory of all?
Continue reading:
The Ultimate Checklist Of Wardrobe Essentials: Which 28 Essential Pieces Do You Need In Your Closet?
Like this post on essential fashion accessories? Share it on Pinterest!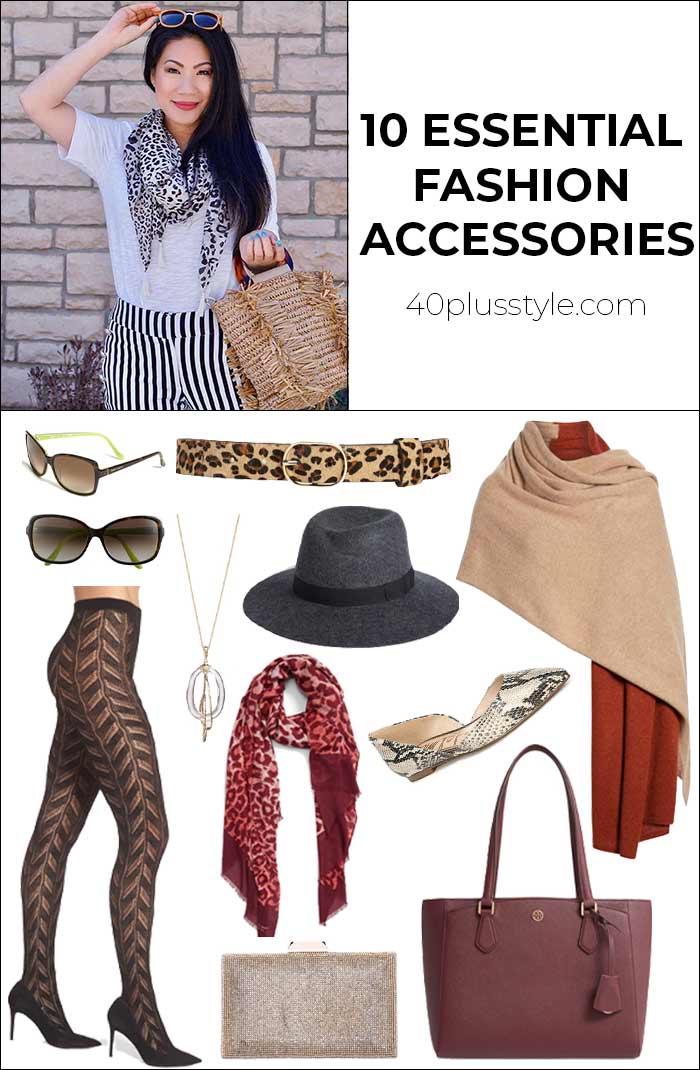 Feature image by Grace
Want to get more articles from 40+style in your inbox, subscribe here.
You can also connect with 40+style on Facebook, Instagram or Pinterest.
Support 40+style by using the links in our articles to shop. As an associate for Amazon and many other brands, we receive a small commission (at no cost to you) on qualifying purchases which enables us to keep creating amazing free content for you. Thanks!