When you think about dressing casually, you probably are more likely to consider jeans or pants. But skirts can be just as comfortable, casual and chic. Today let's discover how to wear a skirt in a casual chic way.
How to wear a skirt in casual situations
Here in Singapore I don't really have a favorite when it comes to the kind of bottoms I like to wear. I love dresses, pants and skirts almost equally. I wear skirts on dressy occasions but also to casual outings.
Here, you will find my tips on how to wear a skirt in a casual way.
How to make your skirt more casual
Pair your skirt with with lose and casual tops
Wear brogues or sneakers with your skirt
Wear a skirt in a casual fabric like denim
Pair your skirt with casual fabrics like denim
Casual skirt looks for you to try
I think you can make pretty much wear any skirt work in a casual way.
You could, for example even pair a formal, full skirt with a denim jacket and a pair of sneakers.
But, obviously, some skirts are naturally more casual than others.
Denim skirts
Denim or jean skirts are a style staple that are unlikely to date, no matter how long they are in their closet.
You could opt for a classic blue or black denim, or if you want to wear during the summer months, you could try a white denim skirt instead of a pair of white jeans.
Frame vintage button front denim skirt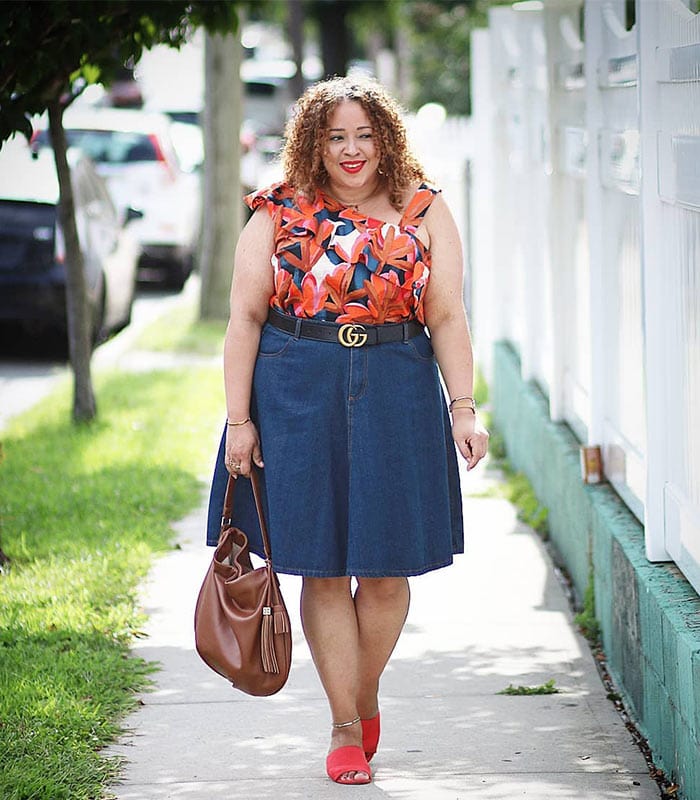 Sandra (above) wears a lovely full denim skirt which she styles with pops of red. You can find a similar piece here.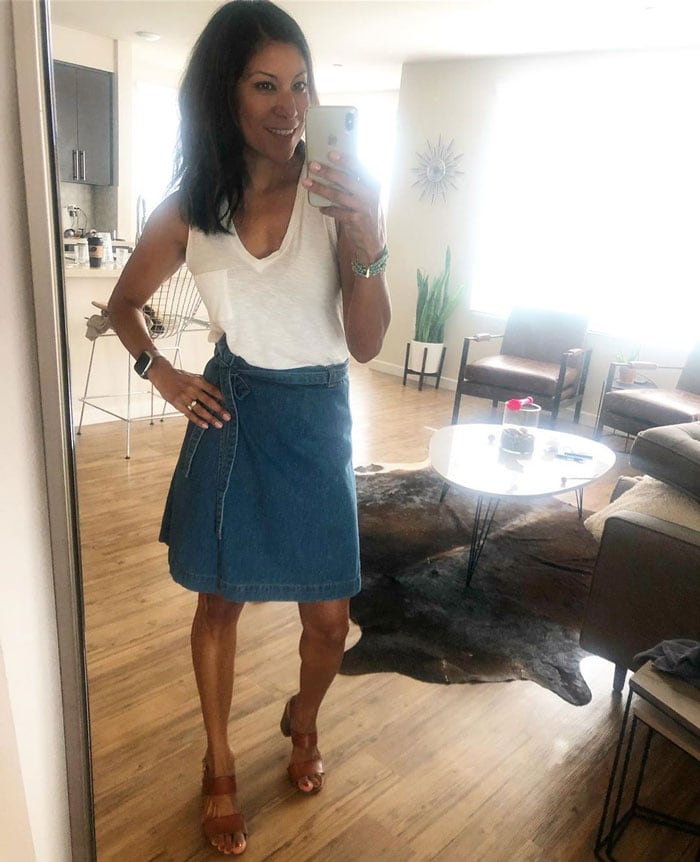 Adaline got her her tie-belt skirt from Gap. You can find a similar piece from the same brand here.
Pleated skirts
Pleated skirts were once thought to be strictly formal.
They've been used by schools as part of school uniform, they were a style staple in the 40s and they look lovely dressed up now for a special occasion.
But, they also look very stylish when worn casually. I love the current trend for wearing a pleated skirt with a sweater and either sneakers or booties.
Vince pleated mixed media skirt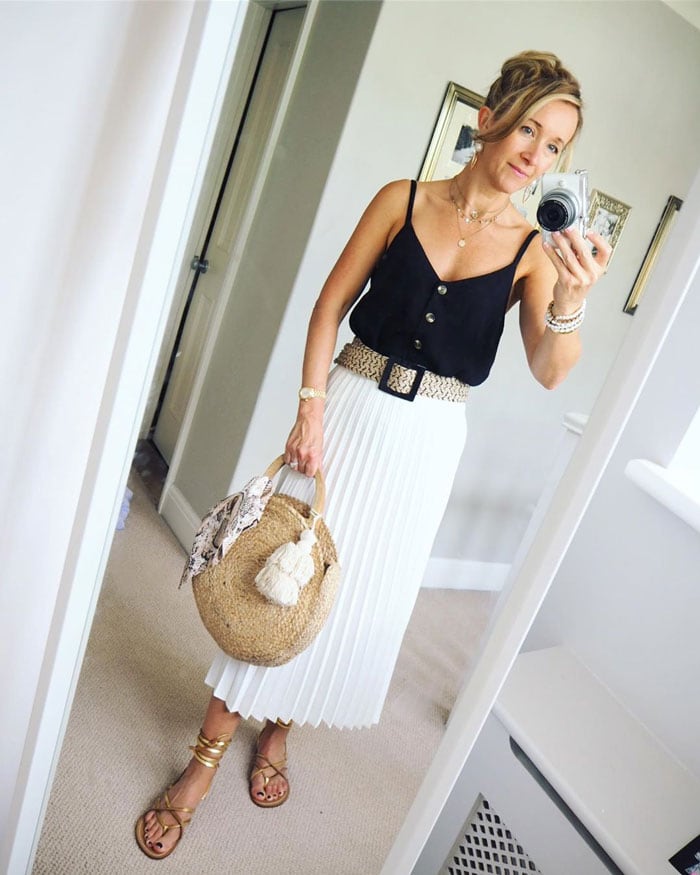 Karen (above) teams her pleated skirt with a camisole and flat sandals for a great vacation look. Get a similar white pleated skirt here.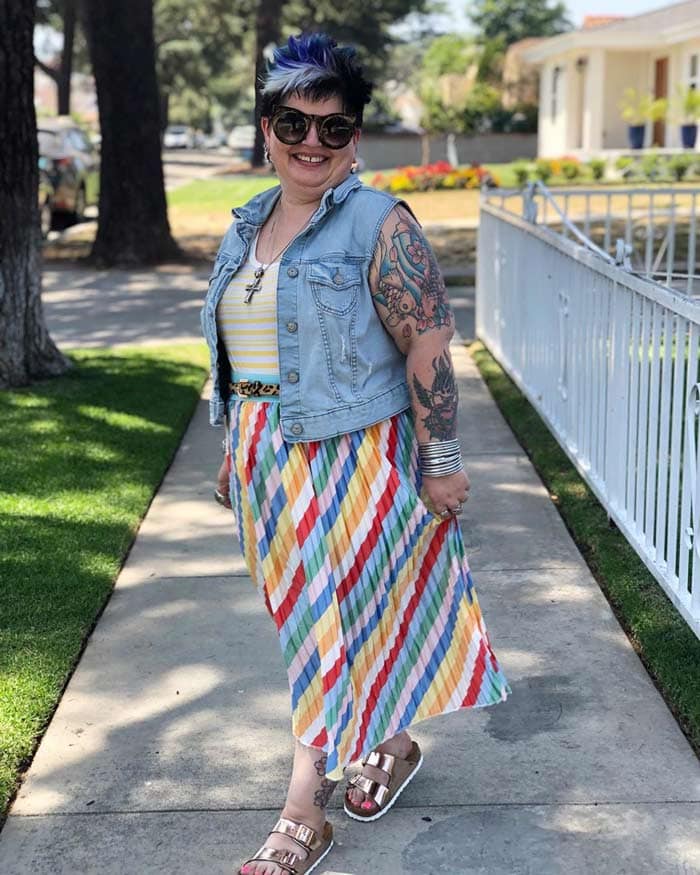 Erin (above) opts for colorful pleats worn with sandals and a sleeveless jacket. Check out a similar colored pleated skirt here.
Maxi skirts
I always think maxi skirts give off an air of casual elegance.
When you see a woman in a maxi skirt, she exudes haven't-tried-to-hard confidence. You can wear with sandals for your vacation.
Or you could team with booties and a moto jacket when the weather cools down.
Loveappella roll top maxi skirt
Christine (above) wears her animal print skirt with booties and a denim jacket. Check out a similar piece here.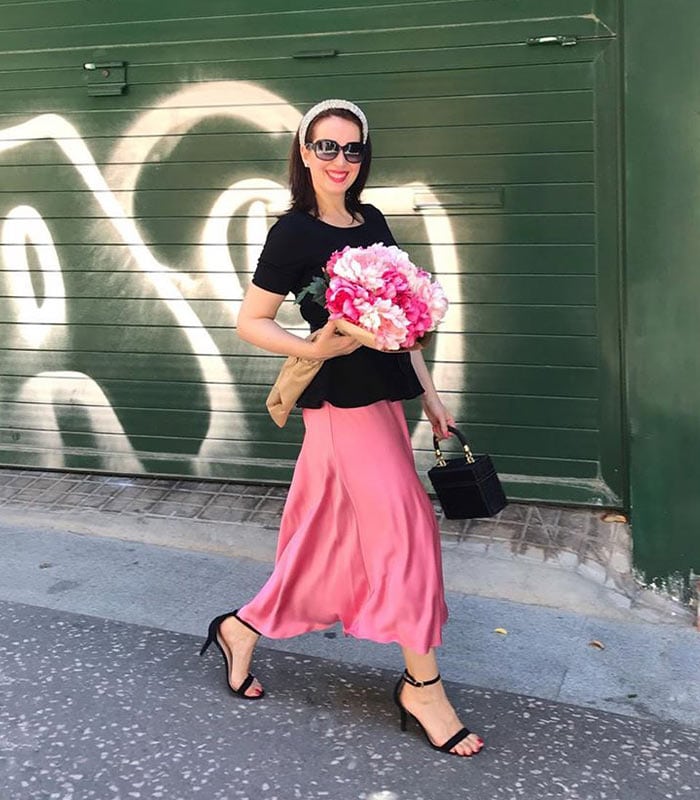 Patricia (above) lets her maxi skirt be the stand out star of her outfit (along with a lovely, matching bouquet of flowers). Get a similar satin skirt here.
Pencil skirts
Just like the pleated skirt, the pencil skirt can be thought of as a more formal style.
And, it's true, you can definitely dress it up for dinner, or you can wear with a blouse or shirt for work.
But, you can also dress the pencil skirt down with flats, boots or sneakers.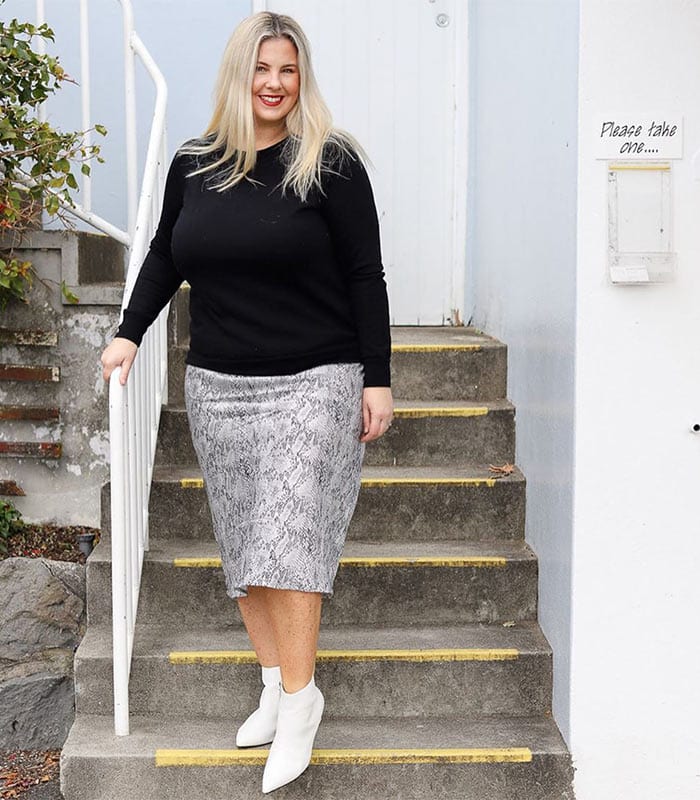 Nicky (above) wears her snake print pencil skirt with booties and a sweater. Here is a similar snake print pencil skirt.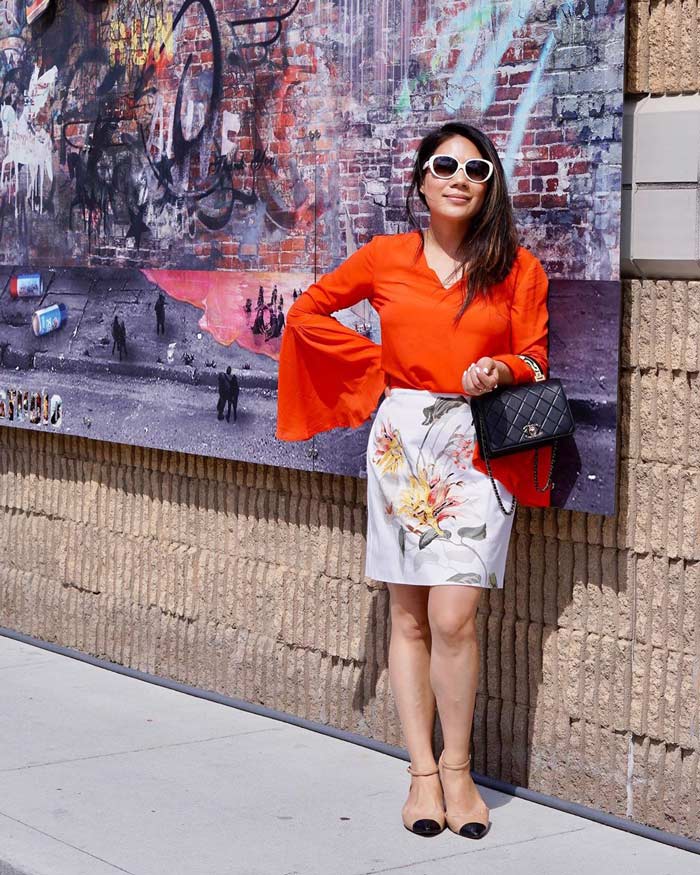 Grace (above) chooses a floral skirt and a blouse with dramatic, flared sleeves. You can find a similar floral pencil skirt here.
Full skirts
Another versatile option, full skirts can be a good option for many different body shapes.
But, they are particularly good for pear shapes as they help to skim over the thigh and hip area.
Check out this piece for more ideas on how to dress the pear shape.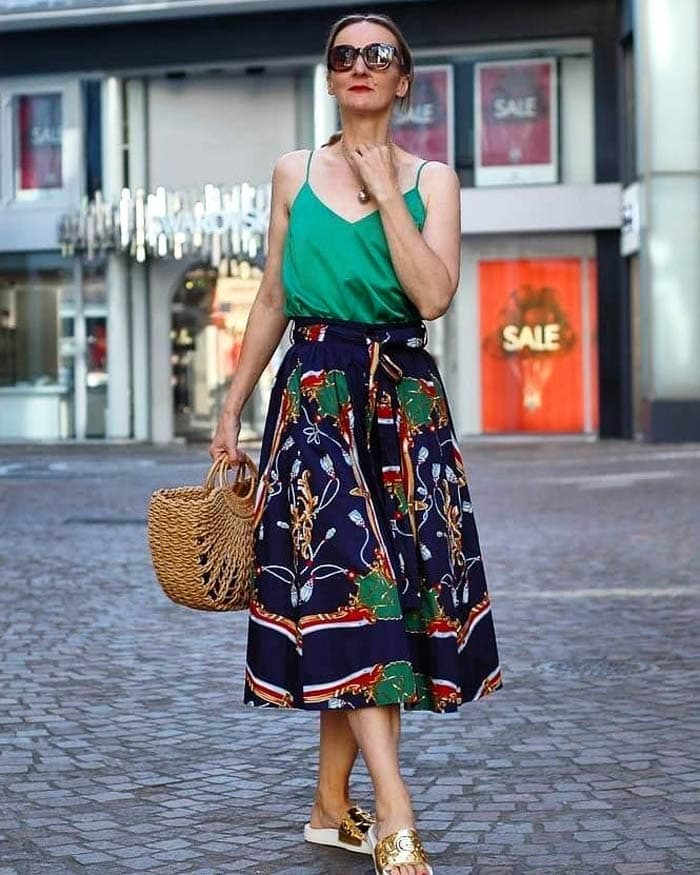 Sabina (above) wears a striking print skirt and choosing to add extra drama with a pair of gold sandals. Check out a similar navy printed skirt here.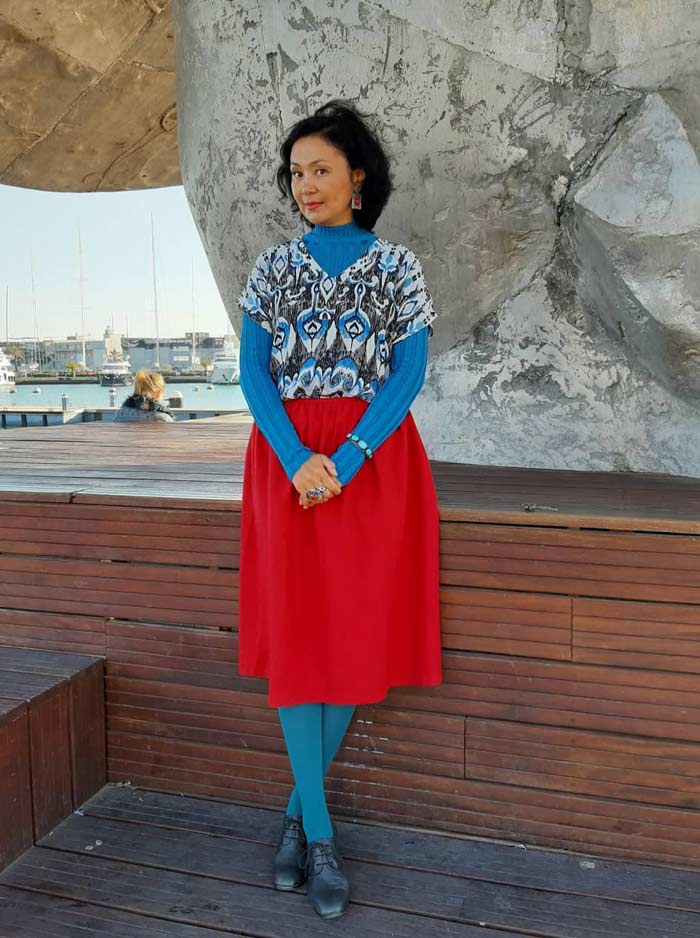 Galiya (above) shows how effective layering can be. She teams her outfit with a blue sweater and also picks up the blue with her tights. Get a similar red skirt here.
I love to wear my wrap skirt from Cos (here is a similar one) that can combined with almost any top and looks great with my Rollie brogues.
For more inspiration, check out our article on black skirt outfit ideas.
Tops and jackets to wear with your casual skirts
If you are putting together a casual skirt outfit, you will want to make sure that the other elements of your look are not too formal.
Think about choosing sweaters, draped tops and casual jackets such as a leather biker or denim style.

Shoes to wear with your casual skirts
To ensure that your look sticks to a casual vibe, opt for booties or sneakers.
If you're dressing for summer or a vacation, you could also choose sandals.

Accessories to wear with your casual skirts
Keep your look suitable for daytime by opting for more casual options such as a crossbody bag and a scarf.
Rather than more formal jewelry such as diamonds or precious gems, you could think about more contemporary pieces.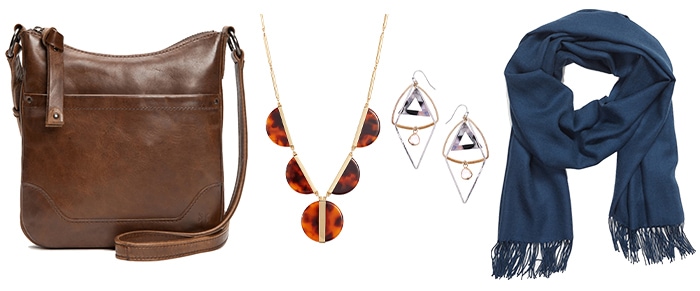 Here are 9 casual skirt outfits featuring the pieces above
Read our ultimate guide to creating a capsule wardrobe that works best for you.
Do you wear a skirt in a casual setting? Which of the above looks is your favorite?

Like this piece on how to wear a skirt in a casual chic way? Share it on Pinterest
Feature image by Nicky
Want to get more articles from 40+style in your inbox, subscribe here.
You can also connect with 40+style on Facebook, Instagram or Pinterest.
Support 40+style by using the links in our articles to shop. As an associate for Amazon and many other brands, we receive a small commission (at no cost to you) on qualifying purchases which enables us to keep creating amazing free content for you. Thanks!