The white shirt is a classic item that will never go out of style. Let's look at how to wear a white shirt in style!
Here are just some of the advantages of a nice white blouse
It gives you a clean crisp look.
There's a style of white shirt to suit any style personality.
It combines with every other color you have.
It is a perfect background for your fabulous accessories like jewelry and scarves.
It is perfect to wear with all the printed trousers that are so fashionable now.
You can wear them in so many different ways.
– Tuck them in.
– Wear with a belt
– Semi tuck
– Wear them loose over a singlet
– Tie a knot in front
– Wear to the Oscars with a formal long skirt (remember Sharon Stone!). Or wear to Wimbledon tucked into a pleated skirt (Meghan Markle).
The white shirt is one of my 28 wardrobe essentials every woman should own.
I always make sure I have a white shirt in my closet because of its versatility.
If you are still looking for the perfect one, here are 13 different options for you to choose from.
I will continue to show you how stylish 40+ women are wearing their white shirts right now.
Scroll down and you'll also find ideas on how to wear a white shirt, what to wear with your white shirt as well as a capsule wardrobe featuring 9 outfits.
Read our ultimate guide to creating a capsule wardrobe that works best for you.
A white shirt for work
Whether you're wearing it to work or not, a crisp white shirt is the perfect addition to your closet.
Wear it to the office, or just wear it with jeans!
White silk blouse
If you've been reading 40+style for a while, you'll know that I'm a big fan of natural fabrics, particularly silk.
White silk shirt
Here's another lovely option if you're looking for a silk shirt style with a more structured collar rather than a silk blouse.
White see through shirt
If you want to add a bit of subtle sex appeal which is still incredibly classy, you could try a sheer or see-through shirt and add a camisole underneath.
You might want to take a look at this piece on the best camisoles for women over 40.
Ming Wang windowpane plaid button-up shirt
White long sleeve blouse
Do you prefer a long-sleeved option when it comes to blouses and shirts? Then this classic style could be for you.
You can still give it a more casual look by rolling up the sleeves if you don't always want to wear them down to your wrist.
This could be a great option to wear with leggings.
Here's more inspiration on how to wear leggings for women over 40.
White sleeveless blouse
On the other hand, if you are searching for a white blouse for summer, or your shoulders and arms are part of your body you love, you could show them off with a sleeveless shirt.
Anne Klein peter pan collar blouse
White short sleeve blouse
Of course, you don't have to go long, or totally sleeveless. Sometimes, the middle ground is a good style to choose.
I think this would be lovely with shorts for the summer months.
White sheer blouse
Another option for you if you are looking for a lovely sheer blouse. You can pop a camisole underneath this one and wear with everything from jeans to leather pants to a pencil skirt.
White ruffle blouse
You can see already that there are so many different styles of white shirt that you're sure to find one that suits your style personality.
For added interest, you could try some ruffles or ruching.
Bishop + Young ruffle sleeve blouse
White lace blouse
Another fantastic idea if you want to add interest to the white blouse is choosing an option with lace.
Lace is particularly on trend this fall so you could wear with your jeans and booties to take this look into the cooler months.
White chiffon blouse
Chiffon isn't a type of fabric as such. You can make chiffon from silk, nylon or polyester. Instead it refers to the properties of the fabric.
A chiffon shirt is made from a fine gauze so you're likely to want to make sure you're wearing underwear which provides you with some coverage underneath.
womens oversized white shirt
Oversized clothing is particularly on trend right now. But if you do opt for an oversized shirt, make sure that you get the balance right with the rest of your outfit.
For example, you could wear this over skinny jeans, or over a fitted dress. Or you can add some structure by wearing a cropped jacket over your shirt.
White cotton blouse
Another great natural fabric to choose when looking for the perfect white shirt, is cotton.
There are a few drawbacks to a white shirt as well
Having talked about how essential a white shirt is, and shown you some you could try, it's only fair to tell you about the drawbacks.
It can make you look a bit washed out (adding accessories can help with this)
They get dirty really quickly (Getting the right product for washing can help. Check out these tips on how to wash a white shirt.
How to wear a white shirt – What to wear with it
With those points in mind let's have a look at some ideas of what to wear with your white shirt and some fabulous examples of women wearing the white blouse in style and some of the best white shirts in stores now.
Tops and jackets to wear with your white shirt
Really, anything goes when it comes to choosing options to wear with your white shirt. The beauty of a white shirt is its versatility.
You can wear any jacket or coat style over it, and you could also choose to add an extra layer with a v-neck sweater or cardigan.
Halogen single breasted blazer – Halogen moto jacket – BB Dakota belted vest – Halogen cashmere sweater
White shirt and jeans
I always think that a jeans and white shirt look is an absolute classic that you really can't go wrong with. But, I also love the look of red and white worn together.
J Brand crop wide leg jeans – Paige bootcut jeans – Jag Jeans skinny jeans – Halogen ankle pants
Skirts and dresses to wear with your white shirt for women
Again, you can wear any style of skirt with your white shirt. You could choose to tuck it into a fuller skirt or a pencil skirt. Or you could wear your white shirt under your dress for a preppy look.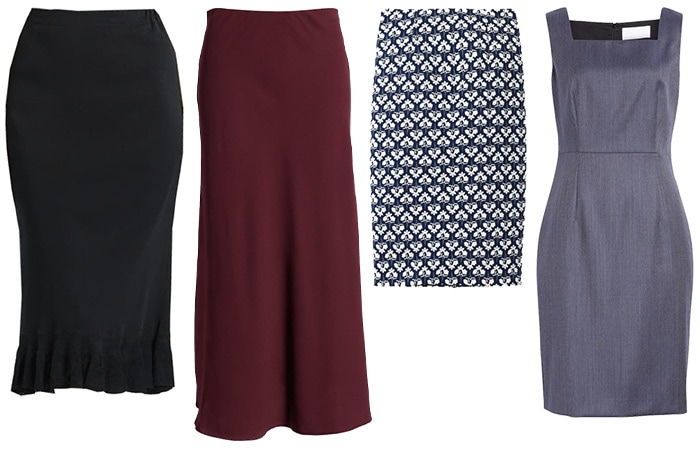 Ming Wang ruffle hem midi skirt – Halogen a-line skirt – Boden pencil skirt – Boss sheath dress
Shoes and accessories to wear with your white shirt
There's nothing a white shirt doesn't go with. But, how about keeping your look monochrome and adding some black.
Or you could add a pop of color or pattern with some red or leopard print.
Cole Hann calf hair flat – Converse sneaker – Vince Camuto cutout sandal – AGL slingback pump – Urban Originals satchel – Kate Spade New York crossbody bag – Kendra Scott pendant necklace – Kate Spade New York statement necklace
How to wear a white shirt in many different outfits – a capsule wardrobe
White shirt outfit ideas with Skirts
Here's some more inspiration for you on what to wear with your white shirt.
Here's how I wore my white shirt (above), with my abstract print skirt and silver shoes. You can get a similar shirt here.
Deborah (above) keeps her monochrome outfit interesting through the architectural shape of her shirt, which mirrors the shape created by her skirt. Check this similar bell sleeve blouse.
For more ideas on dressing for this style personality, check out this article on how to dress the architectural style personality.
Claudia (above) lets her skirt stand out through the use of a simple white shirt. Get a similar shirt here.
Karen (above) opts to pair her shirt with a dressy, tiered skirt. Check out this similar lace v-neck top.
Venetia (above) adds pops of red to her monochrome outfit. Get a similar scoop neck tee here.
Cute white shirts with pants
A white shirt looks just as beautiful with pants as it does with a skirt. As these images (below) show a white shirt will go with any color pants you happen to have in your closet.
Nina (above) opts for an all-white look with a pop of yellow. Here is a textured white top you can check out for a similar look.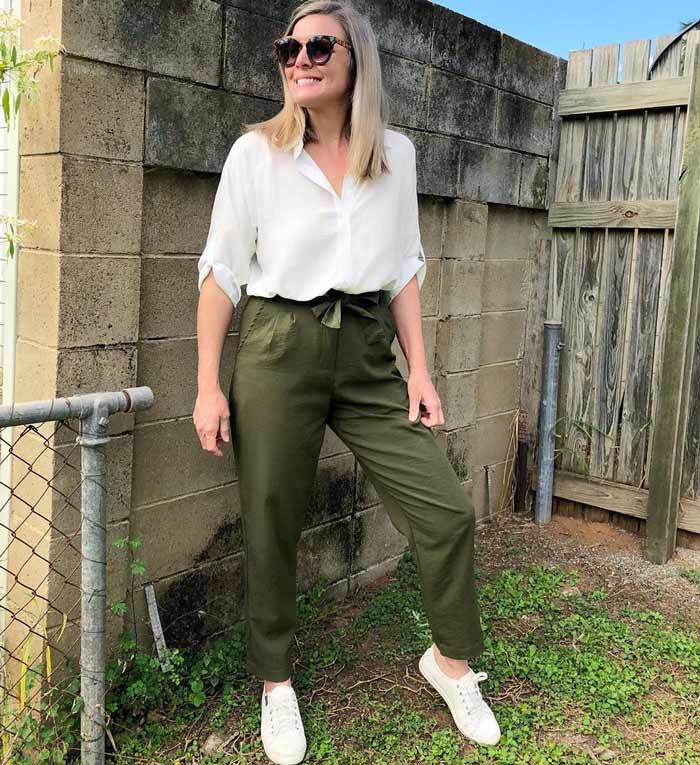 Kristen (above) shows how beautifully white goes with khaki. Check out a similar v-neck blouse here.
Dora (above) shows off another khaki option, with leopard print sandals. You can get a similar puff sleeve blouse here.
Natalie (above) opts for a ruffled shirt worn with jeans and espadrilles for a stylish, casual look. Get a similar white blouse here.
Abi (above) wears a sheer lace, white blouse with sandals for a perfect vacation look. Check out this lace top for a similar look.
Check out our article on how to wear a shirtdress.
How do you feel about the white blouse? What are your ideas on how to wear a white shirt?

Like this post on how to wear a white shirt? Share it on Pinterest!
Want to get more articles from 40+style in your inbox, subscribe here.
You can also connect with 40+style on Facebook, Instagram or Pinterest.
Support 40+style by using the links in our articles to shop. As an associate for Amazon and many other brands, we receive a small commission (at no cost to you) on qualifying purchases which enables us to keep creating amazing free content for you. Thanks!