Finding the right skirt to flatter your body type can be tricky. In this article let's discover the best skirt for your body type.
No matter what type of skirt for women you choose, a skirt always has a defined waistband, which can work better for some of us than for others.
It can seem easier to figure out which top or which dress to choose for your body shape, as you can opt for a dress which totally skims over the waist, or which hugs it. But, obviously, your skirt must fit around your waist!!
But, there are still lots of tricks, tips and choices when it comes to skirts.
What is the best skirt for your body type
There's a skirt type to suit every body type, whether you opt for knee-length, midi, A-line, pencil, denim, maxi, asymmetrical… the choices are endless. Here's how to choose a skirt to flatter your body shape!
Also if you'd like to know more about how to dress for your body type, here are lots of useful tips and tricks for each body shape…
For more inspiration read our article on leather skirt outfit ideas for women over 40.
Best skirt for the Apple body shape
If you're an apple shape you carry your weight around your middle, but are likely to have great legs! It can be easy to wear a dress as you can opt for an A-line which simply skims over your midriff, or you may also suit an empire style which has its narrowest point just below your bust.
It's definitely possible to find some beautifully flattering skirts for women too! Look for a high-waisted option which fits at the slimmest point of your torso, rather than hugging your midriff where it is at its widest.
A flippy, flirty, flared skirt will look beautiful on you. Keep it just above the knee as if your skirt is too short, it will create a top-heavy effect. Don't go too long though – you want to show off those fabulous pins!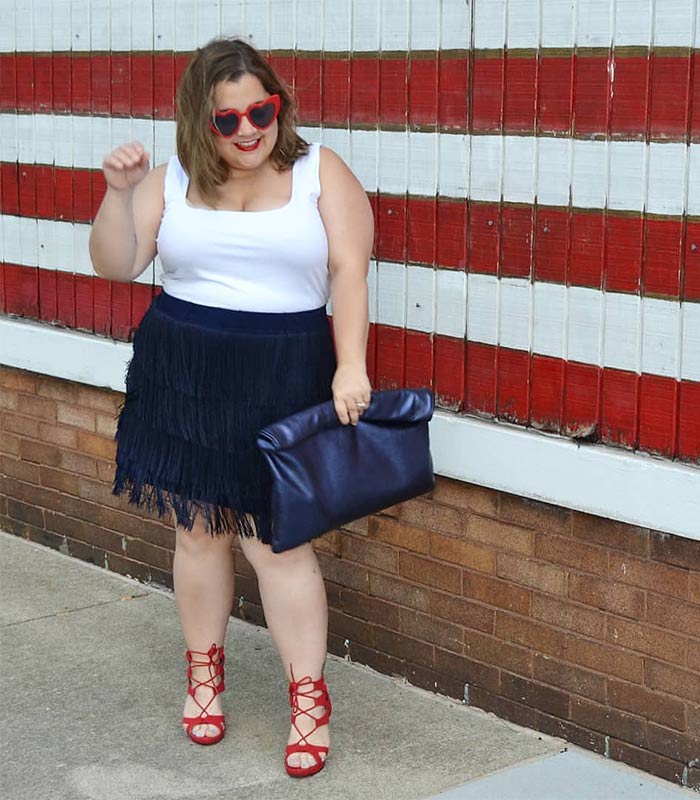 Cassie (above) is wearing a black skirt with tiers of fringe that add undeniable dynamic style to her whole look. You can get a similar piece from Vince Camuto in a midi length.
This one by Ming Wang could be a good option as it sits high on the waist. The asymmetrical hem detail will also help to draw attention to your legs and away from your midriff.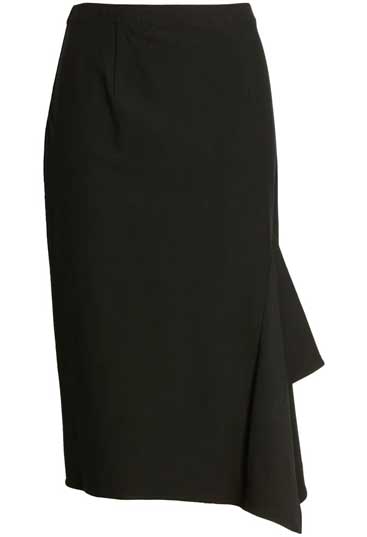 Ming Wang asymmetrical hem skirt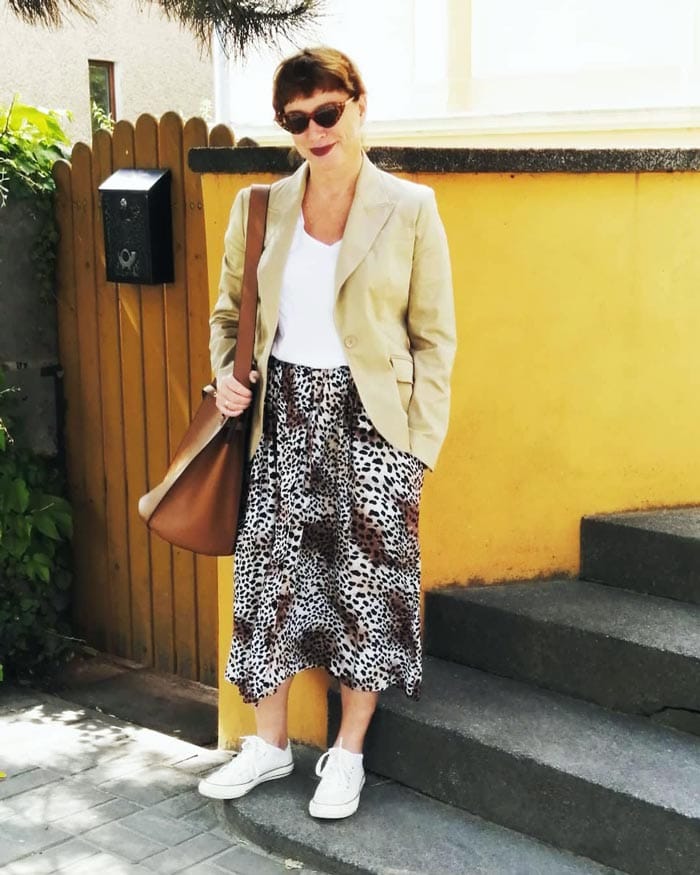 Magdalena is wearing a leopard print midi skirt which could be a great option, no matter what your body shape. If you are an apple shape, the pattern will distract from any lumps and bumps.
Check out this similar skirt from Band of Gypsies.

Best skirt for the Hourglass body shape
When you think about dressing for your body shape, the idea is usually to create that coveted hourglass shape!
So, if you've already got those hourglass curves, flaunt them! Pencil skirts for women will smooth out your thighs while showing off your beautiful shape.
You could opt for a classic neutral shade like black or taupe, or go for a deep, rich color such as this rust pencil skirt from Halogen.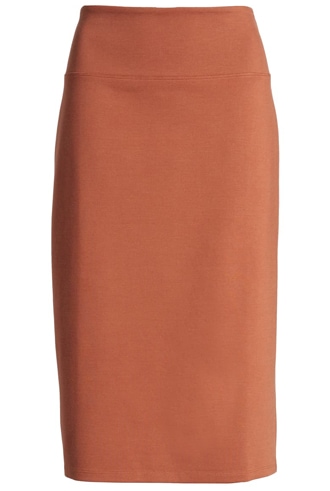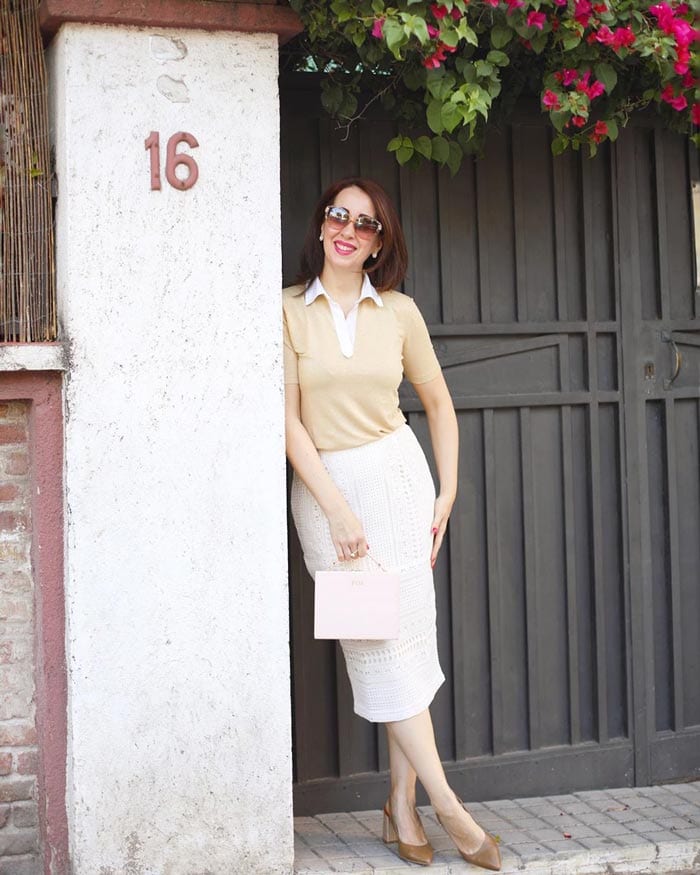 Patricia is wearing a lace pencil skirt. Get a similar piece here.

Best skirt for the Rectangle body type
If you're a rectangle shape, then you have lots of choices.
You could either go for a form-fitting pencil skirt to hug your svelte figure, or you could opt for a voluminous shape such as an A-line or a full midi to create curves.
This Moon River asymmetrical midi skirt will create some extra curves and some volume on your hips.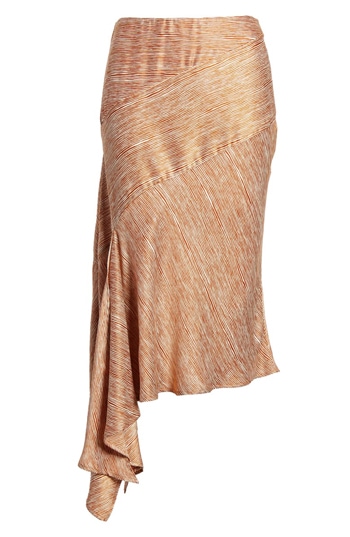 Moon River asymmetrical midi skirt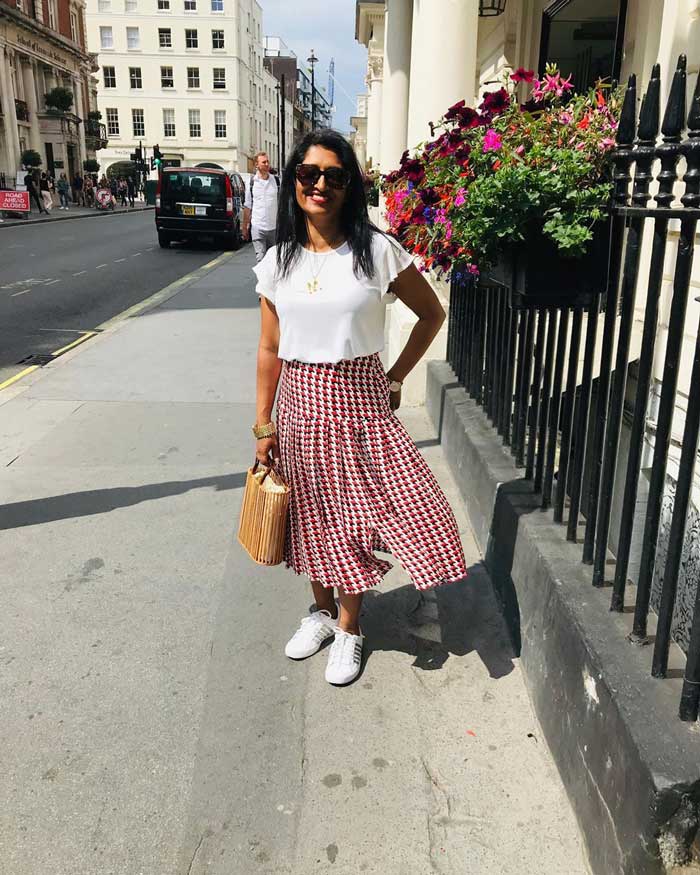 Monika is wearing a full skirt with an eye-catching print. You can try this skirt from Court & Rowe that has a fun, bold print as well.

Best skirt for the Pear Shape
If you're a pear shape, your bottom half will be wider than your top half.
To create balance, an A-line skirt like this pull-on skirt from Anthony Thomas Melillo will accentuate the smallest part of your waist and flare out over your hips to minimize your lower half.
Choosing skirts for women in a darker color will also help to slim your hips and thighs.
See how I wear a similar skirt in this article.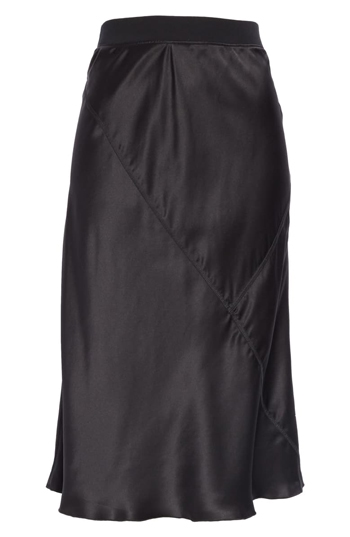 Anthony Thomas Melillo pull-on skirt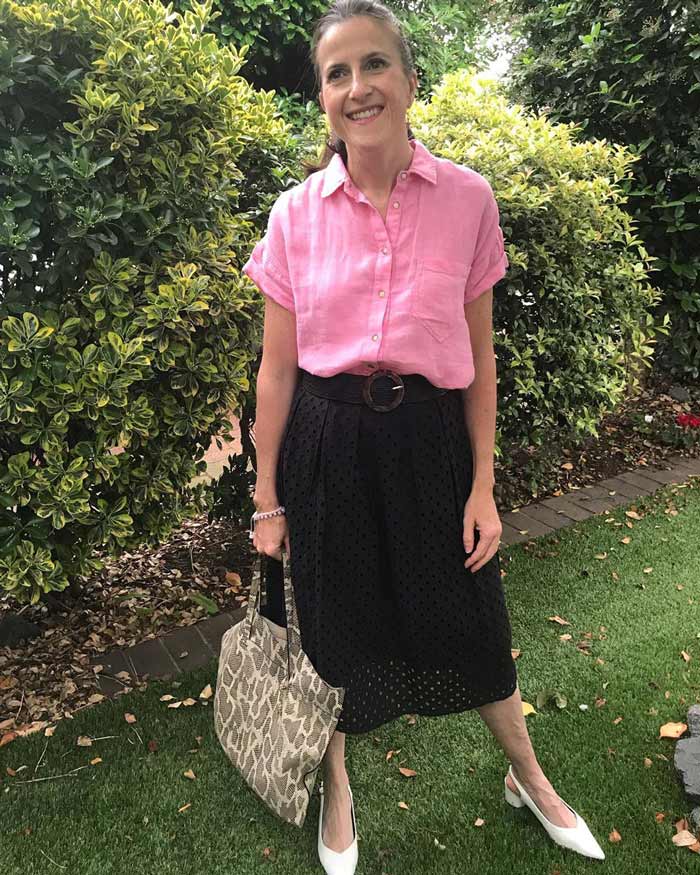 Clare is wearing an a-line skirt. You can get a similar eyelet style skirt here.

For more inspiration, check out our article on black skirt outfit ideas.
Best skirt for the Inverted triangle body type
If you're an inverted triangle shape, then your shoulders will be wider than your hips.
By choosing a flared skirt like this one from English Factory you can create width on your lower half and give the illusion of being an hourglass!
English Factory flared midi skirt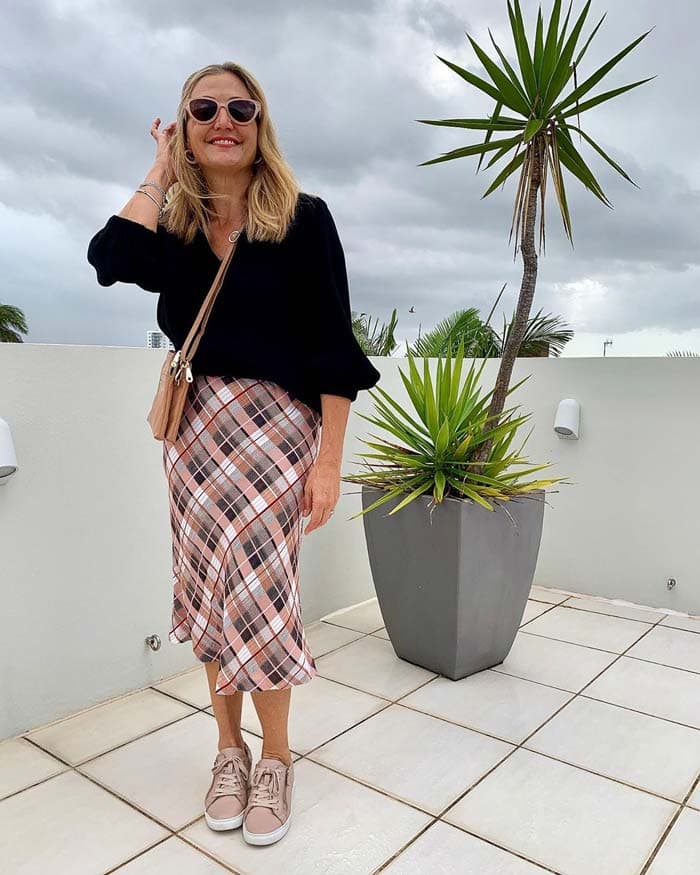 Melinda goes casual with her flared check skirt. Here is a similar piece you can check out

Want more tips on the best skirt for your body type< I have also posted advice here on the perfect skirt length for women over 40.
Do you know the best skirt for your body type? What works best for you?

Like this article on the best skirt for your body type? Save it on Pinterest!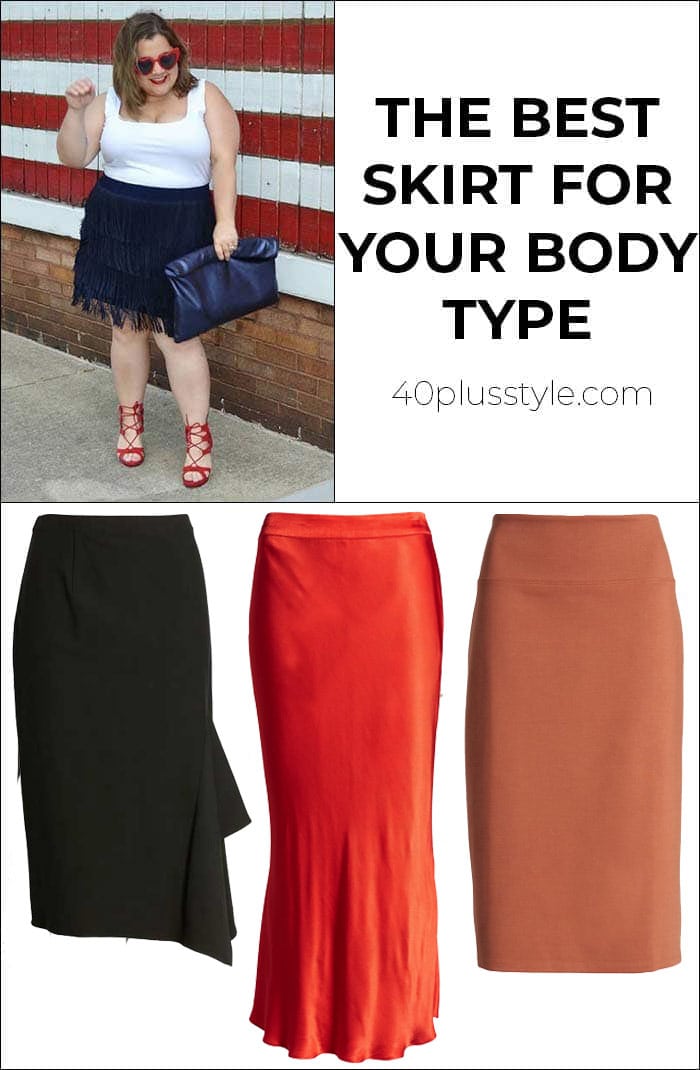 Feature image by Cassie
Want to get more articles from 40+style in your inbox, subscribe here.
You can also connect with 40+style on Facebook, Instagram or Pinterest.
Support 40+style by using the links in our articles to shop. As an associate for Amazon and many other brands, we receive a small commission (at no cost to you) on qualifying purchases which enables us to keep creating amazing free content for you. Thanks!