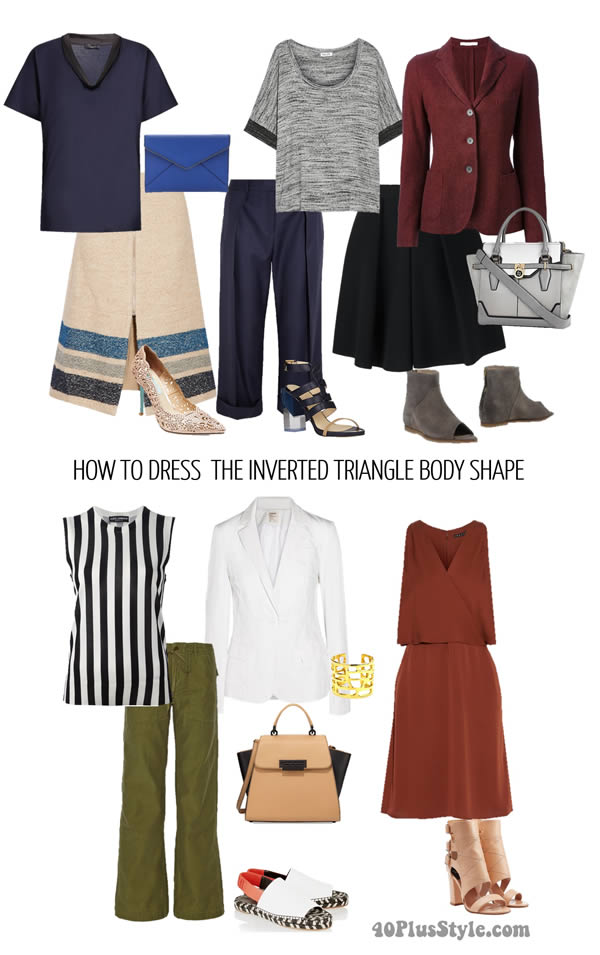 Today I want to provide some general dressing guidelines for the inverted triangle body shape. If you don't know what your body shape is, please revert to my article: how to determine your body shape.
Charateristics of the inverted triangle are:
Top part of your body is larger that your bottom part and you usually wear a bigger size on top
Shoulders are wider than the hip
Bust tends to be proportionally large
Hips are small
This is quite a desirable shape as many clothes will look good on you. In fact many models nowadays have this body shape. Celebrities with this body shape include Demi Moore, Rene Zellweger, Naomi Campbell and Teri Hatcher.
The aim of dressing for this body type
If you desire to have what is considered to be the most ideal body shape, hourglass, you will want to draw attention away from your broad shoulders or big upper chest and draw attention to your slim lower body and often lean legs. You can apply the following guidelines dressing for this body type.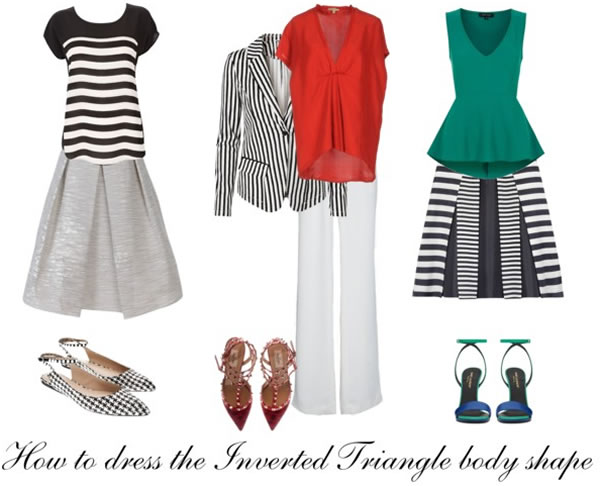 How to dress for your inverted triangle shape
Upper body
Create vertical lines with vertical stripes
Open necklines and collars, like halter necks, v-necks and scoop necks
Wear soft feminine textures to soften the shoulder line
Avoid extra width and wear single breasted tailored jackets
Wear jackets open to create a vertical line
Wear jackets that are well structured at the shoulder
Look for tops that will accentuate the waist, like tops with banding or nipping at the waist or wrap style tops
Wear tops that accentuate a vertical line, so go for V-necks and keep your shirts unbuttoned
Also find tops that balance the bust with your hips (if you have a large bust)
Wear tops just below the hip bone
Wear a darker color on top
Wear strapless gowns and tops
Use belts to define your waist even more
Lower body
Create more width and overall balance below with A-line or full skirts.
Use bold textures to create more bulk.
Horizontal stripes will make the lower body wider.
Fuller leg width in trousers, full or bootleg pants. Colottes will work for you too.
If trousers don't fit your waist or bum, get them altered at the tailor.
Have pockets or embelishments on your trousers or skirts.
Wear bold and eye catching shoes.
What not to wear
Avoid shoulder pads or anything that accentuates the shoulders
Boat necks
Horizontal lines on top
Oversized collars or lapels on jackets
Very chunky knits (if you want to wear these, choose a dark color)
Big bold pattern and graphics on top as it has a widening effect
Tapered skirts
Here are some items that you can shop right now.

If you would like to add to this list, let me know!

P.S. For more great tips, weekly fashion inspiration as well as a FREE guide and mini course on how to find your style fill in the form below.
Related posts: