There are so many types of dresses to choose from that selecting the most flattering one for your figure can be bewildering. This article cuts through the confusion with the best dress styles for your body type no matter what your shape or size.
So, whether you're an hourglass, a rectangle, an apple, a pear or an inverted triangle, take a look at the tips below to help you find a dress to best flatter your body type.
Different types of dresses to suit your body shape
While shopping for a dress can seem daunting because there are so many styles, colors and shapes to choose from, once you know what your body shape is, choosing a dress becomes so much easier. If you're not sure what your body type is take a look at this guide to determining your body shape.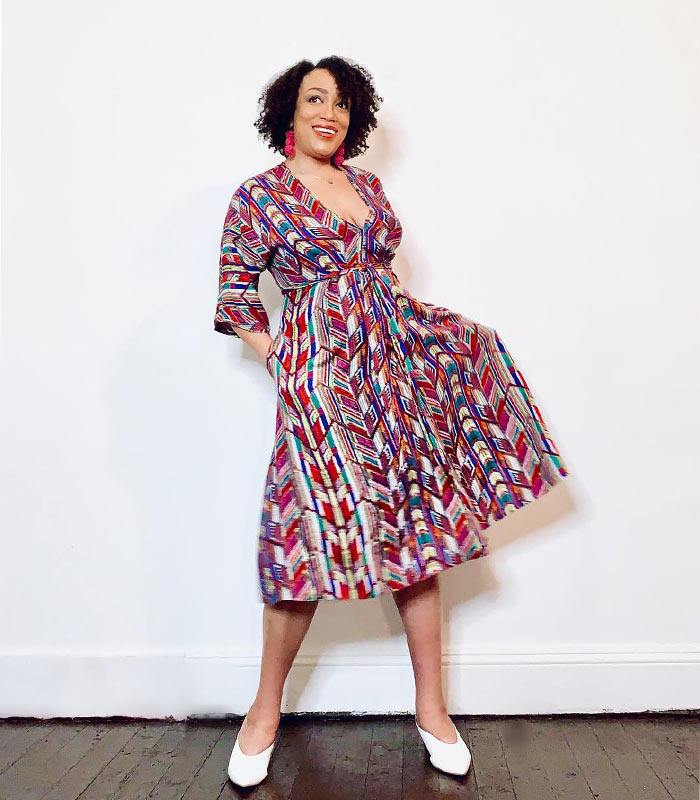 Plus, when you find the perfect dress to fit and flatter, whether you're attending a special occasion, you are looking for vacation wear, or you just want an everyday dress to wear with your sandals or sneakers, you'll feel so much more confident.
A dress like the one worn above by Erica can fit and flatter many different body shapes. The V-neck can elongate your figure while the empire waist can be flattering for those with an apple body shape. The flared skirt can also be great for pear shapes.
Check out this dress from Amazon and wear it with this similar pair of mules and tassel earrings.
You can read more about Erica in her style interview.
Below are my picks of the best dress styles in stores now to suit the main body shapes.
Best dresses for apple shape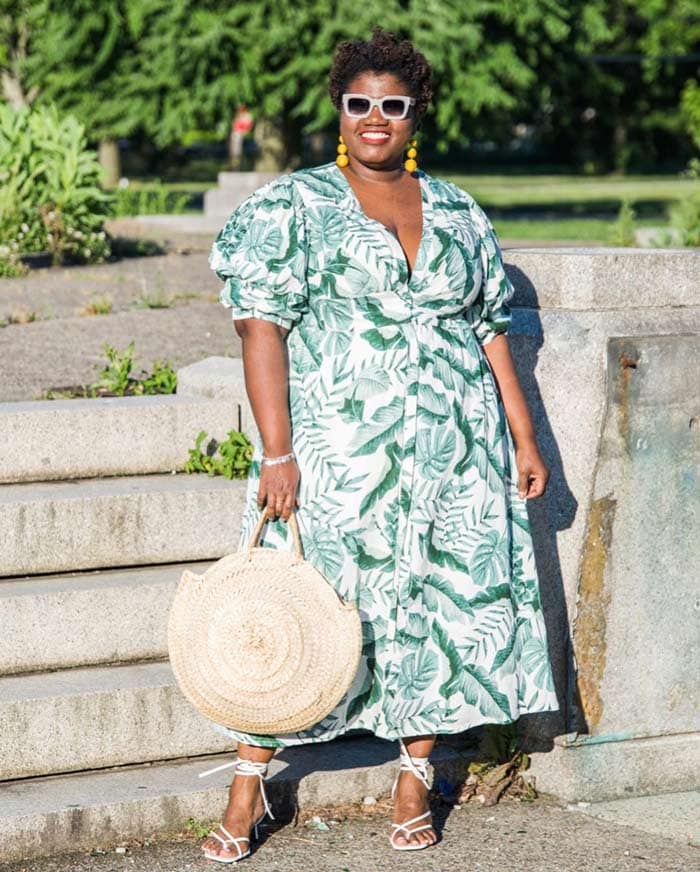 If you tend to put on weight around your tummy, then you're likely to be an apple shape.
The key is to look for knee length or midi dresses which won't cling to your belly, but which will skim over it. That way, you can cover up the parts of you which you aren't so confident about and show off your shapely legs.
Look out for shift styles which will skim over the body, rather than clinging to every contour! Knee-length styles will show off your calves, which are likely to be one of your best features.
Georgette (above) shows off her decolletage with the v-neck of her dress and draws attention to her lovely ankles with her choice of hem length.
Check out this dress from Amazon and pair it with this similar pair of sandals, straw tote, earrings and sunglasses.
Shift dress
A shift dress is a great option for the apple shape because it skims over the tummy area without clinging to any lumps or bumps, and shows off your legs.
Belted dress
While it may seem counterintuitive to belt your dress if you are an apple shape and don't have much of a waist, the belt can actually help to create the illusion of a slimmer waist and hide a little bit of a tummy.
Choose a dress which doesn't have a fixed belt, but one which allows you to alter how and where you tie the belt, so you can fasten at your slimmest part.
Donna Ricco floral a-line dress
Empire waist dress
An empire dress can work for some women, but not for others. It's definitely worth trying this style if you are an apple shape as the dress dips in at your slimmest part, which is usually just under your bust, before flaring out over your tummy without clinging.
Ruched dress
Another great option for the apple shape – and indeed for anyone who wants to hide a little bit of a tummy – is the flattering ruched dress.
Also take a look at the best dresses to hide a tummy.
Dresses for rectangle body shape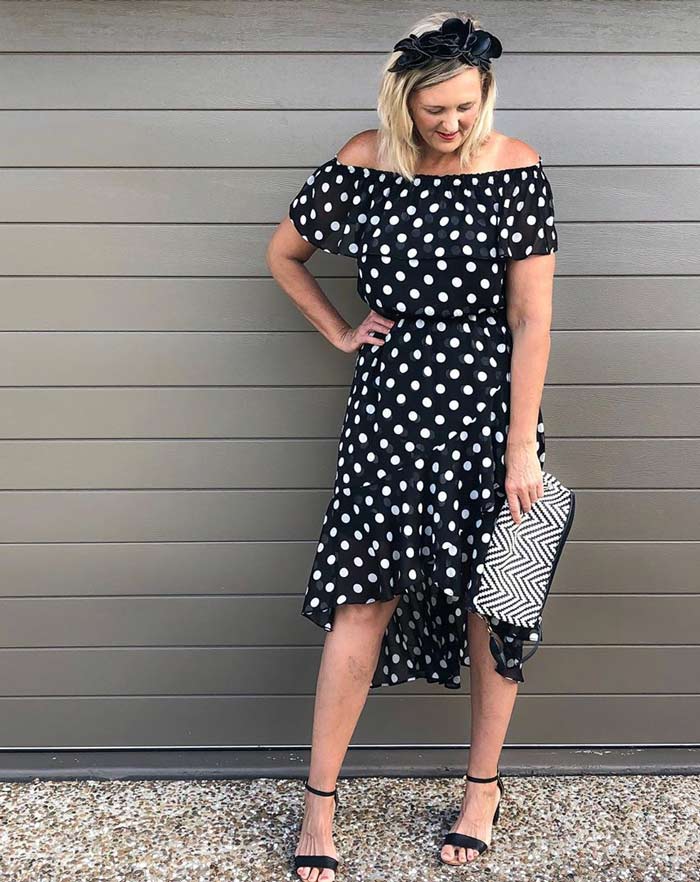 If your shoulders and hips are the same widths but there is little contrast between those and your waist, then you need a dress for the rectangle shape. Most dress shapes can work for you.
You could choose to ignore the fact there's a waist under there at all and opt for a shift dress or a trapeze style like the apple shape, or you could go with an illusion dress to create curves where there aren't any, which use strategically placed patterns and panels to create curves.
Look for strategically placed patterns, stripes, pockets and ruffles to add shape to your figure.
There are more tips here on how to dress the rectangle, including a great video from stylist Ruth Essex in which she explains why stripes are a good choice for rectangles!
Nic (above) creates curves with her dress. The off the shoulder style creates the illusion of width, as do the ruffles at the hem, meaning that the dress helps to create an hourglass figure.
Recreate her outfit with this similar dress, sandals and clutch.
Asymmetrical dress
Asymmetrical detailing and stripes are perfect for the rectangle figure, and this BB Dakota dress (below) has both!
Also read our article on the best midi dresses in stores now.
Midi dress
A midi dress is a great length for the rectangle shape as it will hit you at the slimmest part of your legs. If you want to create some curves, you can do so with ruffles and a belt.
ASTR the Label floral print dress
T-shirt dress
Just like the apple shape, the rectangle shape can look great in a style which skims over your waist completely. Try a t-shirt or a shift dress.
ATM Anthony Thomas Melillo pocket midi t-shirt dress
Ruffle dress
A wrap dress is a flattering style for most figures. As a rectangle shape, you can add extra curves by adding some volume to the sleeves and hem of your dress.
Dresses for hourglass figure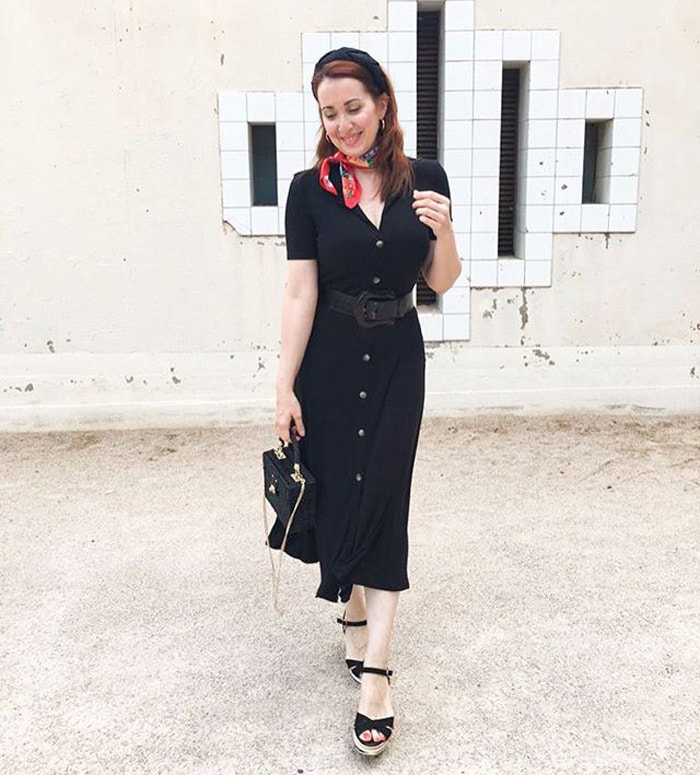 The hourglass looks fabulous in dresses. Look for dresses which have a defined waistline.
They don't necessarily have to have a belt, but they should follow your own shape. That way, you show off your slimmest point, and don't make yourself look heavier than you actually are.
I always think hourglasses look especially beautiful when they channel some old school Hollywood glamor and dress as if they were Marilyn Monroe vacationing in St Tropez! Give it a modern twist with a high-low effect.
Patricia (above) looks great in her belted shirt dress and adds some vintage glamour with her wedges and neck scarf.
Steal her look with this similar dress, sandals, belt, handbag, scarf and headband.
Fitted dress
When you are an hourglass, dresses which are fitted at the waist will generally look best on you. Those which skim over your figure can make you look bigger than you really area.
All in Favor v-neck midi dress
Belted dress
As well as looking for a dress which is fitted at the waist, you can also look for belted styles to cinch your figure at the slimmest point.
More tips here on how to dress the hourglass shape.
Best dress styles for pear shaped body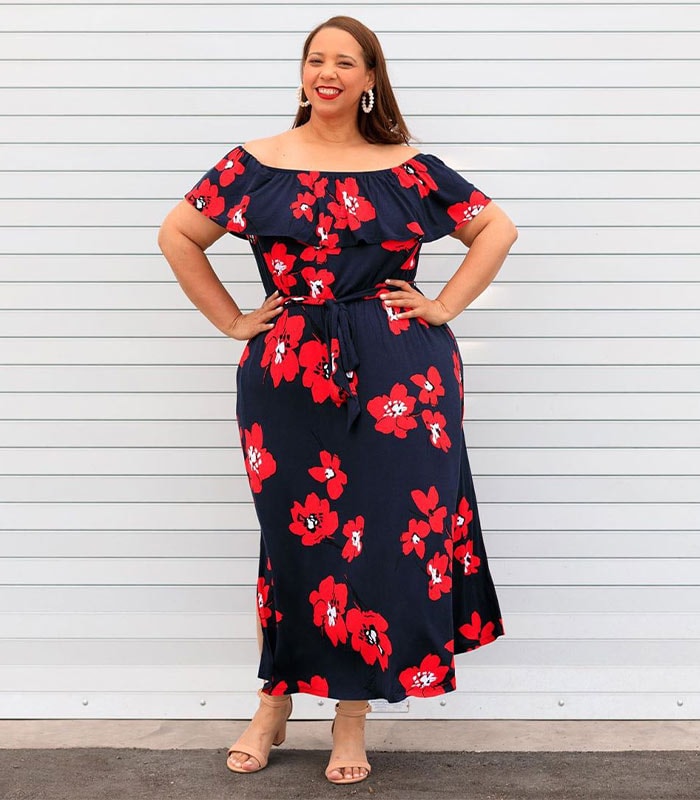 Pear shapes will carry weight on their hips and thighs, but will usually have a trim waistline and nice, shapely shoulders.
Choosing a fit-and-flare style will allow you to show off the top half of your body, drawing attention to your toned arms and slim waist, while the full skirt will hide anything you're not so confident about.
Estrella (above) opts for a tie waist dress which is a flattering shape for most figures.
Get her dress from Lane Bryant. You can also check out this alternative from Amazon and a similar pair of ankle strap sandals.
A-line dress
An a-line dress which fits at the waist before flaring out over your hips can be the perfect summer sundress for the pear shape.
Lulus button front midi sundress
2-in-1 dress
For the pear shape, a 2-in-1 dress can be perfect as you will generally want to show off your upper body while downplaying your hips and thights.
The stripes on this dress (below) from Veronica Beard add some width to the top of the figure, while the black skirt skims over the hips.
Veronica Beard capri midi t-shirt dress
There are more tips here for dressing the pear shape body.
Dresses for inverted triangle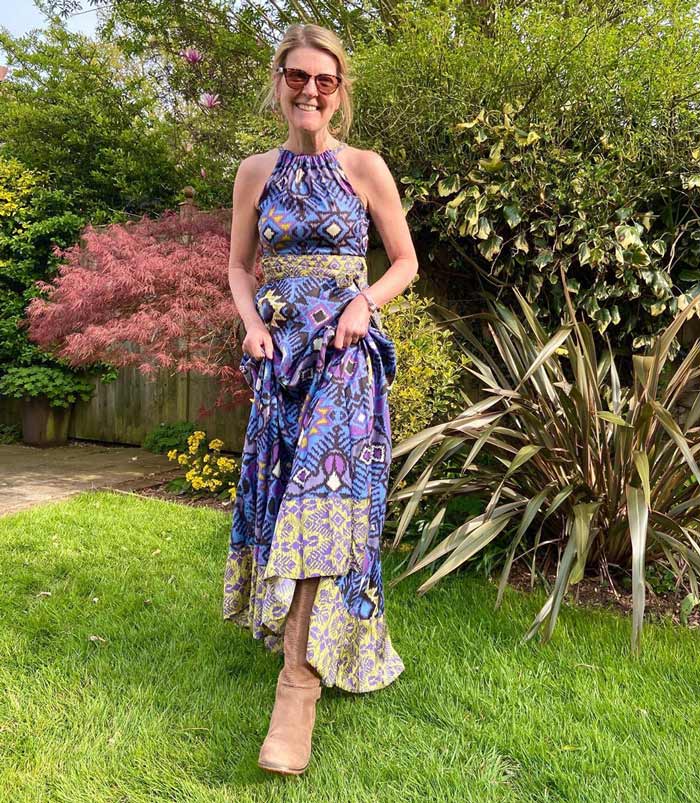 If you're an inverted triangle, then your shoulders will be wider than your hips. To create balance, you can opt for slimming necklines and wearing less material on top.
A halter neckline usually looks beautiful on the inverted triangle shape, as it has a slimming effect on the upper body, while still showing off shapely shoulders and toned arms.
Helen (above) wears a halterneck maxi length maxi dress.
Check out this printed halter casual maxi dress from Amazon, and wear it with these similar suede boots.
Halterneck dress
A halterneck dress is perfect for the inverted triangle as the silhouette slims your upper half. To create even more balance to your figure, you could choose a dress with extra volume on the hemline.
All in Favor halter maxi dress
Fit and flare dress
A fit and flare dress is another good option for the inverted triangle as the flared skirt will create balance. You'll see that this 2-in-1 dress is the opposite to the 2-in-1 dress for the pear shape.
In this case, the upper body is "toned down" while volume is added to the lower half of the figure.
There are more tips here on dressing the inverted triangle.
A dress style to suit all figures
If you aren't sure what dress style would be perfect for you, then a wrap style is generally a safe bet as it is universally flattering for all figures.
Berydress sheath faux wrap dress
Different dress styles and dress shapes to suit your figure
By knowing, or discovering, what your own body shape is, you can learn what will suit you best and what won't.
Choosing dress styles to flatter your own individual shape can make a huge difference to the way you look and feel, whether you are looking for a summer vacation dress or a dress for a formal event.
What do you think are the best dress styles for your body shape?
Continue reading:
Like this article on the best dress styles for your body shape? Save it on Pinterest!
Feature image by Estrella
Want to get more articles from 40+style in your inbox, subscribe here.
You can also connect with 40+style on Facebook, Instagram or Pinterest.
Support 40+style by using the links in our articles to shop. As an associate for Amazon and many other brands, we receive a small commission (at no cost to you) on qualifying purchases which enables us to keep creating amazing free content for you. Thanks!