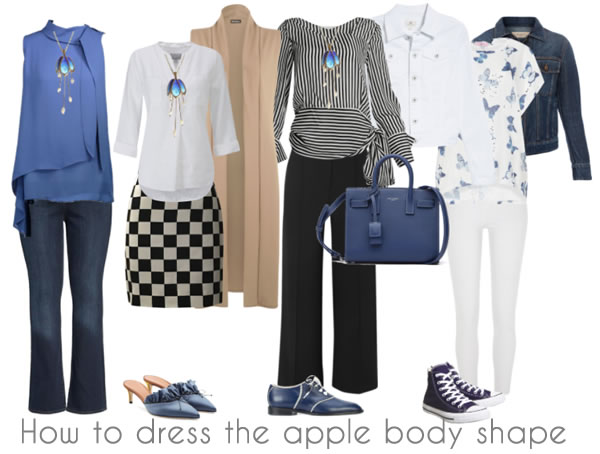 This is continuation to our articles on how to dress for your body type. In this article we are going to look at the apple body shape.
As a quick reminder you have an apple body shape when:
You have no defined waist
Weight tends to form on the stomach
Average to large bust size
This is a body shape that often develops after 40 when you start to experience symptoms of (peri)menopause and may gain weight around your waist.
To be honest this is not the easiest body shape to dress as many women with this shape will be well aware of. Some women tend to cover it all up with lose garments, which in most cases is not the right thing to do.
What you DO want to do is to create the nicest silhouette possible. For many apples you can do that by creating the illusion of a waist, highlight your cleavage and create nice vertical lines. I also like the looks of a straight silhouette, but with the use of lots of vertical lines for a long and lean silhouette.
Below are some rough guidelines what will and will not work for many apple shaped women over 40.
You may also enjoy this video with tips from 40+Style stylist Ruth Essex
Which garments are good for an apple body shape?
Tops
First of all, since a lot of attention is going to be drawn to the top part of your body, get yourself a good fitting bra.
Tops that highlight your body at the slimmest point which is often just underneath your bust. They should have enough space for your belly but not be too wide.
Buy t-shirts that are ruched in the middle. This will confuse the eye and you can't tell that there's a big tummy underneath.
Get Tops with a V-neck to break up the size of your chest and create a vertical line.
Look for tops with a thicker texture that don't cling so much. Woven tops can be great.
The best height for tops is just belong your hipbone (when worn with pants)
Patterns tend to look very good on a apple shape body as they flatter and camouflage.
Tops should cover the whole belly area and end just below the hip bone.
Choose tailored jackets that have a nice v shape at the top.
Tops that draw attention to your arms with e.g. flares, a flit or embroidery will draw attention from your belly
Make sure that the jacket fits the shoulder perfectly, so choose the size for your shoulders, not your belly. If you can't close the jacket, you can always use a scarf to fill the gap if you like.
Dresses should have their waistline just below the bust or at your thinnest point.
Asymmetry in your tops helps to create vertical and slimming lines.

Look 1: Similar pink blazer – similar white sweater – similar white pants – similar loafers
Look 2: Similar white blazer – similar sweater – similar blue jeans – similar silver shoes
Look 3: Similar jeans jacket – similar white shirt – similar plaid pants – similar gray booties
For the best jeans, see my recommendation for jeans over 40.

Look 1: Similar blue top – Similar bootcut jeans – a similar statement necklace
Look 2: Similar white blouse – similar print skirt – Similar blue mules
Look 3: Similar striped blouse – similar black pants – similar brogues – similar blue handbag – similar white jacket
Look 4: Similar jeans jacket – similar shirt – similar white jeans – similar hi-tops
For a long and lean silhouette
Layer with a long cardigan or a long sleeveless vest
Make sure the top underneath is not too short
Try to have v-neck lines with your long long jumper or tops underneath the layering piece
Longer tops and jackets that skim the body can be worn with leggings or skinny jeans
Bottoms
Get trousers that have zippers at the side to avoid adding extra bumps on the front.
Trousers should be flared or straight and not cling to tummy or thighs unless you are opting to create the long and lean silhouette using vertical lines (see above). Avoid pleats.
Also choose jeans that are tailored and  either straight or flared. Trouser jeans are ideal.
Pants with a high rise will create a nice silhouette.
It's best to get trousers with some stretch for extra comfort and a good fit.
Choose skirts that have their zippers at the side.
Structured pencil skirts work well, but keep them at knee length. Make sure to add the focus to the top with the tips above.
Make sure that any pleats of skirts start below the belly to avoid adding extra volume.
More ideas for apple shaped women


What not to wear?
Big puffa jackets
Big shapeless garments that don't show any waist or don't use vertical layers
Bulky trousers with lots of pockets and zippers at the front
High necklines (you can wear lighter tops underneath a layering piece as shown in the top image)
Tight clingy T-shirts
Avoid wearing everything in one solid colour. Better to mix colour with a texture or to use several layers in different colors to create vertical lines
For many more tips and images on how you can hide your belly, also see this article.
If you like to go shopping you may also want to check out our article on the best shops for the apple body shape.

Enjoyed this article? Save it on Pinterest!