Are you an apple shape and wondering how to dress your apple body shape? It can be a tricky shape to style.
But, in this updated article, adapted for spring and summer, we are going to look at the apple shaped body and how to dress in the most flattering way for you.
AS A QUICK REMINDER YOU HAVE AN APPLE BODY SHAPE WHEN:
You have no defined waist
Weight tends to form on the stomach
You have an average to large bust size
This is a body shape that often develops after 40 when you start to experience symptoms of (peri)menopause and may gain weight around your waist.
WHAT IS FLATTERING FOR THE APPLE SHAPED BODY?
To be honest this is not the easiest body shape to dress as many women with this shape will be well aware of.
Some women tend to cover it all up with loose garments which, in most cases, is not the right thing to do as this can simply make you look larger than you really are.
Winter and fall can be the easiest seasons to dress the apple shape because you can play with layers to create long, lean lines and skim over your belly.
However, thankfully, you can still add lovely layers in spring and summer too. In this article you will find out how to dress the apple body shape, no matter what the season.
YOUR AIM WHEN DRESSING THE APPLE BODY SHAPE
What you DO want to do is to create the nicest silhouette possible.
For many apples, you can do that by creating the illusion of a waist, highlighting your cleavage and creating nice vertical lines.
I also like the look of a straight silhouette, but with the use of lots of vertical lines for a long and lean silhouette.
You may also like Julia's article on the best shops for the apple body shape.
APPLE SHAPED CELEBRITIES
You probably assume that most celebrities aren't an apple shape, as this can be a tricky shape to style.
But, the fact is there are lots of female celebrities with the same body shape as you.
They have just learned tricks – or their stylist has taught them – about how to dress to flatter their shape.
These women tend to carry their weight around their middle, but have great legs, so you will often see them choosing an outfit which shows off their legs for red carpet events.
For inspiration, you can look at celebrities including Drew Barrymore, Catherine Zeta-Jones, Amy Schumer and Kate Winslet.
GUIDELINES FOR THE APPLE SHAPE
Below are some rough guidelines of what will and will not work for many apple shaped women over 40.
1. ARE YOU DEFINITELY AN APPLE SHAPE?
First of all, check that you really do have an apple shaped body.
Many women put on a little weight around the tummy area as we age, for all sorts of reasons including the menopause.
But, you can have a little bit of weight around your tummy and still be a pear shape, or an hourglass, for example.
If you aren't sure, you can check with out body shape calculator.
2. DRAW ATTENTION AWAY FROM YOUR TUMMY
As with dressing for any body shape, the idea is to create balance, so you will want to draw attention away from the widest part of your belly.
You can do this in two ways. Either you can skim over your tummy area completely.
Or you can redefine where your mid-section is. You don't have to tie your belt at your widest point, for example. You can just belt a little further up where you are slimmer.
Georgette @grownandcurvywoman above wears a flattering V-neck and belts her pants at the slimmest point of her waist. She creates a column effect by wearing her blazer open over her outfit.
Check out this similar V-neck top, blazer, wide leg pants, sandals, handbag, necklace and earrings.
Karen Kane Animal Print Peasant Top
3. EMPHASIZE YOUR CLEAVAGE
Okay, you don't have to emphasize your cleavage if you don't want to. But my general point is you should draw attention somewhere else other than your tummy.
If you are happy with your cleavage or decolletage, you could draw attention upwards. A v-neck top will be super-flattering on you.
MIXJOY 3/4 Sleeve Tunic Blouse – 1822 Denim Butter High Waist Jeggings – Easy Street Carrigan Peep Toe Shootie Pumps – Madewell The Sydney Leather Tote – Akola Disc Drop Earrings (similar: Dauphinette Baby Heirloom Tomato Drop Earrings)
4. EMPHASIZE YOUR LEGS
If you prefer your legs – and lots of apple shape women have great legs – you could draw the attention downwards instead.
That doesn't necessarily mean wearing a mini skirt, but you could go above the knee with your hem length.
Or you can wear a longer plain top, but choose patterned jeans or pants.
Karen Millen Italian Wool Military Button Midi Coat – Karen Millen Soon Mirrored Viscose Crepe Woven Midi Shirt Dress (similar: Karen Millen Floral Batik Linen Viscose Woven Shirt Dress) – DREAM PAIRS Block Heel Sandal – HOUSE OF WANT We Sashay Vegan Leather Clutch – Akola Disc Drop Earrings
5. CHOOSE THE RIGHT MATERIAL
Don't opt for clingy materials which will just draw attention to any lumps and bumps.
Instead, opt for textured materials or draping and ruching.
Karen Kane Cascade Faux Wrap Dress
Topdress Tunic Shirt – Vince Camuto Fray Hem Skinny Jeans (similar: Joe's The Lara Ankle Fray Hem Cigarette Jeans – DREAM PAIRS Elastica Wedge Sandal – Vince Camuto Lenza Tote – YUHAN Statement Necklace
NOW LET'S GO INTO MORE DETAIL – WHICH GARMENTS ARE GOOD FOR AN APPLE BODY SHAPE?
I've already given you a few simple guidelines, but now let's go into much more detail on what will look good on you if you are an apple shape.
Below, you will find a capsule wardrobe which will work for the spring and summer season for the apple body type.
I've been inspired by some of the spring and summer color trends for 2022 including the brighter pinks and reds.
TOPS FOR THE APPLE SHAPE
Anne Klein Serenity Drape Front Jacket – Loveappella Long Sleeve Faux Wrap Top – COS Wide Leg Tailored Pants – Dr. Scholl's Shoes Teammate Ankle Bootie – JNB Faux Microsuede Envelope Clutch – Karine Sultan Square Stud Earrings
First of all, since a lot of attention is going to be drawn to the top part of your body, get yourself a well-fitting bra. You don't want your bust and your tummy meeting each other!
Tops that highlight your body at the slimmest point, which is often just underneath your bust are often very flattering. They should have enough space for your belly but not be too wide.
Buy t-shirts that are ruched in the middle. This will confuse the eye and you can't tell that there's a tummy underneath.
Get tops with a V-neck to break up the size of your chest and create a vertical line.
Look for tops with a thicker texture that don't cling so much. Woven tops can be great.
The best hem-length for tops is just below your hipbone (when worn with pants)
Patterns tend to look very good on an apple shape body as they flatter and camouflage.
Tops that draw attention to your arms with e.g. flares, a slit or embroidery will draw attention from your belly
Asymmetry in your tops helps to create vertical and slimming lines.
As you are likely to have a larger bust size, also take a look at this article on the best bras for large breasts: bras which are supportive AND stylish.
LARACE Tunic Top – COS Oversized Shirt – Loveappella Long Sleeve Faux Wrap Top – Alice + Olivia Willa Leopard Print Silk Blouse (similar here)
For more shoppable ideas, check out this article on the best tops to hide a belly, which features plenty of inspiration.
SWEATERS and cardigans
Unless you live somewhere super hot you're likely to need a cardigan or sweater for cooler days or evenings.
The sweaters below are good examples for the apple shape. The off the shoulder styles will draw attention away from the tummy, while the draped options will skim over any lumps or bumps.
MBJ Sleeveless Open Front Drape Vest Cardigan – PULI Poncho Sweater Wrap Topper – A2Y Open Front Sleeveless Vest Knit Sweater – SweatyRocks Kimono
COATS AND JACKETS FOR THE APPLE SHAPE
CHICWISH Open Front Knit Coat Cardigan – H&M Satin Wrap-front Dress – Ankis Ankle Strap Sandal – HOUSE OF WANT We Sashay Vegan Leather Clutch – Karine Sultan Square Stud Earrings
You can layer with a long cardigan or a long sleeveless vest.
Make sure the top underneath is not too short.
Try to have v-necklines with your long long jumper or tops underneath the layering piece.
Longer tops and jackets that skim the body can be worn with leggings or skinny jeans.
As an apple shape, you will find a number of jackets can work for you as you can layer to draw attention away from your belly. Just make sure that your jacket does not end at your widest point.
Make sure that the jacket fits the shoulder perfectly, so choose the size for your shoulders, not your belly. If you can't close the jacket, you can always use a scarf to fill the gap if you like.
Choose tailored jackets that have a nice v shape at the top.
Opt for a single-breasted rather than a double-breasted style.
You can use the clothes you wear to create the illusion of a leaner waistline.
Below, I've included coats with a flattering drape, or which you can create long lines with. A moto jacket is also a good option as you can wear longer tops underneath and then top with your leather jacket.
A blazer is a classic option for any body shape, while a sleeveless vest is perfect for layering on hotter days.
Open Edit Blazer – Thread & Supply Crop Fleece Shirt Jacket (similar here)- Anne Klein Serenity Drape Front Jacket – CHICWISH Open Front Knit Coat Cardigan
DRESSES FOR APPLE SHAPE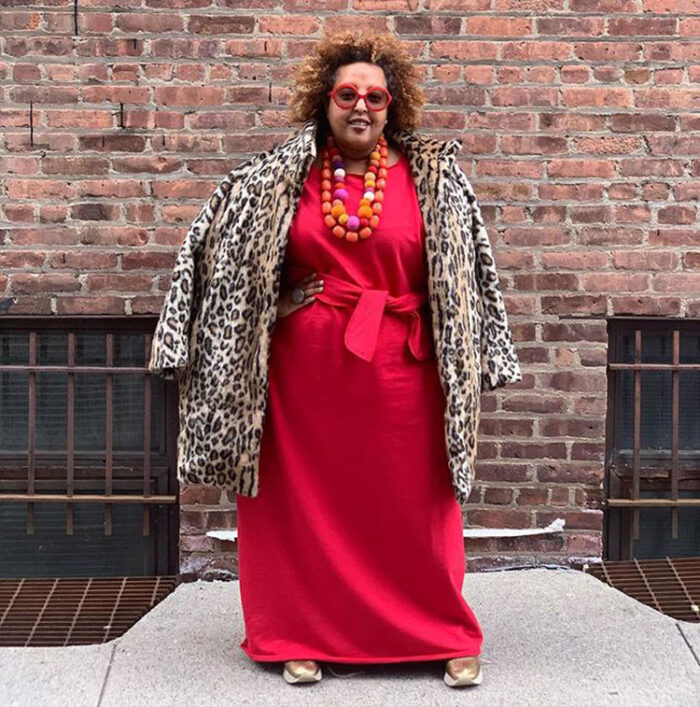 Dresses should have their waistline just below the bust or at your thinnest point.
You can also choose shift style dresses which skim over your waist rather than emphasizing your thickest point.
Another idea is to look for dresses which have ruching, draping or layers.
You can also try wearing a shorter tunic style over a pair of skinny pants or leggings. You'll find tips in this article on how to wear leggings.
Lydia @birabiro above (read her style interview here) opts for a dress with volume at the bust and arms, which makes the waist look smaller. She also wears an eye-catching necklace which draws the eye up to her face.
Recreate her outfit with this similar dress, coat, sneakers and necklace.
Karen Kane Cascade Faux Wrap Dress – H&M Satin Wrap-front Dress – COS Oversized T-shirt Dress (similar here) – The Oula Company Mixed Print Cotton Dress
DRESSES FOR APPLE SHAPED PLUS SIZE
You will find that the tips in this article can work for an apple size no matter whether you are petite, tall, or plus size.
Here are some dresses for the apple shaped plus size that you could wear either alone (in the case of the dresses with a waist) or to layer over leggings (the looser shift style dresses).
Cece shift dress – HAOMEILI maxi dress – 11 Honoré wrap dress (similar here) – ALLEGRACE wrap dress
BOTTOMS FOR THE APPLE BODY TYPE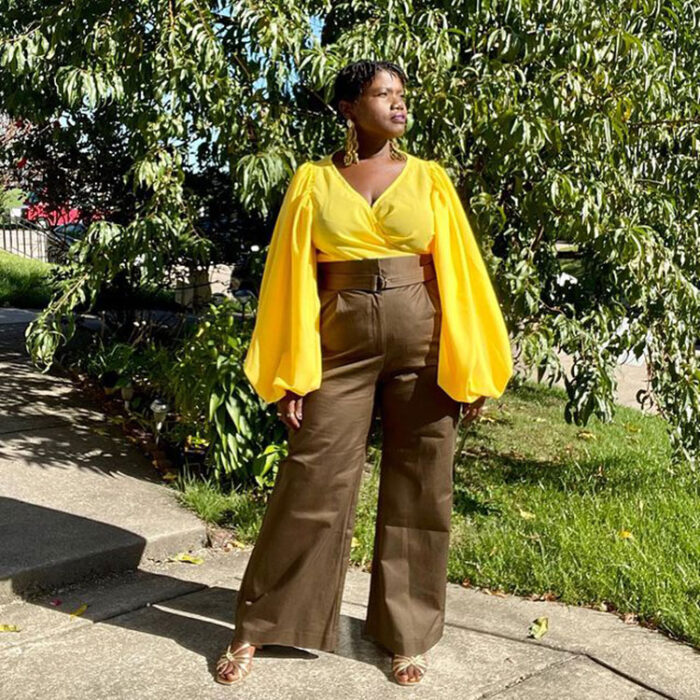 Get trousers that have zippers at the side to avoid adding extra bumps on the front.
Trousers should be flared or straight and not cling to tummy or thighs unless you are opting to create the long and lean silhouette using vertical lines. Avoid pleats.
Also choose jeans that are tailored and either straight or flared. Trouser jeans are ideal.
Pants with a high rise will create a nice silhouette.
It's best to get trousers with some stretch for extra comfort and a good fit.
Choose skirts that have their zippers at the side.
Structured pencil skirts work well, but keep them at knee length. Make sure to add the focus to the top with the tips above.
Make sure that any pleats of skirts start below the belly to avoid adding extra volume.
Although you probably have lovely slim legs, choosing a pair of skinny jeans is not always the way to go. This is because you might end up creating a top heavy silhouette.
Instead, you may find a better balance by opting for a bootcut or slim style. However, If you are using the technique of slimming layers on your top half, then you can wear skinny jeans on your bottom half.
Above is another stylish look form Georgette @grownandcurvywoman. She shows off an outfit which could be flattering for the apple shape. This is because the bright color of the top draws the eye upwards to the bust rather than the tummy. Plus, her sleeves end below her waistline at her hips, so the attention is taken away from the belly area.
Check out these pants from Tronjori and SweatyRocks, and wear with this similar blouse and statement earrings.
Also take a look at this article on the best jeans for your body shape.
PAIGE Manhattan Bootcut Jeans (similar here) – 1822 Denim Butter High Waist Jeggings – COS Wide Leg Wool Flared Trousers (similar here) – Vince Asymmetric Overlap Skirt
SHOES FOR THE APPLE BODY
You don't have to worry about your shoes fitting your belly, but you can use your shoes to detract attention away from your tummy area.
Many apple shapes have fantastic legs, so how about opting for colorful shoes to draw the attention to your legs and slim ankles?
Because you are likely to have great legs, you can wear strappy sandals to show off your ankles.
Above is another look from Lydia @birabiro who shows how apple body shaped women can look fabulous in a print dress and blazer.
Recreate her outfit with this similar dress, blazer, gold heels and necklace.
Dr. Scholl's Shoes Teammate Ankle Bootie – Cole Haan Modern Classics Oxford – Ankis Ankle Strap Sandal – Steve Madden Starling Sneaker
ACCESSORIES TO GO WITH YOUR APPLE BODY SHAPE CLOTHES
Of course, you can choose whatever accessories you love as you don't have to worry about how your accessories fit your waist (apart from your belt!).
But, thinking strategically about your accessories can help you to draw attention from the area of your body you aren't so keen on (your belly or waist) and either upwards or downwards.
Choosing a statement accessory (scarf, necklace or a pair of earrings) can draw the attention up to your face, while opting for colorful or patterned shoes can draw the eye to your legs.
Lydia @birabiro above chooses a skirt that doesn't cling and she draws the eye upwards with her statement necklace. You can see that her sleeves end at her bustline rather than her waist for a flattering effect.
Steal her look with this similar top, skirt, sneakers, necklace, belt and earrings.
Madewell The Sydney Leather Tote – HOUSE OF WANT We Sashay Vegan Leather Clutch – JNB Faux Microsuede Envelope Clutch – Nordstrom Eyelash Trim Print Cashmere & Silk Wrap – Akola Disc Drop Earrings – Karine Sultan Square Stud Earrings – Robert Lee Morris Sculptural Square Long Drop Earrings
Shop THE items above here:

WHAT NOT TO WEAR IF YOU HAVE AN APPLE BODY SHAPE
I've talked a lot about what to wear if you have an apple shape, but how about what you should avoid?
Here a a few items that you may like to avoid when you have apple body shape.
Big puffa jackets – these will only make your midriff look wider.
Big shapeless garments that don't show any waist. You can, however, use tunic dresses as a base to create long, lean lines with layers.
Bulky trousers with lots of pockets and zippers at the front.
High necklines. A V-neck will be more flattering.
Tight, clingy T-shirts that show every lump and bump.
Avoid wearing everything in one solid color. Better to mix color with a texture or to use several layers in different colors to create vertical lines.
A CAPSULE wardrobe for the apple shaped body type – 9 unique OUTFITS USING THE PIECES ABOVE
If you aren't sure how to put together the individual pieces for the apple shape that I've featured, below you will find some inspiration on how to put the outfits together.
These outfits feature lots of tricks which can provide a more flattering silhouette for the apple.
Also read our ultimate guide to creating a capsule wardrobe that works best for you.
You can see layering, asymmetry, the use of cardigans to create long columns, and the use of accessories to draw your eye upwards or downwards.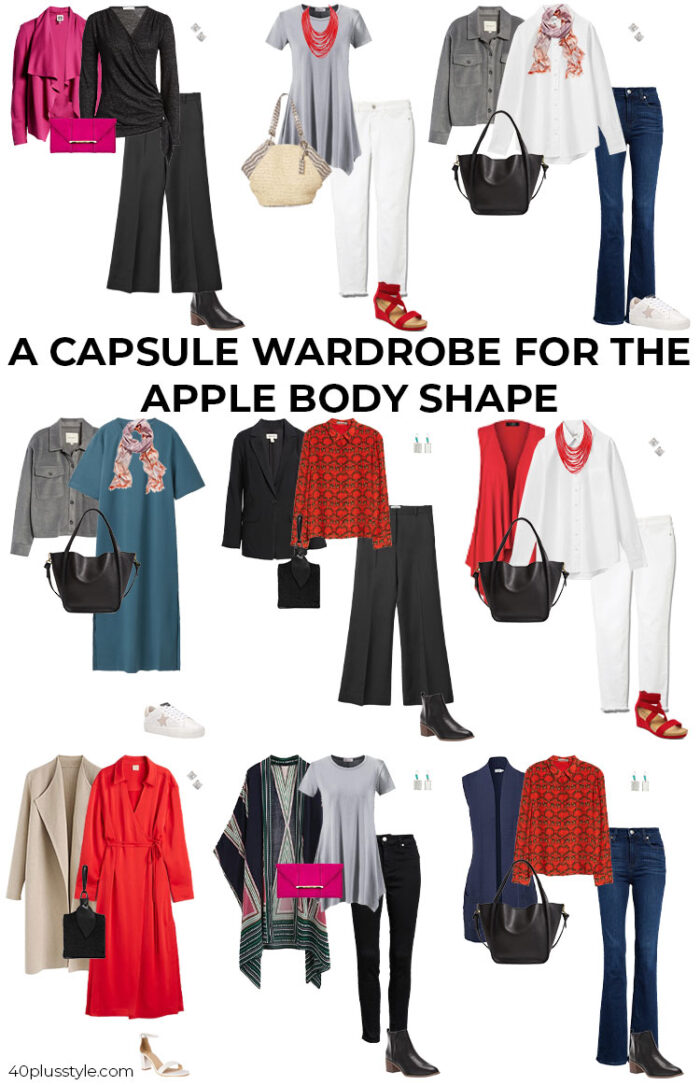 shop all items above here:

MORE INSPIRATION FOR APPLE SHAPED WOMEN
Below is a capsule we created earlier is suited for winter weather. These exact items are no longer available in stores but you can use these as inspiration to put your outfits together whilst you are shopping your own closet.
Apple body shapes usually find it a bit easier to dress in colder weather as you can make ready use of layers to conceal your belly or draw the attention away from your tummy.
Many of these outfits can be adapted for any climate.
Continue reading:
Do you have an apple body shape? What styles do you find fit and flatter your apple shaped body?
ENJOYED THIS ARTICLE ON HOW TO DRESS THE APPLE BODY SHAPE? SAVE IT ON PINTEREST!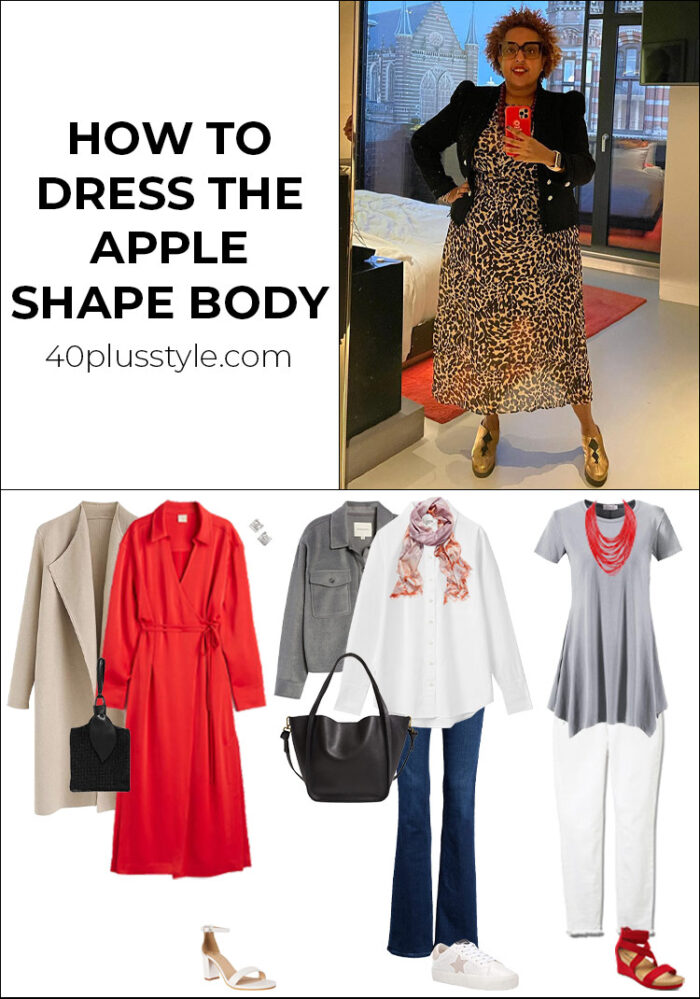 Feature image by Georgette @grownandcurvywoman
Want to get more articles from 40+style in your inbox, subscribe here.
You can also connect with 40+style on Facebook, Instagram or Pinterest.
Support 40+style by using the links in our articles to shop. As an associate for Amazon and many other brands, we receive a small commission (at no cost to you) on qualifying purchases which enables us to keep creating amazing free content for you. Thanks!