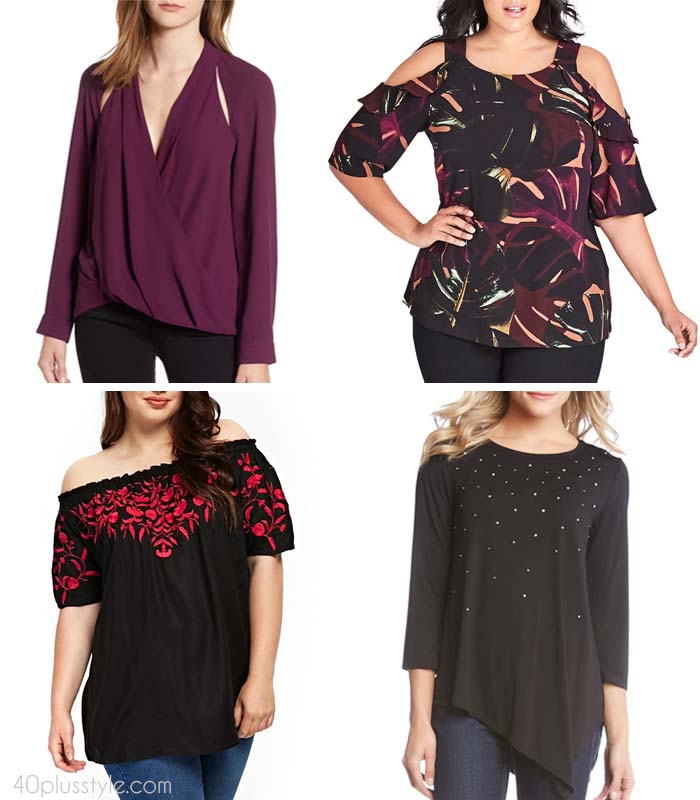 A popular article at 40+ Style is how to hide your belly with clothes, where I share 11 ways to hide your tummy effectively with the right kind of tops, dresses, cardigans and jackets. Many 40+ women develop a tummy and they would rather not show too much of that to the world.
And why would you, when you can easily hide it with the right tops! So I went out looking for some ideal tops to buy right now to hide your belly. Many of these will look good on all women over 40. As you may know, I'm a great fan of draped and asymmetrical tops myself.
While in some ways, it can be easier to hide your tummy during fall and winter because you can use layers to create long sleek lines, it can also be one of the trickiest seasons. This is because you will probably have party and dinner invites as we head into the holiday season.
That's why I'm concentrating first on some ideas of what tops to wear to hide your belly if you are heading out with friends, family or colleagues.
1. Embellished tops to hide your belly
Look out for tops with some embellishment close to your face and neckline. That way, you draw the eyes upwards and away from your belly, putting the focus on your face and decolletage instead.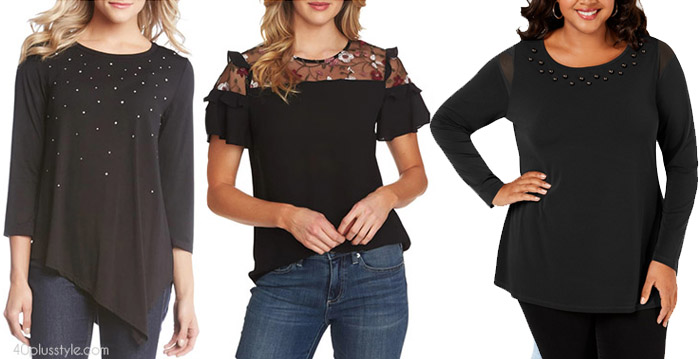 Karen Kane asymmetrical top – CeCe Ruffle blouse – City Chic studded wrap
2. Patterned tops to hide your belly
Another good tip is to look for a top which is still dressy, but which has some pattern. This confuses the eye so that the shape of your tummy isn't so defined.
Lira tie neck blouse – Karen Kane scallop hem top – City Chic cold shoulder top
3. Show off your shoulders
Another good way to take the focus off your belly is to put it elsewhere! You could choose cold shoulder, or off the shoulder tops to place the attention on the parts of your body you like and away from those parts that you aren't so keen on.
Evans off the shoulder blouse – Trouve cut out top – Lemon Tart Kennedy the shoulder top
Here are 7 more requirements for great belly hiding tops and dresses
Make sure they don't cling
Make sure your tops don't cling. Clinging is enemy number one if you don't want to show your tummy. Instead, you want fabrics and tops that loosely drape over your belly.
To avoid clingy tops, make sure that you don't buy your tops too tight.
Also be careful with a lot of synthetic fabrics. Natural materials like cotton and silk are often better.
Woven fabrics usually don't cling and can be very useful in hiding bellies.

Have drape in all the right places
A draped top can be very effective in hiding bellies. This is also a very useful method in dresses. So rather than plain soft tops that show every bubble on your body look for draped tops instead.

Benefit from asymmetrical tops
Asymmetrical tops are very effective in hiding bellies. Not only are asymmetrical tops hip and timeless they also do a great job in creating very flattering vertical lines. Especially those tops that start on the left and then go vertical down to the right.

Make use of layered tops
Layering in general is super effective to hide bellies. However, in summer you don't want to wear too many layers. Layered tops to the rescue. Very good at hiding bellies they look super hip too!

Tops that create long vertical lines
If you find asymmetry too edgy or prefer a more traditional way to hide your belly, opt for vertical lines. These can be very effectively created with long (sleeveless) vests and cardigans. Not only do these hide bellies, they are very effective in lengthening and slimming too.

Printed tops help camouflage the tummy
Tops that have a print are excellent at hiding bellies. If you combine that with a non-clingy fabric, vertical lines or asymmetry, it's a win, win, win!

Jackets are another great layering piece
Layering is one of the most effective tools to hide a belly so it's essential to have a good jacket or blazer in your wardrobe.

Some great brands for tops that hide the belly
Stella Carakasi: lots of non-clingy asymmetric tunics. **Enter the coupon code 40PLUS15 for an extra 15% off all orders and receive free shipping in the US! One use per customer.
Covered Perfectly: Pauline wanted to hide her belly effectively and decided to create her own tops. Lots of great options here. There is a special line for plus size women too. ** Special offer for 40+ style readers, use 40+ at checkout for 20% off!
Eileen Fisher: Beautiful long tunics and (sleeveless) vests in natural fabrics that create long and lean lines. They have a special line for petites too!
Vince Camuto: makes a variety of draped, layered and asymmetrical tops that are really flattering.
What is your favorite top to hide your belly? Do you have any favorite brands?

p.s. in the 40+ style club we spend a whole month discovering the many ways and tips & tricks to hide your belly! Discover how to create super flattering silhouettes using the rule of thirds, layering, use of the right clothes, the right use of accessories and much more. There will be a master class, special capsule, videos and group discussions on how to create the most flattering silhouette that DOES NOT feature your belly.
Like this article? Save it on  Pinterest!