A popular article at 40+ Style is how to hide your belly with the right clothes, where I share sure-fire ways to hide your tummy effectively with the right kind of tops, dresses, cardigans and jackets.
Now I'm going to specifically look at the best tops to hide your tummy.
Many 40+ women develop a tummy and they would rather not show too much of that to the world.
And why would you, when you can easily hide it with the right tops?
I'm keeping track of the ideal tops to buy right now to hide your belly.
Many of these tops to hide your tummy will look good on all women over 40.
As you may know, I'm a great fan of draped and asymmetrical tops myself. And, that's definitely one option you can choose to hide a tummy.
Why you might develop a tummy
Of course everyone is a different shape and size. However, many women, no matter whether they are naturally smaller or larger tend to develop a tummy during peri-menopause or menopause.
So, you're definitely not alone if you want to cover up your tummy.
Strategies to use when choosing a top to hide your tummy
Below are some quick tips on what to think about when choosing tops to hide your belly.
There are reasons why I've chosen the tops in this article and that is because they do one of two things (or both) to disguise your tummy area.
Strategy 1: Draw the attention away
The first tactic you can use to "hide" your belly is not to hide it at all, but instead to make sure that everyone focuses on a different part of you.
So, when you're looking for tops to hide your tummy, you could do this by ensuring that you have a flattering neckline, or that the neckline has some embellishment. For example, the cutout detail top (below) draws the eyes upwards. Reviewers say it goes well with any pair of pants.
Or, you can do this through the use of asymmetry, which confuses the eye.
Another way to do this is to look for patterned tops.
These draw the attention away from your belly as the eye doesn't know where to focus on a pattern, so tends to dot around rather than looking at your tummy.
Karen Kane Cutout Detail Shirttail Top
(Petite / Regular / Plus)
Strategy 2: Look for flattering fabrics and styles
The second thing you can do when choosing a top is to make sure that it drapes across or flows over your belly in a flattering way.
Make sure the material in your top isn't too thin or clingy. Instead, look out for draping and ruching.
Although the below top is not strictly asymmetrical, it has an asymmetrical feel because of the design. Made of cotton and viscose this will drape nicely over your belly. It comes in a variety of colors.
The best tops to hide your belly
Now that I have talked about what you are trying to achieve or find when choosing a top to wear to disguise your tummy, below is a full list of all the best tops that will do a great job at hiding a belly.
You'll see I've update these tops for spring and summer as many of you are now heading towards the warmer months of the year, but there are plenty of options for winter and fall too.
You'll notice that these tops all use at least one of the techniques described above – they either draw the eye away from the tummy area, or they use clever draping and ruching to disguise a belly.
Patterned and printed tops to camouflage your belly
Another good tip is to look for a top which is still dressy, but which has some pattern.
This confuses the eye so that the shape of your tummy isn't so defined.
Prints are very effective in hiding bellies and you should definitely consider adding a few in your wardrobe.
It's great to wear on its own, doesn't cling and can easily be layered with a jacket or cardigan too.
Karen Kane Tie Dye Burnout Shirttail Top
Karen Kane Tie Dye Button-Up Shirt
Vince Camuto Print V-Neck Blouse
AllSaints Bernie Sabrina Shirt
Fonda @savvysouthernchic above shows off a style that has many belly-hiding features – a v-neck, pattern, and a cut that combines an empire style with a peplum.
She is wearing a top and clutch from Target. Check out this similar skirt and pumps to complete the look.
Embellished tops to hide your tummy
You can use embelished tops to draw the attention away from the belly.
Look out for tops with some embellishment close to your face and neckline.
That way, you draw the eyes upwards and away from your belly, putting the focus on your face and decolletage instead. The Karen Kane top (below) draws attention to your face and bust, while the draping helps to disguise a tummy.
Karen Kane Embellished Appliqué Long Sleeve Top
This embroidered top below doesn't cling and does a great job focusing the eye upwards to the bust and neckline rather than to the belly.
Karen Kane Embroidered Peasant Blouse
tops that show off the shoulder
Another good way to take the focus off your belly is to put it elsewhere!
You could choose cold shoulder, or off the shoulder tops to place the attention on the parts of your body you like and away from those parts that you aren't so keen on.
Below, this one-shoulder top will draw attention upwards, and would look lovely styled with jeans for a casual look, or with a midi skirt.
Treasure & Bond Off the Shoulder Pullover
Loveappella Off the Shoulder Top
Anne Klein Cold Shoulder Peplum Top
V-neck
A V-neck is a good option for disguising a tummy. the v-neck will show off your neck and decolletage while creating a elongating effect.
Made By Johnny V-Neck Wrap Front Drape Dolman Top
Tops that don't cling
Woven fabrics usually don't cling and can be very useful in hiding bellies.
Make sure your tops don't cling. Clinging is enemy number one if you don't want to show your tummy. Instead, you want fabrics and tops that loosely drape over your belly.
To avoid clingy tops, make sure that you don't buy your tops too tight.Also be careful with a lot of synthetic fabrics. Natural materials like cotton and silk are often better.
If you want to look stylish and highlight your strengths, it is best not to wear tight tops. They will accentuate every fat bubble you have and draw attention away from you and your fabulous clothes.
Rather choose tops that skim over the belly and/or have some draping or ruching.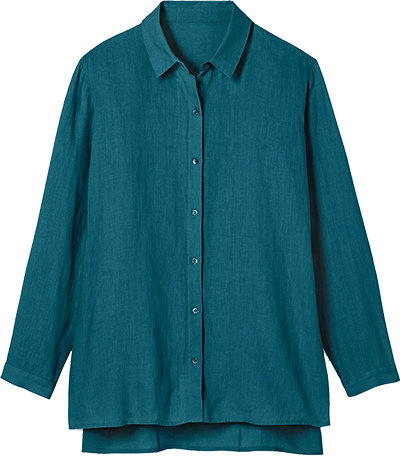 Eileen Fisher Handkerchief Linen Classic Collar Shirt
CeCe Floral Print Square Neck Top
Jona @the50plusgirl above wears a print shirt that skims over the belly. The print means that the eye dots around rather than focusing on the tummy area.
Check out this printed shirt that you can wear with this similar pair of jeans, sandals, clutch and sunglasses.
Tops that drape in all the right places
A draped top can be very effective in hiding bellies.
This is also a very useful method in dresses.
So rather than plain soft tops that show every bubble on your body look for draped tops instead.
Halogen Ruched Square Neck Top
Asymmetrical tops to hide your tummy
Asymmetrical tops are very effective in hiding bellies.
Not only are asymmetrical tops hip and timeless they also do a great job in creating very flattering vertical lines.
Especially those tops that start on the left and then go vertical down to the right.
This asymmetrical top below is a flattering style, and the darker color helps to take the attention away from your belly.
DJT Handkerchief Hemline Tunic Top
When the weather cools down, you could look out for a sweater with an asymmetric style.
Karen Kane Colorblock Asymmetric Turtleneck Sweater
(Regular / Plus)
Layered tops
Layering in general is super effective to hide bellies.
This makes hiding a belly during winter and fall much easier than during summer.
But, if you are in part of the world that is heading into summer, or you are going on vacation, you can still use layering.
Layered tops to the rescue. Very good at hiding bellies, they look super hip too and can be easily layered with a sleeveless vest, cardigan or jacket.
A layered blouse will enable you to create many outfits.
You can easily layer it with a cardigan, jacket or sweater, but it can also be worn very stylishly on its own.
The advantage of this top (below) is that it does the layering for you.
Eileen Fisher Sheer Silk Georgette Poncho
Lotusmile Double-Layered Chiffon Blouse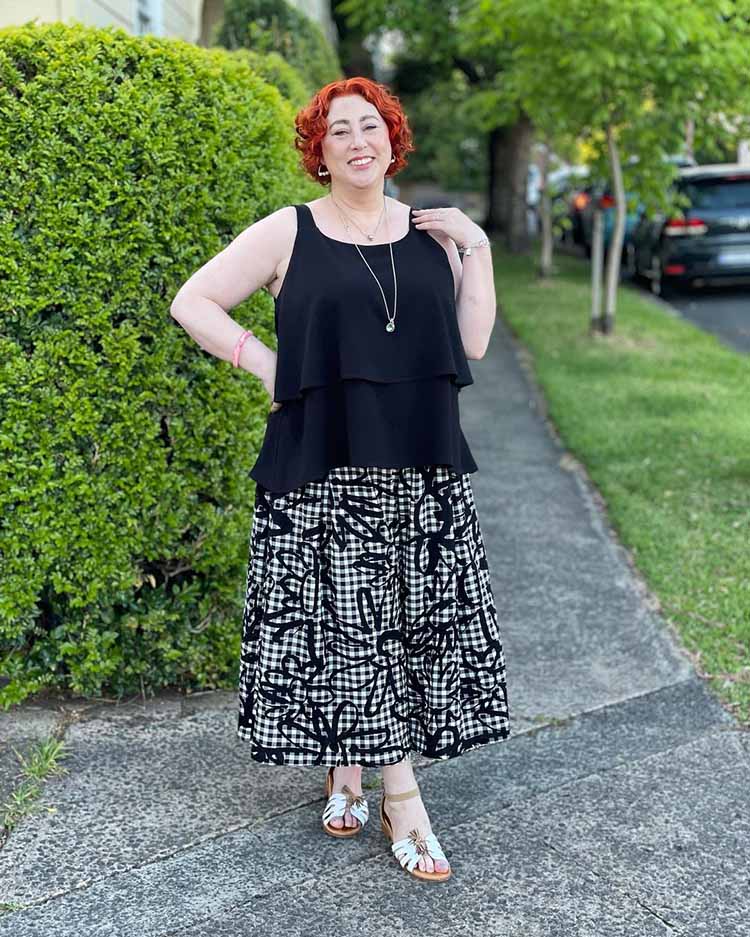 Kimba @kimbalikes above wears a layered top with her maxi skirt.
Steal her look with tis similar layered tank top, maxi skirt, sandals, necklace and earrings.
crossover
Or, you could try a crossover style like the Karen Kane top (below), which is super flattering and comes in a choice of colors.
Karen Kane Asymmetrical Crepe Top
pleated
A top with pleats like the ones from Jones New York (below) could be another good choice. The pleats create a draped effect and add extra material which drapes over the belly area. You'll see that this top has one pleat in the center that creates a draped effect, but you could also choose tops with a series of pleats across the front.
Jones New York Pleat Front Top
For warmer weather, you could opt for a pleated sleeveless top like the ones below from Anne Klein.
Anne Klein Harmony Pleat Neck Tank
Don't be afraid of adding a waist
You can think about hiding your belly by skimming over it, or by creating a waist for yourself at your slimmest part to give the illusion of an hourglass figure.
You could do this with a top which has some elastic to create a waistline or a tie.
Just make sure it doesn't tie at the widest part of your tummy.
The belted option from Amazon (below) features a v-neck and draping. To add a little extra glamour, you could add a lace camisole underneath.
Anne Klein Harmony Colorblock Knit Wrap Top
Tops with vertical stripes
I'm not someone who thinks vertical stripes are a magical solution when it comes to hiding a belly.
In fact, you can find that a long cardigan in a block color worn over a top with horizontal stripes works very well too.
But there's no doubt that vertical lines can draw the eye up and down rather than across if you choose a flattering style.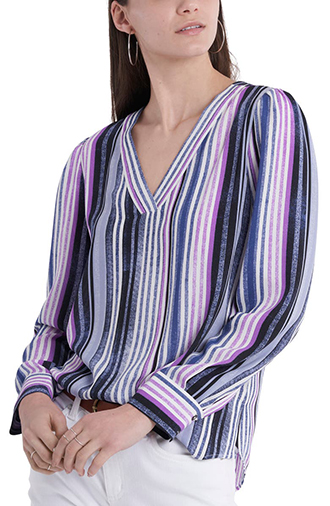 Vince Camuto Stripe Long Sleeve Tunic Blouse
Susan @susan_unefemme above (read her style interview here) opts for a summery look with her stripe shirt and cream jeans.
Check out this similar shirt (other options here and here), jeans, sandals, handbag and necklace.
Ruffled or peplum tops
This is one you have to be careful with.
Choose the ruffle in the "wrong" place and it can actually emphasize your belly rather than disguise it.
You can either opt for a ruffle that skims over your belly to disguise it, or a ruffle in a different place altogether to draw the eye away from the tummy.
If you choose a peplum which dips in at your narrowest point and then skims out, or ruffles which are in strategic places to divert the attention from your middle section, they can work.
VERO MODA Kaya Falls Peplum Blouse
GRACE KARIN Wrap Peplum Blouse
Empire waist
These work for some women but not for others.
An empire waist is what is traditionally thought of as pregnancy wear and, if you do have a round tummy, it can be an unflattering option.
But, if your belly is more wide – so kind of a muffin top – rather than sticking out at the front, it can definitely work.
That's because an empire waist will generally highlight the area just below your bust, which tends to be the slimmest point on your torso if you have a bit of a belly.
Jessica Simpson Miranda Blouse
Choose tops that emphasize your bust
Do choose tops that emphasize your bust rather than your waistline like this tunic from Amazon (below).
That way the eye will be drawn upwards rather than to your tummy, and often you find if you have a bit of a belly, you have a great bust.
Just make sure you wear a well-fitting bra.
If you have a bigger bust take a look at the best bras for large breasts that are stylish and supportive.
Tops that create long vertical lines
1. Long cardigans
If you find asymmetry is too edgy for you or you prefer a more traditional way to hide your belly, opt for vertical lines.
These can be very effectively created with long (sleeveless) vests and cardigans.
Not only do these hide bellies, but they are also very effective in lengthening and slimming too.
The open front cardigan (below) also features draping, which is a good tummy-hiding mechanism. One reviewer says she loves the style so much that she bought it in 11 different colors.
Urban CoCo Drape Front Open Cardigan
Kylie @kylish_aus above wears a long cardigan over her t-shirt and leggings look.
Steal her look with this similar tee, coat cardigan, leggings, sneakers and sunglasses.
Also read our article on how to dress if you are petite.
Extra inspiration on using layering to hide a tummy
Below, you can see more outfit ideas on how to you can hide a tummy with layers or patterns.
A sleeveless cardigan can be a good option during warmer months, while you'll want sleeves when it's chillier.
The longer your cardigan or jacket, the longer and leaner you will appear, although you usually don't want to go longer than 2/3 from the height of your shoulders to the bottom.
JJ Perfection Open Front Long Cardigan – FRAME Le Mid Rise V-Neck Tee – Joe's The Hi Honey High Waist Slit Raw Hem Curvy Bootcut Jeans – TOMS Majorca Block Heel Sandal – Kate Spade New York Knott Large Colorblock Leather Handbag – Coiris Acrylic Cuban Necklace and Earrings Set
Short jackets and cardigans will hide your belly too, but will have an overall more boxy silhouette.
Caslon Drape Collar Knit Blazer – Masai Copenhagen Gaby Abstract Dot Cotton Tunic Top – FRAME Le Garcon Raw Stragger Straight Leg Jeans – Birkenstock Bend Sneaker – AllSaints Aliyah Leather Shoulder Bag – Tory Burch Geo Hoop Earrings
2. Sleeveless vests
Instead of a cardigan or coat you can choose a vest, which is a good option when the weather is warmer.
A long vest is perfect for creating long, lean vertical lines, but you can opt for a shorter waterfall vest too.
Even if the weather is a little warmer where you are, you can still layer a sleeveless vest over a sleeveless vest to benefit from tummy-hiding layers.
The sleeveless cardigan below can be combined with many tops and will look great over skinny pants and jeans.
It has the benefit of being draped too which makes it even more flattering.
Beyove Sleeveless Draped Open Front Cardigan
For more options on wearing vests, you may like to check out this article on how to wear a long vest.
3. Jackets for layering
Layering is one of the most effective tools to hide a belly so it's essential to have a good jacket or blazer in your wardrobe.
Jackets can make many casual looks just a bit chicer and they are an easy layering piece.
CHICWISH Open Front Knit Coat Cardigan
MELIFLUOS DESIGNED IN SPAIN Wrap Poncho Ruana
Or, you could choose a draped or asymmetrical poncho like the options below.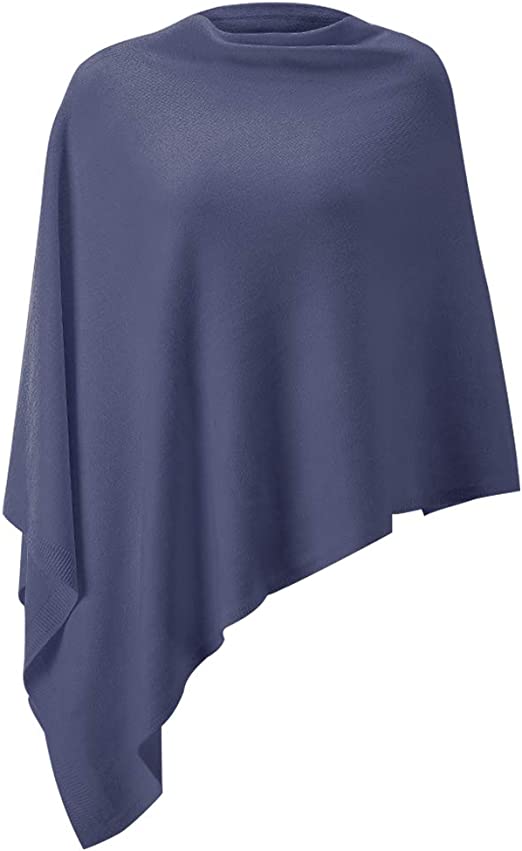 Deborah @deborahgates_ above (read her style interview here) wears a poncho over her coated jeans.
Get her look with this similar poncho (another option here), pants, boots and earrings.
4. Try a shapewear camisole
When you think about shapewear, you tend to think about the kind of thigh-slimming Spanx worn by celebrities on the red carpet.
But, you could wear a camisole underneath your tops to smooth out your tummy.
SPANX Thinstincts Convertible Camisole
The best brands for tops that hide the belly
When you are looking for tops to hide your tummy, it can be easiest to have some brands in mind.
Here are some of the best.
J.Jill has a large variety of tops. This layering top will look good on its own in summer and be used as a first layer in winter.
Eileen Fisher: Beautiful long tunics and (sleeveless) vests in natural fabrics that create long and lean lines. They have a special line for petites too!
Vince Camuto: makes a variety of draped, layered and asymmetrical tops that are really flattering.
Karen Kane: usually has a good range of draped and cross over tops.
City Chic: A good option for evening wear as well as tunic-style tops.
Josephine @chicatanyage above (read her style interview here) shows off a layered top look with her black pants. Her white sandals draw the eye downwards away from the tummy.
Recreate her outfit with this similar shirt, pants, sandals and sunglasses.
shop some of the items above here:


What is your favorite top to hide your belly? Do you have any favorite brands for tops to hide your tummy? I'd love to hear your own recommendations.
Continue reading:
Like this post on the best tops to hide your tummy? Share it on Pinterest!
Feature image by Fonda @savvysouthernchic
Want to get more articles from 40+style in your inbox, subscribe here.
You can also connect with 40+style on Facebook, Instagram or Pinterest.
Support 40+style by using the links in our articles to shop. As an associate for Amazon and many other brands, we receive a small commission (at no cost to you) on qualifying purchases which enables us to keep creating amazing free content for you. Thanks!