Deborah is one of the members of the 40+Style club and resides in Australia. She has a fabulous and unique style where asymmetry and color play a key role so let's discover her style secrets!
Can you tell us a little bit more about yourself?
I'm a dressmaker working part time for myself at home, living in a city on the east coast of Australia.
As a point of reference which age group do you belong to or perhaps you are willing to share your age?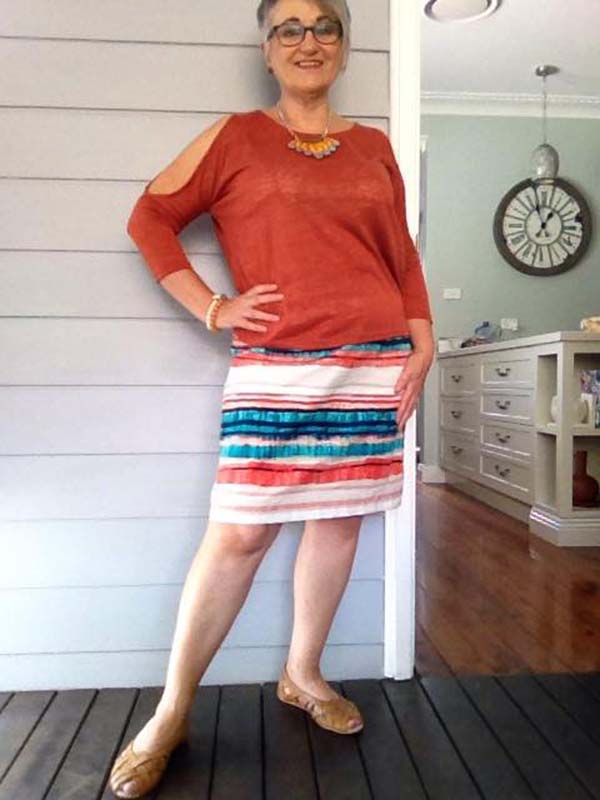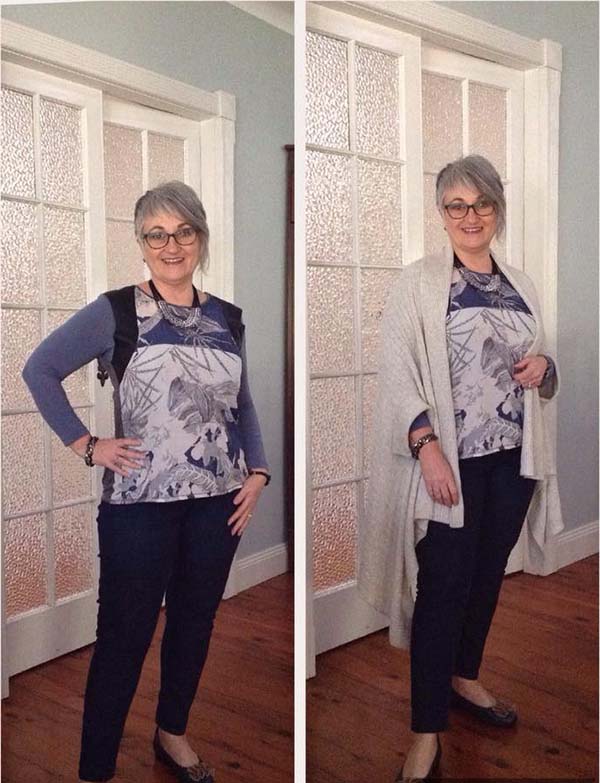 I'm 59, an empty nester, a grandmother, and loving this time of my life.
Can you tell us a bit more about why you joined the 40+ style club?
I enjoy reading your blog and the style club started up at just the right time for me. I had just put on a bit of weight, my clothes weren't fitting and needed replacing. I was feeling despondent and uninspired.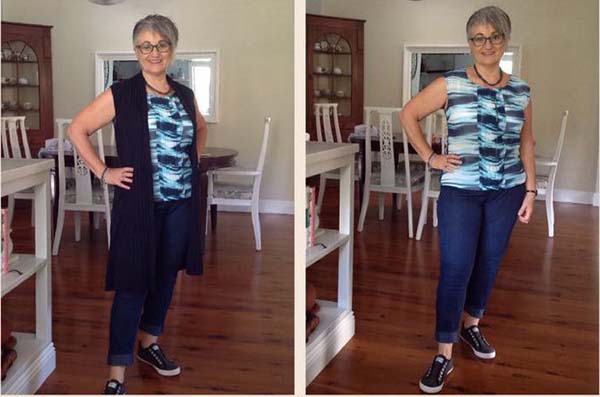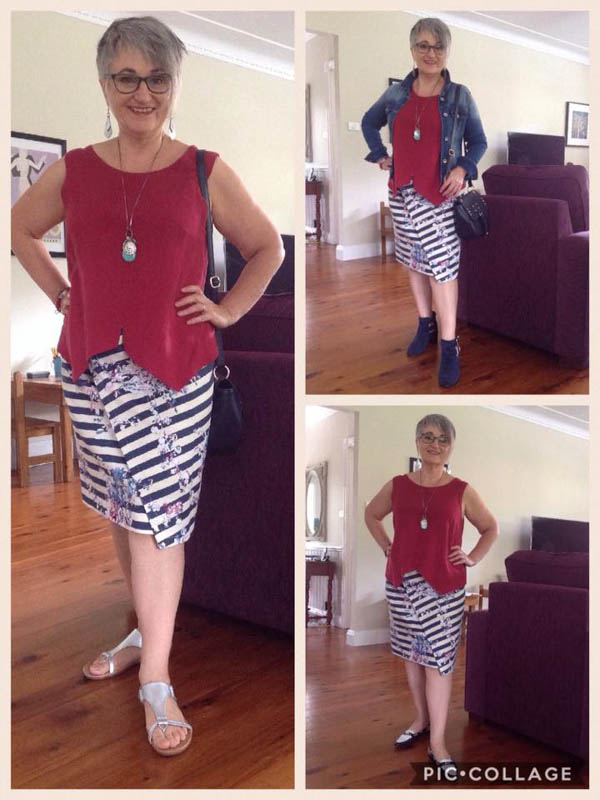 I needed some direction to uplift and motivate me. When I joined I found inspiration and motivation, I feel better about myself. I have accepted where my body is right now and am enjoying trying new styles and challenging myself to dress to express the inner me.
How would you describe your own personal style?
I would say elegant chic with a dramatic edge.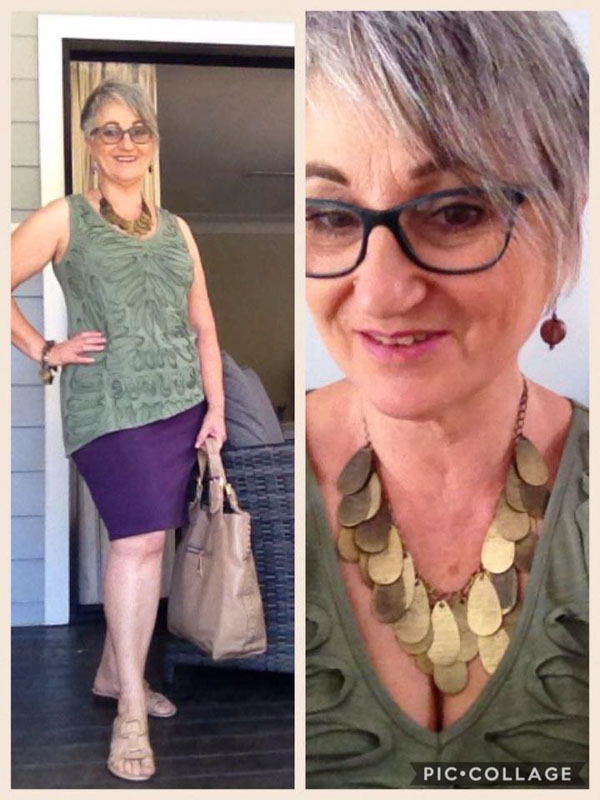 What would you consider the most important components of your style?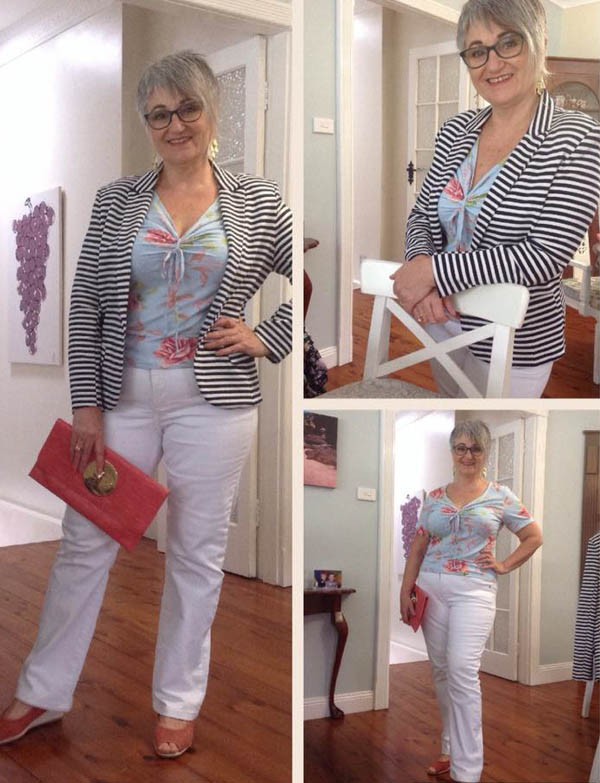 I like there to be something unique in an outfit, or some sense of drama. I love asymmetry, notice the hair! I like making a statement either with shape or colour, but not bold or loud.
Where do you live and how does that influence your style?
Newcastle on the east coast of Australia has a temperate climate with hot humid summers and mild winters. I need to wear natural fibres in summer for the humidity.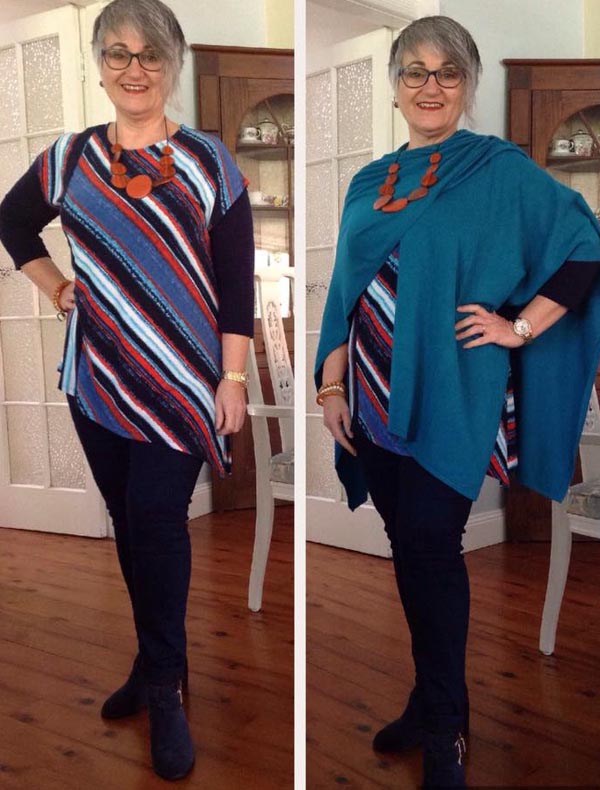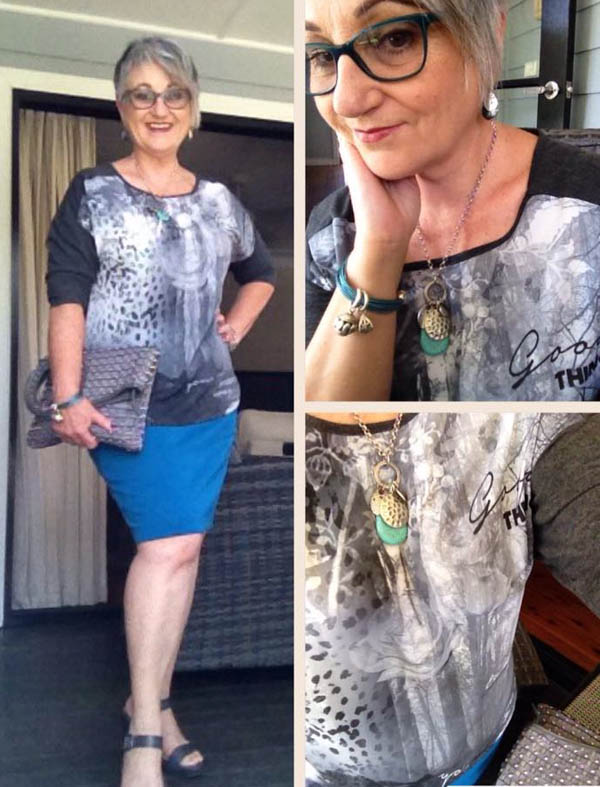 My lifestyle is totally casual, even when I see clients at home I dress smart casual. Even going out I rarely require anything dressier. I rarely wear heels anymore.
Do you feel you have a signature style?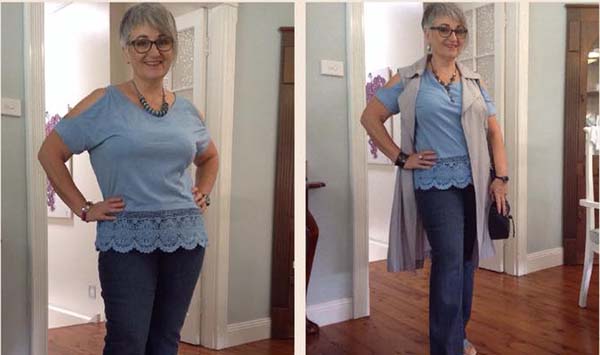 I love asymmetry. I also love layering and scarves and statement necklaces. My most common outfit would probably be styled around a pencil skirt and in winter with tights and flat boots.
What inspires your outfit choices the most?
At the moment being winter here I am inspired by the colour combinations in my scarves. I am also inspired by fashion bloggers like yourself.
Do you take things like color profiling or body type into account when you dress?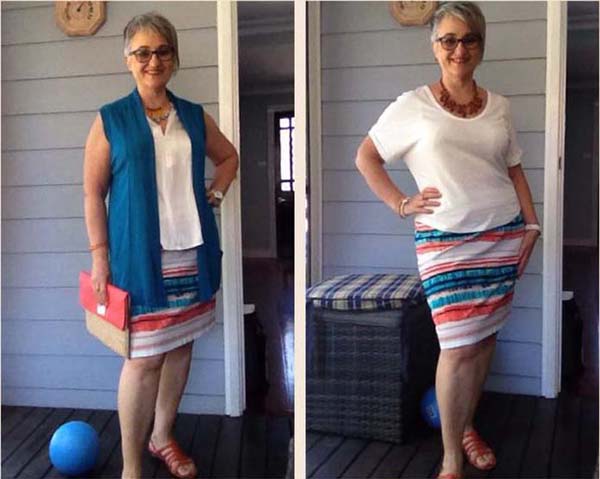 Mostly I do, but I break the rules if a style suits my personality but not my figure. I have warm, medium light, muted colouring and stay true to these colours as best I can. I like to have a cohesive wardrobe with less clothes and more options and it is much easier to do this if the colours all go together.
What is your current body type and height and what are your best tips for dressing for these?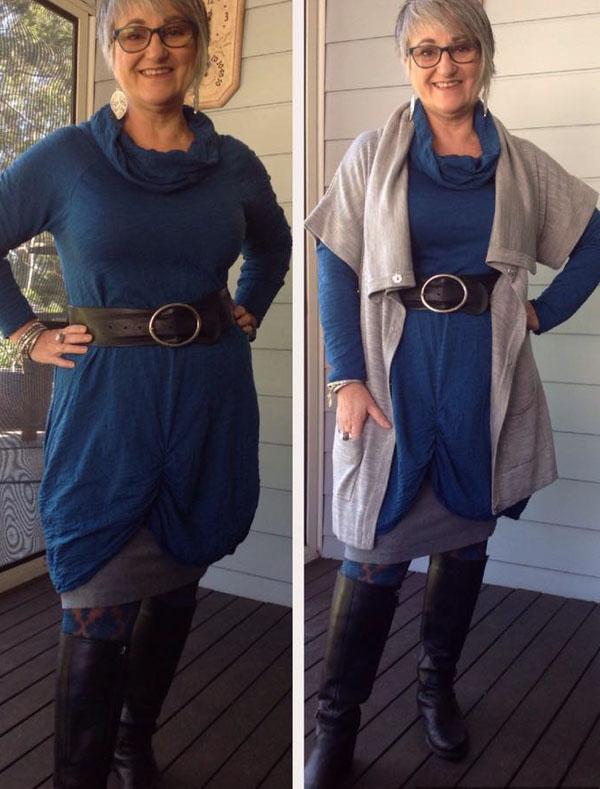 I am 5'0″ (153cm) tall. I am petite, so achieving good proportions in my outfits especially while wearing flat shoes is a challenge. I have an hourglass shape but my weight fluctuates and I'm probably more rectangle at the moment. I love pencil skirts to show my shape, but I'm needing some flowy tops now to skim my belly.
Do you have any favorite brands?
I like quality fabrics and clothes with unique styling . These types of clothing come with price tags out of my price range. Years ago this need drove me to shop in thrift stores.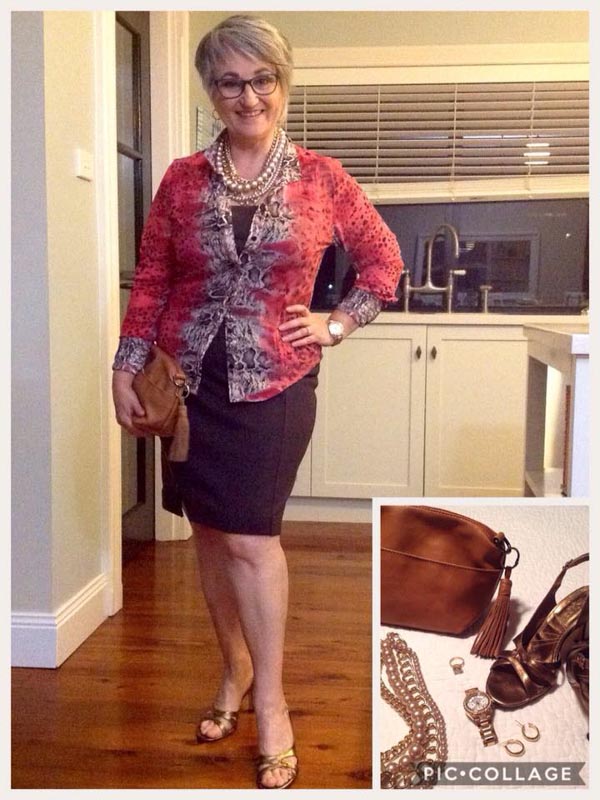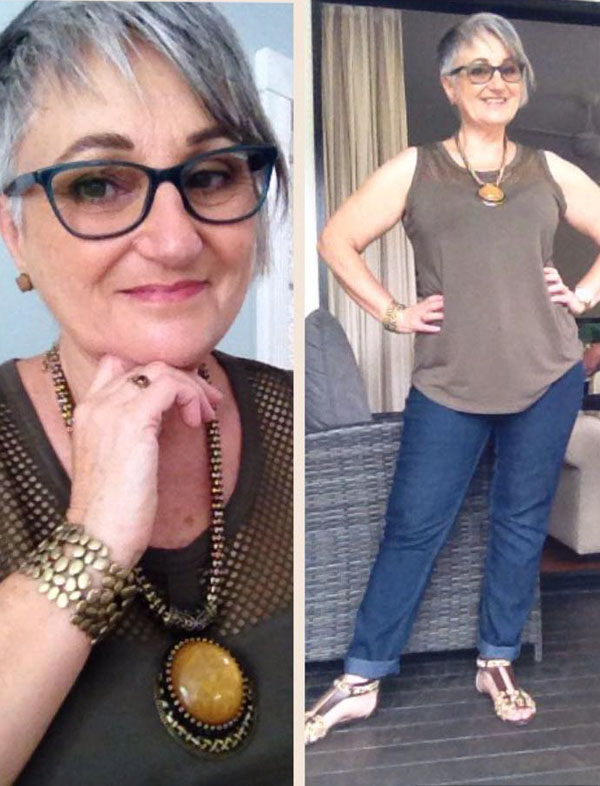 Nowadays I shop there by choice, there is always a treasure to be found. I don't like our society's throw- away attitudes to fast fashion.
The majority of my clothes are thrifted with the occasional new piece or I might sew a unique item to meet my creative need.
Has your style changed at all after turning 40?
I am more confident and more accepting of my imperfections and that is reflected in the way I dress. That confidence comes from knowing what styles work best for my shape and wearing the colours that I know suit me. I am learning how to express my personality through the clothes that I wear.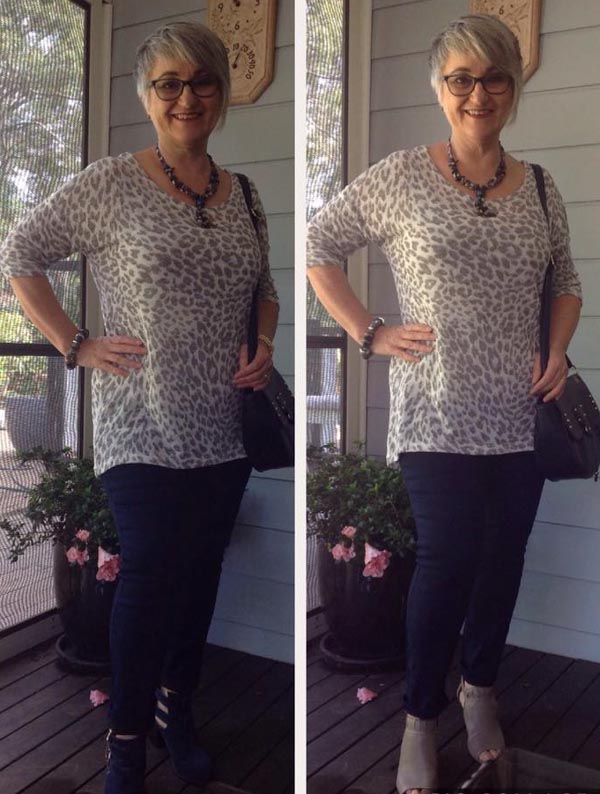 Do you follow trends? And if yes, which trends excite you at the moment?
I do follow trends but only buy something if I know it will suit me. I do look for trends when I'm thrift shopping.
If i'm going to wear thrifted clothes and have grey hair, I have to make sure that I look current.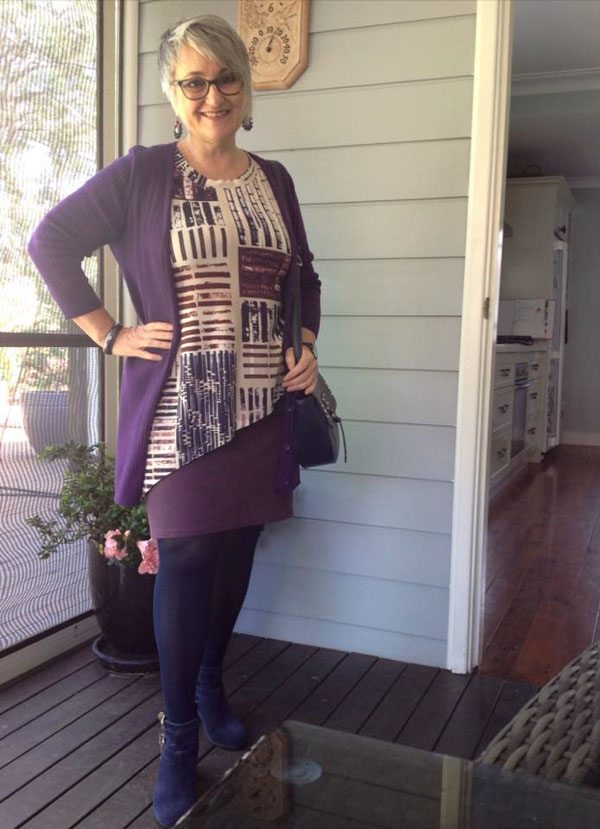 How has the style club helped you ignite your style?
It's given me back my confidence and motivates me to try new outfit combinations. I'm loving shopping my wardrobe.
I love the variety, there's a new challenge to look forward to each month.
Thanks so much for this interview Deborah!
Which of Deborah's outfits is your favorite?

Like this post? Share it on Pinterest!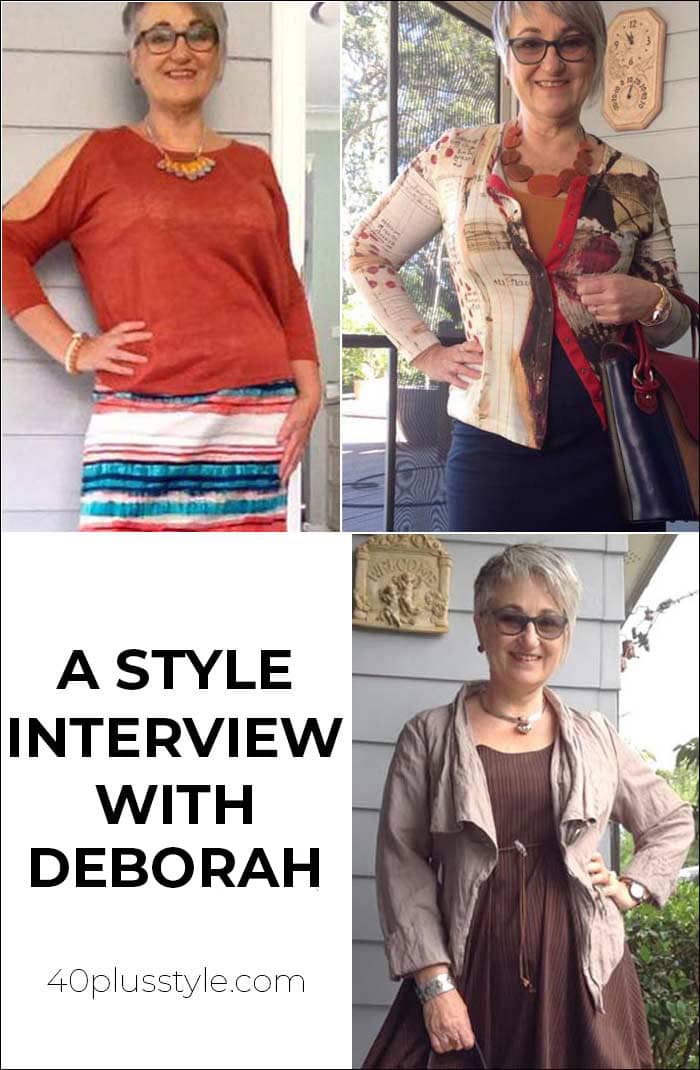 P.S. If you like to ignite your style and get monthly style training and style challenges, you may like to join the 40+Style Club! You will get to interact with Deborah and the many other women of the club in the private member community. The style theme for the coming month will be Color where we will share lots of detailed (video)training on how to discover your best colors.  You can join and get instant access to all training and challenges here.
Want to get more articles from 40+style in your inbox, subscribe here.
You can also connect with 40+style on Facebook, Instagram or Pinterest.
Support 40+style by using the links in our articles to shop. As an associate for Amazon and many other brands, we receive a small commission (at no cost to you) on qualifying purchases which enables us to keep creating amazing free content for you. Thanks!