You all know the importance of making sure that you wear the right size bra and that it fits well. But, what about if you're lucky enough to have a shapely figure? What are the best bras for large breasts?
The problem many women with larger bust sizes can have is that bras for those whose cup size is more than a C tend not to be as fashion-forward.
Not only that, but it's even more important to choose a bra based not just on looks alone, but on comfort and support.
Best fitting bras
You want to make sure that your bust is sitting where it should be, and not heading towards your waistband. Having the right undergarments will make your outer garments look a million times better.
Experts suggest that it's just as important to change your bra as it is your toothbrush. You should be aiming to add a new bra, and discard any that are no longer offering the right support, every six months.
You also need to be sure that the support is coming from the band and not the shoulder straps, otherwise, you will find they are digging into your shoulders.
Check out our list of the best strapless bras for women over 40.
Best place to buy bras online
So, where should you shop if you have a fuller chest? Here are the best suggestions from the stylish, larger busted, women of the 40+ Style Community. There are also recommendations for the best sports bras for large breasts from members of the 40+ Style Club.
Don't forget to add your own tips to the comments below if I've missed anywhere that you like to shop.
Top recommendations for the best bras for large breasts
One of the 40+ Community who wears a 42D suggested Additionelle for style, variety and the range of colors and patterns.
"There's a variety of styles to suit different needs as well as being very stylish. I love all the colors and patterns" – Kathryn.
You can opt for a lot, a little or no padding at all, depending on how much emphasis you want to give to your bust.
There's everything from everyday t-shirt bras like this one below from the Ashley Graham range, to sports bras, to sexier options.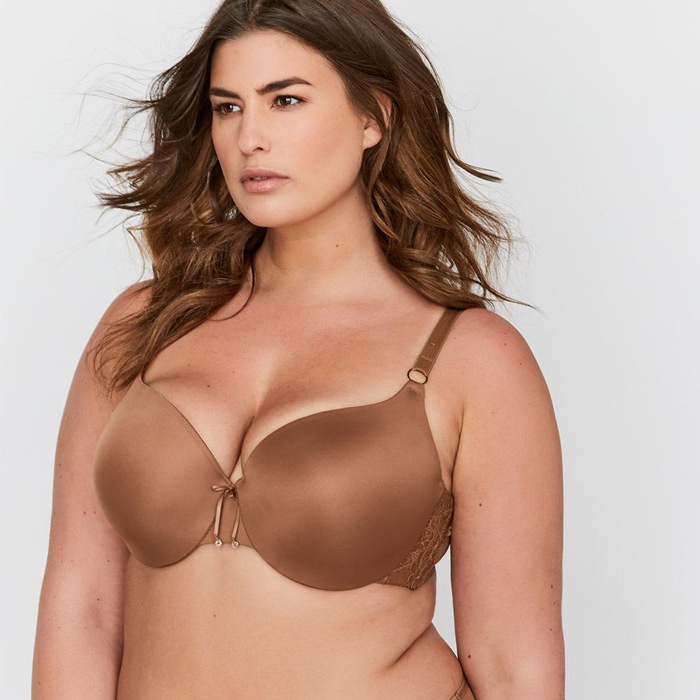 Additionelle smooth tee shirt bra
Marks & Spencer has long been the place to go in the UK for comfortable underwear and is fast becoming a US favorite too.
Best bras for dd
There's a special section for those looking for DD+ cups.
M&S was praised for bras without underwire which are just as supportive as those with.
"Good old m&s do very good supportive, super soft fabric bras without underwires that support as good as wired." – Becky
Natori was recommended by a 30DDD 40+ Style Community member.
"I'm 36DDD and love Natori Brand. They are the most comfortable out of the brands I have tried." – Andrea
Miracle Unlined Underwire Bra – Feathers Bra – Bliss Perfection Underwire Contour  – Flora Underwire Bra
Chantelle sizes go up to a DDD and there's a range of styles from smooth line t-shirt bras, to full coverage, sports, and minimizer bras if you want to downplay your bust.
Chantelle Women's Basic Invisible Smooth Custom Fit Bra
This is another great option from Chantelle, which not only offers support, but also some sex appeal.
Lane Bryant is particularly good for its huge range of bra sizes. There are 86 sizes available from 32 through to 50, in cup sizes up to a K.
Elomi was another popular recommendation, and it's available at Nordstrom, so easy to find. There's a good range from soft-molded everyday lingerie, to sports bras and bras which are a little more special.
Soma's vanishing back bras were a recommendation for their comfort. Although it's not a cheap option, I think it's worth investing in bras.
This vanishing back bra comes in three color pathways. Customer reviews say it is smoothing, comfortable… and sexy!
"It fits better, more supportive, and the cups don't gap at the top. I love the mesh, I love the cups, I love the side smoothers!" – Annabelle
There's nothing worse than wearing an uncomfortable bra that you just can't wait to take off when you get home. I did notice there was a sale on at Soma, and a 20% discount for first orders so you may be able to find bras within your budget.
Another winning option from the 40+ Style Community from a very stylish woman who wears an F/G cup is the Fantasie brand.
"Fantasie bras are really good. Pretty and they specialise in larger busts." – Lorraine
Finding a t-shirt bra if you have a larger bust can be a challenge.
Reviewers said that it created a smoother shape underneath clothes than any other bras they had tried.
The Triumph Finesse padded bra has a lot of positive reviews.
Empreinte is praised by women with fuller busts for offers coverage, for lace which isn't scratchy and for providing a seam free appearance under clothing.
The Prima Donna Madison full cup bra has great reviews.
I like Third Love as it has a handy bra size quiz where you can answer questions about which size you usually wear, whether it fits properly, any issues such as straps digging in or band riding up, and then you will get suggestions about whether you need a different size.
Best plus size bras
This Third Love classic contour plunge bra is a good option if you are looking for the best plus size bras.
Third Love classic contour plunge bra
Another brand recommended for plus size is Curvy Kate, which aims to give sexy bra options to women with larger bust sizes.
Balcony bra from Curvy Kate
Best minimizer bras
A minimizer bra can be a useful tool for you if you find you have shirts which should be the correct size for you, but which gap at the front.
Rather than having to buy a shirt in a larger size, a minimizer bra can solve this problem so that you can fasten your buttons without gaping. One of the brands recommended for minimizer bras is Wacoal (below).
This one comes in 9 colors if you are looking for something different from the usual black, nude or white (although you'll find those too!).
Best wireless bras
One of the major problems for those of you with large breasts can be discomfort.
While bralettes and sports bras worn as everyday bras have been proving increasingly popular in the past couple of years, it can be hard to find options which deliver genuine support.
And, I have to say, when looking at reviews for many options, it was difficult to find a wireless bra which women agreed offered enough support.
Wingslove sports bra
Best sports bras for large breasts
One of the biggest challenges if you have a large bust can be finding a great sports bra which supports you and allows you to concentrate on your game, or exercise, without fears of bouncing around or spilling out.
One of the 40+ style club members recently asked for recommendations for a good sports bra without any side spillage.
The best recommendation was this high-impact sports bra by Wacoal from Macy's which has great reviews.
It has an inner side sling in the cups to offer additional support and 40+ style club members praised it for also having a hook-and-eye fastening, making it easier to get in and out of than other sports bras.
At the moment, the pink and purple versions have 40% off.
"I have three of these bras. My only wish is that they would come in more colors. Finding something comfortable and supportive for someone who is a 34DDD isn't easy, let alone in a sport bra." – Katie
Wacoal Sport high-impact underwire bra
A good sports bra when you have a larger bust really can make the difference between wanting to exercise and not wanting to move around because you feel so uncomfortable.
Other top sports bra recommendations are below.
Whether you want to highlight a large bust or downplay it, you may like this piece on how to dress the large bust.

Of course, if you are more of an A cup than a DD, you may wish to take a look at this article on how to dress the smaller bust.
I'm sure that with all these recommendation, you will be able to find the best bra for your large breasts!
If you already found yours, we would love to have your recommendations!
What are the best bras for large breasts that you have found? Let us know in the comments.
Like this article on the best bras for large breasts? Save it on Pinterest!
Want to get more articles from 40+style in your inbox, subscribe here.
You can also connect with 40+style on Facebook, Instagram or Pinterest.
Support 40+style by using the links in our articles to shop. As an associate for Amazon and many other brands, we receive a small commission (at no cost to you) on qualifying purchases which enables us to keep creating amazing free content for you. Thanks!