How important is lingerie to you? And what are you looking for in sexy and classy lingerie? Today let's look at classy lingerie choices for mature women that will make you feel and look fabulous.
What's the difference between lingerie and underwear?
Would you say there is a difference between underwear and lingerie? Personally, I think of underwear as something you wear everyday. I prefer it to be practical and invisible so that my outer clothes can shine.
For me, lingerie is more special and something I may choose for a special date night or when I have a special event. However, I know plenty of women that always make their underwear a priority and make sure they wear matching sets all the time.
Let's take a look at the best lingerie for mature women, with classy lingerie options to make you feel confident and beautiful.
classy Lingerie for mature women
There's definitely no age limit on feeling sexy and confident! And, the lingerie you wear can make all the difference to how good you feel about yourself whether you're spending a special night with your partner, or you just like how you feel when you know you are wearing something extra special under your outfit.
What to look out for when choosing classy lingerie
So, what should you consider when you're looking for the best classy lingerie for you?
Comfort
I'm sure you've worn scratchy underwear before that has left you feeling uncomfortable. And, it's impossible to feel confident if you're not feeling comfortable. If you've got lots of scratcy fabric, wires and straps that dig in, you're never going to be feeling sexy and attractive.
Instead, look out for soft materials and wide straps in styles that make you feel great when you wear them.
coverage
You don't have to opt for teeny, tiny bras and panties to look fantastic. You can choose full coverage bras and panties in beautiful fabrics and look and feel fabulous.
Material
It's easy to find lingerie in manmade fabrics. But, if you tend to find that manmade materials leave you feeling hot and sweaty, you may want to look out for natural alternatives. It's really a matter of personal preference or what your body can tolerate. Many of us, including me, don't tolerate synthetic fabrics in their private parts (see also my article on the properties of polyester and other fabrics.)
best lingerie in stores now
Let's take a look at some specific lingerie styles you could choose that are sure to flatter women over 40.
High waisted briefs
As mentioned you really don't have to opt for a tiny g-string when looking for sexy classy underwear. Often, more coverage can actually be more alluring. You could choose a pair of high-waisted pants in a retro style to cover-up and tuck in your tummy a little. If you're opting for high-waisted styles, choose a special fabric like lace or silk rather than plain cotton.
The high waisted pants (below) come with a matching bra, and you can choose between a good choice of bright colors or neutrals. Reviewers say it is soft and doesn't feel scratchy at all. One said it made her feel like a classy, sexy pin-up girl.
Avidlove High Waisted Lingerie Set
If you want to buy separates and don't necessarily want the bra to go with your pants, you could try the high waisted panties (below) from Hanky Panky. This style comes in lots of different colors so you should find one you like.
Bodysuit
Rather than separates, you could choose a bodysuit. This has the advantage of giving you some coverage and support around the tummy area if this is a part of your body your prefer to cover up. Elastic above the natural waist of the Pour Moi bodysuit (below) helps to give an hourglass appearance.
Pour Moi Pour Moi Contradiction Statement Bodysuit
Underwired body
Another option from Pour Moi for you, you could opt for a black and scarlet color pathway. Reviewers say it is comfortable and fits well.
Pour Moi Amour Underwired Body
A teddy
If you think an all-in-one bodysuit is the way to go for you, you could also try the lace bodysuit from Amazon (below). It has more than 26,000 positive ratings, comes in a wide choice of colors, and women who have tried it say it's supersoft, tummy friendly and is good quality for the price.
Avidlove Teddy Lace Lingerie Bodysuit
A lacy cover-up
Just as you might choose a stylish beach cover-up, you could also opt to wear a cover-up over your lingerie. If you choose the right cover-up, you can actually add to the sex appeal of your outfit, rather than take away from it.
The lace kimono (below) comes in a good choice of colors, so you should find one that goes well with your bra and panties or bodysuit. Reviewers say they felt sexy and confident in the robe, although some said they found the belt wasn't as well made as the rest of the outfit.
A slip or silky nightgown
Just as you may wear a tunic style top to cover up your tummy, you can opt for a silky babydoll slip or nightgown to skim over your belly. The slip (below) emphasizes the busst area and skims over the tummy. Reviewers say they are impressed with the quality for the price.
Avidlove Nightwear Satin Teddy
Slip
Do you remember those slip dresses that were on trend in the 90s? Well, they're definitely having a moment again and, even if you don't necessarily want to wear one out and about, you can get an on-trend slip dress look with you lingerie.
The mid-length red nightgown (below) is timeless and looks incredibly classy.
Gilda & Pearl Sophia Midi Silk Slip Night Dress
Babydoll
If you don't necessarily want a long style, but you do want to cover up your tummy, you could try the lacy babydoll style (below). You could also choose the matching shorts.
Chemise
Just as with the rest of your clothes, you may like to emphasize the parts of your body you like, while playing down the areas you aren't so confident about. You can also do this with your lingerie.
The chemise (below) has a low-cut back, so if you like this part of your body, this would be perfect.
Maxi chemise
Moving onto a maxi option for you, which definitely has more than a hint of old school Hollywood glamour. The thigh split on the maxi chemise (below) adds extra allure.
Ann Summers Selena Maxi Chemise
Lace chemise
Wacoal is a good brand to look out for if you're searching for comfortable bra choices, and it's also a great starting point if you're looking for flattering lingerie.
Reviewers say the lace chemise (below) is tasteful, not too transparent, and that it looks high-end.
Wacoal Embrace Lace & Mesh Chemise
A cami shorts set
If you like extra coverage at the beach, you might opt for a tankini rather than a bathing suit. You can think along the same lines for your lingerie.
The nightwear set (below) comes in a good choice of colors and reviewers say it is comfortable and sexy.
Ekouaer Lingerie Satin Nightwear Set
Another two-piece choice for you is the shorts and camisole set (below). While the front is a block color, the black is see-thru.
Chemise set
If you want to be matchy-matchy, but you also want to have some additional coverage, you could choose a chemise which comes with a matching cover-up. The Bare Necessities set (below) comes with a matching g-string, but you could also swap for fuller coverage panties if you prefer.
Elegant Moments Lace Chemise & Robe Set
Lingerie set for bigger busts
If you have a larger bust, it can be tricky to find lingerie that looks great but also gives you the support you need. The Figleaves bra (below) has full cups to give you good coverage as well as underwiring. You can team with the matching French knickers.
Figleaves Curve Adore Raspberry Lace High Apex Full Cup Bra
Lace side chemise
This chemise combines a bit of cover up with peek-a-boo effects to the sides of your body. The chemise (below) features side lace panels. You can wear your favorite panties underneath.
Rya Collection Darling Chemise
Lace set
Even though many mature women prefer to cover up more, you definitely don't need to.
Show off your body in its full glory in this fabulous lace set by Wacoal. The bra is only suitable for smaller bust sizes, but if you have a larger bust size you can opt for this one.
b.tempt by Wacoal Lace Kiss Bralette and Lace Kiss Thong
Full classy lingerie set 
If you want a classy lingerie set and a robe, you could choose a matching set. The set below comes with a choice of panties and a robe for a cover-up. There's a huge range of colors and most reviewers say they love it, but you should size up.
Don't forget to look out for accessories
If you want to add a little va va voom to your outfit, then just because you're wearing lingerie, that doesn't mean you can't accessorize. Wearing a necklace will draw attention to your decolletage or for a boudoir look you could choose a pair of heeled slippers.
COVOYYAR Feather Slide Sandals
Best brands to look at when choosing lingerie for older women
If you've decided to update your lingerie draw, then some of the best brands to look at are below…
shop more classy lingerie here:
What are your own favorite classy lingerie brands? Let me know in the comments below.
Continue reading:
Like this article on classy lingerie for older women? Share it on Pinterest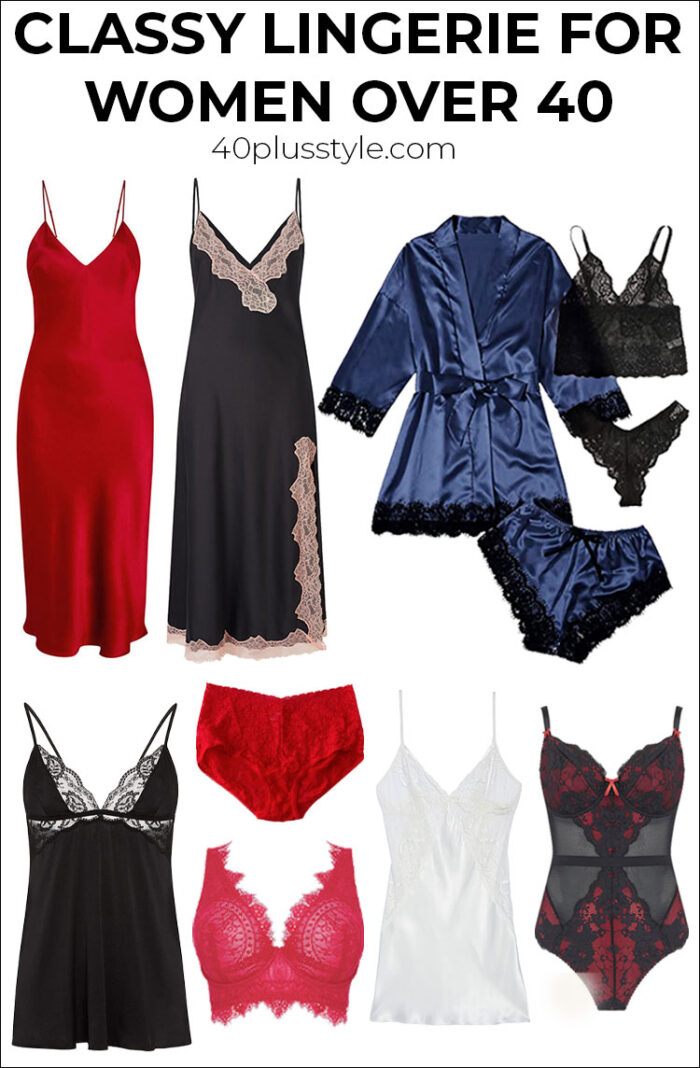 Want to get more articles from 40+style in your inbox, subscribe here.
You can also connect with 40+style on Facebook, Instagram or Pinterest.
Support 40+style by using the links in our articles to shop. As an associate for Amazon and many other brands, we receive a small commission (at no cost to you) on qualifying purchases which enables us to keep creating amazing free content for you. Thanks!