I was out shopping with a young Singaporean woman last week, when she noticed me checking the clothing labels.
I explained to her that I always check the labels before buying anything as I'm keen on only wearing quality fabrics and preferably no synthetic fabrics.
I was surprised to learn that she wasn't aware of all the different fabrics and their qualities.
To her it clearly didn't matter what fabric a garment was made of (so lang as it looked good of course) and price was a far more important factor.
I also see these fabrics on some of the most stylish bloggers. Unfortunately, many times when I really like a garment from a picture, I'm disappointed that it's 100% polyester.
This is a fabric I will just not buy in the stores. It certainly limits a lot of my clothing choices as a lot of the bright garments are made from Polyester.
Understanding the different fabrics
Even I don't always know the specifics of the different fabrics and to be honest I SHOULD know as I once completed certification for the knowledge of fabrics (above an image of my notes from all the fabric testing we did).
I carried out (burning) tests knew all the fabric's names and their qualities and could distinguish them by smell. It's surprising how much I have forgotten.
So for a little brush up for us all, here are some of the main fabrics and their qualities (most of the research was done through Wikipedia):
Fabric
What is it
Advantages
Disadvantages

ANIMAL FABRICS

wool
Hair of domestic goats or sheep
Less conbustible than cotton or synthetics, easily returns to original shape, keeps you warm, is breathable, resistant to tearing.
Pills easily, dull fiber, stronger dry than wet, can itch, can mildew/mold, will deteriorate through sunlight exposure.
Cashmere
Hair of the indian cashmere goat
Soft, lightweight and silky.
Can be expensive.
Mohair
Hair of the North African Angora goat
Soft and easier to dye, light, absorbant, non-flammable, absorbs moisture, resistant to creases.
Silk
Animal textile made from the fibres of the cocoon of the Chinese silkworm
Most hypoallergenic of all fabrics, soft and beautiful shine, highly absorbant and lets your skin breathe, durable, light.
expensive, yellows with age, needs special care and dry cleaning, leaves water spots.

PLANT FABRICS

Cotton
A soft, fluffy staple fiber that grows in a boll, or protective capsule, around the seeds of cotton plants of the genus Gossypium.
Hypoallergenic and dust mite resistant, durable, environmentally friendly, soft, breaths well.
Creases, easily soiled, burns easily, weakens with exposure to light.
Modal
A cellulose fiber made by spinning reconstituted cellulose, often from beech trees.
50% more water-absorbent than cotton, can be dyed like cotton and is colourfast, resistant to shrinkage and fading, lightweight, appearance of silk, soft and smooth.
Prone to stretching and pilling.

SYNTHETIC FABRICS

Polyester
Polyesters include naturally occurring chemicals, such as in the cutin of plant cuticles, as well as synthetics. Used in all types of clothing, either alone or blended with fibres such as cotton.
Easily dyed, strong, light weight, and resistant to shrinking, stretching, mildew and creasing. Sun resistant.
Main disadvantage is that Polyester does not breathe. Fabric shine can be unattractive. Stains are difficult to remove. Not environmentally friendly.
Acrylic
A fibre used to imitate wools, including cashmere.
Woolly feel, durable, soft, colour fast, easy to clean.
Not as warm as wool, can irritate the skin.
Viscose or rayon
Viscose is a viscous organic liquid used to make rayon and cellophane. Viscose is becoming synonymous with rayon, a soft material commonly used in shirts, shorts, coats, jackets, and other outer wear.
Viscose rayon has a silky appearance and feel, breathable similar to cotton, inexpensive.
Not environmentally friendly, creases easily.
Nylon
A tough, lightweight, elastic synthetic polymer with a proteinlike chemical structure. Used to imitate silk.
Very resilient, easy to care, resistant to insects, fungi and mildew.
Not absorbant, can have an unpleasant sheen, environmentally unfriendly, prone to static electricity.
Spandex or Lycra
A polyurethane product that can be made tight-fitting without impeding movement. It is used to make activewear, bras, and swimsuits.
very elastic, good resistance to lotions oils and perspiration, light weight, strong and durable, soft, smooth, easy to care for.
Does not breath very well, slippery on surfaces, sensitive to heat, will show every blub on your body!

COMBINATIONS

Velvet
A closely woven fabric of silk, cotton, or nylon that has a thick short pile on one side.
Depends on the fabric it's made of.
Satin
A smooth, glossy fabric, typically of silk but also nylon or polyester, produced by a weave in which the threads of the warp are caught and looped by the weft only...: "a blue satin dress
Luxurious, smooth, silky, drapes nicely.
prone to water spots.
Organza
A thin, stiff, transparent fabric made of silk or a synthetic yarn.
Lightweight, fine, crisp and sheer.
My main issue with synthetic fabrics like polyester
The main problem for me of synthetic fabrics like polyester is that they don't breathe. This results in a feeling of humidity all the time and I find it generally unpleasant.
Many synthetic fibers also look too shiny and cheap to me and just don't give me the same sense of luxury, comfort and happiness as natural fabrics like cotton, wool and silk.
Synthetic fabrics when worn as trousers also hugely irritate my intimate parts and I have learnt never to make the mistake of buying 100% synthetic pants.
So I'm very picky about the fabrics I buy and always check the labels. I'm always astonished as to how few natural fabrics are on sale in a humid country like Singapore.
Even expensive brands like Diane von Furstenberg stock a lot of synthetic materials and charge high prices for it!
Brands that feature a lot of natural fabrics
Here are some recommendations of brands that feature natural fabrics.
Please check the specifications of each individual item though! If you have some further recommendations, please let me know by leaving a comment below and I will update this list.
What is rayon?
How about semi-synthetic fabrics? Are you happier wearing those?
Rayon, for example, is considered to be a semi-synthetic fabric because it is derived from wood pulp, but it does still use chemicals so isn't completely natural.
What rayon can do is essentially imitate natural fabrics such as silk, wool, cotton or linen, so it can be a middle ground between natural and man-made, which you may find that you can wear this comfortably against your skin.
Or you might like to consider clothing which is a mix of rayon and other natural fabrics such as wool.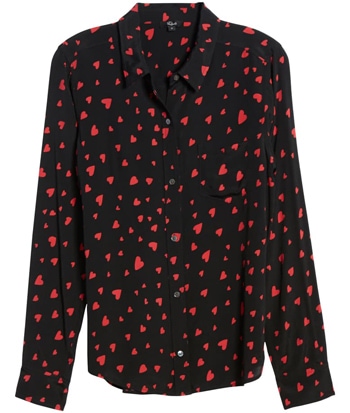 So I really wonder: is it just me or are you picky about your fabrics as well? Do you check the fabric label before you decide to buy something? How particular are you about fabrics and what are your favorites? How much more are you willing to pay extra for a quality fabric?
Continue reading:

Feature image by @iamhouseofdiyah
Want to get more articles from 40+style in your inbox, subscribe here.
You can also connect with 40+style on Facebook, Instagram or Pinterest.
Support 40+style by using the links in our articles to shop. As an associate for Amazon and many other brands, we receive a small commission (at no cost to you) on qualifying purchases which enables us to keep creating amazing free content for you. Thanks!