As you all know I have been shopping for brights. I was so disheartened that there is hardly any colour to be found in my closet, that I hit the stores last week and went looking for it.
As I was not in the mood to spend a whole lot of money on trendy clothes in bright colours, I decided to go to some of the cheaper shops like H&M and Mango.
I found a lot of very youthful clothes there made in poor quality fabrics, which inspired my question: "can women over 40 buy only expensive clothes" and my article on synthetic fabrics like polyester which also includes a list of fabric properties.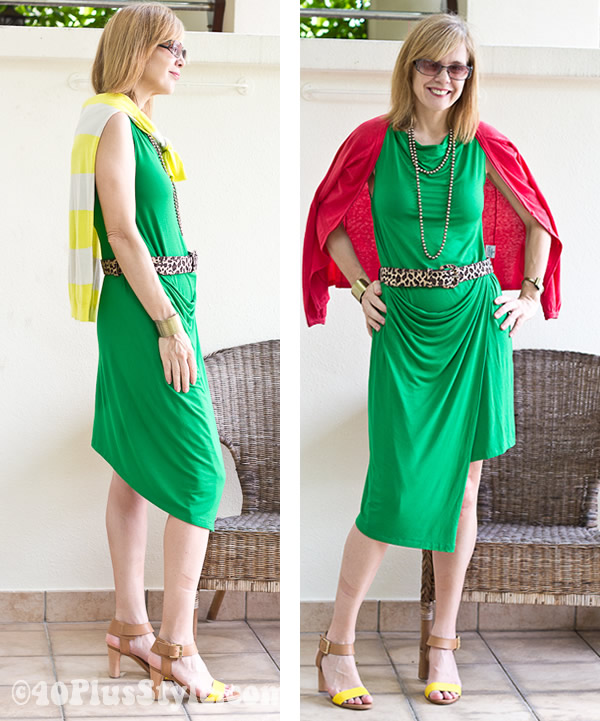 In the end I did buy lots of brights both at H&M, Mango and other shops and I created a brights wardrobe capsule, which I will reveal in my article of tomorrow.
But when shopping I also spotted this bright green drape dress from local designer Sabrina Goh. It was a perfect addition to my bright capsule and since it was still very affordable at $79, I decided to buy it. You can already spot some other items of my new capsule in the image above as well.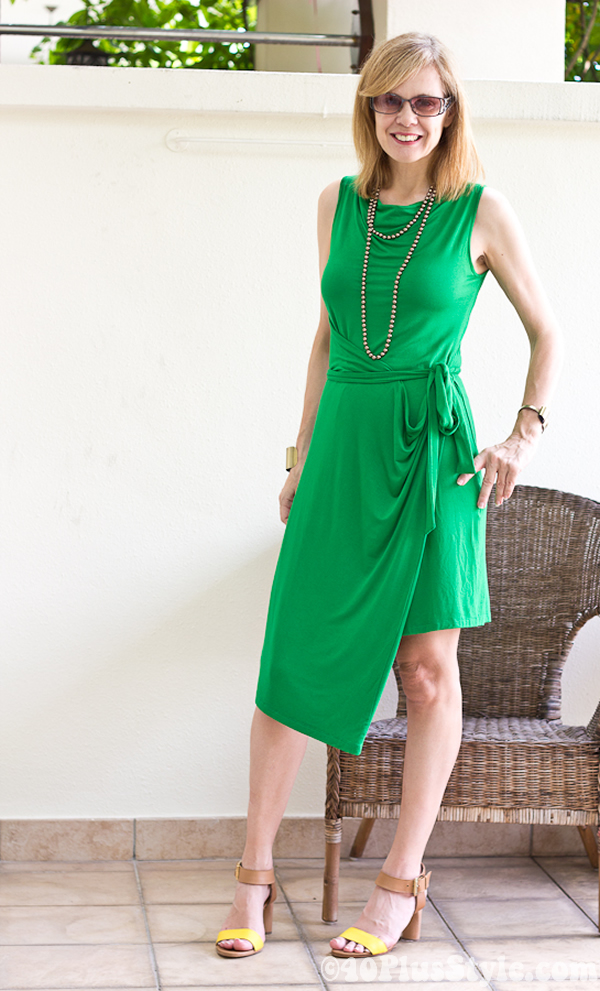 As you know this dress is right up my alley. It is asymmetrical, can be worn various ways and covers most of my knees. Although I'm not showing that option here, it will also look good over pants, which is another favorite look of mine.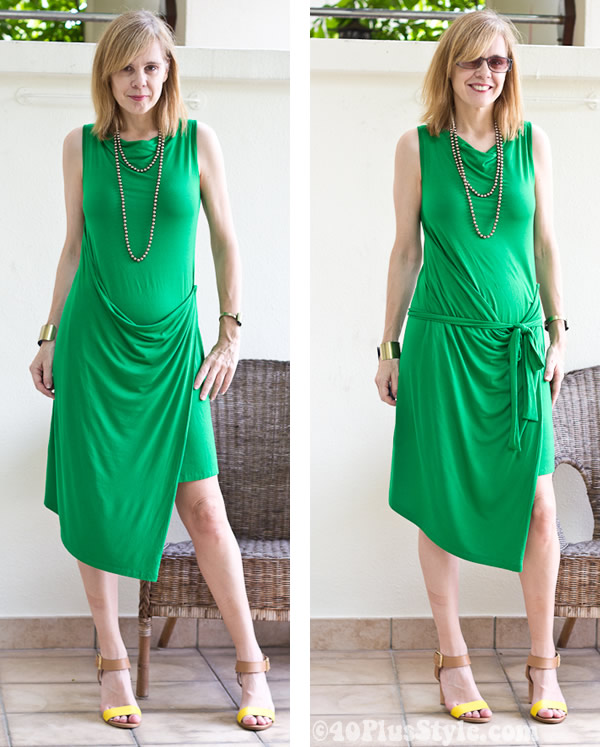 You will also not easily get bored with this dress as it can be worn in a variety of ways.
I like the dress with a belt as shown above or with the belt that belongs to the dress.
I also think it fun to wear it with the dropped waist, although the image above looks a bit messy.
The dress it buttoned at the side, but you can also wear it loose. You will also notice that I'm sporting some new shoes. They are a bit of a splurge but they suit my new brights capsule so well. Shoe shopping is no fun here in Singapore.
First I wanted the green Nine West shoes I showed you earlier on the site. But unfortunately, they are not available in the Nine West stores here. Then there is the problem of size. I waver between a 9 and 10, but usually they don't stock sizes higher than a 9 here. I suspect that most shops only get one 9 and that one is usually sold out.
I fell in love with these yellow shoes from Max & Co and amazingly, they had my size. They're high quality so hopefully they will last me for a long time.
And this is what happens when a bit of wind hits the dress from underneath. I'm sure that with a bit of creativity and more wind you could create lots of interesting pictures…
If you're also keen on a drape dress, then here is a selection of drape dresses you can buy right now. Be sure to check my new brights wardrobe capsule tomorrow!
If you like a drape dress yourself, I have created a special pinboard full of drape dresses you can buy.
Dress: Sabrina Goh
Shoes: Max & Co
Yellow striped top: Mango
Red cardigan: old
Belt: Tangs
Are you going to be wearing brights this Spring and Summer?

Want to get more articles from 40+style in your inbox, subscribe here.
You can also connect with 40+style on Facebook, Instagram or Pinterest.
Support 40+style by using the links in our articles to shop. As an associate for Amazon and many other brands, we receive a small commission (at no cost to you) on qualifying purchases which enables us to keep creating amazing free content for you. Thanks!