As I mentioned last week I have done some shopping lately. I have bought a complete new capsule wardrobe which gives me lots and lots of new outfits to wear.
I stuck to mainly cheap clothing so the whole capsule is quite affordable.
Read our ultimate guide to creating a capsule wardrobe that works best for you.
As I stumbled on some other lovely clothes, I already extended the initial capsule with some other pieces like the green bright drape dress I showed you earlier.
I will let you know what I bought and show you the total budget. You will find that it's amazing how many great outfits you can create for less than $200. I can use these clothes for casual occasions, evenings out and even work if dressed up with a blazer.
I am only counting the clothes and will leave out accessories and shoes for now, because frankly my shoes would ruin the whole budget and I'm sure that where you live you will be able to find nice shoes at affordable prices.
Check out our most recent capsule wardrobe for spring
Creating the bright capsule wardrobe
I bought 1 green-white t-shirt (H&M $19.90), 1 green tank (H&M $19.90), 1 dress/tunic (H&M 24.90), 1 green skinny pants (H&M $39.90), 1 yellow striped top which is quite long (Mango $19) and 1 red pants (Mango $49.90) Total = $173.50 (US$137.62 / E105)
All the items in this capsule can be worn with one another and the dress can be worn by itself.
Red pants can be worn with all 4 tops = 4 outfits
Green pants can be worn with all 4 tops = 4 outfits
Dress can be worn by itself = 1 outfit
Total number of new outfits I can create is 9.
Want to build your own capsule wardrobe? Start with your wardrobe essentials!
Extending your capsule (if your budget allows)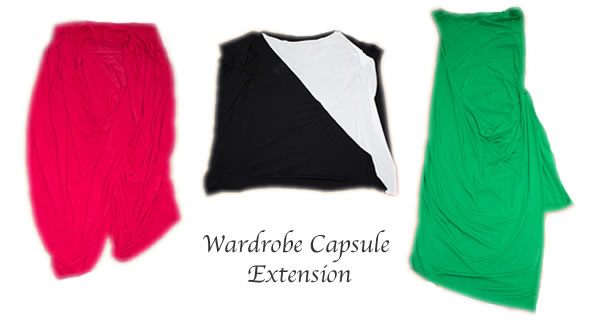 Extension: 1 black and white top (MPhosis $27.90), 1 red top (Mphosis $27.90) 1 dress (SabrinaGoh $89) = $144.80 (US$114.86 / E78
It will be best if you can extend with items that can be worn with all basic outfits of your first capsule, which is not the case here as the green and red are slightly different colors than the red and green of the pants.
I chose these outfits because  my eye fell upon them and they are so easy to combine with lots of my other clothes. If you wanted to really add to the number of outfits, it would be good to buy an extra bottom piece instead of an extra top.
Red pants can be worn with all 4 tops from first capsule and dress and top from second = 6 outfits
Green pants can be worn with all 4 tops from first capsule and dress and top from second = 6 outfits
Dress can be worn with green striped t-shirt from first capsule and red pants = 2 outfits
Dress can be worn by itself = 1 outfit
Total number of new outfits I can create is 15
Now add what you already have in your wardrobe!
But of course what really increases the number of outfits you can create with your new clothes is to add the clothes that you already have.
All these colors go really well with your black and white basics. Other colors that combine well, are any other brights you already have in your cupboard like yellows, reds and  blues. Of course all of these tops are great to wear with jeans as well!
What I have added so far is 1 white button down shirt, 1 white blazer, black shoes, a red cardigan and white pants. But really there are just so many items in my closet that would look great with all the items I bought.
Total outfits I can create with adding all of my own items: probably more than 50.
Check out our capsule wardrobe for fall
In the end I spent a total of $318.30 on clothes which is less than the price you would pay for a nice designer dress by CK Calvin Klein.
Instead of one outfit, I now have more than 50. It does make you think!
Does that mean I will never buy an expensive dress again? Probably not. One part of me really likes well-designed high quality garments.
For the moment I have taken this option, but it started off an interesting thinking process about style, which I will discuss in future articles too.
Trousers: Mango
Top: Mango
Blazer: Zara (old)
Shoes: Max & Co
I have taken a lot more images from some of the combinations with the green pants, which you can find here. Some more photos with the green pants and cream jacket are here.
Do you create capsule wardrobes? What do you think I wore the green pants with? What would be your favorite combination?

Feature image by Greetje
Want to get more articles from 40+style in your inbox, subscribe here.
You can also connect with 40+style on Facebook, Instagram or Pinterest.
Support 40+style by using the links in our articles to shop. As an associate for Amazon and many other brands, we receive a small commission (at no cost to you) on qualifying purchases which enables us to keep creating amazing free content for you. Thanks!