Do you like to look relaxed and like you haven't tried too hard? Do you favor a casual style which is comfortable, but which still looks put together and stylish? Then it's likely you have a natural style personality.
Most people will have one dominant style personality, but will also relate to other style personalities too.
By combining your dominant style personality with your secondary style personality, you can create a look which is unique to you.
Do you want to find out your style personality?
Don't worry if you're not too sure what your own style personality is. You can always take our fun quiz to determine your style personality.
Arguably, the most famous celebrity with a natural style personality is Jennifer Aniston. Here is how to dress like Jennifer Aniston.
Other celebrities with a natural style personality you may admire include Cameron Diaz, Sandra Bullock, Ellen DeGeneres and Halle Berry.
Given the events of the past few months, you may find yourself drawn to a more casual way of dressing, in which case you may want to add in more elements of the natural style personality than usual to your own way of dressing to create a stylish yet casual look.
SO, WHAT ARE THE ELEMENTS OF A NATURAL STYLE PERSONALITY?
1. YOU LOVE THE QUALITY AND FEEL OF NATURAL MATERIALS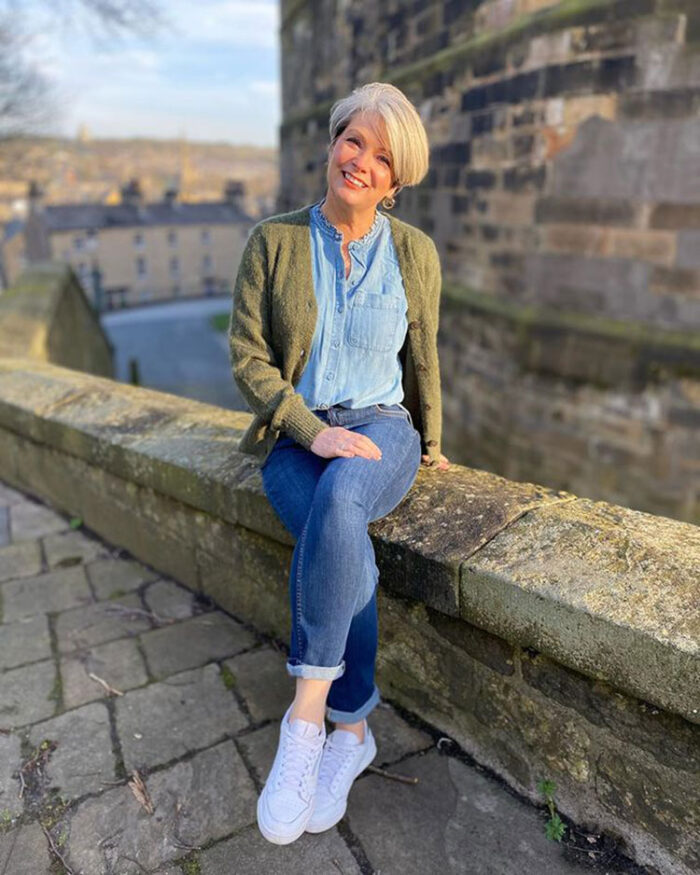 You aren't one to indulge in fast fashion in man-made fibers like polyester. Instead, you prefer fewer pieces in fabrics like leather, suede, linen, silk, wool and cashmere.
Nikki @midlifechic above (read her style interview here) opts for two shades of denim with olive green.
Steal her look with this similar top, cardigan, jeans, sneakers and earrings.
You could look out for clothes in linen, like the linen dress (below).
Tommy Bahaha Two Palms Linen Shirtdress
Learn how to create an ethical style with our list of sustainable fashion clothing brands.
2. YOU ARE DRAWN TO THE COLORS OF NATURE
You are unlikely to go with bright primary colors or black. You're likely to favor greens, denim blues and autumnal hues – colors you can find in the countryside.
J.Crew Classic-Fit Cozy Gauze Shirt
3. COMFORT IS IMPORTANT TO YOU
You want easy-to-wear pieces in relaxed fabrics which allow you to move freely.
Diane @fashiononthe4thfloor above (read her style interview here) chooses a dress that is comfortable yet it can be easily dressed up or down.
Check out these shirt dresses from Nordstrom and Amazon that you can wear with this similar pair of sandals, belt and bag.
4. YOU AREN'T TOO BOTHERED ABOUT FOLLOWING FASHION TRENDS
But you may add in the odd current trend to your existing wardrobe to keep it current. It's important the pieces you do buy are timeless enough to last for a number of seasons.
5. YOU DEFINITELY PREFER FLAT, COMFORTABLE SHOES OVER HEELS
The relaxed, yet stylish, vibe created by flat shoes is ideal for the natural style personality.
6. A LOW MAINTENANCE BEAUTY AND HAIR ROUTINE IS IMPORTANT TO YOU
You like to look good, but you don't want to spend hours in the bathroom and in front of the mirror before heading out.
CASUAL STYLE CAPSULE FOR THE NATURAL STYLE PERSONALITY
If that all resonates with you, then this guide should prove a fantastic resource for you, particularly if you are looking to put together a wardrobe which you can mix and match to easily put together outfits to suit your natural style.
These key pieces will allow you to create very casual looks, but you can also elevate your natural style through the use of more structured jackets, scarves, shoes and boots.
Let's take a look at some of the individual clothes, shoes and accessories you could use to put together a natural capsule.
Also, read our ultimate guide to creating a capsule wardrobe.
NATURAL STYLE TOPS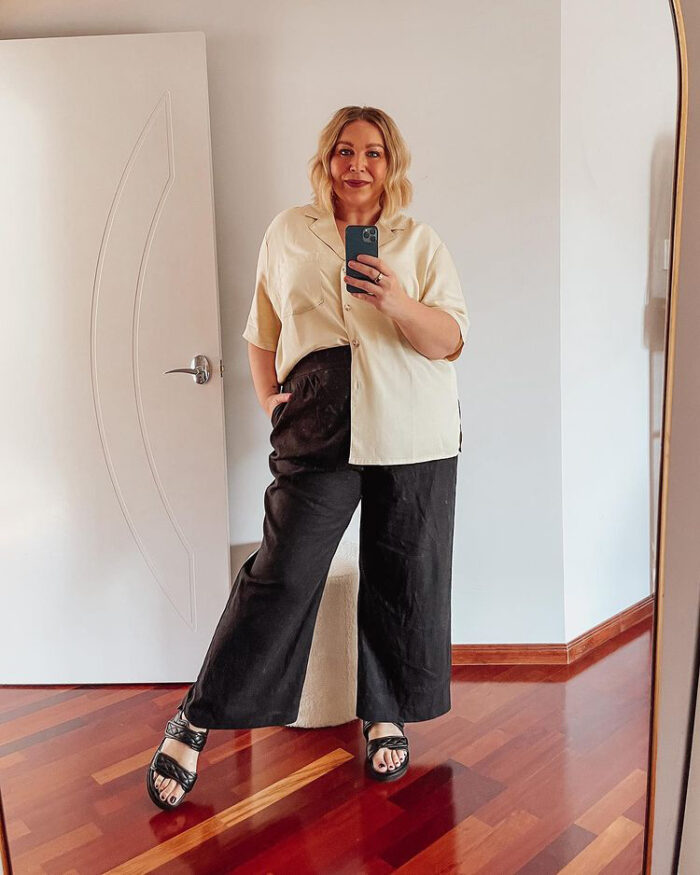 You will want to put together a collection of shirts and tees which can be either dressed down or which can be put together with smarter pieces.
Classic white shirts, denim shirts, check pieces, neutral tees, tunics and long cardigans should allow you to put together a wide range of outfits.
When you want to dress up your look, the classic white shirt and blazer combination is one which is a fail-safe. But, to dress down, you could simply choose a tee, jeans and sneakers, or a double-denim outfit.
Sara @style_designco above wears elastic waist pants and a natural colored shirt. She keeps her look modern by using a half tuck effect on her shirt.
Recreate her outfit with this similar shirt, wide leg pants and sandals (another option here).
Open Edit Organic Cotton Blend T-Shirt – Caslon Easy Linen Blend Tank – J.Crew Chambray Shirt – rag & bone ICONS Maxine Shirt
NATURAL STYLE SWEATERS & CARDIGANS
As a natural style personality, you are likely to prefer draped styles that don't constrict you. Wearing a long, loose sweater over your outfit can pull together your look, keep you warm, and create nice, long, lean lines.
Adaline @sdmomstyles above chooses a camel colored cardigan, and wears a column of black underneath.
Get her look with this similar tee, cardigan, jeans, sneakers and necklace.
J.Crew Relaxed Collared Sweater – J.Crew Cropped Cashmere Crewneck Sweater – Barefoot Dreams Shawl Collar Pointelle Cardigan (similar: here) – GRACE KARIN Open Cardigan
NATURAL STYLE JACKETS & COATS
As a natural style personality, you won't want anything too fussy, unlike if you have a street/urban personality, for example, wherein you like to experiment with different styles.
Stick to natural, timeless styles such as a denim jacket, a moto jacket in a neutral shade, a classic trench and a blazer.
The denim and leather pieces will go with most of your wardrobe, while the blazer will allow you to add a smart touch where you need to.
Simply adding a blazer to a white or neutral tee shirt and a pair of jeans will elevate your casual looks when you want.
Adding a few tailored pieces to your casual wardrobe will ensure you can dress appropriately for all occasions.
Karen @styledbykaren above opts for a denim jacket with her floral dress.
Get her look with this similar dress, denim jacket, sneakers and sunglasses.
KUT from the Kloth Helena Denim Jacket (similar: here) – BLANKNYC Moto Jacket (similar: here) – J.Crew Ella Open-Front Long Sweater-Blazer – Cole Haan Signature Hooded Trench Coat
Also, read our style guide and capsule wardrobe for the preppy style personality.
NATURAL STYLE PANTS & JEANS
It is likely that you favor pants over dresses and skirts. They're simply easier to move in and you feel more confident in pants.
Make sure you find some perfectly fitting jeans, chinos or combat-style pants, and maybe some linen pants for warmer weather.
Opt for styles such as bootcut and boyfriend which won't date and which will allow you to wear with casual shoes or heels to give your closet flexibility.
Claudia @glamupyourlifestyle above (read her style interview here) chooses crop jeans. She choose gray rather than black, which may suit your preference for softer colors.
Check out this similar striped tee, jeans, loafers and crossbody bag.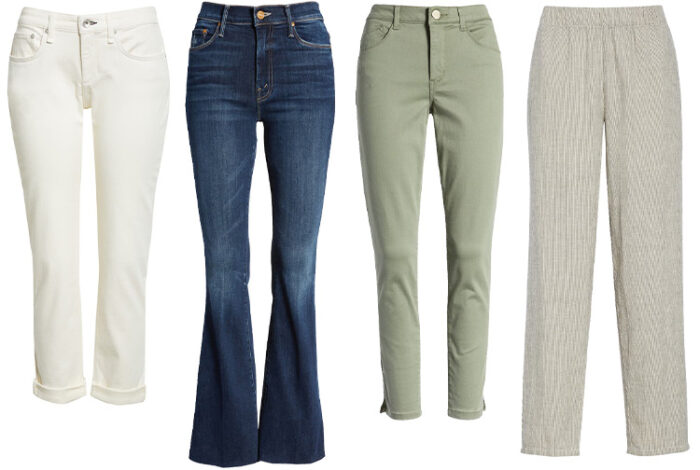 FRAME Le Garcon Ankle Boyfriend Jeans – Wit & Wisdom Ab-Solution High Waist Itty Bitty Bootcut Jeans – Wit & Wisdom Ab-Solution High Waist Ankle Skinny Pants – Eileen Fisher Organic Cotton & Linen Tapered Ankle Pants (similar: here)
NATURAL STYLE CASUAL DRESSES & SKIRTS
Even though you are likely to favor pants, you will want to make sure that you do have some skirts and dresses in your closet which you feel comfortable in.
A shirt dress will take you from day to night, while a wrap style suits every body shape and will allow you to feel comfortable, yet you can style it for daywear or evening.
You could, for example, wear a wrap dress for vacation time with sandals, or you could wear heeled sandals or booties for an evening out.
When it comes to skirts, opting for natural, completely timeless pieces such as a denim skirt and linen pieces will mean you will be able to continue to wear them for many seasons to come.
Because you don't like to spend a lot of time shopping, it's particularly important for the natural style personality to opt for pieces which will be on trend for a long time.
Emms @beautifuleveryday_uk above chooses a terracota color linen maxi dress.
Check out these dresses from Daily Ritual, Max Mara, G and PL and Tov that you can wear with this similar pair of wedge sandals and sunglasses.
COS Shirt Dress – Nordstrom Oversize Three-Quarter Sleeve Shirtdress – Max Mara Leisure Lana Sleeveless Midi Dress – KANCY KOLE Cotton Linen Skirt
NATURAL STYLE SHOES
As a natural style personality, comfort is definitely important to you. You don't want to suffer to be on trend! While you like to look stylish, you hate to feel restricted.
As such, you will want to put together a shoe collection which features more flats, wedges and low heels rather than high heels which are likely to sit unused at the bottom of your closet.
A pair of white sneakers will go with everything, while natural tan sandals will be perfect for your vacations and warmer weather.
Even when you do opt for heels, you don't have to choose shoes which are formal. A pair of shoe boots will keep your look current, while a pair of heeled sandals will also work for evening.
Marie-Louise @mrsmlmode above opts for comfy sneakers with her jeans.
Steal her look with this similar sweater, bootcut jeans and sneakers.
Pierre Dumas Limit-20 Sandal – TOMS Majorca Sandal – Coziavenue Wedge Sandal – Superga 2630 Cotu Sneaker
NATURAL STYLE ACCESSORIES
You don't like wearing a lot of jewelry. Usually, if you do wear anything, you are likely to keep it very subtle – perhaps only adding a watch and a pair of stud earrings.
Scarves will be your best friend when it comes to accessories because they can elevate even the most casual of styles.
Choose a couple of scarves which will pull the color palettes in your closet together. Then, you can team with everything from your leather moto jacket to your blazer.
When it comes to bags, you are likely to prefer a crossbody style which will keep your hands free.
But, do add a clutch bag to your closet for evening as you won't want to be carrying a large bag around with you at dinners and events.
Dawn Lucy @fashionshouldbefun above (read her style interview here) chooses a classic crossbody bag.
Get her look with this similar tee, blazer, jeans, sneakers, crossbody bag and sunglasses.
Roxy Boogie Morning Woven Straw Tote(similar: here) – Tory Burch Perry Bombé Straw Mini Woven Crossbody Bag – NINE WEST Adjustable Pendant Necklace – MA&SN Drop Earrings – Missoma Amazonite Drop Pyramid Huggie Hoop Earrings (similar: here) – GERINLY Two Tone Linen Scarf – Lanzom Wide Brim Straw Panama Hat
A CAPSULE WARDROBE OF CASUAL OUTFITS FOR THE NATURAL STYLE PERSONALITY
Below you can see many of the clothes, shoes and accessories featured above together in a capsule, which should see you winter and into spring.
All links to the items in this capsule are currently available online and linked above.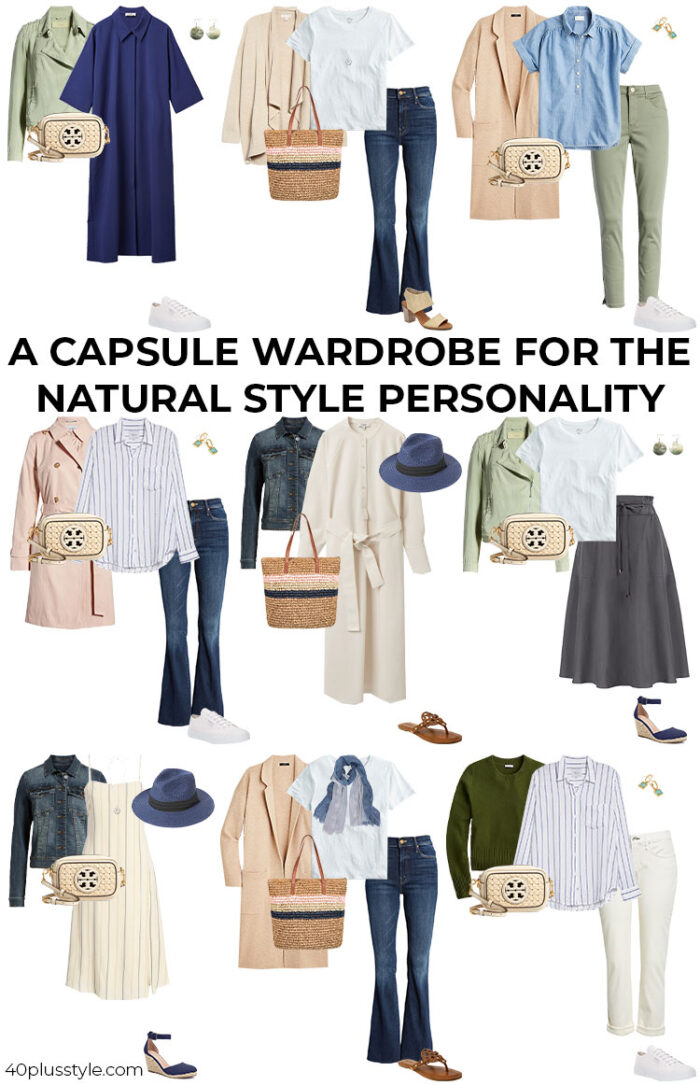 shop some of the items above here:

More outfits ideas for the natural style personality
Below are some previous capsules we created for different seasons. These itmes are no longer available online, but you you may want to recreate similar outfits from your own wardrobe.
fall / winter natural style capsule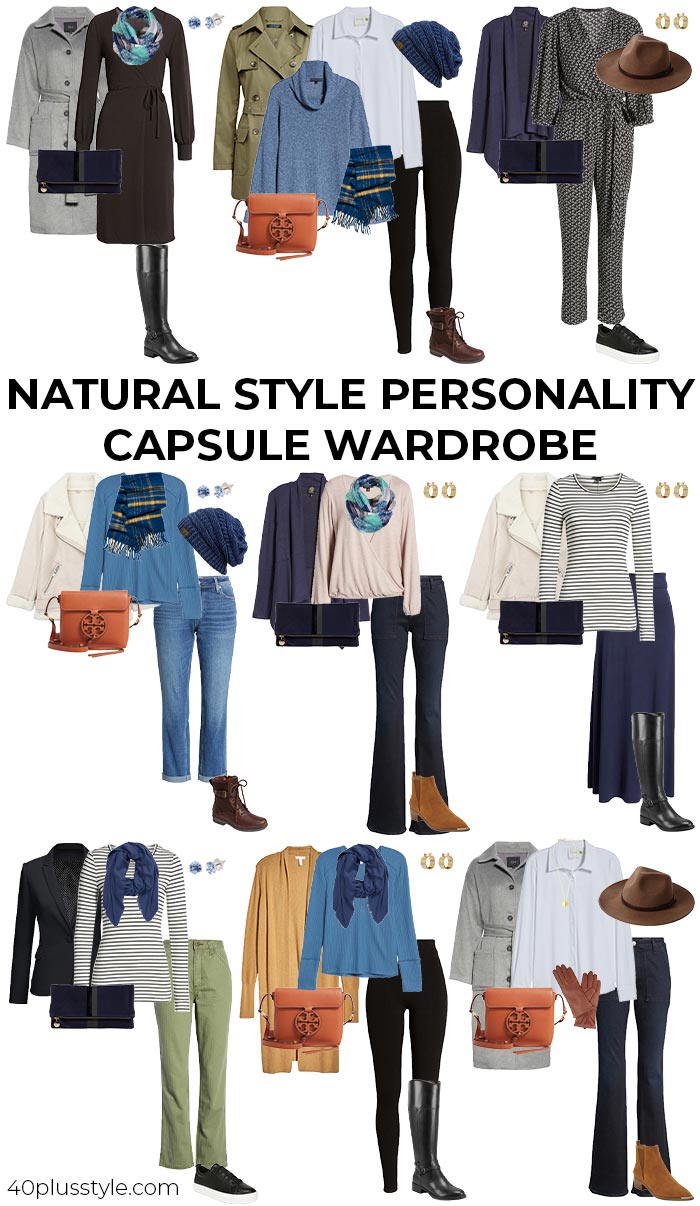 spring / summer natural style capsule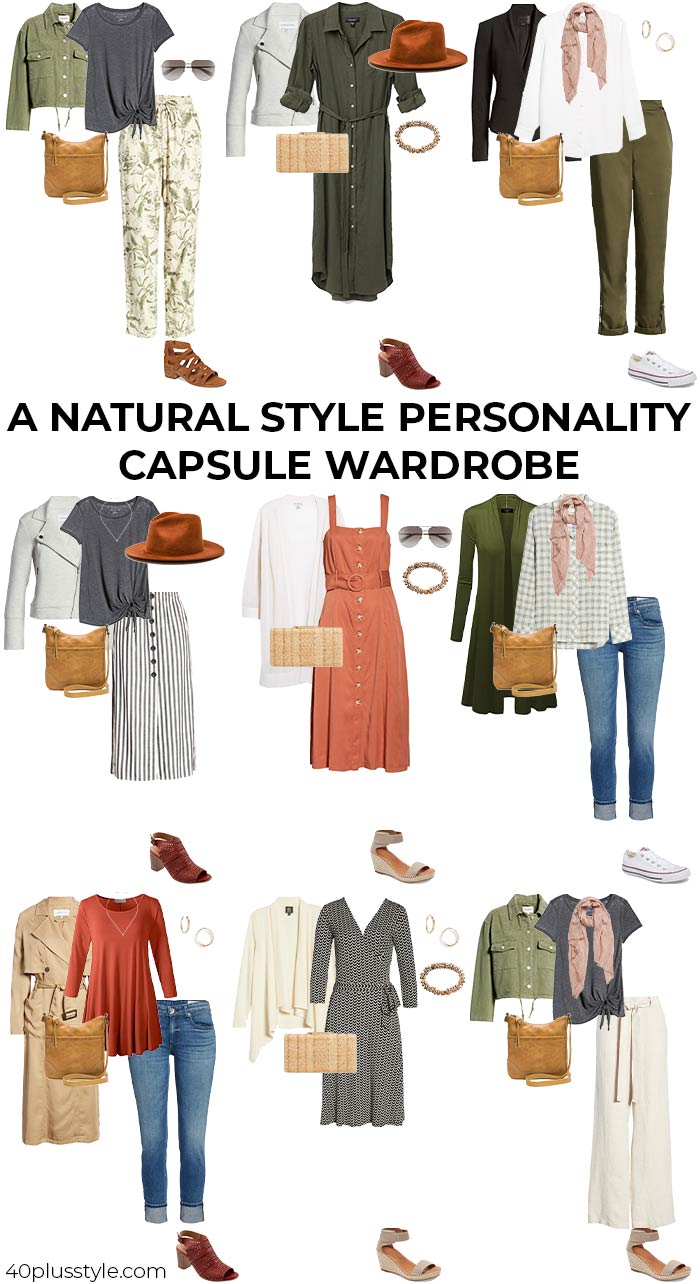 transitional natural style capsule
This capsule (below) was put together previously for transitional weather.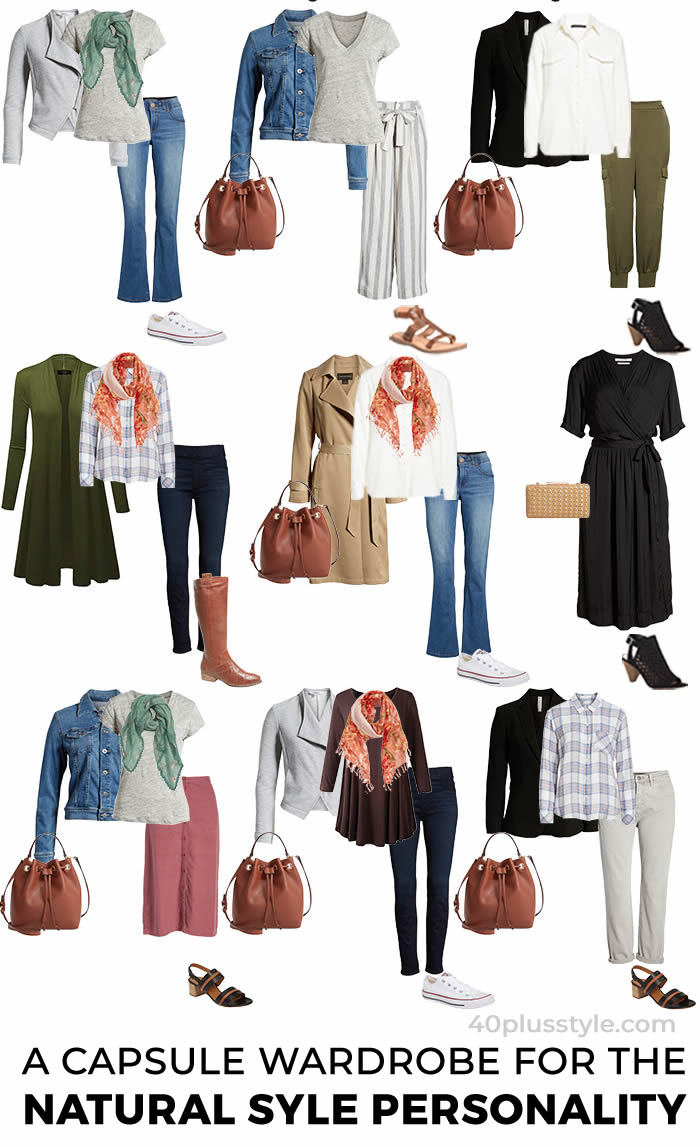 BRANDS YOU MAY LIKE IF YOU HAVE A NATURAL STYLE PERSONALITY
Where should you shop if you have a natural style personality? Clearly there's no definitive answer, but the stores below may be a good starting point for you…
Which of the casual outfits for the natural style personality above do you prefer? Does this natural style feel like you?
Continue reading:
DO YOU LIKE THIS ARTICLE ON A CAPSULE WARDROBE FOR THE NATURAL STYLE PERSONALITY? SHARE IT ON PINTEREST!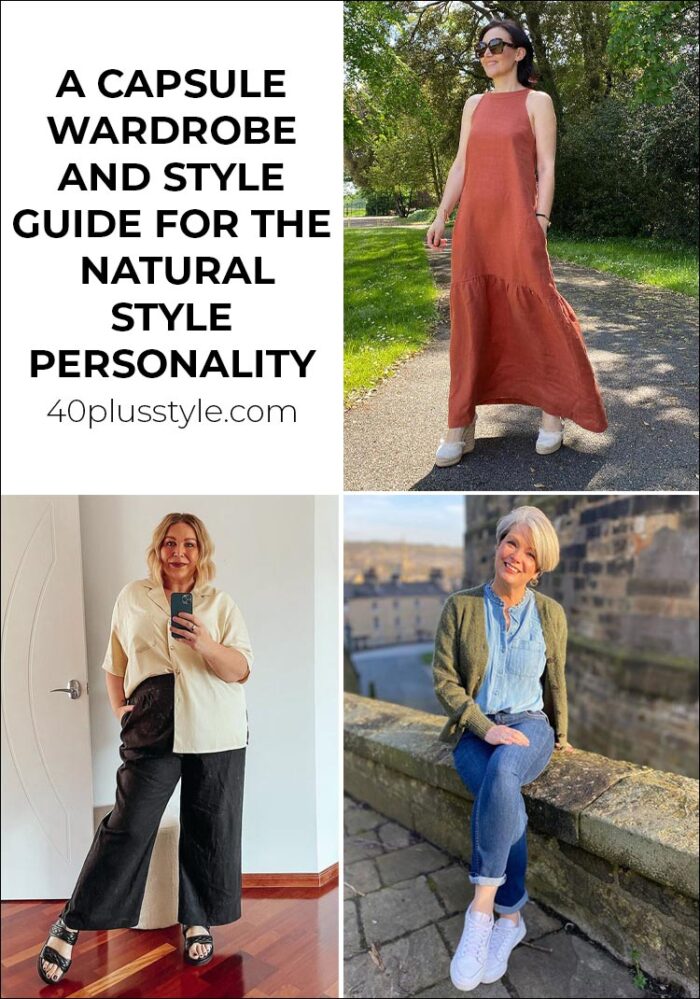 Feature image by Emms @beautifuleveryday_uk
Want to get more articles from 40+style in your inbox, subscribe here.
You can also connect with 40+style on Facebook, Instagram or Pinterest.
Support 40+style by using the links in our articles to shop. As an associate for Amazon and many other brands, we receive a small commission (at no cost to you) on qualifying purchases which enables us to keep creating amazing free content for you. Thanks!