Has fast fashion turned you away from a throwaway culture which means millions of tons of clothes end up in landfill each year? If you are looking for a real alternative, this article will take you through the best sustainable clothing brands to trust with your style AND your conscience.
First, what is ethical fashion or sustainable clothing brands?
I'm sure you've heard many terms bandied about in recent years, including ethical, eco or sustainable fashion. But what do they all mean?
In many ways, ethical fashion means different things to different people.
For instance, it makes sense that ethical fashion or sustainable clothing can mean making sure that you only purchase what you need or what you love.
That way there are less clothes going into landfill. For that, you will need to think about doing more with less.
However, not all ethical fashion is the same, and ethical clothing is not necessarily the same as sustainable clothing.
Here are the three main considerations to bear in mind when choosing ethical or sustainable fashion.
Different brands tackle different issues within the fashion industry:
Sustainable clothing fabrics
Just as you may wish to think about where your food comes from (for instance you may prefer to buy organic fruit and vegetables) you may prefer to think about your clothing in the same way.
Would you prefer to wear organic fabrics grown without pesticides? Would you like to make sure that your fabric is made with recycled products.
Responsibly manufactured
There have been so many terrible stories about major high street stores using sweatshop labor, where workers are forced to work in inhumane conditions.
No one wants their clothes to be made in this way. It's hard to know how an item of clothing which costs less than a cup of coffee can possibly be made in an ethical way.
Sustainable clothing can also refer to manufacturing practices which use less water or energy.
Brands which give back
Other brands give back in a different way. For example, they may give a portion of profits to charity or give a pair of shoes to those in need for every pair bought, or perhaps employ women from disadvantaged communities under good terms, giving them a chance to earn a living as well as to support their family and the wider community.
Which brands are ethical?
Hopefully, that's got you thinking about what sustainable or ethical means to you.
Many brands are now aiming to do their bit for the planet. They're also aware that many people are asking more questions than ever before about the clothes they wear.
Sustainable clothing brands
Here are some of the best brands to look at if you want to choose sustainable and ethical options.
Let me know in the comments if you have a favorite ethical brand of your own.
Halogen
Nordstrom's in-house brand Halogen makes many of its garments in a factory which supports female worker empowerment through the HERproject.
The project is designed to improve gender equality as well as women's health and financial situations through workplace-based interventions.
Halogen bias cut a-line midi skirt
Veja
The Duchess of Sussex is a big fan of French fashion brand Veja, which makes sneakers from materials including organic cotton, wild rubber from the Amazon which enables rubber tappers to make a living without deforestation, and recycled plastic bottles.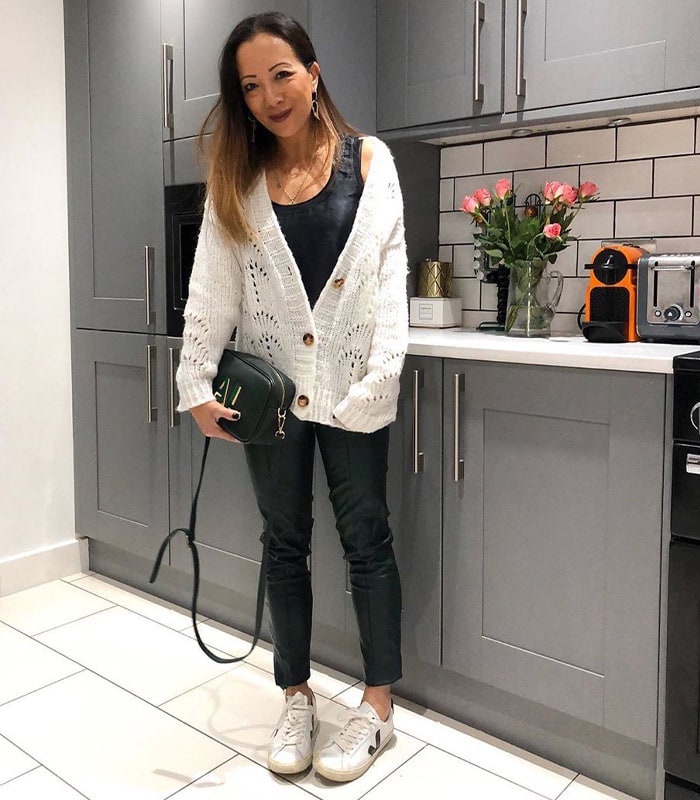 Abi (above) wears a pair of Veja 'Esplar' sneakers in this laid-back, casual look.
Dr. Scholl's
As well as using leather in some products sourced from a tannery which uses less water and energy, Dr. Scholl's donates a tree with the purchase of certain shoes to the nonprofit Trees for the Future organization, which gives opportunities to impoverished families so they can learn sustainable farming techniques.
Eileen Fisher
Carefully overseeing its supply chain to make sure fair wages are the norm, Eileen Fisher uses organic cotton and also sustainably-sourced Tencel.
Everlane
Everlane is a good option for timeless basics. And, it's also a good option if you want to make sure that your purchases are ethical.
The brand concentrates on creating clothes which aren't super trendy, but which are built to last; visiting factories regularly to check on working hours, wages and safety.
TOMS
One of the best known brands when it comes to ethical fashion!
For every pair of shoes TOMS sells, it gives a pair to a child in need. The brand has also started to do the same with sunglasses by giving prescription glasses or sight-saving surgery.
Able
It started off as a store selling scarves which helped women in Ethiopia to leave the sex industry. Now, Able is still giving jobs and opportunities to help women out of poverty.
But it has a much wider range of clothing and accessories, with everything from tote bags made in Ethiopia and Mexico, to sneakers created in Portugal.
People Tree
It's probably fair to say that People Tree is one of the pioneers of Fairtrade, starting out selling hand woven clothes and bags made by women in Bangladesh.
A UK brand, it does deliver worldwide, but is also available on ASOS if that is easier for you.
Kotn
A go-to for wardrobe staples, particularly for super soft cotton t-shirts, Kotn works directly with farmers in Egypt and pays a fair price for cotton, helping suppliers to change to organic methods.
Re/Done
Taking vintage denim from Levis, Re/Done takes it apart at the seams before giving it a new lease of life.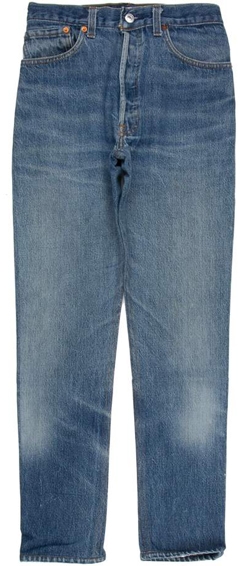 Re/Done | Levi's high rise jeans
Matt & Nat
If being ethical to you means that you prefer not to eat or wear animal products, then the Vegan bag brand Matt & Nat could be one for you.
Amour Vert
Clothing is made in regulated factories, with trees planted for purchases made. A tree is planted when you buy a t-shirt from Amour Vert.
Amour Vert 'Francoise' jersey top
Akola
When it comes to jewelry, it's always good to find pieces which are a little different to the norm, as these can make a real difference to your outfits.
Akola's jewelry not only ticks that box, but it is manufactured through the Akola Project, which provides living wages to women in extreme poverty in Eastern Africa.
Akola horn petal drop earrings
Treasure & Bond
When you opt for Treasure & Bond at Nordstrom, 2.5% goes to projects which work to empower youth.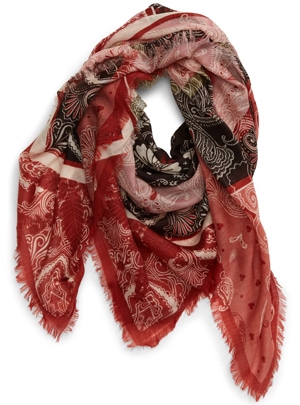 Treasure & Bond print wool scarf
Feed
Feed donates school meals to children in the US and across the world.
You'll see the number of meals given depending on the bag you choose. The brand is also available at Nordstrom.
DL1961
Focused on using recyclable materials and environmentally-friendly manufacturing processes, a pair of DL1961 jeans takes around eight gallons of water to make, compared to 1,500 gallons for an average pair.
Pact
Using organic cotton and Fairtrade-certified factories, Pact is a great go-to for incredibly soft t-shirts, sweaters, loungewear and underwear.
How important is it to you to know how and where your clothes are made? Do you already have sustainable fashion brands in your closet?
Continue reading:
A Sustainable Fashion Capsule Wardrobe: 9 Ways To Wear Ethical Clothing Without Compromising On Style
Like this article on sustainable fashion brands? Share it on Pinterest!
Feature image by Abi
Want to get more articles from 40+style in your inbox, subscribe here.
You can also connect with 40+style on Facebook, Instagram or Pinterest.
Support 40+style by using the links in our articles to shop. As an associate for Amazon and many other brands, we receive a small commission (at no cost to you) on qualifying purchases which enables us to keep creating amazing free content for you. Thanks!