With all the (over)sharing these days, you get to feel more and more that it is unacceptable to wear the same outfit more than once and that we constantly need to buy something new.
You hardly ever see a sharing of the same outfit twice. And although some instagrammers and bloggers are good at combining their old items with new purchases very often, a new outfit is shown.
As a blogger I definitely feel the pressure to come up with something new all the time, to wear the latest trend and to keep entertaining you with the latest and greatest.
The truth is, I don't want to do it.
I feel it's become rather crazy how many (cheap) clothes we buy and how so many clothes remain in our closets unworn.
I want to do more with less.
Quite a challenge, I must say, for someone who loves the new and the trendy and who easily gets bored with her clothes.
But then again, if it's a challenge I want to face it head on.
Since leaving New York, I haven't bought any new clothes and have been wearing various outfits multiple time. I'm also forcing myself to become more creative with my existing clothes.
Here are some of my tips on how to do more with less and be happy with the clothes that you already own.
Read our ultimate guide to creating a capsule wardrobe that works best for you.
I have illustrated my points with a few outfits created from my cropped red top from Stella Carakasi (another option here) from their current collection (all other items are old). The black Fly London shoes are still available as well.
#1 Don't shop
Rather obvious, but definitely the most effective. Did you know that many women also buy outfits to go shopping in? So you actually need more outfits because you want to go to town to shop!
If you don't go shopping, you don't need those clothes and you will not buy new ones.
2. Know your style
This is a big one. When you know your style, you will make the RIGHT choices which means that you will be happier with your clothes for longer. So many of my style students report that they buy fewer clothes and what they do buy gets worn more and makes them happy.
Investing in a programme like my style course will pay you back many times.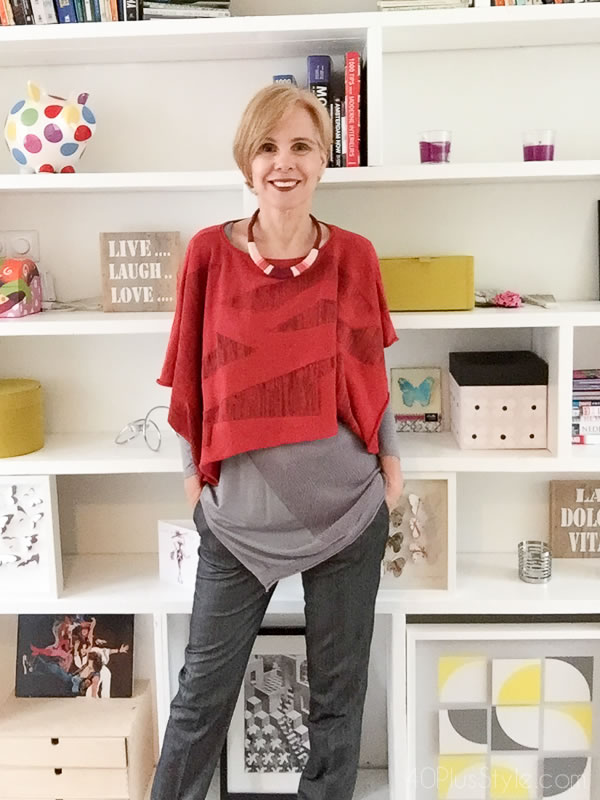 Red always looks good on me so definitely part of my style As is asymmetry as I like the more edgy vibe of an asymmetrical top and they are pretty timeless too.
3. Know your uniform and get the ingredients
It can be so handy to have a 'uniform' which is really an outfit formula that you know just works for you.
For me it's cropped skinny pants with a beautiful top.
The top is usually something a bit special. It's asymmetrical or has a beautiful print.
It's my go-to outfit that always works and if I'm really being honest I wouldn't really need much else in my wardrobe to look good.
This look is a bit more elaborate than my usual uniform as this is a layered look, but the principle is the same: skinny cropped pants and a great top!
4. Get a wide range of good solid basics
This is related to the point above but it goes a bit wider. You want to build the perfect foundation for your wardrobe.
For example, I need to make sure that I have one or two good white pants, good jeans, good black pants and a good layering top in white, a good top in red, a good jean jacket.
From there I can build many outfits. I can easily combine with a printed top or add different accessories.
This is my winter version of my white cropped pants. These are grey in cool wool.
5. Get your accessories covered
Accessories are a great way to make even the most basic outfits more interesting, so make sure you have a good collection of necklaces or earrings.
That way you can wear the same outfit but still look different.
2 different necklaces create a different look!
6. Get busy with a (passion)project
When I moved to Singapore I had a lot of time on my hands. And guess what happens then? You go shopping!
Definitely one of the most effective things you can do to avoid too much shopping is to get busy with work or a project you love.
These days I'm so busy with my projects that I rarely have time to shop. And before you feel sorry for me, this is a choice that I make myself.
I love my work and there are several projects that I really want to get out into the world. These are far more important that the latest clothes or trends.
If I haven't convinced you yet, here are a few advantages of doing more with less
You save lots of money! Spend it on experiences!
You can find your existing clothes much more easily and dressing each morning becomes a breeze!
Buy less but better and truly love your clothes.
Help the environment; fast fashion is simply not sustainable in the long run.
If you extend your 'doing more with less' to your home as well, it becomes so much easier to manage.
Increase your feeling of 'freedom'; it really feels less burdersome when you have a lot less 'stuff'.
You may also want to learn how to create an ethical style. Read our artcle on how you can create a sustainable fashion capsule wardrobe
Looking good is more about style and not so much about how much you own and the latest and greatest and that is what we continue to focus on here at 40+Style.
I'm by no means perfect and I still have a lot of clothes but I am more consciously thinking about doing more with less.
How about you?
p.s. get clearer on what suits you and which clothes make you look and feel fabulous with my style course.
Like this article – share it on Pinterest!
Want to get more articles from 40+style in your inbox, subscribe here.
You can also connect with 40+style on Facebook, Instagram or Pinterest.
Support 40+style by using the links in our articles to shop. As an associate for Amazon and many other brands, we receive a small commission (at no cost to you) on qualifying purchases which enables us to keep creating amazing free content for you. Thanks!