Are you becoming more conscious about sustainable fashion?
Luckily you don't have to sacrifice style anymore to wear clothes that are more sustainable or manufactured from brands that have good ethical practices in place.
(the woollen jackets pictured above are by Eileen Fisher).
In today's article we look at the best sustainable fashion brands and even create a complete capsule wardrobe for you, from clothes that are ethical and sustainable.
Why sustainable fashion is important
Sustainable fashion is becoming increasingly important.
We've all seen the news about climate change and that we need sustainable manufacturing methods, including for clothes.
Some of you may have seen the film The Real Cost which highlights the real cost in producing and consuming too much fast fashion.
Doing more with less
Doing more with less has always been important to me and I feel that we shouldn't buy for the sake of buying.
Instead, we should aspire to do more with less, by choosing quality pieces that we will wear time and time again.
In that way, timeless fashion can also be sustainable fashion.
You might also like to see the style guide and capsule wardrobe for the classic style personality.
Where do your clothes come from?
Although doing more with less will help make your own wardrobe more sustainable, you may want to take it one step further and only choose clothes that were produced in a sustainable way.
Thankfully there are so many great options out there now when it comes to sustainable fashion.
If you are passionate about supporting human rights and about making sure you do your bit for the environment, there are plenty of brands which now think like you do.
Nordstrom, who is sponsoring this article, has also given more importance to sustainable fashion and has developed a sustainable fashion section with three separate categories, so you can shop in the way which is important to you.
That makes it super easy to make sustainable fashion choices!
You can choose to shop for sustainable materials, responsible manufacturing and brands which give back.
What to think about when shopping for sustainable fashion
1. sustainable materials
Are the materials that your clothes are made of important to you?
For instance, do you want to opt for organic or recycled fabrics, or those which are Fair Trade certified?
2. How are the clothes manufactured?
You will want to make sure that the brands you buy your clothing from use factories which treat their workers well, pay a fair wage and make sure they are safe.
3. Do they give back?
Another way to shop responsibly is to look for brands that give something back when you make a purchase.
For instance, they might donate a percentage of their profits, or give a pair of shoes to a child in need when you buy a pair of shoes for yourself.
4. How often will you wear it?
The processes involved in clothing manufacture can be harmful to the environment, so opting for clothes and accessories that you will wear for years to come can be a way to do your bit for sustainability.
Sustainable fashion brands to look out for
If you've decided that when you do buy new pieces, you would like them to be sustainable, what are the best brands to look out for?
Eileen Fisher – clothes are made in regulated factories so you know workers are getting a good deal. The brand also uses sustainable and biodegradable fabrics.
Reformation – uses fabrics that are plant-based and renewable.
Veja – organic materials sourced directly from farms.
Madewell Fairtrade – the jeans brand has launched a Fairtrade range. Just search for Madewell Fair Trade on Nordstrom.
Matt & Nat – Canadian eco-friendly accessories brand.
Splendid – holds itself accountable for making sure its manufacturing process does not exploit workers.
Re/Done – takes vintage Levis and gives them a new lease of life.
Michael Stars – clothes are made in the USA or, if not, then with fair labor.
Mara Hoffman – sustainably made clothing – a good option for ethical swimwear.
Treasure & Bond – a percentage of profits goes to nonprofit organisations which empower young people.
Amour Vert – buy a tee, and they plant a tree!
Stylish ethical clothing
So, now that we've had a rundown of the best brands to look out for, how do you shop sustainably and still remain stylish?
How do you put together your wardrobe for fall in a way which is kind to the planet, and which will leave you looking and feeling great about your choices?
Here is a sustainable capsule wardrobe I created for fall that will give you ideas.
And, the best thing is these choices are sustainable in both senses of the word.
Not only are they ethical, but they will also stay the distance in your wardrobe as they are timeless enough to transcend seasons, and years.
Sustainable fashion – tops
When searching for tops look out for pieces from ethical brands as well as those made with sustainable materials.
I've included a classic shirt, a print tee, a wrap top and a t-shirt with a twist (quite literally).
Choosing draped tops is also a great way to cover up areas you are self-conscious about. Take a look at tops to hide your tummy.

Splendid knot detail tee – Vero Moda check wrap blouse – Vero Moda printed top – Eileen Fisher silk shirt
Ethical fashion – sweaters and cardigans
A great sweater will never go out of style, so you can be sure you will take it out of your closet year after year when the weather starts to cool.
Look for materials such as organic cotton and modal, and those made from high-quality fabrics such as cashmere or merino wool, which should last a lifetime (your choice will depend on what sustainable means to you).
Amour Vert cardigan – Treasure & Bond poncho – Eileen Fisher boxy sweater – Eileen Fisher asymmetrical tunic
Eco friendly clothing – jackets and coats
Coats in organic cotton and recycled materials will help you to do your bit for the environment.
Choose timeless styles like a cocoon coat, single-breasted blazer and moto jacket, which will look just as good in years to come as they do now.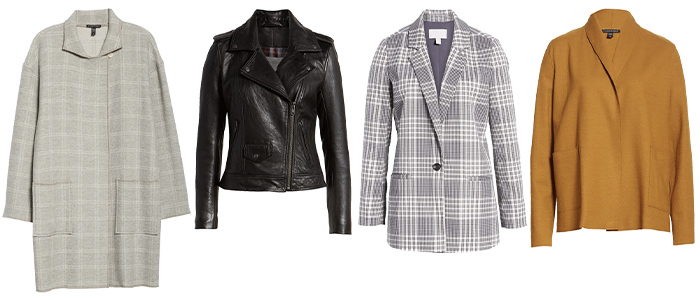 Eileen Fisher plaid coat – Treasure & Bond biker jacket – Chelsea 28 jacket –Eileen Fisher wool jacket
Sustainable fashion clothing brands – pants and jeans
I've chosen a mixture of ethical brands here made from materials such as organic cotton, as well as those which use recycled denim.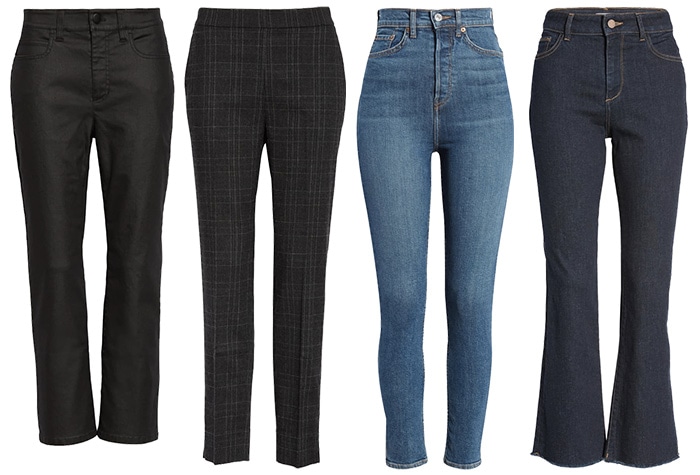 Eileen Fisher flare crop jeans – Eileen Fisher straight slim pants – Re/Done high rise skinny jeans – DL1961 crop bootcut jeans
Ethical clothing brands – dresses and skirts
Opt for dresses which are not only classic, but which are incredibly versatile.
You could easily wear these Eileen Fisher dresses in so many different ways – either dressed up with statement jewelry, or dressed down with a moto jacket and sneakers.
You could create an elongating effect by wearing a long cardigan as outerwear, or you could belt at the waist for a different silhouette.
For skirts, pencil skirts and knee-length options will be on-trend fall after fall. You can wear with a sweater when the weather turns cool.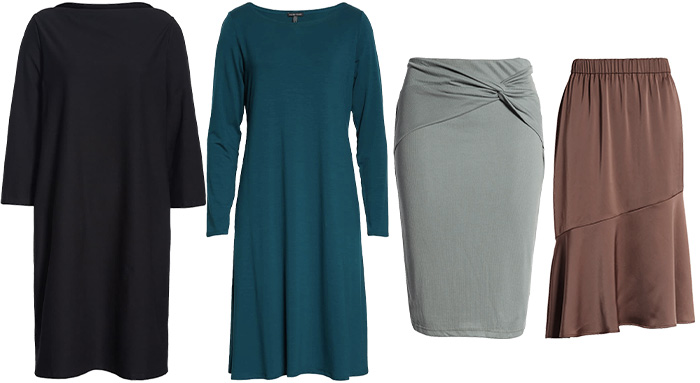 Eileen Fisher shift dress – Eileen Fisher Tencel Lyocell dress – Splendid knot detail skirt – Vera Moda asymmetrical ruffle skirt
Ethical fashion brands for shoes
You can look for classic booties and loafers that you know won't date, as well as options from eco brands, such as Veja which buys wild rubber directly from Amazon communities to help preserve the rain forest.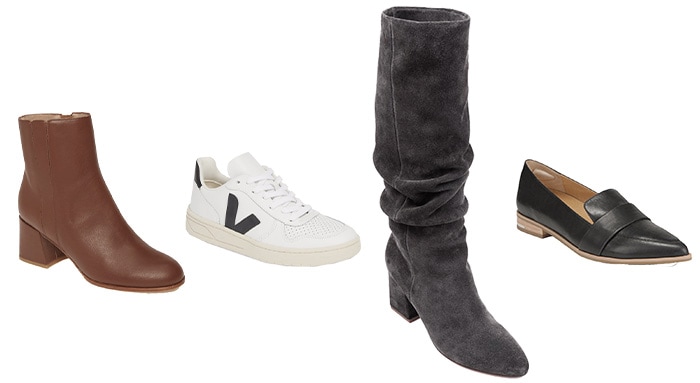 Eileen Fisher bootie – Veja sneaker – Splendid boot – Dr. Scholl's loafers
Sustainable accessories to go with your eco clothing
As with the rest of your sustainable wardrobe, what it means to be sustainable really has to be partly down to you when it comes to choosing your accessories.
Of course, we would all agree that no-one should be made to work in sweatshop conditions to make a bag, or a pair of jeans.
But, what it means to be ethical is different to different people.
For instance, do you want a vegan leather bag?
Or do you consider your purchase to be ethical if you will keep it for many years, rather than engaging in the trend of "throwaway fashion"?
These accessories have been chosen because they are made from ethical materials, or they are from brands which give back.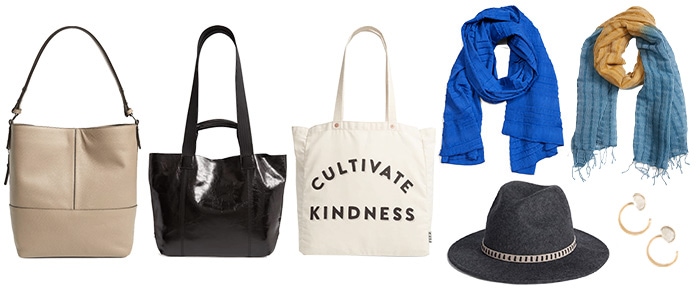 Treasure & Bond hobo – Treasure & Bond leather tote – FEED canvas tote – Eileen Fisher recycled scarf – Eileen Fisher dip dyed scarf – Treasure & Bond panama hat – Melissa Joy Manning hug hoop earrings
9 outfits from your sustainable fashion capsule wardrobe
You can see that there are so many different ways you could combine these pieces of ethical clothing. But, here are 9 outfits to get you started…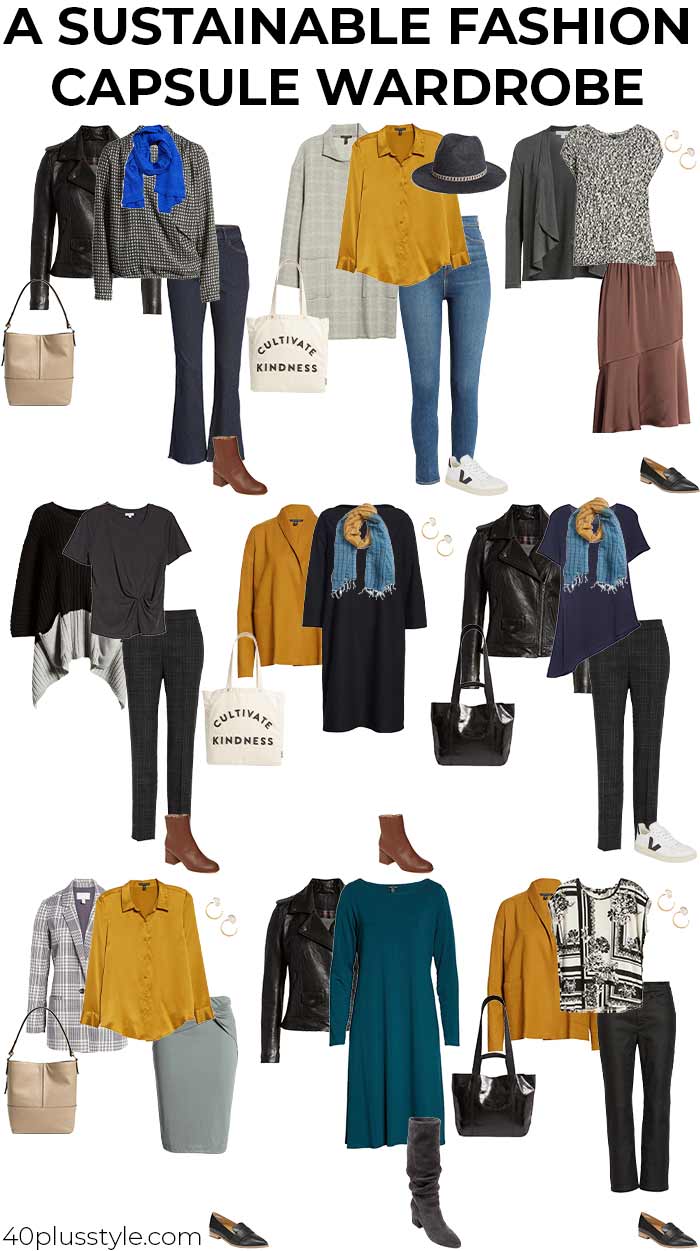 Read our ultimate guide to creating a capsule wardrobe that works best for you.
You can shop all items below


What is your view on sustainable fashion? How far do you go to make your wardrobe sustainable?
Continue reading:
Like this post on sustainable fashion? Share it on Pinterest!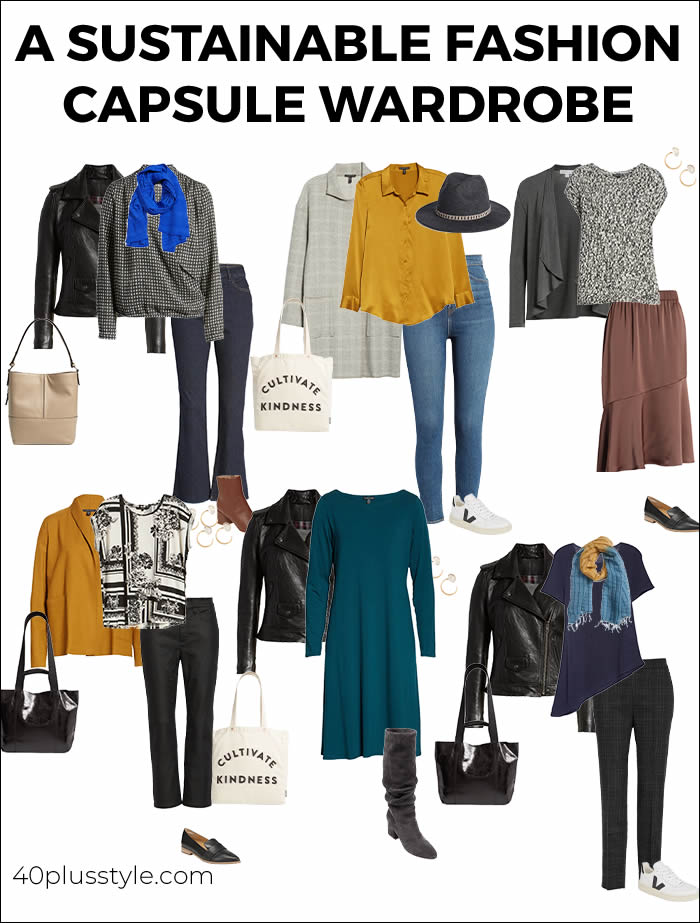 This article was sponsored by Nordstrom
Want to get more articles from 40+style in your inbox, subscribe here.
You can also connect with 40+style on Facebook, Instagram or Pinterest.
Support 40+style by using the links in our articles to shop. As an associate for Amazon and many other brands, we receive a small commission (at no cost to you) on qualifying purchases which enables us to keep creating amazing free content for you. Thanks!