Check out most recent article: trendy glasses for women – choose the best glasses for your face shape.
Do you know the best glasses for face shape and your personality?
Let's discuss this important accessory so you can pick the right frames every time!
Why are glasses so important?
Glasses are an incredibly important accessory for women over 40.
This is especially true if you wear glasses every day. Then they are your most important accessory.
Here are just a few reasons why glasses are so important to your overall style:
As they cover your eyes and front and center in your face, they are often the first thing people see.
They add color and texture to your look.
Glasses tell a lot about your style personality and can make a huge difference in the way you look and are perceived.
They are an accessory you wear every day so they need to be good!
Aroob (above) teams a classic aviator shape with her little black dress.
Here is a similar pair of aviator sunglasses from Ray-Ban.
How to pick the right glasses frames for face shape
As most women who wear glasses every day will tell you, picking the right pair of frames is extremely important.
Besides your wedding ring, glasses are just about the only accessory you'll wear every day of your life.
And unlike a wedding ring, they're front and center on your face! So picking a pair should not be taken lightly.
Eyewear can completely change your look – and depending on the frame, can make you look sexier, more youthful, etc. The wrong pair can certainly have the opposite effect.
It's fun to experiment with different types and become more edgier one day and more romantic the next.
When it comes to glasses, women over 40 need to make sure we pick glasses that do not age us.
Alice (above) makes sure her sunglasses are just as glamorous as the rest of her outfit.
Here is a pair of similar oversized sunglasses.
For more inspiration take a look at this style guide and capsule wardrobe for the glamorous style personality.
Avoid:
Boring and outdated frames.
Features like metal rims and frames that droop.
Half-moon glasses.
Coke bottle lenses.
Instead use your glasses to add warmth and softness to your face.
Translucent colors are often better than hard metals.
Focus on upward lines. As we get older everything tends to drop so defy that trend with your eye glasses.
Think about eyewear as a way to add color and hipness to your style.
Get glasses that suit your face shape. More on that below.
In general the top of the frame should be at the bottom of the brow.
Pick a color that flatters you.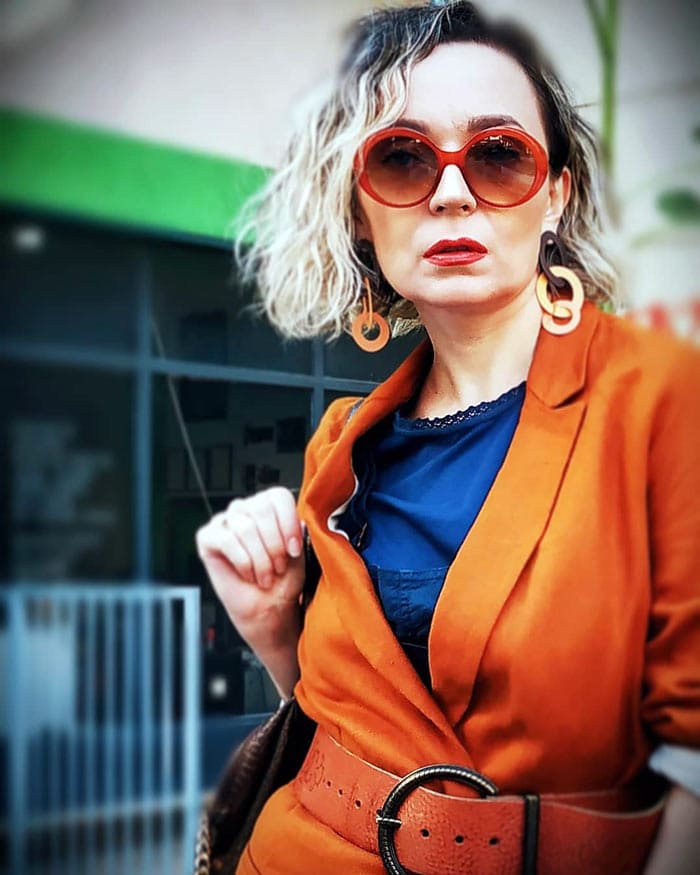 Lara (above) chooses a pair of sunglasses which perfectly suit her face shape as well as adding a pop of color.
Check this similar round sunglasses.
Which color to pick for your glasses and frames?
In general it's better to choose a color that looks good with your hair rather than focus on the eyes.
A multicolored frame like a tortoise shell often looks good (except for women with gray hair) as it incorporates several colors into the frame which will suit many women.
If you have gray hair check out which colors suit gray hair
You may also like to consider your skin tone: pay attention to cool or warm tones and the contrast levels of your face.
Here are some rough guidelines when it comes to choosing a color that suits your hair:
Grey hair: Adding more color like red or turquoise brightens up your face and would look really good.
Blond hair: Go for lighter softer colors like white or translucent.
Red hair: warm browns or tortoise shells are a good option. Be more careful with yellow tones.
Brown hair: brown, burgundy or tortoise shell are good options.
Black hair: black will look great on you or go for a bright color.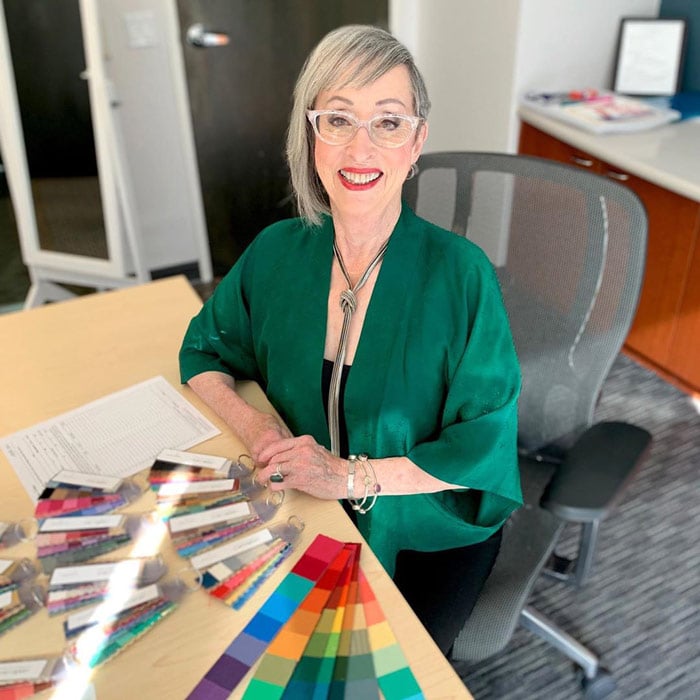 Carla (above) shows that a translucent style can work with gray hair. Her look works because she adds color with her lipstick and green top.
Check out this similar pair of cat eye optical glasses.
Selecting the best eyeglasses for face shape
The best glasses frames should balance your face shape, not mirror it.
This means that if you have a round face, wearing round frames will just make your look rounder.
You don't have to go in the opposite direction and pick chunky square frames, but you need to choose a style that balances your natural face shape.
You can get a similar pair of my sunglasses I am wearing above from Quay Australia. This style of frame would suit most face shapes but would be particularly good if you have a round or an oval face.
Which Face Shape Are You?
One of the most puzzling parts of this process is deciphering which face category yours belongs to. There are six common face shapes: round, oval, square, rectangle, heart, and triangle.
ROUND: Round faces are extremely circular, fullest at the cheekbones, and are free of harsh or boxy angles.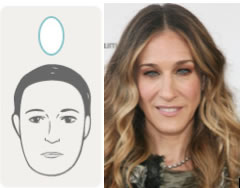 OVAL: Oval and oblong shapes have smooth lines, but are longer than they are wide with a slightly narrower jaw and hairline.
SQUARE/RECTANGLE: Square and rectangular faces are distinguished by a strong, rectangular jaw line and an equally wide, boxy forehead.
HEART/TRIANGLE: Heart and triangle shapes are characterized by a very narrow jawline and sharp chin, with a wider forehead.
Every face shape is comprised of unique angles and lines, so it's important to pick the category most similar to your features.
The easiest way to decipher your shape is to stand in front of a mirror. Pull hair away from your face, and using a washable marker, eyeliner, or soap, trace the reflection of your face silhouette.
Take a step back and compare to the pictures above: Is yours full and round, long and egg-shaped, boxy and square, or pointed and triangular?
Picking Your Best glasses for face shape
So, now that you have looked at what shape your face is, how do you choose the most flattering glasses?
best glasses for round face
To balance the fuller, circular nature of round face shapes, opt for boxier frames that add a bit more dimension.
Classic wayfarer and rectanglular sunglasses and glasses, with their severe square shapes, are perfect for a round face.
Be sure to steer clear of round or oval styles, which will only add fullness to your face.
My favorite of-the-moment sunnies and glasses for round shapes are nerd-chic and have thicker frames.
Best Glasses for round face shape
The Book Club Hairy Otter Deathly Shallows 51mm reading glasses – Kate Spade New York Dollie 53mm reading glasses – Quay Australia After Hours 50mm square sunglasses
glasses for oval face shape
Oval shapes are very lucky, because their long narrow faces and soft lines make finding frames easy—they can wear just about anything!
The key to oval faces is to keep frame size in mind: Petite faces look best in smaller frames such as half frame readers and smaller square shapes.
For longer, broader oval shapes, try sporting fuller rectangular glasses and oversized wayfarers.
It's important to stick with frames that have distinctive angles in order to combat the soft, delicate nature of an oval face.
Best glasses for oval face shape
Kate Spade New York Jodie 50mm reading glasses – Bunny Eyez The Ruthie 53mm reading glasses – Ray-Ban Wayfarer 51mm sunglasses
glasses for square face shape or rectangle face shape
Square and rectangular faces call for frames with soft angles and circular lines.
Balance boxy jaw and hairlines with big round sunglasses a la Jackie O, classic aviators, or smaller round sunnies like popular 70s-era styles.
Shield styles (sunglasses with no-show frames) and vintage-looking cat eye glasses are perfect for softening square faces and adding a bit of playfullness to a harsh lines.
Best glasses for rectangle face shape
DIFF 50mm Blue Light Blocking glasses – Eyebobs Clearly 47mm round reading glasses – Quay Australia Vivienne 54mm aviator sunglasses
Heart / Triangle face shape
Frames for heart and triangle faces need to balance a pointed jawline and naturally draw the eye upwards.
Offset a sharp chin with upswept styles like stylish cat eyes, butterfly shapes, and wayfarers that are pointed slightly at the temples.
Heart and triangle shapes can play around with oversized and smaller frames as long as they keep proportion in mind.
Best glasses for heart face shape

Quay Australia Rumors 47mm blue light blocking optical glasses – Bunny Eyez The Abby 52mm cat eye reading glasses – Longchamp Heritage 57mm butterfly sunglasses
Want more help with your face shape? This article offers two ways to figure out which face shape you've got.
Please note though these guidelines are not set in stone!
At the end of the day you have to follow your intuition.
Taking photos definitely helps in seeing how your glasses suit you more clearly, so bring along a friend to shop with you and go through all photos while having a coffee before making the final decision on your glasses.
Suzanne Carillo likes retro style glasses which suit her vintage boho style.
You can get a similar pair of eyeglasses from Kate Spade.
A few more tips on picking the best eyeglasses to keep in mind
Here are few more tips to keep in mind for several types of glasses.
Everyday glasses
As I mentioned above, if you wear glasses every day, picking a pair that suits your face shape, coloring style, and accessory personality is essential.
Make them part of your signature style
You should consider your glasses to be a signature piece, and think about investing in multiple pairs to mix up your looks.
In terms of cost per use, you'll get your money's worth even if you spend big on several pairs.
Gabriella (above) shows off her signature style by matching her lipstick to her red glasses.
Here is a similar pair of red catseye reading glasses.
Think, too, about how your glasses and hairstyle interact.
Oversized frames may look great on oblong face shapes, but if you've got super short hair and feel overwhelmed by that style, find a different one that suits you better.
Big, bold frames can look amazing on women with short-cropped hair, but they're also nicely counterbalanced by long or full hair.
There aren't any real rules, just trust your gut.
When shopping, take pictures!
If your prescription is heavy, snap photos of your face in potential frames so you can see yourself clearly.
This also allows you to walk away, peek at the images the next day, and make an informed decision.
A while ago I featured the fabulous Dayle who lives in New York and was photographed by 40+Style photographer Denton Taylor.
She is definitely a maximalist when it comes to accessories but her various glasses would have also worked brilliantly for someone with a a minimalist style.
The glasses truly enhance her look and make her look youthful and vibrant.
She told me that she uses the allowance in her health insurance each year to buy a new pair.
You may like to check if your insurance allows for this! To see more of Dayle you can visit her Instagram.
Reading glasses
There are so many fun options for reading glasses so there is really no excuse to opt for a boring pair!
Even if you wear glasses just for reading – meaning infrequently – don't compromise on a plain or dowdy pair.
Go young and hip. Choose something colorful or patterned. Let your creativity shine through.
Here are a few examples of my reading glasses.
Sunglasses
If you are like me then your eyes show your age the most.
In my case there are wrinkles and dark circles.
The absolute best remedy for this is sunglasses, which have the extra benefit of protecting your eyes from dangerous rays as well.
You will hardly ever see me outside or in my car without them.
Choosing sunglasses should start with your face shape, and you can use the guidelines from above to find frames that will flatter you.
Trendy sunglasses are a great way to amp up your personal style, but if exaggerated cat-eyes are the hot style and they look dreadful on your heart-shaped face, try to strike a balance.
Here is a similar pair of my red sunglasses.
If you wear your sunglasses year-round, consider how they'll look with your outerwear and coats.
If your coats are rugged and sporty, but your sunglasses are delicate and feminine, they'll clash visually.
The best place to buy glasses online
Once upon a time there was only one place to go to buy your prescription glasses, and that was your local optician.
But, buying glasses online has become much more widespread. It's now easy, and it's often the cheapest way to buy glasses.
You do need to know your prescription and your pupillary distance though, so make sure you keep a copy of your eye test next time you take one. Then, you can buy your glasses wherever you want.
Or, another alternative is to buy the frames you like. Then you can get your optician to fit the lenses you need.
Best online glasses – Prescription or optical glasses
Warby Parker – there are plenty of frame styles and colors. Plus, you can choose frames with a wide or narrow fit depending on the size of your face. You can also pick 5 frames to try on at home.
Glasses USA – a good site for affordable options as well as high-end frames. Plus, there's a nifty feature where you can upload a photograph of yourself to see what you will look like in the frames you shortlist.
Coastal – a mix of prices and styles, and you can input the sizes of your current frames and the site will serve up options.
Calvin Klein CK5941-52 eyeglasses
Eyebuydirect – it prides itself on being an affordable option and is a good choice if you are looking for a back-up pair of glasses or you want to buy several styles at once.
Sunglasses
Nordstrom – as a department store, Nordstrom is a good choice for a wide variety of styles from lots of different designers. You're sure to find a pair you love.
Warby Parker – I've already included Warby Parker in the where to buy prescription glasses section, but they're also worth a look if you want either prescription or non-prescription sunglasses.
Madewell – chic styles and good quality sunglasses, which reviewers say are particularly good if you have a narrow face.
DIFF – this is a brand increasingly in popularity. DIFF has a mission to give back. So, for every pair of glasses sold, they provide a pair of reading glasses for someone in need.
Glasses USA – if you need prescription sunglasses, you can obviously try any of the stores in my list above, but another one is Glasses.com where you can choose from designer and more affordable options, with lenses included.
Reading glasses
If you need reading glasses, you probably end up losing multiple pairs. Here are the best stores to buy from so you always have a pair to hand.
Amazon – Amazon's strength is being able to buy pretty much anything you want, including reading glasses. You can search by your prescription strength. Get a pack with multiple pairs and you can leave one in your handbag, and every room of the house.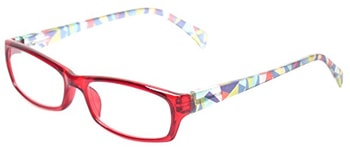 Nordstrom – a great go-to for glasses, sunglasses and reading glasses. There's a good range of brands, including designers such as Kate Spade, Corinne McCormack and eyebobs. Just don't lose them!
Kate Spade – reading glasses are often thought of as an accessory that you don't think too much about in terms of style as you possibly only pop them on at home, or briefly to read a menu. But, I don't think you should compromise on the style of your reading glasses. Kate Spade has some beautiful options.
Walmart – if you want spare pairs, or you've lost yours, you could always pick up reading glasses with your grocery shop.
Flower by Drew Barrymore – Georgie reader
Read our article on how to use your reading glasses as a stylish accessory.
I hope you enjoyed these tips on how to choose the best glasses for your face shape.
Have you found the best glasses for your face shape yet?
Continue reading:
Like this post on the best glasses for your face shape? Share it on Pinterest!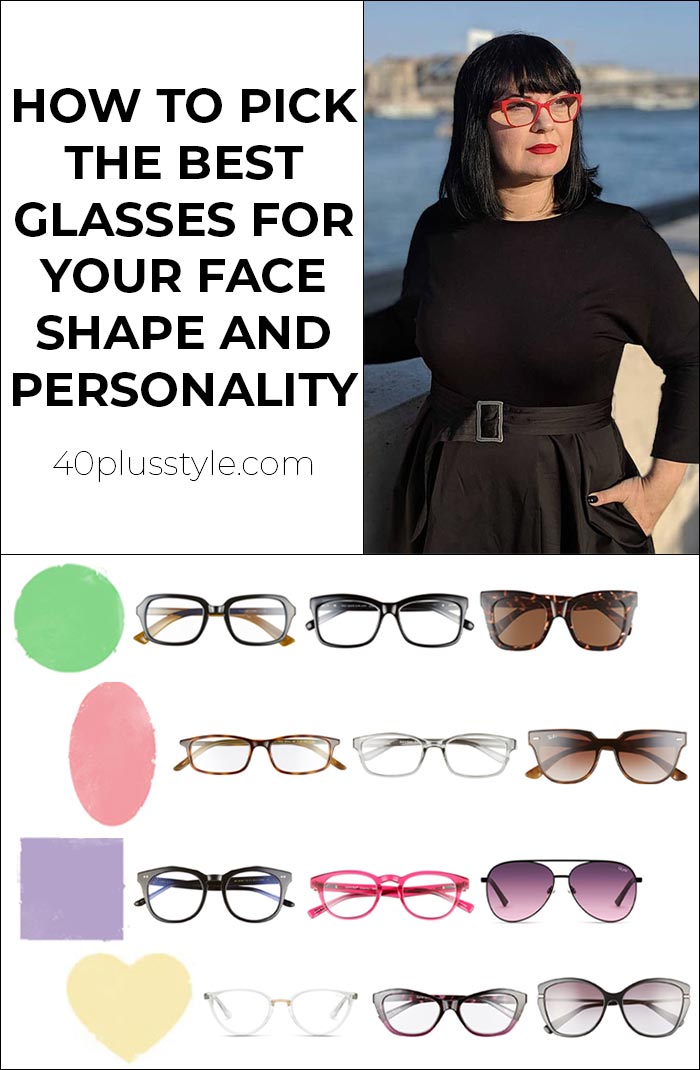 Feature image by Gabriella
Want to get more articles from 40+style in your inbox, subscribe here.
You can also connect with 40+style on Facebook, Instagram or Pinterest.
Support 40+style by using the links in our articles to shop. As an associate for Amazon and many other brands, we receive a small commission (at no cost to you) on qualifying purchases which enables us to keep creating amazing free content for you. Thanks!