Do you wear glasses? Around three-quarters of people in the world need vision correction so, if you don't already, it's likely you may need glasses at some point. And, when you are a glasses wearer, your glasses will be one of the first things people notice about you.
That's why you'll want to make sure you choose a modern, up-to-date pair that matches your style. Let's take a look at trendy glasses for women you can choose and the best glasses for different face shapes.
Why you need to choose a great pair of glasses
Given that your glasses are right there, front and center on your face, they're an integral part of your look and you should treat them as one of your main accessories.
While glasses, obviously, serve a practical purpose, they can also be the perfect way to instantly update your look from season to season, and are a great way to add some color to your face or add a little bit of an edge to your overall look.
Glasses are a key accessory
When you are a glass wearer, this is one of your main accessories. It will be one of the first things people notice about you, so make sure that you choose a modern up-to-date pair (or pairs) that matches your style. Great glasses are not to be underestimated as an excellent tool to enhance your style.
Eyewear can completely change your look and, depending on the frame, can make you look and feel sexier, more youthful, more professional, etc… The wrong pair can can certainly have the opposite effect.
What's more, it's fun to experiment with different types of glasses and be a bit edgier one day, or more romantic the next, for example.
When it comes to glasses, women over 40 may like to pick glasses that do not age you.
trendy glasses for women – What glasses to avoid
So, what should you avoid when choosing your glasses? Let's start with what not to do. It's easy to end up with glasses that look dated, particularly if your prescription hasn't changed for a few years.
Remember! As always here on 40+style, feel free to disregard any of our guideslines! Some women ignore these and look amazing. However, if you're not sure what to do, these are simply guidelines that will help you make your own choices.
Avoid boring or outdated frames;
Frames that droop, and therefore create the illusion of gravity going down; you'll want to do the opposite;
Half moon glasses;
Coke bottle lenses – try to get the thinnest pair of lenses you can so they don't stick out around the frames.
What glasses to choose?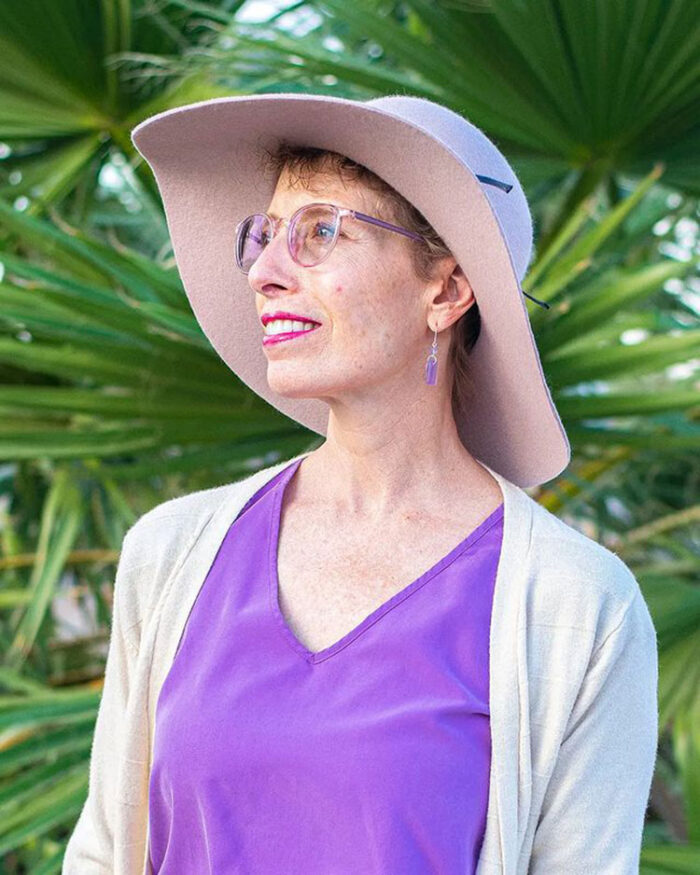 Onto what to look out for! You should think about using your glasses to add warmth and softness to your face, to flatter your features and suit your style:
Translucent colors are often better than hard metals, and they are very on trend right now.
Versace 54mm Cat Eye Optical Glasses
Focus on upward lines. As we get older, everything tends to drop, so defy that trend with your eye glasses;
In general, the top of the frame should be at the bottom of your brow.
Translucent colors are often better than hard metals;
Tiffany & Co. 52mm Cat Eye Optical Glasses
Think about eyewear as a way to add color and hipness to your style;
Get glasses that suit your face shape. More on that below.
In general, the top of the frame should be at the bottom of your brow.
Pick a color that flatters you.
Burberry 52mm Rectangular Optical Frames
Jodie @jtouchofstyle above (read her style interview here) opts for a pair of pastel frames that go with her outfit.
Here is a similar pair of purple eyeglasses from EyeBuyDirect.
Which color to pick?
In general, when looking for trendy glasses for women, it's best to pick a color that looks good with your hair rather than focus on your eye color. A multicolored frame like a tortoiseshell often looks good because it incorporates several colors into the frame, which will suit many women.
Also think about your skin tone. Think about cooler or warm tones and the contrast levels in your face.
Below are some rough guidelines when it comes to choosing a color that suits your hair.
Grey hair: Adding more color like red or turquoise brightens up your face and would look really good. Also take a look at the best colors to complement gray hair.
Blond hair: Go for lighter softer colors like white or translucents. Or you could opt for a bright shade to contrast with your hair.
Red hair: warm browns or turtoise shells are a good option. Be more careful with yellow tones.
Brown hair: brown, burgundy or turtoise shell are good options.
Black hair: black will look great on you or go for a bright color.
Jess @elegantlydressedandstylish above (read her style interview here) opts for a pair of glasses that work tonally with her hair and outfit. Check out this similar pair of glasses from Zenni Optical.
best online trendy glasses for women: Where to buy glasses online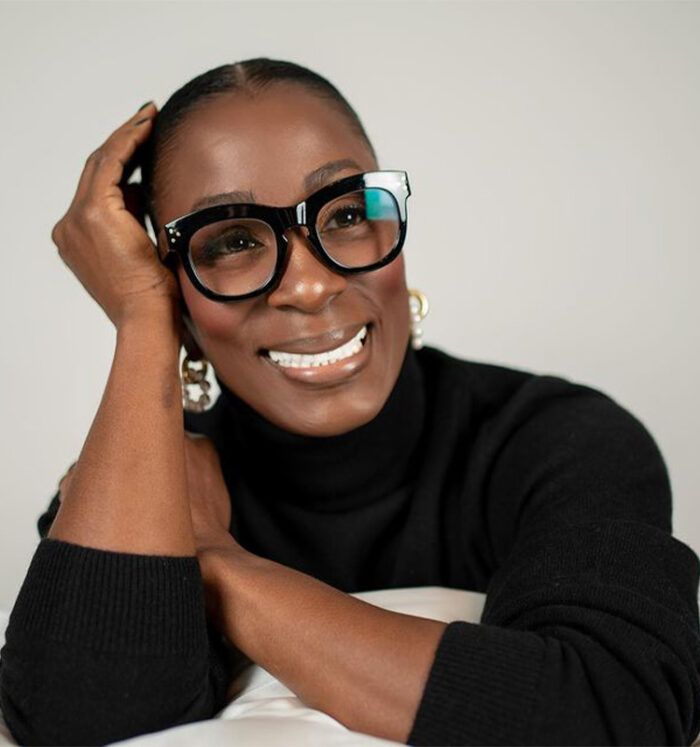 You're used to buying pretty much anything you need online. But how about your glasses? While you may traditionally go to a high street opticians, it is possible to buy a great pair of glasses online.
You don't need to get your eye test and glasses from the same place. Provided you have a prescription, you can order your glasses online. Plus, many glasses stores now offer the option of trying a few pairs at home and selecting the ones you like or a virtual try on. Online glasses options to try are:
Angela @angelamashelle above is wearing a pair of blue light eyeglasses from Peepers.
Eyeglass trends 2022: Trendy glasses for women
I'm going to move onto some timeless ideas for choosing glasses for your face shape in a moment. But, first, let's look at some of the general trends to look out for.
Every year, there are of-the-moment eyeglasses that will work well to update your looks. For 2022, the main trends are below.
Dayle @artfulcitystyle above (read her style interview here) is wearing a pair of lip-shape glasses from Zenni Optical.
For more inspiration take a look at Spring 2022 accessory trends
Trendy glasses for women: Cats eye
It's great that catseye styles are very on-trend at the moment, as they're incredibly flattering for all face shapes, and they work particularly well for older women. This is because while gravity may take hold as we get older, catseye glasses sweep upwards, giving the opposite effect.
Miu Miu 53mm Cat Eye Optical Glasses
Thick rims
Thick rimmed glasses have been on trend for a few years now, and they definitely aren't going anywhere for 2022. Big frames, and big rims are very much in style at the moment. Just remember that if you do opt for a bigger frame, you may need to go thinner with your lenses to make sure they don't stick out from the frame.
Oakley Side Swept 49mm Square Optical Glasses
Delicate wire rims
Just as thick frames are a big trend, so too are thinner frames for 2022. So, if you are worried that your glasses overwhelm your face, or you want a different look on some days when your glasses aren't the accessory you notice first, you could try tinner frames.
Ray-Ban 53mm Metal Optical Glasses
Clear or pastel
This is another trend that has continued from last year, so perhaps you already have a pair of clear frames. Opt for transparent or pastel options for an on trend look.
Dolce&Gabbana 53mm Cat Eye Optical Glasses
Aviators
Aviators can be a tricky style to wear because, just as catseye glasses can draw the eye upwards, aviator styles can draw it downwards. However, having said that, they can look great on most face shapes as there are lots of aviator styles in slightly different shapes. Jennifer Aniston loves her aviators.
Quay Australia Front Row 46mm Aviator Optical Glasses
Small and round
You can see that there are plenty of different trends so you should find a style to suit you. Just as large grames are on trend, so are small round ones. Dayle loves her round sunglasses and has this style in lots of different colors and prints.
EyeBuyDirect Disco Round Turquoise Eyeglasses
wooden
You're probably more used to seeing wooden arms on sunglasses, but they're also very on trend for glasses this year.
EyeBuyDirect Everglades Round Black & Wood Eyeglasses
glasses for face shape: Selecting the right frames for your face shape
I've already talked about balance when choosing your glasses, and the concept of balance comes up again here. Glasses frames should balance your face shape, not mirror it.
This means that if you have a round face, wearing round frames will just make your face look rounder. You don't need to go in the opposite direction and pick chunky square frames, but you need to choose a style that balances your natural face shape.
Carine @catoinamsterdam above (read her style interview here) opts for a timeless pair of black catseye glasses. Check out these cat eye glasses for a similar look.
Glasses for round face
To balance the fuller, circular nature of round face shapes, opt for boxier frames that add more dimension.
Rectangular glasses are perfect for a round face. Look for glasses with angular lines which will add sharper, more distinct lines to your face, creating balance. But, be sure to steer clear of round or oval styles, which will only add extra fullness to your face.
Tory Burch 52mm Rectangular Optical Glasses
Oakley Side Swept 49mm Square Optical Glasses
Glasses for oval face
Oval shapes are very lucky, because your long narrow faces and soft lines make finding frames easy—if you have an oval face, you can wear just about anything!
The key to oval faces is to keep frame size in mind: Petite faces look best in smaller frames such as half frame glasses and smaller square shapes.
For longer, broader oval shapes, try sporting fuller rectangular glasses and oversized wayfarers.
Eugenia @theeageofgrace above (read her style interview here) chooses a pair of rectangular glasses. Here is a similar pair of glasses from Tory Burch.
It's important when looking for oval face glass shapes to stick with frames that have distinctive angles in order to combat the soft, delicate nature of an oval face. A small pair of round glasses, for example, is one of the few shapes that is unlikely to suit you.
Prada 54mm Rectangle Optical Glasses
Oakley 45mm Rectangle Optical Glasses
Dolce&Gabbana Rectangle Optical Eyeglasses
Glasses for square face
Square and rectangular faces call for frames with soft angles and circular lines.
Balance boxy jaw and hairlines with big round sunglasses a la Jackie O, classic aviators, or smaller round sunnies like popular 70s-era styles.Vintage-looking cat eye glasses are perfect for softening square faces and adding a bit of playfullness to a harsh lines. Typically, think frames can also look great on square faces.
EyeBuyDirect Celebrate Cat Eye Clear Silver Rose Gold Eyeglasses
Tiffany & Co. 54mm Butterfly Optical Glasses
EyeBuyDirect Orbital Cat Eye Matte Pink Eyeglasses
Glasses for heart shaped face
Frames for heart and triangle faces need to balance a pointed jawline and naturally draw the eye upwards.
Offset a sharp chin with upswept styles like stylish cat eyes, butterfly shapes, and other styles that are pointed slightly at the temples. Oval glasses can also work well to balance a heart shaped face as can trapezoid styles which are wider at the top than the bottom. You can also look out for rimless styles and rectangular frames.
Heart and triangle shapes can play around with oversized and smaller frames as long as you keep proportion in mind.
EyeBuyDirect Harmony Cat Eye Matte Gold Eyeglasses
EyeBuyDirect Mariposa Cat Eye Eyeglasses
EyeBuyDirect Jasmine Cat Eye White Eyeglasses
Glasses for diamond shape face
A diamond shaped face is characterized by your full cheeks and narrower forehead and jawline. If you have a diamond shape, you'll find that many glasses shapes will suit you.
Try a semi-rimless or rimless style or an oval shape with a strong line across the brow. You could also try fun frames like a horn rim or cat eye to give the illusion of your forehead having a little more width. Round styles will also look good on you to balance out the angles in your face shape.
DIFF 50mm Small Round Optical Glasses
EyeBuyDirect Gem Cat Eye Red Gold Eyeglasses
EyeBuyDirect Irvin Browline Black Eyeglasses
Glasses for small faces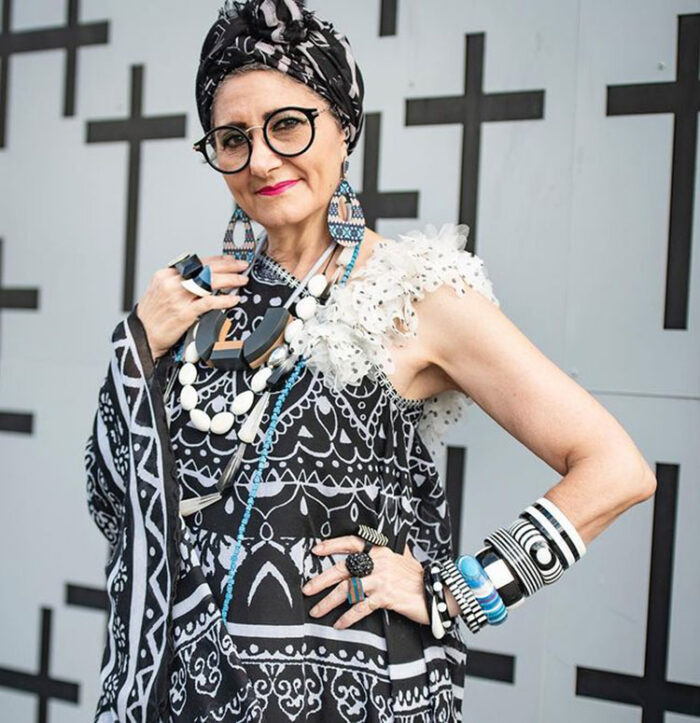 Elizabeth @timeless_styling above (read her style interview) chooses a pair of round black glasses, choosing trendy glasses for women that are both on trend and timeless. Check out these similar round eyeglasses. You can see that there's a lot going on in her outfit in terms of prints and accessories, but it all works tonally together.
Just as your clothes can overwhelm you if you are petite, your glasses can overwhelm your face if you have a small or petite face. If your face is particularly small, you may need to look out for glasses specifically designed to fit a smaller face. Or, you could always look for children's glasses which come in plenty of different on-trend styles nowadays and may fit you better. You will probably find that glasses with a smaller frame work better for you. Oval, rectangular and cateye styles will work well for you. Take account your overall face shape, and then choose glasses that are more in proportion with your small features.
EyeBuyDirect Deco Cat Eye Black Gray Eyeglasses
COACH 53mm Oval Cat Eye Optical Glasses
EyeBuyDirect Small Chillax Round Red & Floral Eyeglasses
Glasses for long face
If you have a longer face, you'll find you can wear many frame styles so you can experiment with trendy glasses for women.
Glasses work well for longer faces in general as they visually draw lines sideways across your face, helping to balance the vertical angles of your face. To help you break up the length of your face, you'll want to choose frames that are on the larger side. Bold glasses and shapes will work well for you.
Just avoid rectangular, narrow shapes as these can make your face look longer. Styles to look out for are square glasses, thick frames, aviators (Jennifer Aniston is a big fan of this style), and two-tone glasses which can be good at drawing the eye widthwards.
EyeBuyDirect Viento Aviator Warm Tortoise Eyeglasses
Tom Ford 54mm Blue Light Blocking Square Optical Glasses
Do you wear glasses? Which of these trendy glasses for women do you like?
Continue reading:
shop trendy glasses for women here:
Like this article on trendy glasses for women? Share it on Pinterest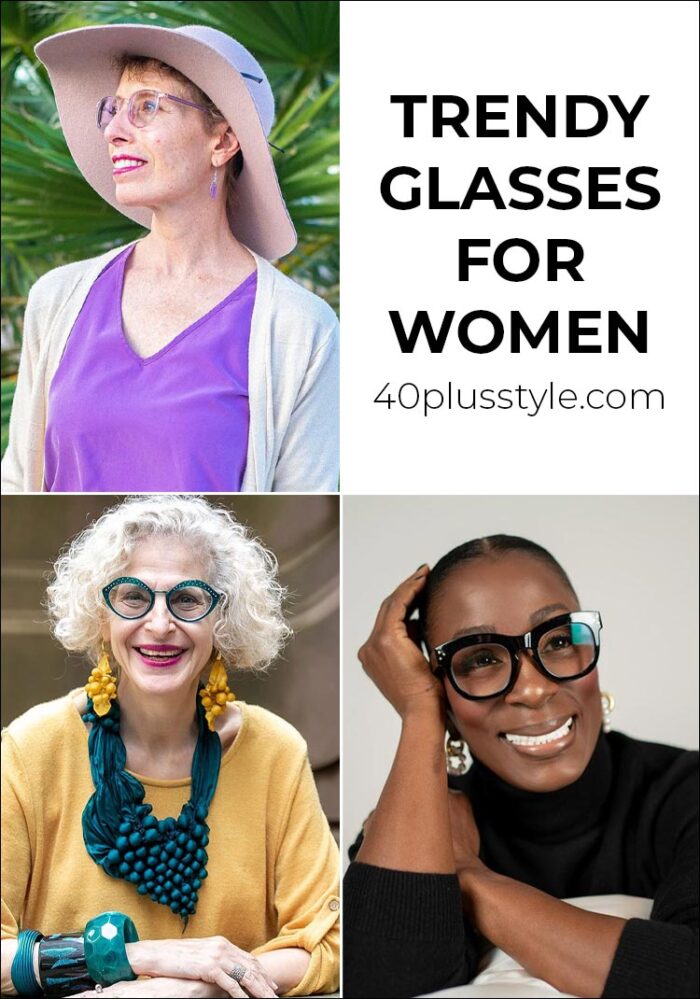 Feature image by Angela @angelamashelle
Want to get more articles from 40+style in your inbox, subscribe here.
You can also connect with 40+style on Facebook, Instagram or Pinterest.
Support 40+style by using the links in our articles to shop. As an associate for Amazon and many other brands, we receive a small commission (at no cost to you) on qualifying purchases which enables us to keep creating amazing free content for you. Thanks!