If there's a cooler accessory than a pair of sunglasses, I can't think of one. Not only do sunglasses add a certain edge to your style, but they also protect your eyes and the skin around them. So, how do you choose a great pair that will look fabulous on you? Let's look at the best sunglasses for women you could choose, and how to look for sunglasses that will suit your face shape.
Benefits of sunglasses and why wear sunglasses more often
So, if you're not already sold on why you should make sure you have the best sunglasses among your accessories collection, what exactly are the benefits of sunglasses for your health and your style?
They protect your eyes from UV rays
Importantly, sunglasses can protect your eyes, and the skin around your eyes from the sun's harmful rays, helping to prevent eye diseases and skin cancer.
They look great
Sunglasses add an extra element to your style, no matter what you are wearing. Plus, the human eye tends to find symmetry more attractive, and sunglasses can even out your face and give it the appearance of being more symmetrical.
Carmen @carmen_gimeno above looks great in her sunglasses and modern pearl jewelry. Here is a similar pair of sunglasses.
They hide eyebags and wrinkles
If you tend to suffer from bags under your eyes, particularly when you're tired and/or you have wrinkles around your eyes, simply pop on a pair of sunglasses (oversized works best) and, as if by magic, they're gone!
They stop you from getting more wrinkles
The delicate skin around your eyes can age more quickly than the rest of your face. Wearing your sunglasses every day can help to prevent wrinkles around your eyes. Plus, as you're less likely to be frowing, squinting or furrowing your forehead, they'll help with avoiding too many wrinkles elsewhere on your face too.
Best sunglasses for women
So, now that you're thinking about what sunglasses can do for you, how do you choose the sunglasses that will be right for you?
Here are a few factors to take into account when choosing sunglasses:
Get a trendy pair and look out for sunglasses trends
Choose a pair of prescription sunglasses if you need help with your vision. Especially handy if you need them for driving.
Choose sunglasses based on your face shape
Select a pair that matches your style personality.
Or better still, consider all of these factors and make the best sunglasses choice you can. Let's take a look at all of these elements so you can decide.
Wendy @fashionoverfifty.wendy above opts for a classic pair of aviators. Check out these glasses from Ray-Ban.
best sunglasses trends 2022
I'm sure you have one or more pairs of sunglasses already. But adding a new pair can really update your existing outfits, and give you more choice as you'll want to wear your sunglasses most days. So, what are the 2022 sunglasses trends? Below are the main ones:
best sunglasses for women – Catseye sunglasses
Starting with one of my favorites – catseye sunglasses are an absolute classic, and they also happen to be very on-trend right now. I'll move onto choosing sunglasses for your face shape soon, but catseye glasses are universally flattering because they create an upwards lift effect – something that's important when you consider that gravity takes a downward turn as we age.
DIFF Becky II 57mm Cat Eye Sunglasses
Overized sunglasses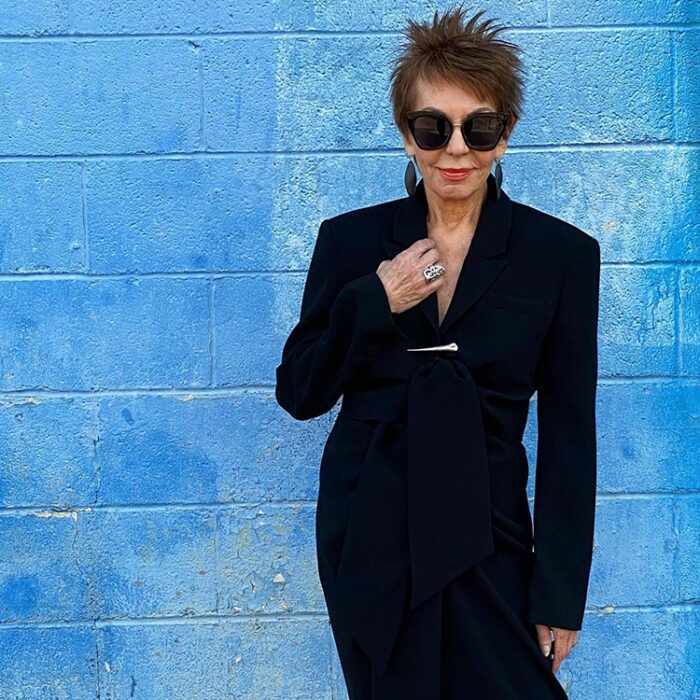 Big sunglasses aways give a glamorous feel. Think about Jackie O in her oversized sunglasses. And, for 2022, they're very on trend too. 1970s styles are particularly fashionable again right now.
Dorie @seniorstylebible above (read her style interview here) adds an oversized catseye pair to her all-black look. Here is a similar pair of sunglasses.
COACH 53mm Gradient Rectangular Sunglasses
Rimless sunglasses
If you want to be very on trend this year, you could choose a pair of rimless glasses. If you want a prescription pair of sunglasses, you may want to choose a pair with a frame to make sure that the lenses don't look too thick.
Maui Jim Hikina 62mm PolarizedPlus2®Rimless Sunglasses
Small sunglasses
Small glasses can be tricky to wear. Plus, you don't get all the protection benefits as less of your skin is covered. But, if you do want to try this trend, look for styles which give you a little more coverage with the frame.
Colored lenses
Kimba @kimbalikes above chooses a pair of brown-lens glasses. Check out this similar pair of glasses from Rad + Refined. You can add a pop of color to your outfit with either your frames or your lenses.
Lanvin Mother & Child 51mm Rectangular Sunglasses
Colorful frames
Choose your favorite color frames. Any color is on trend for 2022, just so long as it is bright. Also, take a look at the accessory trends for Spring 2022 for further inspiration.
Quay Australia Noosa 55mm Cat Eye Sunglasses
best sunglasses for women that suit your face shape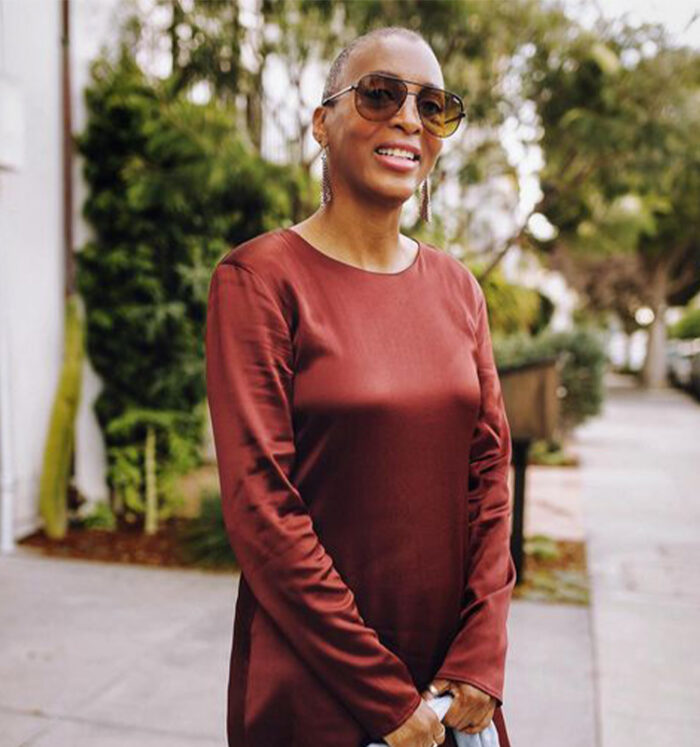 Just as with all other elements of your look, you don't have to stick to what's on trend. Instead, think about what is timeless and what suits you best. If you can combine what is good for your face shape with one of the latest trends, then great. But don't worry if not, sunglasses of all shapes and sizes will always be on trend.
Kim @kimair above (read her style interview here) looks great in her oversized sunglasses. Here is a similar pair of aviator sunglasses.
Sunglasses for round face
A good rule of thumb is to consider choosing a pair of of sunglasses in a shape that contrasts with your face shape. If you have a round face, choosing a pair of round sunglasses will only emphasize this. Instead, look for square and rectangular frames, catseye styles, and you could also choose oversized as anything too small will tend to make your face look larger.
Ray-Ban Classic Wayfarer 50mm Sunglasses
sunglasses for oval face
If you have an oval face, most styles will suit you. But, because of the curves in your face, just like the round face, you will particularly suit square or rectangular style.
Ray-Ban 53mm Square Sunglasses
sunglasses for heart shaped face
If you have a heart shaped face, your forehead will be large in comparison to your chin which will draw down into a point. Contrary to the styles for the round face and square face, the best styles for heart shaped faces actually mimic your face shape. This is because you want the brow of your glasses to look the right size for your forehead rather than looking too small and making your forehead look bigger. Catseye styles will look great on you, as will browline options.
Isabel Marant 58mm Gradient Cat Eye Sunglasses
sunglasses for square face
In the same way you can think about choosing square sunglasses if you have a round face, consider the opposite and opt for round sunglasses if you have a square face. This will soften the angles of your face.
PAIGE Caylen 47mm Round Sunglasses
sunglasses for small faces
If you have a small face, the key is to find a pair of sunglasses that won't overwhelm you. You could always try the children's section if you have a real problem finding sunglasses that are the right width.
Ray-Ban Erika Junior 52mm Mirrored Sunglasses
sunglasses for big heads and sunglasses for wide faces
If you have a big head or wide face, you'll want to make sure that the width of the lenses is sufficient to give you the eye protection you need. If you're conscious about having a wide head, choosing a thin pair of arms can help as you won't draw attention to the two outer points on your face.
Quay Australia Next Please 62mm Aviator Sunglasses
Best sunglasses for eye protection
When choosing the best sunglasses for women to protect your eyes, the higher the UV level the better. Look for glasses that are UV 400. Also consider polarized glasses if you are going anywhere beside water as they help to reduce glare. Plus, go oversized as these cover more of your eyes and face.
Tory Burch Revo 57mm Polarized Square Sunglasses
Best designer sunglasses
If you want to add an element of designer style to your outfit, a pair of sunglasses can be a great option as you can wear them year after year and they will never date.
Dolce&Gabbana 56mm Cat Eye Sunglasses
Best amazon sunglasses
If you're looking for inexpensive sunglasses, perhaps because you want a number of pairs to keep at home, in the car, or take on vacation, Amazon can be a good place to look. Just be sure you look out for polarized choices with good eye protection.
SOJOS Classic Square Polarized Sunglasses
Best cheap sunglasses
Another good choice when choosing inexpensive sunglasses is the BP brand, which come in plenty of on-trend styles.
BP. Traditional Classic 51mm Square Sunglasses
Best clip on sunglasses
Clip-on sunglasses can look dated. But if you do want an easy option to pop over your glasses, you could try the clip-on glasses (below), which have great reviews. Users say they look like real sunglasses.
CAXMAN Polarized Cat Eye Clip On Sunglasses
Best prescription sunglasses
If you need glasses day-to-day, then when thinking about the best sunglasses for women, you may want to choose a pair of prescription sunglasses to ensure that you don't have to wear contact lenses and then sunglasses. You could also try photochromic lenses that change from regular glasses to sunglasses in sunlight. Below are some good stores to try.
How many pairs of sunglasses do you own? What do you find the best sunglasses for women are? Do you have any brand recommendations?
Continue reading:
Like this article on the best sunglasses for women? Share it on Pinterest
Feature image by Kim @kimair
Want to get more articles from 40+style in your inbox, subscribe here.
You can also connect with 40+style on Facebook, Instagram or Pinterest.
Support 40+style by using the links in our articles to shop. As an associate for Amazon and many other brands, we receive a small commission (at no cost to you) on qualifying purchases which enables us to keep creating amazing free content for you. Thanks!