The wedding of your son or daughter will be one of the most memorable events in your lifetime so naturally you want to look amazing. So before I even go into detail with how to dress when you are the mother of the bride and look at specific mother of the bride outfit ideas, I want to emphasize one important thing.
It is ok (perhaps even mandatory) to splurge on your outfit!
Don't economize on your clothes for such an important event, even when you think that you will wear the outfit only once.
Of course, you may want to try to get an outfit that you can wear for other occasions as well, but if those outfits don't make you feel as special as you want to, then just accept that you will need a good budget.
Believe me, it's worth it. I know weddings the world over are different right now. It may be your loved one has to wait to get married, or the occasion will be smaller.
However, the memories of that day will still stay with you forever and you will always remember what you wear.
And then, there are the numerous photos of course. I have personally made the mistake of sticking to a low budget for a high-profile occasion and I still regret it today! I can assure you that I will never make that mistake again.
Ok, so now that I have this important point out of the way, let's take a look at what you should wear.
What requirements does a mother of the bride / groom outfit have?
Weddings weren't allowed to take place for some time, and when they were, they were smaller than you may have been used to. Thankfully, in most places, larger events are able to take place now. Whatever the situation, when you are able to attend a wedding, you'll want to look your best.
How to dress as the mother of the bride or groom
Although dressing rules at weddings vary by country, here are some general guidelines on how to dress as the mother of the bride or groom.
Don't wear an outfit in the same color as the wedding dress
So check with the bride! Also find out which colour the bridesmaids are wearing. You do not want to be mistaken for one!
Preferably do not wear all black
All black may suggest mourning. Although this is not a strict rule, I would personally prefer you to choose another color since most women over 40 look much better in more colorful outfits. An alternative is to mix black with another color, which can look very chic.
Avoid flashy shades
Although I encourage you to wear color, don't make the colors too bright. Bright firy red, bright pink or neon yellow as the dress color may stand out too much. If you like to wear brighter colors, go for something more subtle like a multi-colored dress which will look especially great for summer weddings.
Do not be overly sexy
Avoid too much cleavage and let the bride be the sexiest girl in the room.
Be prepared for multiple locations
If the wedding includes a church service for example, make sure that you have an accompanying jacket with your dress.
Choose a style that stands the test of time and don't choose something too fashionable
Remember, you will look at these photos in years to come. Opt for something current yet timeless with clean lines.
Opt for high quality fabrics
When you are thinking about how to dress when you are the mother of the bride, be sure to check that your outfit does not wrinkle too much and is appropriately warm or cold for the climate in which the wedding takes place. Synthetic fabrics can make you sweat a lot more quickly for example. These guide on fabrics properties can help you make a decision.
Other mother of the bride outfit guidelines
Some additional guidelines on how to dress as the mother of the bride.
Talk to the bride and ask her about her preferences.
If she is casual about your dress, then you can just select whatever you please. But if she is sensitive about certain colors or gives you some guidelines, you may want to stick to that. She may even want to coordinate the color of your dress with those of the bridesmaids (let's hope not!)
Make sure your preferences are taken into account too!
Even though you may want to take the bride's and groom's wishes into account, make sure you select something that YOU love too.
Don't leave shopping for your special dress to chance.
Plan well in advance, so you will not get too stressed and can help either your son or daughter with the wedding preparations.
If you normally like clean, plain clothing, don't go over the top with sequins and diamonds. Unless you like a change of style of course. Just don't veer off too much. You'll want to feel comfortable on the special day and not be too self conscious about the way you look.
Although it's perfectly fine to wear pants at the wedding, nothing says party like a dress.
However, if a dress is totally out of your comfort zone, choose a great pants and blazer combination in a luxurious fabric. There are more specialized ideas in this article on how to wear pants for the mother of the bride.
some ideas for your wedding outfits
Please note that fashion items sell out quickly so these may no longer be available in stores. They can still serve as inspiration though when you are thinking about how to dress when you are the mother of the bride.
However, because wedding outfits are more timeless than other fashion items, you may well find that your favorite piece is still available!
Many stores, including Nordstrom have a dedicated mother-of-the-bride section.
Knee Length mother of the bride dresses
If you like to cover your upper arms, the Adrianna Papell dress below could be the one. The gold detailing adds a touch of luxe.
Adrianna Papell Beaded Flutter Sleeve Midi Dress
The Alex Evenings dress (below) will also cover your arms. It is designed to look like separates and comes in a good choice of colors.
Alex Evenings Mock Two-Piece Cocktail Dress
If you like to disguise a little bit of a tummy, then choosing a dress with a bit of ruching around the belly area can work well.
Oleg Cassini Knee-Length Long Sleeve Dress with Embellishment
SL Fashions Beaded Chiffon Capelet Sheath Dress
midi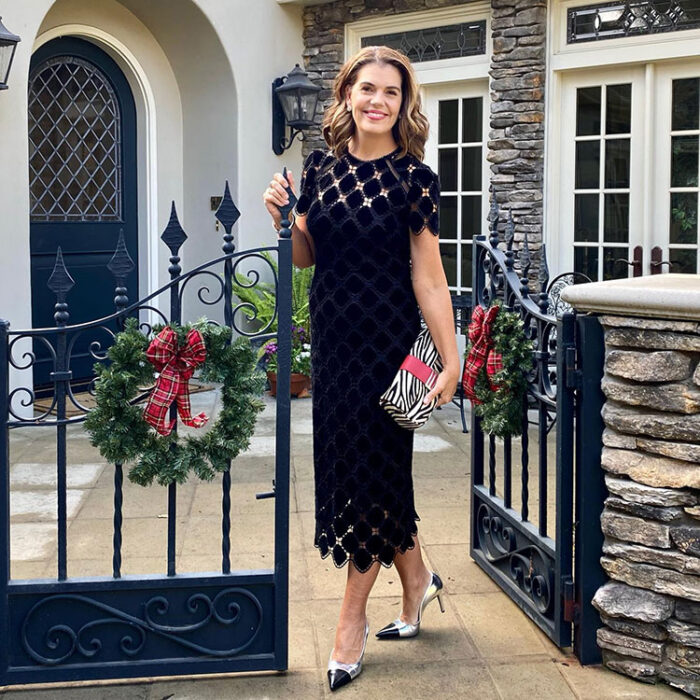 Midi dresses are a classic option, and are also very of-the-moment this year. A below-the-knee style can be perfect for a wedding.
Suzanne @asksuzannebell above (read her style interview here) looks fantastic in her midi dress. She adds a modern touch with her silver shoes and print bag.
Check out this lace dress from Amazon that you can wear with this similar pumps and clutch.
A wrap style is usually univerally flattering for all body shapes. The Alex Evenings dress (below) could work well if you like to show off your waist.
Alex Evenings Sequin & Satin Midi Dress
The twist-front dress (below) looks very modern, but it will still stand the test of time. If you like to cover your arms, you could always add a wrap.
Kay Unger Sabina Twist Front Midi Dress
If your shoulders are a part of your body you like to highlight, a subtle off-the-shoulder number could be perfect. The high-low hemline of the Brocade dress (below) also adds a modern element to this traditional style.
Oleg Cassini Metallic Brocade Off-the-Shoulder High-Low Gown
While a shirtdress can sometimes be casual, you can choose a more formal trench style. I like the asymmetrical styling of the belted dress below.
Karen Millen Polished Wool Blend Drape Belted Shirt Dress
Mother of the bride dresses: Long and elegant
You could, of course, choose a maxi dress for your special occasion.
Sylvia @sylviacolella above (read her style interview here) looks lovely in her maxi dress and heels.
Get her look with this similar dress (another option here) and ankle strap heels.
The navy dress (below) features a flattering v-neck and covers up your arms.
Miusol Formal Floral Lace Evening Dress
A mermaid style is often a great option for the wedding dress itself, but it can also work very well for the mother of the bride or groom. The Kay Unger dress (below) features an interesting mermaid style and covers the upper arms.
Kay Unger Zoey Lace Mermaid Dress
If you're looking for a really modern dress for the wedding, then Anthropologie could definitely be worth a browse.
Anthropologie Amsale Pryce Dress
If you want an outfit with drama, then a long full skirt could be perfect. I like the look of a shirt and full skirt together in the gown below.
The maxi dress (below) is definitely glamorous enough to wear to a wedding and the evening reception. If you find a dress you love that is lower cut than you would like, you could always add a silk or lace camisole underneath.
Susanne @textelle below (read her style interview here) looks incredibly glamorous in her red maxi dress.
Recreate her outfit with this similar dress (other options here and here) and earrings.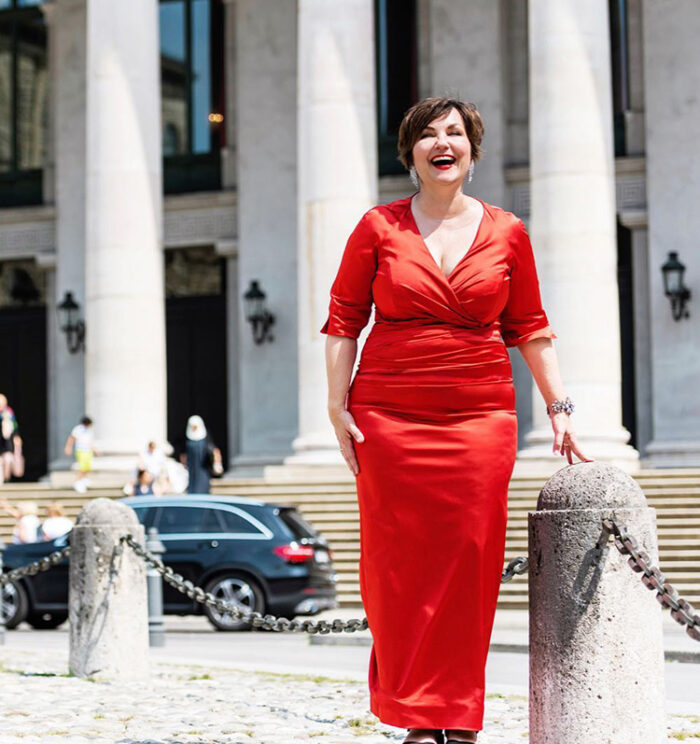 Dress suit
Another option, particularly if you don't want bare arms is to choose a dress suit. The look below is from Amazon and it comes in a huge choice of colors.
You could wear the full outfit for the wedding and then wear the jacket with pants or jeans for dinner occasions during the months to come.
Alex Evenings Long Mock Jacket Dress with Satin Skirt
The two-piece (below) is another versatile choice for you. You could definitely wear the outer layer with other outfits after the wedding.
R&M Richards Beaded Chiffon Jacket Dress
If you want to ensure you will wear your outfit after the wedding, then you could wear the dress and jacket below separately. You could, for example, wear the dress with a blazer, or you could dress the jacket down with jeans.
Oleg Cassini Knee Length Crepe Tank Dress and Matching Jacket
Getting away with black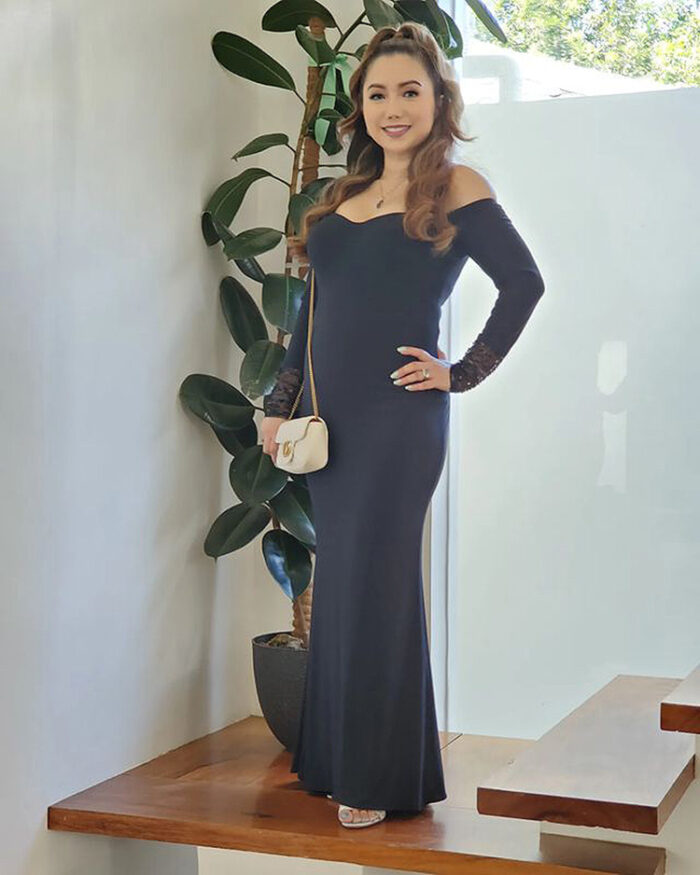 I know I said not to wear black, but I definitely think you can if you choose a black outfit which also incorporates another color. Or, you can always choose to add color with your accessories so a plain black dress doesn't look funereal.
Suzette @suzettepetrov above chooses a long black dress, but accessorizes with pale outfits.
Check out this black dress from Amazon that you can wear with a Gucci bag.
The beads of the midi cocktail dress (below) make it suitable for a wedding, and it also has three-quarter length sleeves if you prefer your arms to be covered.
Adrianna Papell Petaluma Sequin Dress
The maxi dress below has a touch of glamour with the crystals on the waistline, and it comes with a matching shawl.
SL Fashions Embellished Glitter Mesh Tank Dress with Shawl
The asymmetrical detailing on the black dress (below) adds interest. I would choose a colorful pair of shoes and bag.
Karen Millen Soft Tailored Waterfall Dress
Or choose a dress that incorporates black with another color.
Karen Millen Soft Tailored Colourblock Sleeve Midi Dress
Summer mother of the bride dresses: Or A beach or garden wedding
Because beach and garden weddings tend to be less formal than weddings in other venues, you may want to take a look at florals or a happy print as an option for your dress.
Souri @fabfemme_australia above (read her style interview here) looks beautiful in her floral midi dress.
Get her look with this similar floral dress (other options here and here), pumps and hat.
The Sachin & Babi dress (below) would be perfect for an outdoor event.
Another floral option for you (below), but this time in a fit and flare style. The large blooms add a touch of fun.
Kay Unger Floral Fit & Flare Cocktail Dress
Or, you could look out for a wrap style. A print with large blooms like the dress below is very on trend now.
Karen Millen Graphic Floral Wrap Woven Midi Dress
The maxi below features spaghetti straps so it should keep you cool. But you could also add a lightweight wrap if you want extra coverage.
DB Studio V-Neck Floral Print Maxi Dress
Mother of the bride dresses that hide a belly
Many of the options above would help you to hide a little bit of a tummy. If this is an area you aren't confident about, choosing a dress with layering like the ones below could be another good choice. You can find all our tips on hiding a tummy here.
Oleg Cassini Beaded V-Neck Sheath Gown with Chiffon Capelet
SL Fashions Chiffon Tank Dress with Asymmetric Capelet
mother of the bride pant suits
Of course, you don't have to wear a dress to a wedding. If you prefer to wear pants, there are plenty of stylish pants suit options. The dress suit below comes in three pieces so should give you flexibility after the wedding too.
Le Bos Lace 3/4 Sleeve Beaded Round Neck 3-Piece Duster Pant Set
The set below also comes in three pieces. I think the tank top would also look great with a pair of white jeans for summer. I could team the over jacket with a column of white or black beneath.
Oleg Cassini Straight Leg Embroidered Chiffon Three Piece Set
The set below is actually made up of separates. So you could choose one element to go with another outfit. Perhaps, for example, you just want the jacket to wear as a cover-up.
Caroline Rose Floral Lace 3/4 Sleeve Open Front Swing Cardigan / Floral Lace Straight Leg Flat Front Pull-On Pants
mother of the bruide jumpsuits
A jumpsuit is another alternative to a dress. You could opt for a classic shade such as navy, or choose a summery color.
Oleg Cassini Embellished Waist Crepe Jumpsuit with Peplum
Another jumpsuit choice is the wide leg style (below) which features a built-in cape.
Adrianna Papell Chiffon and Crepe Jumpsuit with Beaded Cape
an edgy option as a wedding outfit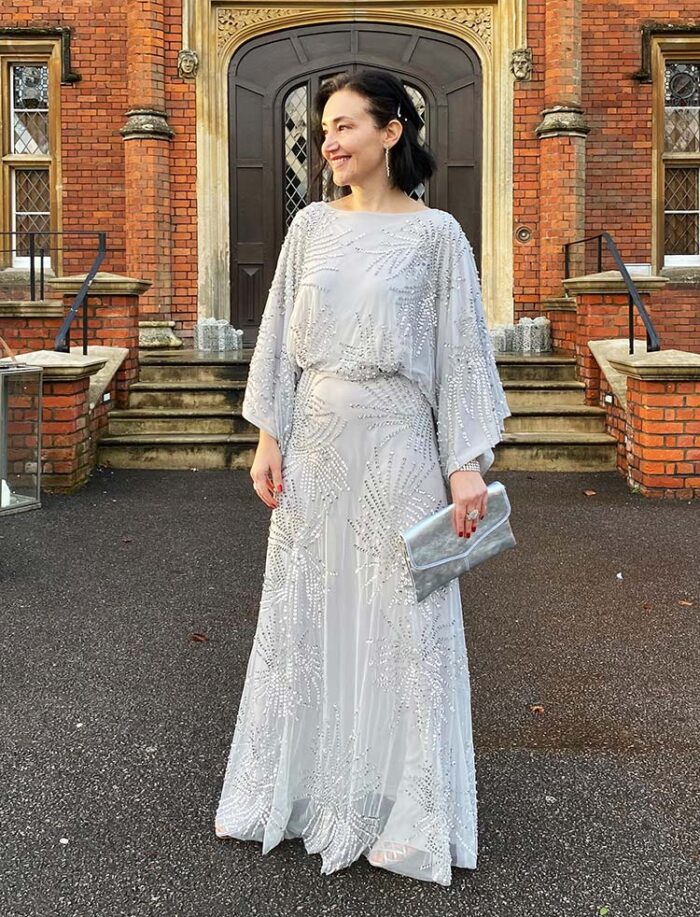 Emms @beautifuleveryday_uk above looks stunning in her sequin gown.
Recreate her outfit with this similar beaded gown, clutch and earrings.
Can't decide between a dress and pants? Wear both. Kay Unger's maxi romper (below) combines the look of a maxi dress with pants.
Another option that combines both dress and pants is the pantsuit below.
Oleg Cassini Crepe Pantsuit with Brocade Skirt Overlay
The pencil dress (below) features gold detailing and wide arms.
Karen Millen Stud Detail Split Sleeve Pencil Dress
twinset
A twinset can have a "fuddy duddy" reputation, but it definitely doesn't have to look old fashioned. You could combine the monochrome twinset (below) with white or black pants. Then you could wear as separates after the big event.
Alex Evenings Metallic Knit Crew Neck 3/4 Sleeve Printed Twinset
a full skirt
Another choice rather than a dress could be to choose a separate, full skirt. You could wear with a white shirt tucked in and statement jewelry and accessories.
How to dress when you are the mother of the bride: cover ups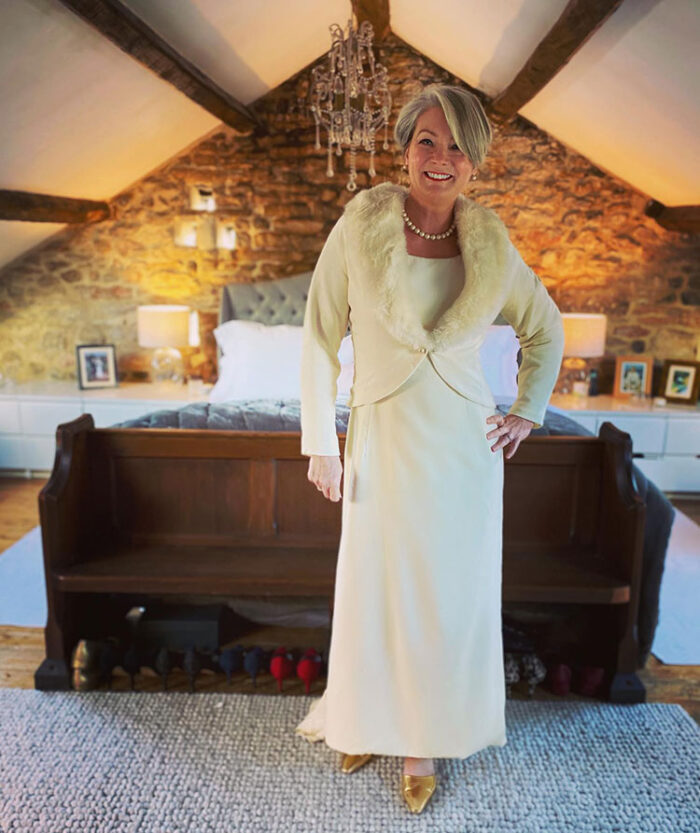 You may want to cover up your arms – either because you aren't very confident about that part of your body or because you may be chilly. Nikki @midlifechic above chooses a cover up with a fur collar.
Steal her look with this similar bolero (another option here and here), dress and heels.
You could also think about a chiffon kimono, a bolero or an oversized scarf.
Belle Poque Cropped Bolero Cardigan
where to buy Mother of the Bride (and Groom) dresses
For a great selection of Mother of the Bride (and Groom) dresses, we recommend the following online (and brick and mortar) destinations with dedicated Mother of the Bride outfit sections. You should find plenty of inspiration for how to dress when you are the mother of the bride or groom:
shop some of the outfits for the mother of the bride or groom here:
What do you think is the perfect mother of the bride outfit? What do you think about when you are considering how to dress when you are the mother of the bride?
Continue reading:
Like this article on how to dress when you're the mother of the bride? Save it on Pinterest!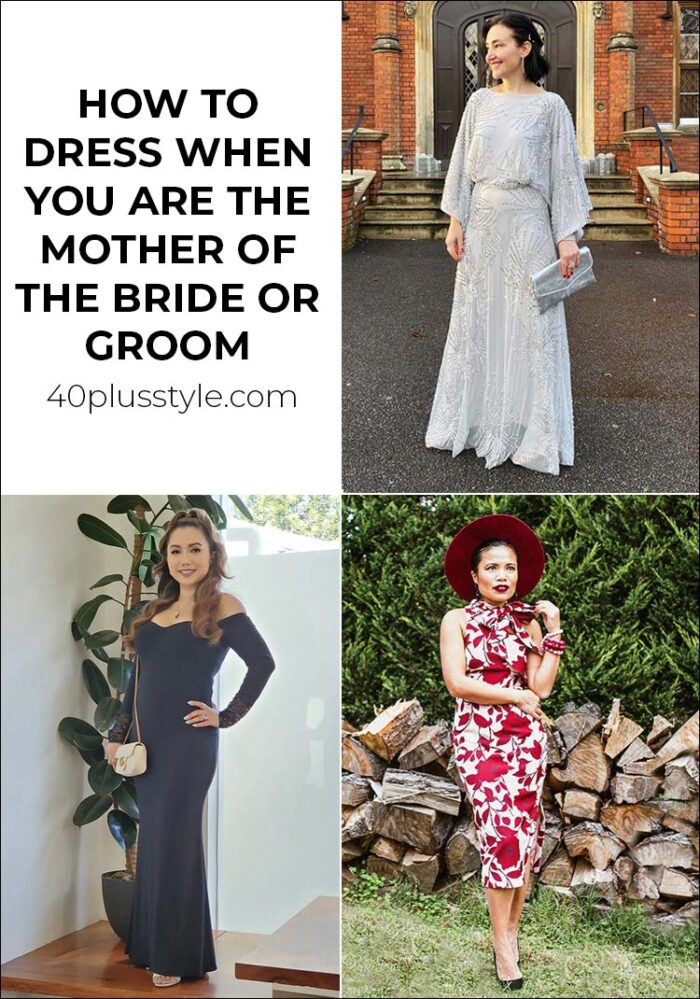 Want to get more articles from 40+style in your inbox, subscribe here.
You can also connect with 40+style on Facebook, Instagram or Pinterest.
Support 40+style by using the links in our articles to shop. As an associate for Amazon and many other brands, we receive a small commission (at no cost to you) on qualifying purchases which enables us to keep creating amazing free content for you. Thanks!