Sylvia has a penchant for Paris which she frequently visits and which greatly influences her style. But it needs to be natural as"perfect is boring". Learn more about her style philosophy and find out what it takes to achieve her effortless edgy chic style!
 
Can you tell us a little bit more about yourself?
Of course! I'm married to my soul mate, and together we have a blended family of six (my two sons plus his son and daughter from prior marriages). We currently live in Washington DC, although I spent most of my adult life in Paris, France and still consider it home.
I used to practice corporate law, but I officially "retired" a few years ago to give me more flexibility in my personal life. My husband and I enjoy traveling and do so quite often, with and without the rest of the family.
New York, Southern California (where we are both originally from), and obviously, Paris, are some of our favorite destinations. Besides my family, I am passionate about fashion (obviously), art, music, travel, fitness, fine dining, and Game of Thrones (you read that right).
Oh, and I'm a breast cancer survivor (over three years cancer free), so I consider every day both a gift and a duty to live the best life possible.
As a point of reference which age group do you belong to or perhaps you are willing to share your age?
I'm 47 years young.
Can you tell us a bit more about Simply Sylvia and why you created it?
Simply Sylvia is an outlet for my creativity, but also, hopefully, a source of practical information for likeminded readers. I try to showcase subjects that interest me and that I think others will find interesting.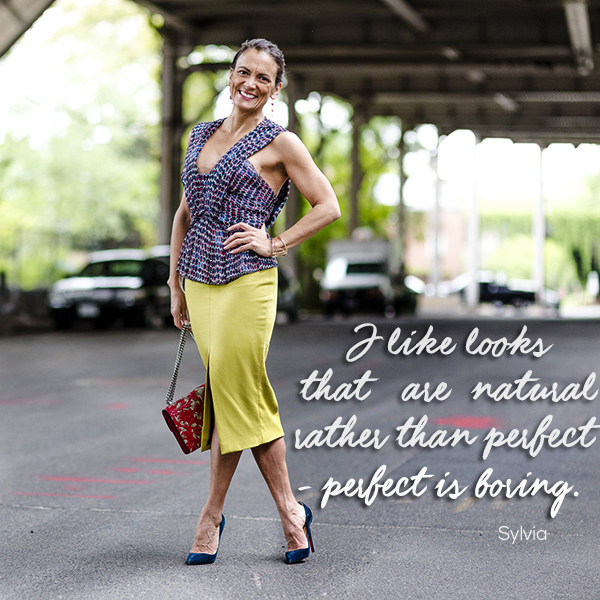 That includes styling and fitness advice, but also restaurant reviews, travel tips and every once in a while a "just because" post on relationships or people who inspire me. Although I don't have a specific target audience, I do think there is a need for more "mature" voices in the blogosphere, particularly in Washington DC.
I'm hoping to show my followers what a well-lived life after 40 looks like!
How would you describe your own personal style?
Effortless, edgy chic. I always like to push the envelope a little when I am putting an outfit together, and I like to mix things up in unexpected ways, but I try not to spend too much time getting dressed. I choose clothes that are unique, fit well, and reflect my personality, so putting them together is easy. I like looks that are natural rather than perfect – perfect is boring.
What would you consider the most important components of your style?
Confidence and flair.
Where do you live and how does that influence your style?
Washington DC has no influence on my style, but the many years that I lived in Paris and my frequent visits there certainly do. I appreciate Parisian women's deep understanding of fashion, and I admire the way that they either abide by or ignore its rules…in either case, fabulously!
Do you feel you have a signature style?
Messy bun and killer heels.
What inspires your outfit choices the most?
It's totally organic and spontaneous – I'll just feel like wearing one particular piece – maybe a certain pair of shoes, or a specific blouse or pair of pants – and I'll build my outfit from there. I used to read tons of fashion magazines, but as I have gotten older my patience (and time) for that has waned.
Instagram is a great source of fashion inspiration, especially the street style accounts. When all else fails, I ask myself what Carine Roitfeld or Isabel Marant would do.
Do you take things like color profiling or body type into account when you dress?
I'm not even sure I know what that means. I just try to choose colors and silhouettes that I think are flattering on me.
Has your style changed at all after turning 40?
I don't think my style has changed, but the fact that I no longer spend most of my days in a corporate environment means that I spend a lot more time in casual wear. I still enjoy dressing up, but what I really appreciate is not having to.
Do you believe in dressing 'age appropriately' and what does it mean to you?
Dressing "age appropriately" doesn't mean much to me – "tastefully" on the other hand, means everything. If the age issue even comes up when someone is wearing a given outfit, they probably failed the tasteful test.
Would you say that at this stage of your life you are now more, or less interested in fashion, style and the way you look?
I'm definitely as interested in fashion and style as ever, but I have a much more "wholistic" approach to the way I look. Staying in shape is a huge part of my daily life, and not just out of vanity (I totally attribute my quick recovery from a double mastectomy – ten days later I was back in the gym – to my fitness level).
In other words, I care more about the person in the clothes than the clothes themselves.
Why is the way you look important to you?
The way that I look is a reflection of how I feel about myself and life in general. I'm optimistic, creative, independent, and strong: I think the way that I look reflects that. I also think that it shows a certain amount of respect for others.
Only one person should have to suffer your bad hair/make-up/wardrobe day: you.
Do you follow trends? And if yes, which trends excite you at the moment?
I don't follow trends per se, but I do love that whole colorful, geek chic thing that Alessandro Michele is doing over at Gucci, and I have always been a huge fan of Isabel Marant (see above) – her sexy tomboy/boho vibe really works for me.
Do you have any fashion and style tips for women over 40?
Take care of your body – remember that at 20 you have the body you're born with, but at 40+, you have the body you deserve. Don't overdo it when it comes to dressing (remember Coco Chanel's advice to "remove one accessory before leaving the house"), and don't put outfits together to impress other people – dress for yourself.
And don't wear shoes you can't walk in!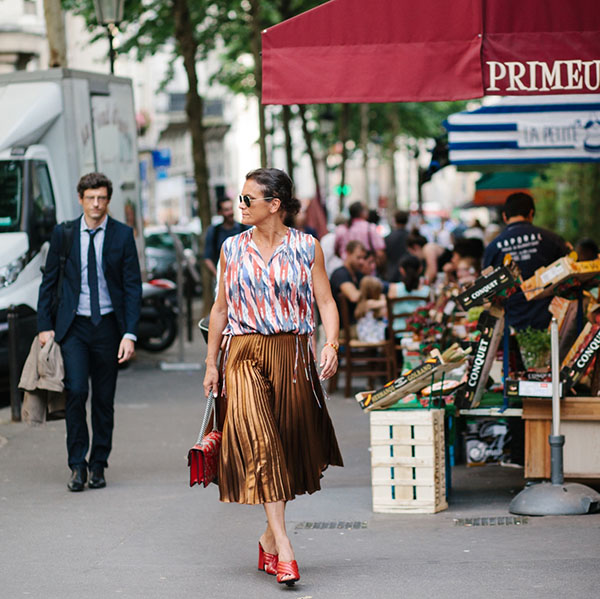 What are your plans for your website and how do you see it develop over the coming years?
My immediate goal is to post on a more frequent and consistent basis (easier said than done, as it turns out), and to build a bank of quality images that I can use on my blog and in social media. I don't want to develop "just another fashion blog" – I have a lot of different interests and I want my content to reflect that.
As far as the fashion component goes, however, I hope that over time I will build enough of a following to be able to monetize my blog, either through sponsorships, collaborations, or rewards-type relationships, and who knows? Maybe I'll even develop a personal styling business on the side.
Anything further you would like to add?
I just want to thank you for inviting me to participate in your style interview series. I am incredibly honored and humbled, and I hope to have shared a few nuggets that your readers will find useful (and/or amusing ;).
Visit Sylvia to see more of her chic outfits at Simply Sylvia and @SimplySylviaDC for Instagram!

Like this post? Share it on Pinterest!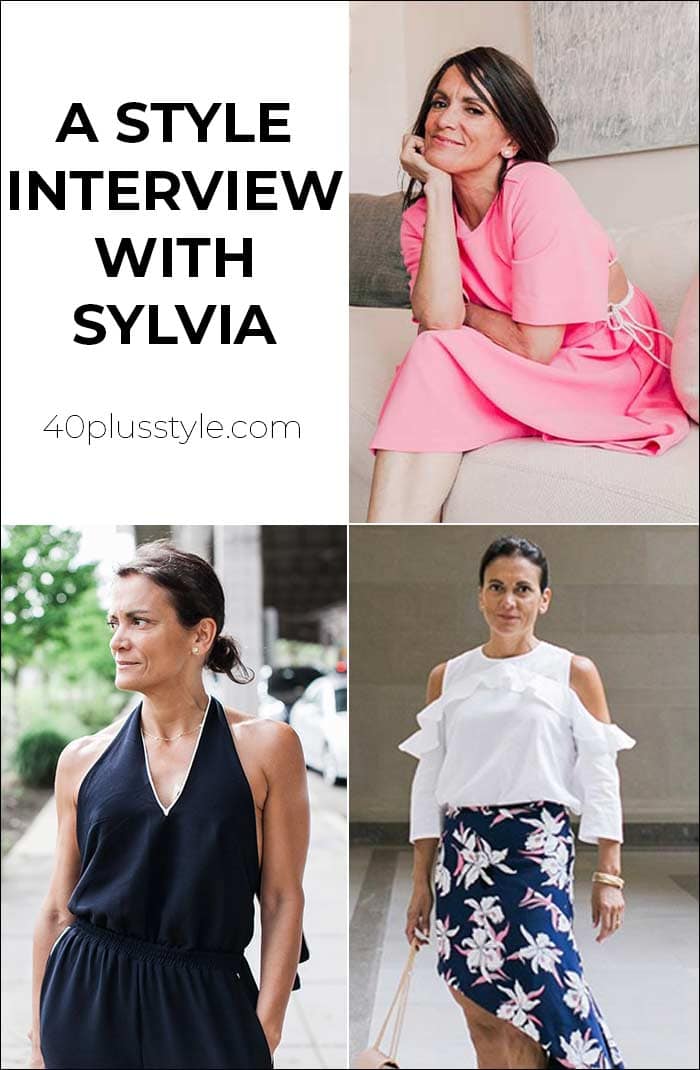 Want to get more articles from 40+style in your inbox, subscribe here.
You can also connect with 40+style on Facebook, Instagram or Pinterest.
Support 40+style by using the links in our articles to shop. As an associate for Amazon and many other brands, we receive a small commission (at no cost to you) on qualifying purchases which enables us to keep creating amazing free content for you. Thanks!