If you want to develop a signature style it's important to understand your personal style personality. Find out quickly with our personal style quiz.
Help to discover the styles that are right for YOU!
Why take the personal style quiz?
When you understand your personal style personality you will make fewer buyer mistakes.
You will also have a more consistent style or can develop your own signature style.
We will give you tailor-made suggestions for your unique style personality.
Take the personal style quiz that will let you discover your unique style personality
We have identified 12 main personal style personality types.
Although you may like aspects of several, you'll have one that is dominant.
Learn about the characteristic of your specific style personality and get ideas on how to dress for it!

Will your personal style personality be classic, bohemian, minimal, trendy, Eurochic, street/urban, glam, rock 'n' roll, preppy, natural, romantic or architectural?
We will describe your personal style personality in detail and will give you some visual examples as well as well as a complete capsule wardrobe for your personality!
This personal style quiz is quick and fun and you may just learn something new about yourself 🙂
Take the personal quiz and let me know if the quiz results gave you any surprises!
Feedback on the quiz from other women
The personal style quiz was fantastic, lots of options to choose and final result is……just me,😊) Joanna
I am happy with the results of the quiz. I found all the articles linked in the site very informative and very well done and the links worked very smoothly. I am very impressed with what you have here and look forward to using it! Joyce
The personal style quiz was spot on..and helpful..thanks!! Lyn
I must say I really enjoyed doing the personal style quiz, I have made quite a few disastrous mistakes in the past, but once you know more about your personal style, it seems to get easier. Elizabeth
I am EuroChic and am totally shocked, but it is Spot on. I am one of those people that need Help, haha, and that's why I hang out here. I can't say that I Know what I like but I definitely know what I Don't like 🙂 Tameria
I enjoyed the quiz and it was spot on. Edgy with a little twist. I really like the outfit options also. Thank you. Lynn

Want to share with your friends so they can also take this personal style quiz?
Save it on Pinterest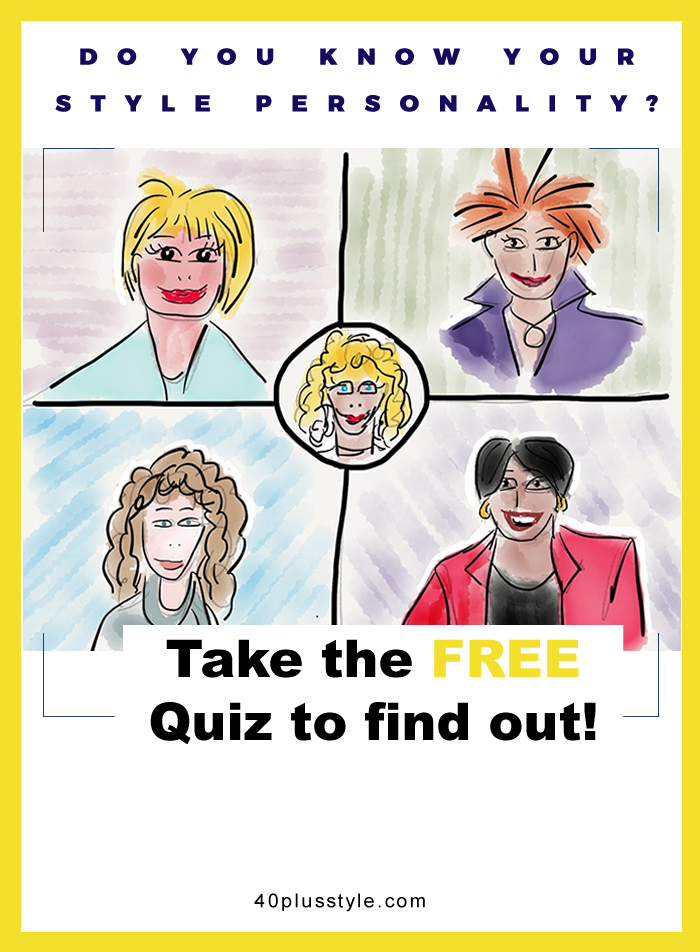 Want to get more articles from 40+style in your inbox, subscribe here.
You can also connect with 40+style on Facebook, Instagram or Pinterest.
Support 40+style by using the links in our articles to shop. As an associate for Amazon and many other brands, we receive a small commission (at no cost to you) on qualifying purchases which enables us to keep creating amazing free content for you. Thanks!