Dorrie is a newcomer to the 40+ blogger scene, but she has already made a huge impact. Largely due to her prowess with social media, which she only discovered and learned recently, and of course due to her amazing youthful style. When I first found out about her age, I was blown away. If I'm half as energetic and stylish as Dorrie at that age, I will be a very happy woman. Let's find out her style secrets!

Can you tell us a little bit more about yourself?
I was born in Philadelphia, Pennsylvania and grew up on the East coast.
My interest in fashion began when I was quite young. I began modeling as a teenager. In those days it was called Jr. Miss. After a career in modeling, I became a representative and makeup artist for Romel cosmetics, then later, an instructor at Philadelphia Modeling and Charm School. It was through the modeling agency of the school that I was solicited by the Playboy Bunny Club to become a Playboy Bunny at the first Playboy Club in Chicago. While working at the Chicago club I was offered a position with Polaroid and became the first Miss Polaroid traveling the country introducing Polaroid's new camera. In the years that followed I worked as a spokesperson for numerous brands and even tried my hand at acting. Those were really fun years.
My personal life was not as successful with two failed marriages along the way but one did produce a wonderful daughter. In 1986 I finally found and married the man of my dreams. My husband was an Architect who specialized in the design of casinos and hotels and for many years I worked as his firm's Director of Marketing in his Atlantic City NJ office.
We moved from the East Coast to Las Vegas in 1998 where he continued his work until his death at eighty nine in 2008. A few years ago I got back into the dating scene and met a lovely man. Sadly, he developed Alzheimer's and is now in assisted living care facility, and I am about to get back into the online dating game once again. However this time I will be sharing my experiences on the blog.

As a point of reference which age group do you belong to or perhaps you are willing to share your age?
I am 80 years young.
Can you tell us a bit more about your blog Senior Style Bible and why you created it?
When I turned 80 last year I started thinking about what I wanted to do with the rest of my life. I have been blessed with good health and energy and a need to be productive. The idea for Senior Style Bible actually came from my daughter who is in Social Media Marketing and very aware of trends in advertising and social media. She suggested I start this blog because it is a rare day that I am not stopped by strangers on the street to comment on my outfit or hair-style or makeup. My friends quite often ask me to help them evaluate their wardrobes and shop for new clothes, and my daughter saw this as something that needed to be shared with other senior women. When we launched Senior Style Bible, I had never even heard of a Blog and wasn't familiar with Facebook or Instagram, but now I'm learning how to share information across all of these platforms, which is a great way to meet people and share ideas.

You are very active on Facebook and seem to mainly focus on creating content for that medium. Do you prefer Facebook to your own blog? Why?
When I first launched the blog for Senior Style Bible it was primarily focused on what I was wearing. That was it. Which was fine, but I started blogging before I really understood what women wanted to talk about . Facebook was an opportunity to get to know what women over 50 wanted to discuss. Through these conversations on social media, I realized that the Blog was not going in the right direction, so I put it on hold to focus on Instagram and Facebook as a way of getting to know my audience more intimately. Now I am re-launching the blog component of Senior Style Bible, which will now not only focus on fashion and beauty, but also lifestyle, dating, relationships, health and wellness.
I want to create content that people will find interesting, informative and entertaining, but also encourages women to feel more self-confident.

How would you describe your style?
Dramatic, modern and slightly edgy.
What would you consider the most important components of your style?
I always add a "statement piece" or two to every outfit. It may be a dramatic piece of jewelry, a hat, an unusual shoe or handbag or a splash of color. It changes constantly, but I always have something on that turns heads.
Where do you live and how does that influence your style?
I am currently living in Las Vegas, where it gets very hot in the Summer. At my age, I prefer not to go sleeveless which means that in the warmer months I gravitate towards sheer fabrics with big puffy sleeves or tops that have a bat wing sleeve, because they offer coverage but are cool and comfortable.
Do you feel you have a signature style?
I'm not sure I would call it a signature style, but I do have consistent elements that I seem to look for in my clothes. I like classic, rather than trendy pieces, usually with an edge. I tend to wear neutral colors, and simple designs, but always incorporate a piece that has some sort of wow factor.
What inspires your outfit choices the most?
My mood, the weather and what I'm doing that day.
Do you take things like color profiling or body type into account when you dress?
I never thought of it that way, but yes, I know which colors suit me, and which do not, and I also know what styles flatter my body type as well.
Has your style changed at all after turning 40 or a later age?
To some degree my style changes as fashion changes each year. While I don't follow all of the new trends I do pick up on trends that I like and that are suitable for my lifestyle.
Do you believe in dressing 'age appropriately' and what does it mean to you?
I don't believe women over 50 should be worried about what is appropriate and what is not. I actually don't like the term "age appropriate" because I think the subtext is that women of a certain age should not be wearing certain styles because they are too old to be sexy, and need to cover up their less than perfect bodies. It's subtle, but it's there, and that kind of negative messaging undermines women's self-confidence and I don't like that.
Obviously it's important to be aware of what flatters the mature figure and what no longer works. Style has nothing to do with age, it is understanding what flatters your body, how to accentuate your best assets and deciding what makes you feel pretty. Fashion is a non-verbal form of communication, so what we wear, tells the world how we feel about ourselves. It's important to figure out what we want our style to say….but what I know I don't want it to say is "I'm going to let society tell me what I should look like." That's a form of censorship, and the idea that we have to edit who we are is absurd. So I'd like to see that term disappear out of our vernacular entirely.

Would you say that at this stage of your life you are now more, or less interested in fashion, style and the way you look?
I am probably more interested in fashion now, than I have ever been. Every morning I apply a full face of makeup and put on something stylish, even if I don't have specific plans for the day. I do it for myself because it makes me feel good to look my best. If anything my interest in fashion, style and the way I look has increased because of Senior Style Bible. I'm more aware of the impact that fashion has on the way women feel about themselves and I want to help women feel confident and beautiful as they age. Therefore I have to walk the talk.
Why is the way you look important to you?
I love that at my age I still can turn heads and get compliments every day. However it's actually not about feeding my ego, it's more about using the way I look to change the way society views mature women. We have been marginalized and ignored by the fashion and beauty industries for far too long and I'd like to see that change. That begins with proving that women over 50 do still care about fashion and beauty and want to be included in that conversation.

Which of the outfits on your blog are personal favorites and why?
I don't really have a favorite look. I like everything I post on the blog, because these are actually my clothes. I don't have contracts with any particular brands, so that gives me the freedom to wear what I love. If we shoot something and it doesn't photograph well, we scrap it. I'll never post an outfit that I don't love 100%.
Do you follow trends? And if yes, which trends excite you at the moment?
Yes, I definitely follow trends even if I don't adopt all of them. This year I like the return of wide leg pants…and hats are also having a moment, which is exciting because they are really fun to wear.
Do you have any fashion and style tips for women over 40?
Don't fall into the "age appropriate" trap. You know yourself better than anyone else. Select clothes that highlight your best features and camouflage the parts you may not want to show off. Fit is also very important; a good tailor can make an inexpensive piece, look expensive. Also choose quality over quantity and invest in your clothes. Less is more. It's better to have fewer pieces that are really great than a closet full of clothes that are just okay. It's important to buy things that you really love. If you aren't madly in love with it, don't buy it.
What would be your advice for women over 65 who may be retired?
Don't retire from life. Start a new chapter in your life. Remain active, engaged and young at heart. Do something productive with your day, volunteer, start a new hobby, go back to school. Many senior women have told me that once they are no longer in the work force they dress for comfort and no longer use makeup except for special occasions. Sweat suits and sneakers seem to be the retired lady's uniform of choice, and that's Okay. Not everyone has an interest in fashion. Some women just want to relax into old age and focus on other things. However, that is definitely not me. I want to stay as attractive as I can, for as long as I can…for me. So, if you are reading my blog, and are still interested in fashion and into looking your best, you can start by saving the sneakers for the gym.

What are your plans for your blog / Facebook page and how do you see it develop over the coming years?
I would like to see both the Blog and Facebook become a source of fashion inspiration for women over 50; a place where our followers can find clothes they love there and then purchase directly from those platforms. I think half of the frustration women have with shopping online comes from not being familiar with a lot of the lesser known brands. There are so many labels to choose from, it has become overwhelming and I think women are looking for a place that will curate all of the designers for them. I would like to see Senior Style Bible become a reliable source that presents mature women with a range of carefully selected designers and beauty products that will suit their various needs and budgets.
I also plan to expand into YouTube videos that will focus on a wide range of topics such as fashion, beauty and lifestyle.
Thank you so much Dorrie for your inspiring answers. I'm sure you want to check out her amazing style now! You can find her at Senior Style Bible and also on Facebook and Instagram.
Which of Dorrie's outfits is your favorite?

Like this post? Share it on Pinterest!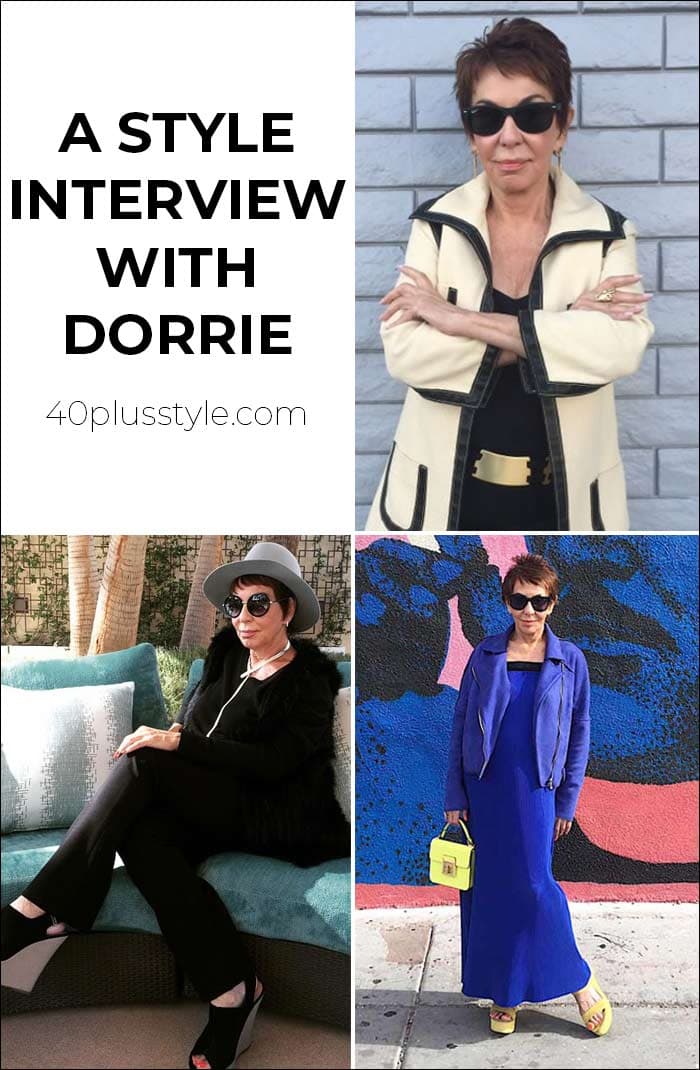 Want to get more articles from 40+style in your inbox, subscribe here.
You can also connect with 40+style on Facebook, Instagram or Pinterest.
Support 40+style by using the links in our articles to shop. As an associate for Amazon and many other brands, we receive a small commission (at no cost to you) on qualifying purchases which enables us to keep creating amazing free content for you. Thanks!