While aging has many benefits, I think you'll agree that the ability to read without glasses isn't one of them. But thankfully, there are now so many stylish reading glasses you could choose from, that you might be tempted to treat yourself to a new pair, whether you need them or not. Take a look below at the most stylish reading glasses for women over 40…
What are reading glasses
First of all, it sounds like a really obvious question, but what exactly are reading glasses. As you'd expect, they come in handy when you need to read something up close. That may be a book, a magazine, or you may also need reading glasses for work on your computer or laptop. They're generally recommended for using for short periods of time.
Karen @karensfashiontipoftheday above opts for a classic pair of black glasses.
Check out this similar pair of reading glasses from Tory Burch.
What age do most people need reading glasses
Typically, most people will need reading glasses at some point in their life to compensate for loss of flexibility around the eyes. You may find you need reading glasses somewhere between the age of 40 and 60.
Some women combine their glasses so they can both read with them or use them for long-distrance. Many women have separate glasses for reading, computer use or long-distance.
Misja @misjabeijers above (read her style interview here) chooses a pair of on-trend round glasses. Here is a similar pair of glasses.
What to think about when choosing your reading glasses
So, what should you consider when you look for your next pair of reading glasses?
1.There's no excuse for a boring pair
Since it's generally not much that you need to have reading glasses just to read, you may as well have a bit of fun with them.
There are so many fun options for reading glasses so there is really no excuse to opt for a boring pair! Even if you wear glasses just for reading – meaning infrequently – don't compromise on a plain or dowdy pair. Go young and hip. Choose something colorful or patterned. Let your creativity shine through.
Jodie @jtouchofstyle above (read her style interview here) matches her glasses to her outfit. Check out this similar pair of transition glasses.
2.You can wear them alternatively
Of course, you can wear your reading glasses in the traditional way, but there are also some stylish, unusual ideas you could try. You could, for example, look out for reading glasses that look like necklaces, and wear them around your neck as a stylish accessory until you need to use them. Continue reading for some examples.
3.They don't have to be expensive
If you need glasses only for reading rather than for distance, you'll be easily able to find a pair of stylish yet inexpensive readers that work well. This means you can keep a pair wherever you need one, or experiment with different styles and colors.
4.You will want to wear them in public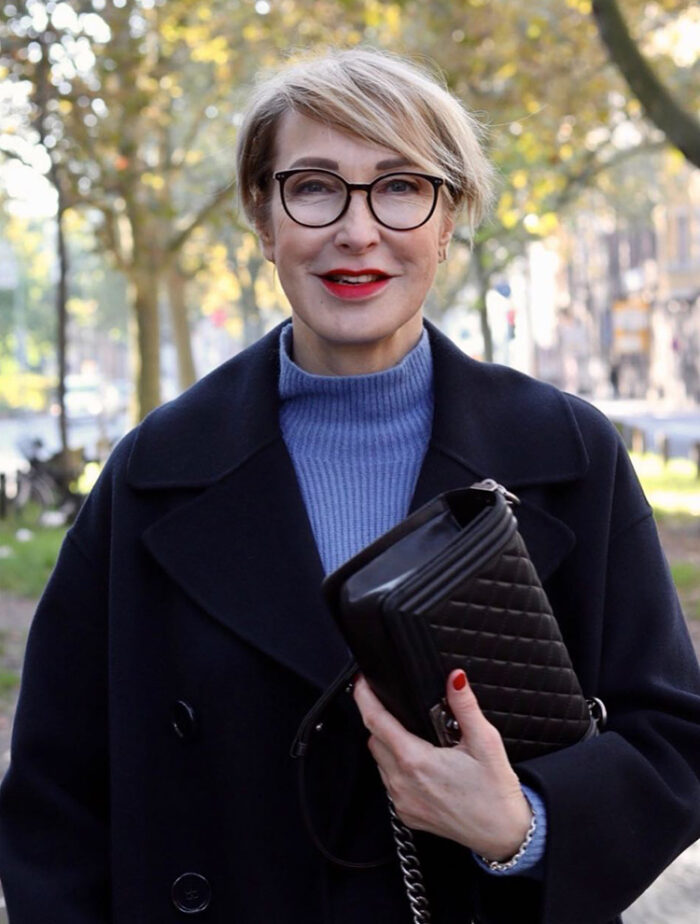 While you may be tempted to think it doesn't matter what your reading glasses look like, as you may be wearing them mostly at home, there are definitely occasions when you will want to wear them out – what if you need to read the menu at dinner for example? So, it's definitely worth choosing a nice pair, or different pairs for casual and formal days.
Claudia @glamupyourlifestyle above (read her style interview here) wears a pair of on-trend round glasses. Check out these similar glasses from EyeBuyDirect.
5.Your prescription
Obviously, one of the most important factors with any new glasses is whether they are properly suited to your eyesight. Unlike glasses that you wear all-day everyday, or because you are short-sighted, you can pick up reading glasses in different strengths anywhere from online to your local drugstore. If you aren't sure what strength you need, you will need a diopter chart which will give you a good guide.
6.What color to wear?
The color of your glasses can make a big difference to the overall look of your face and outfit. They can brighten up your face and create a more modern feel to your overall look.
To create different looks on different days, or match any of your outfits, you could choose a set of reading glasses like the 5-pack of glasses from Amazon (below). Reviewers say they are well-made, comfortable and come in a good range of colors.
Kerecsen Patterned Reading Glasses
7. What you are using them for?
Again, a potentially obvious question. But what are you really using your reading glasses for? Is it because you want to read or because you are using a computer. If it's the later, you could look out for blue-light blocking glasses to lessen the glare of your screen. Nikki @midlifechic above chooses round glasses. Here is a similar pair of reading glasses.
Aimee Kestenberg Stanton 55mm Square Blue Light Blocking Glasses
8. Your own individual style
Just because they are practical, that doesn't mean your reading glasses can't also be stylish. When looking for the most stylish reading glasses for women, choose a pair to suit your style personality and to add a little edge to your outfit. Dayle @artfulcitystyle above (read her style interview here) opts for a pair of multicolor glasses that suit her vibrant style. Here are round reading glasses you can get from Amazon.
9. Do you want multiple pairs?
If you use your reading glasses frequently, you have a habit of losing them, or you want to make sure you have a pair to go with all your favorite outfits, maybe you might want to buy a number of reading glasses.
The pack of glasses (below) are blue-light blocking so would be ideal for working on your laptop. Reviewers say they are comfortable, stylish and sturdy.
Gaoye 5-Pack Blue Light Blocking Reading Glasses
Where to buy stylish reading glasses?
So where can you buy the most stylish reading glasses for women? Well, the good news is there are plenty of options if you ever find yourself without a pair, or you just want to update your look.
Amazon is a good option to try as you can get packs of reading glasses in different colors and styles (more of those later). You could also look at Target, Etsy, Walmart and Anthropologie, EyeBuyDirect, Warby Parker, Peepers, Zenni, and Nordstrom.
Catherine @notlamb above shows off a pair of glasses that are flattering, since these have a slight catseye style and go up at the corners, that helps to draw the eye upwards (read her style interview here). Check out this similar pair of tortoise glasses from Warby Parker.
Let's look at some of the different reading glasses options online.
target
You can get pretty much anything you need from Target, whether you're looking for fashion or furniture. It's also a great place to look for glasses. You could choose a classic style like the rectangle reading glasses below or opt for a brigh color.
ICU Eyewear Screen Vision Rectangle Reading Glasses
etsy
Etsy is a great place to shop if you're looking for something a little out of the ordinary that you know everyone else won't be wearing. They have all sorts of interesting reading glasses to choose from in on-trend shapes and shades. I also like looking at Etsy for contemporary jewelry.
NYFifthAvenue Premium Reading Glasses
walmart
You can pick up everything from your groceries to your garden furniture at Walmart, and while you're doing your shopping, you can pick up a spare pair of reading glasses.
Equate Lily Rectangle Reading Glasses
anthroplogie
Anthropologie is a good go-to for stylish clothes that you won't see everyone else wearing, and the same is true for their glasses selection. You'll find on-trend square and flattering catseye reading glasses like the ones below.
Anthropologie Oval Reading Glasses
Eyebuydirect
An online glasses superstore, you can find any kind of glasses you want at EyeBuyDirect, whether you're looking for reading glasses, glasses for distance or sunglasses.
EyeBuyDirect Instant Crush Round Eyeglasses
warby parker
Warby Parker is another specialist online glasses store that should have any type of frames you need. You can even choose five frames and try them on at home to see which ones suit you best.
Warby Parker Camila Eyeglasses
peepers
A family company, Peepers began with the aim of finding upbeat eyewear. There's a big choice of blue-light blocking readers that are ideal if you're working or looking at a screen.
Peepers Take It Easy Blue Light Eyeglasses
zenni
If you admire the style of Iris Apfel (you can read her style profile interview here), then Zenni is definitely the place to look for your readers. They have a special Iris Apfel collection which was designed by the style icon to celebrate her 100th year.
Zenni What's New Pussycat Eyeglasses
THE MOST STYLISH READING GLASSES for women TO CHOOSE
Let's take a look at some more of the most stylish, recommended reading glasses you can opt for, including affordable options from Amazon, and reading glasses that look like a necklace. Lisa @madamehall above (read her style interview here) chooses a pair of catseye glasses and adds a pop of color with her red lipstick.
Check out these similar studded eye glasses.
Four pack reading glasses
If you want a multi-pack of glasses, the set of 4 glasses below come in a classic black, vibrant red, pink and print. Wearers say they are lightweight, durable and stylish.
JAWSOCK 4 Pack Blue Light Blocking Reading Glasses
Folding reading glasses
If you want to make sure you always have a pair of reading glasses, a foldable option could be a good idea (even as a spare pair) as you can pop them in your bag or your pocket.
Success Eyewear 2 Pair Compact Folding Reading Glasses
Round reading glasses
Reading glasses are typically narrower in style than your regular glasses. But, you could also think about a pair of round glasses for an on-trend look. The 5-pack of glasses (below) come in a good choice of colors so you should find options to suit your coloring and your style.
NORPERWIS 5 Pairs Reading Glasses
Rimless reading glasses
If you need reading glasses, but you don't want it to be very obvious that you are wearing them, or you don't want them to detract from other elements of your look, you could opt for a pair of rimless glasses. Reviewers like the 3-pack of glasses (below) as they are narrow enough to allow you to look up from your reading and see longer distance over the lenses.
FEIVSN 3-Pack Rimless Reading Glasses
Striped reading glasses
If you can't decide what color you would like, you could always choose all the colors! A striped pair of readers will add an impact to any outfit. Wearers say the striped glasses (below) are light, comfortable and have accurate magnification.
SOCTICK 4 Pairs Reading Glasses
Print reading glasses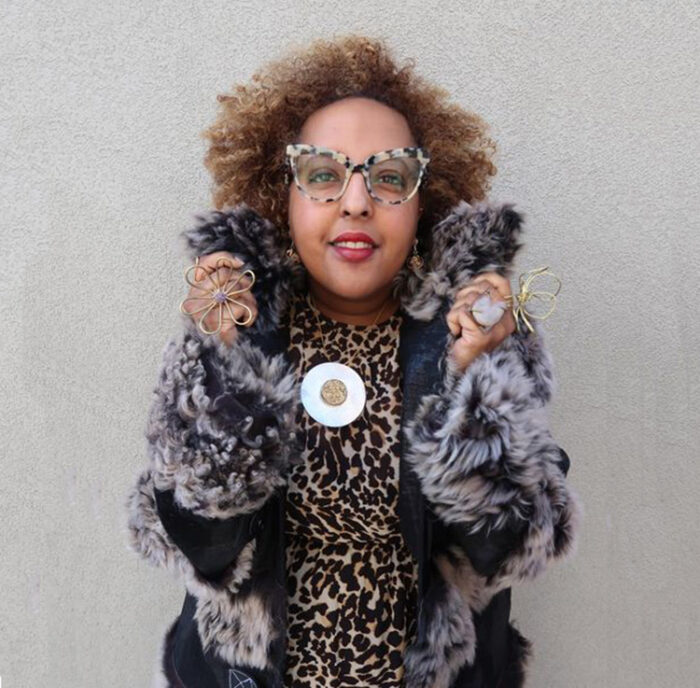 As well as thinking about block color glasses, you could also add interest to your outfit with a pair of print glasses like those worn by Lydia @birabiro above (read her style interview here). Here is a similar pair of cat eye glasses.
EYEGUARD 4 Pack Reading Glasses
Light blocking reading glasses
When looking at your phone, tablet, laptop or the television, a pair of light-blocking glasses will help to ease eye strain. The 2-pack of glasses below comes in a good choice of colors, including the neutral shades below which are both very on-trend.
livho 2 Pack Blue Light Blocking Glasses
Kate spade reading glasses
I'm a big fan of red glasses for adding color to your face. You could try the Kate Spade glasses (below) which also help filter out blue light.
Kate Spade New York Misa 49mm Blue Light Blocking Reading Glasses
Cat eye reading glasses
Choosing a pair of catseye glasses can help draw the eye upwards which can help to give the illusion of a more contoured face. Given that we all face the effects of gravity as we age, a catseye style is often very flattering for women over 40.
Kate Spade New York Emilia 52mm Blue Light Blocking Reading Glasses
Green reading glasses
Another funky option for you, the green glasses (below) will add some color to your look.
Quay Australia Blueprint Blue Light Blocking Glasses
magnetic glasses
If you frequently take your reading glasses off and on, you might want to make sure you have them with you at all times. The design of the reading glasses below means you can unclip them and hang them round your neck, then using the magnets to fasten them when you want to put them back on your nose.
Reading glasses that look like jewelry
Perhaps you just need your reading glasses for reading a few words on a page, like a restaurant menu. In that case, a pair of readers that you can use casually, simply holding them up when you need them, could be best for you. When you're not using them, they look like a stylish necklace.
You can take a look at more reading glasses that look like necklaces at the Neckglasses store.
Neckglasses Catherine Pendant Glasses
Here is another option from LUFF below if you prefer a more simple design to wear around your neck.
LUFF Necklace Reading Glasses Portable Hanging Neck Type
Cases for your reading glasses
To give your reading glasses longevity, you'll need to make sure you protect them from any breakages. Below, you'll find some cases that will fit your chosen pair.
hard shell case
A hard shell case will offer the most protection for your glasses. Reviewers say the magnetic closure case (below) is solidly made.
Ron's Optical Hard Shell Magnetic Closure Eyeglass Case
clamshell cases
If you have several pairs of reading glasses, you'll need several cases.
Raylove 3 Piece Clamshell Eyeglass Cases
patterned cases
The cases (below) come in a huge range of colors and patterns so you should find a set you like.
AVOedge Patterned Hard Magnetic Closure Glasses Cases
Reading glasses holder
Perhaps you don't want a case to take out with you, but to pop on your bedside table or your desk. Reviewers say the glasses holder (below) which comes in a good choice of colors and prints to suit your decor, is both stylish and functional.
Fintie Plush Lined Eyeglasses Holder with Magnetic Base
Reading glasses storage organizer
Do you have lots of pairs of glasses and sunglasses? If you have a collection of stylish reading glasses for women, you may want an organizer like one of the options below to make sure they are easily at hand when you need them.
autopark
AUTOARK Leather 12 Piece Eyeglasses Storage
mdesign
mDesign Stackable Storage Organizer Box Holder for Glasses
Reading glasses accessories
To keep your glasses to hand, you could choose a chain like one of the choices below, so you can wear them around your neck.
Reading glasses chains
AllenCOCO 18K Gold Plated Eyeglass Chain Strap Holder
Reading glasses straps
Do you need reading glasses? What style and color do you usually wear? What do you think the most stylish reading glasses for women are? Let me know in the comments below.
Continue reading:
shop more stylish reading glasses for women here:
Like this article on stylish reading glasses for women over 40? Share it on Pinterest
Feature image by Jodie @jtouchofstyle
Want to get more articles from 40+style in your inbox, subscribe here.
You can also connect with 40+style on Facebook, Instagram or Pinterest.
Support 40+style by using the links in our articles to shop. As an associate for Amazon and many other brands, we receive a small commission (at no cost to you) on qualifying purchases which enables us to keep creating amazing free content for you. Thanks!