I came across Claudia's blog a while ago and was immediately attracted to her fabulous casual chic style and her great haircut. I have been following her ever since. Time to get to know her a little better!
Can you tell us a little bit more about yourself?
I'm 51 years old, a single mother of one daughter and I work for a logistics company. Apart from blogging I also love to do sports. It is very important to me to stay fit in order to enjoy a better quality of life.
Can you tell us a bit more about your blog Glam Up Your Lifestyle and why you created it?
My blog " Glam up your Lifestyle " was created about 3 years ago. My daughter gave me the idea, since I have always had a passion for fashion and beauty. She assisted me in the technical aspect and got me started.
With my blog I want to reach women my age and inspire them to embrace fashion that will bring out their personality while still being age appropriate.
How would you describe your own style?
I love stylish chic and love to mix up basic items with designer pieces. I keep my accessories to a minimum. I want to be noticed first, not my outfit.
The quality of the pieces I choose is also very important to me.
I call my style " Easy Chic".
Where do you live and how does that influence your style?
I live in Germany, in an area around Frankfurt. But I don't believe it influences my style.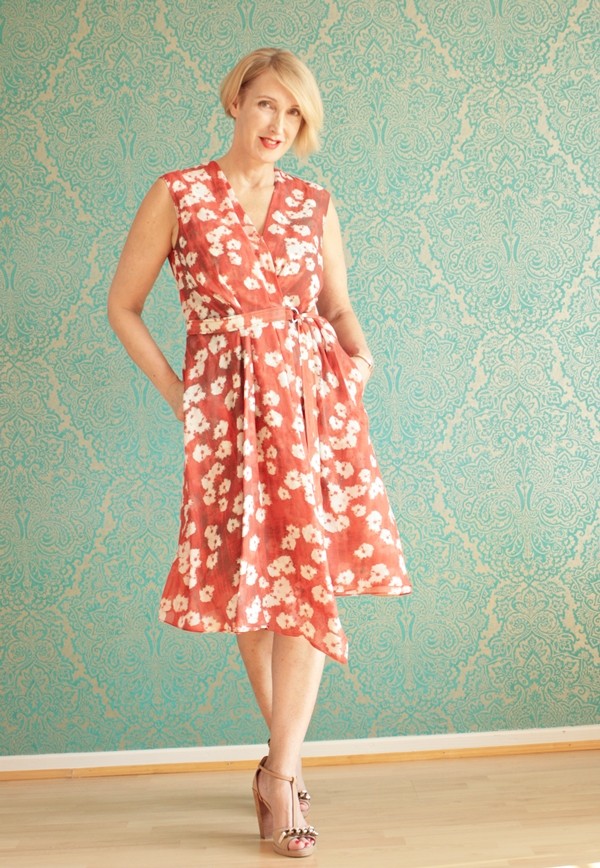 Do you feel you have a signature style?
I prefer a clean chic, and I believe those words describe my personal style.
What inspires your outfit choices the most?
My inspiration comes from other blogs, magazines and from the street. I pick up small element that match my personal style.
Has your style changed at all after turning 40?
By now I know what works for me and what does not. Still, every now and then I pick the wrong piece from a trend that appeals and I would love to wear. In my youth I followed most fashion trends, but today I only pick those trends that work for me and my body.
Do you believe in dressing 'age appropriately' and what does it mean to you?
A lot of people say you don't have to be age appropriate. I think you do. A woman over 40 should not be wearing crop tops or mini skirts as wide as a belt.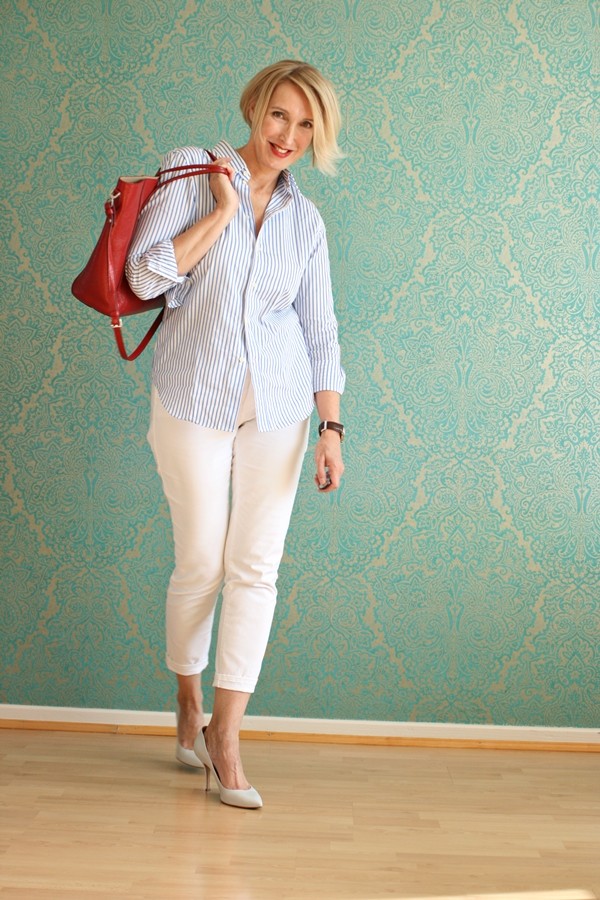 Would you say that at this stage of your life you are now more, or less interested in fashion, style and the way you look?
I have always enjoyed fashion and have always taken good care of myself. It's passionate hobby of mine. That will never change.
Why is the way you look important to you?
My fashion mirrors the mood I'm in.
Do you follow trends? And if yes, which trends excite you at the moment?
I like to infuse trends with my timeless pieces. Right now I'm in love with my ankle booties and can't wait to wear them in Autumn.
Do you have any fashion and style tips for women over 40?
Wear what makes you feel good, do it for you and no one else.
What are your plans for your blog and how do you see it develop over the coming years?
I hope that brand labels are less skeptical and more accepting to me and my fellow bloggers.
Thanks Claudia for your vision on style and fashion. Now, be sure to check out Claudia's blog: Glam Up YourLifestyle.
Which outfit of Claudia is your favorite?

Like This Post? Share It On Pinterest!
Want to get more articles from 40+style in your inbox, subscribe here.
You can also connect with 40+style on Facebook, Instagram or Pinterest.
Support 40+style by using the links in our articles to shop. As an associate for Amazon and many other brands, we receive a small commission (at no cost to you) on qualifying purchases which enables us to keep creating amazing free content for you. Thanks!