Women love shoes. That is a fact!
Even though I have always been more focussed on clothes, the last few years that focus has shifted towards shoes.
It now often happens that I will start with shoes when I dress and built an outfit around them.
That was certainly the case with this outfit which started with these fabulous booties.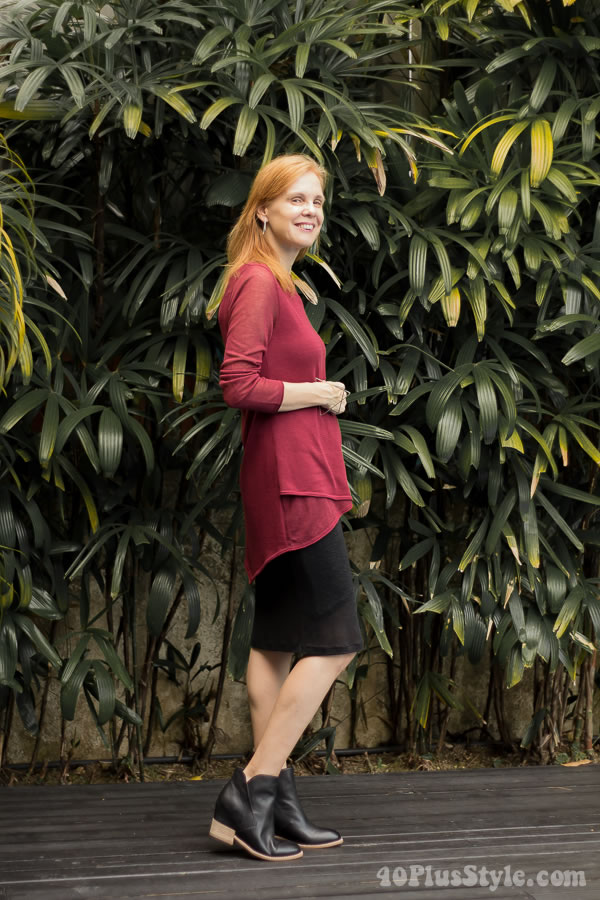 As I have grown older though, I have also become more sensible.
Shoes need to look nice, absolutely. But they also need to fit well and make sure you can walk in them. It's always tough to find that balance between shoes that look modern and hip while at the same time find shoes that are comfortable.
I already introduced you to Antelope shoes a while ago. This brand makes unique shoes that are also comfortable AND very clever as you soon will see.
When they invited me to select a pair from their new collection I was immediately drawn to these black booties.
I absolutely love booties and have worn them quite a bit. Despite living in hot Singapore. (I think I would wear them all the time if I lived in a colder climate).
I love how modern booties look with skirts and dresses and they are also perfect when wearing with capris and cropped pants or leggings as in the example below.
Booties that trick the eye
Do you notice something different with these booties?
It's probably tough to see from these pictures but you may notice that my legs look pretty long here, despite the heel of the booties being a modest 0.7″. That is because inside the shoes is a wedge sole hidden within, giving you an additional three inches!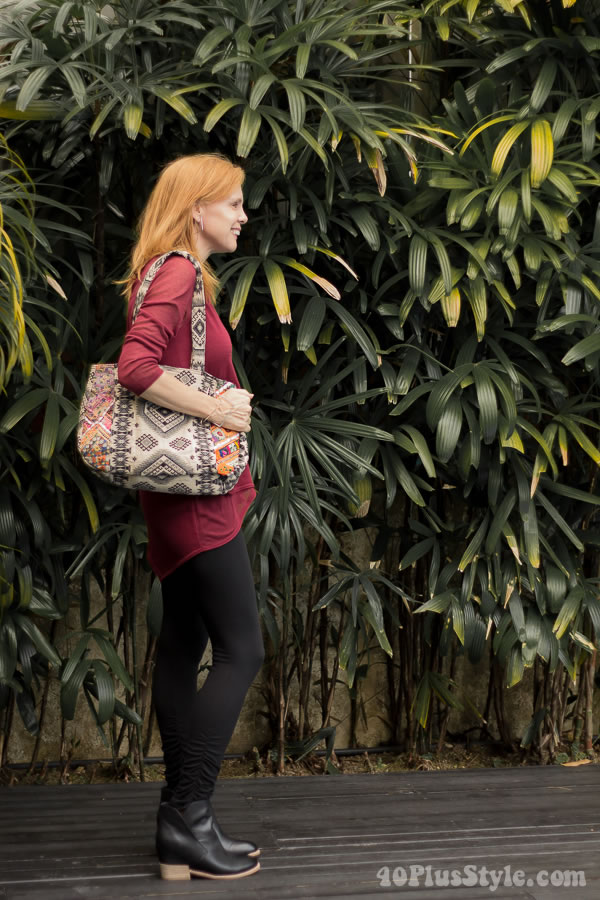 What I like about that is that you don't get the look of high heels but you have still added 3.7" to your height which makes you look long and lean. You are doing it in secret! This gives your overall look a more casual chic and effortless feel.
Despite the extra height, the booties are still very comfortable. I can't test them out for long walks here but I could easily shop in these. The inside is soft and padded and covered in leather.
Full outfit details
Black ankle booties: Antelope
Perfect 10 tunic: Stella Carakasi
Skirt: Pablo Nevada (old)
Ready to wear leggings: Stella Carakasi
Win your own pair of Antelope shoes!
Antelope has been so kind to offer all 40+Style readers a chance to a win a FREE pair of shoes of your choice from Antleope's new fall-winter 2015 collection.
All you have to do is visit Antelope with this link or one of the other links in the article and enter your email address in the pop-up window that appears to win. This will also sign you up for the Antelope newsletter.
Antelope will draw a random email from all entries and the winner will be emailed and announced on this blog next week.
If you like to shop right now and get yourself a fabulous pair of shoes or booties straight away, everyone will receive the gift of $30 off your new pair. Just visit Antelope Shoes and see the discount code in the popup that appears. When choosing your size, my experience is that Antelope shoes size comfortably. When you are in between sizes, choose a size down.
So head on down to Antelope and enter to win! The contest is open worldwide and open until Tuesday 17 November.
Which shoes would you love to win?

This post was brought to you in collaboration with Antelope
Linked up with Visible Monday
Related posts: