When it comes to your style, do you want to add a little something extra to your everyday looks – a little bit of an edge maybe? Below you'll find plenty of ideas to get an edgy style while still look like you?
So, what exactly is edgy?
First of all, exactly what defines an edgy style? What is edgy? Well, it's really about being a little bolder with your look. However, what is edgy to one person may not be to another, so it's very much a case of building on your personal style.
Let's take a look at some ideas…
HOW TO get an edgy style
If you want to take a few risks with your style or be a little more daring with your looks then there are some easy ways you can add an edge.
add a tough material
Adding a touch of leather can be a quick way to add a little edginess to your outfit. You could add a leather jacket or choose leather pants or a leather skirt. While black is traditionally thought of as an "edgy" color, you could choose a softer shade to work for warmer weather and be more flattering to your skintone.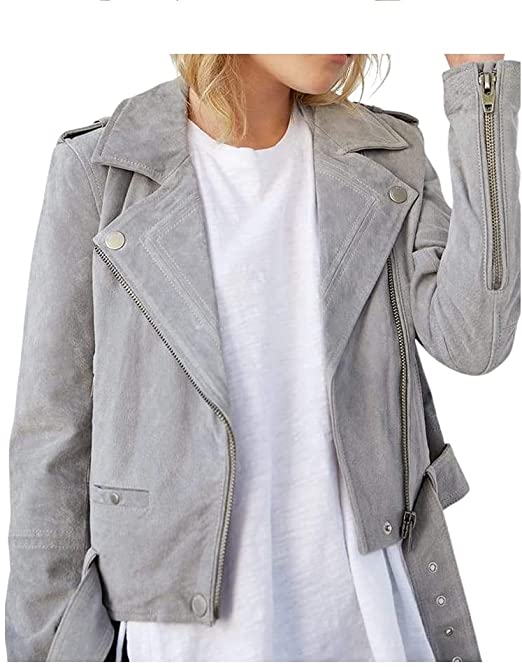 BLANKNYC Cropped Suede Leather Motorcycle Jacket
Choose a quirky style of shoes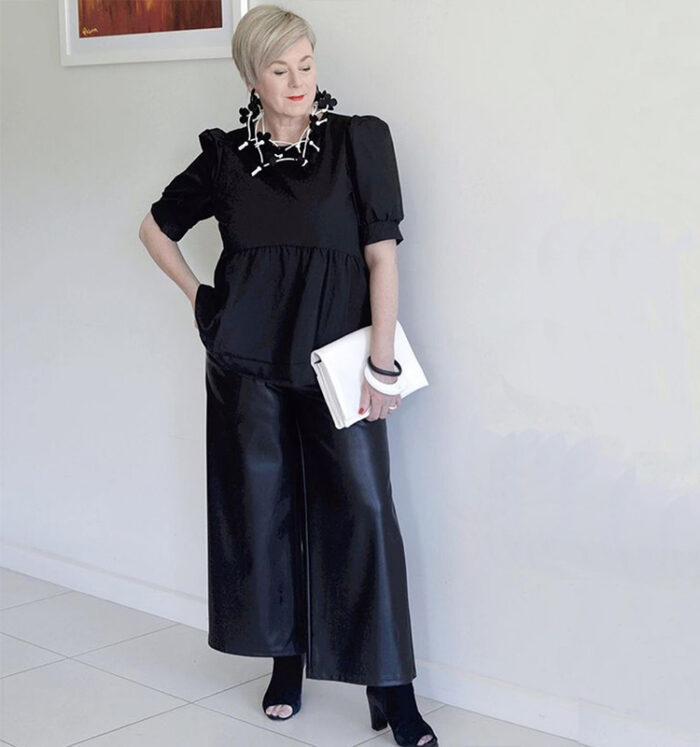 Changing up your shoes or accessories is the easiest way to create different looks with your existing outfits. Deborah @deborahgates_ above (read her style interview here) wears an on-trend pair of peep-toe booties.
Looking out for shoes that are kind of a hybrid between shoes and boots can create an edgy look.
Check out this similar peplum top (another option here), wide leg pants, open toe booties, clutch and statement necklace.
The sandals (below) are a little different from the norm, and would look good worn with your dresses, skirts and ankle pants.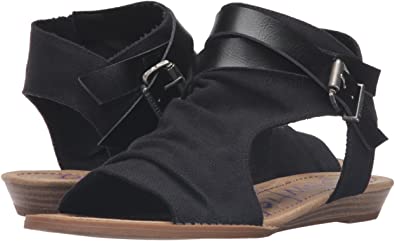 Add an accessory you don't usually wear
If you want to push yourself out of your comfort zone, then think about adding something you don't usually wear day-to-day to your outfit. If you don't usually wear a hat, then why not try one? A fedora style will add a little menswear inspiration to your look.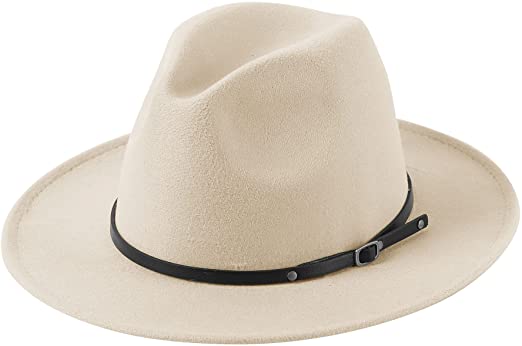 Stack your jewelry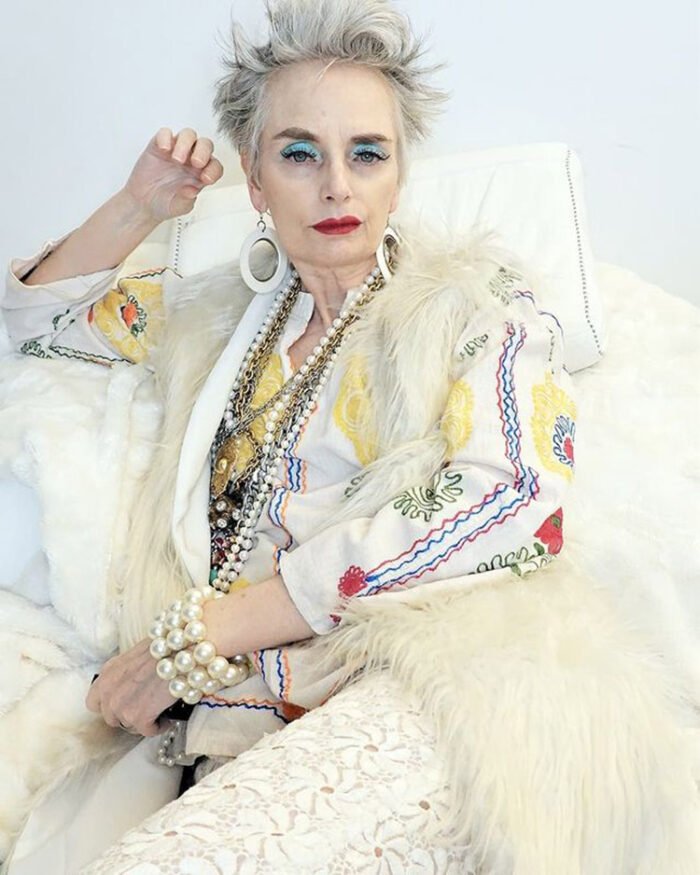 As well as opting to add an accessory that may be a little outside your comfort zone, you could try wearing your jewelry in a different way. Layering your necklaces or rings is very on trend right now.
Mel @bagandaberet above (read her style interview here) shows how you can take something very classic and traditional – in this case pearls – and give it an edge by wearing it in a modern way.
Get her look with this similar blouse, stacked pearl bracelet, necklace and earrings.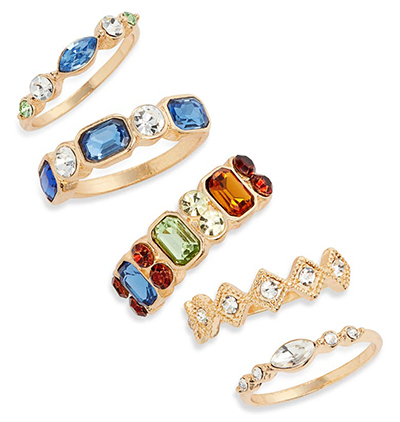 BP. Set of 5 Colorful Crystal Rings
work with angles (asymmetry)
I love adding asymmetry to my outfits as I feel it adds a modern touch while also being very flattering. Choose an asymmetric top to wear over your leggings. or opt for a skirt with an asymmetric hemline.

Also take a look at how to wear asymmetric clothing.
Play with proportions
Playing with the proportions of your outfit can add drama to your outfit. You could add some volume or think about layering a shorter jacket over a longer top.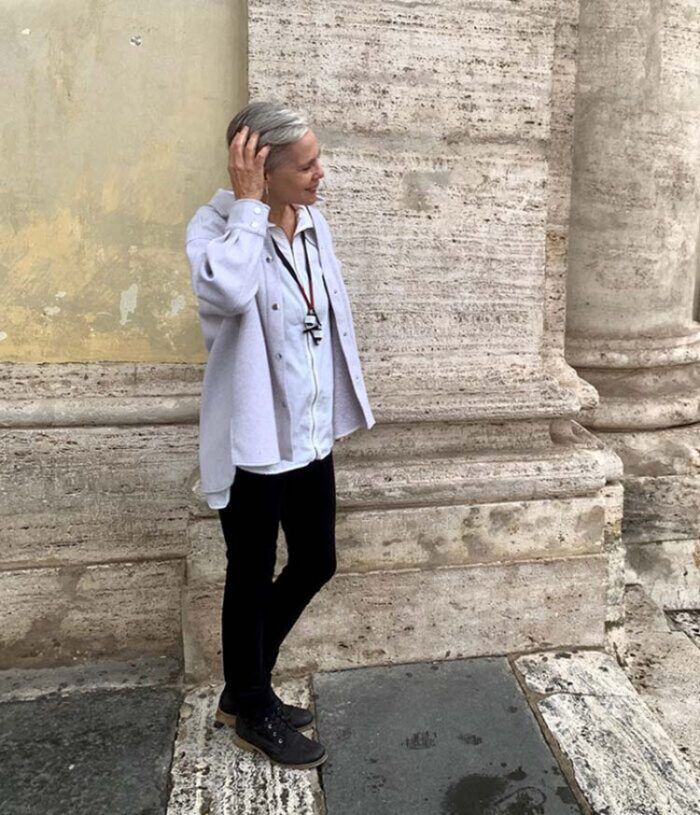 Above I am wearing the Stella Carakasi Downtown Shirt. Check out this similar shacket, jeans, boots and necklace.
Below, you can see a high-low shirt you could try over your slim jeans or pants.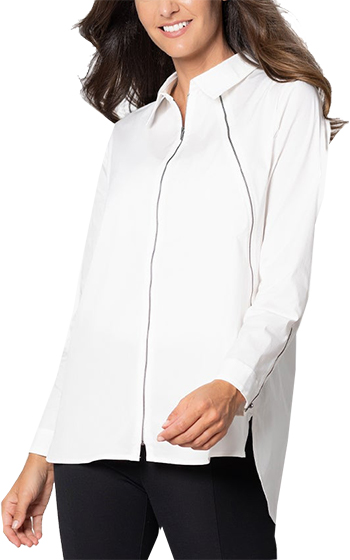 Stella Carakasi Downtown Shirt
Don't go for the obvious (mix formal and informal)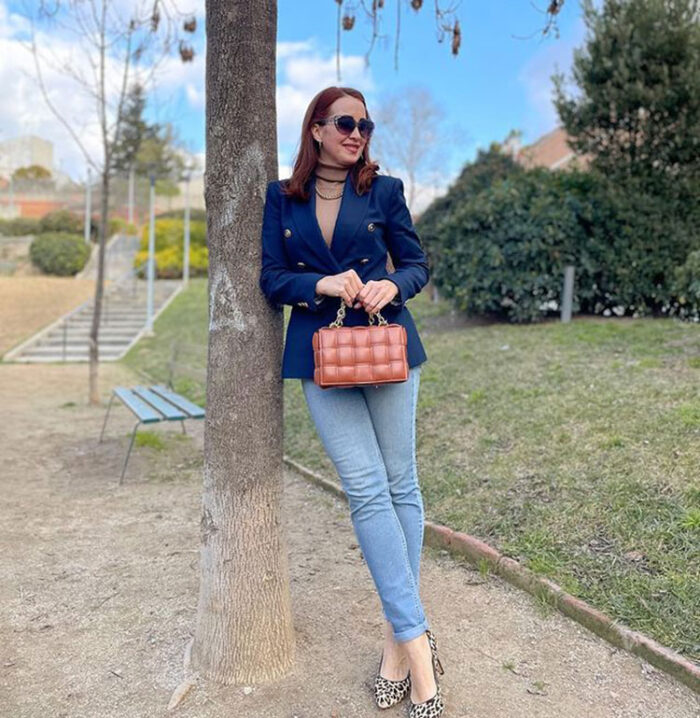 If you think about women who have a style you admire, it's likely that their style works because it isn't obvious, and it isn't top-to-toe in one particular style or theme.
By mixing formal elements with more casual pieces, you can definitely add an adge to your look.
Patricia @madamechicbcn (read her style interview here) mixes a casual pair of jeans with her more formal blazer. She also adds a pop of color with her bag and a pattern with her shoes. Her outfit comes together in a way which is unexpected yet coherent.
Steal her look with this similar turtleneck top, blazer, jeans, pumps, handbag (another option here) and sunglasses.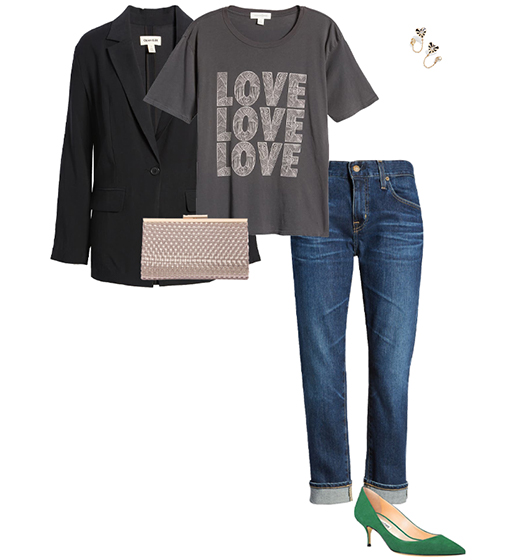 Open Edit Blazer – Treasure & Bond Love Graphic Tee – AG Ex-Boyfriend Relaxed Slim Jeans – JOY IN LOVE Kitten Heel Pump – Nina Lena Woven Frame Clutch – BaubleBar Kareena Heart Chain Drop Earrings
Look for details
When you think about an edgy style, it's all about the details. Look out for details that add a little urban or rock chick flair to your outfit, such as subtle studs and zips.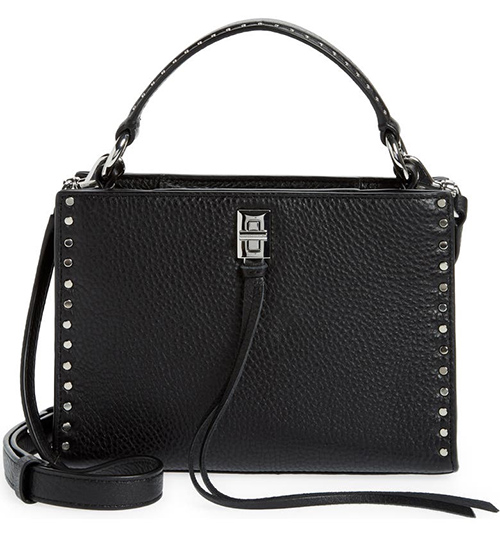 Rebecca Minkoff Darren Small Zip Top Handle Leather Satchel
Try shopping a different brand
If you always shop in one particular store, then just by adding one or two items of clothing, footwear or accessories from a different store can make a big difference. AllSaints could be a good store to browse as they tend to have edgier pieces that have an urban flair while still being flattering.

AllSaints Tate Aurora Maxi Dress
Change up your hair and make-up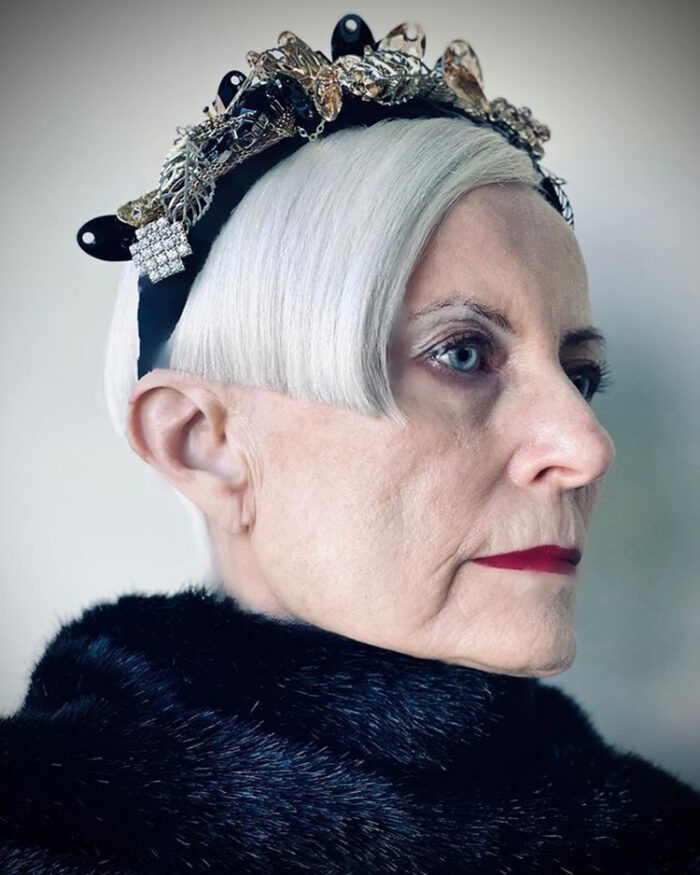 A hair style in particular, or a refresh of your make-up can make a big difference to your overall style. When was the last time you changed your hair style? If it's been a few years, perhaps it's time to have a chat with your hairdresser. Maybe going shorter or embracing your natural gray could add an edge to your style. It could be something as simple as opting for a modern blunt cut rather than layers, for example?
You could also rethink your make-up. A bold lip shade can make a big impact to your everyday look or perhaps you could opt for a thicker brow to frame your face.
Judith @stylecrone above wears her natural gray hair in a modern, short, blunt style and adds a pop of red with her lipstick. She ups the drama of her outfit with an on-trend headband. (read her style interview and beauty interview)
For more ideas on hairstyles, check our article on hairstyles for women over 40.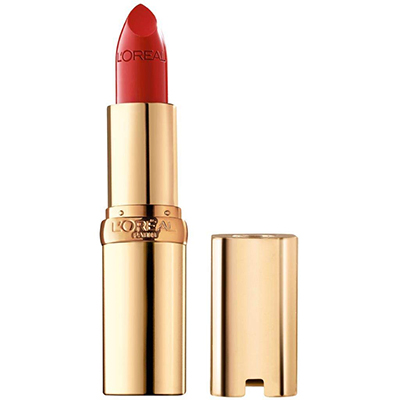 L'Oreal Paris Colour Riche Original Satin Lipstick 125 Maison Marais
Take a look at how to transition to gray and the best make-up for older women for more inspiration.
Must have items for an edgy style
Let's move onto looking at of the essentials you could add to your closet to put together your edgy outfits.
A well-fitting t-shirt
Even the simplest of outfits can have an edgy flair. A jeans and t-shirt look can be elevated by choosing a t-shirt with some asymmetry or ruching.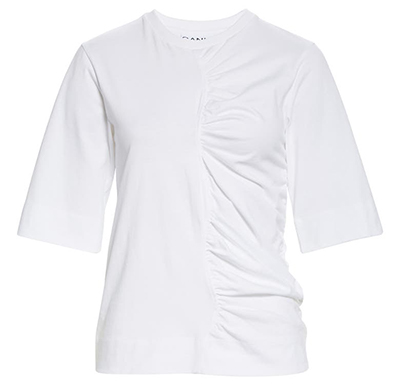 Ganni Ruched Organic Cotton T-Shirt
A moto jacket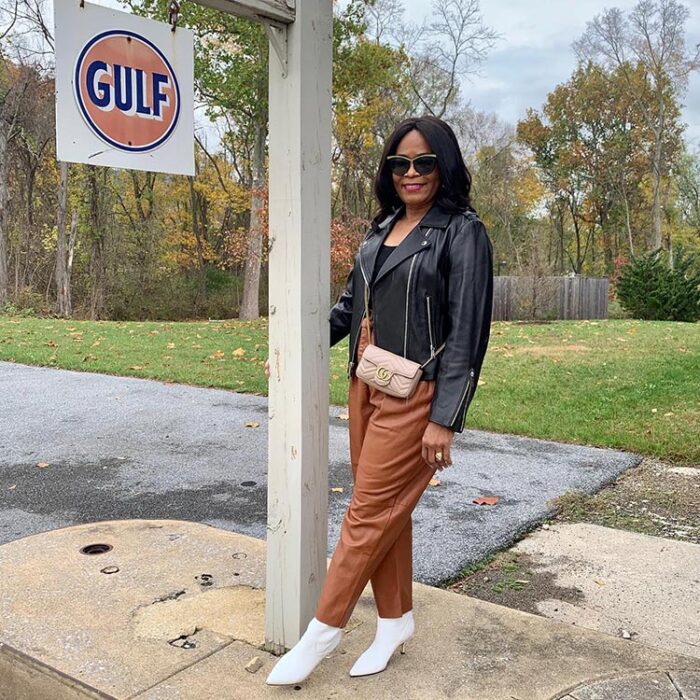 It's an obvious choice to add to your edgy closet, but that's because it works. You can add a moto jacket to anything, from your dresses and skirts to pants and jeans and you can wear for any season. Eugenia @theeageofgrace (read her style interview here) chooses a moto jacket with her leather pants and white boots.
For more tips check our article on how to wear a moto jacket.
Recreate her outfit with this similar moto jacket, leather pants, booties, crossbody bag and sunglasses.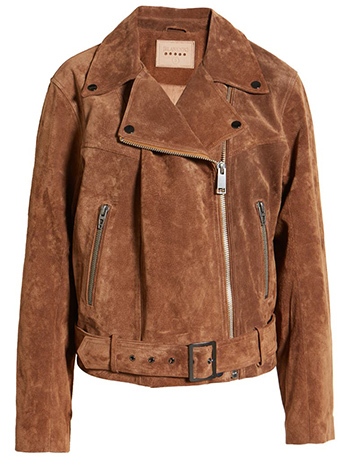 A great pair of jeans for edgy style
A well-fitting pair of jeans is a wardrobe staple that is essential no matter what your style personality. Choose a pair that flatters your figure. A good pair of bootcut jeans or a wide leg style is on-trend at the moment. Check our article on the best jeans for women over 40 for our recommendations.

Wit & Wisdom Ab-Solution Itty Bitty Bootcut Jeans
Comfy stylish shoes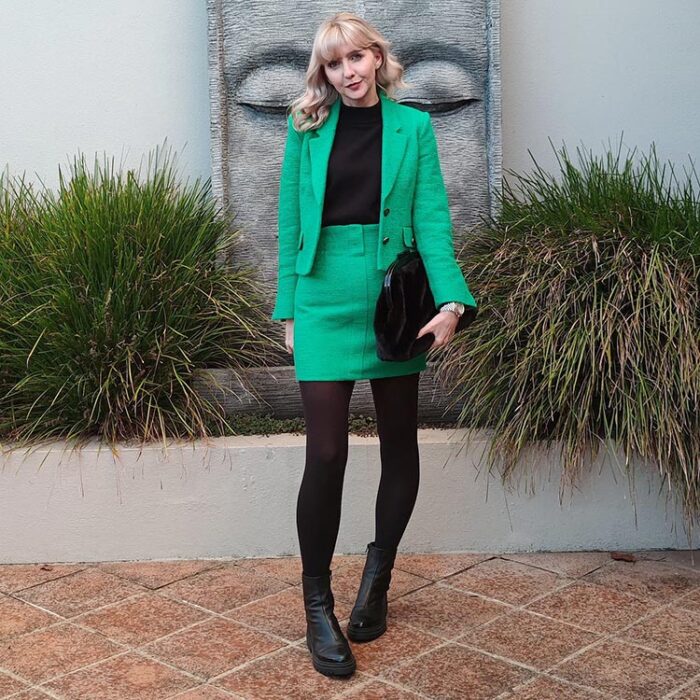 The great thing about edgy style is that many of the shoe styles you can choose are not only stylish but also super comfortable. You could think about a great pair of sneakers or ankle booties or a menswear inspired pair of loafers or brogues.
Melissa @melissabultburns above chooses a skirt suit and adds a pair of ankle booties.
Recreate her outfit with this similar blazer, skirt, tights, boots and purse.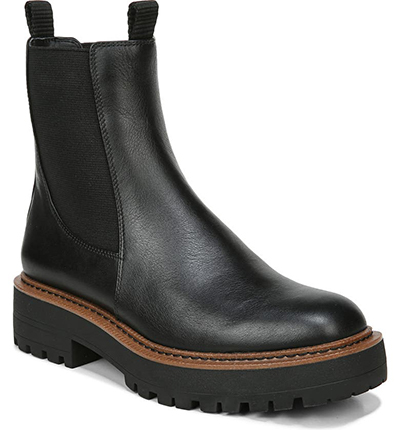 Sam Edelman Laguna Chelsea Boot
Warm tights
I'm adding a pair of opaque tights to the list because they can help you be able to get the most from the items in your closet. You can wear under your summer dresses with booties to elongate the time you wear your seasonal clothes.
For more tips check our article on how to wear tights.

No Nonsense Opaque Control Top Tights
Belts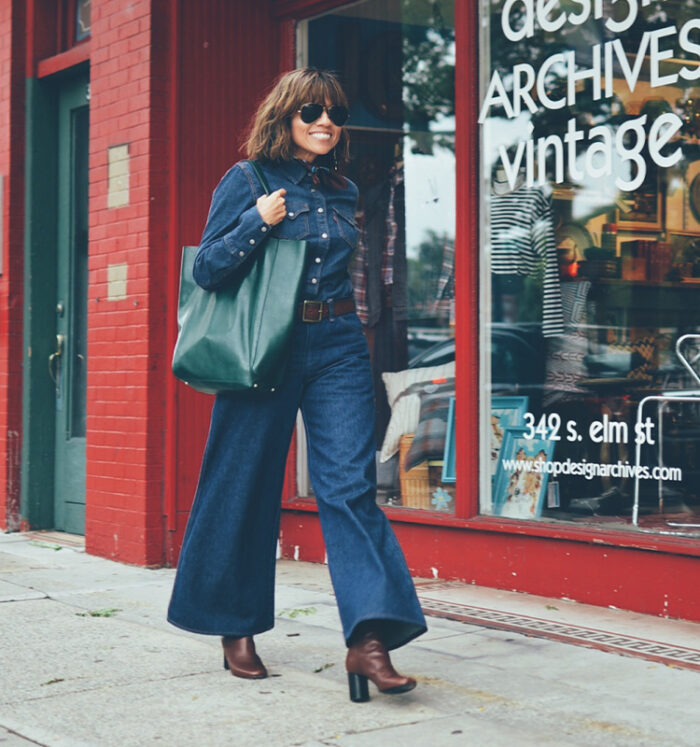 Okay, a belt has a practical purpose if you need one to keep up your pants. But a belt can also be incredible useful to change the look of your outfits. You can belt your dress or belt over a cardigan or coat to create different silhouettes.Carelia @carelia_medich (read her style interview here) opts for a 1970s vibe with her flares, boots and belt.
For more styling tips check our article on how to wear a belt.
Steal her look with this similar denim top, wide leg pants, booties, belt, tote and sunglasses.

Nordstrom Wishbone Pullback Leather Belt
Contemporary Jewelry
Treating yourself to a piece of modern jewelry can add an updated flair to your existing outfits. Try a statement necklace or a necklace that is already layered for you.
Here are some recommendations for contemporary jewelry from Etsy.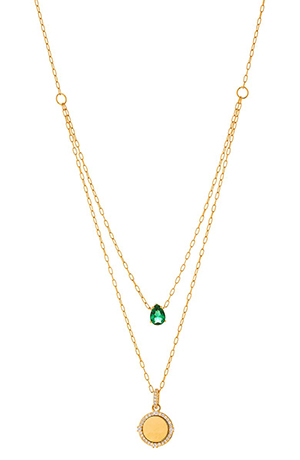 Nadri Social Lights Layered Pendant Necklace
sunglasses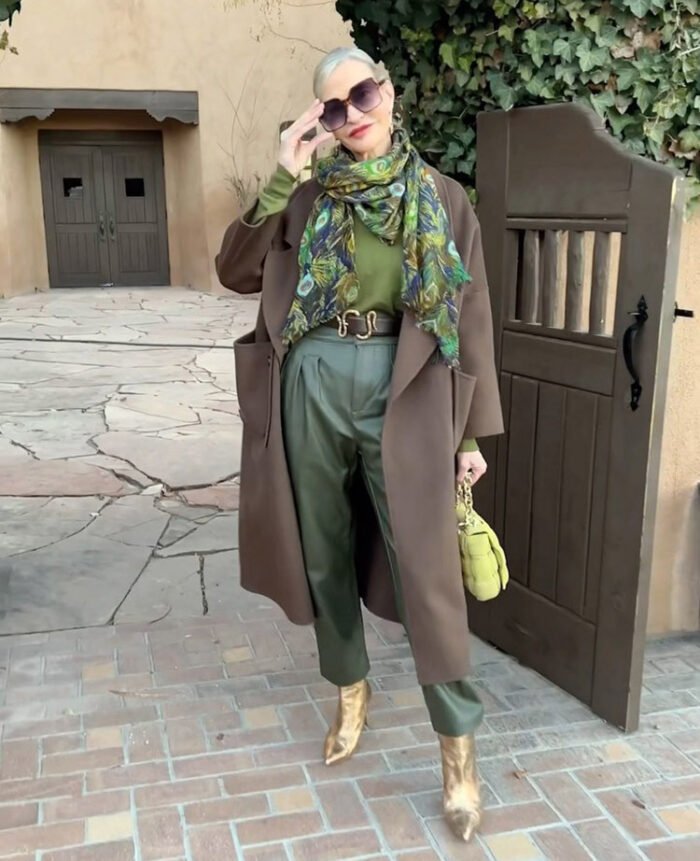 There's no doubt that sunglasses can add an element of 'cool' to your looks as well, of course, as providing vital protection for your eyes and the skin around them. Jamie @moreturquoise above (read her style interview here) takes elements of a classic wardrobe but then adds edge with her sunglasses, her gold boots and the on-trend shape of her pants.
Check out this similar long sleeve top, coat, pants, booties, handbag (another option here), belt, scarf and sunglasses.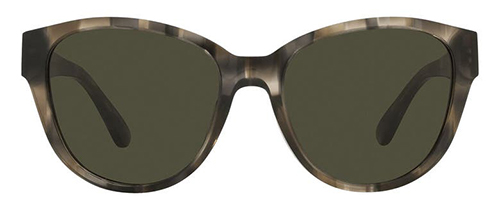 Tory Burch 54mm Cat Eye Sunglasses
A tassel or stud handbag
Choose a different style of handbag to add an edge. Look out for details like zips, studs and tassels.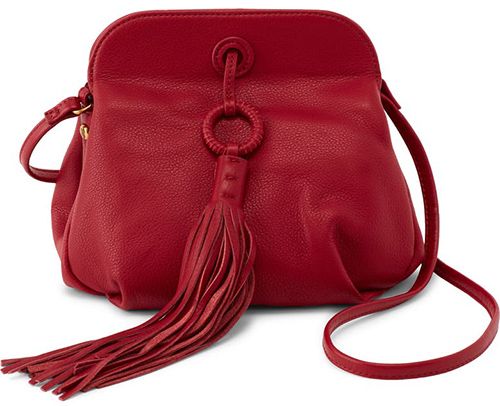 HOBO Birdy Tassel Leather Crossbody Bag
Your favorite style of hat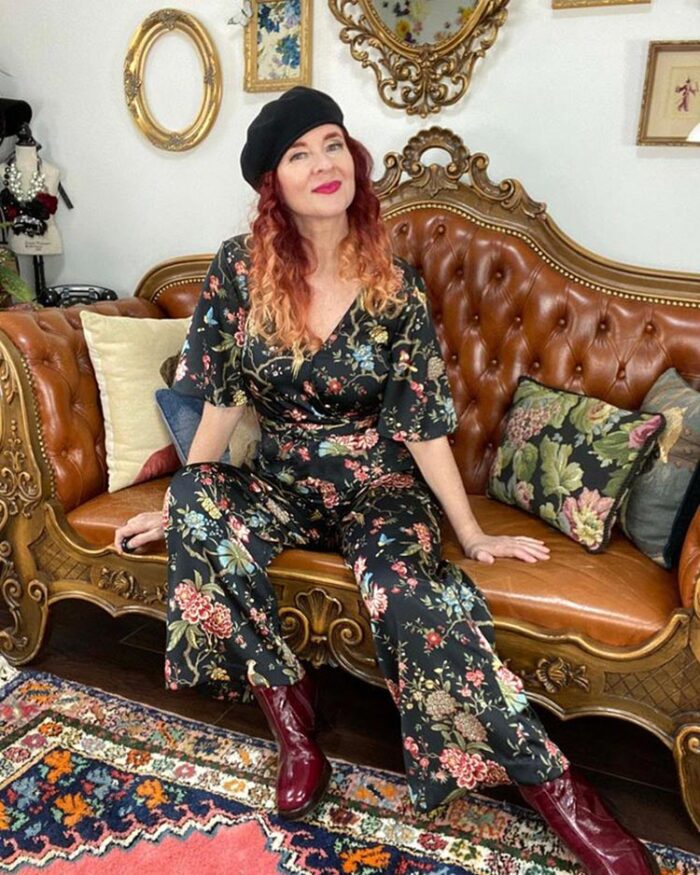 Finishing off your outfit with a hat can create drama as well as winning you lots of compliments. Suzanne @suzannecarillo above (read here style interview here) adds a beret to her floral jumpsuit.
For more tips on wearing hats, check our article on how to wear a hat.
Recreate her outfit with this similar jumpsuit (another option here), boots and beret.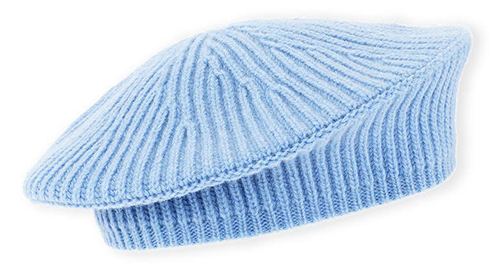 GANNI Recycled Wool Blend Beret
How do you think you could add an extra edge to your outfit? Or how do you usually create an edgy style?
shop some of the edgy style items above here:

Continue reading:
Like this article on edgy style? Share it on Pinterest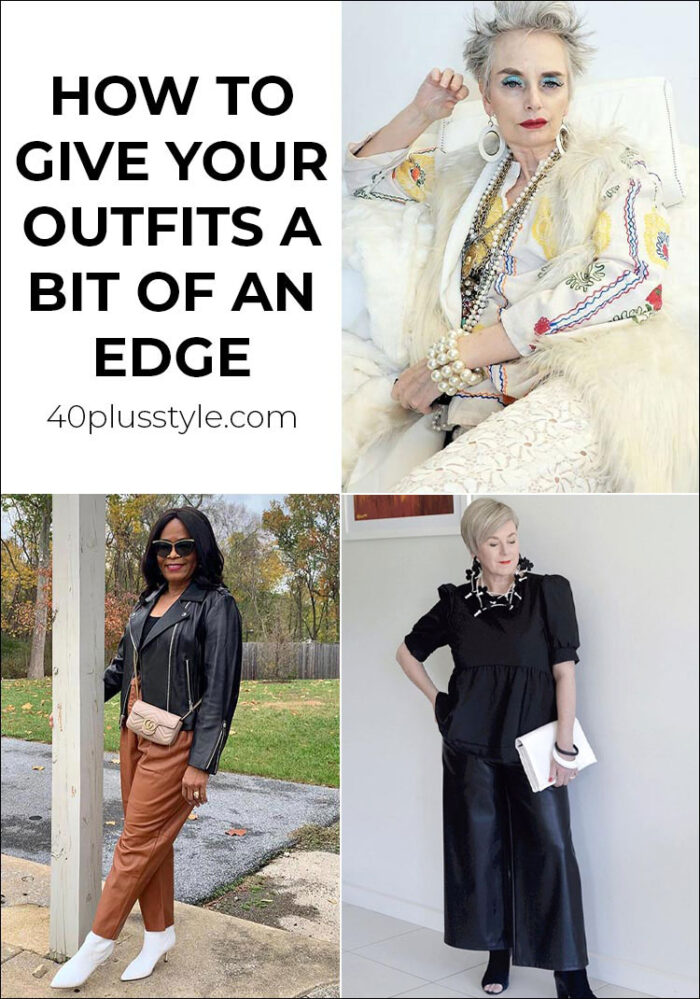 Feature image by Carelia @carelia_medich
Want to get more articles from 40+style in your inbox, subscribe here.
You can also connect with 40+style on Facebook, Instagram or Pinterest.
Support 40+style by using the links in our articles to shop. As an associate for Amazon and many other brands, we receive a small commission (at no cost to you) on qualifying purchases which enables us to keep creating amazing free content for you. Thanks!