I have been following Suzanne's blog for a while now and love her quirky, colorful style. Time to find out more about her!
Can you tell us a little bit more about yourself?
I am an artist and have worked in the creative field for over 20 years.
For 10 years I owned my own business where I developed, manufactured and sold wholesale products for the crafting and scrapbooking industry. That industry shrank dramatically about 5 years ago at which time I stopped manufacturing and began licensing my designs.
Transitioning into another creative outlet I began designing fabric jewelry and pins which I sell along with my cards and t-shirt designs in my Etsy store.
I spent much of my youth traveling and living abroad on my own doing all kinds of weird and wonderful jobs.
I have been married to a super sexy Frenchman that I met while studying in the south of France for the past 22 years.
We chose not to have children but have one spoiled pug named Zoe.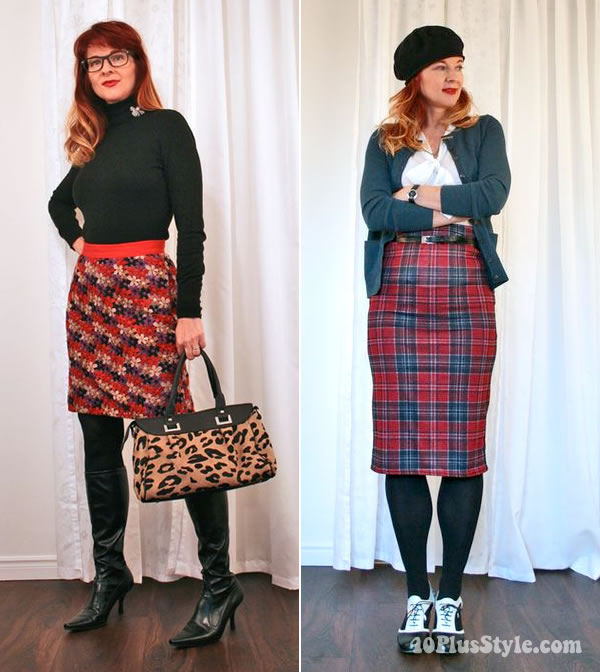 As a point of reference which age group do you belong to or perhaps you are willing to share your age?
I'm 47…I had to double check that! LOL Half the time I don't remember how old I am. I gave up counting after 30 really.
Can you tell us a bit more about your blog Suzanne Carillo Style Files and why you created it?
The blog was created for my scrapbooking business as a marketing strategy. It has morphed into a fashion, lifestyle, personal journal of sorts over the past couple of years. Clothing has always been a priority in my life so adding fashion and style to the blog was natural.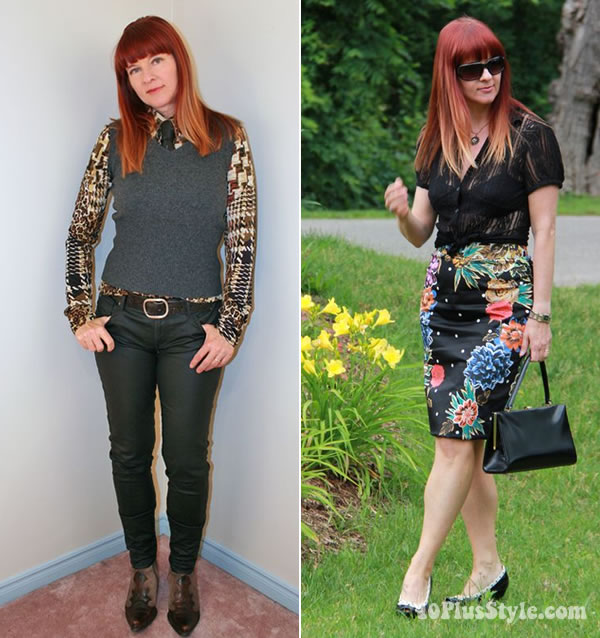 How would you describe your own style?
Unpredictable, colourful, quirky & artsy. The only thing that remains a constant is my desire to stand out rather than blend in.
What would you consider the most important components of your style?
Figure flattering, waist defining. I rarely wear loose or baggy clothing because I don't want to add weight to my frame.
Details are important. The little bit of "extra" thought that goes into putting a truly great outfit together is what I strive to achieve every time I get dressed. That often means thinking outside the "fashion box". Adding a brooch to the neck on a turtleneck sweater, belting a blazer or jean jacket or adding unusual tights. It is the little details that add layers of interest and depth to an outfit.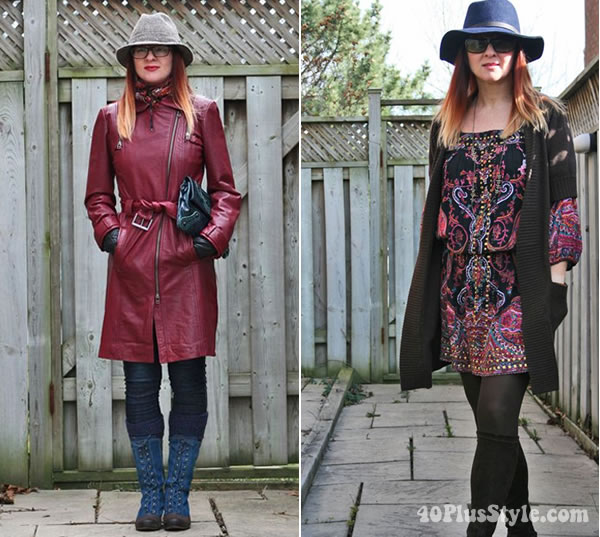 Where do you live and how does that influence your style?
I live in Toronto, Canada and right now is the worst time of year to try to be fashionable. This winter has been exceptionally poor which means loads of snow, slush and salt. This makes it very challenging to dress fashionable. Boots are our best friends, as well as long heavy coats. It is sad however, since often people don't get the chance to see what you are wearing under that huge coat half the time.
Do you feel you have a signature style?
Colourful skirts and jackets probably. I definitely wear more dresses or skirts than trousers. And of course boots due to the weather.
What inspires your outfit choices the most?
Whatever I happen upon while shopping consignment, estate sales, vintage shops or thrift stores will often inspire me. I find items that I never would have glanced at in a regular shop but now, all alone on their own I can see the possibilities and breathe new life into them.
Films and art will also often influence my outfits as well as other style/fashion bloggers.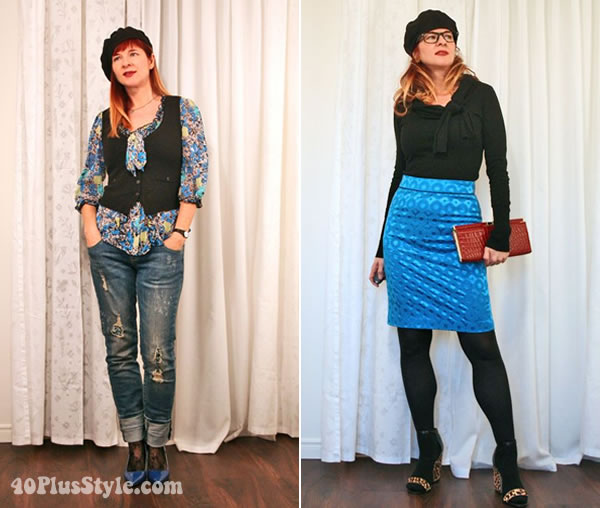 Do you take things like color profiling or body type into account when you dress?
Body type is #1 for me. I have a good eye and know what will look good on my body before I try it on.
Colour profiling changes as we age or change the colour of our hair. It will also change with the seasons here, in winter we get pale in summer we get tanned.
That said, I know what colours look best on me so I wear them more often and I stay away from white because it washes me out.
Has your style changed at all after turning 40?
Not really. 40 is just a number. I hope I'll be wearing my jeans till I die. I don't even own a pair of plain dress pants.
Do you believe in dressing 'age appropriately' and what does it mean to you?
I believe in wearing what looks best on us and makes us feel good. For everyone that will be different. Life would be so boring if we all dressed the same after a certain age.
Would you say that at this stage of your life you are now more, or less interested in fashion, style and the way you look?
I've always been interested in fashion. When I was a kid I worked from the time I was 11 years old in my parents ice cream store, so I was able to buy my own clothes from a very young age. I made my own choices and always had fun and paid attention to what I wore and how I looked.
When I had my business I decided to make a concious effort to "look like an artist" during my trade shows so that people buying from me would know that I had created the products and would remember me.
Today as I work on my blog, licensing and Etsy store I am even more aware of my appearance and how important it is to maintain in order to continue to be visible in a society that is so focused on the young.
Why is the way you look important to you?
I am treated differently when I make an effort to look good. I am given more respect and I am not invisible. I feel better about myself and have more confidence when I know I'm looking the best I can.
Which of the outfits on your blog are personal favorites and why?
One of my newest favourites would have to be this black and red dress I bought for $10 at an estate sale. I had no idea what it would look like on me. I couldn't even tell if it was the right size. I had to dry-clean it and spend about 2 hours sewing back on some of the sequins and taking it in but it is one of the most unique vintage gowns I've ever seen.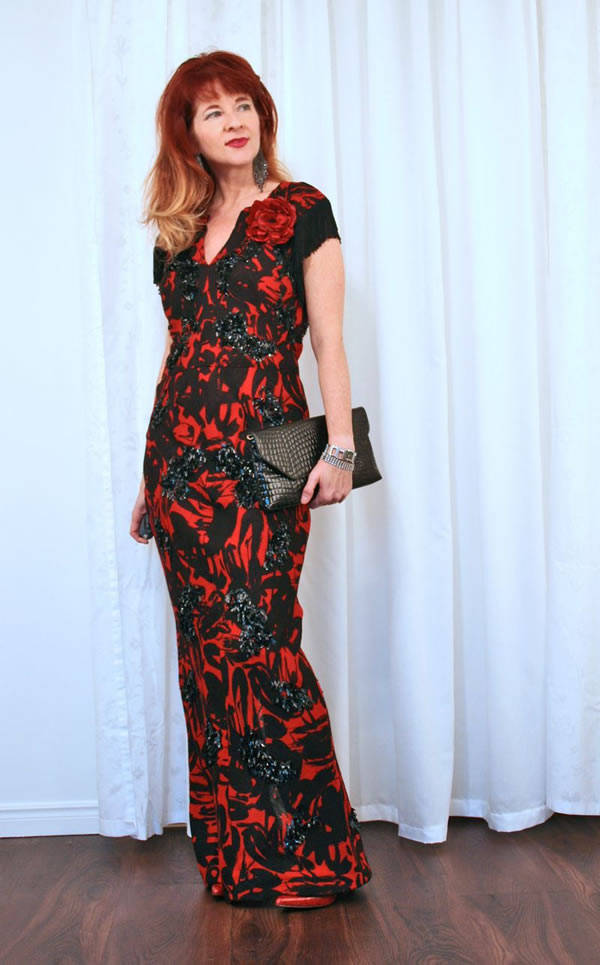 I love this jumpsuit. I feel extra sexy when I wear it but it is as comfortable as PJs.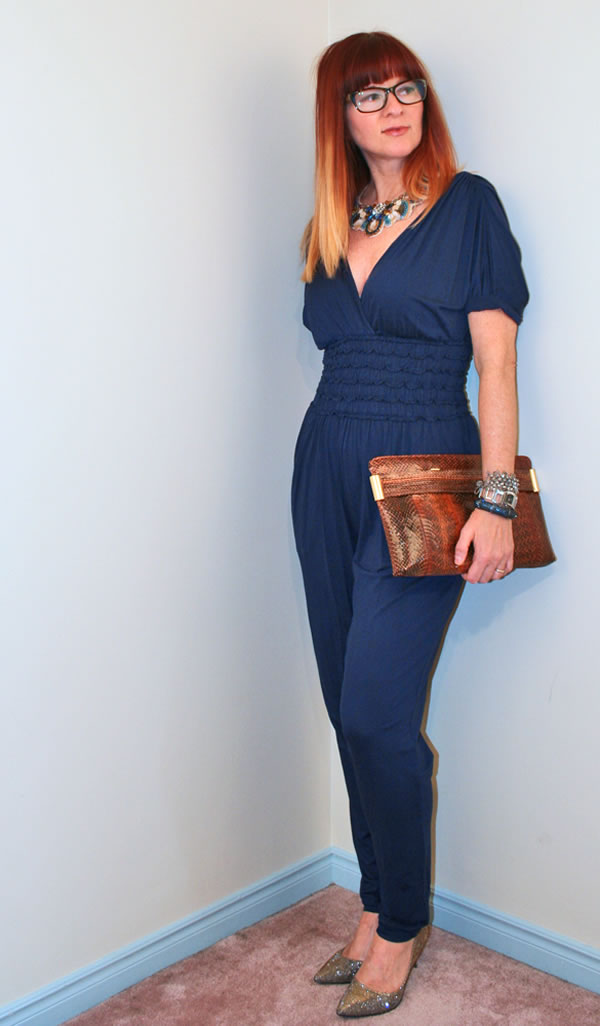 This is one of my favourite dresses. Fit and flare are great for me but the colours and cut of this dress really make it stand out. Also it has lycra in it. Fits like a glove but comfortable at the same time.
As for casual outfits I do love my jeans and hats.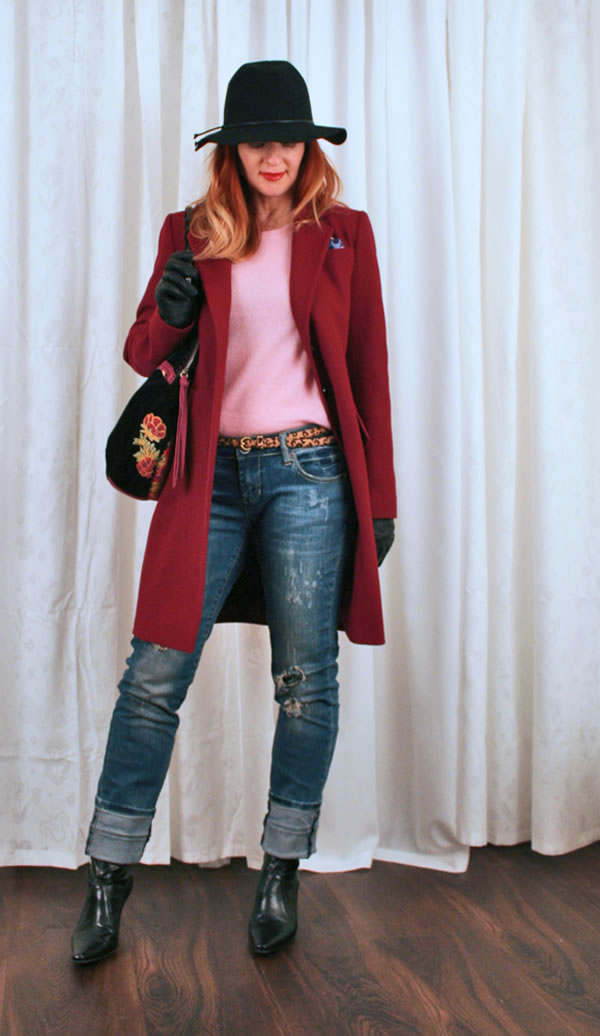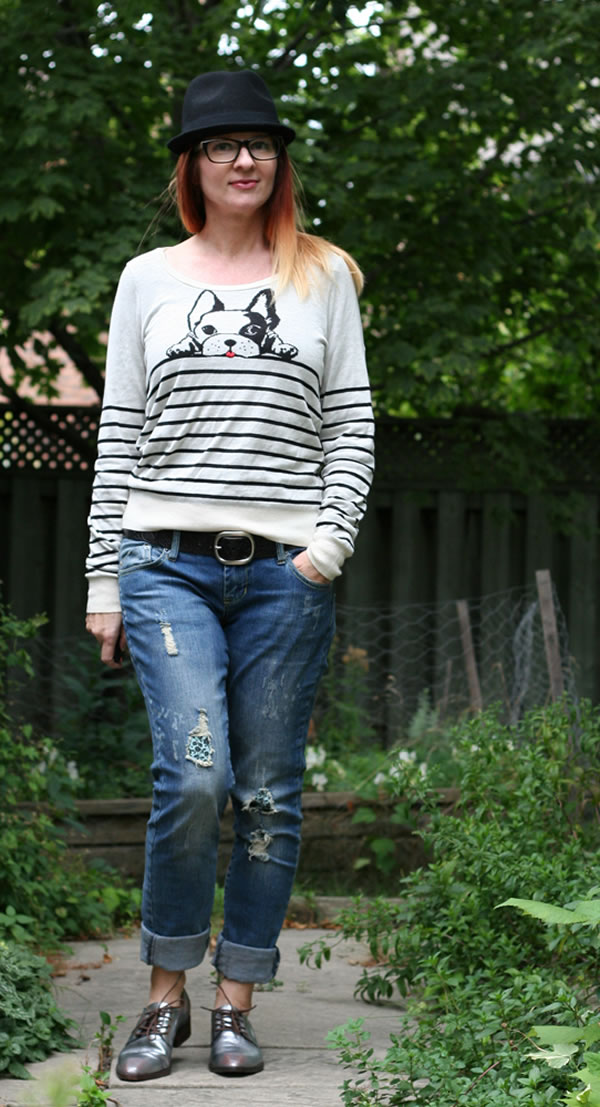 I recently restyled these wide leg pants and really love this new look with the peplum top.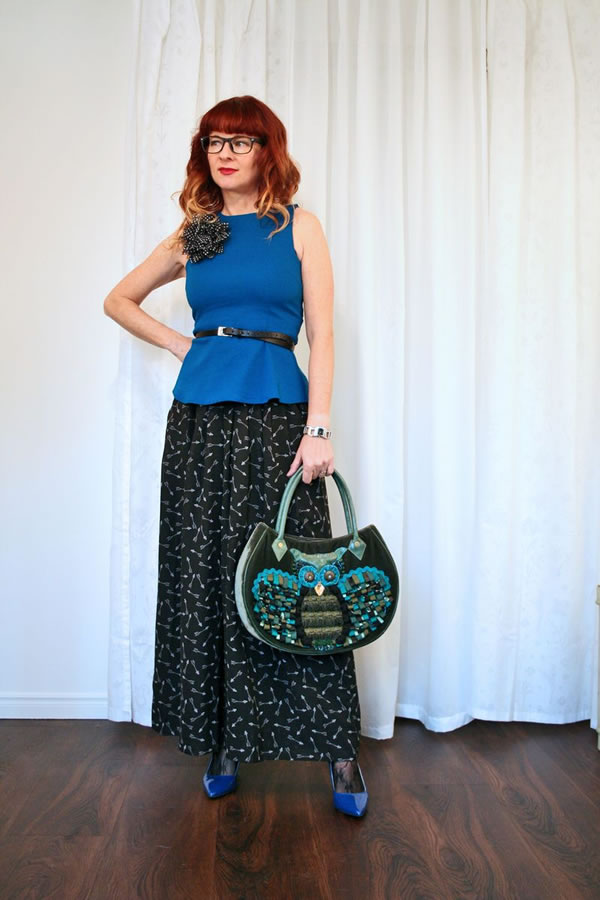 Do you follow trends? And if yes, which trends excite you at the moment?
When I started to fashion/style blog I could see myself getting pulled in by the lure of certain trends that really weren't something I would have chosen myself. I'm trying my best to steer clear of those now.
There are certain trends that are fun and work well with my overall personal style which I will incorporate into my outfits. Equestrian and menswear inspired looks have always been part of my style and they are described as a "trend" for this year, which quite honestly is a bit silly because they are simply classic looks. Last year I introduced camouflage which I love and I bought some wild orchid shoes before I knew that was the colour of the year. I am also loving metallics and kitten heels which are perfect for my Mariah Carey diva-esque feet.
Do you have any fashion and style tips for women over 40?
Be fearless and try something new. So many people have preconceived ideas about what they can or cannot wear, have an open mind and don't judge until you try it on.
Confidence can carry off any outfit. Confidence comes with self acceptance and loving yourself. If you can do that, you can wear almost anything you like, no matter your age.
What are your plans for your blog and how do you see it develop over the coming years?
Blogging is funny, depending on the day and my mood I might have big plans for my blog, or I might want to stop blogging altogether.
When I started blogging I really thought I'd have a chance of being successful and making some money. That hasn't happened.
Last year my husband and I were both seriously ill and it changed my perspective on what being a "successful" blogger meant.
I decided it wasn't about the stats or the money, rather it was about the connections and the possibility of helping someone or putting a smile on their face.
This year though I can feel those nagging thoughts of failure coming back to haunt me. I try not to plan too far ahead because you never know what lies just around the corner.
Life will take me where I need to be and maybe blogging will continue to be part of that.
Anything further you would like to add?
I'd like to thank you Sylvia for offering me this opportunity.
Thank you so much Suzanne for this lovely interview. Don't forget to check out her fabulous blog: Suzanne Carillo Style Files and visit her Etsy Store.
Which of all the outfits featured above is your favorite?

Like this post? Share it on Pinterest!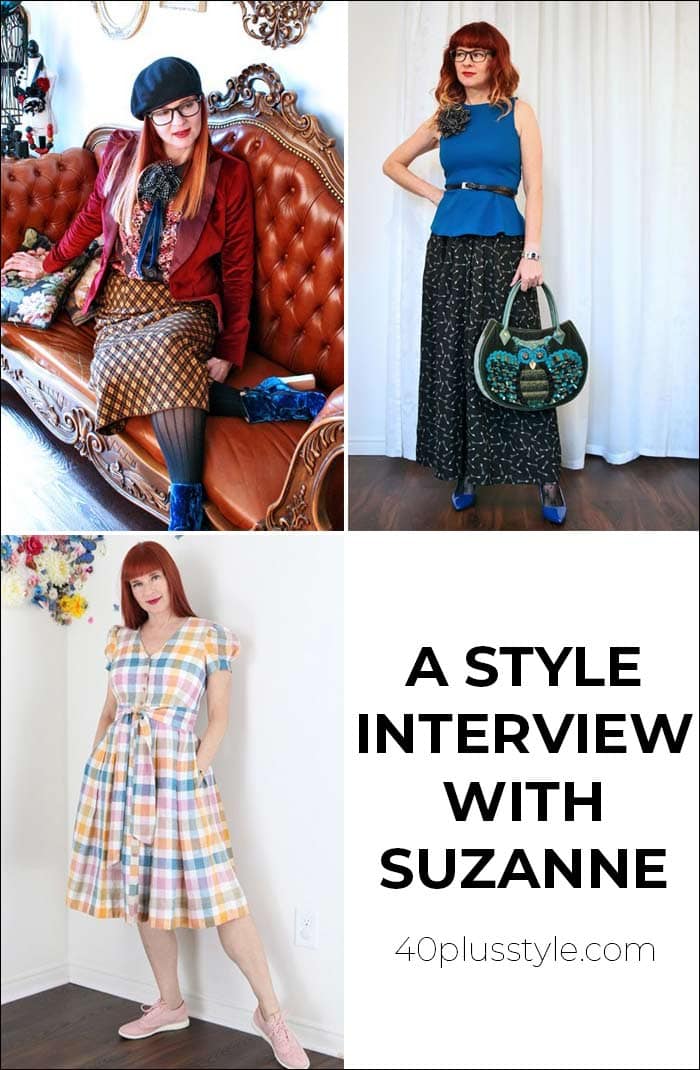 Want to get more articles from 40+style in your inbox, subscribe here.
You can also connect with 40+style on Facebook, Instagram or Pinterest.
Support 40+style by using the links in our articles to shop. As an associate for Amazon and many other brands, we receive a small commission (at no cost to you) on qualifying purchases which enables us to keep creating amazing free content for you. Thanks!