I love discovering new fabulous blogs by gorgeous 40+ women and I discovered Joanna's blog recently.
She has amazing style, so of course I wanted to find out more about her and her style secrets. Enjoy!
Can you tell us a little bit more about yourself?
I'm originally from a small town called Bury in the North of England. I met my Husband 23 years ago this May, when we were studying at St.Andrews University together. I have a BSc, MBA and PhD – so yes I am a nerd;)
We moved to Atlanta with our jobs in 2000 and haven't looked back since! I miss the city life of London but we are now US citizens and our children are all American kids (7 – boy and 9 – girl years old). I can't see us leaving Atlanta until they are in college and even then Atlanta will always be our base.
We love to travel back to Europe when we can and this year we're off to Turkey and Cyprus for the summer. I never thought I would be a cheer mom but now I travel with my daughter to Allstar cheer competitions!
As a point of reference which age group do you belong to or perhaps you are willing to share your age?
I'm 44 in August and feel better than ever!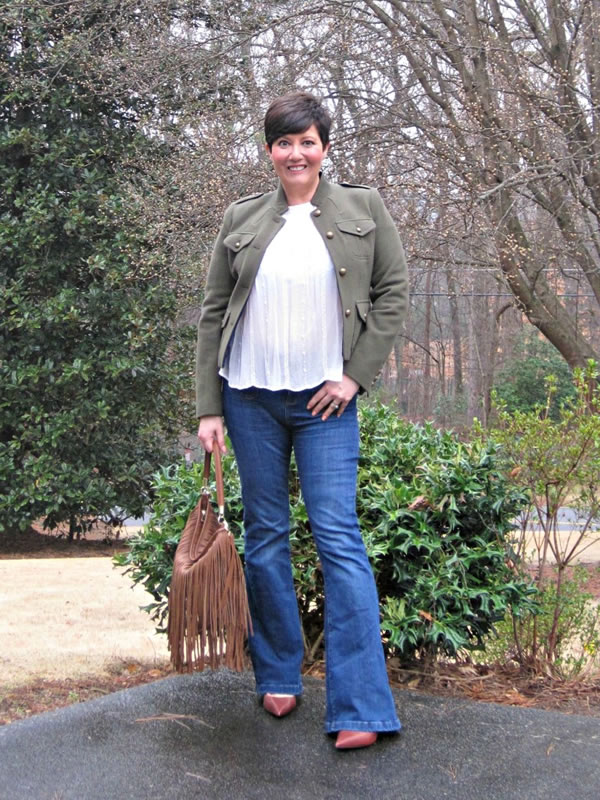 Can you tell us a bit more about your blog Poppy's Style and why you created it?
I used to work in IT and marketing so I was an early adopter of social media. I started sharing outfits with friends on the Boden website and then my Husband suggested I start a blog.
At first I thought it would be a great way of staying in touch with my friends and family in the UK. I also thought I would blog about many different subjects, but after meeting other over 35 style bloggers I decided that was where my niche was, what I enjoyed most, and I also realized it was a great opportunity to earn some pocket money!
I didn't think as hard as I should have done about branding it and 3 years ago I was really just trying to find a unique url. Poppy is my daughter's name so maybe she will inherit the blog one day!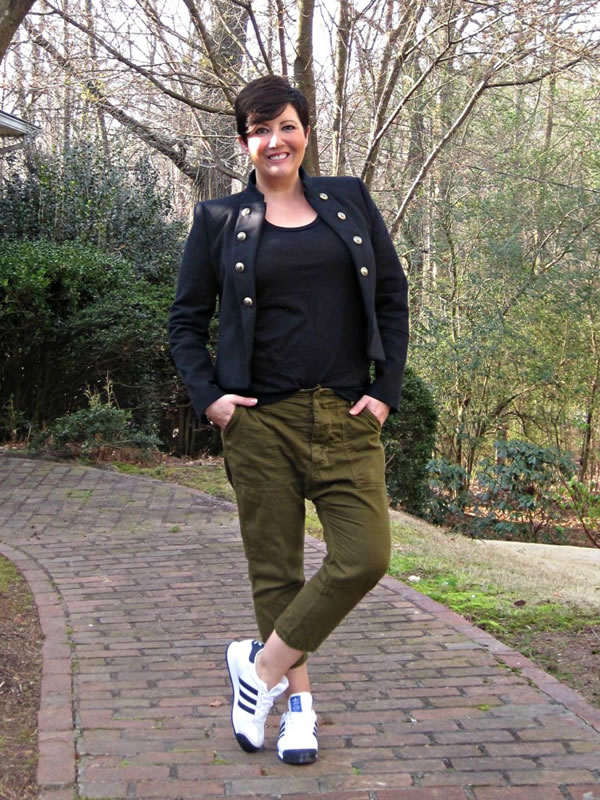 How would you describe your style?
I like to consider myself a risk taker with my clothes. I love urban, edgy pieces like jumpsuits and harems. One of my favorite brands is AllSaints so I definitely prefer neutral colors, though I have gone crazy with patterns in the past.
I recently had several piercings (rook, daith, tragus, nostril, navel and septum) – I like to shock and I don't like to conform! In a way I think it is easier for me – I live in quite a conservative area but I can get away with being the 'crazy English bird'!

What would you consider the most important components of your style?
I don't have many rules but I definitely prefer neutral colors like black and grey. I love trousers and like to experiment with different shapes. I like to pick classic items and add on trend items that are more fashion forward. Shoes and boots are my main investment items – I love to wear a great pair of jeans with a simple top and a fabulous pair of shoes.
I like a great jacket too and wish I could wear them through the summer here. Basically I will try anything, but I am trying to be more aware of my changing body shape, and with my piercings I try to keep my clothes more tailored and my makeup feminine. I love my piercings but I'm not looking to adopt the 70s punk trend!
Where do you live and how does that influence your style?
Atlanta is great as we actually have 4 seasons. I love being able to wear sweaters and boots with a great coat in the winter even if it doesn't last too long. Summer is a struggle, as it gets so hot and humid that jackets aren't required, but I love a great jacket worn with shorts so I save them for the office when the AC is full blast. Also we spend a lot of time at the pool so we're not in clothes for long each day between May and August! The heat really dictates comfort and I tend not to wear heels in the summer. We have great restaurants here so it's lovely having places to go where I can get my glad rags on. I always get dressed up for a night out! Atlanta is a city for driving and little walking so when I choose to I can get away with a shoe that I wouldn't wear for pounding the pavements in London.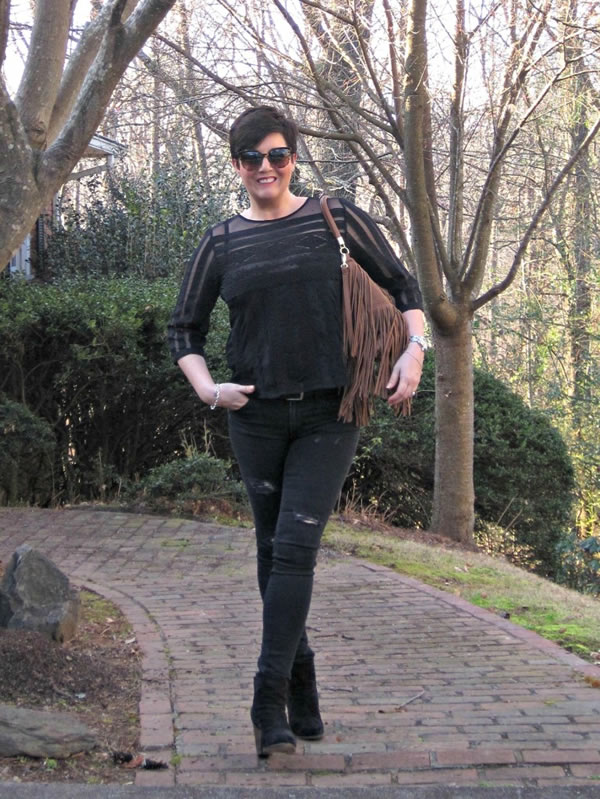 Do you feel you have a signature style?
No – I wear what inspires me and what I am comfortable in and I love to experiment with clothes. I wear all brands from J.Crew to AllSaints to Mango!
What inspires your outfit choices the most?
The weather! It changes all the time here, even within a day – today was low 40s this morning and yet it will be high 70s this afternoon so I have to plan accordingly. I always pick my outfit the night before so I don't panic in the morning – it also means I get to browse my closet and pick out items I may not have worn for a while rather than grabbing the nearest jeans and t-shirt.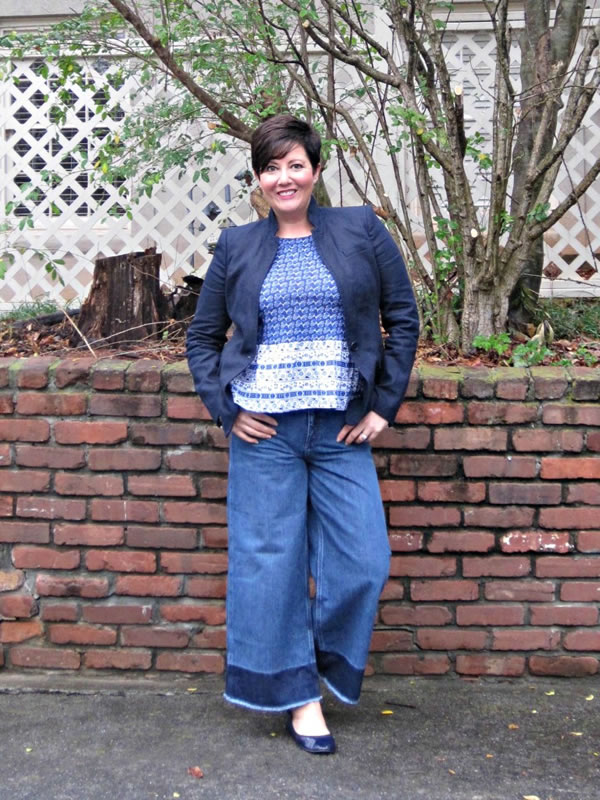 Do you take things like color profiling or body type into account when you dress?
No but I think sometimes I should – especially regarding my body shape. I am top heavy with slim legs. Having said that I tend to wear trousers or dresses that draw attention to my legs, but I also like to wear boxy cut tees and drapey sweaters that aren't always the most flattering on my bust.
I don't worry about it too much though as I don't like to have a checklist before I get dressed – as long as I love a piece and it fits I'll wear it.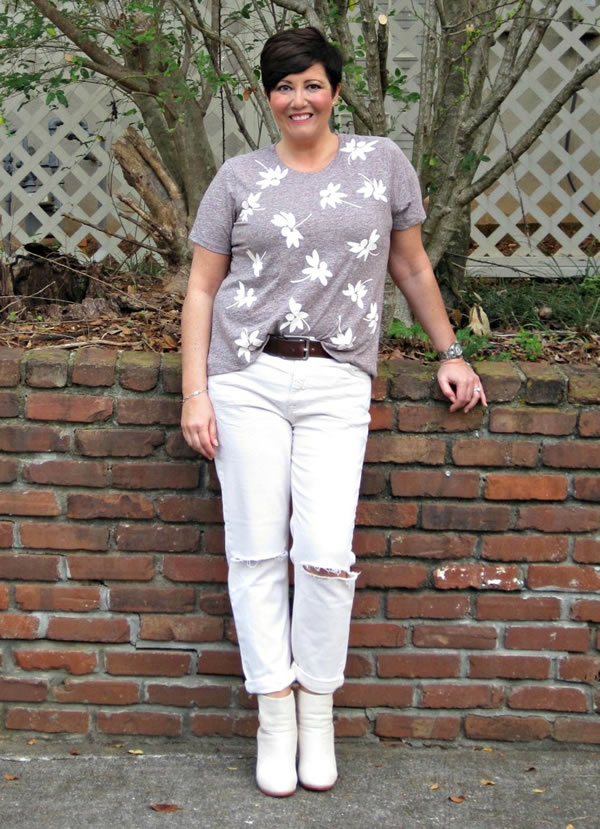 Has your style changed at all after turning 40?
Absolutely – more so since I had my children. I used to hate buying clothes. I put a lot of weight on after my children too and only after losing it did I suddenly become interested in clothes.
I used to buy a lot of Boden but felt I needed to develop my own style. Reading other blogs really helped inspire me, and online shopping makes it super easy to try items and return. I'm definitely riskier and edgier than I have ever been. I work with my Husband these days so no longer have to worry about dressing for the confines of a corporate office – that means I can be a little wilder all day long!
I see women here dressed head to toe in a uniform of Tory Burch tunics and shoes with white jeans – I steer as far away from that look as I possibly can these days. My subconscious is telling me to stand out from the crowd – hence my short dark hair too! I used to wear a lot more patterns and now find myself selecting more classic colors styled with an urban twist.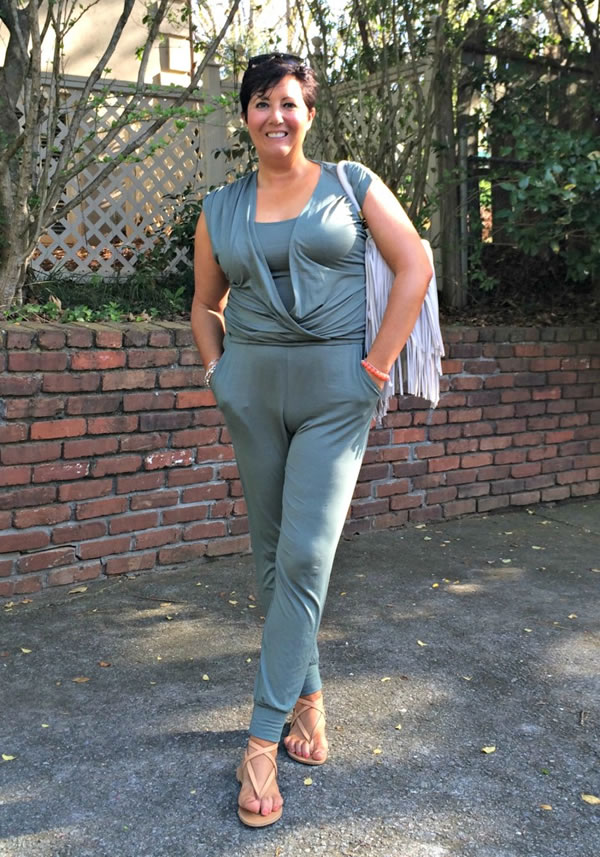 Do you believe in dressing 'age appropriately' and what does it mean to you?
Absolutely not. I detest any kind of age rule. Wear what you want with confidence, just make sure they fit properly!
Would you say that at this stage of your life you are now more, or less interested in fashion, style and the way you look?
I am definitely more interested – I am still discovering me and how my clothes reflect that person – it's fun every day to get dressed and that never used to be the case! I am getting wiser with my choices too and developing a less is more attitude.
I prefer to invest in a great pair of boots instead of buying 3 cheaper pairs. I am trying to be more discerning about what reaches my closet.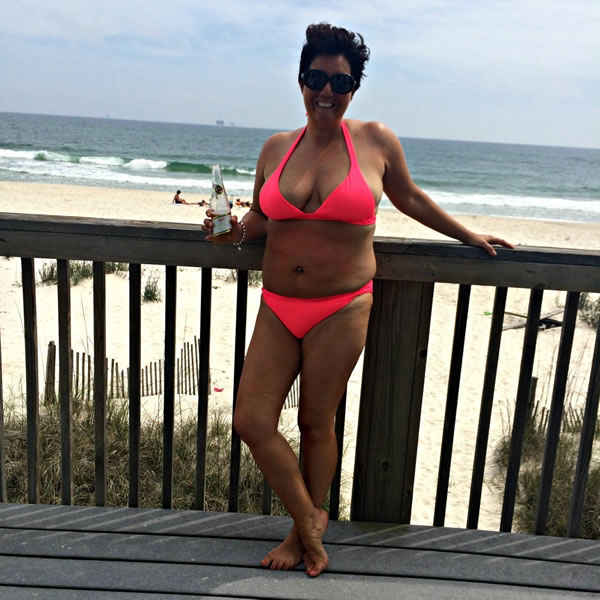 " I don't want to adopt a uniform and conform. I don't want to blend into the crowd. I feel like this is my moment to shine and truly enjoy life instead of worrying what others think."
Why is the way you look important to you?
It reflects who I am. I don't want to adopt a uniform and conform. I don't want to blend into the crowd. I feel like this is my moment to shine and truly enjoy life instead of worrying what others think. It's also important to me that I teach my children to be themselves and express themselves with their clothes as they choose to.
Do you follow trends? And if yes, which trends excite you at the moment?
I do – I read lots of other blogs – including street style blogs and I subscribe to nearly every magazine (I work in the magazine industry). I also love the Guardian's fashion pages online.
I try and incorporate on trend pieces to keep my style evolving but fortunately most trends come back around so I am wearing flares I had 5 years ago! I'm also happy to wear items that are no longer considered on trend – after all surely we can dictate our own trends? The septum piercing was probably easier to do as it is seen on so many beautiful women right now!
Do you have any fashion and style tips for women over 40?
Don't follow all the rules – choose a few if they help to guide you – but I was always taught that rules are made to be broken! Try not to worry what others think too – most of the time they are just wishing they could pull it off too!
Mix some high end investments that you will love forever with cheap and cheerful seasonal pieces from places like Zara and Mango.
Don't ever be afraid that a brand is 'too young' for you – take inspiration from blogs and Pinterest and you'll be surprised what you find and love!
What are your plans for your blog and how do you see it develop over the coming years?
I just want to keep having fun with it. I never thought 3 years ago I would still be blogging but I am posting just as frequently and still have something to say! I have loved meeting my peers through blogging – my network of friends has grown and I am so proud of them all.
Anything further you would like to add?
I meet with several of my UK blogging friends each February in London and it is fabulous to remind ourselves we are not alone – blogging can feel very solitary at times and we all deal with negativity at some point.
A blogger's skin gets thick very quickly! I recently had an in situ melanoma removed from my thigh so this summer I'll be learning to wear my scar with pride – get your skin checks done girls!
Be sure to check out her fabulous blog Poppy's Style!
Which is your favorite outfit of Joanna?

Like this post? Share it on Pinterest!
Want to get more articles from 40+style in your inbox, subscribe here.
You can also connect with 40+style on Facebook, Instagram or Pinterest.
Support 40+style by using the links in our articles to shop. As an associate for Amazon and many other brands, we receive a small commission (at no cost to you) on qualifying purchases which enables us to keep creating amazing free content for you. Thanks!