A leather jacket is one of those wardrobe essentials that every woman should own. In this article let's look at the best leather jackets for women this season.
The history of the leather jacket
I can think of few other pieces of clothing which manage to be completely timeless, yet edgy at the same time.
Leather jackets were first worn in the 1900s by aviators and then the military, gaining extra cool status when Marlon Brando donned one in The Wild One, and then Steve McQueen wore leather in Rebel Without a Cause.
Women who wore leather jackets were deemed to be rulebreakers. Think Olivia Newton-John in Grease when Sandy turned cool, Debbie Harry, Madonna and Cher.
Leather jackets literally go with everything and actually look better with age (don't we all?) and are always on trend.
Find your perfect leather jacket and you'll have it for life
Just like finding the perfect pair of jeans, finding the perfect leather jacket can be a long search.
But, once you find yours – the jacket that fits you like a second skin and goes with everything in your closet – your leather jacket will be with you for life.
That's why you can afford to invest in a good leather jacket because it will be one of the hardest working items in your closet and it will never go out of style.
The great thing about leather jackets is there really is one for everyone. For instance, if you have a rock chick style personality, you may choose a black one with studs.
If you're more of a minimalist, you could opt for white or taupe. If you have a romantic style personality, how about pink. The choices are endless so you're bound to find the right one for you when searching for the best leather jackets for women.
What to wear with your leather jacket
Okay, this is an easy one.
If you are wondering what to wear with your leather jacket, the answer is simple: Everything!
The best leather jackets for women will literally go with everything. You can instantly elevate a simple outfit of jeans and a t-shirt with your moto jacket.
You can wear over your summer dresses to take them into the cooler months. You can even make a cocktail or a slip dress more casual.
There really isn't anything leather jackets don't go with.
For more inspiration on how to style leather jackets, read our article on concert outfit ideas.
The best leather jackets for women – styles to choose and outfit inspiration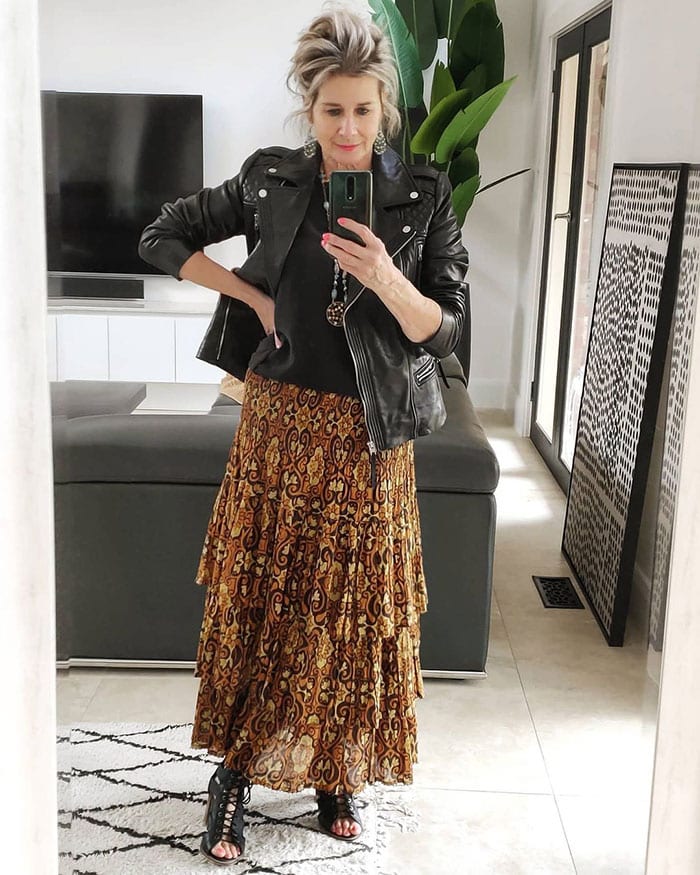 If you don't already own a leather jacket, or you are looking to add another one in a different color or style, below you will find some of my favorites in stores now.
You can see that leather moto jackets featured prominently among the fall and winter 2021 coat trends on the designer runways.
I would suggest having one in a darker shade such as navy, black or burgundy, and one in a lighter color or neutral such as white, cream, pale gray or tan.
That way, you will be covered for all seasons.
Suzie @suzie.richetti above shows how you can style your leather jacket with a boho skirt.
Steal her look with this similar top, moto jacket, skirt, booties, necklace and earrings.
Leather jacket styles
Let's take a look at some of the most stylish leather jackets you could opt for.
1. warmest leather jacket
If you're moving into fall and winter, you may want to make sure that your leather jacket keeps you warm. Jackets with shearling lining are particularly on trend this year.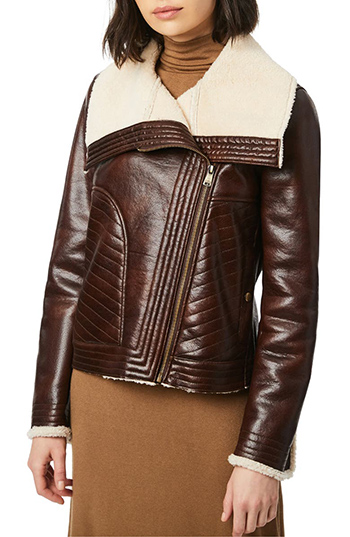 Bernardo faux leather moto jacket with faux shearling lining
2. black leather jacket
A true classic. Every closet could benefit from the addition of a black leather jacket. This style really is one of the best leather jackets for women to choose.
If you prefer not to have black against your face as it can be a draining color to wear, you can always add a scarf in a flattering shade to your look or look out for an equally versatile shade such as navy or burgundy.
AllSaints leather biker jacket
3. Brown leather jacket
A moto jacket in a softer shade to black can be a more unusual choice, helping your outfit to stand out from the crowd. Reviewers of the lambskin leather jacket (below) say it is soft and supple. You can choose from a selection of different brown and tan shades.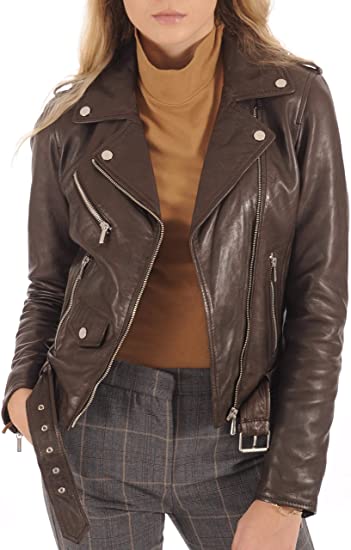 KYZER KRAFT lambskin leather biker jacket
4. Red leather jacket
To really make an impact, you could choose a jacket in a striking red.
If you aren't keen on a really bright red, you could keep an eye out for burgundy which is always a beautiful color for winter and fall.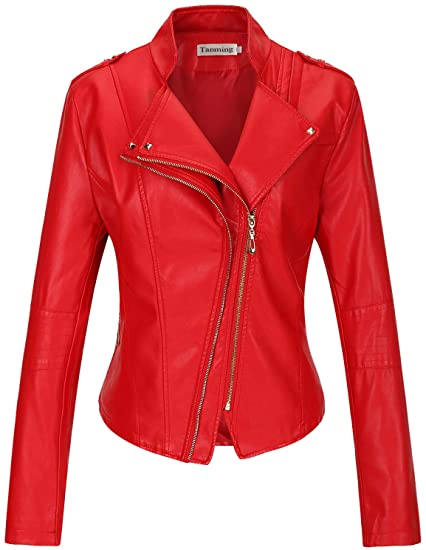 Tanming faux leather moto jacket
5. White leather jacket
Another good way to stand out from the crowd when it comes to choosing your next moto jacket is literally to opt for the opposite color to the norm.
Rather than choosing black, how about white?
This would look fabulous worn as a monochrome look with a black dress. It's also a great option with paler colors during the summer months.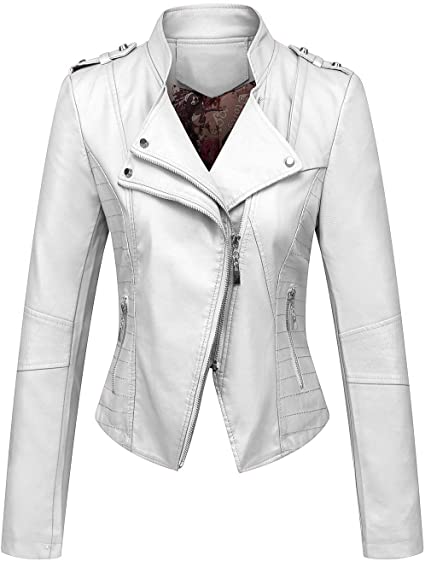 chouyatou asymmetric zip faux leathe moto jacket
6. Leather jacket with faux fur
While moto jackets don't have the full body coverage of their longer counterparts, to make sure you stay warm, you could always layer a longer top underneath as well as adding a touch of cozy fur to the collar.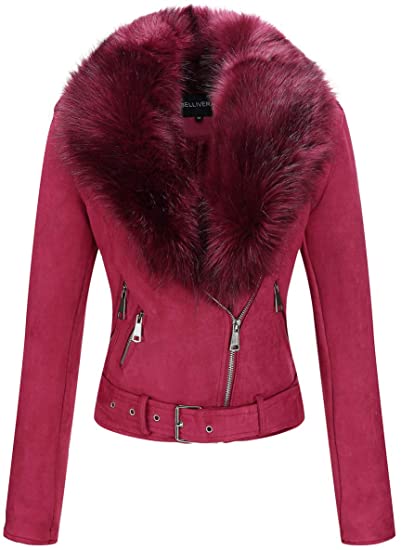 Bellivera faux suede jacket with detachable faux fur collar
7. Cropped leather jacket
The two biggest trends in terms of moto jacket shapes this year have been the cropped style as well as designers going the opposite way and creating oversized jackets.
Cropped and short jackets can be a tricky length to wear. However they can also be very flattering when worn in the right way.
Try wearing with a longer or asymmetrical top to play with the proportions of your silhouette.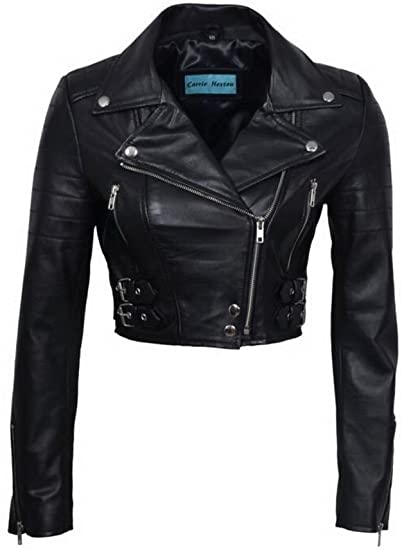 Infinity cropped leather biker jacket
8. Pink lEather jacket
If you have a romantic style personality, pink could be the color for you.
A pink leather jacket plays with the idea of a moto jacket being tough and subversive by adding a much softer touch to your outfit.
KUT from the Kloth faux suede moto jacket
9. Blue leather jacket
Another striking option for you could be blue. This shade of pale blue was shown on the catwalks for winter and fall this year.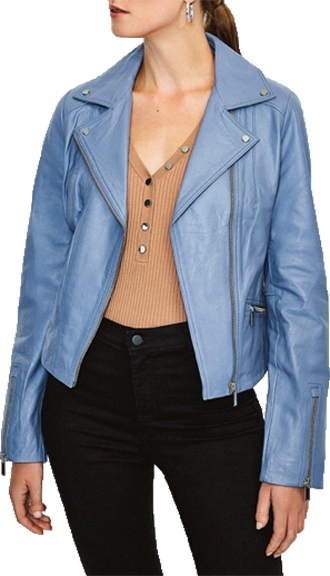 Karen Millen leather biker jacket
10. Yellow leather jacket
Or how about a touch of yellow to add a little sunshine to winter days?
Check out this article for more inspiration on how to wear yellow to brighten up your day.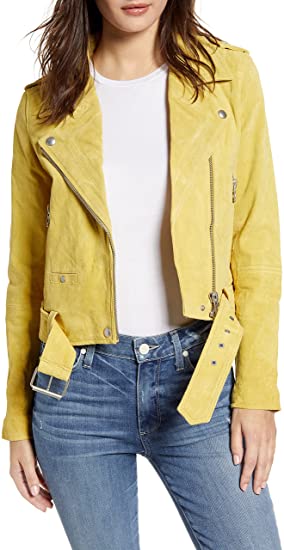 BLANKNYC suede leather moto jacket
11. Green leather jacket
As well as burgundy, I always think that a deep green is a beautiful option for winter and fall. The leather jacket (below) will give you a point of difference as it is styled as a belted blazer rather than the traditional moto jacket style.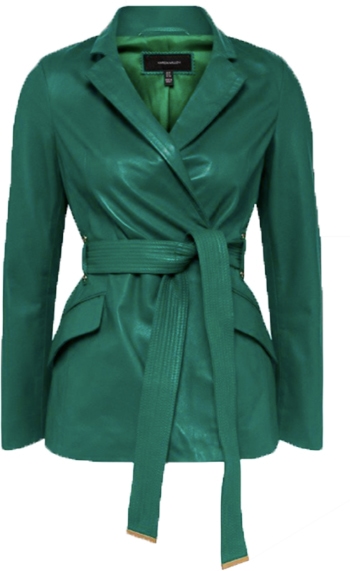 Karen Millen leather notch neck short coat
12. floral
You can see that floral coats were a big trend amond the fall 2021 coat styles. The floral leather jacket (below) is sure to win compliments. Reviewers say the quality is good and the embroidery is done well.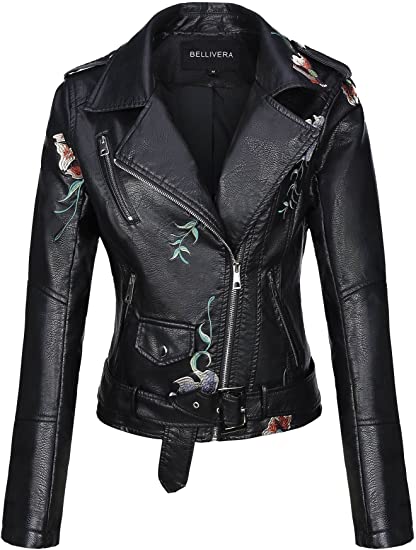 Bellivera faux leather floral moto jacket
13. Tan leather jacket
Another classic option for you is the tan leather jacket. As a neutral it will go with everything that black does while creating a softer appearance.
You could, for example, wear with black in the winter and then with white in summer.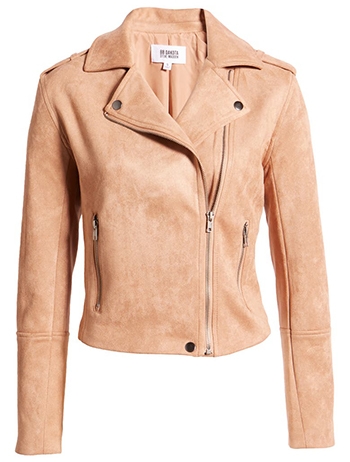 BB Dakota by Steve Madden faux suede moto jacket
14. Winter leather jacket
Another lovely option with fur if you are looking for a leather jacket for winter.
If you do wear your leather jacket during the colder months, you might want to opt for an oversized style so you can still fit your sweater underneath.
LY VAREY LIN thick lined shearling leather jacket
15. Purple leather jacket
Do you usually wear purple? This is another unusual shade to think about if you are looking for a leather jacket that is different from the norm.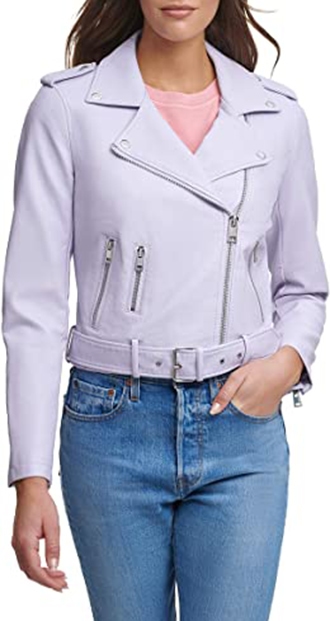 Levi's faux leather belted motorcycle jacket
Take a look at more ideas on how to wear purple.
16. Designer leather jacket
If you are looking at which parts of your closet to invest in and which to save money on, I would definitely think about a leather jacket as an investment piece.
Cost per wear, it's still likely to work out cheaper than most other items in your closet, even if you opt for a designer jacket.
AllSaints leather biker jacket
17. Navy leather jacket
A beautiful alternative to black is navy. It's usually more flattering against your skin, but still just as versatile as black.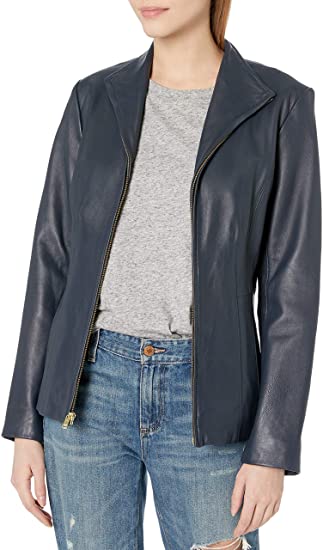 Cole Haan leather wing collared jacket
Take a look at which colors go best with navy.
18. Maroon leather jacket
A dark red will be a good option for fall as it mirrors some of the autumnal shades of falling leaves.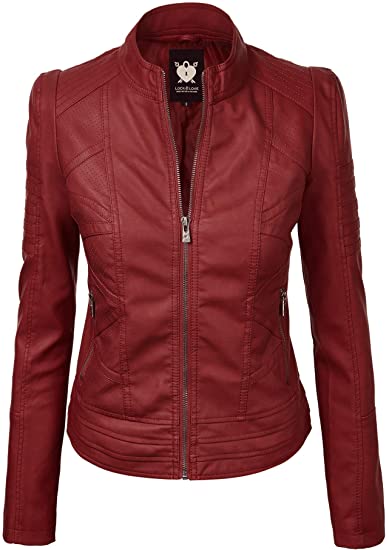 Lock and Love removable hooded faux leather moto biker jacket
19. Cream leather jacket
If you feel white is a little too harsh for winter, how about trying cream?
Levi's faux leather moto jacket
20. Drape leather jacket
Draping is always an interesting option for your outfits.
While moto jackets can be very structured, you could opt to be a little different by choosing a draped style.
KUT from the Kloth drape front suede jacket
21. Softest leather jacket
When searching for a leather jacket, it's likely you'll want a nice soft option, rather than a jacket that feels to hard against your skin and which is difficult to move in. Reviewers say the lambskin leather jacket (below) is soft and well-made.
Decrum asymmetrical leather jacket
22. Best faux leather jacket
Of course, you don't have to opt for real leather to get the style of a leather moto jacket. If you're searching for a stylish faux leather option, the faux suede jacket (below) comes in 13 different colors. One reviewer says she plans to get on in every color.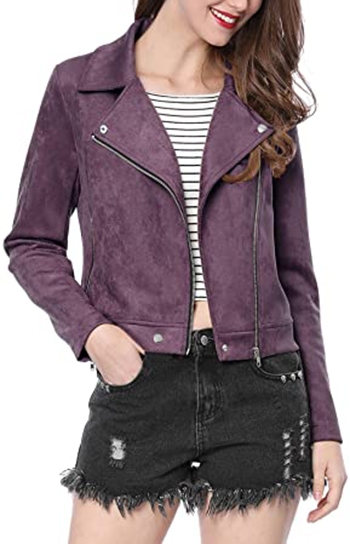 Allegra K suede biker moto jacket
23. Long leather coat
While you may tend to typically think of a leather jacket as being a moto style, you could, of course, opt for a longer style. This will be more likely to keep you dry in wet weather.
Karen Millen leather notch neck coat
Clothes, shoes and accessories to wear with your leather jacket
Obviously, a leather jacket on its own does not make up an outfit (unless you want to be arrested, or very cold). Below are some of the best clothes and accessories to choose to go under your moto.
Tops to wear with your moto jacket
Really, anything goes when it comes to choosing a top to go with your leather jacket.
You could choose a classic white tee, a button-down shirt or you can play with proportions and opt for a longer tunic.
Terri @glammas.closet above adds some sunshine to her outfit with a yellow top and jacket – and matching socks.
Check out this similar top, leather jacket, denim skirt, booties, sunglasses, head wrap and Gucci belt.
LARACE flare tunic top – Beauhuty wrap top – Max Mara geometric silk top – COS denim shirtdress
Pants and jeans to wear with your jacket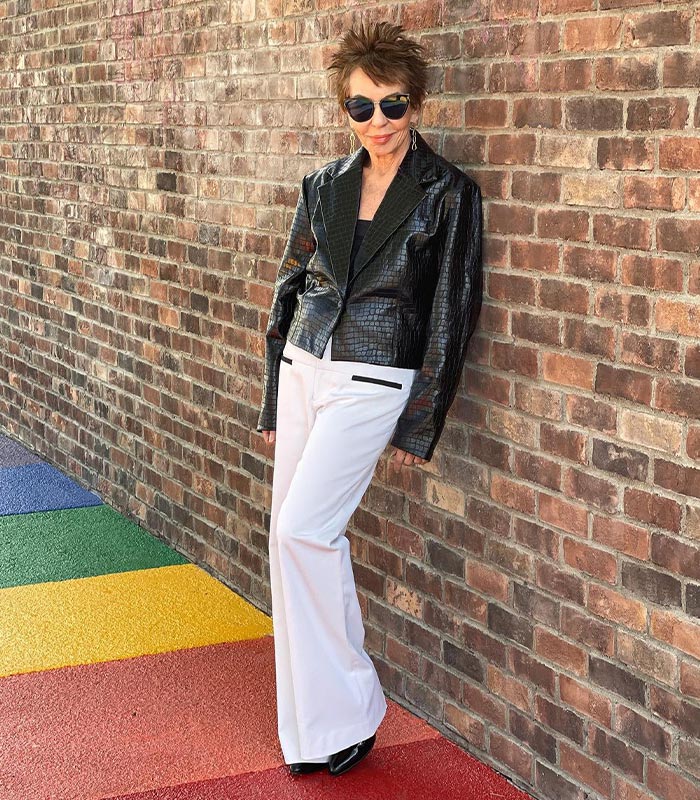 Any jeans or pants will go with you leather jacket. As leather jackets tend to be shorter than other options they are a good option to wear with on-trend, high-waisted wide pants.
Dorrie @seniorstylebible above keeps her outfit monochrome with a black leather jacket and wide, white pants.
Recreate her outfit with this similar jacket, wide leg pants, pumps, sunglasses and earrings.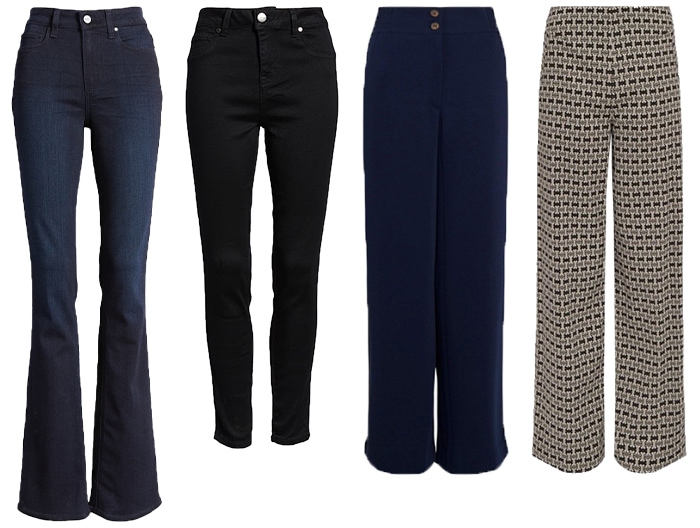 PAIGE high waist bootcut jeans – 1822 Denim high waist jeggings – Karen Millen tailored wide leg trousers – Karen Millen geo stretch jacquard wide leg trouser
Dresses and skirts to wear under your moto jacket
Again, you can choose any style of skirt or dress to wear with your moto and it's likely to look great.
Particularly on-trend ways of wearing your moto are to pop it over a midi dress or skirt.
Eugenia @theeageofgrace above opts for a longer length leather jacket over her skirt.
Get her look with this similar dress, leather coat, knee high boots, tights, bag and sunglasses.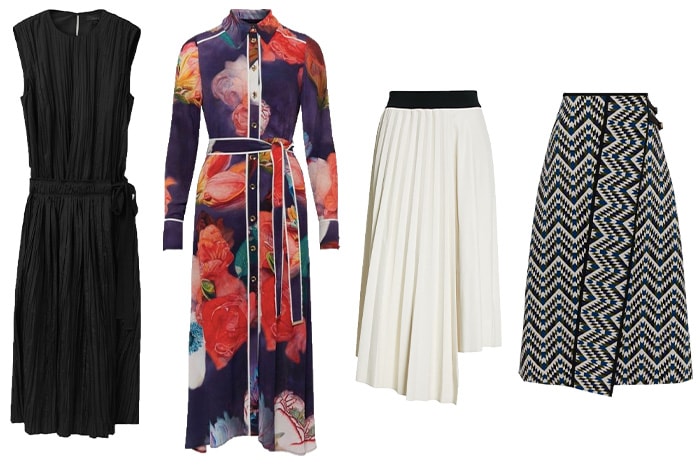 COS pleated wrap dress – Karen Millen collar shirt woven dress – Ted Baker London pleated asymmetric skirt – Karen Millen geo jacquard wrap midi skirt
For more inspiration read our article on leather skirt outfit ideas for women over 40.
Shoes to wear with your moto
Depending on the season, the occasion and the look you are aiming for, you could wear everything from casual sneakers to booties and high heels.
Abi @stealmystyle40 above opts for a casual look with her utility pants and moto jacket. She adds interest with her print scarf.
Check out this similar striped shirt, moto jacket, pants, sneakers, bag and scarf.
LifeStride pump – Dr. Scholl's suede bootie – PUMA sneaker – Sam Edelman knee high boot
Accessories to wear with your leather jacket
You can, of course, wear anything with your moto, but I think a leather jacket looks particularly stylish teamed with a contrasting scarf for winter.
Jess @elegantlydressedandstylish above shows how you could still wear a scarf with your moto jacket even if the weather isn't very cool.
Steal her look with this similar top, jacket, wide leg jeans, sandals, bag and scarf.
Rebecca Minkoff leather tote – CARIEDO colorblock clutch – Knotty twisted hoop earrings – Acotavie printed scarf
A capsule wardrobe featuring the leather jackets above
There are so many different ways you could put these moto jackets, clothes and accessories together. Below are 9 outfits to get you started.
Read our ultimate guide to creating a capsule wardrobe that works best for you.
shop the items above here:

More leather jacket outfit inspiration
Below, you can see a previous leather jacket capsule. While the items are past season, the looks are timeless and should still give you plenty of inspiration if you are creating new outfits from your closet or choosing something new.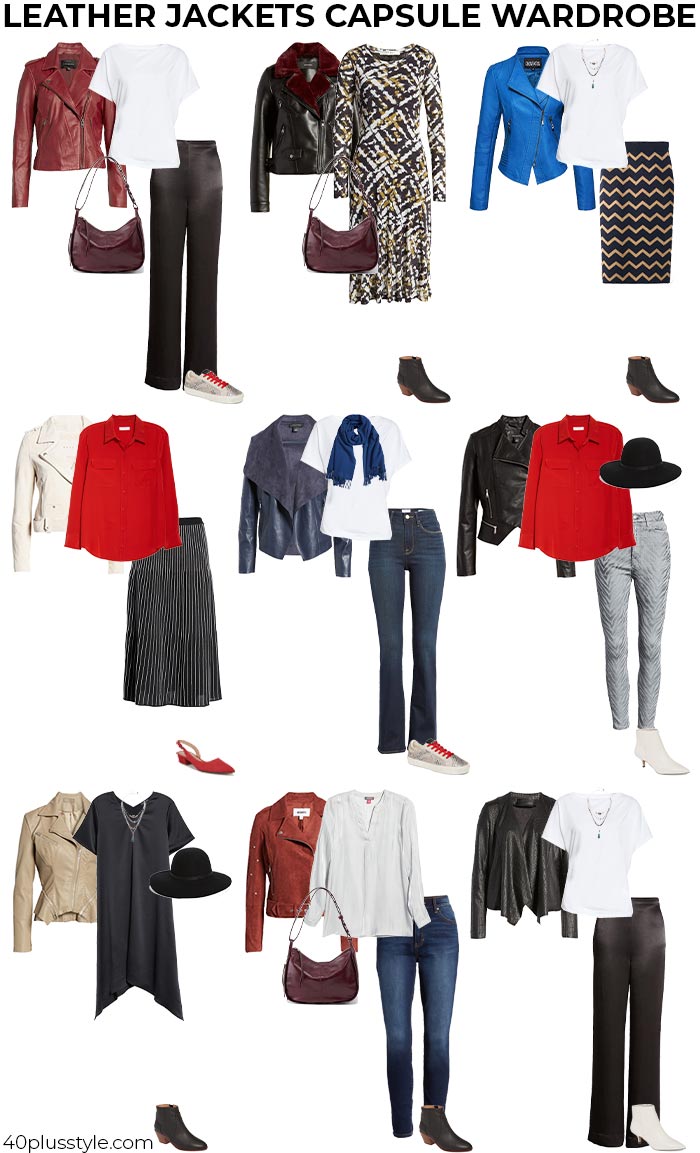 Do you already have a leather jacket in your closet? What do you think the best leather jackets for women are?
Continue reading:
Like this post on the best leather jackets for women? Share it on Pinterest!
Feature image by Dorrie @seniorstylebible
Want to get more articles from 40+style in your inbox, subscribe here.
You can also connect with 40+style on Facebook, Instagram or Pinterest.
Support 40+style by using the links in our articles to shop. As an associate for Amazon and many other brands, we receive a small commission (at no cost to you) on qualifying purchases which enables us to keep creating amazing free content for you. Thanks!