A short jacket is one of those items you MUST have in your closet. In today's article, let's discover how to wear a short jacket and where to buy some great short jackets in stores now.
Why should you wear a short jacket?
Short jackets come in all sorts of shapes and variations. Some are classic like the collarless Chanel jacket with a high neckline.
Then there are the variations on that jacket with lower necklines or collars added.
Also very popular are the bomber jackets which come in all kinds of fabrics and styles.
And then there are the really wide short jackets or the opposite of that short tighter fitting jackets.
Here are just some of the advantages of a short jacket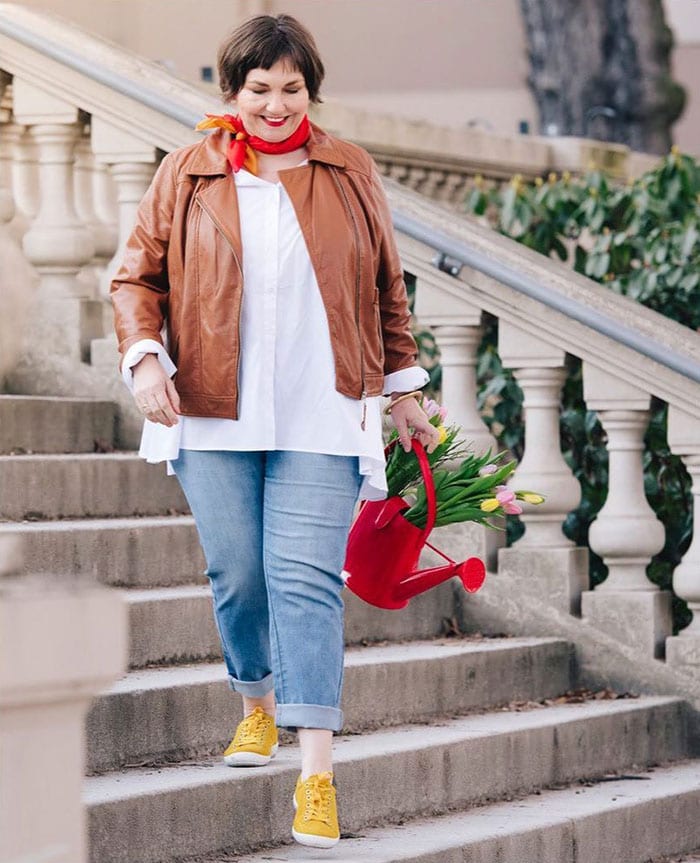 A short jacket is the perfect layering piece;
If you have no defined waist these can suggest a waist as the jackets often end at waist height;
For those with shorter legs they can improve your 1/3-2/3 silhouette as they shorten the proportion of the torso while putting more emphasis on, and lengthening, the legs;
They are comfortable!
A short jacket in a stretchable fabric can easily fit in your bag, so it's easy to put on or off.
They keep you warm (very important for someone who gets cold quickly like me)
A short jacket pairs perfectly with wide pants
Susanne @textelle above (read her style interview here) shows how you can layer a shorter jacket over a longer shirt.
Get her look with this similar top, jacket, jeans, sneakers and neck scarf.
Read our ultimate guide to creating a capsule wardrobe that works best for you.
How to wear a short jacket – styles for you to try
Cropped leather jacket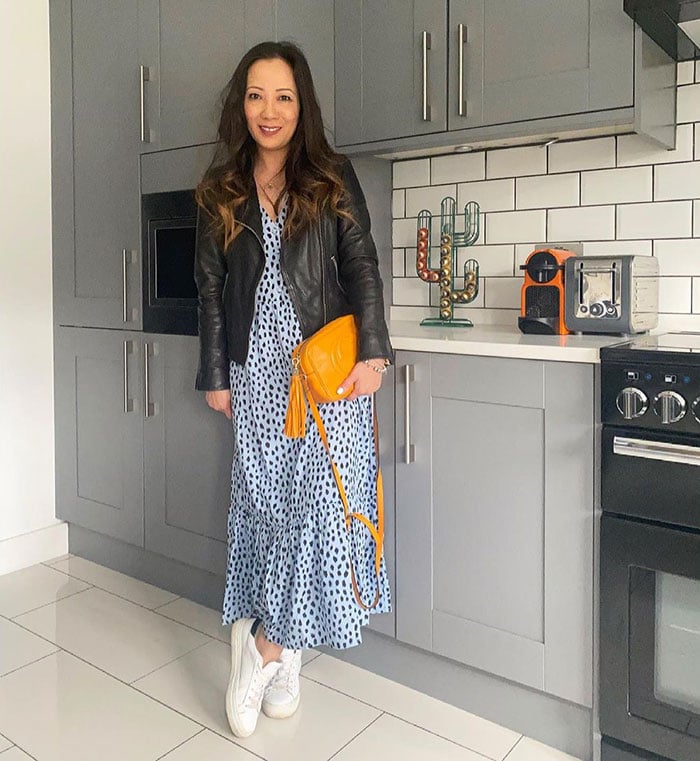 A moto jacket is another classic piece that you can be sure won't date no matter how long you keep if for.
You could opt for a moto jacket in black, or go for a different shade in either autumnal or pastel colors.
Abi @stealmystyle40 above often wears her moto jacket over her dresses to give her outfit a little bit of an edge.
Check out this dress from Amazon that you can wear with this similar jacket, sneakers and crossbody bag.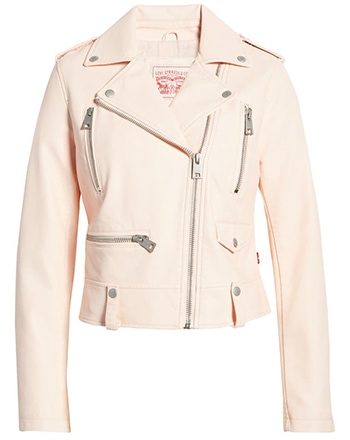 Levi's Faux Leather Moto Jacket
Chanel style jacket
A true classic. A love affair was born when Chanel discovered Scottish tweed.
Her jacket-cardigan hybrid first appeared in her collection in 1925. Since then, a Chanel collection simply wouldn't be a Chanel collection without this style of jacket.
Thankfully, unless you have a Chanel-budget, it has spawned a million copies and inspired countless high street pieces.
The beauty of this style is that you can wear it over a dress or just over a pair of jeans and a t-shirt. It adds instant elegance.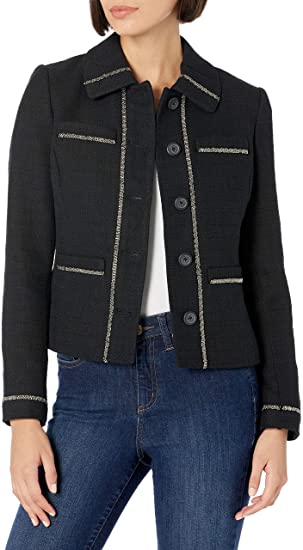 Karl Lagerfeld Tweed Button Up Jacket
Cropped blazer
A blazer tends to come below waist length and sit on your hips. But, this may not necessarily be the most flattering option for you.
If your blazer stops at the widest part of your hips, it may just emphasize this part of your body. A shorter blazer which either emphasizes, or creates the illusion of, a waist could look better on you.
Play around by trying on different lengths.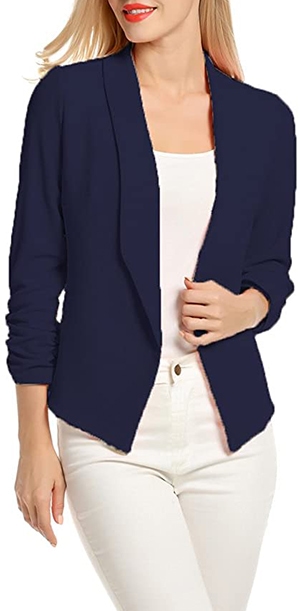 POGTMM 3/4 Sleeve Open Front Blazer
Cropped jacket for dresses
If you love wearing dresses, but you either don't like to show off your upper arms, or you need a bit of extra warmth, a cropped jacket could provide the answer.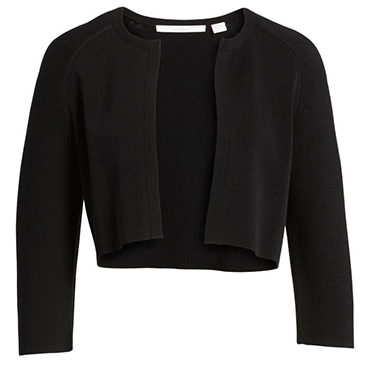 Short denim jacket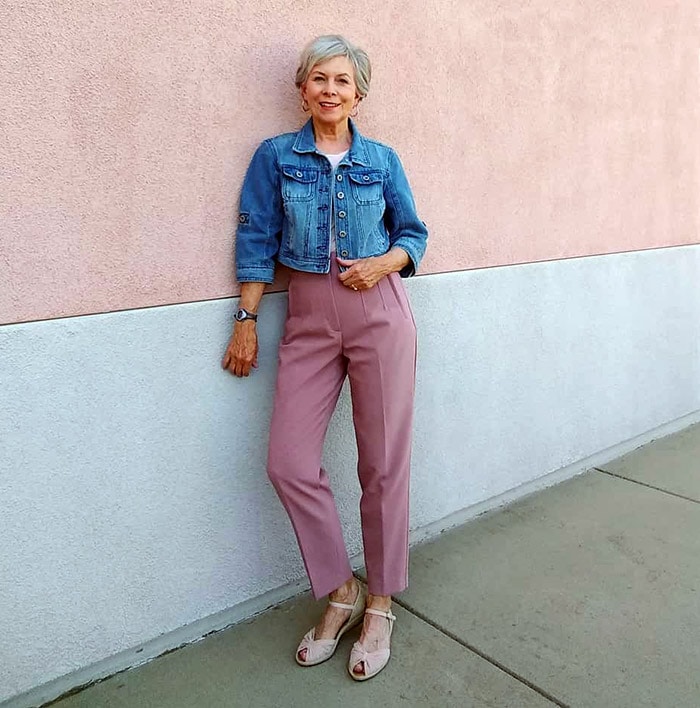 Another style classic, but with a much more casual vibe is the short jean jacket.
I love a denim jacket for its versatility. You can wear it over a summer dress to transition from the warmer months into fall but it looks equally good with skirts and pants.
Eileen @eileenternullo above wears her denim jacket with high waisted pink pants, creating a flattering leg-lengthening effect. Notice that she wears shoes in a similar color to her pants, which is also a good tip for making your legs look longer.
Recreate her outfit with this similar denim jacket, pants, sandals and hoop earrings.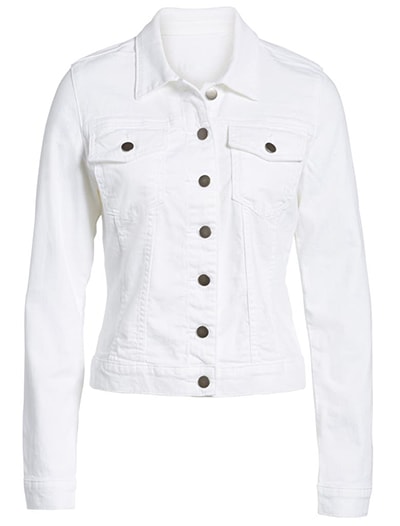 KUT from the Kloth Helena Denim Jacket
drape jacket
A drape style is flattering on most women and adds a point of interest to your outfits. Choosing a waterfall, or drape option can be a good style if you are looking at ways to hide a belly.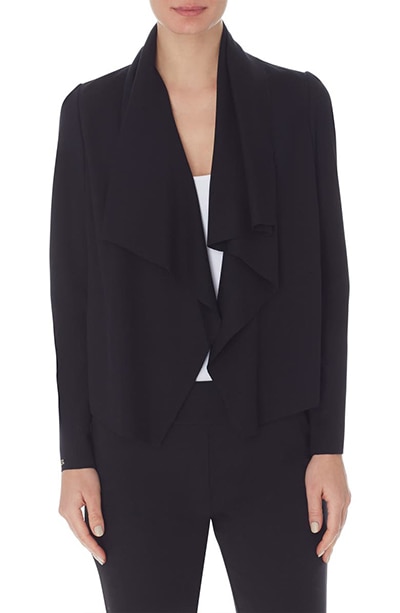 crop utility jacket
As an alternative to a denim jacket, but with similar styling, how about a utility-style jacket like the one from Blank NYC (below).
bomber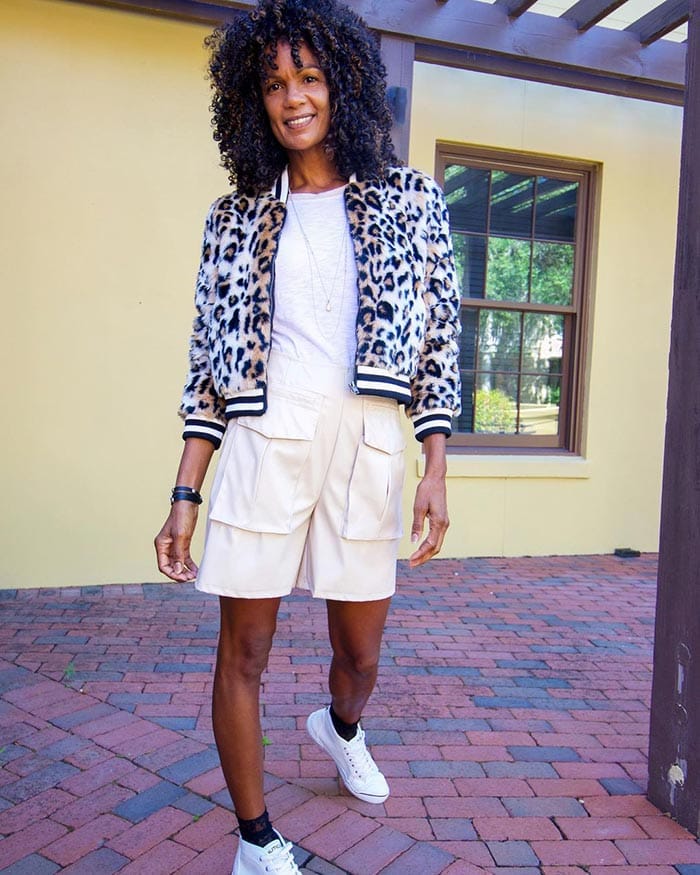 Bomber jackets can be a good option if you are looking for a more casual style than a blazer.
You could wear over a plain color dress or just to dress up your pants and t-shirt.
Diane @fashiononthe4thfloor (read her style interview here) chooses a fun leopard print bomber jacket.
Steal her look with this similar tee, shorts, bomber jacket, sneakers and necklace.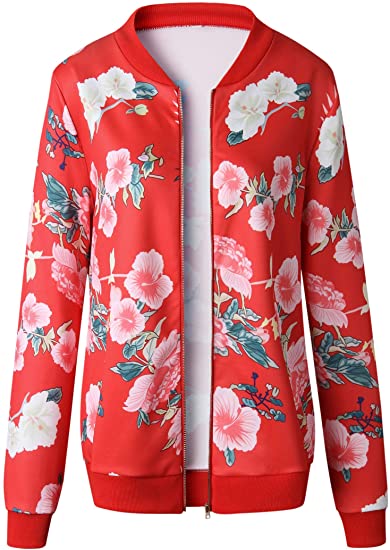 ECOWISH Lightweight Bomber Jacket
Black cropped jacket
A black cropped jacket could be a smart alternative to a longer-length blazer.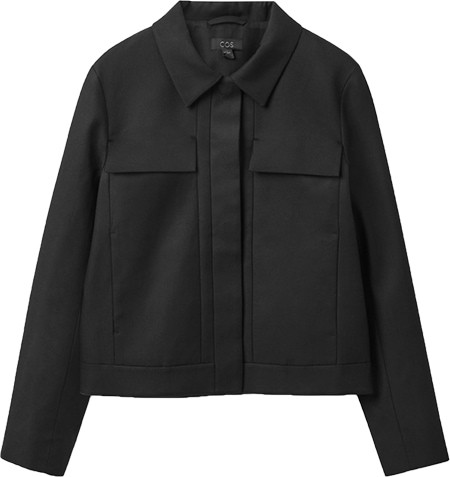 White cropped jacket
You don't just have to stick with black when it comes to classic options. A white jacket will also have longevity which will see your through season after season.
Plus, you may well find that white is a better option with some of your spring and summer clothing.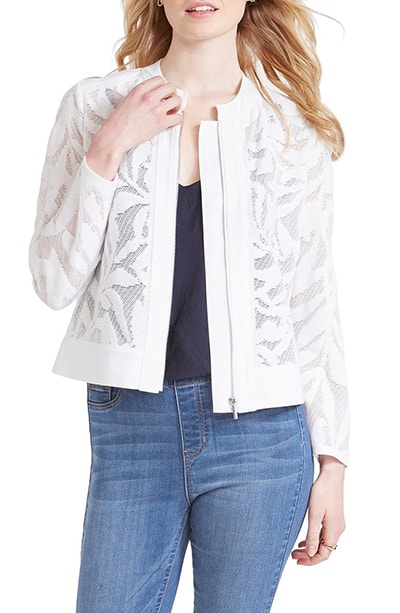 NIC + ZOE Palm Springs Knit Jacket
teal jacket
If you're looking to add a pop of color to your outfits, the teal jacket (below) from Cos would look lovely worn with white jeans.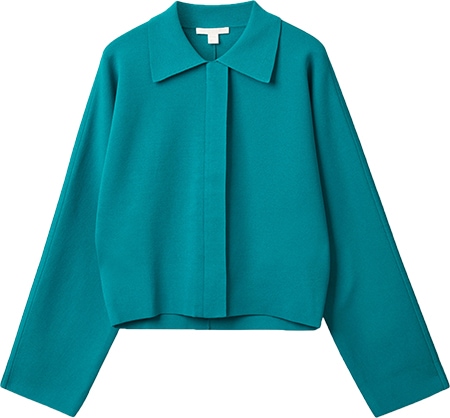 COS Cropped Classic Bomber Jacket
Pink cropped jacket
If you have a romantic style personality, you may love a short jacket in a softer shade.
You could wear this over a floral dress, or over a pair of jeans and tee.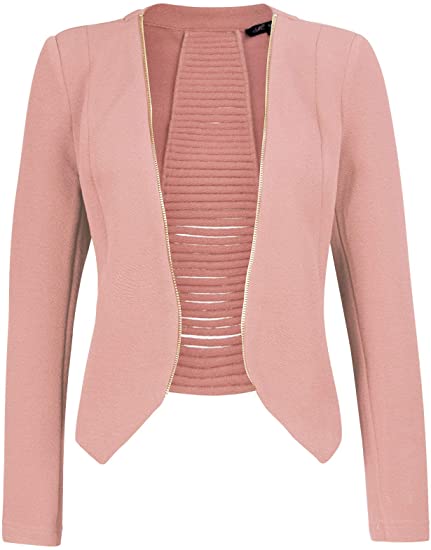 Michel Open Front Lightweight Blazer
More examples on how to wear a short jacket
Let's take a look at some more 40+ women looking incredible in their short jackets…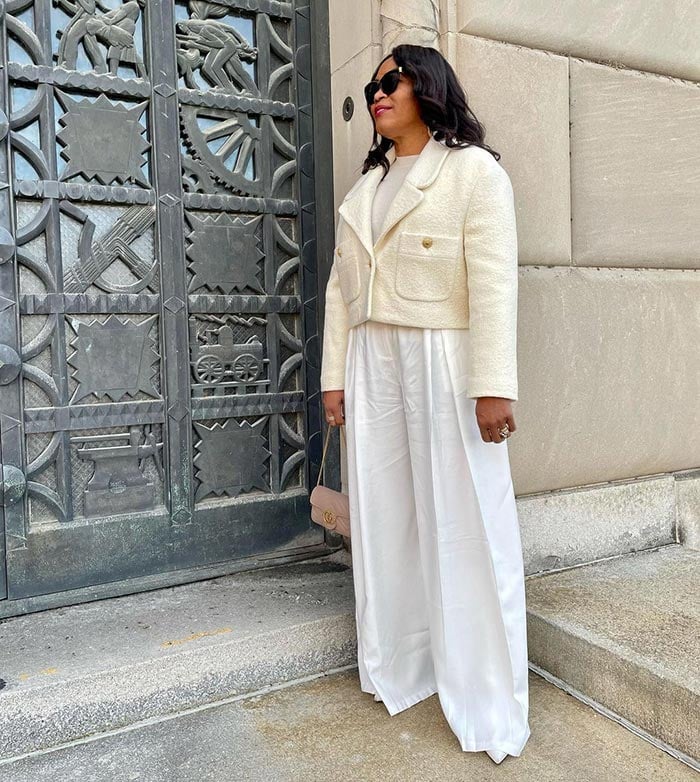 Eugenia @theageofgrace above (read her style interview here) opts for an all neutral outfit featuring her cream jacket and white pants.
Check out this similar jacket, wide leg pants, pumps, sunglasses and Gucci handbag.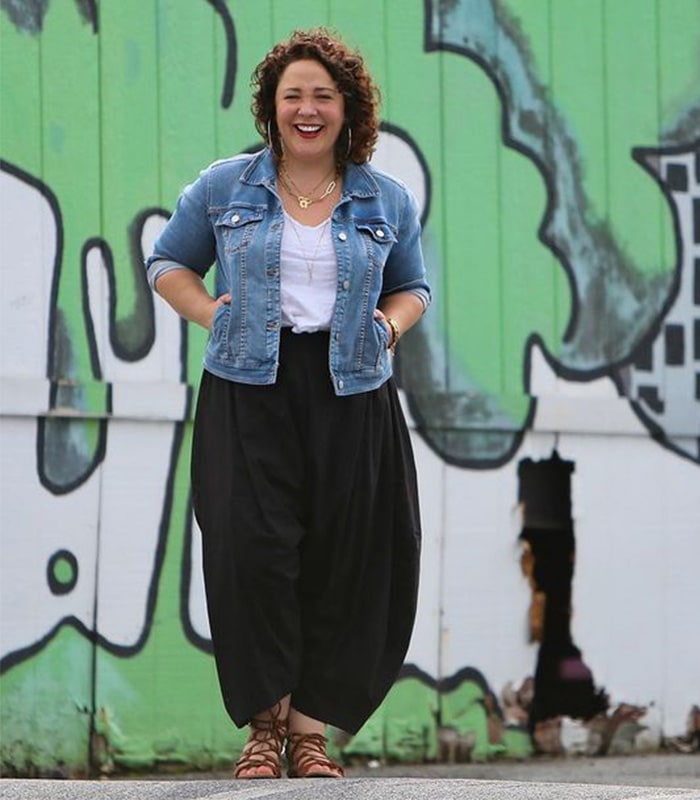 Alison @wardrobe_oxygen above (read her style interview here) chooses a denim jacket and harem pants.
Recreate her outfit with this similar top, denim jacket, pants, sandals, hoop earrings and layered necklace.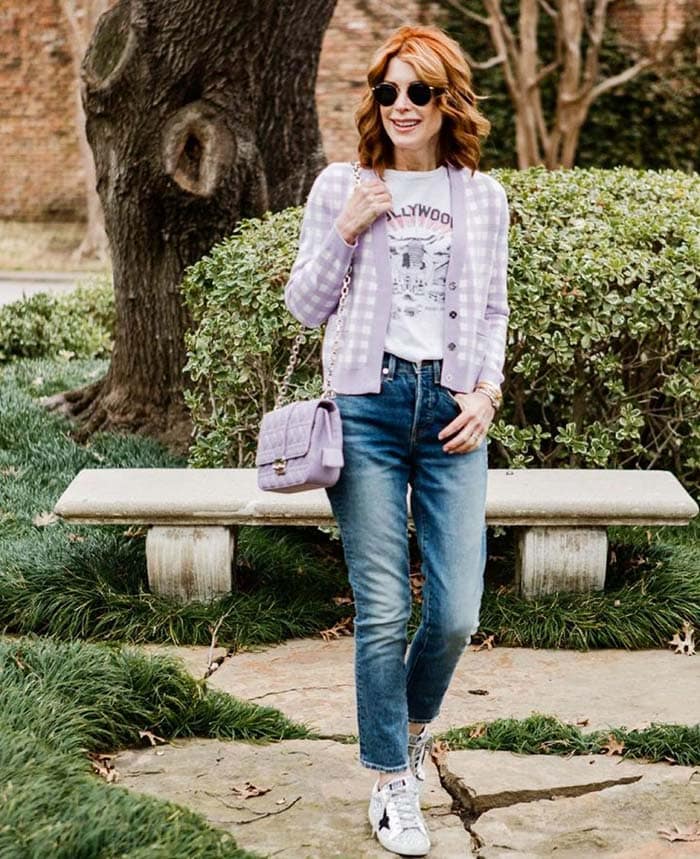 Cathy @themiddlepageblog (read her style interview here) shows off a shorter cardigan with her jeans.
She is wearing a cropped cardigan from maje and shirt from shopbop. Complete her look with this similar pair of jeans, sneakers, bag and sunglasses.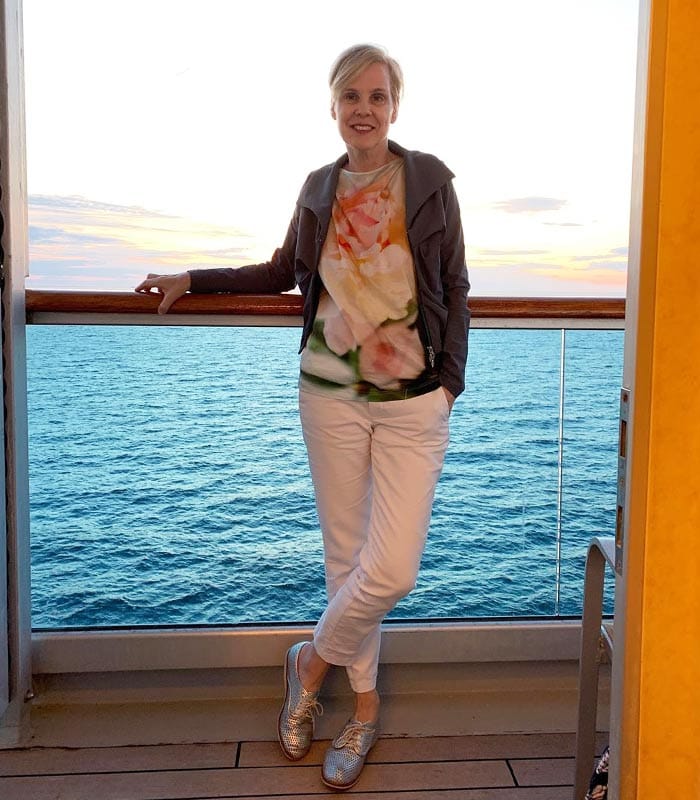 Above is my own short jacket, worn on a trip with a pair of Rollie shoes (white option). You can find a similar piece here.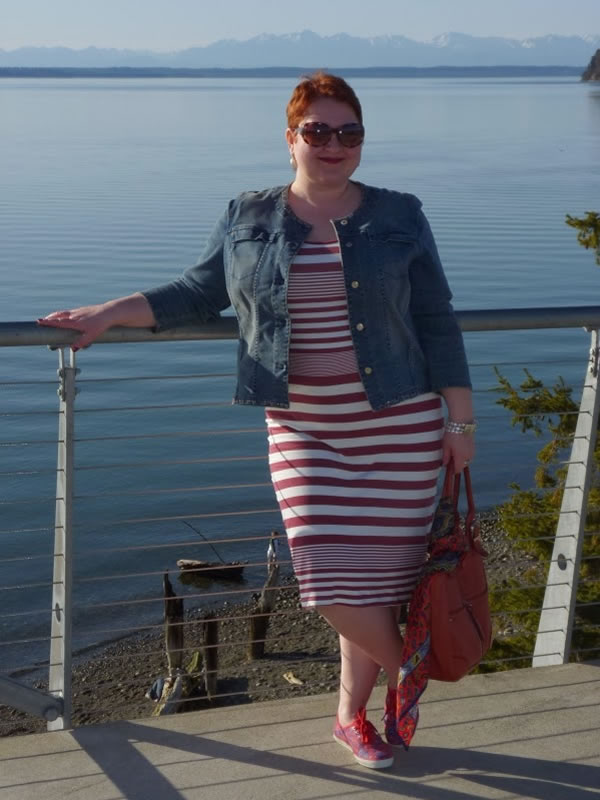 Many women feel that short boxy jackets can be unflattering as they surrender the waist.
But they are ideal for layering and if you do that the right way, can suggest a waist and create a great silhouette.
Natalia (above) sent in a great example to illustrate that.
This outfit works really well too creating a nice silhouette for a great casual chic look.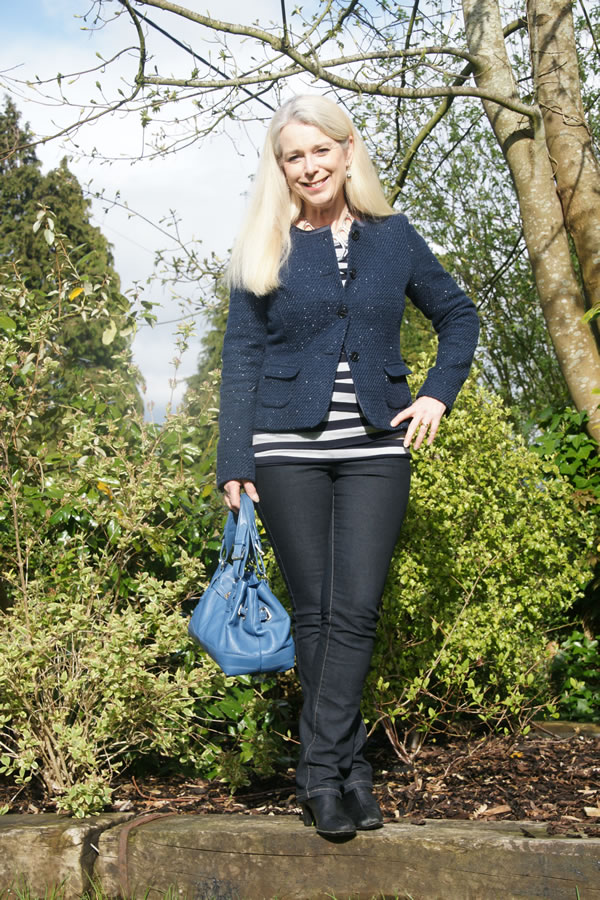 And here is another really nice layering example by Lorraine (above).
Are you ready to shop for a short jacket?
If you don't yet have a short jacket in your closet, why don't you give the short jacket a go!
Test in the shops which jacket would suit you.
With or without collar?
Very wide or more fitted?
High or low neckline?
Short or long sleeves?
It all makes a difference on how well these jackets look on you.
Then start playing with proportions and layering. Try it out in the shops and see how it works for you. Let me know in the comments below.
shop all items above here:

Continue reading:
Like this article on how to wear a short jacket? Share it on Pinterest!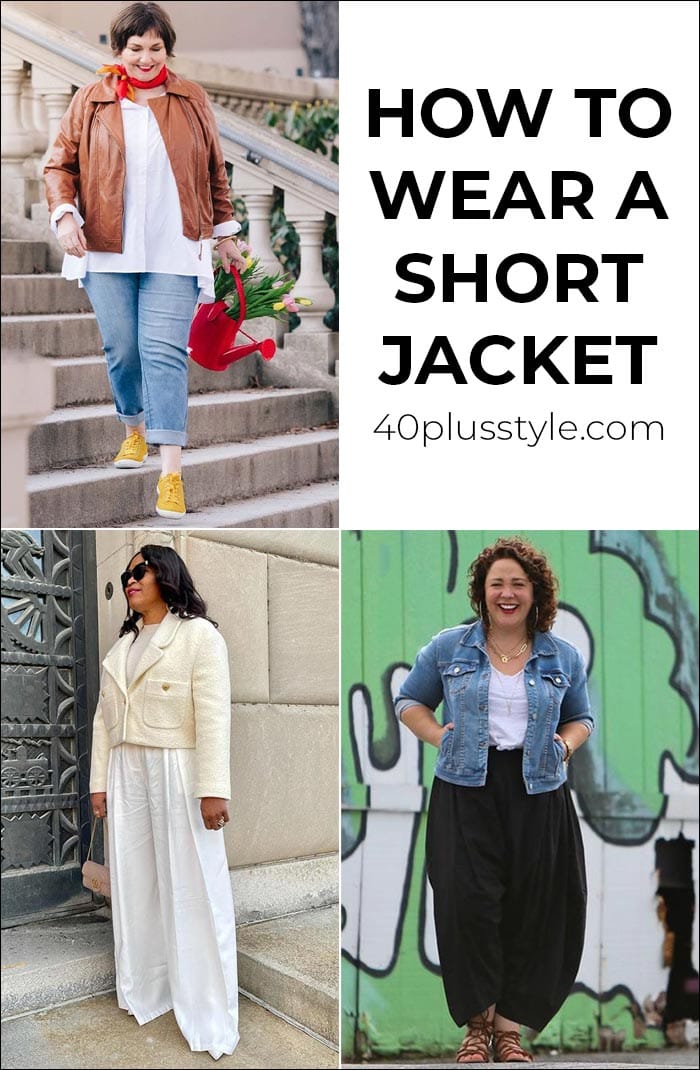 Feature image by Alison @wardrobe_oxygen
Want to get more articles from 40+style in your inbox, subscribe here.
You can also connect with 40+style on Facebook, Instagram or Pinterest.
Support 40+style by using the links in our articles to shop. As an associate for Amazon and many other brands, we receive a small commission (at no cost to you) on qualifying purchases which enables us to keep creating amazing free content for you. Thanks!