Gray is a common neutral color that does not have to be boring. The color provides a softer alternative to black and is actually easier to wear for many women over 40.
It is an incredibly versatile color that you can wear in many different ways in both summer and winter.and I have embraced it for each season.
Here is an updated guide on how to wear gray in both winter and summer!
Color palettes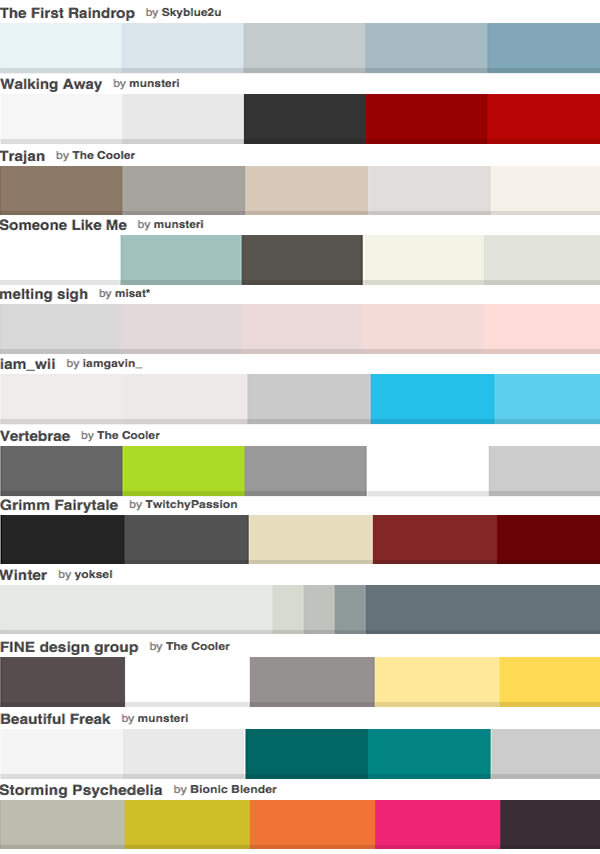 A great way to get some inspiration for your outfits is to use a tool like Colorlovers. In just 5 minutes I got all these great color palettes (above) just by typing in the keyword gray.
You can see how versatile the color is. It looks great with soft pastels like baby blue and pink, is great to combine with white and a pop of color and looks fresh and modern with brighter colors.
You can now go through these color palettes and see which one speaks to you. Then head on over to your wardrobe and see which colors are already there and start creating some outfits.
Creating ensembles with gray
I used the color palettes as the starting base of the ensembles I have created.
Melting Sigh – combining gray with pink
I started off with Melting Sigh as I love the dreamy soft combination of gray and pink.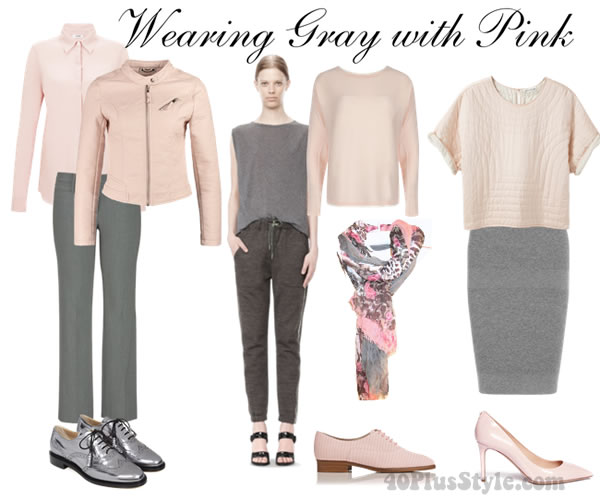 Gray and pink create a soft romantic and classical look. Pink is a great color for a knitted sweater that you could combine with both your pants and skirts.
But also consider pink as the color of your coat which looks beautiful with your grey pants.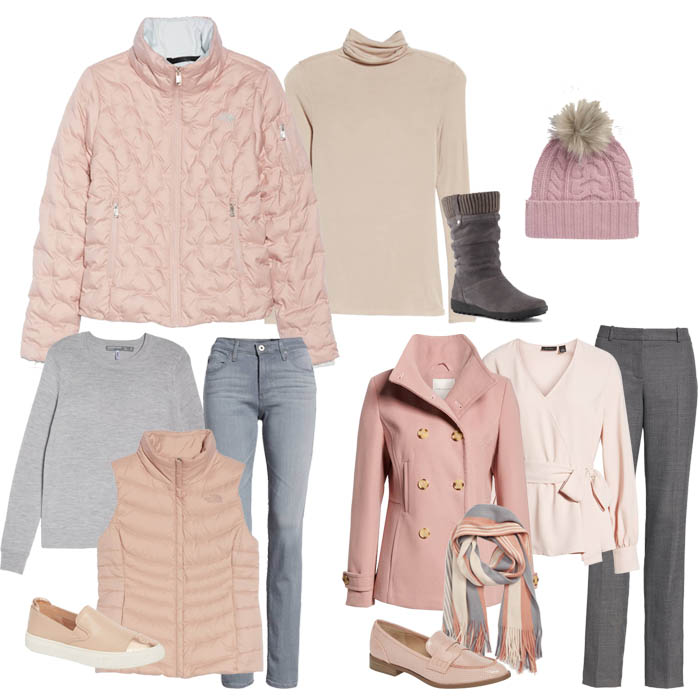 Outfit 01: Muster Merino Wool Sweater – Aconcagua II Down Vest – 'The Prima' Mid Rise Cigarette Skinny Jeans – Colorblock Slip-On Sneaker

Outfit 2: Double Breasted Peacoat – Stripe Scarf – Tilunana Geometric Stretch Wool Blend Suit Trousers – Lewis Loafer – Suplice Top

Outfit 3: Holladown Water Repellent 550-Fill Power Down Crop Jacket– Layering Turtleneck – Ab-solution Stretch Skinny Jeans – Cashmere Cable Knit Beanie with Faux Fur Pom – Vienna Waterproof Bootie

Although I strictly kept to a pink and gray palette here, it's actually really nice to throw white into the mix as well. You can also add darker shades of gray.
For extra color or to highlight your romantic look, add a colorful scarf featuring these colors.
Beautiful Freak – Combining gray with green
My second inspiration palette is Beautiful Freak. It combines 2 fashionable colors together: gray and dark green.
Combining gray with dark green creates a more sophisticated and mysterious look.
It's especially beautiful when you add white to the mix or play with different kinds of gray.  Finish your look with silver or gray brogues or booties.
I'm loving the below layering look with this graphical poncho. Add a green necklace for an extra special look.
Outfit 1: Cowl Neck Tunic – Titana Stretch Trousers – Tassel Necklace – Abbot Lux Sneaker – Cassie Faux Leather Circle Crossbody Bag –   Reversible Poncho

Here's another look with a poncho, but it's green this time. The gray underneath creates a nice column of color which makes it easy to layer your poncho on top. Warm and comfortable to wear in winter!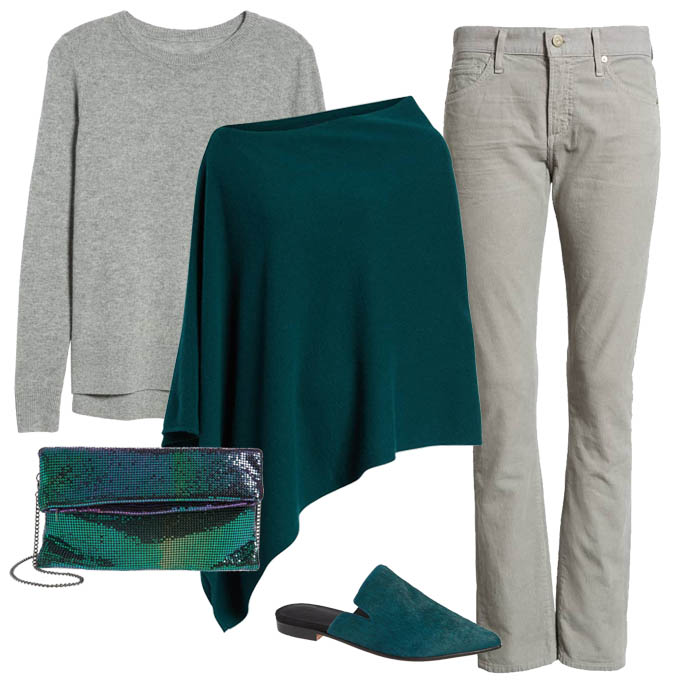 Outfit 2: Agnes Slim Straight Leg Corduroy Pants – Crewneck Cashmere Sweater – Convertible Cashmere Poncho – Metallic Mesh Foldover Clutch – Ilaria Genuine Calf Hair Mule

This last look is simple and chic. You may want to add an extra layer with a poncho or jacket if the weather gets cooler.

Outfit 3: Perfect Fit Turtleneck – Zip Ankle Pull-on Pants – 'Petra' Driving Shoe – Maceyy Double Zip Leather Crossbody Bag – Moonlight Drop Earrings

Below is a smart casual look which is a bit edgier with a more forest green, with the use of a green biker jacket worn over a knotted gray dress.
Paige shift dress – Levis leather jacket – Udo bueno slouch sandal – Urban Originals vegan tote – Dean Davidson's necklace
Walking away
Gray can also be used as the perfect neutral with primary colors, such as red. This is an especially good combination in winter and in the festive season.
Below looks are inspired by the 'Walking away' color scheme.
This gray sweater is extra special because of the little sparkles. Looks fabulous with these striped pants and the red gives the splash of color to make you shine!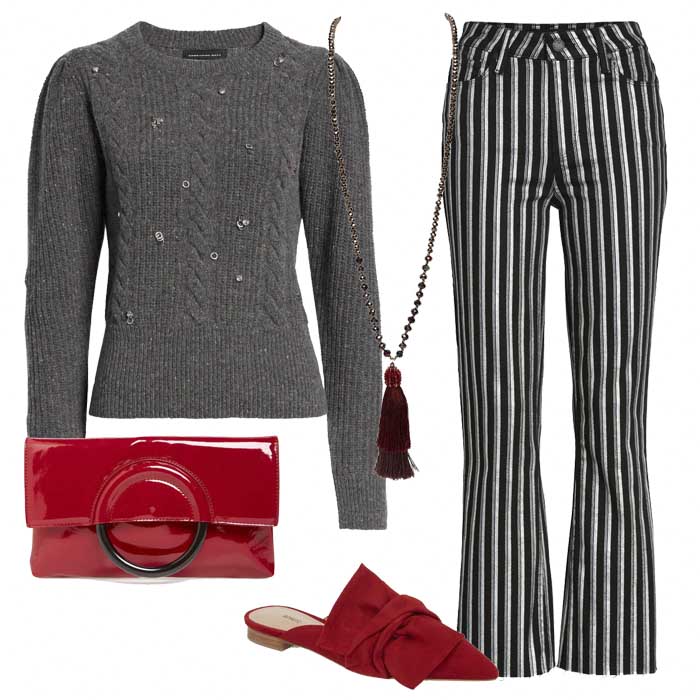 Outfit 1: Colette High Waist Crop Flare Jeans – Jewel Deco Cable Sweater – Resin Handle Clutch – Stella & Ruby Beaded Tassel Necklace – D'Ana Knotted Loafer Mule

This draped sweater does a great job at hiding your belly and is the perfect outer layer. The wider pants make this look a bit festive so this outfit could be worn for your chirstmas parties too!
Outfit 2: Drape Front Top – Wide Leg Crop Wool & Silk Blend Trousers – Miller Embossed Clutch – Elly Flat – Square Scarf

Here is another great look that could work for a variety of occassion. Easy to layer with an extra cardigan or jacket too if the weather gets colder.
Outfit 3: Surplice Neck Side Tie Blouse – Trouser Cigarette Pants – Halen Rhinestone Embellished Loafer – Faux Leather Satchel

How I have previously worn gray
I love wearing gray with a winter white base.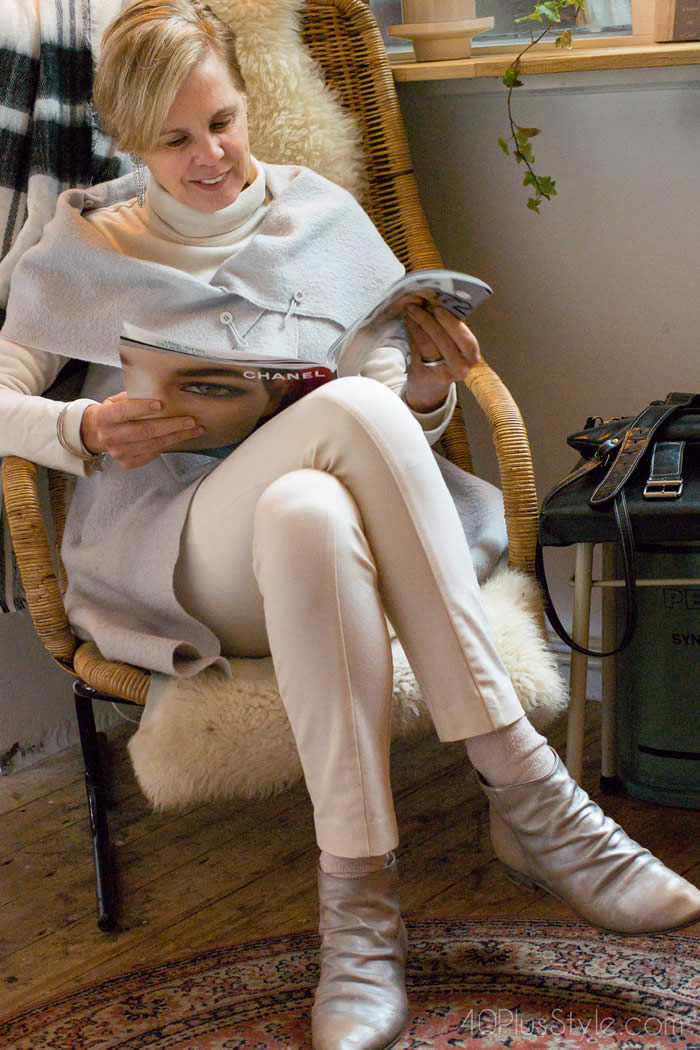 Although the quality of below picture isn't great, you get an idea of how I'm mixing and matching my gray pieces this winter. Many of these can still be bought online. You will find all details in this article.
gray top – gray top by Stella Carakasi
Here is how I have worn gray in the summer.
With wide leg pants and a grey top (here is a t-shirt that's great too)
Mixing prints with an old silk blouse and dotted skirts. The shoes are my new favorite and can be bought here.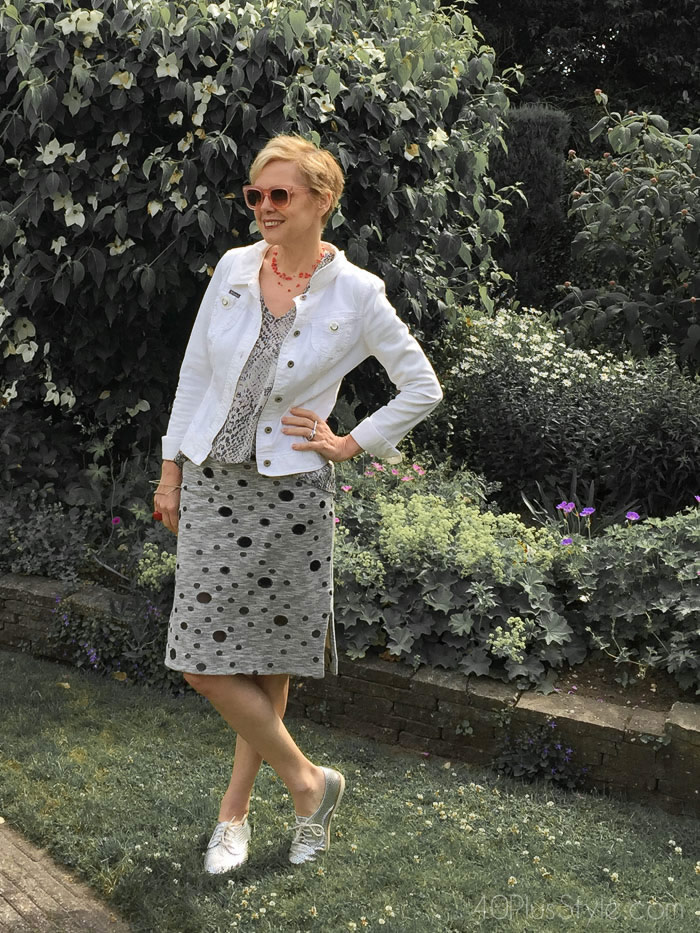 How Debra Rapoport wears gray
Turn your gray pieces into artful ensemles!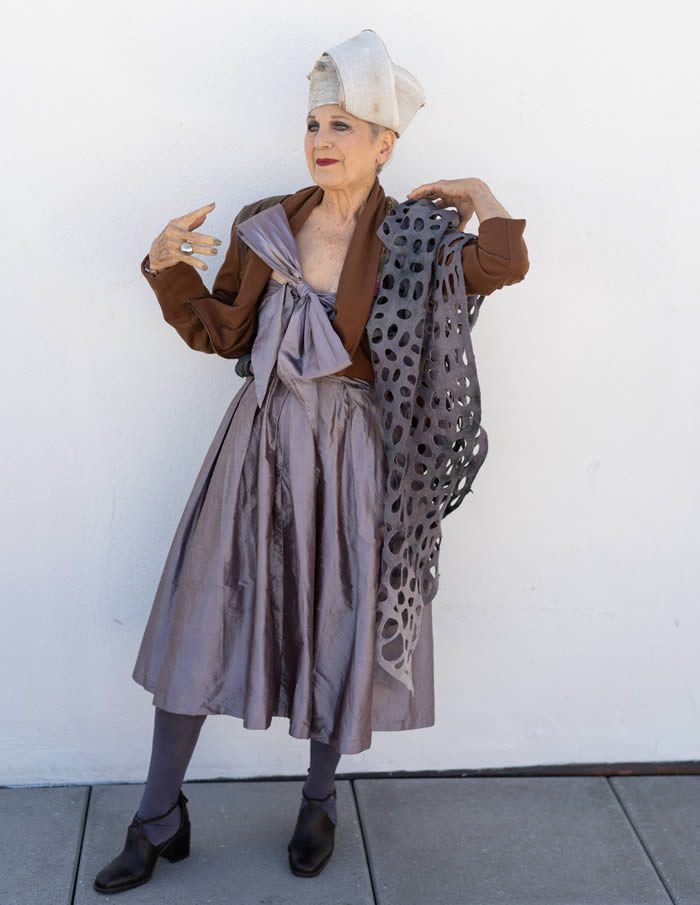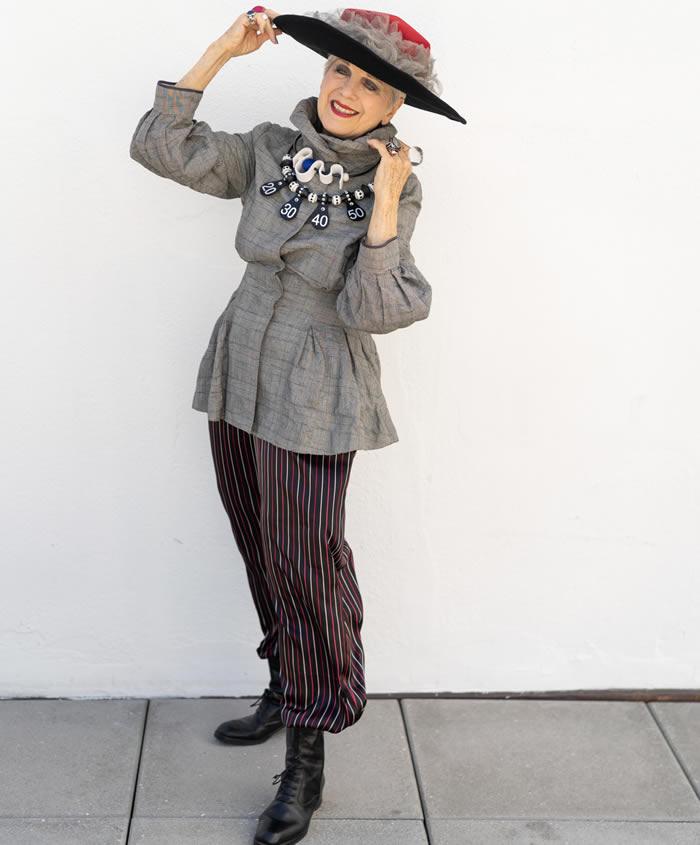 Here are 6 more fabulous how to wear gray looks to give you some extra inspiration!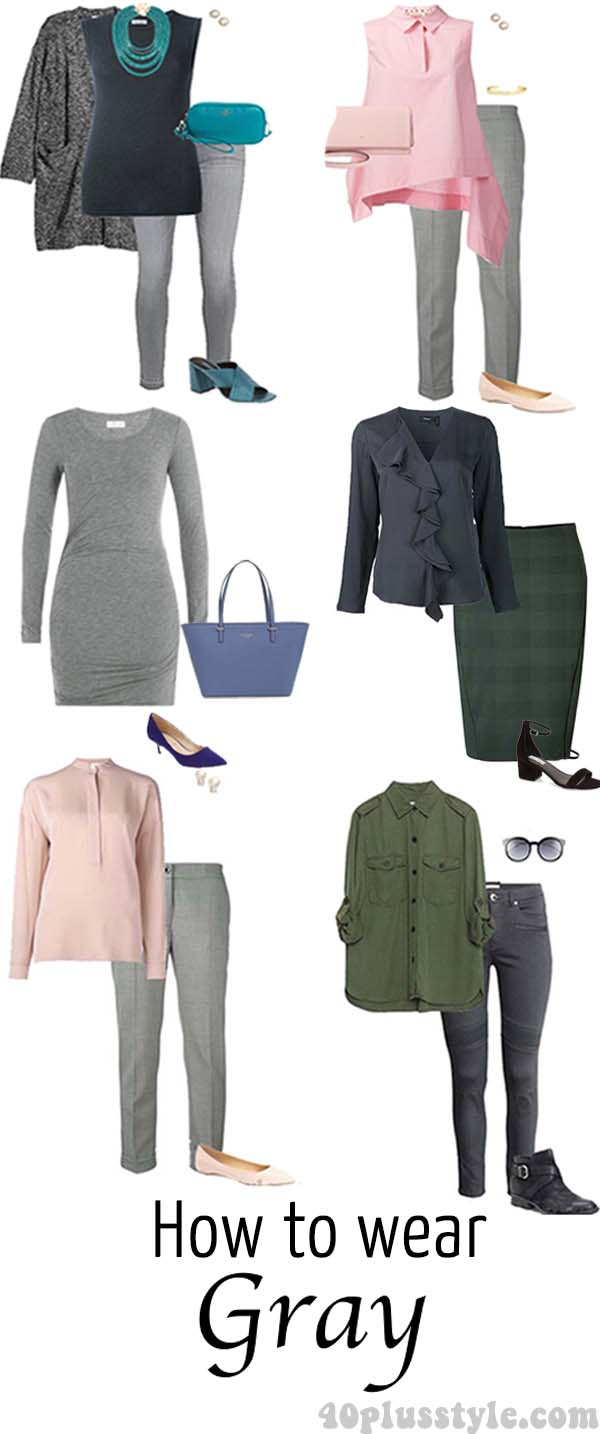 Your ensembles!
Scroll down further to see some more collages that you created.
What is your favorite way to wear gray? Which is the color combinations is your favorite?

More ideas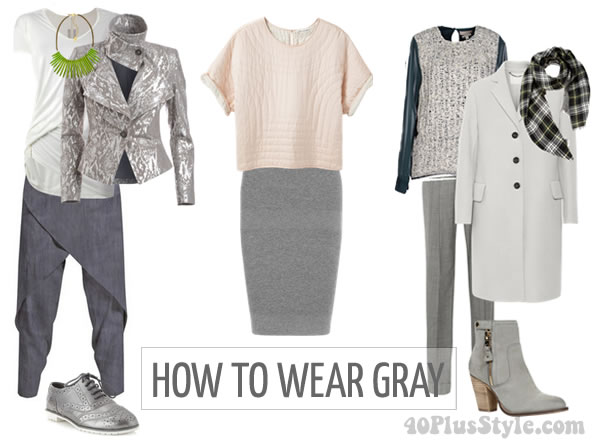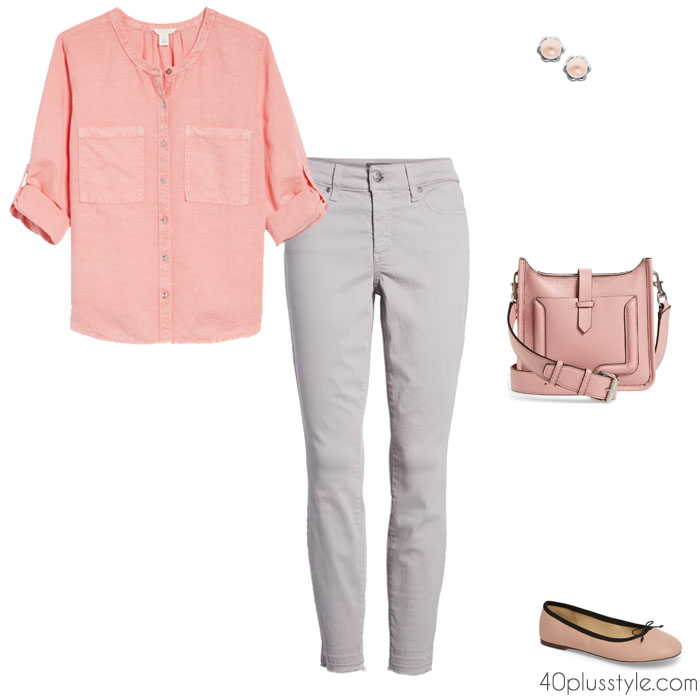 1. Suzanne Carillo – mixing gray with purple, red and orange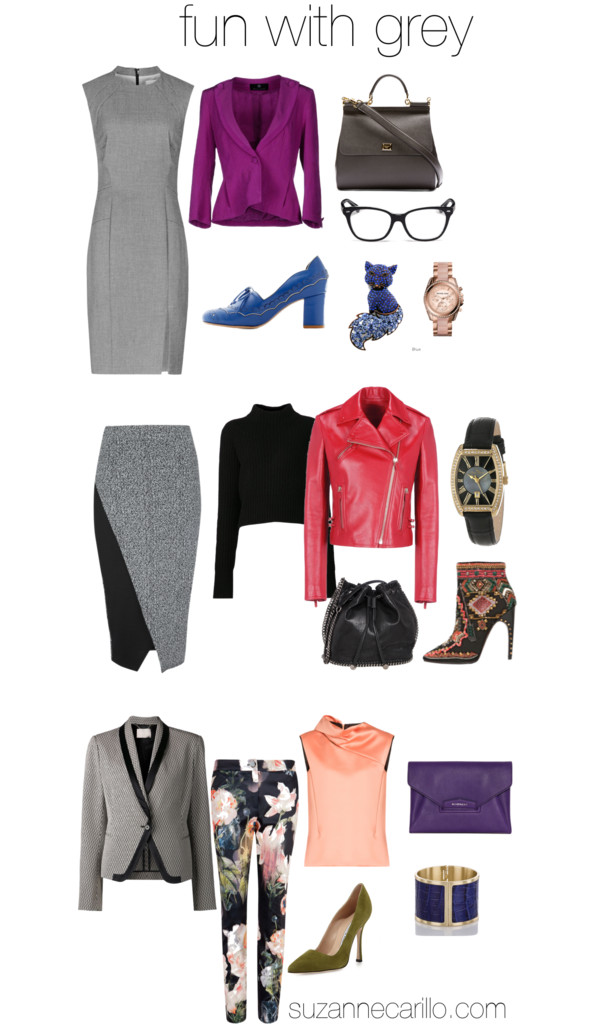 Petra – Mixing blue with gray
Michaela – Combining gray with dark blue
Lisa – Mixing gray with turquoise and green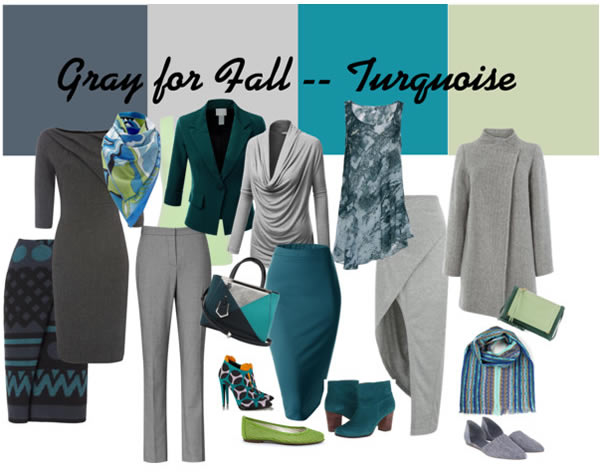 Lisa – Combining gray with red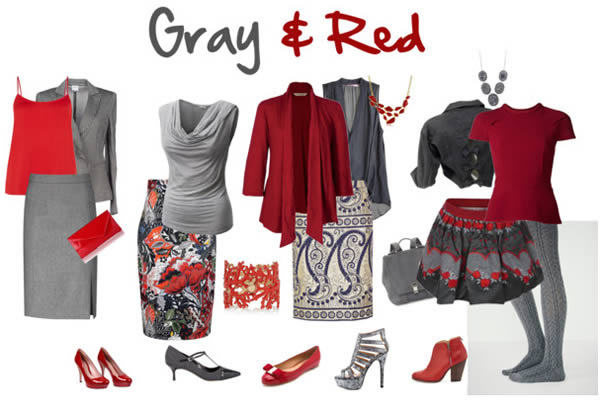 Like this article? Save it on Pinterest!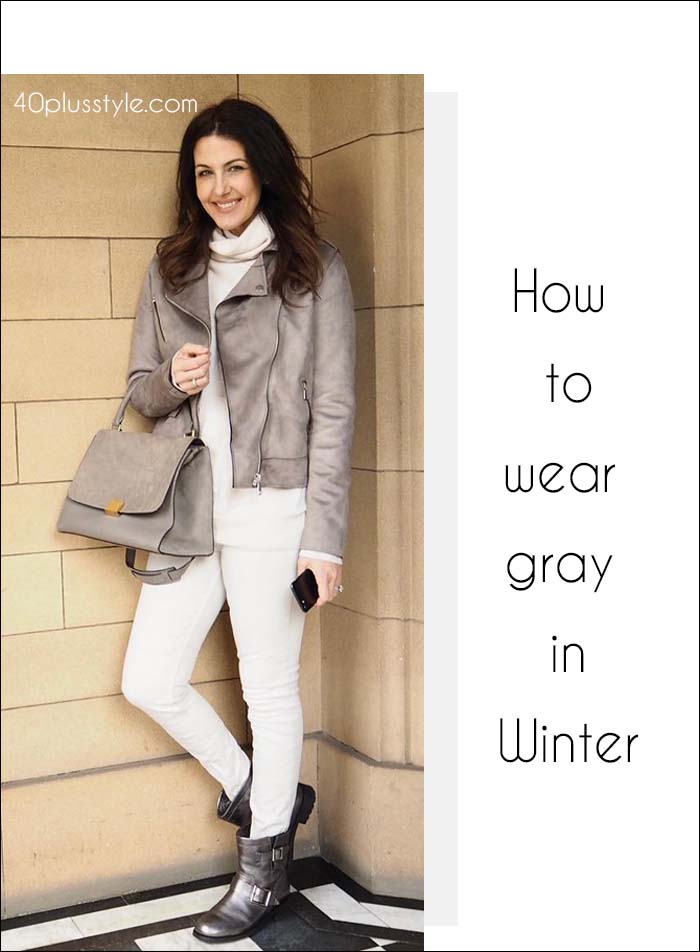 Avove photo featuring Julie Hannah
Photos of Debra Rapoport by Denton Taylor