Gray is a common neutral color that does not have to be boring. The color provides a softer alternative to black and is actually easier to wear for many women over 40.
It is an incredibly versatile color that you can wear in many different ways in both summer and winter and I have embraced it for each season.
Here is an updated guide on how to wear gray in both winter and summer!
Think gray really is boring? Here is why you might want to re-consider
Before taking a look at the colors which go with gray, maybe you're not convinced at all about wearing gray at all.
Gray is, after all, often considered to be a boring, conservative option. But, it really doesn't have to be. Here are some of the reasons you may want to wear gray.
Gray can be very sophisticated
Often seen as a mature choice, gray can also be sexy and sophisticated. While it is associated with workwear or men's gray suits, I think wearing gray in an unexpected way or unexpected materials can give your outfit a real wow factor.
Gray is the perfect base for a capsule wardrobe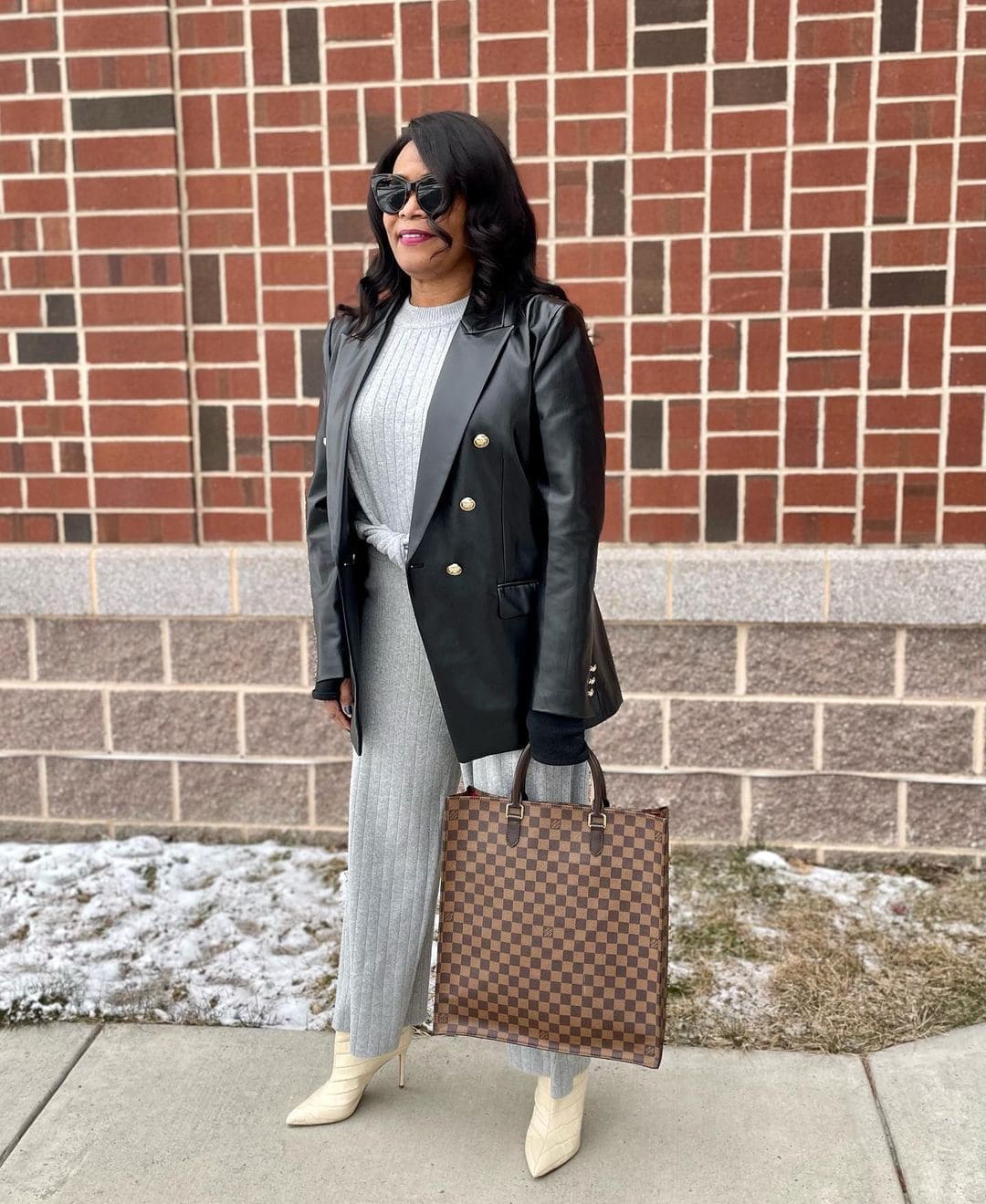 If you want to create a capsule wardrobe to make sure everything you have goes with plenty of other items in your closet, gray can be a perfect neutral to choose as a base.
Eugenia @theageofgrace above (read her style interview here) opts for gray lounge separates and dresses them up with a leather blazer.
Get her look with this similar ribbed top, pants, blazer, booties, tote and sunglasses.
It is less harsh than black
Black is often considered to be a flattering option, and it can be slimming. However, black against your face can also be aging. Gray offers a softer option and you can choose the gray which best flatters your skin tone.
It goes with everything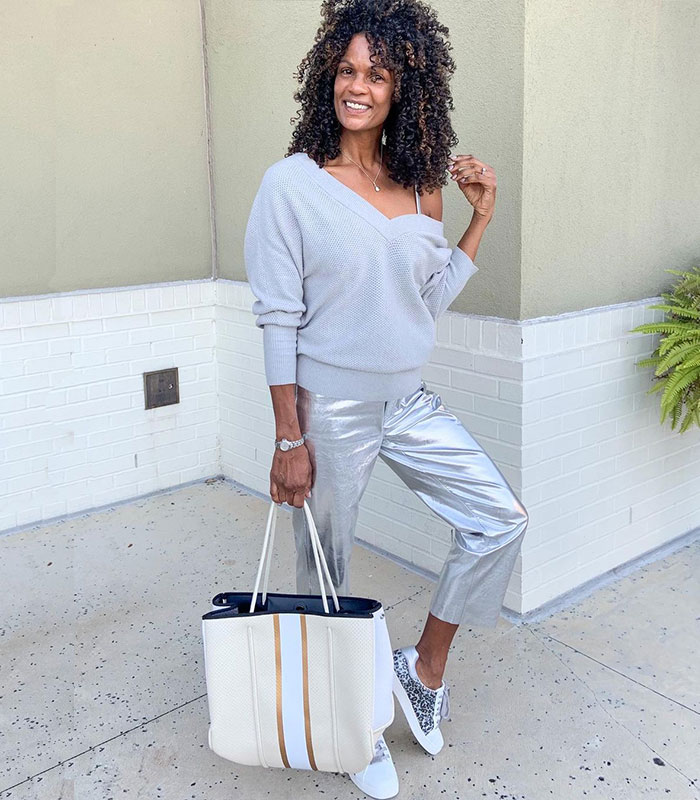 As you're about to see below, gray really does go with pretty much every color you can think of.
Diane @fashiononthe4thfloor above (read her style interview here) shows that gray can look beautiful with silver.
Recreate her outfit with this similar sweater, pants, sneakers and tote.
Colors that go with gray – Take a pick from these color palettes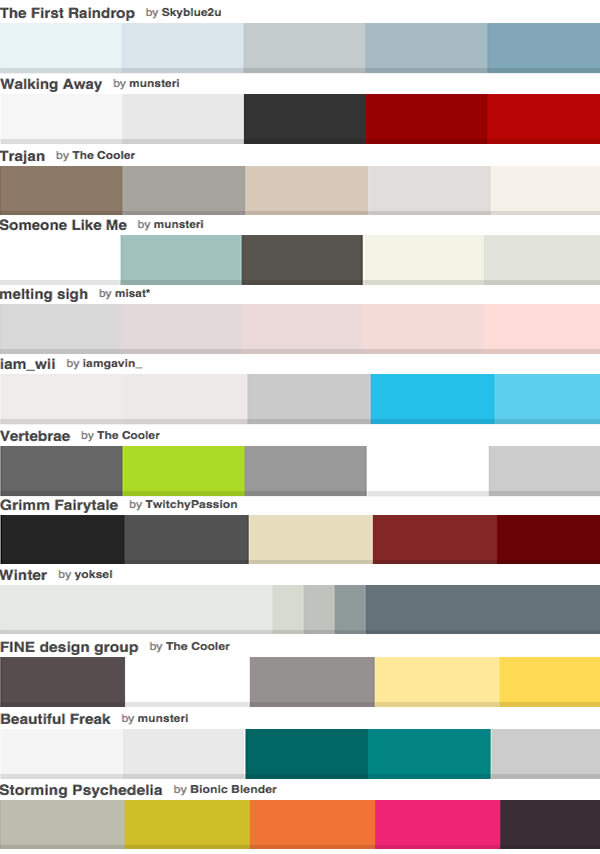 A great way to get some inspiration for your outfits is to use a tool like Colorlovers. In just 5 minutes I got all these great color palettes (above) just by typing in the keyword gray.
You can see how versatile the color is.
It looks great with soft pastels like baby blue and pink, is great to combine with white and a pop of color and looks fresh and modern with brighter colors.
You can now go through these color palettes and see which one speaks to you.
Then head on over to your wardrobe and see which colors are already there and start creating some outfits.
This can be a fantastic way to revive your wardrobe if you feel you've become stuck in a bit of a rut in terms of how you wear your clothes.
The perfect gray basics
If you want to put together some stylish gray outfits, you will first need some stylish gray essentials to add the rest of your colors to. Here are some of the best gray essentials in stores now.
How to wear gray: The perfect gray top
This layered top will enable you to create many outfits. You can easily layer it with a shirt underneath or a moto jacket on top, but it can also be worn very stylishly on its own.
The advantage of this top from Topdress is that it drapes nicely over your belly and hides it perfectly. It's not too long so will not cut your body in half and has an asymmetrical hem which makes it extra flattering!
Also take a look at how to hide your belly with the right clothes.
The perfect gray coat
40+style photographer Denton Taylor captured this lady on the streets of New York and it's a great example of how stylish gray can be.
It seems like this outfit is almost head to toe designer with the bag by Miu Miu, coat and skirt by Prada and Mulberry, sunglasses by Prada and scarf by Mulberry.
However, you don't have to choose designer to get a similar look. Below is a gray coat you can try.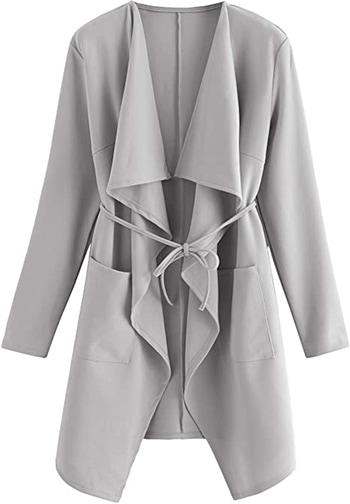 The perfect gray jacket
A gray jacket can make many casual looks just a bit more chic.
I'm loving this gray moto jacket from BLANKNYC, which is a great alternative to a classic black leather jacket.
Wear it with your dresses, skirts or jeans. It would look beautiful paired with white, red or black.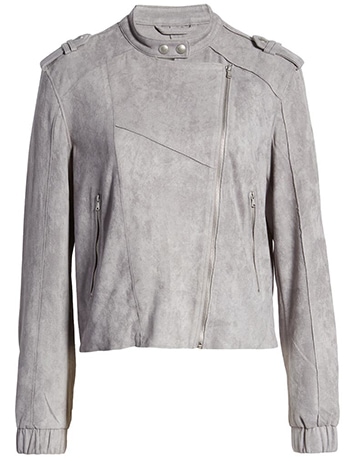 BANKNYC faux suede moto bomber
The perfect long gray cardigan
A long open cardigan is flattering for most.
It can help hide your belly or you it will lengthen you and make your slimmer and can work really well if you are petite.
This cardigan is extra flattering as it has a longer line.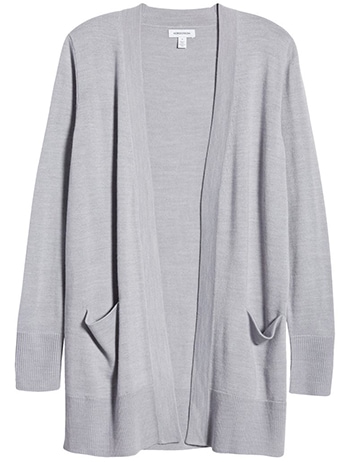 The perfect gray dress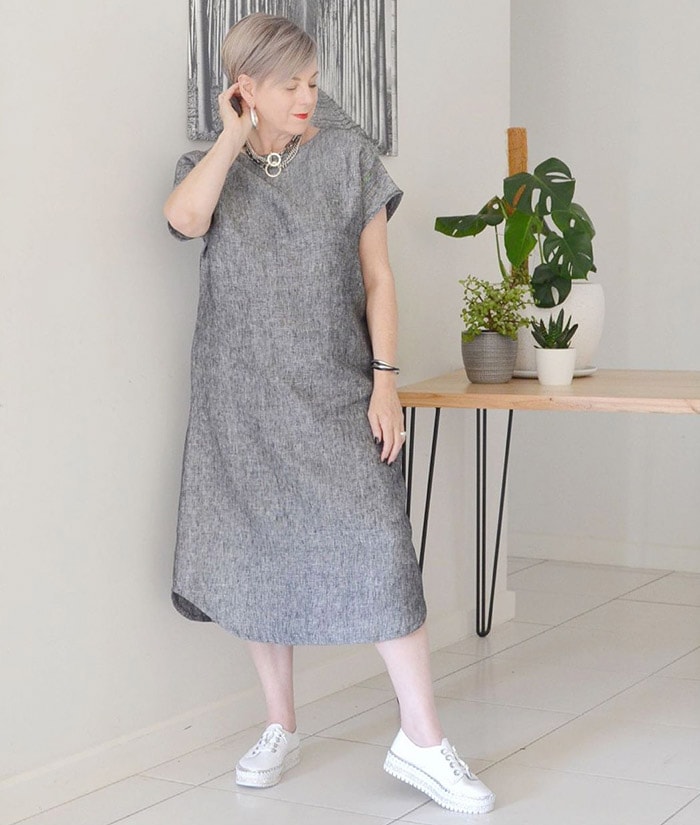 There are more than 50 shades of gray, so you can choose one you prefer. You might like to opt for a dress that is a darker shade of gray that is almost, but not quite, black.
Deborah @stylishmurmurs above (read her style interview here) chooses a mid gray dress and wears with sneakers.
Recreate her outfit with this similar dress, sneakers and necklace.
The perfect gray skirt
An asymmetrical hem adds interest to your gray outfit. The handkerchief hem skirt (below) would look fabulous worn with a sweater for a transitional outfit moving into cooler months or with a t-shirt and sandals for summer.
DJT handkerchief hem midi skirt
The perfect gray pants
These pants are super versatile. They look chic for work or more formal events, but you can easily dress them down for casual too if you combine them with a light shirt and jean jacket.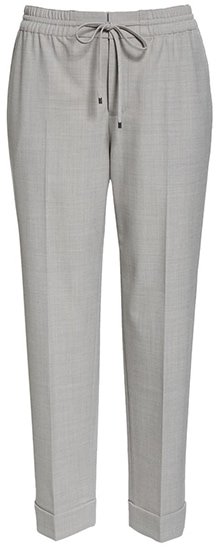 The perfect gray jeans
When it comes to jeans, it's easy to think in terms of black, blue or white. But gray can also be a very versatile option, going with all of the tops you have in your closet.
Sam Edelman high waist skinny jeans
The perfect gray sandals
As many of you will be heading into summer, how about a pair of gray sandals? The Söfft sandals (below) have a contoured footbed so they should keep you comfy no matter how much walking you do.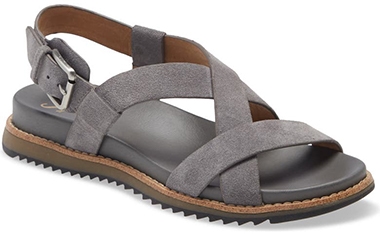 gray sneakers
Sneakers are still very much on trend and I love these platform sneakers (below). They will look good worn with pants or skirts!
gray boots
A pair of black boots can look too dark for spring and summer, depending on how you style them. A pair of gray boots, on the other hand, can be just the right shade to go with all of your summer outfits.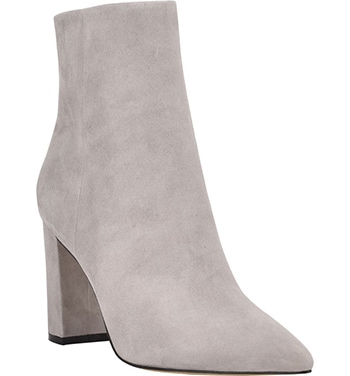 gray accessories
Yes, a black handbag is a classic, but so too is a gray bag. A gray tote will go with everything.
Creating ensembles with gray
I used the color palettes as the starting base of the ensembles I have created. Read on for plenty of suggestions on how to wear gray with different color palettes.
Combine gray with white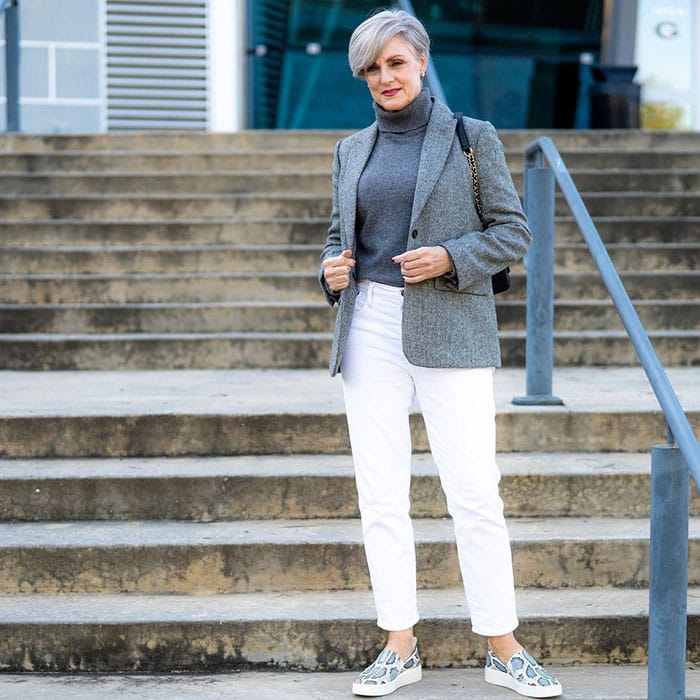 Gray and white is the perfect color palette for summer.
Beth @styleatacertainage above (read her style interview here) teams gray with her white jeans.
Check out this similar sweater, blazer, jeans, slip-on sneakers and shoulder bag.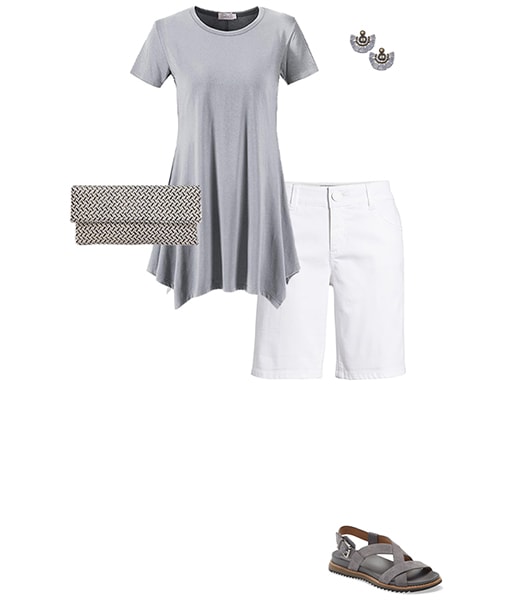 Topdress swing tunic top – Wit & Wisdom denim shorts – Söfft sandal – JNB raffia clutch – Lixin Yiqing fringe tassel earrings
Combine gray with blue
Another stunning look is to combine cobalt blue with gray. The gray is the perfect way to let the brighter blue take center stage in your outfit.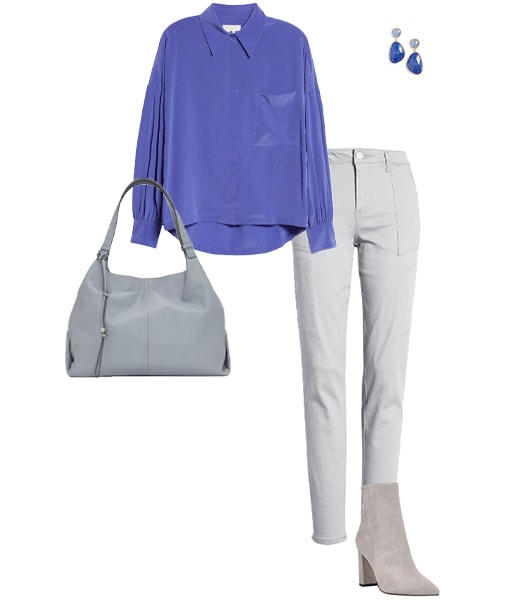 Ted Baker London silk blouse – Wit & Wisdom cargo pants – Marc Fisher LTD bootie – Vince Camuto leather tote – Stella + Ruby stone drop earrings –
Melting Sigh – combining gray with soft pink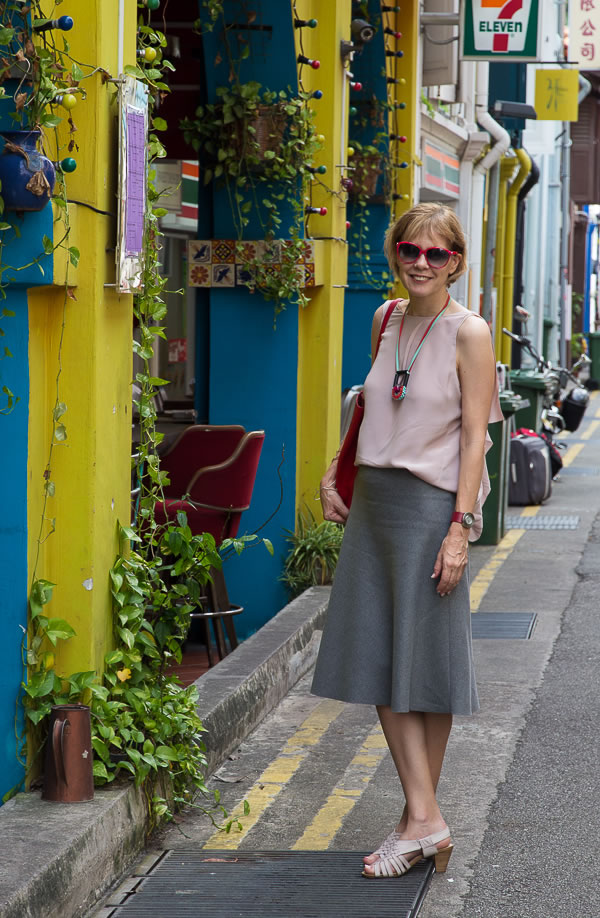 I started off with Melting Sigh as I love the dreamy soft combination of gray and pink.
Gray and pink create a soft romantic and classical look. Pink is a great color for a knitted sweater that you could combine with both your pants and skirts.
But also consider pink as the color of your coat which looks beautiful with your gray pants.
Although I strictly kept to a pink and gray palette here, it's actually really nice to throw white into the mix as well. You can also add darker shades of gray.
For extra color or to highlight your romantic look, add a colorful scarf. featuring these colors.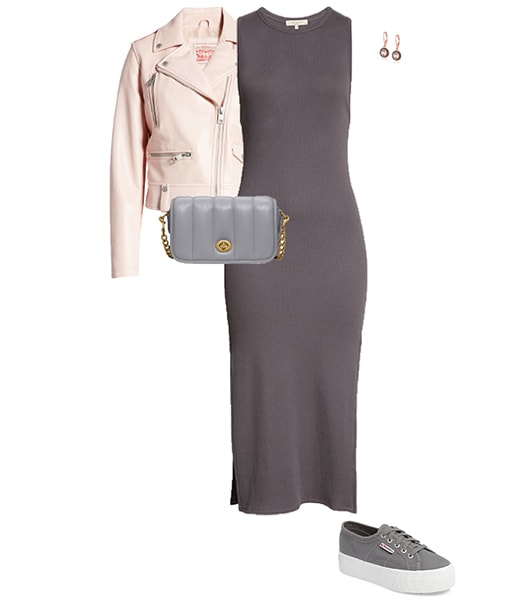 Levi's leather moto jacket – rag & bone tank dress – Superga platform sneaker – COACH quilted leather crossbody bag – Napier swarovski crystal drop earrings
Combining gray with shocking pink
Patricia @madamechicbcn above (read her style interview here) beautifully combines pink, gray and black.
Steal her look with this similar top, jacket, pants, heels, handbag, beret and gloves.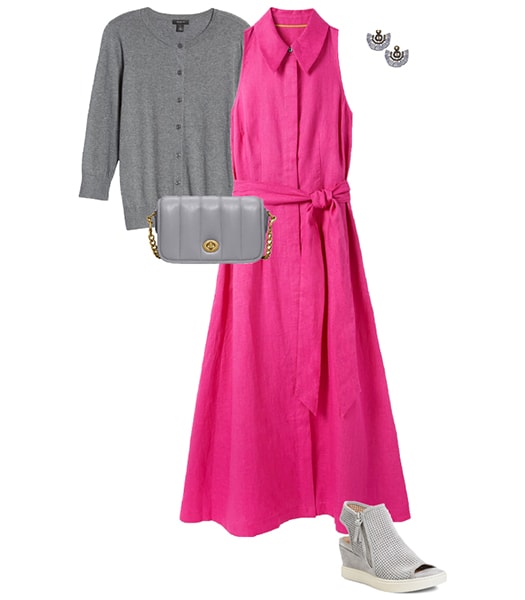 Halogen crewneck cardigan – Boden linen shirtdress – Söfft wedge sandal – COACH quilted leather crossbody bag – Lixin Yiqing fringe tassel earrings
Beautiful Freak – Combining gray with green
Another inspirational palette is Beautiful Freak. It combines two fashionable colors together: gray and dark green.
It's especially beautiful when you add white to the mix or play with different kinds of gray. Finish your look with silver or gray brogues or booties.
You could also wear a lighter shade of green, as below, with your gray.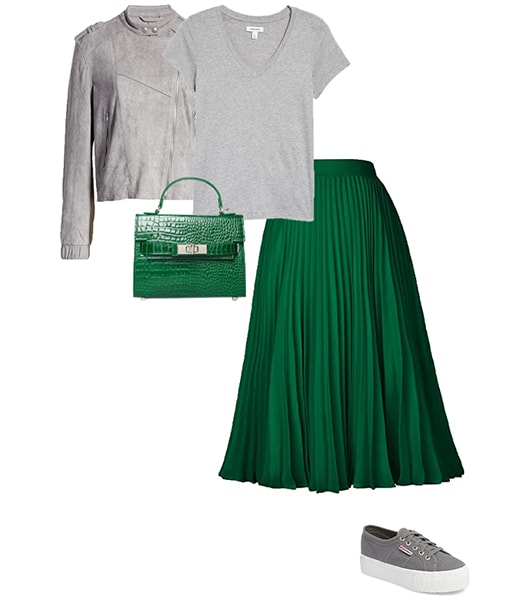 BANKNYC faux suede moto bomber – Nordstrom V-neck shirt – GRACE KARIN pleated skirt – Superga platform sneaker – Steve Madden croc embossed crossbody bag
Combine gray with black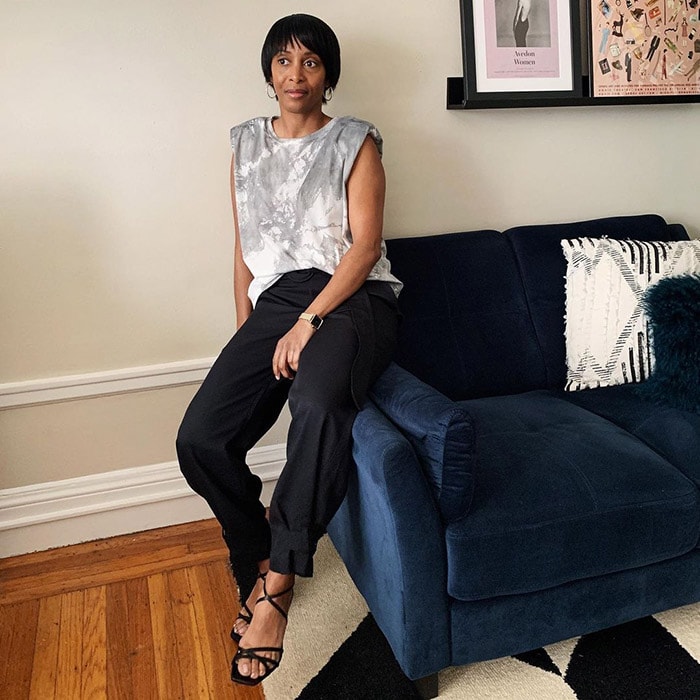 Sometimes a minimal outfit is all you need. What makes this outfit special is the edge the moto jacket and booties give to the dress.
Kim @kimair above (read her style interview here) adds an on-trend gray tie-dye top to her black pants.
Steal her look with this similar sleeveless top, pants, sandals and hoop earrings.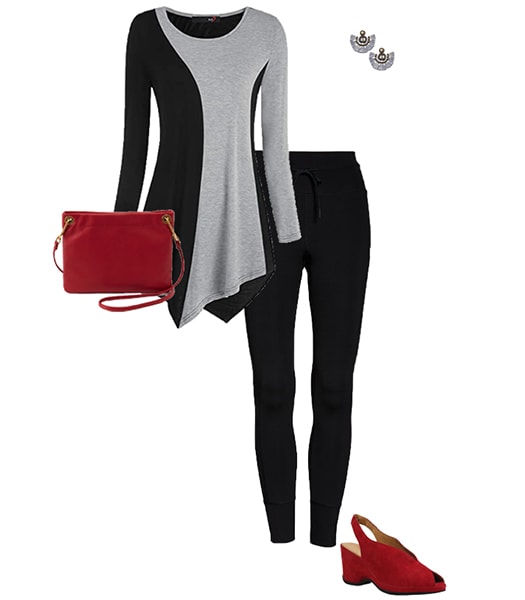 DJT handkerchief hem tunic top – Vuori leggings – L'Amour Des Pieds slingback sandal – HOBO convertible crossbody bag – Lixin Yiqing fringe tassel earrings
Combining gray with red
Gray can also be used as the perfect neutral with primary colors, such as red. This is an especially good combination in winter and in the festive season.
Or you could put together a chic look for work.
Vince Camuto cold shoulder tie front top – Club Monaco tie waist pants – Marc Fisher LTD bootie – HOBO convertible crossbody bag – BaubleBar huggie earrings
yellow and gray
Sunny yellow is the perfect way to bring a cheerful pop of color to your gray oufit.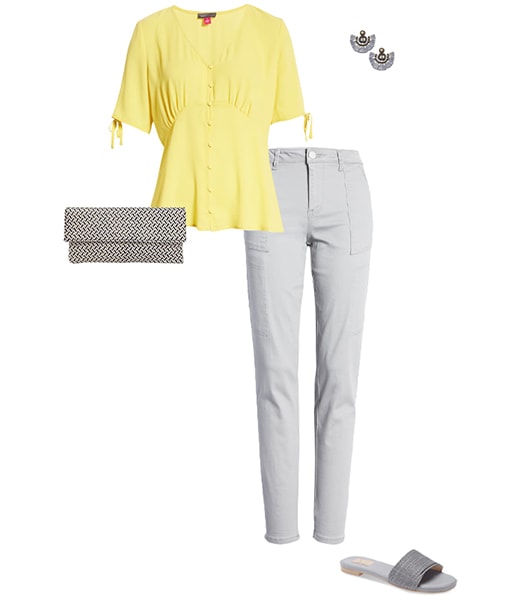 Vince Camuto front button blouse – Wit & Wisdom cargo pants – AGL slide sandal – Lixin Yiqing fringe tassel earrings
more gray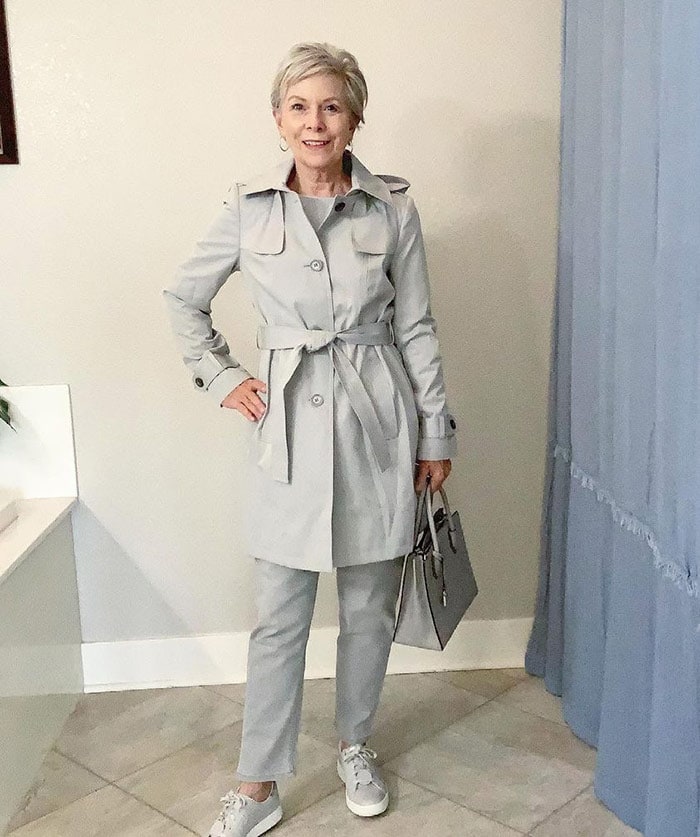 Why not wear your gray with more gray? An all neutral outfit can look very sophisticated.
Eileen @eileenternullo looks fabulous in all gray.
Get her look with this similar trench coat, pants, sneakers and handbag.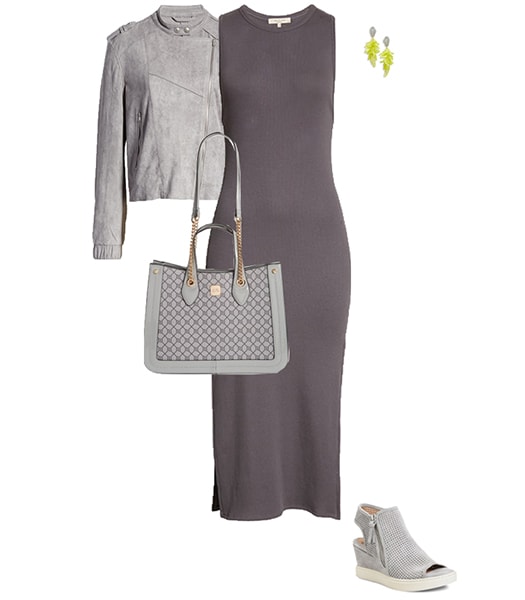 BANKNYC faux suede moto bomber – rag & bone tank dress – Söfft wedge sandal – River Island shopper – Open Edit petal earrings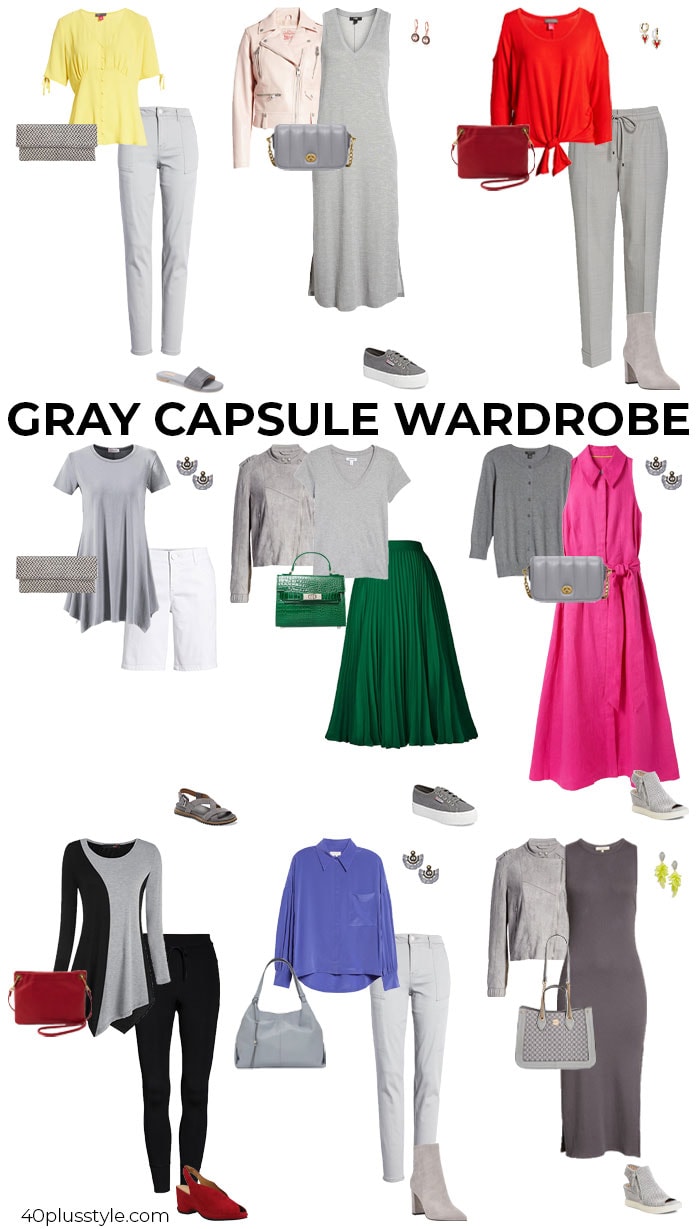 Shop all items above here:

More gray inspiration for you
Take a look below at a past season, but totally timeless, capsule which will give you more inspiration when it comes to putting together your gray outfits.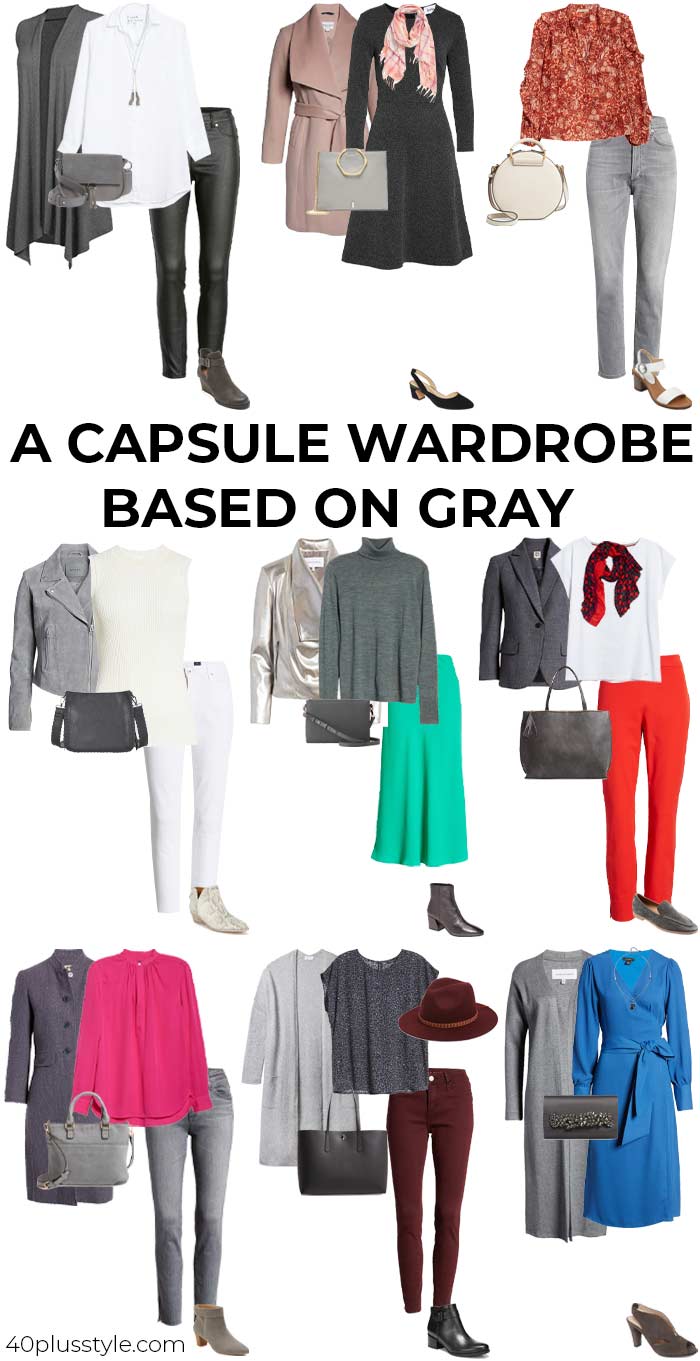 Read our ultimate guide to creating a capsule wardrobe that works best for you.
How I have previously worn gray
I love wearing gray with a winter white base.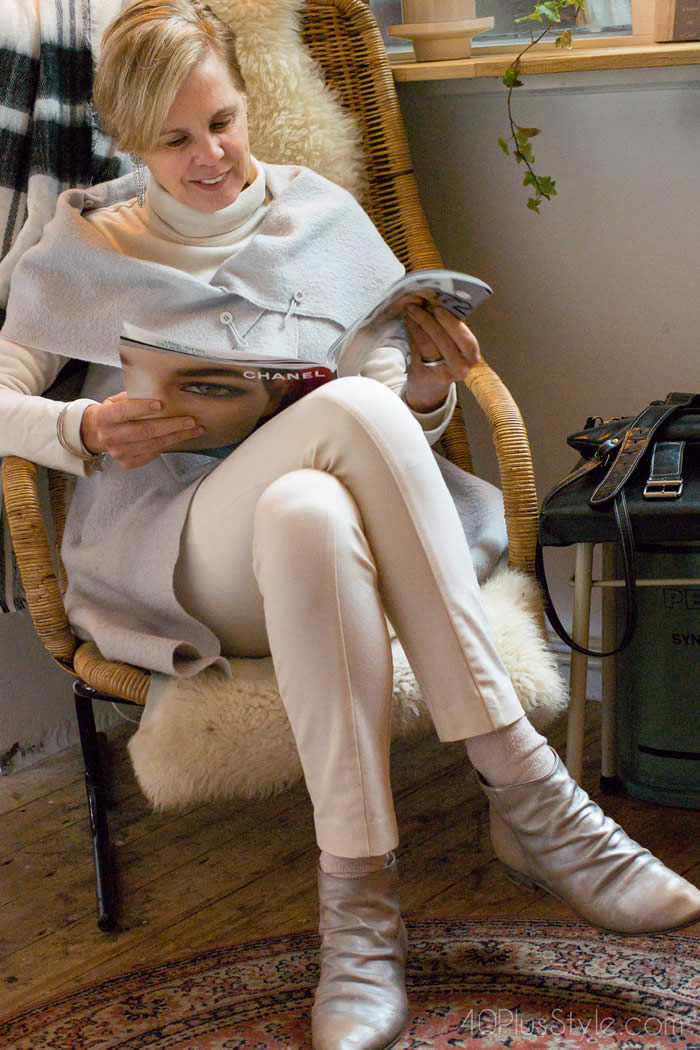 Here is how I have worn gray in the summer, with my wide-legged white pants.
With wide leg pants and a grey top.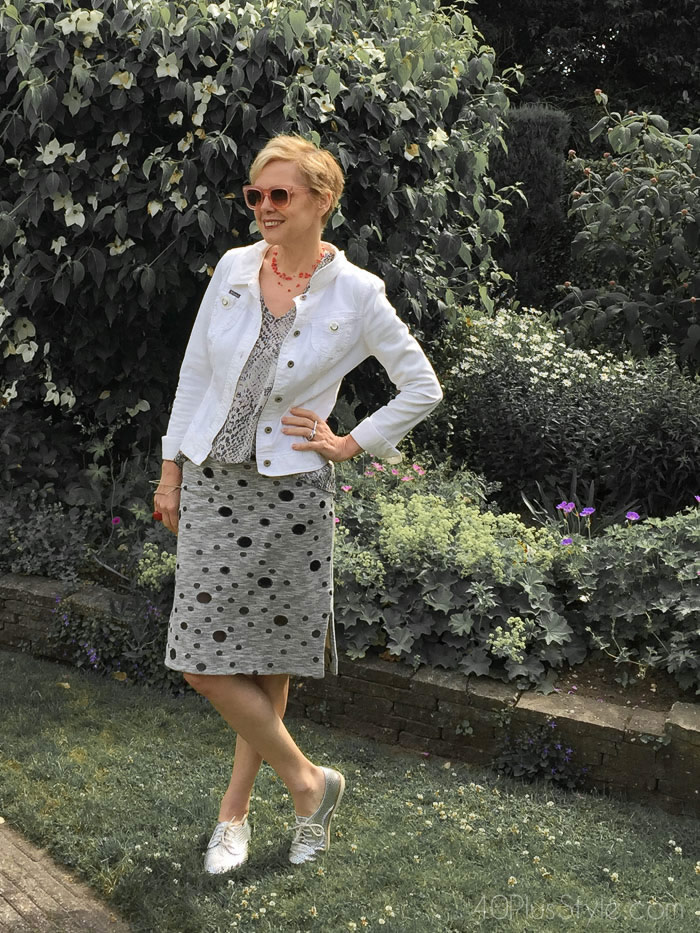 Mixing prints with an old silk blouse and dotted skirts.
How Debra Rapoport wears gray
Turn your gray pieces into artful ensembles like Debra Rapoport.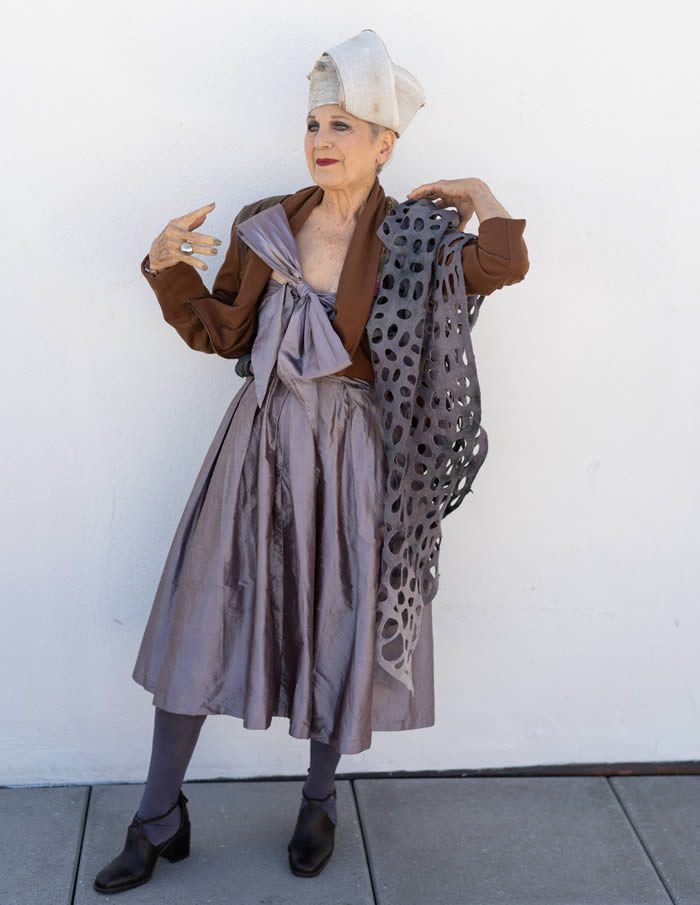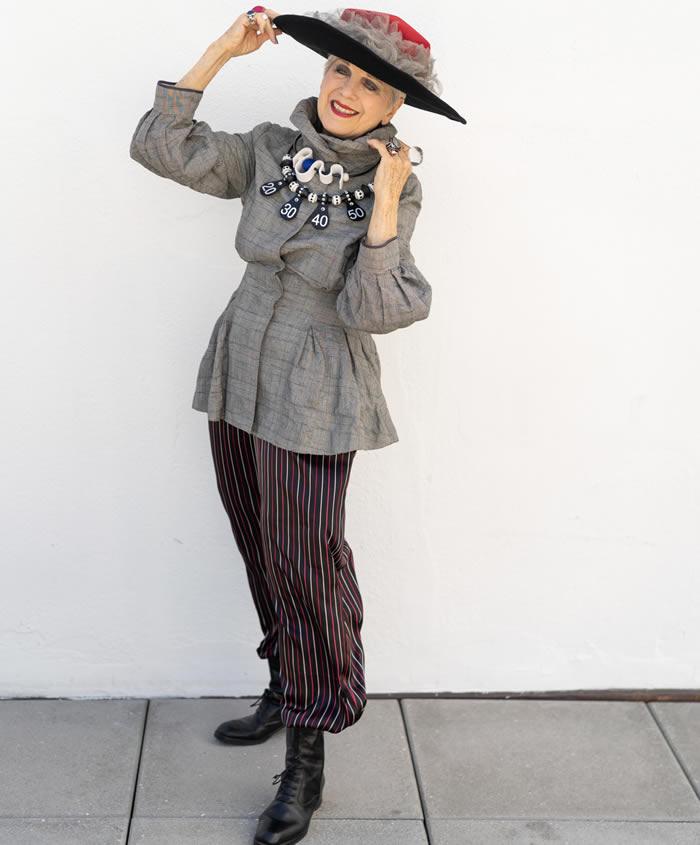 What is your favorite way to wear gray? Which of these color combinations is your favorite?
Continue reading:
Like this article on how to wear gray? Save it on Pinterest!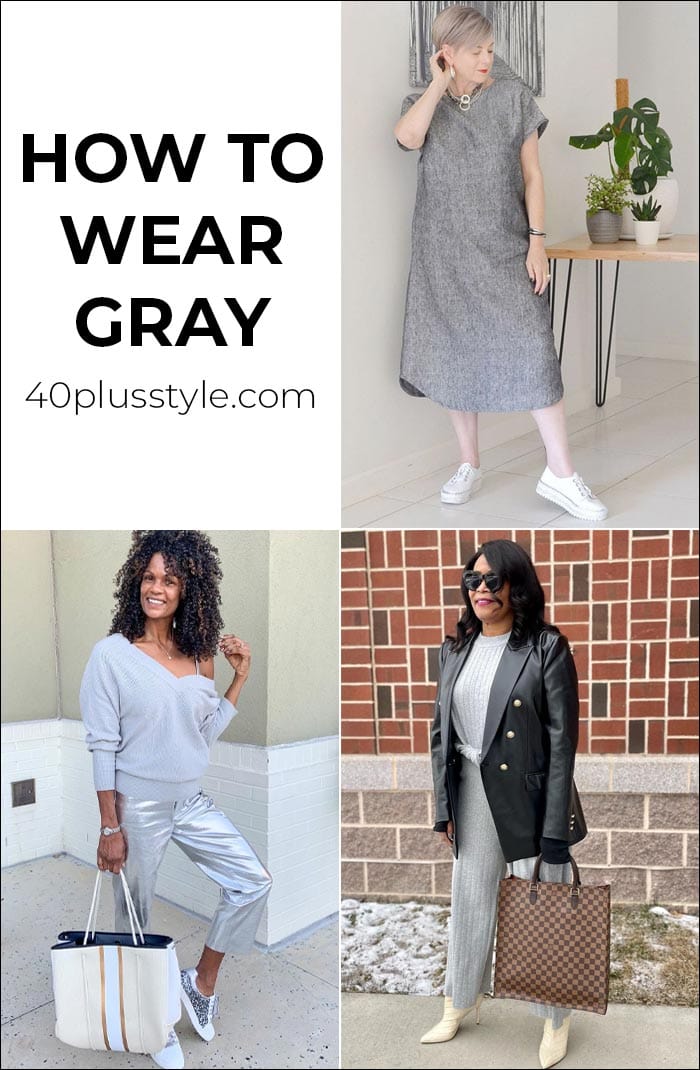 Feature image by Diane @fashiononthe4thfloor
Want to get more articles from 40+style in your inbox, subscribe here.
You can also connect with 40+style on Facebook, Instagram or Pinterest.
Support 40+style by using the links in our articles to shop. As an associate for Amazon and many other brands, we receive a small commission (at no cost to you) on qualifying purchases which enables us to keep creating amazing free content for you. Thanks!