Beige as a color has always been quite controversial. It can be linked to being boring, drab and fabulous fashionista Sue Kreitzman even proclaimed: "Don't wear beige. It might kill you!"
I recently received this email from Aileen:
"… I have often heard people saying that older women should avoid wearing 'beige' as it is an 'old lady' color, too safe and boring and also very draining on the complexion. What I noticed in a recent catalog is a lot of 'beige' but hiding behind words such as: Toffee, Vanilla Pink, Toast, Iced Mocha, Putty, Toasted Almond, Pale Oyster, Almond Cream, Desert Sand, Heather Silver Sand, Heather Stone, Pale Oyster. What do you think about beige as a suitable color for older women?".
Great question Aileen!
Let's first examine: exactly what color is beige?
According to wiki, beige is a very pale brown color, variously described as a pale sandy fawn color, a grayish tan, a light-grayish yellowish brown, or a pale to grayish yellow.
It can indeed be a tough color to wear depending on your specific skin color, but it can also look very chic, provided it is worn in the right way.
Beige clothing: Is beige having a resurgence?
Yes and no. Beige is definitely more popular now than it has been in other years. Below you can see how some of the major fashion houses showcased beige on the catwalks for spring/summer 2020.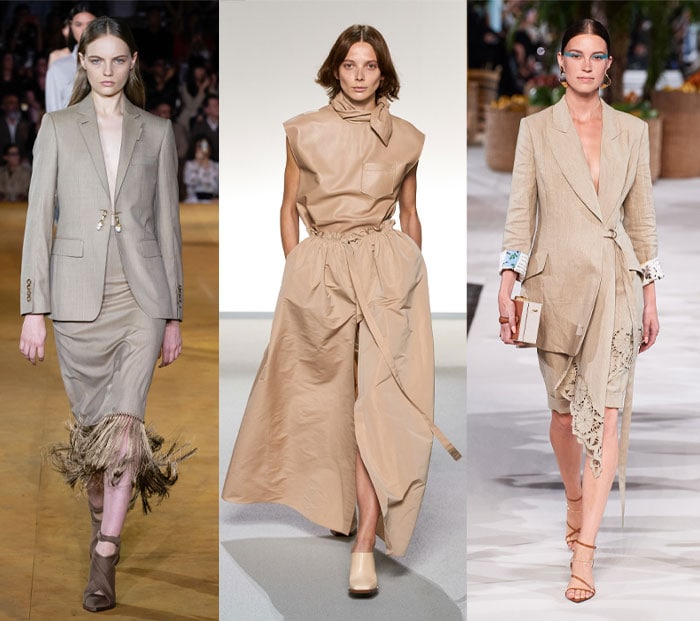 Burberry – Givenchy – Oscar de la Renta
However, as you know, beige is not just for 2020. It is also a complete classic. There's nothing more timeless, for example, than a beige trench coat.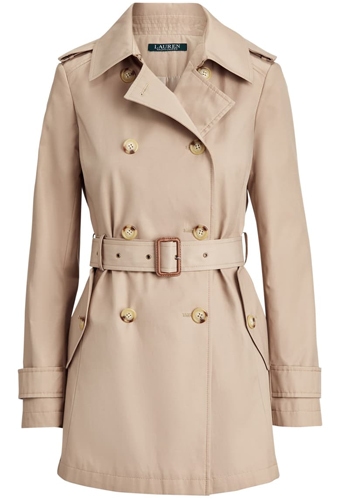 Lauren Ralph Lauren trench coat
Also take a look at how to wear a trench coat.
Some tips on wearing beige and putting together a beige outfit
Wear it away from your face
One of the easiest ways to wear beige is as a bottom. That is how I wore my beige / camel trousers and jacket a while ago with a cream top. I would probably add more color when I wear this again.
Get a more vibrant or shimmering beige
Beige is also easier to wear when it has a bit of shimmer. My golden top for example falls in the beige color range, but it's shimmery and more golden which brightens up the complexion and is therefore easier to wear. It also helps to wear it with a vibrant color and red lipstick.
Think about fabric and texture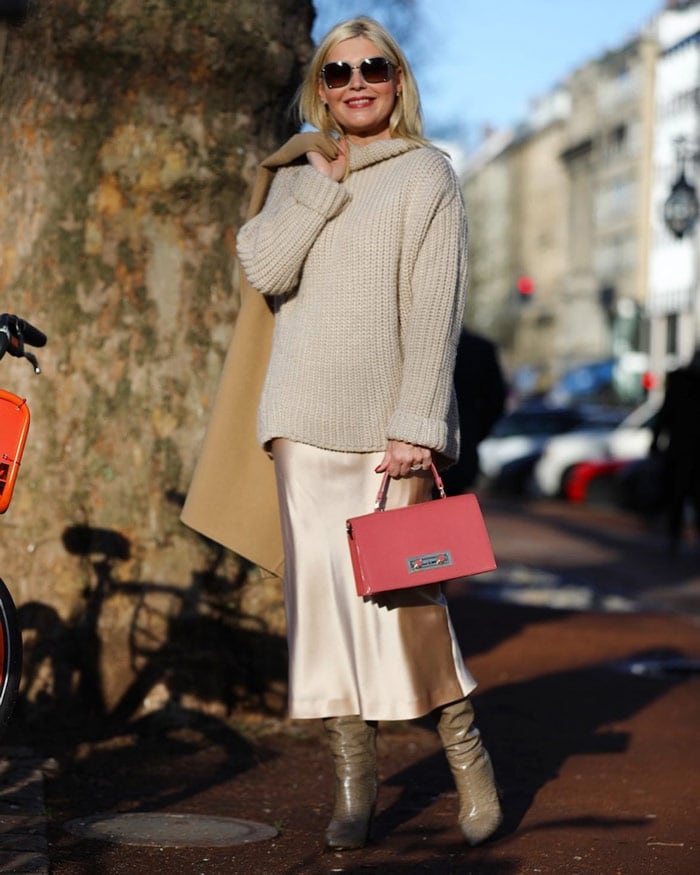 One of the reasons beige works so well is because it has a natural feel, so it makes sense that it looks particularly beautiful when worn in natural fabrics such as wool or linen. Adding texture also creates more interest.
Petra (above) wears an outfit which mostly consists of beige, but she adds interest with different textures and a pop of pink.
Recreate her look with this similar sweater, satin skirt and boots.
Make it part of your timeless capsule
If you are thinking about your wardrobe more in terms of a capsule right now rather than as separate items, beige can be the perfect neutral base for the rest of your clothes, shoes and accessories.
It can also form the basis of a classic wardrobe.
Take a look at our ultimate guide in creating a capsule wardrobe for more inspiration.
Choose the right shade of beige
Just as with gray, there are 50 shades of beige, and more. Choose the shade that looks best against your skin tone.
If you are pale, you may wish to avoid pale beige so you don't look washed out. Most importantly don't choose a beige the same color as your skin (otherwise, you may look partly undressed from a distance!)
Wear it with color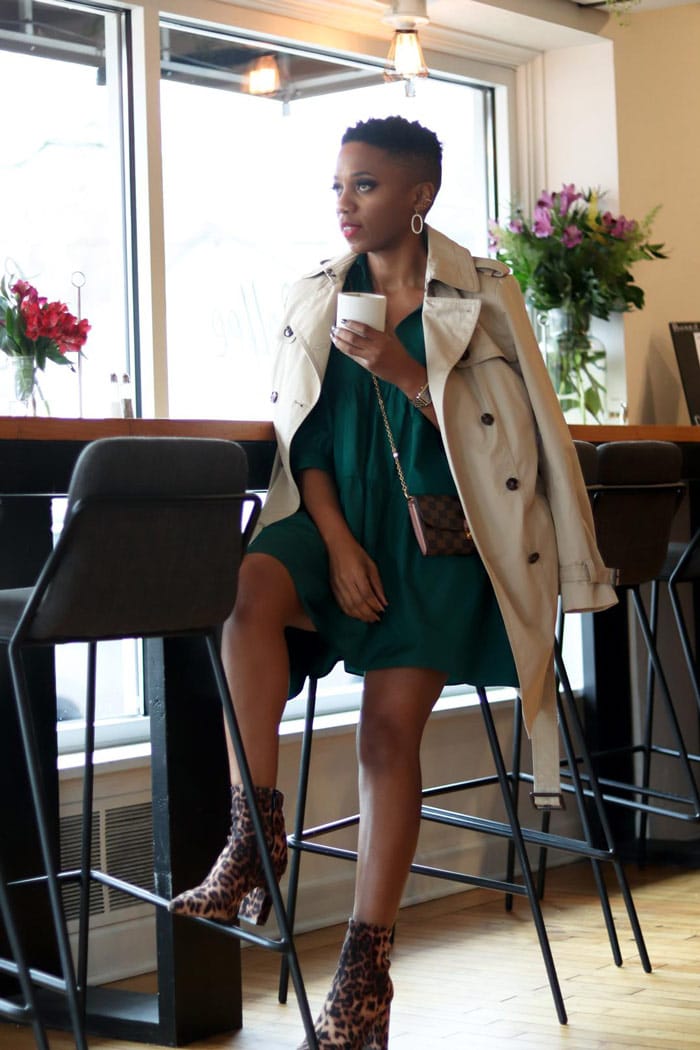 Beige is a really good neutral to combine with color. Keep reading for the best colors to pair with beige!
Wear it with a colorful jacket, cardigan, top or use accessories like scarves, necklaces and bags. This is how I wore my beige pants a while ago with red and here is a beige skirt worn with orange.
In general, I would say to stay away from an all-beige outfit as shown by the models at the top. The color does tend to wash out many women (over 40) including me.
If you like the look and feel of wearing a neutral all over, then cream or white may be a better option. They are brighter colors and don't have that 'drab' feel about them. I actually really love an all-cream or all-white outfit.
That said, beige can be a great base for adding colors.
Psyche (above) pairs her beige trench coat with green.
Get her look with this similar dress, trench coat and leopard print booties.
Choose colors that suit your complexion well or that make you happy. Play with various colors and young & hip accessories like contemporary jewelry or a funky bag and use beige as your canvas.
Below you will find just a few examples of how you can look stunning and chic with beige.
Wear with your gold jewelry
Beige can look both classic AND classy. Wearing beige with your gold jewelry can elevate your look even further.
Colors that go with beige?
So now that you are maybe thinking about beige in a whole new way, what colors should you wear with your beige?
Colors that match with beige: All neutrals
This is one of my favorite ways to wear beige. Pairing beige with other neutrals such as white or cream can look very classy.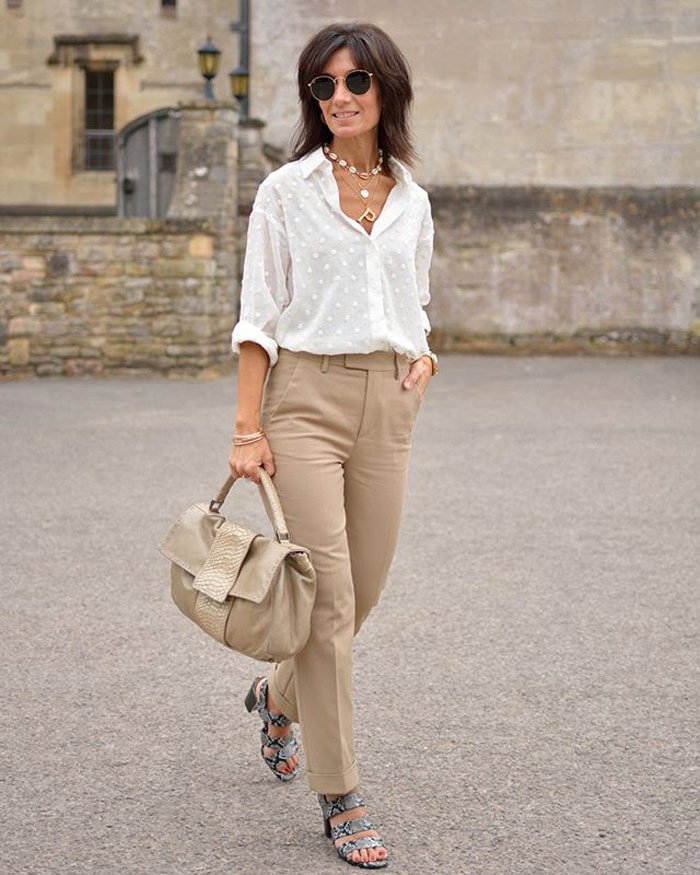 Patricia (above) looks stunning in beige and white.
Check out this similar textured shirt, trousers, croc-embossed handbag and sandals.
Below are more beige and white outfit ideas for you.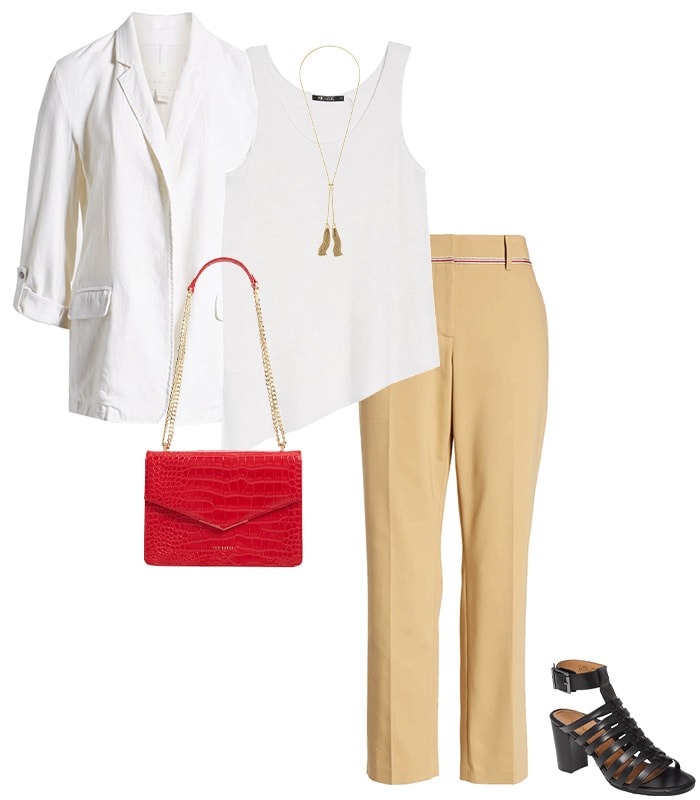 NIC+ZOE asymmetrical hem tank top – Caslon linen blazer – Tommy Hilfiger ankle pants – Vionic cage sandal – Ted Baker London croc embossed bag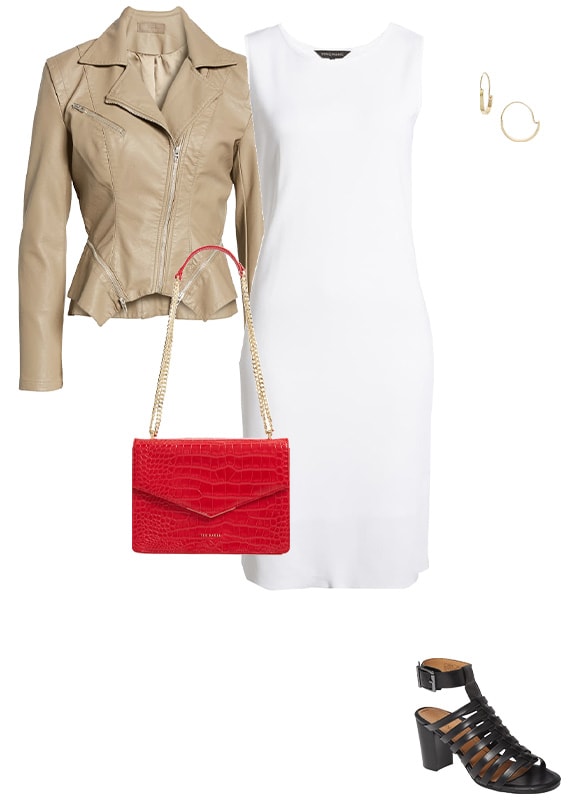 Ming Wang shift dress – Blank NYC moto jacket – Ten79LA hoop earrings – Vionic cage sandal – Ted Baker London croc embossed bag
What color goes with beige? Beige with black
There are very few colors that don't go with beige. And there are very few colors that don't go with black.
So, it stands to reason that beige and black can look brilliant together.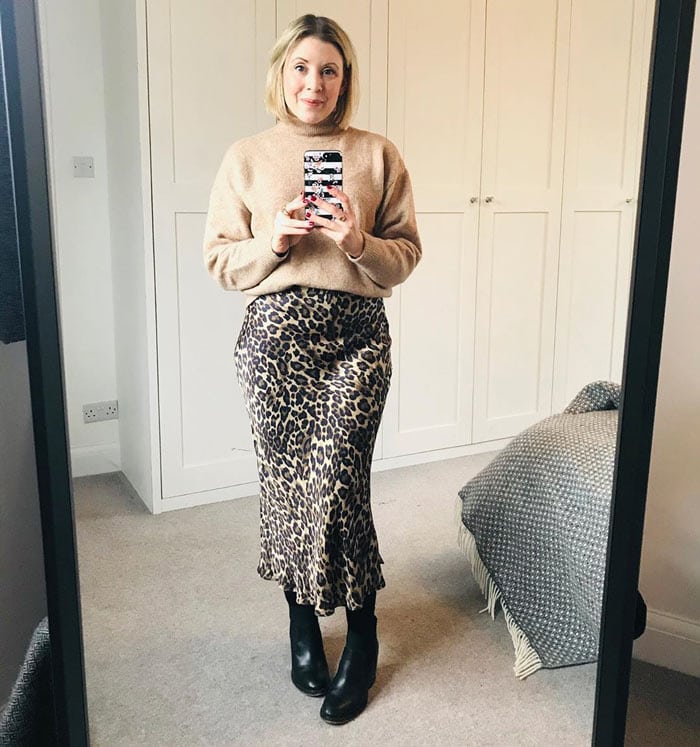 Jo (above) adds oomph to her look with her animal print skirt.
Recreate her look with this similar sweater, leopard print skirt, tights and boots.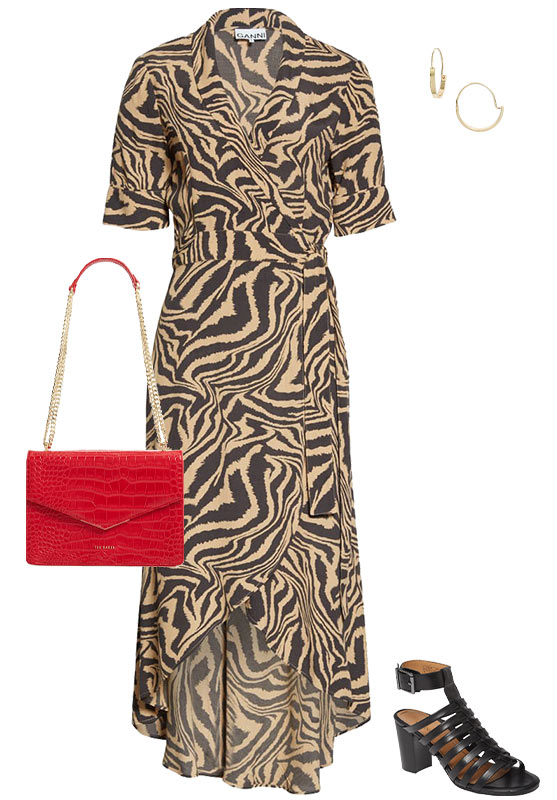 Ganni wrap midi dress – Vionic cage sandal – Ted Baker London croc embossed bag – Ten79LA hoop earrings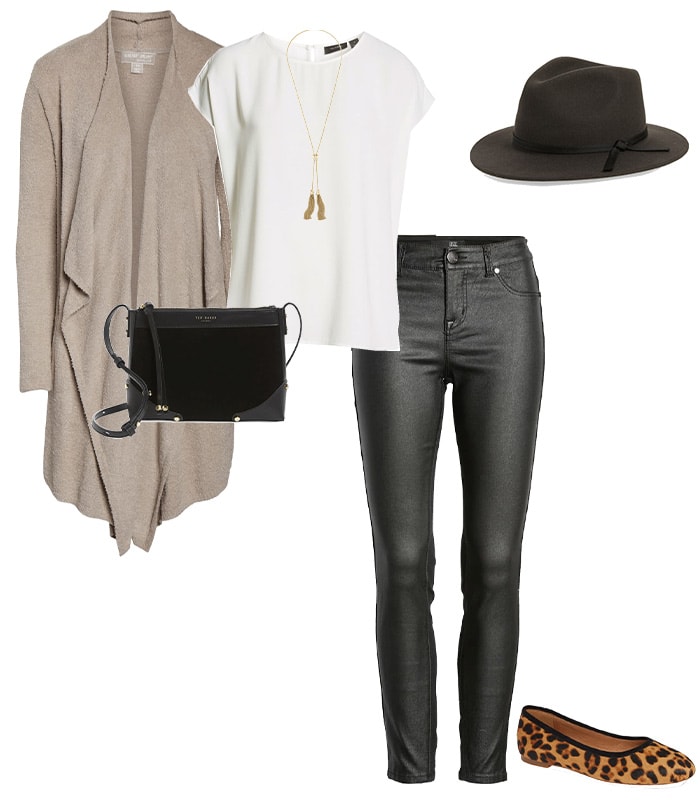 Halogen boxy blouse – Barefoot Dreams cardigan – 1922 denim coated ankle skinny jeans – Brixton wool fedora – Madewell ballet flat – Ted Baker London leather crossbody bag – Kendra Scott tassel necklace
Beige with navy blue
Beige is a classy color, and navy is a classy color. So, when you put them together, you get an outfit with more than a touch of class.
Patricia (above) looks very stylish and manages to be classic yet contemporary all at the same time.
Check out this similar blazer, pleated skirt, pumps, belt and bag.
You can opt for navy and beige, as in the outfit below.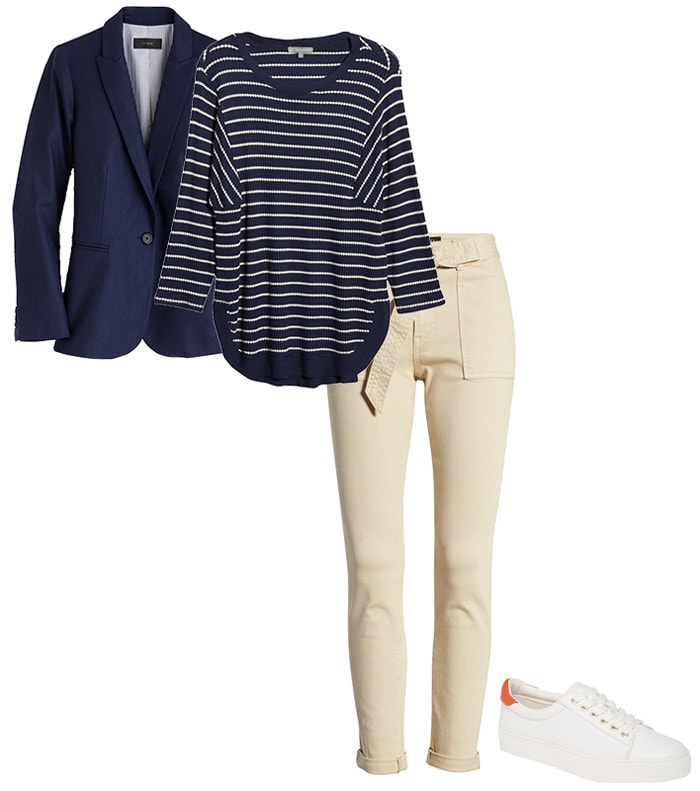 Wit & Wisdom stripe top – J.Crew linen blazer – Prosperity Denim belted ankle jeggings – 1901 sneaker
A paler shade of blue will also look just as beautiful.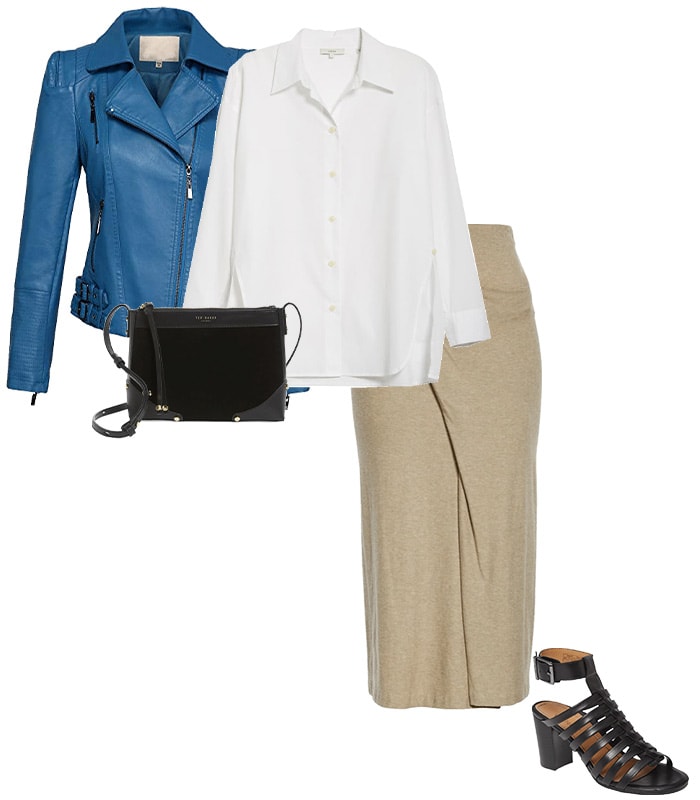 Vince button-up shirt – Chouyatou biker jacket – Vince twist drape midi skirt – Vionic cage sandal – Ted Baker London leather crossbody bag
Beige with red
This is one of my favorite color combinations, as beige looks ultra-modern when worn with red. A tomato red looks particularly great.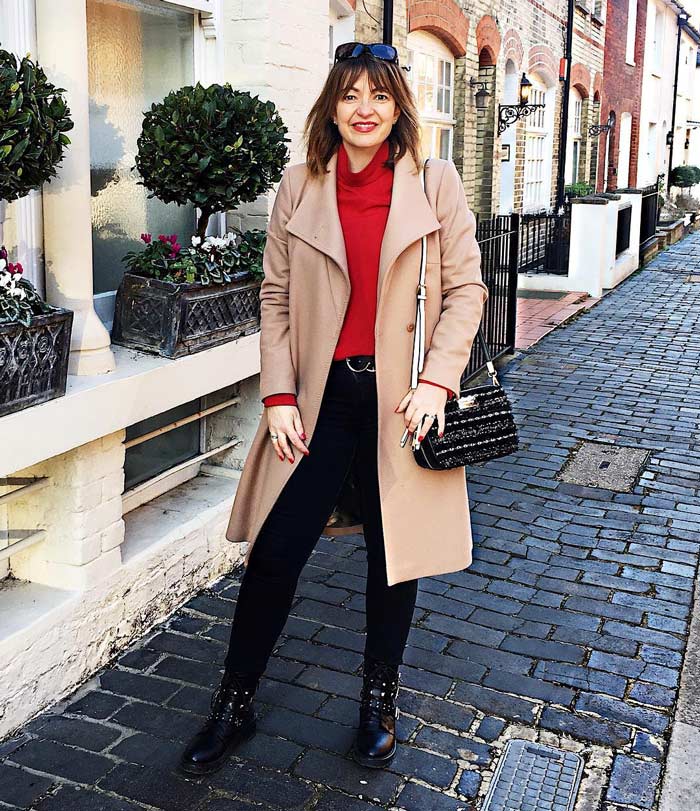 Lizzi (above) wears her red sweater with a beige coat and makes sure to team her whole look with red lipstick.
Get her look with this similar red sweater, coat, jeans and studded boots.
Below are more beige and red ideas for you.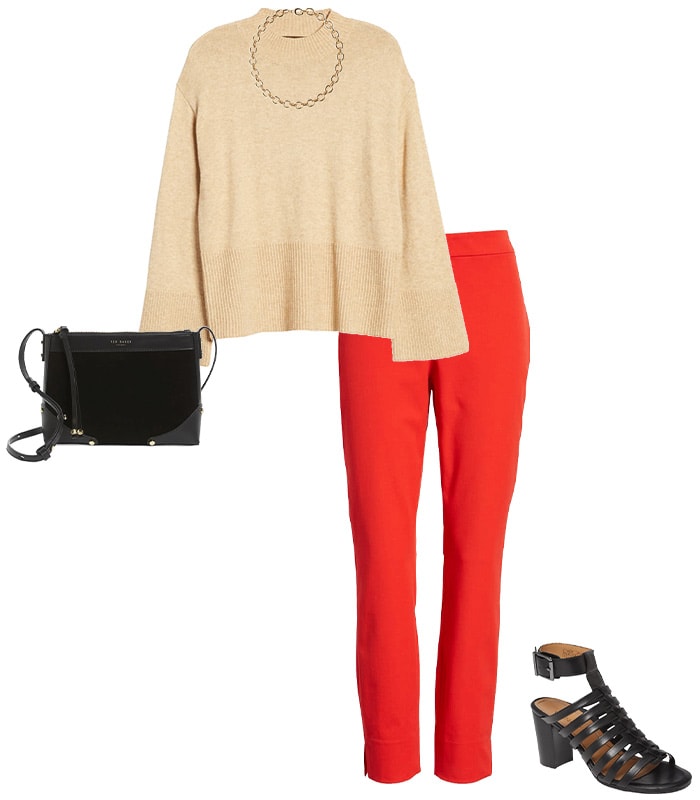 Lulus rib detail sweater – 1901 ankle skinny pants – Vionic cage sandal – Ted Baker London leather crossbody bag – Laura Lombardi chain necklace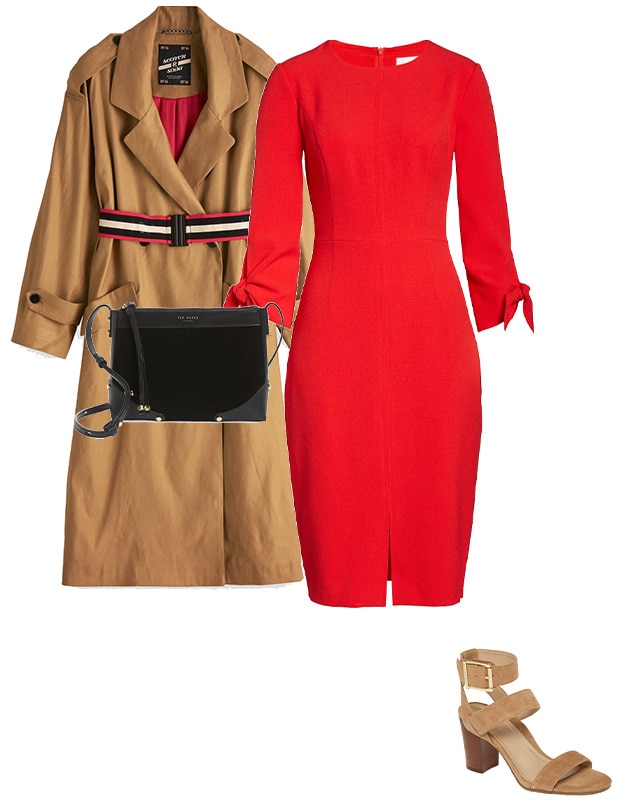 Harper Rose sheath dress – Scotch & Soda belted linen coat – Vionic block heel sandal – Ted Baker London leather crossbody bag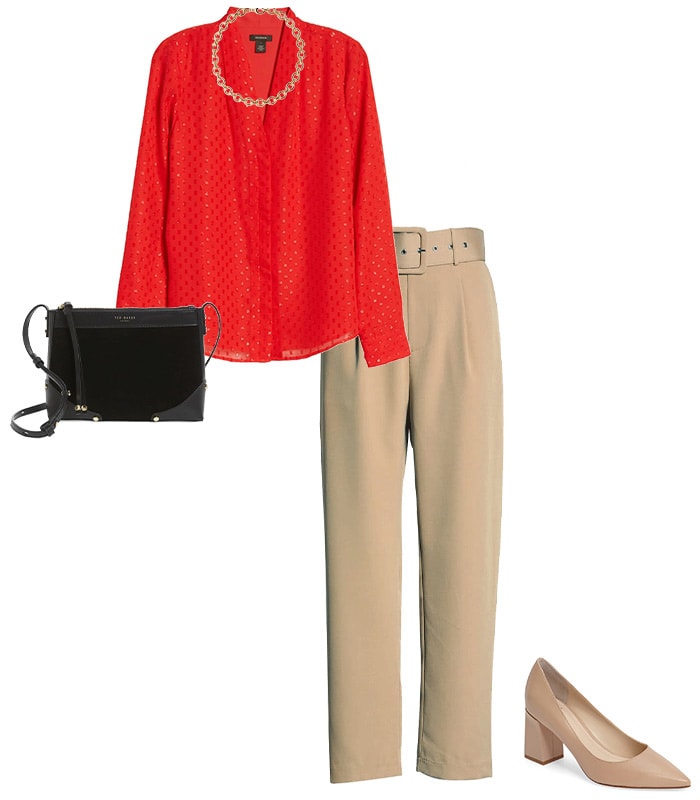 Halogen v-neck blouse – English Factory belted crop trousers – Marc Fisher LTD pump – Ted Baker London leather crossbody bag – Laura Lombardi chain necklace
Beige outfit ideas
Below is a capsule wardrobe for you, putting together all the ideas from above.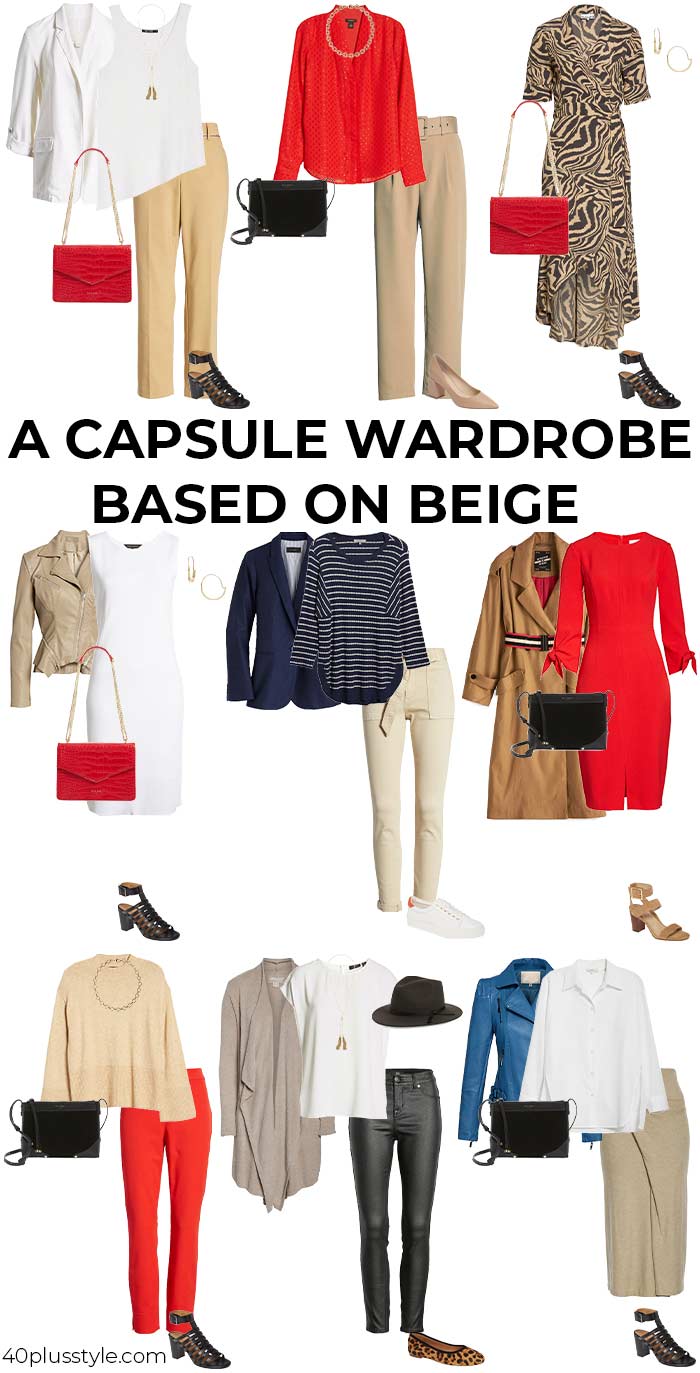 Other colors that go with beige
I hope that's given you some food for thought when it comes to how to wear your beige.
The fact is, because beige is such a versatile color, there are few colors it doesn't go with. You might also with to try beige with orange, cobalt blue or purple, for example.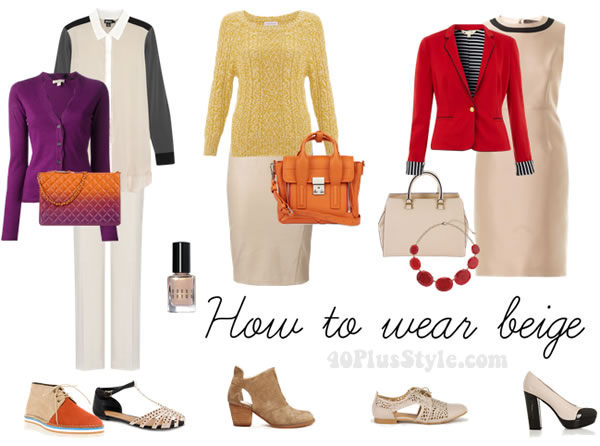 What do you think about beige? Will you wear beige this season? What colors do you wear with beige?
Continue reading:
Like this post on how to wear beige? Share it on Pinterest!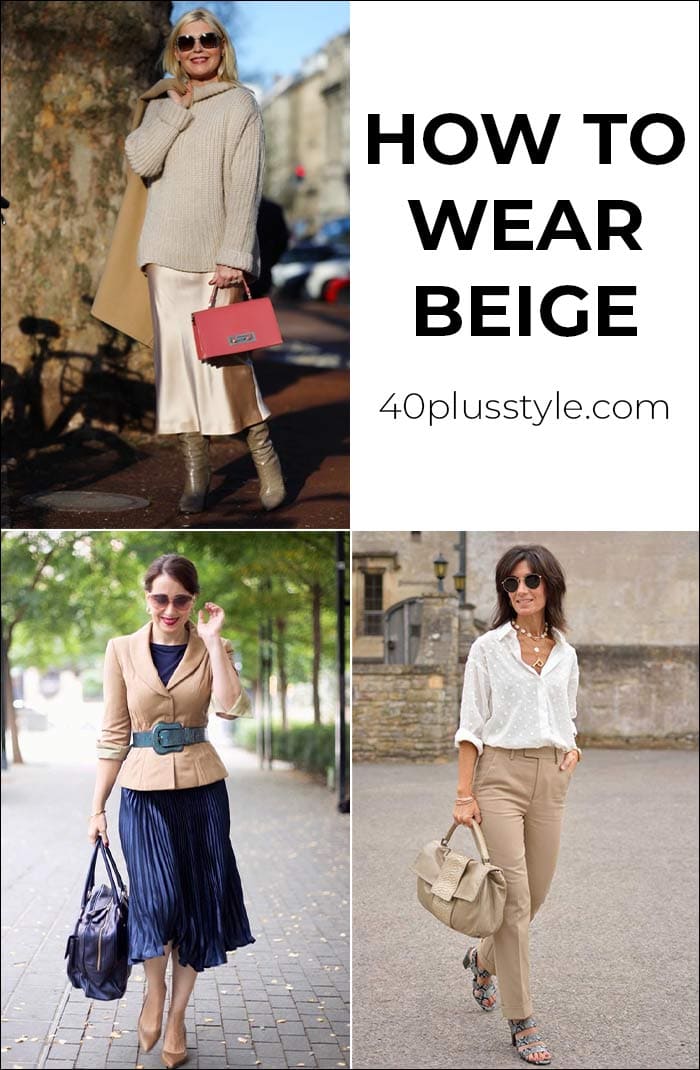 Feature image by Petra
Want to get more articles from 40+style in your inbox, subscribe here.
You can also connect with 40+style on Facebook, Instagram or Pinterest.
Support 40+style by using the links in our articles to shop. As an associate for Amazon and many other brands, we receive a small commission (at no cost to you) on qualifying purchases which enables us to keep creating amazing free content for you. Thanks!