Last week I spoke about my personal dressing policy to wear my newest and nicest items as often as possible.
That is exactly why I wore my golden silk top again, which you also voted as the most popular of my fashion week outfits.
This week I remixed the top with my red Donna Karan skirt. I love the combination of red and gold/brown which you can also see in a more casual combination here and combined with an animal print belt.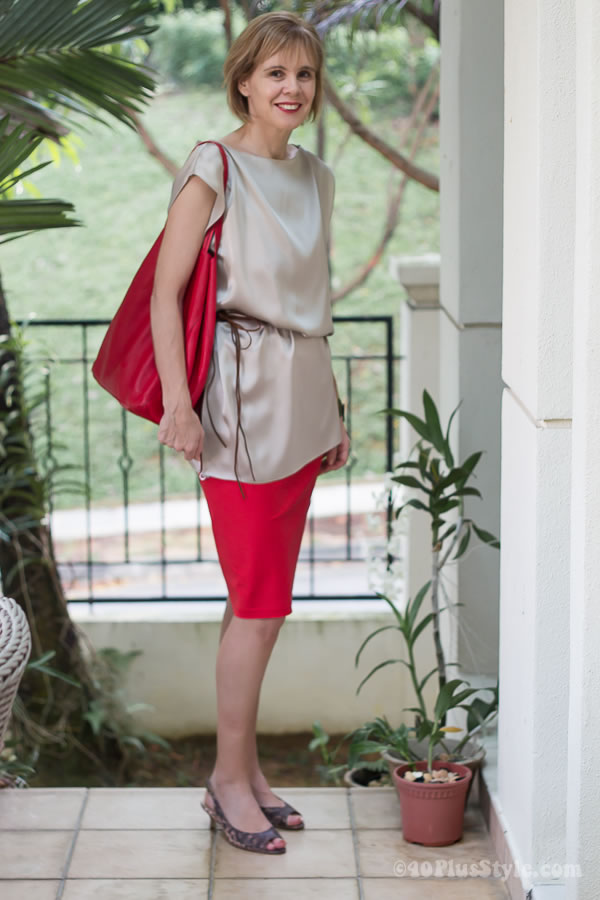 This time I'm wearing a belt with beads and stones in red and brown (unfortunately not clearly pictured here) but I still wanted to add that nice texture of animal print.
Although these kitten heels are not strictly animal print shoes, they do feature a nice textured leather which adds an extra dimension to the outfit. More on the topic of kitten heels later!
The golden girls
The occasion was the 20th anniversary party of The Finder Magazine here in Singapore, which was held at the Ion Art Gallery.
Totally by coincidence both Anja and me showed up in golden outfits with similarly themed shoes. Anja had jazzed up her shoes with the amazing shoe accessories from Heels Diva.
I love her outfit!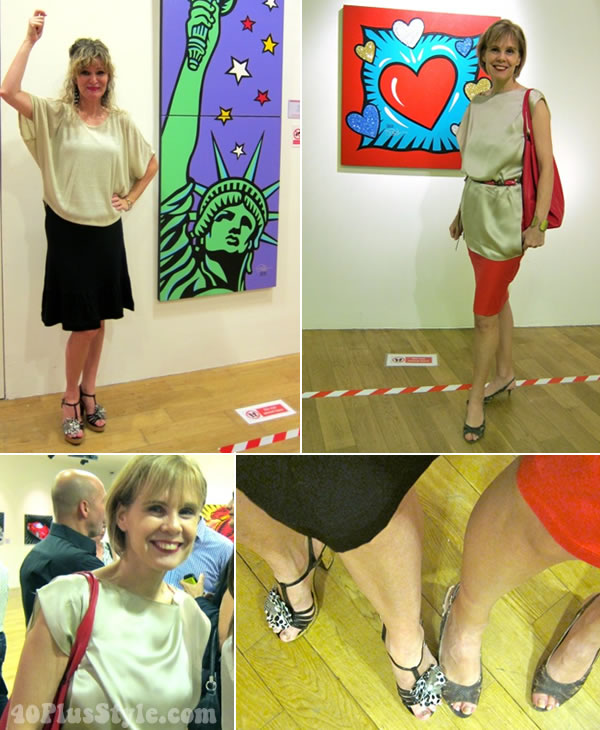 Burton Morris
The gallery displayed work from the very talented pop art artist Burton Morris. I loved many of his paintings but the price tag of $25,000+ far exceeded my budget.
The open sandals with a kitten heel
However, what I would like to talk to you about in more detail today is the kitten heel. Specifically a kitten heel on a open sandal like the one I wore.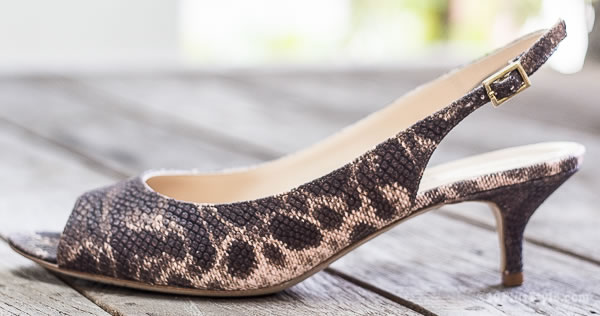 I believe the kitten heel is loathed by many and truth be told, I have never been a great fan myself. Whenever I bought heels in the past, they tended to be straight and usually blocky although I succumbed to black lacquered kitten heels about 1 year ago. In general I find straighter heels more modern looking and edgier and I have always found kitten heels a bit too lady like and perhaps even a bit aging and old-lady.
However, I was attracted to the print and texture of these shoes and initially tried on a pair of wedges in the same print. Unfortunately, I could not get those to fit properly so when I spotted these open kitten heels, I decided to try them instead.
They immediately felt very comfortable. The fact that this shoe was open in the front as well as the back, meant that they were easy to wear and nice and breezy for the humid Singapore weather. Since I had been looking for some brown / animal print heels to combine with some of my outfits, I decided to buy them.
In the heat of the moment I forgot that open shoes with kitten heels are not exactly very modern and can have an aging effect for women over 40. An opinion shared by a stylist I met recently who felt that women over 40 are better off with shoes that have closed fronts and backs and either a pump or straight heel. As you know, I feel very strongly that hip shoes can greatly contribute to a young-and-hip look, so I started wondering if I had made a mistake with these kitten heels.
When I look back at these pictures, I can see that a closed front would indeed have looked hipper. Still, comfort is a very important factor for me also, and sandals are simply a lot more comfortable to wear here in Singapore. I also feel that the great pattern and texture of the shoe overcomes the aging aspect of the open kitten heeled sandals while the kitten heel itself means that the shoes are almost as comfortable as flats.
So even though these may not be the best young & hip shoes I could get, I still feel that they will become a favourite. They are very versatile, can be worn with many outfits and did I mention they are comfortable…
How do you feel about kitten heels though? Are they a good choice for women over 40? Do you feel that open toes and heels are more aging? Or can you wear kitten heels depending on the design and print of a shoe? I'd love to hear your feedback!

Want to get more articles from 40+style in your inbox, subscribe here.
You can also connect with 40+style on Facebook, Instagram or Pinterest.
Support 40+style by using the links in our articles to shop. As an associate for Amazon and many other brands, we receive a small commission (at no cost to you) on qualifying purchases which enables us to keep creating amazing free content for you. Thanks!