Over the past few weeks I have seen more and more women wearing their jackets as capes. Ever since Gwyneth Paltrow wore her famous Tom Ford cape to the Oscars last year this look has become increasingly popular.
The jacket over shoulders look was present on the Fall 2013 runways as well with Hermes showing it in their collection, while Victoria Beckham designed a jacket that looks very much like a cape.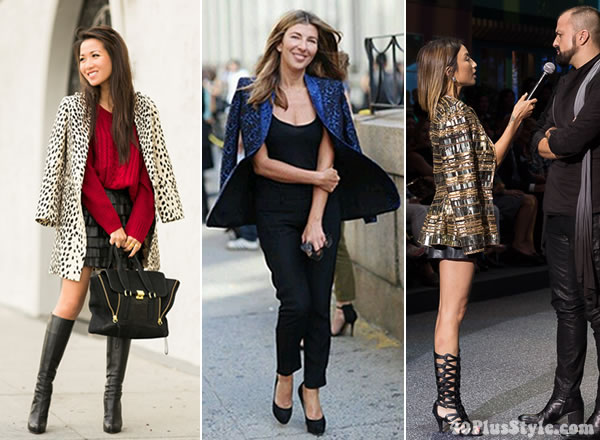 Wendy from Wendy's Lookbook recently sported one as well as Nina Garcia.
Jeannie Mai also wore her jacket this way during Singapore's recent fashion week. And not just temporarily as you may expect. No, she wore it the whole evening even presenting a whole show segment with the jacket draped over her shoulders.
I'm not sure how I feel about this look. It does not look that comfortable to me and to me it looks a bit 'temporary'. At the same time it looks relaxed / sporty and modern. I'd like to hear and see what you think of it!
Translate the look!
So why not make it the challenge for this week? Let's try and translate the above looks and wear our jackets as capes. If this is not your thing, perhaps try it for 15 minutes  or so, take a photo and see how it feels. Of course you are free to wear your jacket the normal way the rest of the day.
But who knows? Perhaps it feels and looks great. Fashion is all about having fun and trying out new things, so it think it will be great fun to give this look a try.
How to translate  this look
Pick any jacket and wear it as a cape over your top
You can also pick a cardigan if that appeals to you more
You can stick to the black and white looks as shown above, but you can also use any other color combinations.
If you have a 'real' cape, then by all means wear that!
Of course I will join in this challenge as well and report back to you what this new-to-me look felt like.
How to enter
It's easy to enter. Just use any of these methods to get your photos to me.
Upload your look to the forum
Ideally you will upload your look into the style forum in the dressing challenge section. It would be great if you can take pictures of yourself showing your look. You could even upload several pictures where you show yourself experimenting with your looks. Don't worry about how 'good' the images are. You could even use your iphone. It would be great though if you could follow some basic instructions for uploading images to the forum.
Share a collage
If you don't like to show photos of yourself you could also create a collage of your interpretation of the look. You can easily do this with Polyvore. You can then post a link to your look in the style forum as well or in a comment below.
Pin your favorite translated looks on Pinterest and share the links
Are you on Pinterest? Then you can also share the looks you find with us. These could be your own or those of others. Go to the forum thread and share the links to the pins! You can also post them in a comment below.
Share your ideas on how you would translate this look in the comments
No time to create images, but you have some ideas on how to translate this look for yourself? Share it with us in the comments below or on the special thread in the forum.
Send it through email
If all that fails you can email your interpretations to sylvia [at] 40plusstyle.com.
When to submit?
You will only get one week until next Friday evening 15 November to submit your entries. Then, shortly after that I will show you some of my interpretations of the look together with all your best ideas and submissions as well as ideas where you can buy the looks online.
Have fun everyone experimenting with this new look. I look forward to seeing your interpretations and ideas on the site soon!
What do you think about this look? Are you going to give it a go?