Bra shopping is always tricky, and finding a comfortable strapless bra can feel like an impossible task. So how do you find the best strapless bras if you have an outfit where you don't want your bra straps to show?
I'm sure you've tried strapless bras which either slip down, meaning you end up pulling them up all night, or which dig in and are uncomfortable.
Why you might want a strapless bra
There are plenty of outfits that you may like to wear, but you would prefer that your bras straps aren't on display.
For instance, you may have parties and events to attend where you would like to wear a strapless dress or jumpsuit. Or, you may wish to wear one of the latest trends, like a bardot-style top or dress.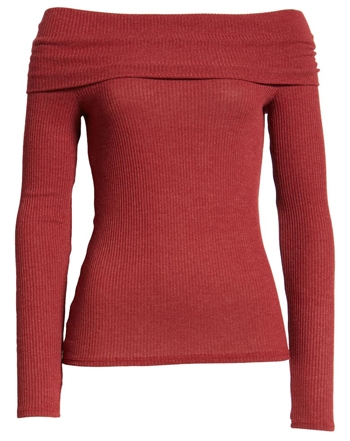 Treasure & Bond off the shoulder top

Chelsea28 belted strapless jumpsuit
Whatever the reason you are looking for a strapless bra, in this article you will find tips to find the best strapless bras for you, as well as some of the most comfortable strapless bras and brands to choose from.
Finding the best strapless bras: Should you size down?
There is plenty of advice which says you should size down a band or two when choosing a strapless bra. And, that may be true if you have fitted yourself. However, if you have been fitted by a professional bra fitter, your regular band size should fit.
Features to look for strapless bras
To give your bra extra staying power, you may wish to choose a bra with silicone. However, do make sure you're not sensitive to silicone.
You might prefer a multi-way bra
Rather than a strapless bra, you may wish to think about a multi-way bra. For example, if you are wearing a one-shoulder dress or top, you can still use one strap for support but remove the other bra strap.
You can still wear a strapless bra if you have a large bust
Of course, it is easier to get enough support from a strapless bra if you have a smaller bust. However, you can still find a comfortable, and supportive bra, if you have a larger bust.
Look for strapless bra from a brand which specializes in bras for larger busts.
Also take a look at the best bras for larger busts.
The best strapless bras for women over 40 – no matter what your cup size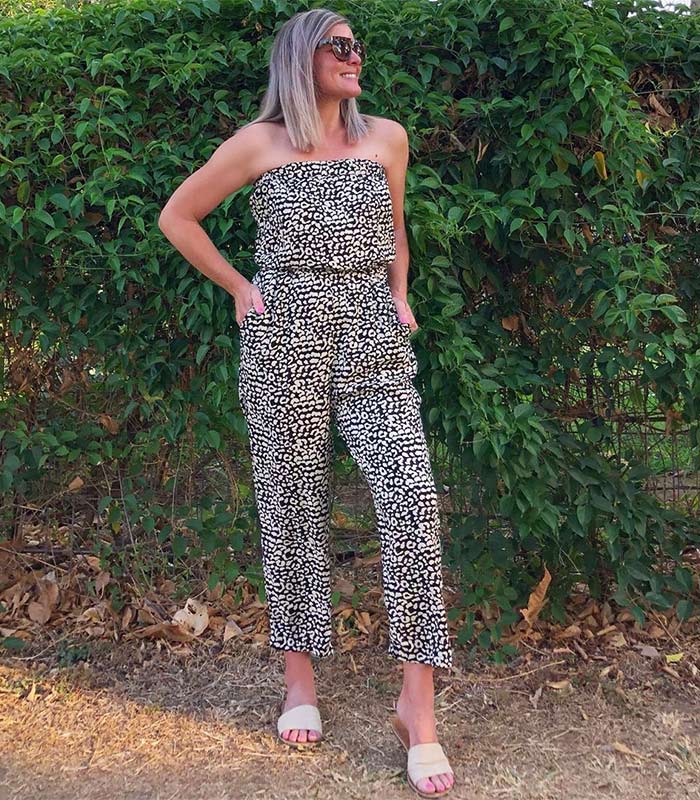 Kristen (above) wears a strapless jumpsuit that is perfect to wear with a strapless bra.
Get her look with this similar printed jumpsuit and slide sandals.
The best strapless bras to choose from
Below are our recommendations ideas for the best strapless bra.
I'd love to add yours too. Be sure to comment below if you found a strapless bra that really works for you.
1. Black strapless bra
A versatile option as this bra comes with removable straps. There's also a nude version if black is too dark for your outfit.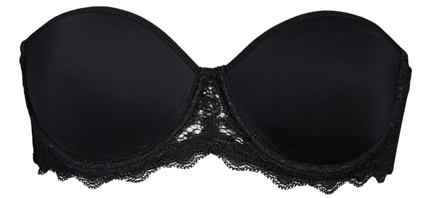 Simone Perele Caresse Strapless Underwire Bra
2. White strapless bra
Designed to be completely invisible under clothing, this option from Chantelle is great if you want to make sure you have smooth lines.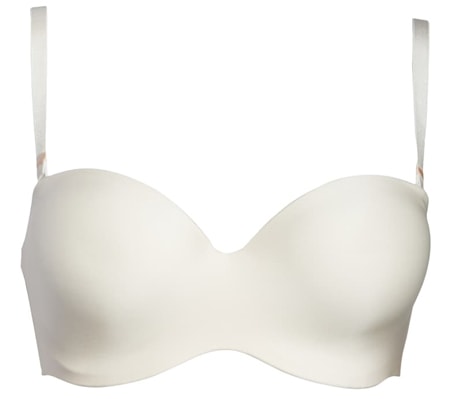 Chantelle Lingerie Absolute Invisible Smooth Underwire Strapless Bra
3. Strapless backless bra
If you prefer a bandeau option, how about this backless, strapless option? The lace could be useful if you feel your outfit is a little too low cut and you want extra coverage.
It's also backless if your outfit has a low back.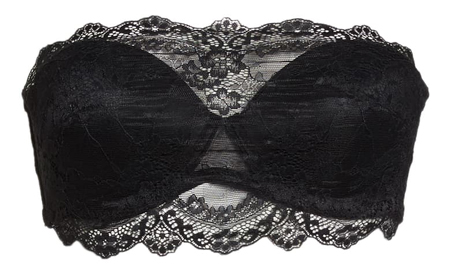 Nordstrom Backless Strapless Underwire Bandeau Bra
4. Strapless push up bra
One of the problems with a strapless bra can be that not only does it not offer enough support, but it also does not offer the shape you want.
If you want a little extra oomph, you could choose a strapless push-up option.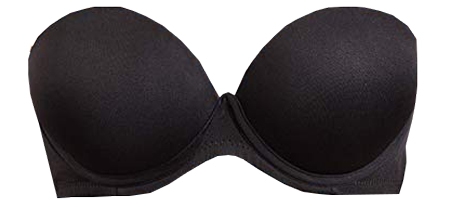 YBCG Convertible Strapless Bra
5. Strapless nude bra
A nude bra may be a necessity if you have a paler colored outfit and you don't want your bra to show through.
This bra from Maidenform has great reviews for its comfort and shape.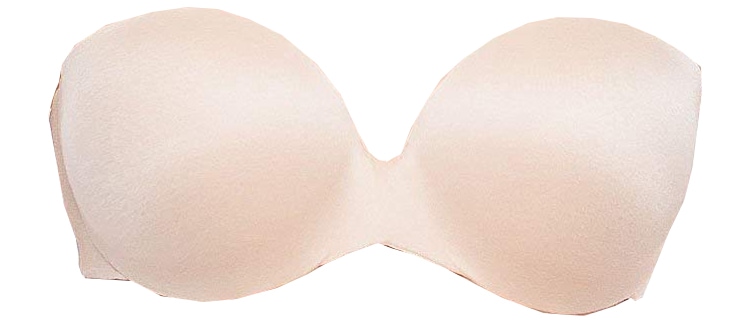 Maidenform Custom Lift Strapless Bra
6. Plus size strapless bras
It can be tricky finding a bra which is a perfect fit. Curvy Couture is a good brand to look at if you do have a larger bust.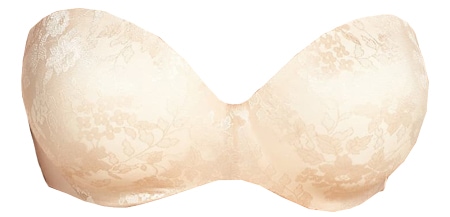 Curvy Couture Strapless Underwire Push-Up Bra
7. Best strapless bra for DD
Another good option if you are more of a DD than a double AA is Chantelle.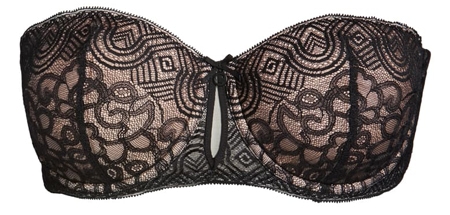 Chantelle Intimates Solace Underwire Strapless Bra
8. Strapless bra for big busts
Warcoal is also well-recommended if you have a larger bust which needs support. This nude bra will be invisible under your outfit.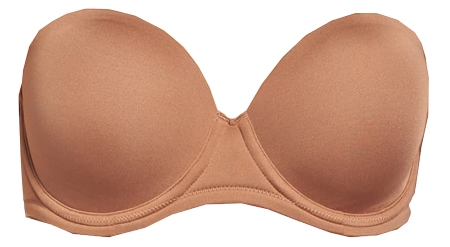 Wacoal Red Carpet Convertible Strapless Bra
9. Minimizer strapless bra
Depending on whether you like to show off your bust or you prefer to play it down, you could opt for a strapless bra such as this one from Delimira.
Many reviewers say this is the best strapless bra they have ever worn.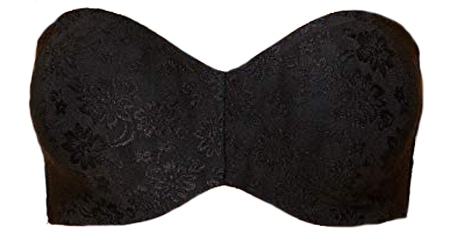 DELIMIRA Jacquard Underwire Minimizer Strapless Bra
10. Strapless padded bra
This bra by Felina can be worn many different ways, including strapless, halter-style or over one shoulder.
Felina 'Body Luxe' Convertible Underwire Contour Bra
11. Longline strapless bra
Do you prefer a bra which has a longer line? Then this Felina choice could give you the right support under your outfit.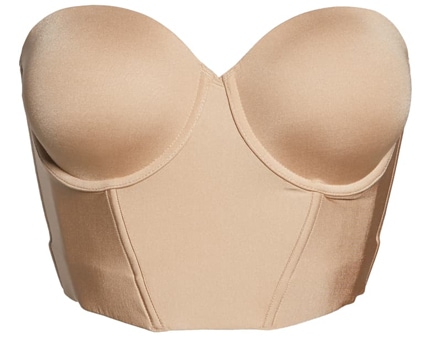 12. Sticky strapless bra
One of the worries with strapless bras, is that you worry that your bra will stay put for the whole day or night.
Choosing a bra with silicone grippers will give it extra staying power.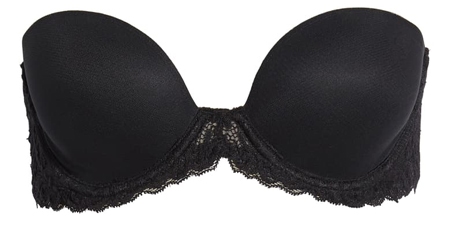 Natori Feathers Underwire Plunge Strapless Bra
13. Lace strapless bra
Do you prefer a lace bra? Or a t-shirt style smooth bra? If you like a lace choice, this bra from the Lively brand could be the one for you.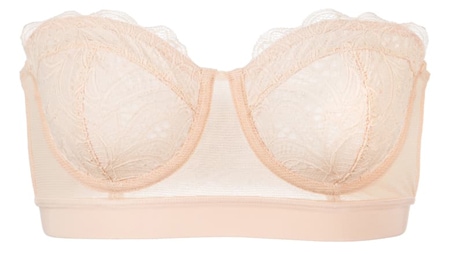 14. Strapless bandeau bra
A bandeau bra could be an option if you don't need a lot of support. This convertible bra from Natori has removable straps and offers light support.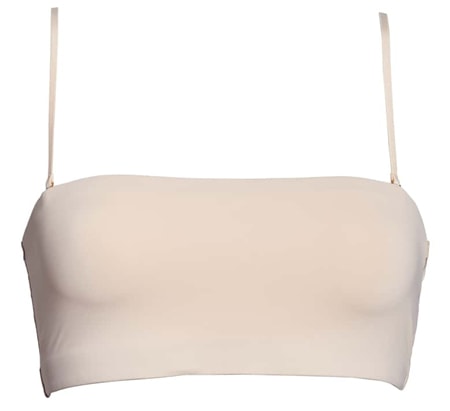 Natori Affair Convertible Bandeau Bra
15. Non-padded strapless bra
You may not necessarily want a lot of padding in your strapless bra, particularly if you prefer a more natural look.
This Delmira bra is only lightly lined. Reviewers say it doesn't slip down, even when dancing.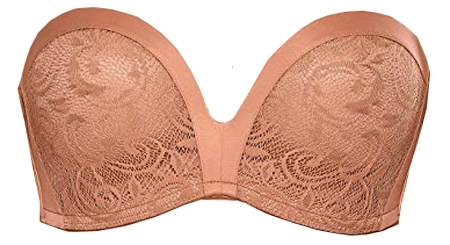 DELIMIRA Lined Lift Lace Strapless Bra
16. Best strapless push up bra
If you do want to create a little extra shape under your outfit, this bra from YANDW on Amazon comes in white, black or nude.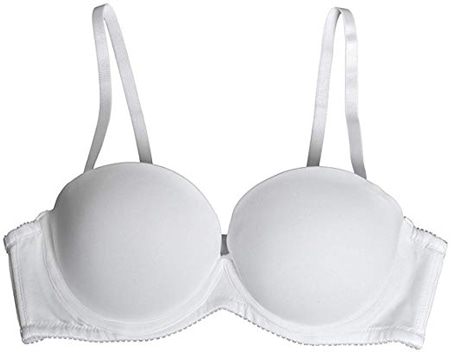 17. Stick-on bra
Depending on your outfit, it can feel absolutely impossible to find a bra that won't show underneath.
In that case, you might want to consider a stick-on bra, such as this one from Nordstrom.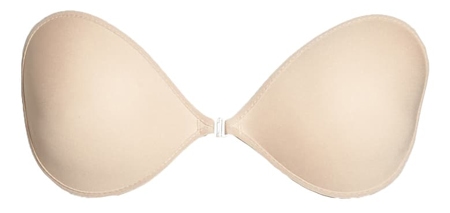 Nordstrom Lingerie Ultra Light NuBra
18. Clear strap bra
Another option if you want to downplay your bra straps, but you don't want to go without the support of straps completely is to choose clear straps.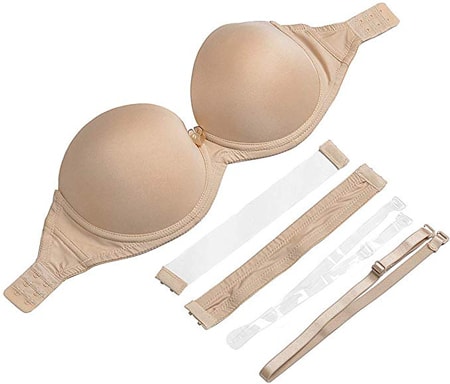 YANDW Strapless Bra with Clear Back Invisible Strap
19. Convertible bra
For a versatile choice which will go under anything you have in your closet, it's hard to beat a nude convertible bra.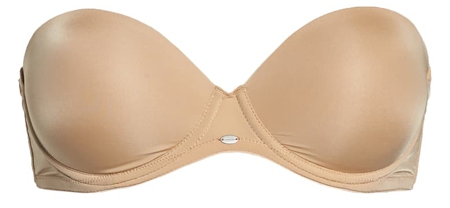 Calvin Klein 'Naked Glamour' Convertible Strapless Push-Up Bra
What are the best strapless bras you have ever worn? Have you found the perfect one yet?
Continue reading:
Like this post on the best strapless bras for women over 40? Share it on Pinterest!
Feature image by Kristen
Want to get more articles from 40+style in your inbox, subscribe here.
You can also connect with 40+style on Facebook, Instagram or Pinterest.
Support 40+style by using the links in our articles to shop. As an associate for Amazon and many other brands, we receive a small commission (at no cost to you) on qualifying purchases which enables us to keep creating amazing free content for you. Thanks!