If you've ever felt disheartened about having a small breasts, you're not alone!
There are lots of times when I've wished for more curves. But I've (just about) learned to live with what I have
Here are some of the tips I've learned over the decades on how to dress when you have a small bust as well as the best bras for small bust sizes.
If you have a large bust, you may enjoy our article on how to dress for a large bust.
Best bras for small bust
First of all, let's focus on bras. It's not always easy to find bras for smaller busts.
While it might not seem as important for support if you have smaller breasts rather than a DD cup size, wearing the right bra can still make a huge different to the way your outfit looks, and to your comfort.
While you won't be facing the same issues as larger busted women, you will still have problems when it comes to finding a bra to fit. The major problem is usually cup gaping.
Being smaller chested, you're lucky as you can opt for a wide range of bras, while those with larger busts really have to make sure that they have the correct level of support to ensure their breasts stay where they should be.
You could choose anything from a trendy bralette to a padded bra. I tend to opt for simply constructed bras such as plunge or t-shirt styles.
Just as bra makers have now got much better in dressing the larger bust, companies are definitely realizing that one size does not fit all, and smaller busted women need better options.
Brands like The Little Bra Company or Timpa are offering stylish options for women who have a smaller frame and chest.
Here are 5 of the best bras for small bust sizes.
Don't forget to let me know in the comments if you have your own favorite style or brand.
Large breasts? Check out our recommendations for the best bras for large breasts
Padded bra
First, the padded bra!
If you aren't happy with your cup size, you don't need to resort to cosmetic procedures (unless you want to, of course!).
Instead, you could choose a padded bra which adds a cup size or two to your shape, creating extra curves.
While most of my bras have a little padding, I tend not to wear padded bras which add a lot of extra volume these days, unless I think a padded bra would make the outfit I'm wearing look better.
If you want to add some oomph, then the Victoria's Secret bombshell bra adds an extra two cup sizes to your natural frame.
This racerback style has great reviews on Amazon.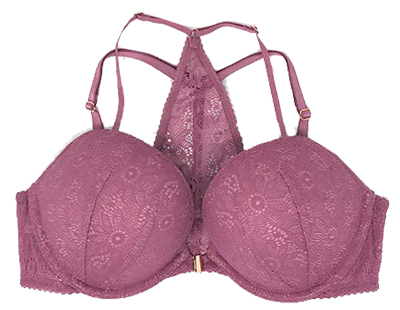 Best bras for smull bust – padded bra
The best bralettes
The triangle shape of a bralette tends to fit well, and flatter, if you have small breasts.
Plus bralettes are very on trend right now. So they are easy to find, and you can be comfortable AND trendy.
The Cosabella Aire features delicate straps and a smooth outline, so you should be able to wear under most clothing options. It provides moderate support without any underwire.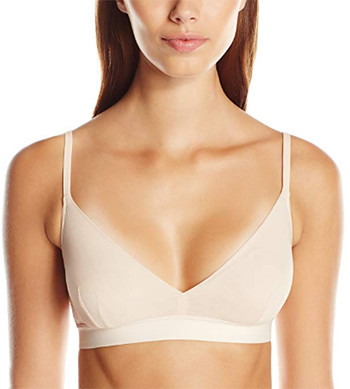 Bra for small bust – bralettes
Prefer a cami? Check our recommendations for the best camisoles
a cup bra
If you do have a small cup size, then trying a brand which is specifically designed for the smaller bust may be a good option to try.
Timpa, for example, only makes bras for A-C cups. Its philosophy is to do one thing and do it well, so you won't find a huge choice, but you should find bras which fit.
There's only one style, but it is available in a choice or mesh or lace, and in a range of colors.
This lace demi-bra version from Amazon is in black or white and has good reviews.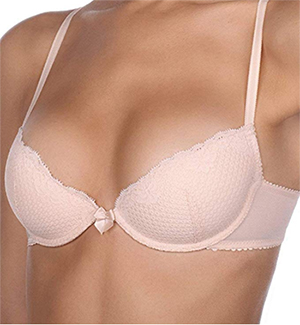 Strapless bra
The Little Bra Company goes down to a 28A in many styles and was founded from a desire to give smaller busted women options which did not look like training bras.
The Sascha style has good reviews on Amazon – partly because it is so versatile. With removable straps, it can be worn strapless or as a halter, racerback, one-shoulder, or just as an everyday bra.
There's also removable push-up padding, so you can experiment with leaving it in or taking it out to see what is more comfortable and aesthetically pleasing for you.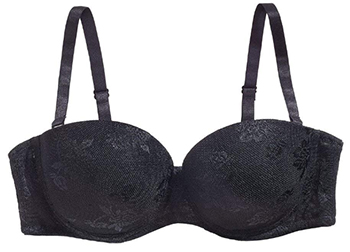 Wireless bra
Many women find the wire in bras uncomfortable. This could be because you are wearing the wrong bra size, or you simply haven't found a brand which suits your own individual shape.
Because of this, a wireless bra can be a good option if you have a smaller cup size, as you will still be supported without any discomfort.
The Hanes wire-free bra has positive reviews on Amazon because it is lightweight and comfortable.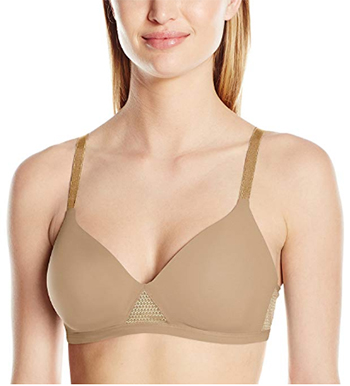 Read our list of the best strapless bras for women over 40.
What to wear if you have a small bust
Now that I've talked about the best bras for small breasts, let's look at what you are going to wear over your lingerie!
Here are some of the ideas I've put into practice to improve the look of my bust.
Add curves with your clothes
Just because you don't have the curves that you would like to, it doesn't mean you can't create the illusion of curves. Simply add them with the clothes you choose.
You can wear flounces and frills, pockets and extra volume in a way which someone with a larger bust might not be able to. On other women, a flouncy top could add unwanted bulk. On you, it creates shape.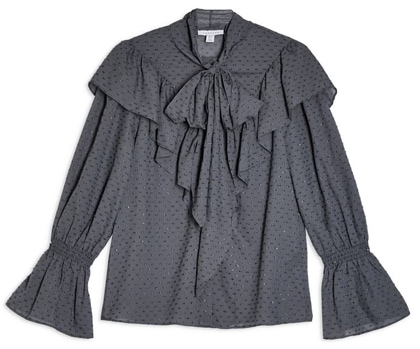 Go for masculine tailoring
If you're small busted, then it's likely you have a rectangle body shape, or an inverted triangle.
Even if you've always longed to be an hourglass, don't despair. Many models are rectangles and inverted triangles. So, you're in good company.
Instead of working against your lack of curves, work with your body shape and embrace androgynous, masculine tailoring.
By adding in a little femininity, it can look beautiful, and not too tomboyish.
You can wear a double breasted blazer to add extra width to your top half, pairing it with a feminine silk camisole.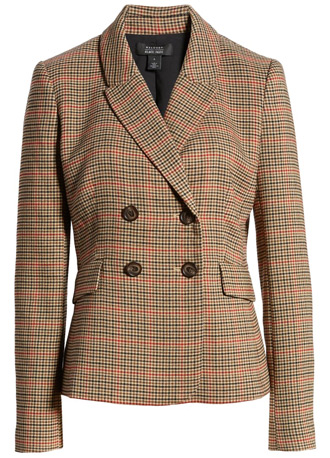 Halogen double breasted blazer
Show off your back
Who says it's just your front which can be sexy?
Play up another part of your body. If you're not keen on drawing attention to your (lack of) cleavage, how about showing off your back instead?
Katie May drape back dress will allow you to show off your back and shoulders. Plus, because you don't need as much support those with larger busts, you can opt for a subtle, backless bra underneath with thin, or no, straps.

Show off your shoulders
Another way to show off the parts of your body you do like, while playing down those you don't, is to bare your shoulders.
This Vince Camuto dress is a great option as, not only does it show off your shoulders, but the layer across your bust adds volume.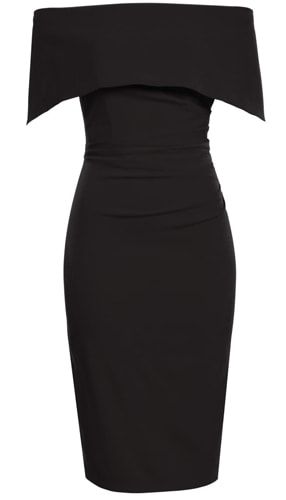 Skim over your body
Most women have areas of their body they aren't so keen on.
If you're apple-shaped, for example, you may wish to opt for clothing which doesn't cling to the belly. And, the same applies for those who are small busted, and who don't have much of a waist.
Shift dresses, for example, can be just as flattering for those who don't have many curves as they can for those who are conscious about having curves in the 'wrong' places.
You can choose dresses and tops which skim the body, making you look long and lean, and skimming over your small bust.
You can also add extra bulk to your top half in the colder months with chunky knits and ponchos.
You could wear this Tommy Bahama dress as a beach cover up, or over leggings or pants.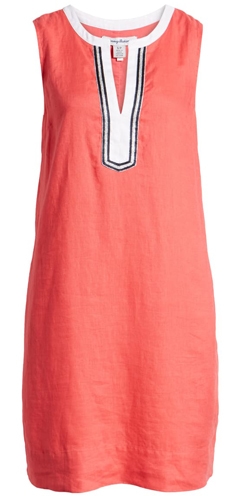 Tommy Bahama linen shift dress
Wear stripes
Stripes have been my pattern of choice for years.
And, when I watched 40+ stylist Ruth Essex's video here in this piece on how to dress the rectangle, I realized why!
It's because, when you are angular rather than curvy, stripes work with your body shape. They just go together.
Opt for thicker bands to create the illusion of curves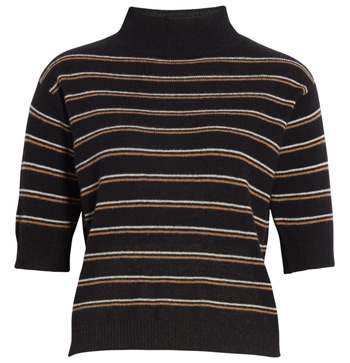 Wear lighter colors on top
Just as those who are pear-shaped often look best when they balance out their body by wearing darker colors on the bottom and lighter colors on top, the same rule can apply for those who have a small bust.
Wearing a lighter color on your top off gives the illusion that your top half is wider than it is.
The pockets on All in Favor shirt will also add volume to your chest area.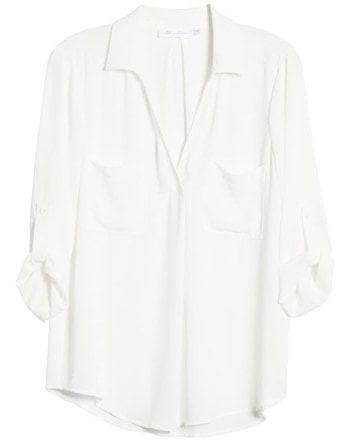 All in Favor double pocket shirt
Add a scarf
I always think a scarf adds extra style to any outfit.
It adds a certain I-just-threw-this-together attitude.
It can pull together different colors. Plus, it can effectively cover up your bust, while adding extra bulk to the breast area, so it looks like you have more than you do!
I love this Halogen cashmere scarf as I think it's so versatile for summer. You could wear as a scarf, but it could also double up and a cover-up for the beach.
For more ideas also visit how to wear scarves.
Wear whatever you like
Having a small bust actually gives you a lot of freedom. You don't need the same support as larger busted women, so you can wear all sorts of dresses and tops that would be impossible for others.
Spaghetti straps, strapless, or plunging designs. You can get away with it!
Tops and dresses which may look overtly sexy on larger busted women can still look demure and more casual on you.
This yellow dress would be perfect on you for a summer wedding or event. Not only does it have a plunging neckline which might reveal more than you want to with a larger bust, but it also has ruffles to add some volume to your bust.
Lily Pulitzer riffle midi dress
You may also like:
What are your own tips for looking stylish with a small bust? I'd love it if you shared them with us!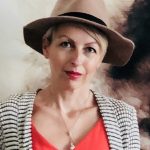 Author bio: Liz Hands is a fashion journalist and stylist from the UK who has styled fashion shoots for newspapers, magazines and high-end clients including 5* hotels and BMW. She's now happiest either blogging about style, or donning her favorite Barbour jacket and Brogini boots for a hack out on
Like this article on the best bras for small bust size? Save it on Pinterest!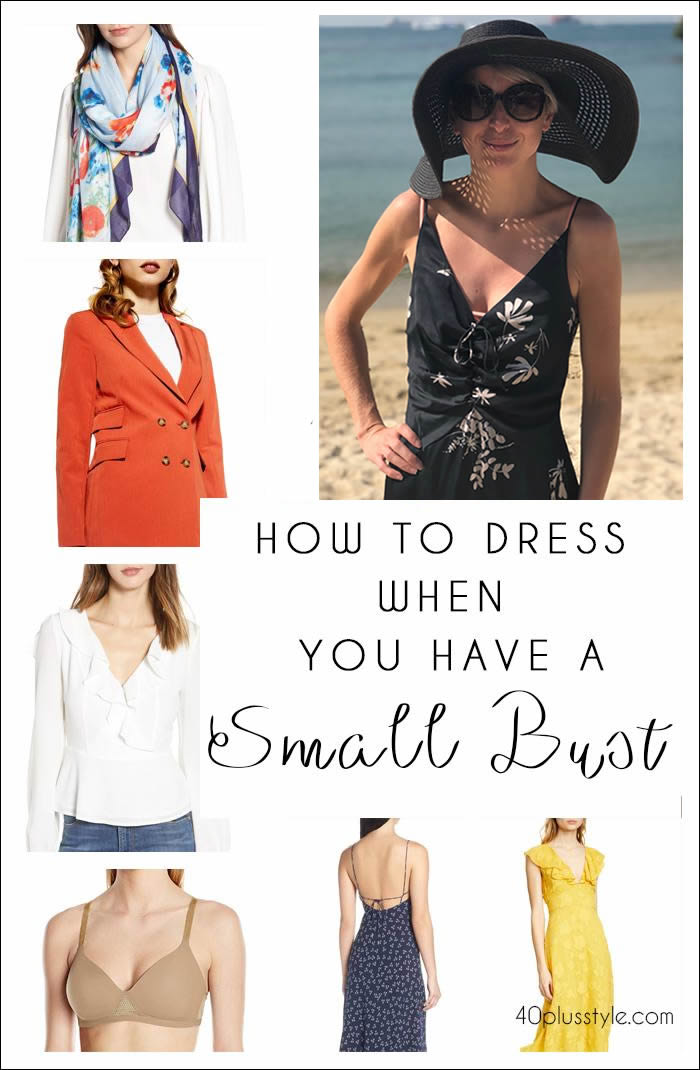 Want to get more articles from 40+style in your inbox, subscribe here.
You can also connect with 40+style on Facebook, Instagram or Pinterest.
Support 40+style by using the links in our articles to shop. As an associate for Amazon and many other brands, we receive a small commission (at no cost to you) on qualifying purchases which enables us to keep creating amazing free content for you. Thanks!