If you've ever felt disheartened about having a small bust, you're not alone!
There are lots of times when I've wished for more curves. But I've (just about) learned to live with what I have. Here are some of the tips I've learned over the decades on how to dress when you have a small bust.
If you have a large bust, you may enjoy our article on how to dress for a large bust.
Here are some of the ideas I've put into practice to improve the look of my bust.
1. Add curves with your clothes
Just because you don't have the curves that you would like to, it doesn't mean you can't create the illusion of curves. Simply add them with the clothes you choose.
You can wear flounces and frills, pockets and extra volume in a way which someone with a larger bust might not be able to. On other women, a flouncy top could add unwanted bulk. On you, it creates shape.
Sole Society mules – Swat Fane emerald green top – Jules Kae blue crossbody bag – Lysse wide legged trousers
2. Go for masculine tailoring
If you're small busted, then it's likely you have a rectangle body shape, or an inverted triangle.
Even if you've always longed to be an hourglass, don't despair. Many models are rectangles and inverted triangles. So, you're in good company.
Instead of working against your lack of curves, work with your body shape and embrace androgynous, masculine tailoring.
By adding in a little femininity, it can look beautiful, and not too tomboyish.
You can wear a double breasted blazer to add extra width to your top half, pairing it with a feminine silk camisole.
Madewell jeans – J. Renee slingbacks – Leith blazer – Habitual camisole
3. Show off your back
Who says it's just your front which can be sexy?
Play up another part of your body. If you're not keen on drawing attention to your (lack of) cleavage, how about showing off your back instead?
Clover and Sloan open back dress – Willow and Clay solid wrap midi dress – Bardot vera open back dress
4. Show off your shoulders
Another way to show off the parts of your body you do like, while playing down those you don't, is to bare your shoulders.
This dress is a great option as, not only does it show off one shoulder, but the ruffles also add volume to your bust.
Adrianna Pappel sheath dress – Sole Society ruffle clutch – Pelle Modal t-strap sandal
5. Skim over your body
Most women have areas of their body they aren't so keen on. If you're apple-shaped, for example, you may wish to opt for clothing which doesn't cling to the belly. And, the same applies for those who are small busted, and who don't have much of a waist.
Shift dresses, for example, can be just as flattering for those who don't have many curves as they can for those who are conscious about having curves in the 'wrong' places.
You can choose dresses and tops which skim the body, making you look long and lean, and skimming over your small bust.
You can also add extra bulk to your top half in the colder months with chunky knits and ponchos.
NYDJ ankle jeans – BP block heel bootie – Mavi indigo denim top
6. Wear stripes
Stripes have been my pattern of choice for years. And, when I watched 40+ stylist Ruth Essex's video here in this piece on how to dress the rectangle, I realized why!
It's because, when you are angular rather than curvy, stripes work with your body shape. They just go together.
Opt for thicker bands to create the illusion of curves.
Splendid striped top – Wit and Wisdom crop jeans – Shiraleah tote bag – Sam Edelman white mules
7. Wear lighter colors on top
Just as those who are pear-shaped often look best when they balance out their body by wearing darker colors on the bottom and lighter colors on top, the same rule can apply for those who have a small bust.
Wearing a lighter color on your top off gives the illusion that your top half is wider than it is.
Splendid white top – Wit and Wisdom black jeans – Linea Paolo slingback pump – Sole Society oxblood bag – Tasha statement necklace
8. Add a scarf
I always think a scarf adds extra style to any outfit.
It adds a certain I-just-threw-this-together attitude.
It can pull together different colors. Plus, it can effectively cover up your bust, while adding extra bulk to the breast area, so it looks like you have more than you do!
For more ideas also visit how to wear scarves.

9. Choose the right underwear
There's no shame in adding a bit of padding if that's what you want to do. Sometimes I wear a padded bra and sometimes I just wear a bralette. You can effectively add a cup size or two whenever you want to. Just think, women who are large busted can't just take away a few cup sizes.

10. Wear whatever you like
Having a small bust actually gives you a lot of freedom. You don't need the same support as larger busted women, so you can wear all sorts of dresses and tops that would be impossible for others.
Spaghetti straps, strapless, or plunging designs. You can get away with it!
Tops and dresses which may look overtly sexy on larger busted women can still look demure and more casual on you.
Knot Sisters floral jumpsuit – Ted baker bag – Bauble Bar acrylic earrings – Madewell brown sandal
What are your own tips for looking stylish with a small bust? I'd love it if you shared them with us!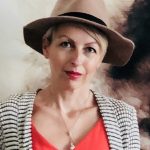 Author bio: Liz Hands is a fashion journalist and stylist from the UK who has styled fashion shoots for newspapers, magazines and high-end clients including 5* hotels and BMW. She's now happiest either blogging about style, or donning her favorite Barbour jacket and Brogini boots for a hack out on
Like this article? Save it on Pinterest!