She said yes! And, you can't wait to celebrate with her. But, before the big day arrives, you will need to think about what to wear to a bridal shower. 
What is a bridal shower?
A bridal shower isn't just the perfect excuse to gift things to the future Mr. and Mrs., but rather an occasion to celebrate the love of two special people with our dearest ones.
You will share your own experiences (if you are already married), listen to funny anecdotes, play funny games which have meaning to the couple, and enjoy a delicious meal together.
In other words, it's an event that unites you and your loved ones, and makes the lucky bride happy.
But every special occasion has the dreaded "What am I going to wear?" question, and this article is here to help you look great and confident, while giving you important tips for your bridal shower luncheon. So take note, relax and have fun!
What to wear to a bridal shower so the bride is the star
I was once invited to a bridal shower luncheon and felt like everyone had signed up to a competition called "Who's Stands Out The Most".
The worst thing was that the bride had always had a simple and relaxed style. She looked uncomfortable, and probably asked herself if this bridal shower was thrown for her or for everyone else.
You need to remember that, as obvious as it sounds, in a bridal shower the bride should always be the star.
Wearing something that might outshine her is a total "no". Therefore, and taking into consideration a bridal shower is usually a day-time event, soft and pastel colors are the safe way for these kind of celebrations: soft shades of pink, coral or blue, or colors such as lavender or mint.
You don't want to look boring, so you can make a printed dress the statement item to your outfit, and include a dark color to balance the softness of the pastels.
Bridal shower dresses
A dress can be the perfect base for a bridal shower outfit. You can choose your dress according to the formality of the event. Plus, you don't need to worry about how you will coordinate your separates. You can simply add shoes and accessories.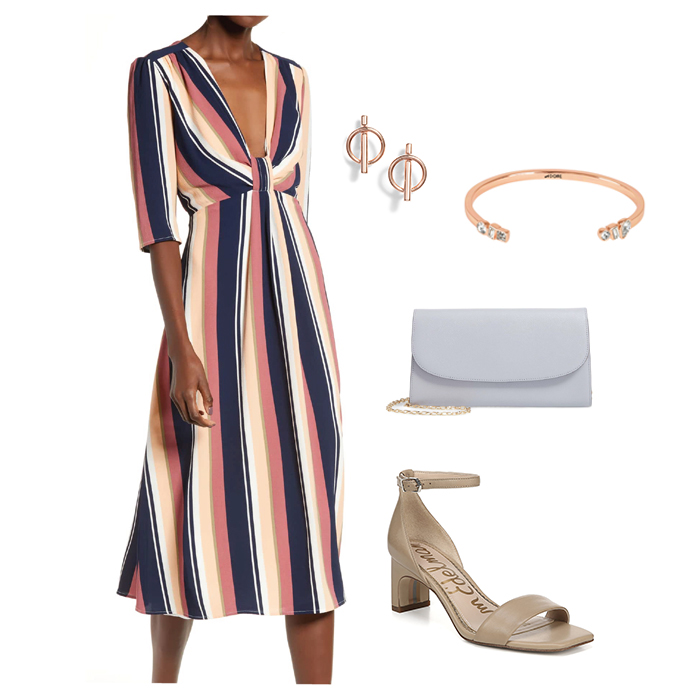 *Tip: if you choose a printed dress, then go simple with the shoes and accessories.
You can also wear a solid color in a simple silhouette: a perfect example that looks great on anyone is an A-line dress in a soft crepe.
To look fashionable, choose a dress that has something that grabs attention, such as a knotted waist.
*Tip: if you choose a solid color, have fun with the accessories: a statement ring or earrings (or both)
Try a floral dress
Why not embrace the romance of the event and try a feminine dress in a floral pattern?
Go bold in a bright floral or, if florals are outside of your comfort zone, stay subtle in a subdued tone on tone floral pattern with neutral accessories.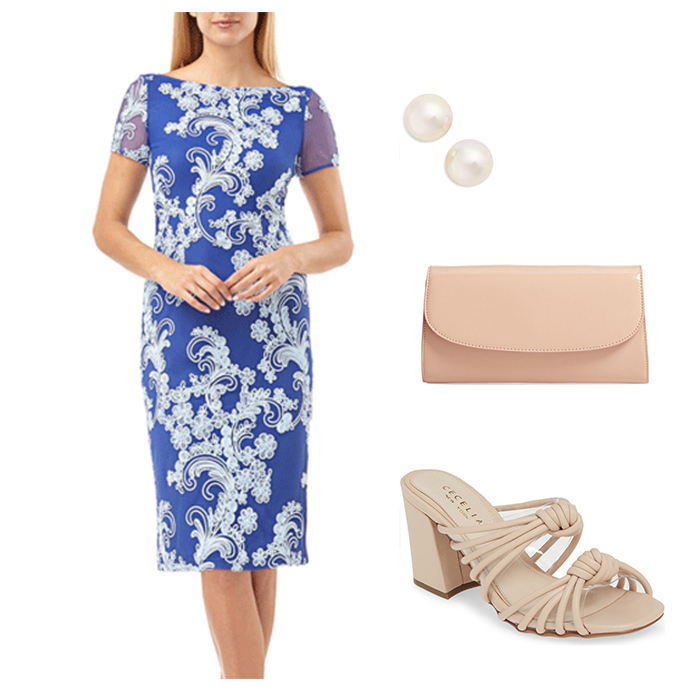 Wear a ruffle or flounce
Add a dress with an on-trend ruffle detail, or try a skirt with a flounce or ruffle in a bright jewel tone.
Make a little black dress or a navy dress more unique by choosing one with a flounced bottom. You can always add interest with your clutch bag.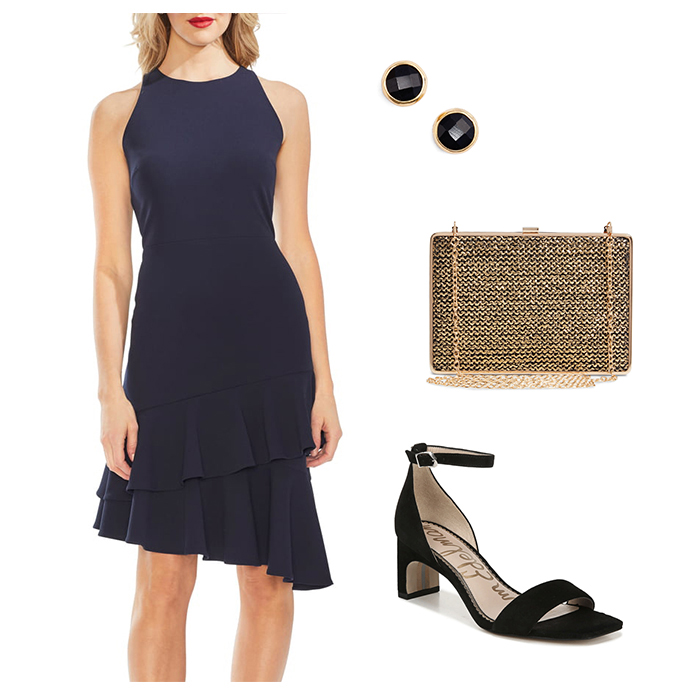 Go with gingham
Nothing says summertime like gingham. Choose one of this season's dresses or skirts in this cool, stylish summertime fabric.
Choose an A-line shirtdress or a statement-making gingham skirt with an asymmetrical ruffle detail down the front. Don't be afraid to add other colors and patterns with your gingham, or pair with black accessories to give your outfit a more sophisticated feel.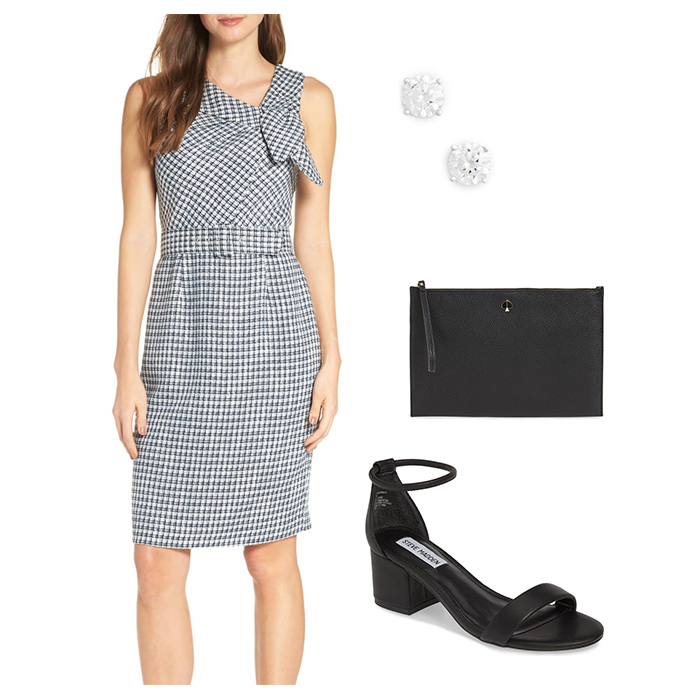 Go black and white
Opt for a dress with a fresh graphic black and white look. Choose a modern bold graphic pattern or a more feminine polka dot dress with a figure flattering shirred waist.
I think polka dots are always a lovely choice for summer. Plus, they won't go out of style as they are always on trend.
Keep it fresh by adding bright accessories and pops of white.
This polka dot dress from Amazon has sleeves if you like to cover your upper arms.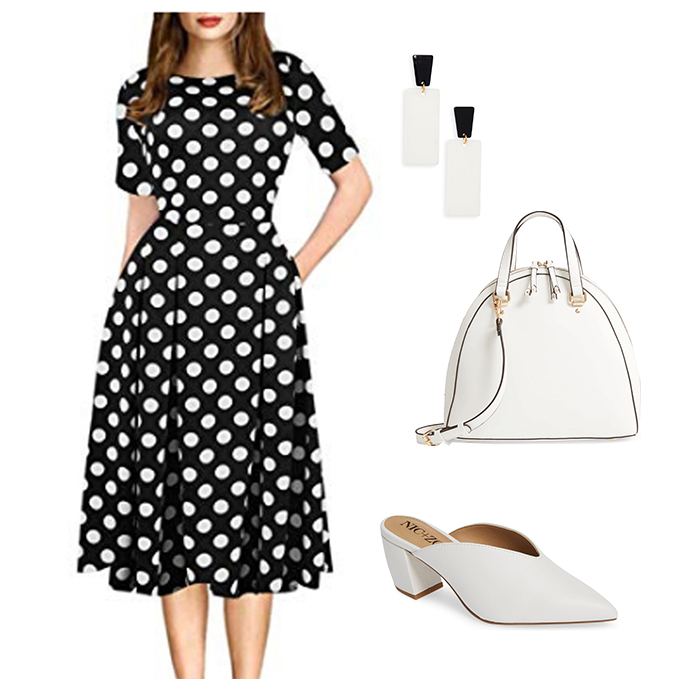 polka dot dress
A dress can be the perfect stand-alone piece for a formal, or semi-formal, event like a bridal shower.
A print dress like the one worn below by @joannaavant could be the perfect option.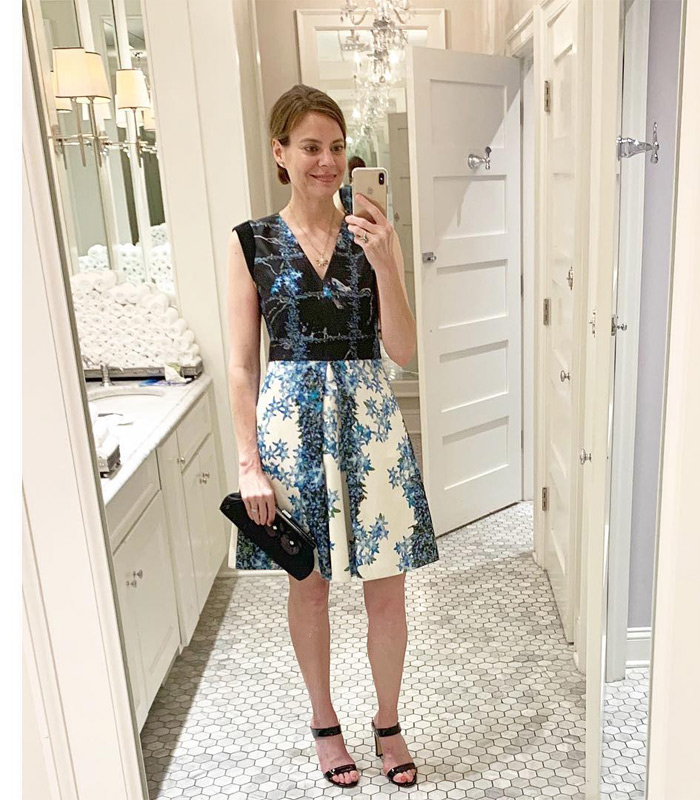 More bridal shower outfit ideas
If you are tired of always wearing dresses, or simply don't feel like wearing one, then don't worry!
There are many other great options for you, and they will definitely make you look different than the rest. Instead of going with the traditional straight-leg pants, you can try something more stylish like pleated trousers. They're also perfect if you want to add comfort to your outfit.
*Tip: You can wear toned down colors or dustier shades of blue/green/teal, but use a statement clutch (or shoes) to lift up your outfit.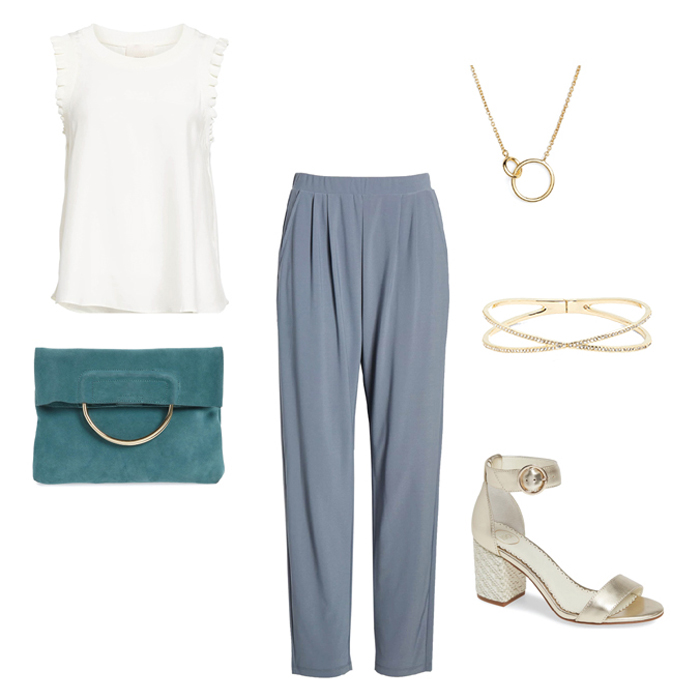 Skirts are also another perfect idea for your bridal shower luncheon. Try one that you normally wouldn't wear on a daily basis: you will feel unique and special.
Coral is the new black
Coral is a color that fits perfectly for day-time events and easily lifts your entire outfit. You can get the best of Pantone's color of the year by pairing it with the right colors. Here are some examples of how you can do it:
Coral with its opposite color – using it subtly with one accessory.
Coral and red look good together, but use the same rule I mentioned above.
For more tips, check out this article on how to wear coral: the color of the year.
Be You
Sometimes we choose items, or an entire outfit, just because that's what "everyone is wearing".
One of my personal favorite quotes is "Style is a way to say who you are without having to speak" by celebrity stylist and designer Rachel Zoe.
I couldn't agree more with her. So when it comes to choosing your outfit for a bridal shower luncheon, don't try too hard. It should come naturally.
You like bright colors? Use them on your shoes or handbag. Trousers are your thing? Go ahead! Whether solid or printed, trousers are definitely bridal shower approved.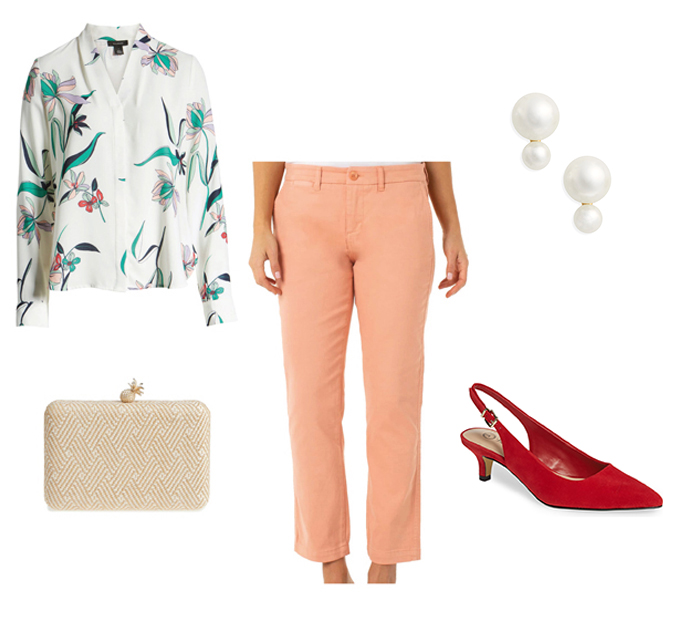 Think about the venue
Just like the wedding itself, there are a huge range of venues where a bridal shower could be held. It may be in the swishest restaurant, or it may be a low-key event in the host's home.
Think about whether your outfit will fit in with where the event is being held. If it's at home, you are likely to be a little more casual in the way you dress, although you will still want to look special.
Is there a bridal shower theme?
Some bridal showers, although definitely not all, have a theme, so you may wish to think about what you wear in that context.
For example, the host may have chosen a tea party theme and you could have fun with a vintage-style dress. Or, you may have a bride who got engaged in Paris and opt for a French theme.
Can you wear white to a bridal shower?
There aren't many "rules" when it comes to what you wear as a bridal shower guest.
But, I wouldn't wear whites, ivories or creams. Save those for another occasion. White is really reserved for the bride for all of her events.
Having said that, if your white is just a background element to a printed dress or top, then you will be absolutely fine.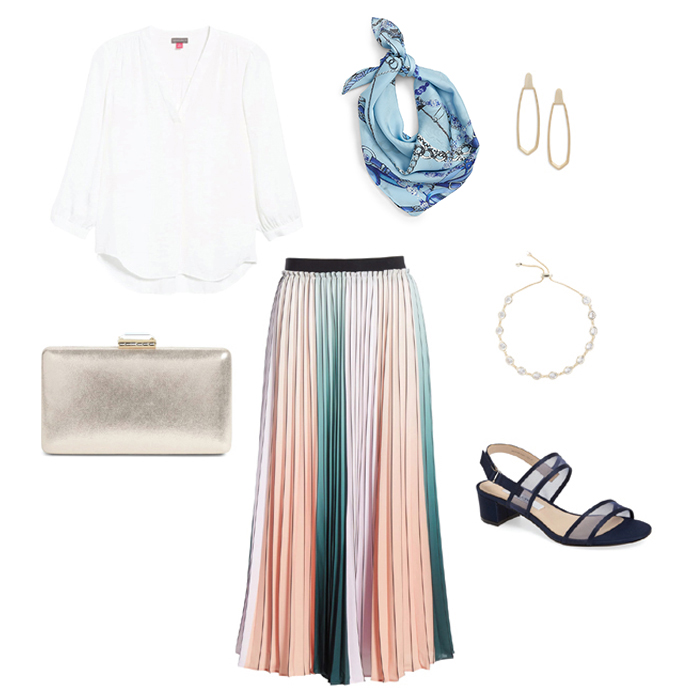 Get creative
Having a special occasion doesn't necessarily mean you have to buy an entire outfit.
Take a look at your wardrobe and get creative. Sometimes we use the same items together, and forget how versatile they can be.
Using the tips mentioned above, try thinking out of the box with what you already have, and you might be surprised with how budget-friendly a bridal shower can be.
Last but not least, don't stress over what you'll wear. Weddings remind us of happiness, excitement and love. Let's add fashion to the equation and we already have a perfect excuse to have fun.
Are you the mother of bride check out ideas on what to wear if you're the mother of the bride or groom.
Are you thinking about what to wear to a bridal shower this year? What bridal shower outfit would you wear?
Like this article on what to wear to a bridal shower? Save it on Pinterest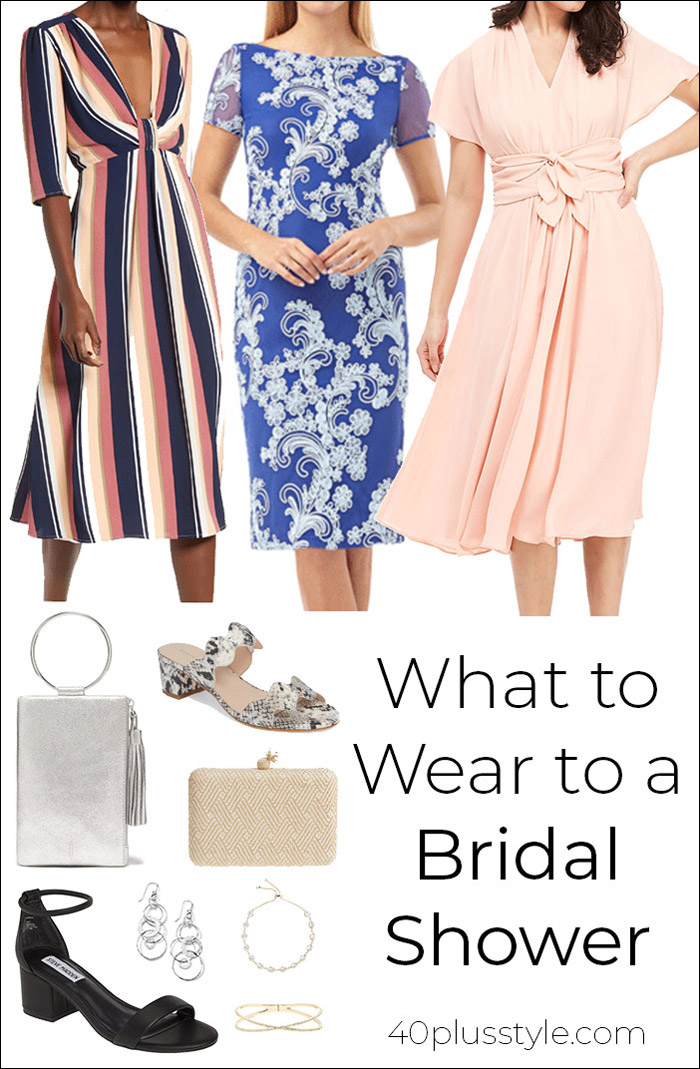 Feature Image by @joannaavant
Want to get more articles from 40+style in your inbox, subscribe here.
You can also connect with 40+style on Facebook, Instagram or Pinterest.
Support 40+style by using the links in our articles to shop. As an associate for Amazon and many other brands, we receive a small commission (at no cost to you) on qualifying purchases which enables us to keep creating amazing free content for you. Thanks!