Bridal shower season is upon us. What a wonderful opportunity to celebrate love and romance, plus bridal showers are a wonderful reason to get dressed up too!
We've assembled a list with some of our favorite bridal shower dresses to get you ready for just about any type of bridal shower.
1. Try a floral dress
Why not embrace the romance of the event and try a feminine dress in a floral pattern? Go bold in a bright floral or if florals are outside of your comfort zone, stay subtle in a subdued tone on tone floral pattern with neutral accessories.
2. Wear a ruffle or flounce
Add a dress with an on-trend ruffle detail, or try a skirt with a flounce or ruffle in a bright jewel tone. Make a little black dress more unique by choosing one with a flounced bottom. Up the fun quotient by pairing it with whimsical patterned flat ankle wrap shoes with pom poms.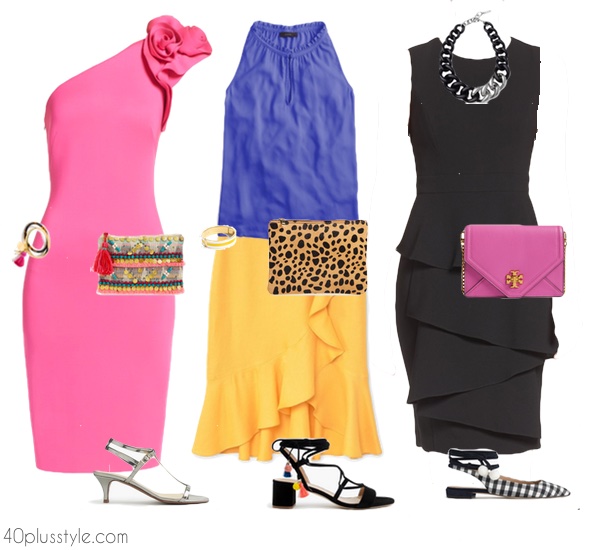 3. Go with gingham
Nothing says summertime like gingham. Choose one of this season's dresses or skirts in this cool, stylish summertime fabric. Choose an A-line shirtdress or a statement-making gingham skirt with an asymmetrical ruffle detail down the front. Don't be afraid to add other colors and patterns with your gingham to give your outfit a more sophisticated feel.
4. Go black and white
Opt for a dress with a fresh graphic black and white look. Choose a modern bold graphic pattern or a more feminine polka dot dress with a figure flattering shirred waist. Keep it fresh by adding bright accessories and pops of white.
See below for even more of our stylish wedding shower dresses and outfits.
Whatever you do wear, have a wonderful time! Rosemond
What's your favorite look?


For more help on dressing for an upcoming wedding, check out:
What to Wear to a Summer Wedding