Oftentimes, being able to bring a chic and comfortable tone to office wear can be tough, especially when you want to put your own unique spin and style on what you can wear.
It can be done, however, and I will show you how to create a perfectly edited wardrobe capsule so you set the tone perfectly when it comes to what to wear for work.
To see our latest work capsule wardrobes, check out:
Business attire for women
From the best type of material to the most office appropriate perfumes, we tackle all you need to know about how to bring your chic and unique style to the workplace.
Work styles have changed over the years. You will probably find that you have moved from more formal attire to a mix and match style of separates which look smart but modern.
Comfort = Confidence
Work appropriate clothing and accessories should never hurt your feet, constrict arm movements, or be in any way uncomfortable.
If you find yourself wiggling, smoothing, checking or straightening your outfit a handful of times before you even leave the house, please change. When your clothes cause worry you can't exude confidence and when you aren't confident you don't look as polished or professional as you could.
There are some tried and true materials, styles, and shoes to stick to when you're looking for a combination of both comfortable and chic looks. These include
Pieces made of natural fibers like cotton, silk, linen, and wool
Lined pants, dresses, skirts, blazers, and jackets, which will help keep fabrics from clinging to your body
Sweaters or knit blazers and jackets that have a little give and are not as tight on the arms and shoulders
Heels with heights of 2½ inches or less give you the perfect professionalism without making you sacrifice your back or knees in the process.
It can be particularly tricky to decide what to wear for work when the weather is warmer.
This outfit (below), as worn by @pgill2015 in Florida could provide a good option. The print mixing and statement jewelry add extra style, but the open toe shoes keep it cool.
Work clothes for women to make a statement
In order to create a cohesive look, begin with your focal point, or lead piece.
Teams, much like outfits, become unsuccessful when they have too many people vying for a leadership role. Pick one piece of clothing or accessory to steal the show, think of it as your team leader.
Then, choose the rest of your outfit to act as support for the piece in the leading role.
Anything can be your hero piece. You could opt for a bright dress, a print shirt or skirt, or a statement accessory like a print shoe or scarf.
Read our ultimate guide to creating a capsule wardrobe that works best for you.
Red Short Sleeve Pleated Pencil Dress – Ottilie Blouse – Leopard Print Shoes – Boden Pencil Skirt – Pendant necklace – Red Scarf
Womens workwear – Layers are Key
Most offices experience a variety of temperatures throughout the day, from chilly conference rooms to downright balmy offices.
You may find yourself in a condition where the air conditioning is either too cool for you, or not turned up high enough.
Plan accordingly. This does not mean that you should keep your favorite loungewear sweatshirt at your desk; rather, always try to have a neutral cardigan or jacket available.
You can also pop a scarf on over your outfit to stop the back of your neck getting chilly.
Keep the scent unobtrusive for your work outfits
Not all perfumes you love are workplace appropriate. The key to finishing out a chic look is adding a light scent that doesn't leave everyone wondering who was last in the room.
A crisp, bright or sweet, floral scent that is light and unobtrusive is absolutely key to the perfect work wardrobe.
For more tips check out our article on how to wear perfume the right way.
Love Story Eau Sensualle Eau de Parfum – Cartier La Panthère Eau de Toilette – Tiffany Eau de Parfum – Hermes Eau de Merveilles – Prada 'Les Infusions d'Iris' Eau de Parfum – Lanvin Arpège 'Éclat d'Arpège' Eau de Parfum Spray
Build a chic collection of versatile work wear
Before you add a new piece to your wardrobe ask yourself, "What three other pieces does this match?"
You don't want to build individual outfits that have no relation to other looks in your closet. Instead, build a work capsule wardrobe composed of pieces that are easily interchangeable with one another.
That way, you won't have to put much thought into what you are going to wear each day when you are rushing out to work.
Business suit for women
It may once have been traditional to wear a matching business suit for the office. And, there will be some work settings which still require this.
However, most workplaces suit a wardrobe of capsules. I would choose a work suit with pants and a skirt that you can wear together, or separately.
The ideal 12-piece work wardrobe
Let's begin with the neutral basics that will anchor the work wardrobe. Hero pieces are great, but these are the support pieces I talked about earlier.
While we went with black suit pieces for this capsule, you can also go with gray, blue, or a lighter camel/tan hue.
The anchoring basics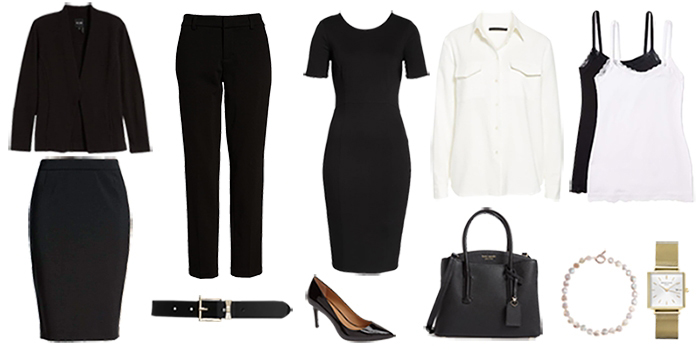 Black Blazer – Stretch Wool Pencil Skirt – Black Ankle Pants – Black Belt – Zip Back Sheath Dress – Black Pointy Toe Pump
Cotton Flannel Work Shirt – Black Leather Satchel – Pearl Necklace – Boxy Mesh Strap Watch – Cotton Camisole
Tops, Jackets, and Coats
Now comes the time to add the tops and outerwear to your capsule. Select 3-4 tops that are versatile (yet offer their own unique look).
Two additional blazers (with a variety of texture) will serve as great contrast pieces for creating new looks and a coat that can be worn across your wardrobe complete this portion of your capsule.
Ottilie Blouse – White One-Button Blazer – Patterned Long Sleeve Blouse
Red Blazer – Horse Coin Shirt – Drape Neck Top – Belted Wool Blend Coat
Work dresses, pants and skirts
A tailored dress in a pop of color that is flattering to your skin tone and body shape is the perfect addition to the capsule.
A third dress that is more artistic or unique (such as the shirtdress below) is also another brilliant option, as it allows you to bring a creative and unexpected look to the office that is not too off-step.
A second skirt with a pop of color and on-trend pants also help round out your collection.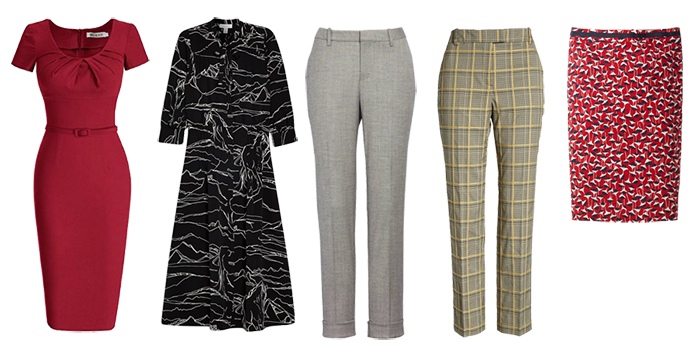 Red Short Sleeve Pleated Pencil Dress – Horse Print Midi Dress – Wool Trousers – Check Stretch Cotton Blend – Boden Pencil Skirt
Shoes and accessories
As you can see, we had a red/pink theme for our accessories selection.
A tote with a pop of color and a scarf with a pop of color will help add some warmth to even your most severe looks.
You can also select statement necklaces to diminish the seriousness of some of the office looks and make them more unique and approachable.
Finally, a leopard print flat allows you to bring in a print that pops without being too overwhelming or inappropriate, while still being quite comfortable.
Rose Pink Leather Tote – Leopard Print Shoes – Slingback Pump – Red Scarf – Pendant necklace
9 women's professional clothing looks using the pieces from our work wardrobe above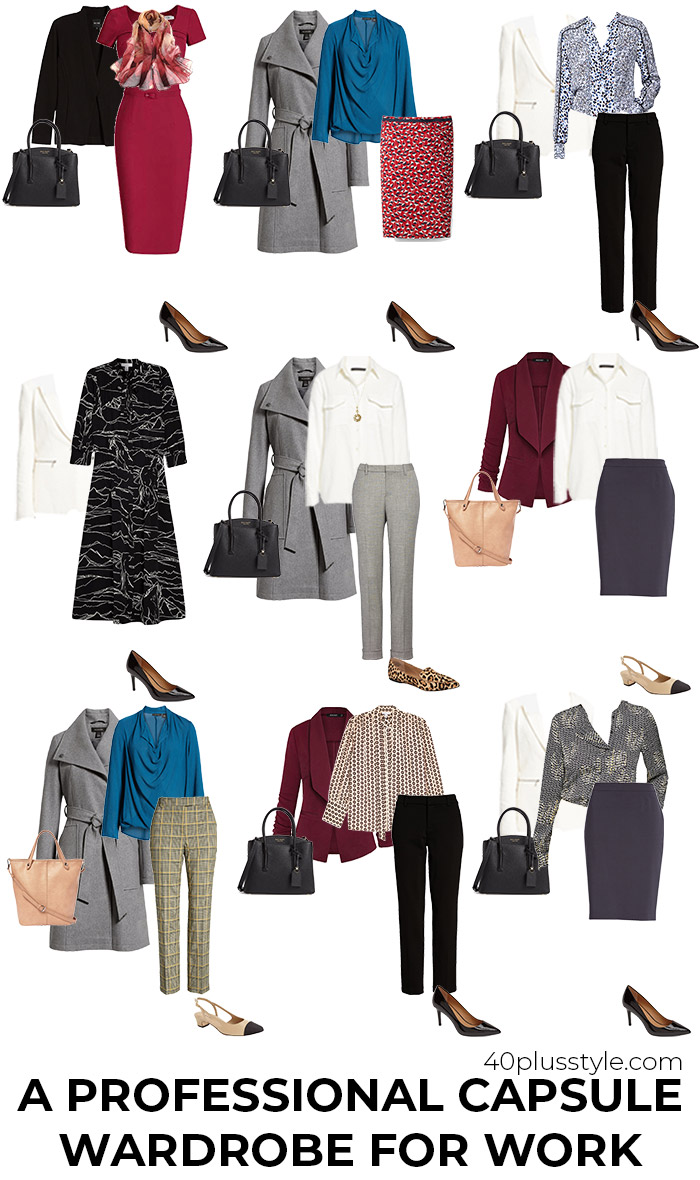 Check all our articles for professional women:
What does your work wardrobe look like? What are your go to what to wear to work looks to get through a long day?
Like this article on what to wear to work? Save it on Pinterest!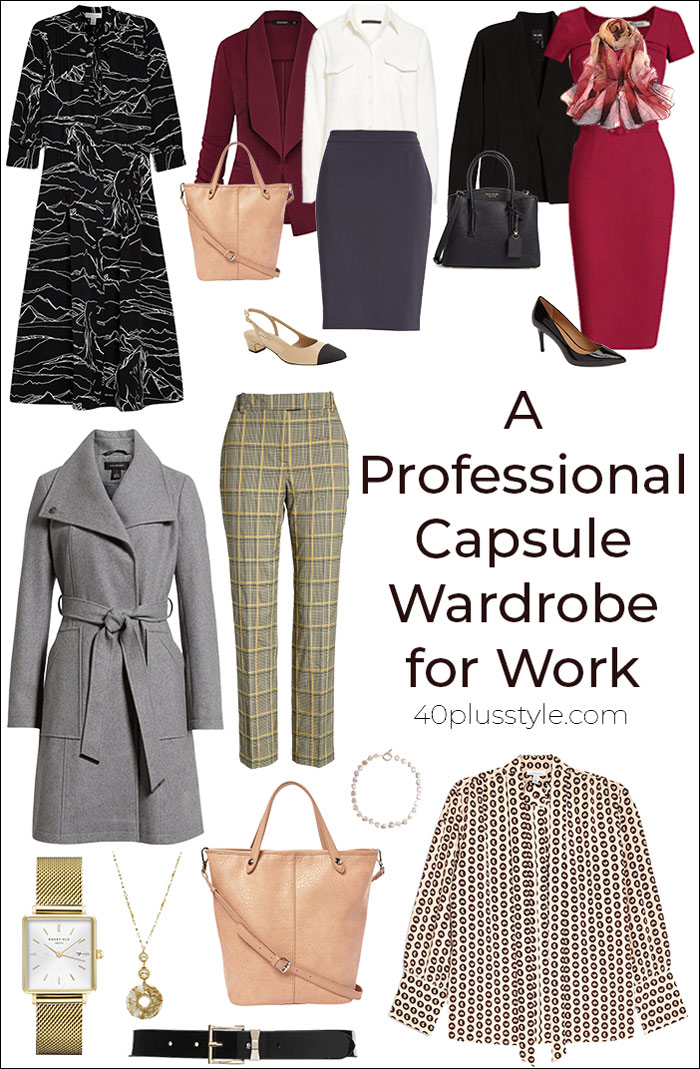 Feature Image by @pgill2015
Want to get more articles from 40+style in your inbox, subscribe here.
You can also connect with 40+style on Facebook, Instagram or Pinterest.
Support 40+style by using the links in our articles to shop. As an associate for Amazon and many other brands, we receive a small commission (at no cost to you) on qualifying purchases which enables us to keep creating amazing free content for you. Thanks!