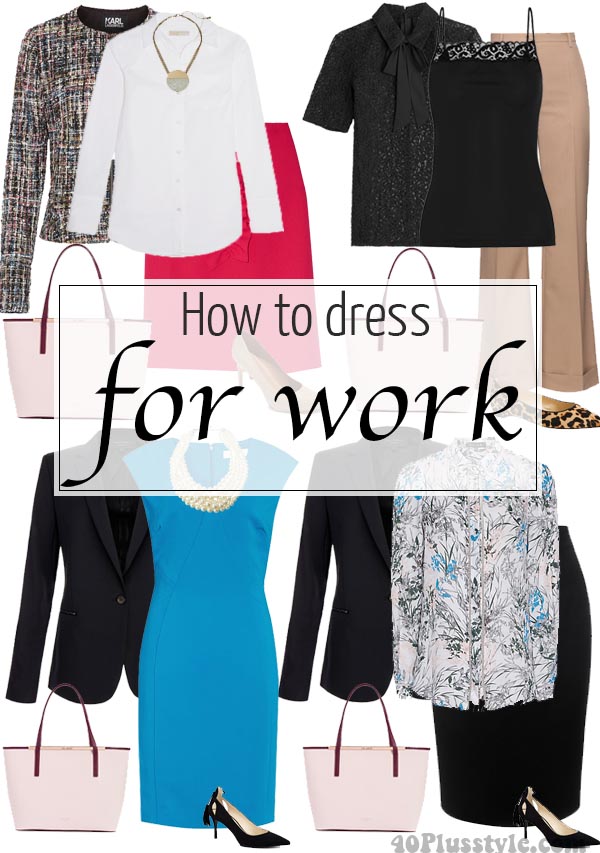 Oftentimes, being able to bring a chic and comfortable tone to office wear can be tough, especially when you want to put your own unique spin and style on what you can wear.
It can be done, however, and I will show you how to create a perfectly edited wardrobe capsule for work. 
From the best type of material to the most office appropriate perfumes, we tackle all you need to know about how to bring your chic and unique style to the workplace.
Comfort = Confidence
Work appropriate clothing and accessories should never hurt your feet, constrict arm movements, or be in any way uncomfortable.
If you find yourself wiggling, smoothing, checking or straightening your outfit a handful of times before you even leave the house, please change. When your clothes cause worry you can't exude confidence and when you aren't confident you don't look as polished or professional as you could.
There are some tried and true materials, styles, and shoes to stick to when you're looking for a combination of both comfortable and chic looks. These include
Pieces made of natural fibers like cotton, silk, linen, and wool
Lined pants, dresses, skirts, blazers, and jackets, which will help keep fabrics from clinging to your body
Sweaters or knit blazers and jackets that have a little give and are not as tight on the arms and shoulders
Heels with heights of 2½ inches or less give you the perfect professionalism without making you sacrifice your back or knees in the process.
Make a statement
In order to create a cohesive look, begin with your focal point, or lead piece. Teams, much like outfits, become unsuccessful when they have too many people vying for a leadership role. Pick one piece of clothing or accessory to steal the show, think of it as your team leader.
Layers are Key
Most offices experience a variety of temperatures throughout the day, from chilly conference rooms to downright balmy offices. Plan accordingly. This does not mean that you should keep your favorite loungewear sweatshirt at your desk; rather, always try to have a neutral cardigan or jacket available.
Keep the scent unobtrusive
Not all perfumes you love are workplace appropriate. The key to finishing out a chic look is adding a light scent that doesn't leave everyone wondering who was last in the room. A crisp, bright or sweet, floral scent that is light and unobtrusive is absolutely key to the perfect work wardrobe. (For more tips check out our article on how to wear perfume the right way).
Build a chic collection of versatile work wear
Before you add a new piece to your wardrobe ask yourself, "What three other pieces does this match?" You don't want to build individual outfits that have no relation to other looks in your closet. Instead, build a work capsule wardrobe composed of pieces that are easily interchangeable with one another.
The ideal 20-piece work capsule wardrobe
Let's begin with the neutral basics that will anchor the work wardrobe. While we went with black suit pieces for this capsule, you can also go with gray, blue, or a lighter camel/tan hue.
The anchoring basics
Tops, Jackets, and Coats
Now comes the time to add the tops and outerwear to your capsule. Select 3-4 tops that are versatile (yet offer their own unique look). Two additional blazers (with a variety of texture) will serve as great contrast pieces for creating new looks and a coat that can be worn across your wardrobe complete this portion of your capsule.
Pants, Skirts, and Dresses
A tailored dress in a pop of color that is flattering to your skin tone and body shape is the perfect addition to the capsule. A third dress that is more artistic or unique (such as the shirtdress below) is also another brilliant option, as it allows you to bring a creative and unexpected look to the office that is not too off-step. A second skirt with a pop of color and on-trend pants also help round out your collection.
Shoes and accessories
As you can see, we had a red/pink theme for our accessories selection. A tote with a pop of color and a scarf with a pop of color will help add some warmth to even your most severe looks. We also selected two statement necklaces to diminish the seriousness of some of the office looks and make them more unique and approachable. Finally, a leopard print flat allows you to bring in a print that pops without being too overwhelming or inappropriate, while still being quite comfortable.
Here are nine looks using the pieces from our wardrobe above


What does your work wardrobe look like? What are your go to looks to get through a long day?