We can't stop the aging process but we can use products that keep our skin looking great for longer.
I have been using Retinol for quite a while (in combination with other products).
Today let's answer the question: what is retinol and how can it help your skin. I will also be rounding up the best retinol cream for your skin.
Then we'll take a look at what the difference is between retinol and AHAs, and which could be best for you.
Using both AHAs and then retinol in your skincare regime may be the best way forward for better looking skin that stay younger for longer. Read on to find out why.
What is retinol?
Firstly, exactly what is retinol?
I'm assuming you've heard of it, your friends may have recommended it to you and you've probably heard it mentioned on skincare adverts.
But are you sure about what retinol is and what it does?
Patti, pictured above, is a big fan. You can read her beauty interview here.
Over the counter retinol
Retinol is just an alternative name for Vitamin A. It is a retinoid. Retinoids are available commercially in two forms, namely:
(a) powerful, prescription-grade formulas based on Tretinoin (a more powerful form of Vitamin A than Retinol) sold under such names as Retin-A, Tretinoin, Avage, Differin, Tazorac, Retin-A Micro, and Renova, and;
(b) over-the-counter formulas called Retinol that you can buy at the drugstore without a prescription.
Originally developed to fight acne, remove dead skin cells, and clear out pores, scientists soon realized that retinoids were extremely effective at fighting the signs of ageing.
Retinol products: Advantages and disadvantages
Pros
Retinoids such as Retinol are super effective at reducing lines, smoothing out skin texture, and regularizing skin tone.
RX-Retinoids (i.e., prescription grade retinoids) have had FDA approval for 40 years now, which means that clinical studies have been carried out that prove that they do reduce wrinkles (no other skincare ingredient can claim this).
Retinol is a skin-communicating ingredient, i.e., it "tells" skin to make younger, healthier skin cells.
Retinols fade brown sun and age spots.
Cons
You need a doctor's prescription to get a hold of the most powerful forms of retinoids, such as Retin-A, Trentinoin, Tazorac, Retin-A Micro, and Renova.
Initial use and over-use (more than a pea-sized amount at first) can result in red, itching, flaking skin.
Retinoids such as Retinol are not suitable for people with sensitive skin or rosacea.
Retinols must be used in conjunction with sunscreen protection because prolonged retinol use results in a lower UV barrier.
Retinol benefits: How can Retinol help your skin?
Retinol works by promoting rapid skin cell turnover and revealing new skin beneath.
They also thicken the skin over long periods of use and slow the breakdown of collagen in our skin, the protein in our skin responsible for elasticity (and the first thing to break down when ageing).
Thick, unwrinkled skin equals younger-looking skin. The great news is that it's never too late to start a Retinol regime!
As Dr. Ranella Hirsch, M.D., said in an interview, "We have beautiful, profound data that shows if you use [retinoids] for 20 years, you're going to look a lot better than someone who doesn't."
Retinol for skin
Keep in mind the following:
Prescription-grade retinoids (Tretinoin) are 100 times more powerful than drugstore Retinol creams – but you need a doctor's prescription to get them.
It takes 6-8 weeks to see a difference in your skin using RX-retinoids, and 6-8 months using over-the-counter Retinols – but over time, they have the same effect.
Seek out the most powerful and pure form of Retinol you can find in your drugstore products (rather than the far less powerful derivatives known as pro-retinols – these may be called retinyl palmitate, retinyl acetate, and retinyl linoleate on the back of the box).
Build up your tolerance to retinoids gradually and work through any initial flaking or redness – a Retinol regime is a long-term commitment rather than a short-term fix.
Use sunscreen and SPF creams (minimum 25 SPF) while using Retinols or retinoids.
10 of the best over-the-counter Retinols – including creams and serums
Here are some of the recommendations for the best over-the-counter retinol creams
retinol face cream
Paula's Choice is a well-reviewed, popular mid-price option for creams containing retinol. This Intensive Repair Cream is a good option if you have very dry or dry skin.
 Paulas choice retinol face cream
luna sleeping night oil
Luna sleeping night oil is one of Space NK's cult products. It is clinically proven to improve the appearance of fine lines, radiance and skin smoothness in as little as four weeks.
retinol night cream
I always prefer to have a separate cream which is lighter in texture for day, and then a more nourishing cream for night. This Murad night cream features retinol and red algae extract to improve skin's firmness and elasticity.
This is the retinol night cream I have been using: Skinceuticals retinol 1.0
I'm a fin of Skinceuticals products and this one retinol cream has been very effective. I use it in combination with Skinceuticals flagship product CE Ferulic.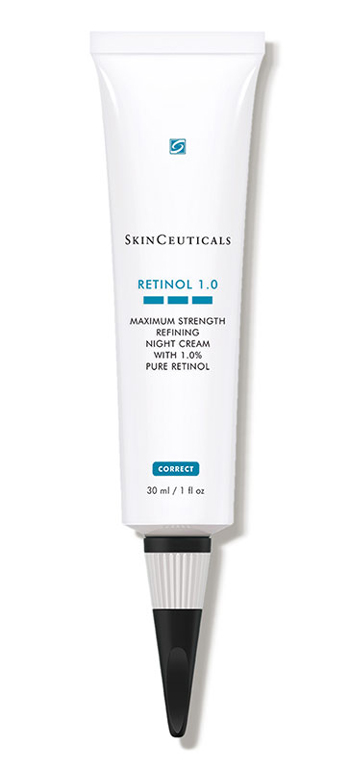 best retinol eye cream
An eye cream is vital because a regular face cream will be too heavy for your delicate eye area. Kiehl's Youth Dose Eye Treatment promises to reduce the look of lines, puffiness and dark circles in as little as two weeks.
Youth dose eye treatment
best retinol serum
The benefit of using a serum is that serums tend to contain a higher concentration of active ingredients because they don't contain the heavier ingredients of a face cream. It's best to use a face serum first and then a regular moisturizer.
Retinol to mix with your own moisturizer
If you already have a moisturizer you love, but you want to see if retinol could make your skin look even better, then this option from Clinique could be a good one to try.
Fresh pressed clinical daily + overnight boosters
retinol body lotion
Of course, retinol doesn't just have to be for your face, although that does tend to be what we worry about most when it comes to ageing.
There are also some great options out there for your body which feature retinol.
 Retinol skin smoothing body treatment
Recommended budget retinol skin care products
Tree of Life retinol serum
Tree of Life retinol serum is Amazon's "choice". Plus, it very affordable so it may well be worth giving it a go.
Skincare miracle retinol moisturizer
This cream features Vitamin E and green tea. It says it can reduce the appearance of wrinkles, acne, and that it brightens your skin tone.
Retinol products recommended by the 40+ Community.
Maureen is using Squalane. She says: "I use the 'ordinary' retinol in Squalane. Feels lovely applying it."
Colleen uses Drunk Elephant retinol. She says: "I use Drunk Elephant at night with a good moisturizer, AHA and Vitamin C products in the AM."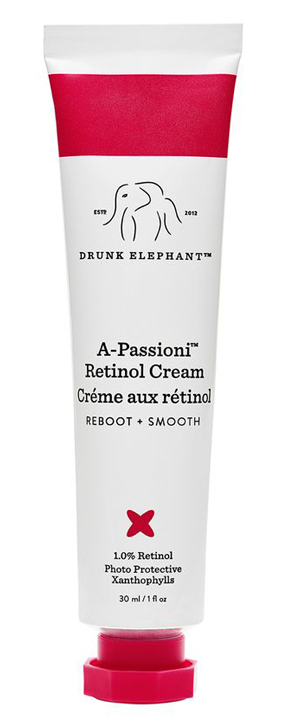 Brenda says: "I have retinol in my Mary Kay night cream."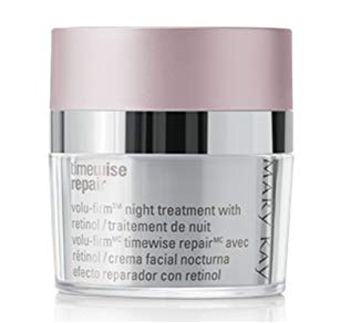 More retinol skin care products you might like to try
Budget options
Neutrogena Rapid Wrinkle Repair Serum, $20.99
Neutrogena Healthy Skin Anti-Wrinkle Night Cream, $14.49
Mid-priced options
Philosophy Help Me Retinol Night Treatment, $44.10
SkinCeuticals Retinol 0.5, $57
Premium options
StriVectin-AR Advanced Retinol Day Treatment SPF 30, $99
Using retinol with AHAs
Of course, retinol doesn't have to be all that you use to counter the signs of ageing and sun damage.
Here is a rundown on what AHAs and BHAs are, where they fit into your retinol regime, and when to use them.
The difference between retinol and AHAs
Now that I've looked at retinol and the advantages for your skin, I'm going to turn the attention to AHAs.
What exactly is the difference between retinol and AHAs?
Which one is best suited to you? Or, is it best to use both?
Retinol comes from Vitamin A and was originally used to treat acne, but when patients started reporting it also improved the appearance of fine lines and skin tone, it started to be used as a skin cream too. It promotes cell turnover and boosts collagen.
AHAs on the other hand are Alpha Hydroxic Acids and can be either natural or synthetic. Many include glycolic acid, which comes from sugar cane, or lactic acid, which is milk related.
They provide a chemical exfoliation, allowing the removal of dead skin cells and revealing smoother skin.
If you have sensitive skin, begin with a low concentration. As with retinol, make sure you use sunscreen when you are using AHAs.
What exactly are AHAs and BHAs?
AHAs and BHAs are two forms of the active compounds known as Hydroxy Acids which basically act to dissolve the "glue" that holds together your old skin cells and thus forcing them to turn over more rapidly.
They are highly effective at brightening the skin, improving acne, reducing discoloration, and reducing the look of fine lines and wrinkles.
AHAs and BHAs are both forms of chemical exfoliation (as opposed to scrubbing, which is manual exfoliation). Using AHAs and BHAs clears the way for your other anti-ageing creams to be more effective, because they slough away the old skin cells.
AHAs, or alpha hydroxy acids, are derived from plant, milk, and fruit sugars. You may sometimes see them called one of the following: glycolic, lactic, citric, or mandelic acids. They operate at the top skin cell level.
BHAs, or beta hydroxy acids, are man-made acids. They may also be called any one of the following: salicylic acid, benzoic acid or buteric acid. They operate at below skin level and can penetrate grease and oil.
Poly-hydroxy acids (less common) combine some man-made and some naturally-derived AHAs and BHAs in one product, so you get a host of treatment benefits at once.
Which do I need – an AHA or a BHA?
Use AHAs if:
You have dry skin (AHAs are humectants – they attract moisture to the skin)
Your main concern is sun damaged skin, sun spots, fine lines, or general dullness of tone
You don't have particularly sensitive skin, or rosacea
Use BHAs if:
You have oily, acne-prone skin
You need to get gunk out of your pores
You have sensitive skin or rosacea
Of course, you can always combine AHAs and BHAs (or opt for a poly-hydroxy acid) if you have a combination of skincare needs to address – just be sure to introduce one at a time and to vary the doses to see how much your skin can take.
Since both AHAs and BHAs expose new skin cells, remember to wear sunscreen when using them!
Where do they fit in my skincare regime?
Acid toning should be done directly after cleansing your face thoroughly.
AHAs and BHAs usually come in the form of a liquid, or pads that are already infused with the liquid, so swipe it gently over all areas of your face and neck.
Follow up with a spritz of moisturizing facial toner to get the PH level of your skin back to normal levels, and then your face treatment if using one (such as a Retinol), a serum, and finally finish by applying a day or night cream (or oil).
You can also buy AHAs and BHAs in the form of moisturizing creams and serums, providing a sort of two-in-one benefit (exfoliation and treatment/moisturizing), and these can be used in the place of your regular serum, or day or night cream.
Gentle forms of acid toners can be used twice a day, but stronger forms should be used twice or three times a week at max (check the bottle to be sure).
Well reviewed AHA products to try
Budget AHA mask
The Ordinary peeling solution
Designed to be used no more than twice a week, this peeling solution from The Ordinary is relatively strong, so I would start to use it gradually, maybe only using it once per week and not leaving on for the full 10 minutes to start with.
Paula's Choice skin perfecting 8% AHA lotion
If you don't want to go for a product with a high AHA percentage, Paula's Choice could be a good way to get started.
Top performers
AHAs for Daily Use
Dennis Gross MD Alpha Beta Pads
BHAs for Daily Use
Paula's Choice Skin Perfecting 2% BHA Liquid Exfoliant
Stridex Daily Care Acne Pads with Salicylic Acid, Maximum Strength
Poly-hydroxy acids (combination of AHAs and BHAs)
Biologique Recherche Lotion P50v is only available in the U.S. by direct order from Rescue Spa, Vicki Morav, and Toska Spa.
What should I use? A retinol cream or cream with AHAs?
Although they are similar, they also have separate benefits.
Both promote rapid skin cell turnover and revealing new skin beneath. An aha acts more like a chemical peel, while a retinol encourages your skin to create new cells and boosts collagen production
Opinions vary whether you need both but if you want to try and use both, dermatologists generally recommend starting gradually when using either as, while they do complement each other, they can lead to irritation, particularly if you have sensitive skin.
Start with one and after a few weeks, add the other one to your skincare regime.
I would choose a retinol cream you can use daily and complement this with an AHA that you either use daily, but at the opposite end of the day, or as a weekly exfoliant.
A good way to use both is to use Retinol one night, then a AHA product the next night.
I'm combining my retinol cream with a vitamin C product
For my skin I feel that the retinol already provides enough regeneration. Instead I have opted to add a vitamin C product in the morning: CE Ferulic.
Ferulic acid provides protection from UV rays and prevents damage to the skin and premature aging. It also helps to build collagen and replenish lipids to keep your skin firm, smooth and youthful-looking.
If you want to know more check out my review of CE Ferulic.
Are you using Retinol? Has it been effective for your skin? What are the best retinol creams you've used?

Like this article on what is retinol and the best retinol creams? Share it on Pinterest
Feature image by Patti Gibbons
Want to get more articles from 40+style in your inbox, subscribe here.
You can also connect with 40+style on Facebook, Instagram or Pinterest.
Support 40+style by using the links in our articles to shop. As an associate for Amazon and many other brands, we receive a small commission (at no cost to you) on qualifying purchases which enables us to keep creating amazing free content for you. Thanks!