Patti was one of the first earlier style stars to be featured on 40+Style. You can read her style interview here. She is the creator of the popular blog Not Dead Yet Style and resides in Florida, USA. It's hard to believe she is already over 60 years old.
I wanted to check back in with this fabulous lady and talk about her beauty routine this time to discover the secrets of her youthful looks and fabulous skin.
Has your beauty routine changed much from when you were younger?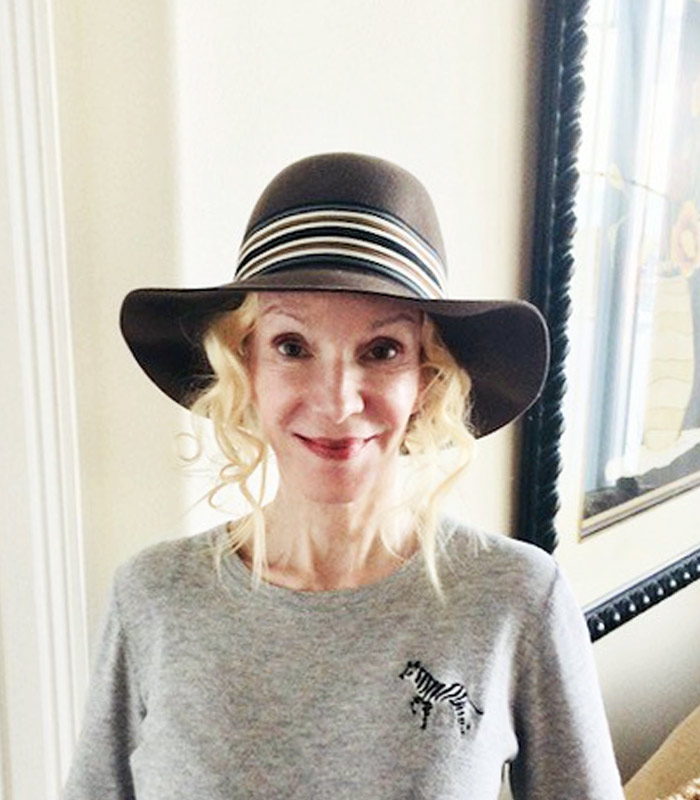 Oh yes, for certain! I grew up in the 1960's, before sunscreen was a big deal. Like all my peers, I lay out in the sun, hoping to get a good burn, that would "turn to tan". Arggh! Since age 30, though, I've protected my skin scrupulously, with a 50 SPF sunscreen, hats, sunglasses and scarves. And of course, in my youth, pimples were the big enemy, not sagging or wrinkling.
How much time do you spend on average on your grooming / beauty routine?
Not a terribly long time: about fifteen minutes in the morning to apply sunscreen and makeup, and ten minutes at night, for my face, hands and neck. I don't color my hair, and I let it air-dry with some cream in it.
What is your current beauty routine?
Morning: an Olay moisturizer with high SPF, followed by a BB cream with a high SPF. I put the BB cream all over my face, to the hairline and on my eyelids. This evens out my skin tone, and provides good protection. Then mascara, blush and lipstick, and some brow powder if I'm going out in public.
How do you look after your skin and what is your favorite product?
By far, it's prescription grade Retin-A, since age 27. I do get compliments on my skin at 61, and I always reply: Retin-A and sunscreen, every single day.
How do you look after your hair and what are your favorite products?
I wash my dry curly hair about twice a week, with a sulfate-free shampoo. I condition it in the shower with any old brand, then I comb some curl cream through it. I let it air dry and put a few strategic clips in to help shape the final 'do. I haven't colored my hair in over two years and I love the silver coming in.
How important is makeup to you? Is it part of your daily routine?
I always use sunscreen/moisturizer, followed by a BB cream, even if I'm just going to the taco place for lunch. I use some MAC mascara most days. True "color" cosmetics, like eyeshadow, blush and brow powder are for when I will be out and about and seen by the public.
Which make-up products do you use and which are currently your favorite?
I am using an inexpensive BB cream by NYX and a blush palette by e.l.f. My lipsticks are varied, and I don't have a current favorite: anything reddish is good with me, and I re-apply throughout the day.
Which products do you use for the night?
First, gentle cleansing with a make-up wipe. Then Retin-A on my face, and Vitamin C cream from The Ordinary on my hands. A rich body lotion all over. And after the Retin-A and Vitamin C have sunk in, I cover my face and hands with Matryxl serum, also from The Ordinary. Great stuff that sinks in quickly and keeps my skin hydrated.
If you could just give 3 beauty and grooming tips to women over 40, what would they be?
The obvious first: SUNSCREEN! Always, and ever, and try not to be in the direct sun during the most intense hours of the day. Use hats and sunglasses. Be a fanatic about this if you want good skin.
Then: Try one of the Retin-A formulations. Start slowly, with a .025 strength, and use it twice a week. Then build up to your tolerance level – I now use .50 strength every night.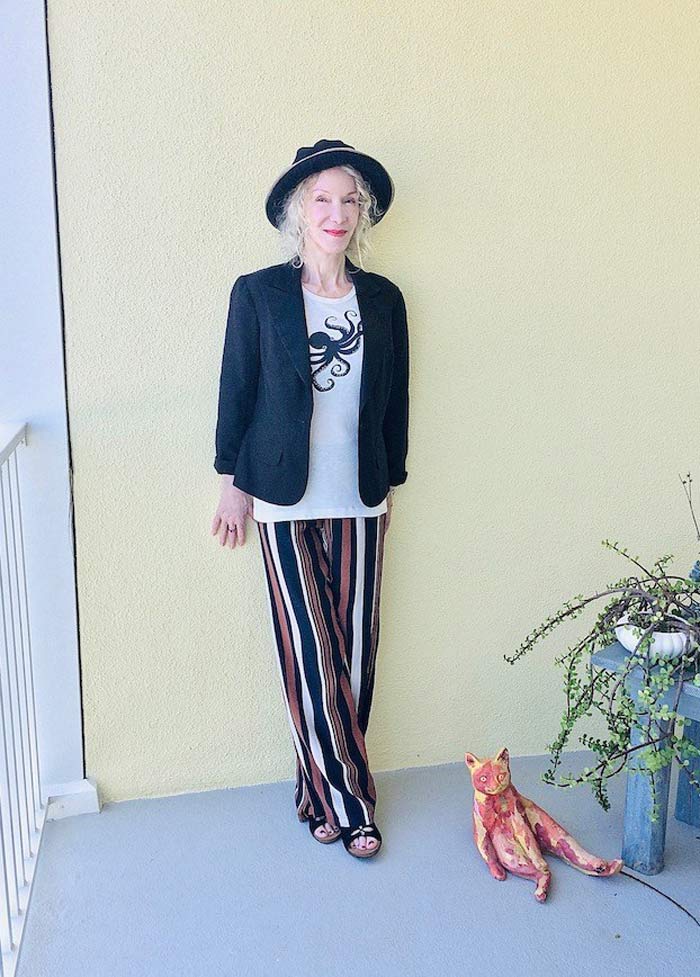 And: Don't fuss too much with your hair. Try to embrace your natural color and texture, and be kind to your hair: shampoo less often, add creams and oils if you're dry, stay away from too much heat styling.
Read more about Patti and her style here How to stay visible and consistent in your style – a style interview with Patti. Also be sure to check out Patti's blog.

P.S.: you may also enjoy our article: What is retinol and how can it help your skin.
Want to get more articles from 40+style in your inbox, subscribe here.
You can also connect with 40+style on Facebook, Instagram or Pinterest.
Support 40+style by using the links in our articles to shop. As an associate for Amazon and many other brands, we receive a small commission (at no cost to you) on qualifying purchases which enables us to keep creating amazing free content for you. Thanks!