The right jewelry can add the missing piece to any outfit. But, while you might put extra thought into the jewelry you wear for a night out, how about what you wear to work? Whether you work from home on conference calls or you go into the office, adding jewelry to your work outfits can really elevate your outfits. Let's look now at jewelry for work, and what to consider when choosing it.
Ana @mrsamericanmade above (read her style interview here) opts for drop earrings and a pendant that could easily be worn with all of your work outfits.
Recreate her look with this similar top, pendant necklace, drop earrings and smartwatch.
What to think about when choosing your own jewelry for work
Below are some pointers to consider when selecting the jewelry you will wear for work.
1. Your office environment
It goes without saying that some industries are different to others. Your office might be particularly funky so you can wear any jewelry you want, or maybe you have practical reasons you can't wear dangly earrings, for example.
2. Wearing a watch
Even if you don't tend to use a watch to tell the time in these days of smartphones, you can still add a watch to your work look as a piece of jewelry. That way, even if your office isn't somewhere you would wear a lot of jewelry, you can still add some to your outfit.
3. You (probably) don't want chandelier earrings
While I think a statement necklace can add a stylish element to your work look, you probably want to avoid big, heavy earrings for the office.
4. Avoid too noisy jewelry
I would avoid stacked bracelets or a jangly necklace that will make a distracting noise as you move.
5. Emphasize areas that will be seen
For example, if you do most of your work on a conference call, you could wear a statement necklace or just some subtle stud earrings.
Let's look at some specific jewelry ideas to use for work
Now that you're thinking about what you usually wear to work and whether you want to add more to your work outfits, let's take a look at some specific pieces of jewelry you could choose.
hoop earrings
Hoop earrings are a timeless classic that you can wear for work or play. Fonda @savvysouthernchic above wears a pair of hoops with her sunny yellow outfit.
Get her look with this similar blouse, blazer, pants, flats, necklace and earrings.
Bony Levy Katharine 14K Gold Huggie Hoop Earrings
Stud earrings
Starting with the classics, no matter what the dress code (if any) at your office, a pair of stud earrings will almost always be okay to wear.
A statement necklace is good to add some impact
A statement necklace can be useful to add interest to your work looks, and to create harmony. You could wear your necklace over your white shirt or a silk top.
Fibban Chunky Link Chain Necklace
Karine Sultan Alice Statement Necklace
FARIS Jobu Chain Link Necklace
You can layer your necklaces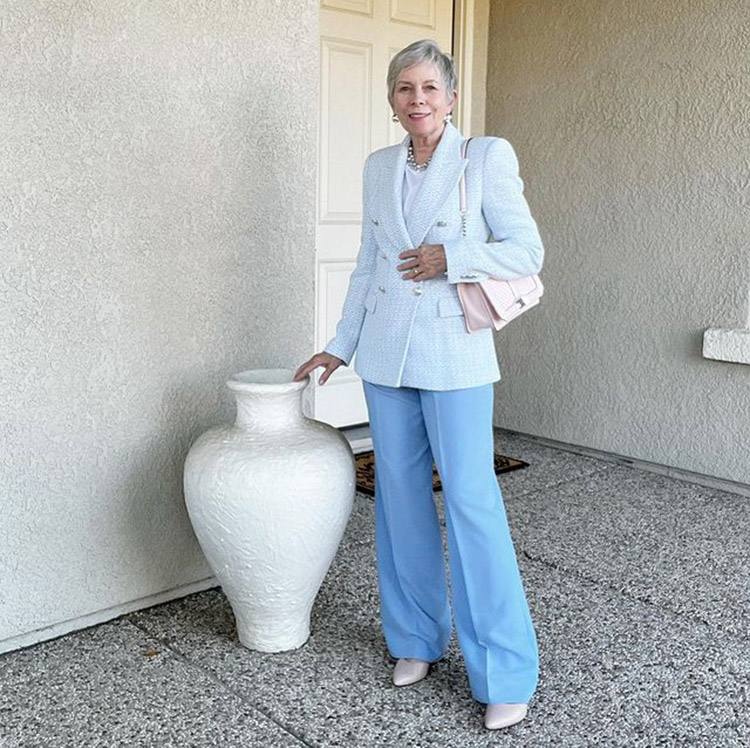 If you want to make a statement but you don't feel you can wear a big piece of jewelry, you could always wear a layered look and wear several delicate necklaces layered over each other. Choose difference lengths so you can see them all. Also take a look at how to layer jewelry.
Eileen @eileenternullo above opts for a layered necklace and hoops with her stylish blazer and wide leg pants.
Check out this similar blazer, pants, pumps, bag, collar necklace and earrings.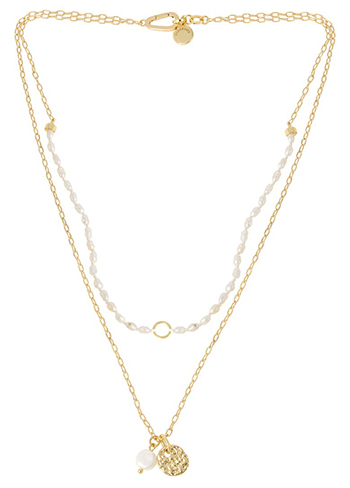 AllSaints Freshwater Pearl Layered Necklace
Think about shape
You can create harmony in your work look by matching the shape of your jewelry to any prints on your outfit. For instance, if you are wearing polka dots, you could choose round jewelry, or for stripes, you could opt for a linear jewelry look.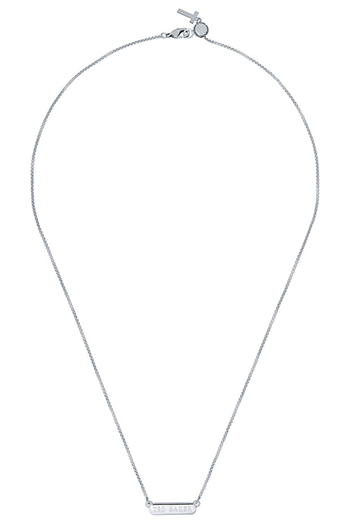 Ted Baker London Scarl Sparkle Bar Pendant Necklace
A monochrome look
You can wear earrings in the same color as your top. For example, if you're wearing a white shirt, you could team this with white earrings.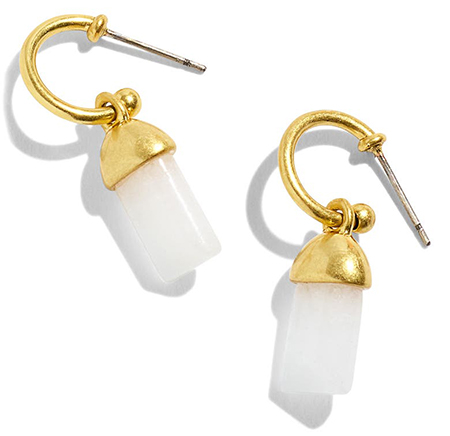 Madewell Stone Collection Drop Earrings
Wearing color
For a harmonious look, you can think about matching your jewelry color to the rest of your accessories. For instance, if you're wearing red shoes, you can choose a red necklace.
BOCAR Statement Acrylic Necklace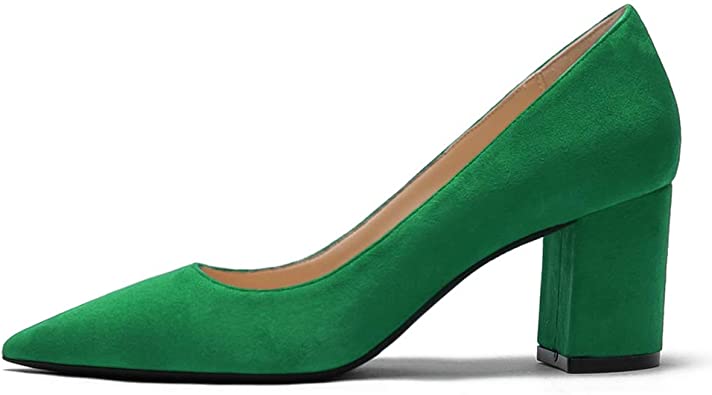 Gold or silver generally works best
If you ever aren't sure, then gold and silver will always work with everything.
Dawn Lucy @fashionshouldbefun above (read her style interview here) chooses a chunky chain necklace and a bag from Strathberry (similar item here).
Check out this similar dress, sandals, necklace (another option here) and earrings to complete the look.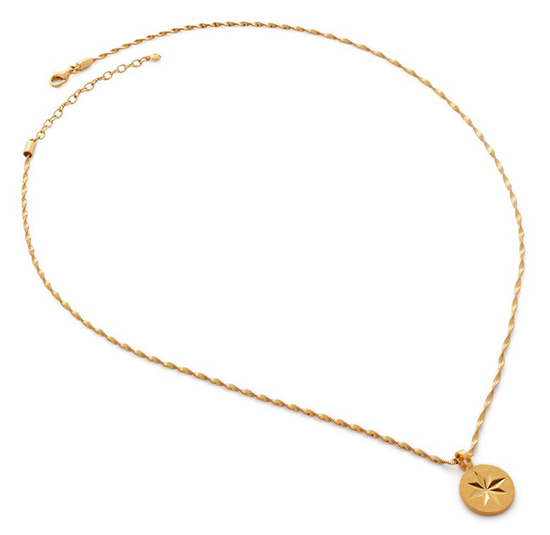 Monica Vinader Guiding Star Pendant Necklace
Pair a watch with a bracelet
If you usually wear a watch and want to add more impact, then add a bracelet in matching metal to the same wrist.
Tory Burch Robinson Leather Strap Watch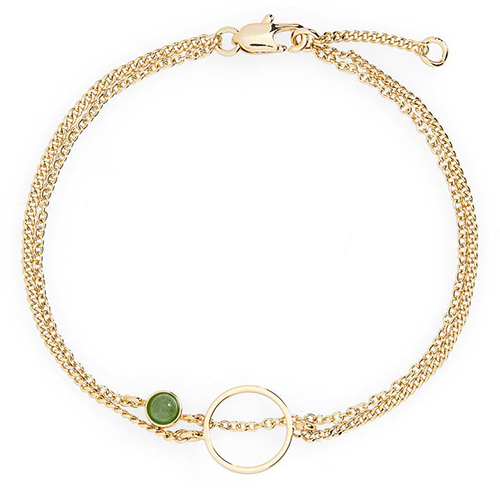 & Other Stories Duo Chain Station Bracelet
Don't forget about brooches
If you wear a blazer for work, a brooch can give you a different look day-to-day.
Jess @elegantlydressedandstylish above (read her style interview here) wears a brooch on her lapel.
Get her look with this similar top, blazer, pants, pumps, handbag, drop earrings and brooch.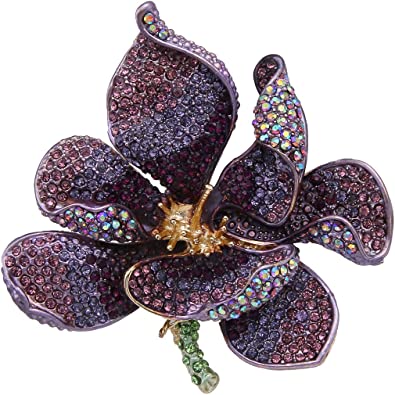 EVER FAITH Austrian Crystal Orchid Flower Petal Brooch
Borrow from menswear
Lots of workwear looks tend to take inspiration from menswear. Think about your crisp white shirts and work pants. So, why not take it a step further and add a pair of cufflinks to your shirts or blouses.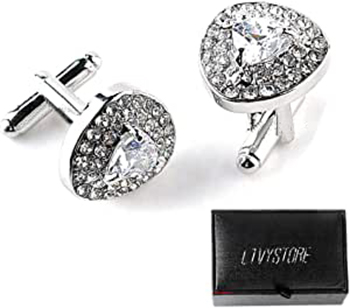 Ltvystore Rhinestones Cufflinks
stackable rings
If you tend to work with a keyboard, your fingers will be on show, so rings are the perfect jewelry if you want people to notice.
SOKO Moto Set of 3 Stacking Rings
Matching sets
If you want to make sure you look put together, then you could go matchy matchy with a set of jewelry designed to go together.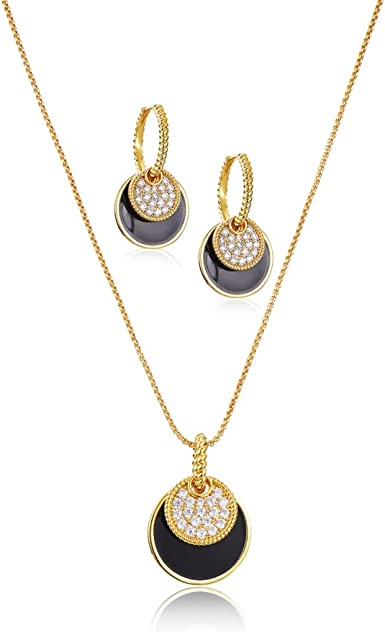 Adding an edgy element
If you want to add an edge to your outfit, you can do so in a subtle way. A pair of ear crawlers are almost as subtle as studs, but they add a little element of urban style.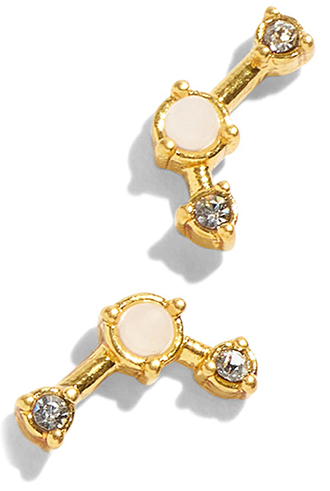 Madewell Stone & Crystal Ear Crawlers
What jewelry do you usually wear for work? Let me know in the comments below.
shop some of the items above here:

Continue reading:
Like this article on jewelry for work? Share it on Pinterest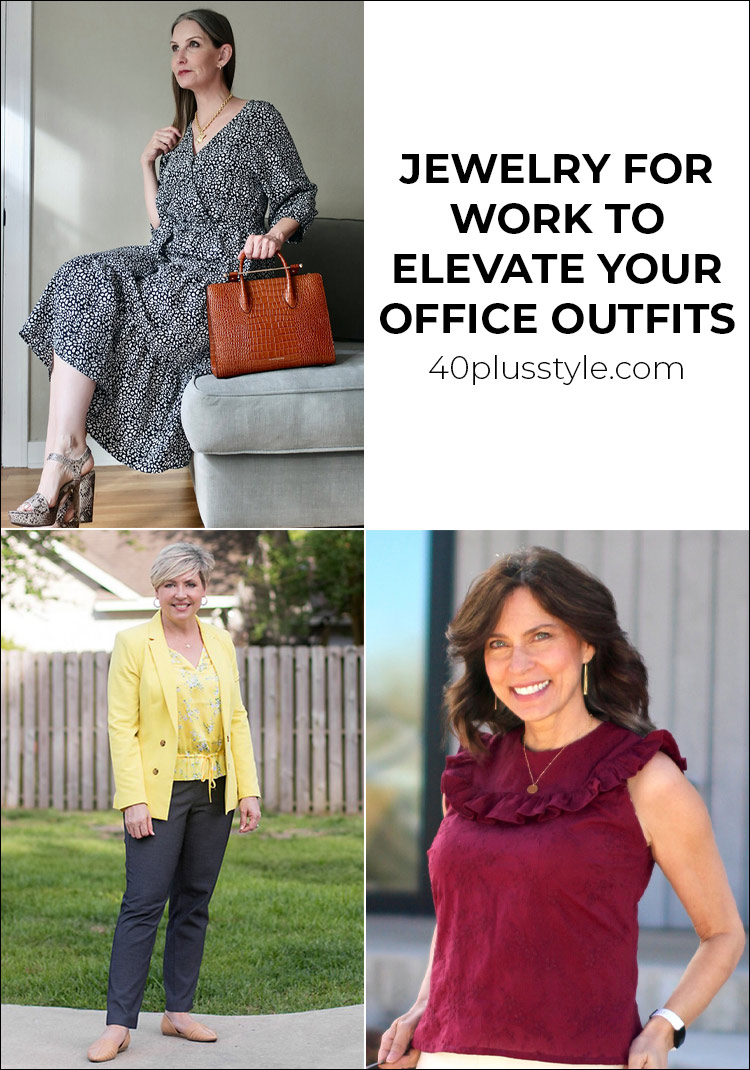 Feature image by Dawn Lucy @fashionshouldbefun
Want to get more articles from 40+style in your inbox, subscribe here.
You can also connect with 40+style on Facebook, Instagram or Pinterest.
Support 40+style by using the links in our articles to shop. As an associate for Amazon and many other brands, we receive a small commission (at no cost to you) on qualifying purchases which enables us to keep creating amazing free content for you. Thanks!