If you love to look feminine with a high dose of romance and elegance, you are in for a treat. With an expert eye capable of making even jeans look elegant, Jess loves her vintage brooches, faux fur stoles, and lace skirts. Enjoy this style interview!
Can you tell us a little bit more about yourself?
Yes. I am an easy-going, laid back lady who loves her techie hubby and two shih tzu puppies Gibson and Truffles dearly. I live in Charlotte, NC, but grew up in Pittsburgh, PA. I met my husband while I took a rock climbing class, and have always been active in life with sports. I was tired of the ice and snow so decided to move to a warmer climate.
I graduated with a Masters Degree in Elementary Ed and a Degree in Music as my true love was music, the jazz guitar. After college I taught in both the Elementary and Music Classrooms. I find that creativity is such a huge part of who I am. I have a love of BBC mysteries, great wine, swing music and old blues tunes, and was a tomboy growing up. I have loved clothes and buy 95% of the time on-line.
As a point of reference which age group do you belong to or perhaps you are willing to share your age?
I am 47.
Can you tell us a bit more about your blog Elegantly Dressed and Stylish and why you created it?
It is actually an Acronym for Ehlers-Danlos-Syndrome. I have a Chronic Pain Disease, where I am missing a protein in my connective tissue which causes hypermobility and muscular knots. I actually just surprised myself, as in the prior question, as I did not mention the illness. I am not defined by it, and try to do my best.
I created the blog, as an outlet for my creativity, as well as a diversion from the pain. I wanted to express myself and my love of fashion and meet other women who shared similar interests.
How would you describe your own personal style?
My style is mostly romantic, elegant with a love for vintage jewelry.
What would you consider the most important components of your style?
My love for a feminine look, a look that is classy and stylish without being dull. I think fit is key! I do collect brooches and vintage jewelry, so I try to add those in to my look when I can. I also imagine you know I love wearing mostly skirts and dresses.
Where do you live and how does that influence your style?
I live in Charlotte, NC. Since I lived in Pittsburgh, PA most of my life, I had a fair amount of fall/winter clothes. Moving here, I was buying more spring and summer dresses and other staples. I would love to wear the winter coats in my closet, as I love a great coat, but it has been almost 70 degrees this week! Last year I bought this lovely vintage inspired Boden pastel pink coat and have been unable to wear it as the weather has been so mild. Otherwise, I just wear what I like.
Do you feel you have a signature style?
I suppose so! I do love well made lace, and have a "few" lace skirts in my closet, each one being different however with scalloped edges, leather waistbands etc. I do wear more skirts and dresses than I do pants, primarily as I do feel more feminine in a skirt, but I have some sensitivity issues in my legs where I refrained from wearing pants for awhile.
Over this past year or so, I have added wearing some leather leggings and boyfriend jeans as I liked the style and versatility and felt they were comfortable to wear. I do love clothes that have some glamour and fit my shape well. I have a fondness for well made handbags, and a penchant for florals. My friends would attest to that!
What inspires your outfit choices the most?
My mood. How I feel that particular day. I remember in Music School, I wore mostly black, and my Eurythmics teacher took me aside, and said to me, "Jessica, you would look so pretty in pastels!" At the time, I was 20, thinking, "I am a musician, a guitarist." How many have you seen in pale pink or creamy yellow blouses? So, presently, I think of color, what is the most flattering on me with my red hair and fair skin?
Do you take things like color profiling or body type into account when you dress?
Just touched upon in the last question, I do think about what colors are most flattering with my skin tone and hair. Tan, beige and colors in this family tend to just wash me out. Black tends to be quite stark unless it is worn possibly as a jacket, and I have a great color near my face. Same is true with black in skirts or pants, fine to wear as it is not near my face and can be quite classic. I love jewel tones, pastels like blush pink, baby blue, some yellows. I especially love wearing red and green.
Has your style changed at all after turning 40?
I would say my style is better after 40 than before with an exception. I was diagnosed with EDS shortly after turning 40, it is a genetic disease, but the catalyst was a car accident that shifted my pelvis and tightened the muscles. Let's just say for a few years after turning 40, I dressed in black. Black pants and top.
I believe this reflected my mood and emotions of the time as well as the pain I was going through. The last thing I thought about was wearing bright colors. However, once it was managed, and I was interested in fashion again, I feel like I have always worn what I like and what expressed myself. Wearing 60s inspired pencil dresses, faux fur, faux leather skirts and tweed, became something I loved to wear. Dressing up just makes me feel better!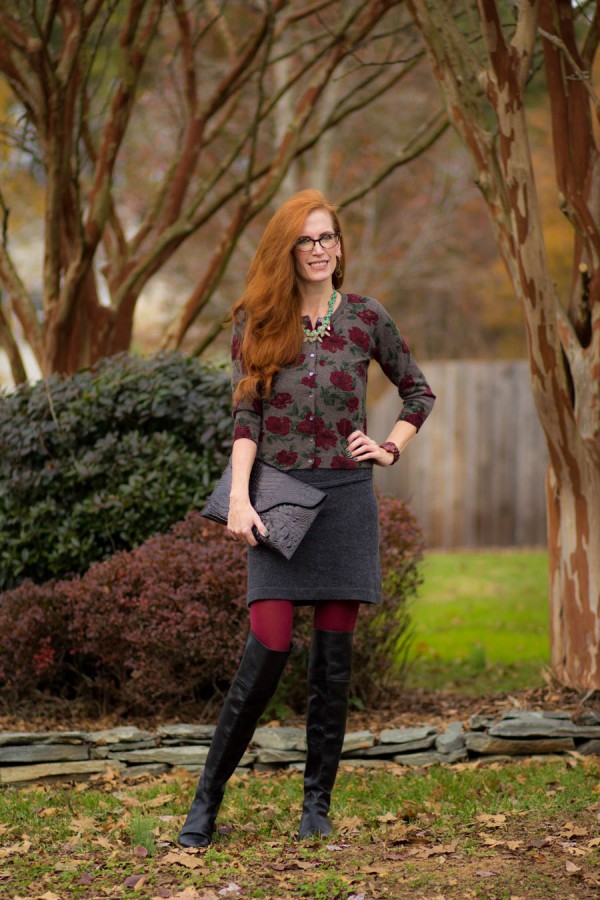 Do you believe in dressing 'age appropriately' and what does it mean to you?
I am not truly fond of the term, as what one considers appropriate, another may not. I wear what I enjoy wearing, and believe in this saying "Classy not Trashy". I think how one dresses is a form of self-expression, but one cannot get caught up with so many rules! I still wear mini skirts, wear faux leather leggings, waxed jeans. I make sure the fit is spot on, and if not, I take garments to the tailor. I think confidence is the most important thing in showing others one is comfortable with what one is wearing. To be fair, you won't catch me in leopard spandex!
Would you say that at this stage of your life you are now more, or less interested in fashion, style and the way you look?
I would say at this time, I am more interested in fashion. I love clothes! I think it says something about my personality, and also shows that I care about myself. If I take the time to dress up and dress nicely, it makes me feel good about myself. My hair takes some time, but I have told people, when I am 90+ I will still have long hair.
Do you follow trends? And if yes, which trends excite you at the moment?
I do follow trends, however I do not consciously make an effort to wear clothes that are trendy, just because they are trendy. If something I like just so happens to be a trend, then so be it! I find it funny that brooches are now "on trend" as I have always loved them, the history behind the vintage jewels and just the style from the era. I have collected them for years. Over the Knee boots are on trend, and I love them! I think they look great with a shorter skirt as the proportion works very well. There are many ways to wear them and they elongate the legs even more.
Do you have any fashion and style tips for women over 40?
I would say, be true to yourself. Clothes should be a creative extension of yourself, and do not be afraid to experiment. If you see an outfit, perhaps on Pinterest, or on another woman, do not be afraid to use it as inspiration. To me, fit is most important. If you don't like the way something fits, take it to your tailor. Last, try wearing color! I love to wear different colors and choosing the right color for your skin tone can look very flattering!
What are your plans for your blog and how do you see it develop over the coming years?
I hope to continue being a portal for other bloggers, continue to keep abreast of what is current in fashion and how I can bring that to the blog. I initially just started the blog as a hobby, just a fun, creative outlet. I hope to just continue enjoying what I do, meeting some very lovely women and enjoying writing.
Anything further you would like to add?
I would just like to thank you for this opportunity and truly enjoyed answering the questions!
For more romantic and elegant chic looks, join Jess on her blog and instagram. Thanks, Jess!
Which of Jess' outfits is your favorite?

Like this post? Share it on Pinterest!
Want to get more articles from 40+style in your inbox, subscribe here.
You can also connect with 40+style on Facebook, Instagram or Pinterest.
Support 40+style by using the links in our articles to shop. As an associate for Amazon and many other brands, we receive a small commission (at no cost to you) on qualifying purchases which enables us to keep creating amazing free content for you. Thanks!