Whether you need your laptop for your day-to-day work, you're writing a book, you're seeking inspiration from your favorite style blogs, or any other reason, you'll need the right bag to safely, stylishly carry your laptop with you. Let's take a look at the best laptop bags for women that you could choose…
Why choose a special laptop bag
There are, of course, plenty of bags that will fit a laptop in and you'll find a mix of stylish tote bags and laptop bags in this article. So why might you need a specially designed laptop bag? Why might you be looking for laptop bags for women?
Security and cushioning
Particularly if you use it for work, your laptop will be important to you and you will want to make sure it doesn't get damaged, especially if you take it with you on your daily commute.
For travelling and commuting
Much of the world is now transitioning to a hybrid way of working, spending some time in the office and some time working at home, so you're likely to be carrying your laptop around more often than you may have done previously.
Best laptop bags for women
Now, let's look at some specific options you could choose. Take a look at see if you find a favorite.
tumi
Tumi is renowned for creating great travel bags. And you'll find some stylish travel purses in this article. But they also do some fantastic options for laptops if you're looking for the best laptop bags for women. The Tumi bag (below) is an absolute classic that you can carry two ways. It also has a sleeve at the bag if you want to slot it over your roller case at the airport.
Tumi Voyageur Joanne Nylon Laptop Carrier
senreve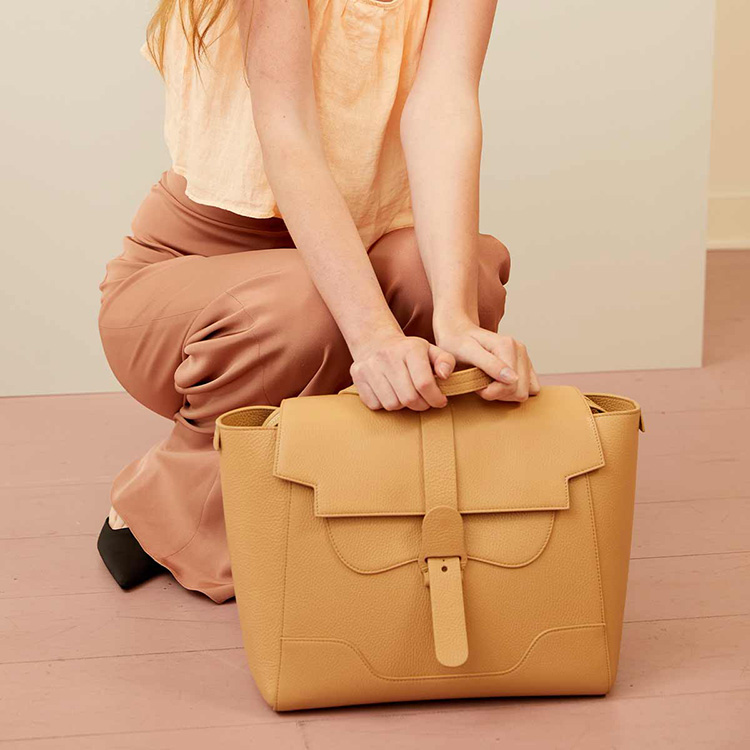 The Senreve bag (below) is one of the designer options on the list, so it's an investment. But it sure looks the part. It's also incredibly versatile as you can carry it as a regular bag or a backpack. Reviewers say it looks elegant and expensive and we agree! You'll be able to fit a laptop up to 15″ inside. You can take a look at more designer bag choices in this article.
kate spade new york
If you love a classic style, Kate Spade is a good brand to go for. The neutral bag (below) features separate compartments and you should be able to fit in a 15″ laptop.
Kate Spade New York Knott Colorblocked Commuter Bag
dagne dover
Classic, simple and timeless, the Dagne bag (below) comes in the gray below or you could choose black, oxblood or a pale beige shade. It will go with everything in your closet, and you can fit a 13″ laptop inside.
MYTAGALONGS
The Mytagalongs bag (below) has a slightly sportier style than some of the other choices in this list so is a good choice if you like an urban style. There's a padded compartment that will fit smaller laptops in.
MYTAGALONGS Everleigh Mini Commuter Bag
Tory Burch
Okay, Tory Burch tote bags aren't especially designed for laptops, but they are a great size to fit in your computer to take with you. The leather tote (below) is timeless and is usually released in different colors each season.
Tory Burch Perry Triple Compartment Leather Tote
cuyana
For the minimalists among you, the Cuyana bag (below) is perfect. Simple and chic, it perfectly suits the minimal aesthetic. You can use it for your day-to-day essentials and add the optional laptop sleeve for when you want to carry your work essentials.
EaseGave
If you want a budget-friendly, stylish choice, the EaseGave bag (below) could be a great option. It comes in a huge range of colors so you're sure to find one that goes with your work outfits. Reviewers say it is gorgeous and good value for money.
Estarer
With a briefcase style, the satchel below has great reviews from women who say it is sturdy and elegant.
Kamlui
Purse-friendly, and able to fit in a 13-inch laptop, the Kamlui laptop bag (below) comes in a choice of pinks and blacks. I like the classic black striped choice.
cluci
The CLUCI bag (below) is a leather option with classic styling. It comes in a choice of timeless neutrals that won't date and has plenty of room to fit in your laptop.
CLUCI Leather Laptop Slim Work Bag
kenneth cole reaction
A padded choice, the Kenneth Cole bag (below) is a good option for travel as it also comes with a strap to slip over your suitcase.
Kenneth Cole REACTION Chelsea Chevron Laptop
BOSTANTEN
The leather tote (below) features a padded laptop pocket. You could opt for a neutral shade, or add a pop of color with the yellow below.
KTMOUW
If you have a lot to take with you, the structured tote (below) is generously-sized and you will be able to fit in your laptop, tablet and paperwork. Reviewers say it is classy and fits in a lot.
Dachee
Might you need a waterproof option? Maybe you'll be commuting in the rain. The messenger bag (below) comes in a choice of prints. Reviewers say it is lightweight and holds all your essentials.
Dachee Peony Patten Waterproof Laptop Messenger Bag
lubardy
Reviewers say the crocodile effect bag (below) fits in a large laptop and women who have tried it say it's a classy office look that looks more expensive than it is.
best laptop backpacks
As well as a tote or briefcase style laptop bag, you might also want to look out for a backpack style, if this is something you will find easier to carry when travelling or commuting, or you feel it fits your style better.
tumi
Starting with another Tumi choice for you, the black backpack (below) features plenty of pockets to fit your laptop in and keep everything organized.
Tumi Bradner Nylon Tricot Laptop Backpack
herschel supply co.
The Herschel backpack (below) comes in a soft pink color and has an interior laptop sleeve.
Herschel Supply Co. Orion Backpack
LOVEVOOK
For a multi-functional choice, you could opt for the striped backpack (below) which fits in your laptop as well as charging your devices. Reviewers say it features endless pockets.
MATEIN
Functional and with lots of storage sleeves and pockets, the Matein laptop (below) could be another good choice if you are travelling.
laptop sleeves
As well as a laptop bag, you could also think about a laptop sleeve. Perhaps you just need to carry your laptop from your car. Or, maybe you want a laptop sleeve to fit into your tote bag.
herschel supply co.
The Herschel laptop sleeve (below) would match the backpack you saw above.
Herschel Supply Co. Anchor 15″ MacBook Sleeve
baggu
Choosing a laptop sleeve with some cushioning will help to protect your electronics. The Baggu laptop sleeve (below) has a funky print and will slip into your tote bag.
native union
For a simple, sleek style that definitely won't look out of place in any business meeting, the black sleeve below will work. It is especially designed to carry a Macbook.
Native Union Stow Slim Macbook Sleeve
mytagalongs
To add some texture to your office look while protecting your laptop, you could choose a faux fur option. The faux fur laptop sleeve (below) looks like a large clutch bag but will fit in your 15″ laptop.
MYTAGALONGS Faux Fur Laptop Sleeve
ytonet
A classic option, the Ytonet laptop sleeve (below) has a laptop sleeve and compartments to fit in your phone and notebooks. Reviewers say it is simple, durable and lightweight.
kayond
Of course, your laptop sleeve doesn't have to be solely functional, it can also feature a pretty print. You can choose from florals or stripes with the Kayond laptop sleeve (below). Reviewers say it is a good choice for a Macbook, but to size up for different laptop models.
Kayond Nylon Fabric Laptop Sleeve
kalidi
In a huge choice of colors, the laptop sleeve (below) also comes with a matching pouch to store your charger.
KALIDI Laptop Sleeve Case with Pouch
Do you carry your laptop around with your regularly? What bag do you usually use? I'd love to hear your recommendations in the comments below.
shop more items here:
Continue reading:
Like this article on the best laptop bags for women? Share it on Pinterest
Want to get more articles from 40+style in your inbox, subscribe here.
You can also connect with 40+style on Facebook, Instagram or Pinterest.
Support 40+style by using the links in our articles to shop. As an associate for Amazon and many other brands, we receive a small commission (at no cost to you) on qualifying purchases which enables us to keep creating amazing free content for you. Thanks!