Some of the handbags on the runways for 2021 were microscopic. And, while they may be trendy, they are not exactly practical. So, if you need to take more than a credit card and a lipstick out with you, take a look at the best tote bags below to carry everything you need every day.
The bags below will fit in your purse, make-up, anything you need for work, a water bottle, a book maybe, and anything else you want to take out with you…
What is a tote bag?
First of all, what exactly is a tote bag? Well, simply put, it's a bag for toting around what you need in it..
While a shoulder bag usually has one strap, a tote bag has two parallel straps. Some have some structure and shape to them, while others are just a cotton shopping bag.
One of the big advantages of a tote bag, as well as being practical, is that this style remains on-trend year-after-year as it is a timeless classic, so you can be sure that if you invest in a tote bag, it won't date.
Take a look below at some of the best tote bags for everyday, for work, for travel and the beach…
Nadine (above) mixes casual and formal in her outfit to stylish effect, and carries a tan tote with her.
Steal her look with this similar tote, blazer coordinates, shirt, sneakers, earrings and sunglasses.
Best tote bags for everyday
A tote bag is often the most practical handbag to take with you day-to-day as you can fit all of your essentials in.
Estel (above) adds a pop of color to her outfit with her red tote bag.
Recreate her outfit with this similar tote, top, jeans, espadrille sandals and sunglasses.
Let's take a look at more tote bags that would be perfect for everyday.
Nordstrom leather tote
It's hard to find a more classic bag than the black leather tote from Nordstrom (below). It is designed with a structured base and scratch resistant leather to give it extra longevity.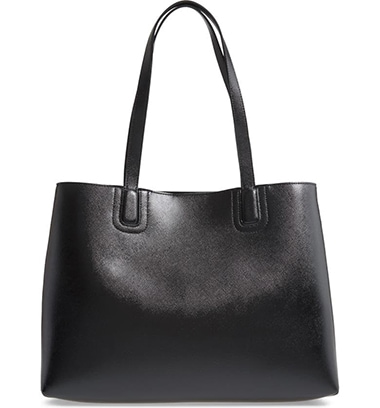 Faux leather tote
If you want an inexpensive option or you aren't keen on real leather, then a faux leather tote like the Street Level bag (below) could be the perfect option. As a bonus, it is reversible, so you get two bags in one.
Street Level Reversible Faux Leather Tote & Wristlet
Coach tote
Coach can be a good mid-level brand to opt for as it is not as expensive as a designer bag from some of the high-end designers, but still offering good quality. There are more ideas in this article on the best designer bags you can afford.
The Coach leather tote (below) is wide and deep enough to fit in everything you need. There are dual compartments and a zip divider to keep you organized, and the signature C-turn lock clasp.
Tory Burch leather tote
Tory Burch's totes are complete classics. You'll find the styles come in different neutrals and bright shades every season.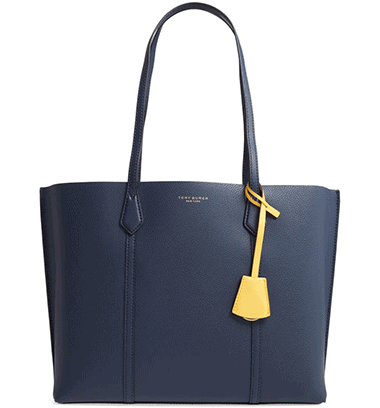 Ted Baker tote
Another complete classic for you, the Ted Baker tote is a smart everyday style that definitely won't date. There's a zip top closure which provides extra security.
Ted Baker London Kimiaa Leather Tote
Rebecca Minkoff tote
Rebecca Minkoff's leather tote (below) is classic but with a little edge created by the styling of the hardware and tassel.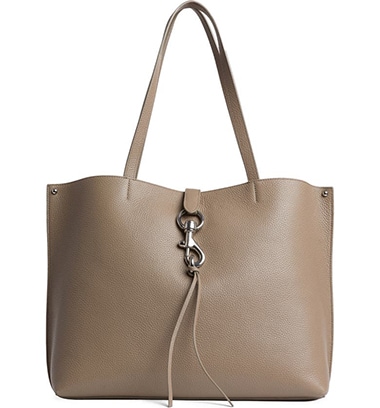 Rebecca Minkoff Megan Leather Tote
All Saints
All Saints is renowned for it's edgy, unique styling, so the All Saints leather tote (below) is perfect if you want to add something a little different to your everyday outfits. The snakeskin texture and double handle bag makes it stand out from the crowd.
AllSaints Allington Small Snake Embossed Leather Tote
Kurt Geiger
You don't have to choose a structured style when opting for a tote. Kurt Geiger's Violet Leather Tote offers a slouchy vibe that would be perfect if you have a minimal style personality.
You'll find the style in different color pathways each season. Currently, there are a range of soft neutrals, metallics, black and bright shades.
Kurt Geiger London Violet Leather Tote
Kate Spade polka dot tote
Kate Spade's polka dot tote is typical of many of the fun prints you'll find from the brand. There's also a removable zip pouch in contrasting red, so you can be sure to find your cash and cards when you need to.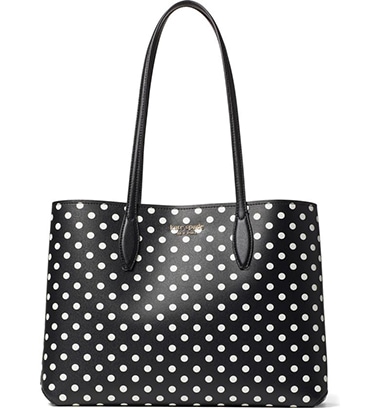 Kate Spade New York Lady Dot All Day Large Tote
Best tote bags for work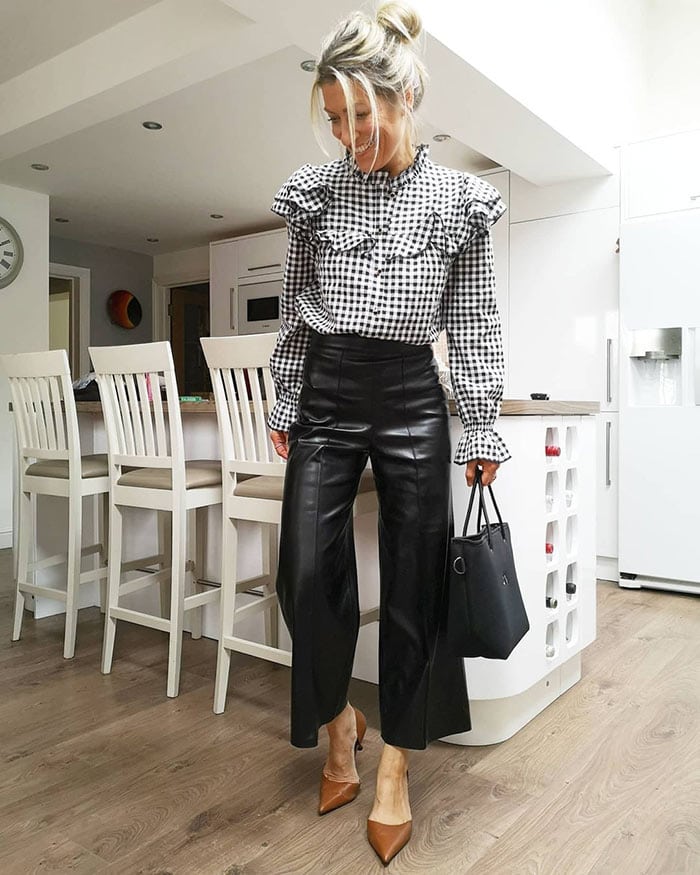 While many of the bags above would, of course, be suitable for work, let's take a look at some totes (below) which have been especially designed with the office in mind – just in case you need to take your laptop or tablet with you.
Abi (above) wears an on-trend ruffle blouse with her leather pants and carries a classic black leather tote bag.
Get her look with this similar black tote, blouse, pants and heels.
Boss business tote
The Boss leather tote (below) features the tailored styling the brand is renowned for. You should be able to fit laptops up to 13-inches inside.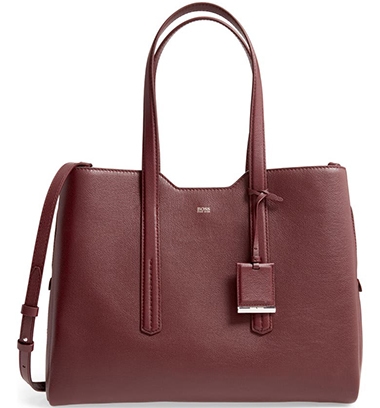 BOSS Taylor Leather Business Tote
Tumi voyager tote
Renowned for it's travel bags, Tumi's business tote (below) would be ideal for any work trips (if you're able to take them), the daily commute or just for keeping everything organized day-to-day.
There's a laptop compartment as well as sections for your smartphone and other essentials.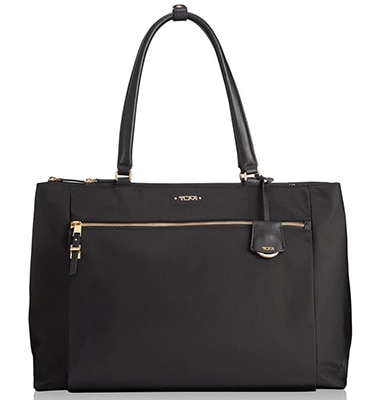 Tumi Voyageur Sheryl Nylon Business Tote
Coated canvas tote
With simple, sleek styling, the Dagne Dover tote (below) has a padded laptop sleeve, a water bottle holder and plenty of pockets.
Dagne Dover Signature Classic Coated Canvas Tote
PU laptop tote
If you have a larger laptop, the Mosisu PU tote (below) may fit the bill as it fits in a 15.6-inch laptop. It comes in a huge choice of colors, and is well reviewed on Amazon. Women say it is professional and sleek.
Large tote
Another large laptop tote for you in case you have lots to take with you. The Bug tote (below) is inexpensive and well-reviewed.
Best designer tote bags
A tote bag will always be in style so if you want to invest a little extra in one, you can always be sure that you will use it for years to come.
Tory Burch monogram tote
The monogram detailing on the Tory Burch tote (below) makes it stand out from the crowd. It's big enough to fit in your laptop and features a toggle closure. There are protective metal feet to stop the base of your bag getting dirty.
Tory Burch T Monogram Jacquard Large Tote
MCM shopper
A designer label, but more affordable than many others. The MCM bag (below) is reversible so you can have two looks for the price of one. You can also change the shape of your bag by using the drawstrings at the side.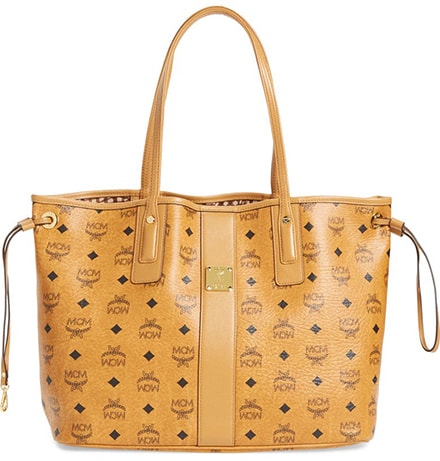 MCM Medium Liz Reversible Shopper
Marc Jacobs tote bag
For a tongue-in-cheek take on the tote bag, you could always opt for a tote bag which says "tote bag" like the Marc Jacobs style (below).
THE MARC JACOBS The Summer Canvas Tote Bag
Strathbury tote
It may not be one of the names that automatically come to mind if you're asked to name a designer label, but Strathbury's tote styles like the one below are iconic because of the signature bar fastening at the top.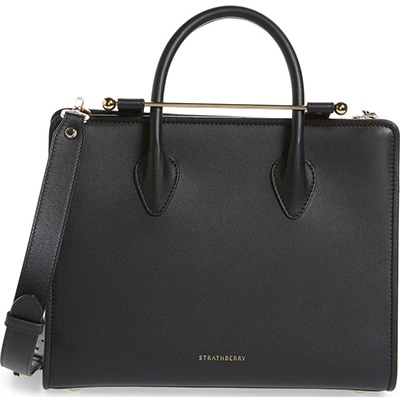 Strathberry Midi Calfskin Leather Tote
Mulberry
Understated and chic, Mulberry's designs like the tote bag below are instantly recognizable because of the tree emblem on the hardware.
Mulberry Bayswater Leather Tote
Issey Miyake
If you want a designer bag that is instantly recognizable then the Bao Bao Issey Miyake tote below with it's iconic prism design could be the way to go.
Bao Bao Issey Miyake Prism Tote
Best leather tote bags
You've already seen plenty of leather totes in the choices above. But, because leather is such a classic and hardwearing choice for bags, let's take a look at some more stylish options in this material.
Tanasha (above) matches her tote to her moto jacket and booties.
Check out this similar tote, striped top, moto jacket, skirt, booties and hoop earrings.
Longchamp leather bag
The curved edges of the Longchamp leather bag (below) give it a little differentiation compared to many other styles. It features a zip top closure to keep everything secure.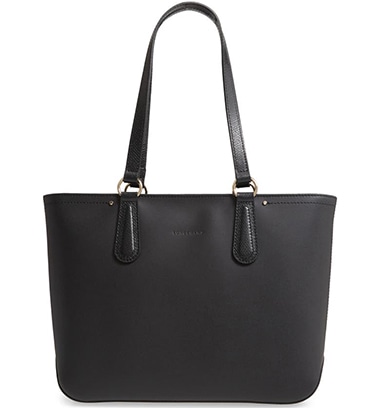 Longchamp Cavalcade Leather Tote
Frye leather shopper
Frye is renowned for its long-lasting leather designs and the Frye tote (below) is no exception. It is structured enough to use for the office, but still has a casual enough look so you can wear with your jeans and sneakers.
Hobo Park tote
With simple styling and plenty of pockets, the Hobo Park leather tote (below) will fit everything you need in. You can choose from a range of neutral shades.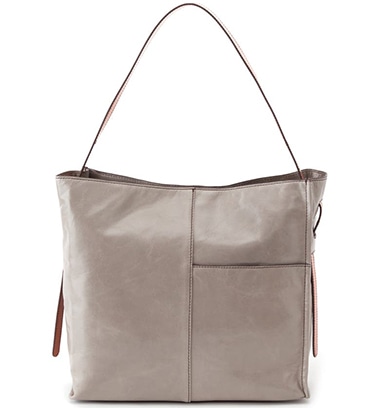 Madewell tote
The leather tote from Madewell (below) has very simple, clean styling, but still manages to be very chic. There's a zip top closure to keep all your belongings safe and secure.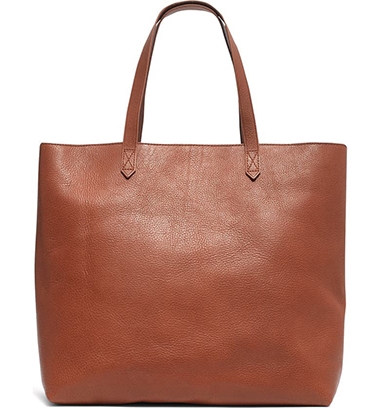 Madewell Zip Top Transport Leather Tote
Frame tote
A more structured leather option is the Frame tote (below). You can adjust the strap length to suit your preference with the gold hardware.
Best tote bags for travel and the beach
If you're lucky enough to be able to travel, or just enjoy some sunshine at home at some point this year, you may want a more casual tote like the ones below.
Jas (above) carries a straw tote that picks up the pinks in her outfit.
Recreate her outfit with this similar woven tote, floral dress, flats, belt and sunglasses.
Vegan leather tote
You don't necessarily have to opt for straw, raffia or canvas for your summer tote. The reversible leather tote (below) also has a casual vibe that is perfect for vacations or staycations.
Mali + Lili Ray Reversible & Convertible Woven Vegan Leather Tote
Packable tote
When going on a trip, it's often useful to have an easily-foldable bag with you in case you buy anything while you're out-and-about. The Tumi just in case bag below easily packs away so it won't take up much room in your handbag or suitcase.
Tumi Just in Case® North/South Packable Nylon Tote
Longchamp nylon tote
Longchamp's nylon totes are instantly recognizable because of the contrast between the nylon body and the leather fastening and handles.
Longchamp Le Pliage Large Nylon Shoulder Tote
Kate Spade flower tote
A pretty option for summer, if you want to add a romantic feel to your outfit, could be the Kate Spade flower-print canvas tote (below).
Kate Spade New York All Day Spade Flower Coated Canvas Tote
Canvas tote
You could always add a pop of color to your outfit with your travel tote, like the bright yellow Baggu choice (below).
Black canvas tote
With clean lines and minimalist styling, the Herschel canvas tote (below) will go with any of the outfits you already have in your closet.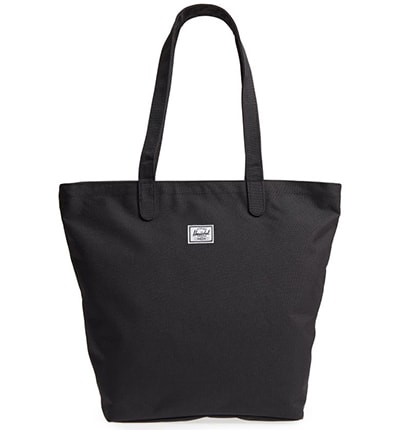 Do you already have a tote bag in your closet? I'd love to hear your own recommendations for the best tote bags to choose whether for work or everyday.
Continue reading:
Like this post on the best tote bags? Share it on Pinterest!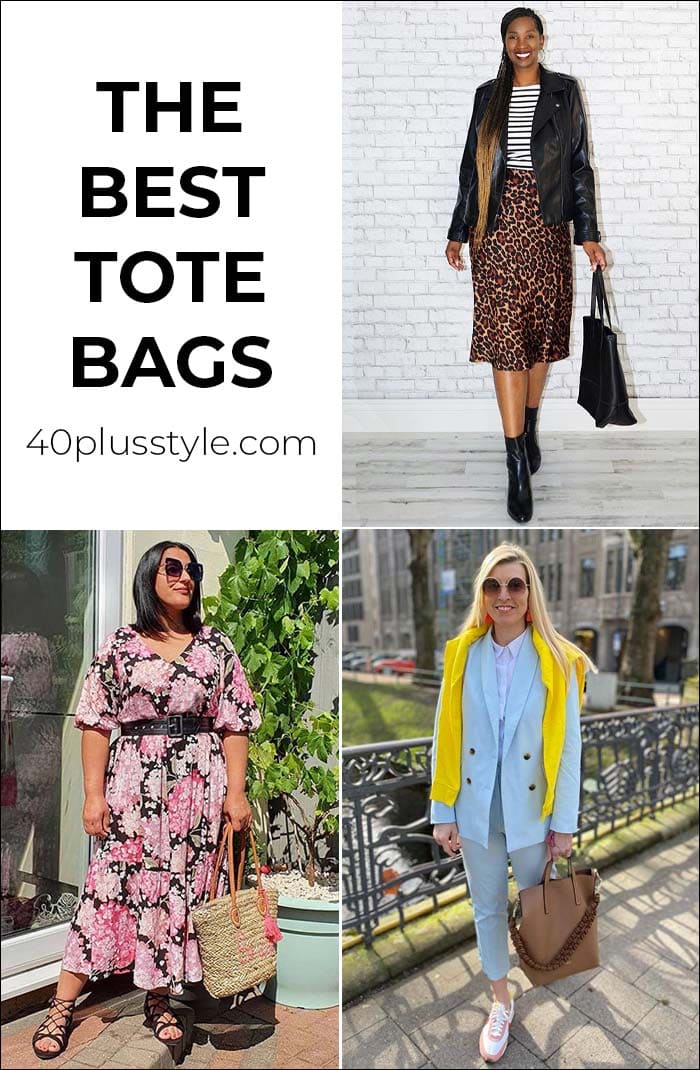 Feature image by Tanasha
Want to get more articles from 40+style in your inbox, subscribe here.
You can also connect with 40+style on Facebook, Instagram or Pinterest.
Support 40+style by using the links in our articles to shop. As an associate for Amazon and many other brands, we receive a small commission (at no cost to you) on qualifying purchases which enables us to keep creating amazing free content for you. Thanks!